Collecting product reviews is challenging, but...
Getting reviews from real customers takes time and a lot more effort compared to setting up a Google ad. It also requires more creativity as you have to do it organically – paying for reviews won't take you anywhere and can potentially backfire for your brand over time.
Also, reviews can be tricky as there are 21% more chances of getting a negative review compared to positive ones.If you want to use reviews to add credibility, take a proactive approach to collecting them.
Remember that negative reviews will pop up from time to time – you just can't please everyone. However, you can easily balance them out by collecting more positive ones.
With this article, I will help you overcome these challenges and explain how you can easily get reviews for your online store, boost your brand's credibility, and, as a result, increase sales.
Let's delve deeper into the 6 tips on collecting more reviews for your online store.
Back to The Top or
---
1. Automate the process of gathering reviews
As a jack of all trades, juggling among dozens of marketing tasks and managing a marketing budget across multiple channels can be a real challenge for an eCommerce marketer. That is why doing manual outreach to customers by asking them for reviews is a bad idea.
Over time your targets for customer reviews can increase drastically as your business grows, making it almost impossible for a human being to handle review collection. Automating the process is your lifeboat.
Consider using a custom add-on solution for your eCommerce store – a plugin or a custom tool that will help you reach out to customers at the right moment and simplify the process of leaving a review for your clients.
Back to The Top or
---
2. Make reviews look authentic by collecting pictures
Product photos your clients make can be more effective at generating new sales than professional product photos on your product pages.
Let's take a look at some of the examples of how online stores are using User Generated Content (UGC).
Where's the proof? According to Photoslurp, user generated photos are five times more likely to convert customers compared to the non-user generated content.
Let's take a look at some of the examples of how online stores are using UGC.
For example, the Etsy marketplace for handcraft offers customers the option of adding photos while submitting their text reviews.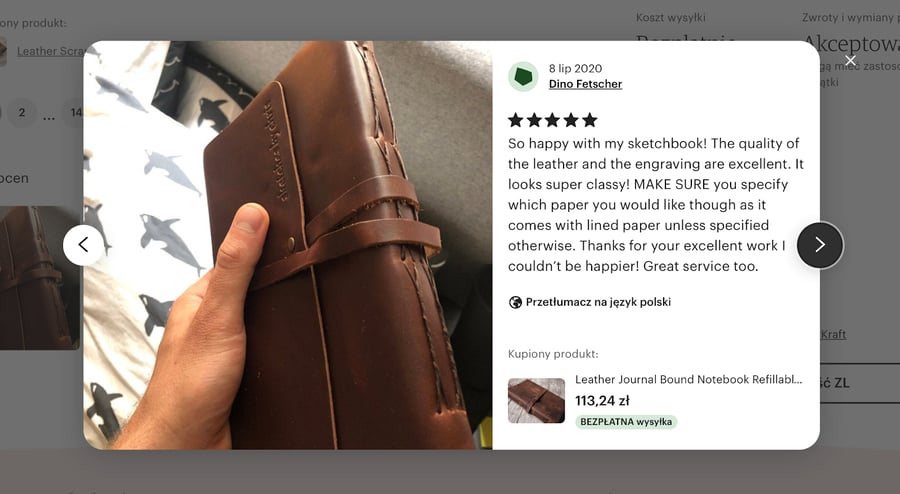 User-generated content on the Etsy marketplace
Seeing a product photo without additional filters or Photoshop improvements helps make the right decision about the purchase.
Vendors are showing their products in the best light by trying to influence the purchasing decision – this practice misleads customers who start getting wrong expectations about the products they are about to buy.
As a result, a customer gets a product that doesn't meet their expectations and returns it to the vendor.
Product photos of your clients are usually made with a smartphone camera and are not post-produced. This makes them more credible and helps customers understand what the product looks like in real life.
As a bonus, you can also get a use from the photos and reviews by creating videos for Instagram Stories that showcase your happy customers or use them in your Facebook marketing strategy.
Back to The Top or
---
3. Incentivize customers with a referral program
While getting fake reviews by paying for them can only deteriorate your online reputation, you can consider creating the right incentives to reward your loyal customers for their effort.
Some brands offer promo codes in exchange for leaving a review. Let's face it – this looks like a bribe. When trying to please you with a positive review to get a discount, a client will probably sound unnatural when writing a review and your future customers can find such reviews suspicious.
This doesn't mean you should abstain from sending promo codes as a sincere "thank you" for a job well done. Just do it after the customer has rated your brand! This way, you will get your brand promoters to speak their mind while sharing a positive review.
Create a wow effect by giving a promo code after a customer reviews your product. Make them your ambassadors, but don't buy reviews or pay for them!
You can also provide an incentive differently. For instance, if you build and sell online courses, you can reach out to your students personally after they finish certain lessons to make them aware of the program.
Or, you can announce your referral program while asking for a review and get your customers to enter it.
Check out how Casper, the online store selling mattresses, does it in their email below.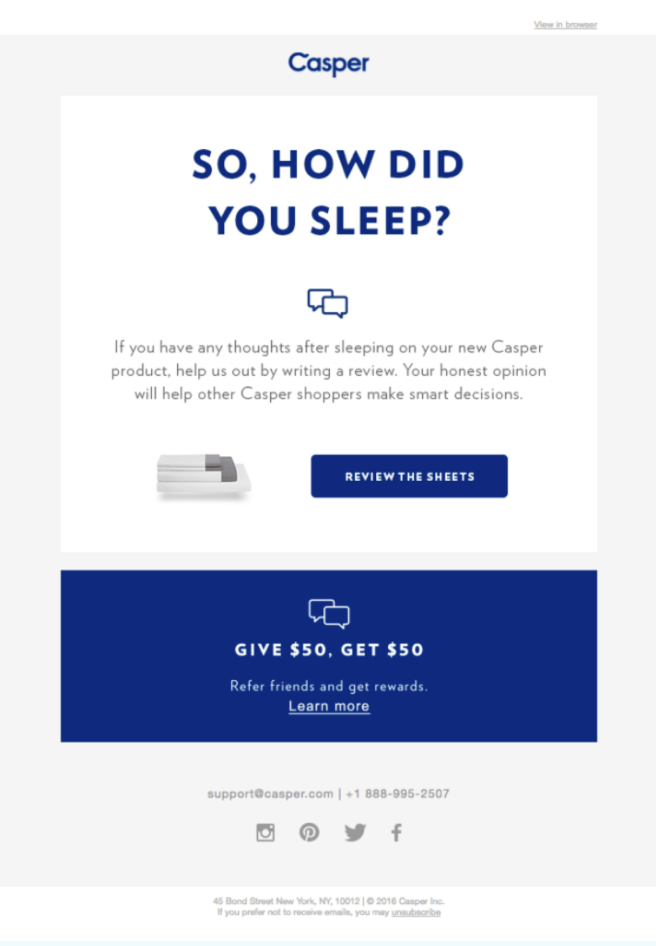 Back to The Top or
---
4. Ask for reviews in a post-purchase email
Collect product reviews with emails and use automated campaigns to reach customers at a time when they have already experienced the value from using the product.
Check out how Patagonia is using their post-purchase emails to rate the shopping experience.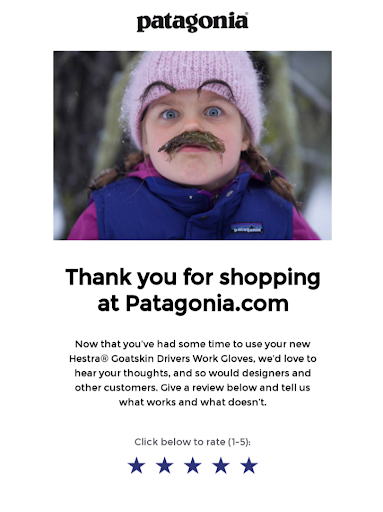 For example, you could send such emails after a customer receives a product – it can be a week or two after purchase. Also, depending on the time needed to experience the product value you can modify the period.
For instance, if you are selling mattresses, you would probably send the emails a few weeks after the purchase or as long as it takes to evaluate a "sleeping experience".
Back to The Top or
---
5. Use NPS score to spot happy customers
The tips I have mentioned earlier in the article can help you get more reviews. However, apart from positive reviews, you run the risk of getting negative ones as well. The universal truth therefore applies – you can't please everyone.
While putting in effort by reminding customers to leave their reviews, you can get negative ones from the buyers who like to outpour their negativity online or those who believe no brand deserves a five-star rating.
How can you filter through and ask for the reviews from those who are your brand advocates?
Before sending an email campaign with a request to leave a review, run an Net Promoter Score survey.You can easily do this by having a chatbot software on your website to help you collect feedback data.
Filter the users who rate your store as good or excellent.
Check out how Taylor & Hart, a London jeweler, are using this technique to find out what customers are content with their purchases.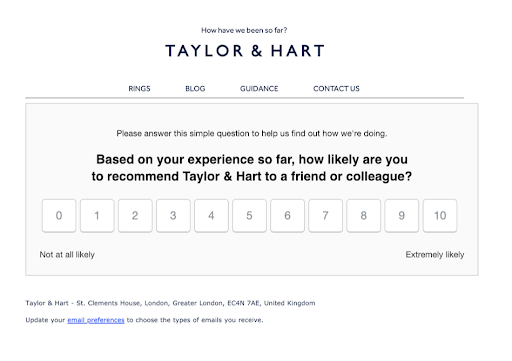 By getting your customers to rate their shopping experiences in the range from 0 to 10, you can identify promoters, detractors, and passives.
Who are promoters, detractors, and passives (NPS score)?
Promoters give you a score from 9 to 10 and are your brand advocates.
Detractors respond with a score from 0 to 6 and are not content with your service.
Passives give a score of 7 to 8 and neither dislike or are arduously in love with your brand, but somehow happy with their experience.
Protip: here's a list of the top NPS softwares you can use to rate your customers.
Once you have identified your promoters, you should be reaching out to them straight away and asking them to give you a review. They will most likely leave a five-plus rating that will help you increase the average score fast.
Later on, you can move to passives who will also give you a positive review – however, you might be expecting an average grade of between 4 and 5.
Back to The Top or
---
6. Ask for a review at the right time
Finally, while nailing everything around generating more positive reviews, one thing should not skip your attention – the right timing.
If you ask for a review too early – just after the purchase, your customer might not want to give you one or won't be ready for it as they haven't seen their product yet.
If you set your campaign for a later time, you might miss the moment when your customer could clearly describe their experience. Memories fade fast and you have to get the reviews when clients still remember the purchase.
What is the right time to ask for a review?
There is no universal factor to define it. However, think about it by evaluating the time a customer needs to first receive your product, try it on or put it in use, and experience the value.
Back to The Top or
---
Best Shopify Review Apps
If you are looking to boost sales for your eCommerce store, you most likely have to deal with Shopify or the most popular Shopify alternatives.
However, as Shopify gathers over $1 million active users worldwide, we will look into some of the most popular review apps tailored especially for the Shopify platform.
With Wiremo, you can easily collect reviews for Shopify, Woocommerce, or Squarespace stores, double-check them before publishing, and set them live with a click of a mouse. Check out how the process looks like in this visualization.

Using automation in collecting reviews
You can also use this tool to utilize the power of user-generated content (UGC) and get your customers to add their photos of your product in use. This tactic will help your reviews look even more credible. As a bonus of collecting user-generated content, you can boost your organic ranking in Google by doing image SEO using photos your customers made.
Growave is another Shopify review app that helps businesses collect photos from customers alongside their reviews. This easy to set up Shopify app is also user friendly and just has a nice visual layout.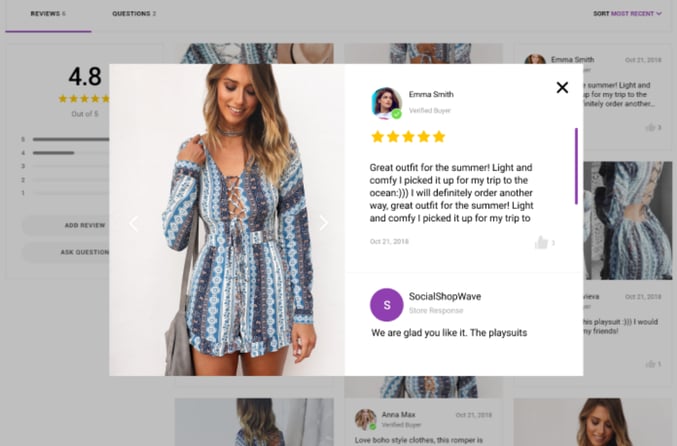 Why should you start everything from scratch if you already have some customer reviews circulating online?
With Opinew, you can easily import existing product reviews from AliExpress, eBay, and Amazon. This app is also SEO-friendly allowing you to avoid the negative consequences of duplicating content from a third-party website.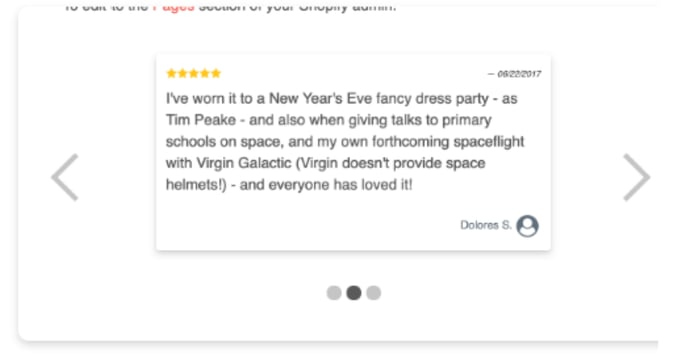 Yotpo
Collecting customer feedback is not always easy. If you are struggling with this task, Yotpo can be a great tool for your Shopify store as it facilitates this process. With this app, you can email inquiries to clients asking for a review or also do it in an app when your customers are in your store looking for their next purchase.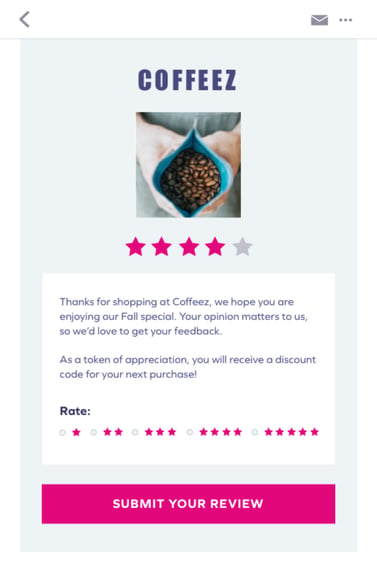 Stampted.io is a great choice for your business if you want to utilize user-generated content on your website and draw the attention of your potential buyers. This Shopify app offers multiple templates to use that stand out from competitive solutions.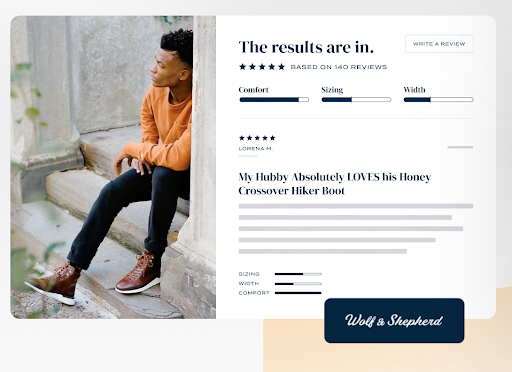 ---
How to Track Shopify Reviews
Timely reaction to customer feedback is valuable in the eCommerce field that is why you have to think over the process of quickly responding to reviews. Not only should you worry about giving a good response to a negative comment, but also reward your loyal customers for their time. The process of responding to reviews should also be a part of your customer engagement strategy.
If you are a small brand, managing reviews can be easy. However, with bigger brands managing reviews is not a piece of pie. That is why you have to prepare for a higher level of automation when it comes to review moderation.
With some Shopify apps, you can set up triggers that will automatically send a message of gratitude to the customers after they leave a positive review. If your customer leaves a negative review, with one unified dashboard, you can leave comments and conveniently filter through the reviews.
Check out how Wiremo helps automate the process.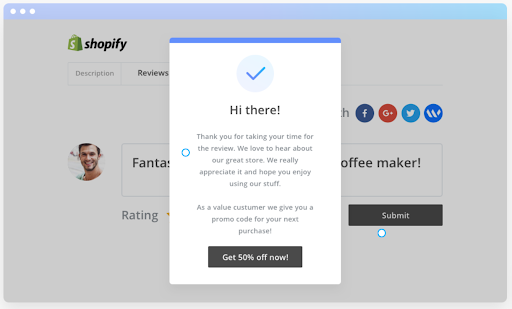 ---
Now Is The Time to Get More Product Reviews
Collecting more positive reviews requires a good strategy that starts with your product – the best practices of collecting reviews will fail if your product is inferior.
However, if you already have a good product you are proud of, you simply need to set up a clear roadmap for a campaign targeted at getting more reviews.
With this article, you have had a chance to learn about a few tips and tricks that can give you ideas on approaching the process of collecting reviews.
Let's wrap things up!
Focus on brand promoters who will most likely rate your brand with five stars.
Reach out to them at the right time with the right message.
Get them to speak their mind while it is still fresh and share a photo where your product is in use and looks authentic.
Use referral software to incentivize your customers to spread the word about your brand and automate the process as far as possible.
I hope that the tips on collecting more product reviews will help you boost your sales and brand credibility by giving your customers a reason to believe you!