Shopify is one of the best gateways to selling your products online. However, listing your products across various shopping channels without much thought isn't going to get the best results. When selling your product online, visibility is vital. That is why you need to optimize your shopping feed. By optimizing your feed, your product will be more likely to appear to the people who are ready to buy. A healthy, well thought out feed will help to increase sales considerably. This is because it refines who, where, and when your product is advertised.
So how exactly do you optimize your Shopify feed and squeeze the most out of your advertising?
Get Started with Shopify using a product feed
The importance of a product feed
Most channels require a product feed in order to start selling with them. A good product feed is essential for maximizing the success of your selling on Shopify. The details you provide in your feed help both you and your potential customers by organizing data effectively and directly generate your shopping ads. You can choose to add products manually, one by one. However, this can be time consuming and ineffective.
While the value of a product feed is the same for all channels, the difference lies in the recommended practices for each channel. There may be differences in attributes or format. This is why it is important to know the basics of creating product feeds. This will allow you to create a master feed with a set of universal rules that could be applied across all of the platforms. With the majority of the work is already done you can then make tailored tweaks to each feed individually to set your products up for success.
Once you have the basics of your feed, it makes it easier to adjust your current product stock at a faster rate. Plus, you can adapt your feed to the season, time of the week, and much more.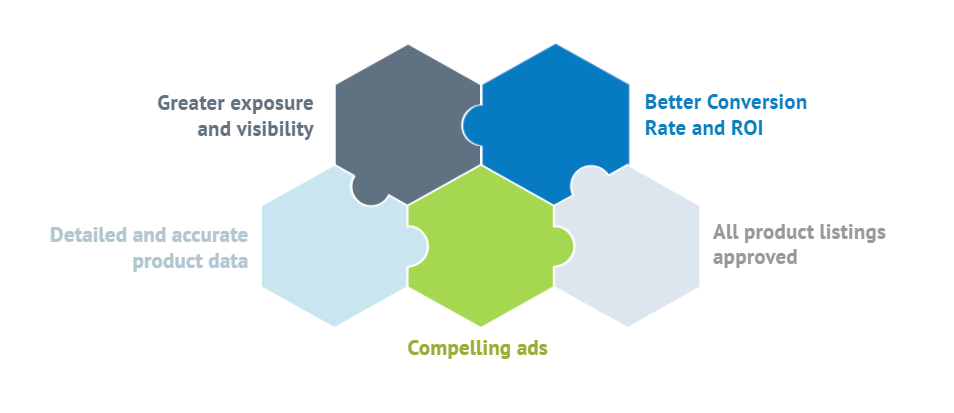 Benefits of feed optimization
Using e feed management software
Within Shopify, all products can be listed and then managed. It is perfect if you only have a few products to sell and they are all fairly similar. However, if your store holds a larger or more complex assortment, effective online advertising can become a challenge.
If you aim to advertise a large number of products from your Shopify store and you want greater efficiency and detail, it may be helpful to use a feed management software instead of sending automatically exported product catalog directly to the channel. This also makes it easier for you to make changes to items when they are on sale, out of stock, or require other similar changes. It also makes it easier for customers to find your product and ensure the best possible match between the search query and the product itself.
Feed management software will allow you to tailor and optimize your product feed for any channel of your choice. Including Google Shopping, Amazon, Bing, Facebook, Instagram, Shopzilla, and many more. In such software, you can create rules that ensure you don't waste important advertising budget.

Generating Shopify Feed
There are a few options for Shopify users to generate a data feed and connect it to a shopping channel.
Direct API connection - Shopify has a direct connection with several channels, including Google Merchant Center (GMC). This means that your product data will be automatically sent to GMC and updated on a regular basis. The downside of this method is that you don't send an optimized feed that is tailored to the channel but simply the exact product data configurations you have in store.
Export - Export is the manual form of extraction. It is more suited for reviewing your product data in bulk rather than using the export for advertising. Especially since the exported file does not get automatically updated.

Third-party apps - This method generally offers the most flexibility and room to scale your campaigns. There are several apps allowing you to not only generate but also optimize your feed for Google Shopping and other channels. Some apps are limited to one channel only, and some allow you to optimize feeds for hundreds of channels worldwide - such as DataFeedWatch.
Shopify Fields to Use in Your Feeds
Whether you choose to connect your Shopify store directly to the channel or use a feed management service, you will always need to meet each channel's requirements when listing your products. This means in most cases you will need:
Channel requirement

Standard Shopify fields

Your products name

Title

Price

Price and compare_at_price

GTIN (required for Amazon if ASIN is not available - formerly required for Google)

Barcode or UPC

Category
(pre-defined by the channel, often needs to be set using rules - eg. set 'Apparel & Accessories' if product title contains 'shirt')

Google_product_category if available

Delivery details (usually set up directly in the Merchant Account inside the channel)

Grams*
*populates shipping_weight feed attribute if delivery cost depends on weight/size of the package

Images

Image_large_1 or variant_image

Product description

body_html

Link

variant_URL or URL
Depending on the type of product you are selling, adding other feed attributes may also come in handy, even if they are optional. Adding optional fields can be beneficial, as this gives the channel more insight into what your product is and who it is for. A simple example of tailoring your feed for high-purchase intent searches would be including attributes such as color, material, and size for apparel products. Shoppers who are ready to buy often have a very specific idea of what they want, and the searches may get as detailed as 'backless silk red dress with front split size 38'. To ensure you serve your ads to this type of audience you need to make sure your feed containing all the relevant data.
Native Shopify fields
Zooming in on native Shopify fields that can be useful in process of feed optimization - here are a few worth mentioning:
Global_description_tag (can differ from the actual description displayed on the product page)The meta description is a good opportunity to add additional keywords to your listing, to attract more potential buyers. Unlike the regular description, the meta description comes into use when the body_html includes tags that cannot be converted. As many channels cannot convert tags into a workable format, you can enclose an alternative description inside the global description tag.
Global_title_tag (can differ from the actual title on the product page)
Similarly to the meta description, a title tag can allow you to be more specific on what a product is. This helps to attract the right people. The title tag can also be different on your product page and your ads respectively. This allows you to write a powerful and effective title, whilst keeping your feed organized as you like.
Collections
Collections can be utilized to mark specific products to advertise on certain platforms, thus excluding other items not meant for that channel. A good example of this is advertising seasonal products, like raincoats in fall and avoiding advertising sunglasses in winter.
If you use a feed management tool you can create custom labels and segment your products. Below you can see an example of how you can segment your products based on a season.

Product_type
Product type helps you to further refine advertising within a certain sector. It does this by allowing you to bid and get reports on certain product types, separately from the others. This allows you to recognize the successfully and unsuccessfully performing product groups. With product type, you can include your own categorization, unlike with product category.
For example you can create a custom label based on product type and apply a different bidding strategy to this group of products:

Download The Ultimate Google Merchant Center Handbook
---
5 Ways to Optimize Your Feed for More Sales
Optimizing your feed for more sales can be done in a number of ways, these include:
1. Removing unprofitable products
Not all products included in your advertising portfolio are gonna bring you a positive ROI. In order to maximize the results from your shopping campaign, cast a critical eye over the list of advertised products every once in a while. Removing the bad performers from your feed can work miracles for your ROAS. An example of this would be removing winter jackets in summer.

2. Making the most of images
Images are one of the most important parts of any feed. Most potential customers will look at the image first. Therefore, as well as meeting all the image requirements, the image also needs to be eye-catching. It is also recommended that you use more than one image to showcase your products from as many angles as possible. This gives customers a better perspective of the item and increases the chances that they will buy it.
If you want to take things one step further, try dynamic images (these can help an ad maintain interest) and lifestyle images (in some cases lifestyle images are best choice), alongside product images. Also try to utilize variant images, to ensure potential customers know the difference between each variety of your product. This can be done by selecting the variant image field for image links.
Remember to use the same unique key in your lifestyle image file name.
You can easily configure DataFeedWatch to create your new feed with lifestyle images. Configure your image_link attribute to look through all your input fields that may contain the lifestyle image that you uploaded.
Here is an example of a rule you can create in the DataFeedWatch tool that will get the system to find the image that contains your unique URL key.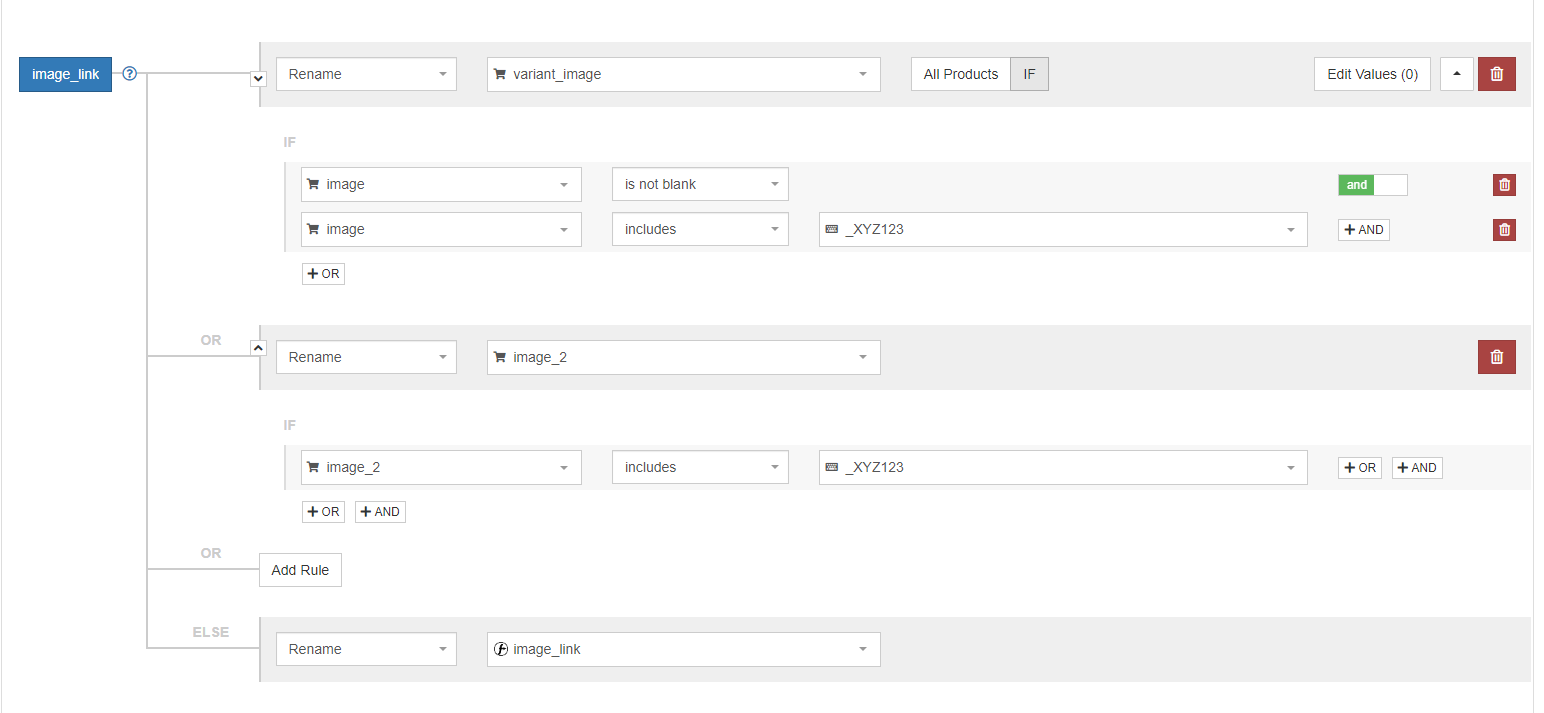 3. Using optional fields
By using optional fields you can add additional details to your feed. Although this may seem unnecessary, the extra detail could be what people search for. Therefore, it may get you a few extra sales. Optional fields include color, size, material, gender, and many more.
You can map all of them very easily using the DataFeedWatch solution.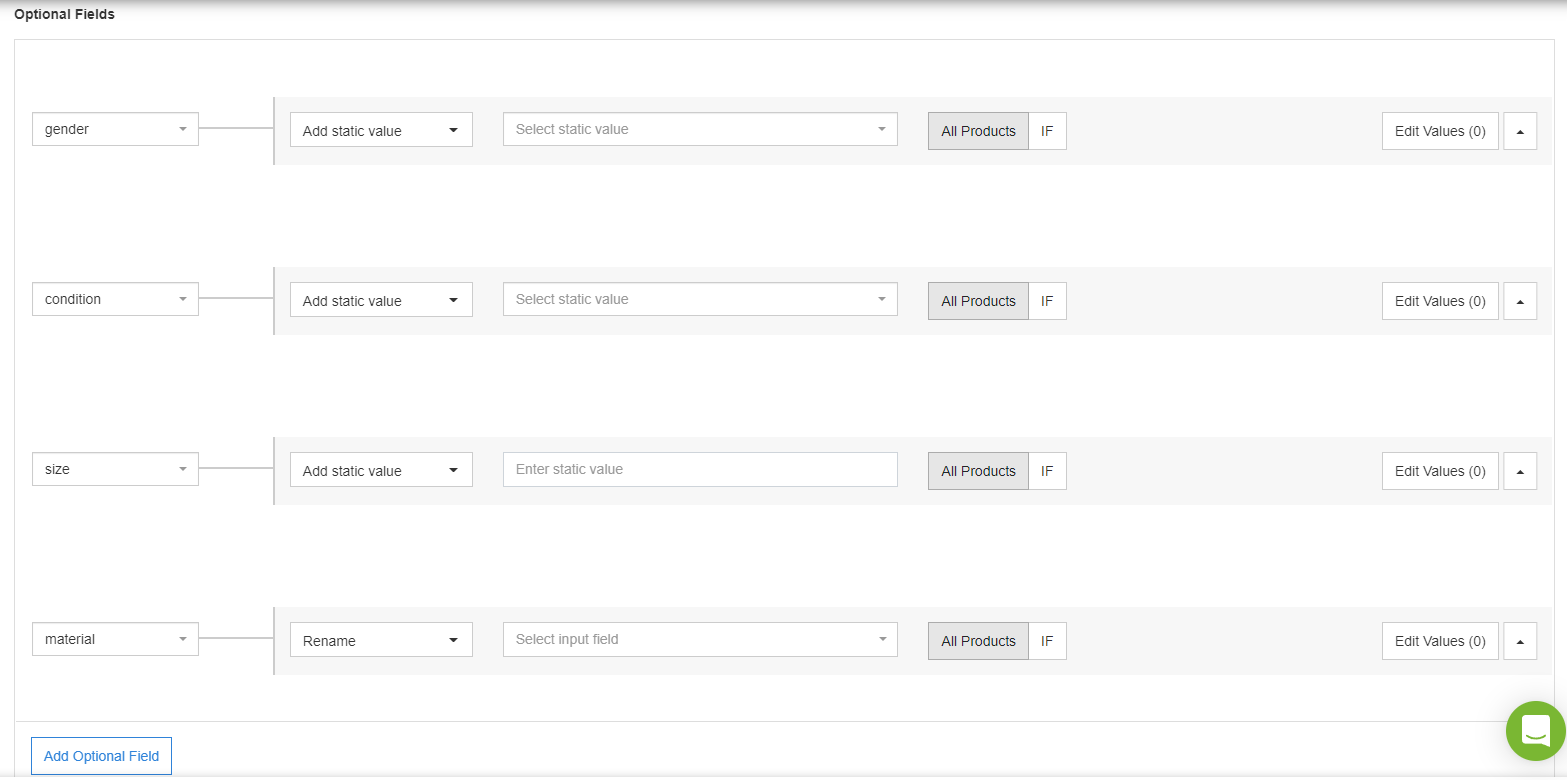 4. Using custom labels to segment your products
Custom labels are a great way to increase the sales your feed makes. They allow you to be even more specific about the products you are advertising to customers. You can create custom labels for things like price margins, seasons or top sellers. This allows you to focus on the most profitable products at certain times of year. You can create price brackets, for example: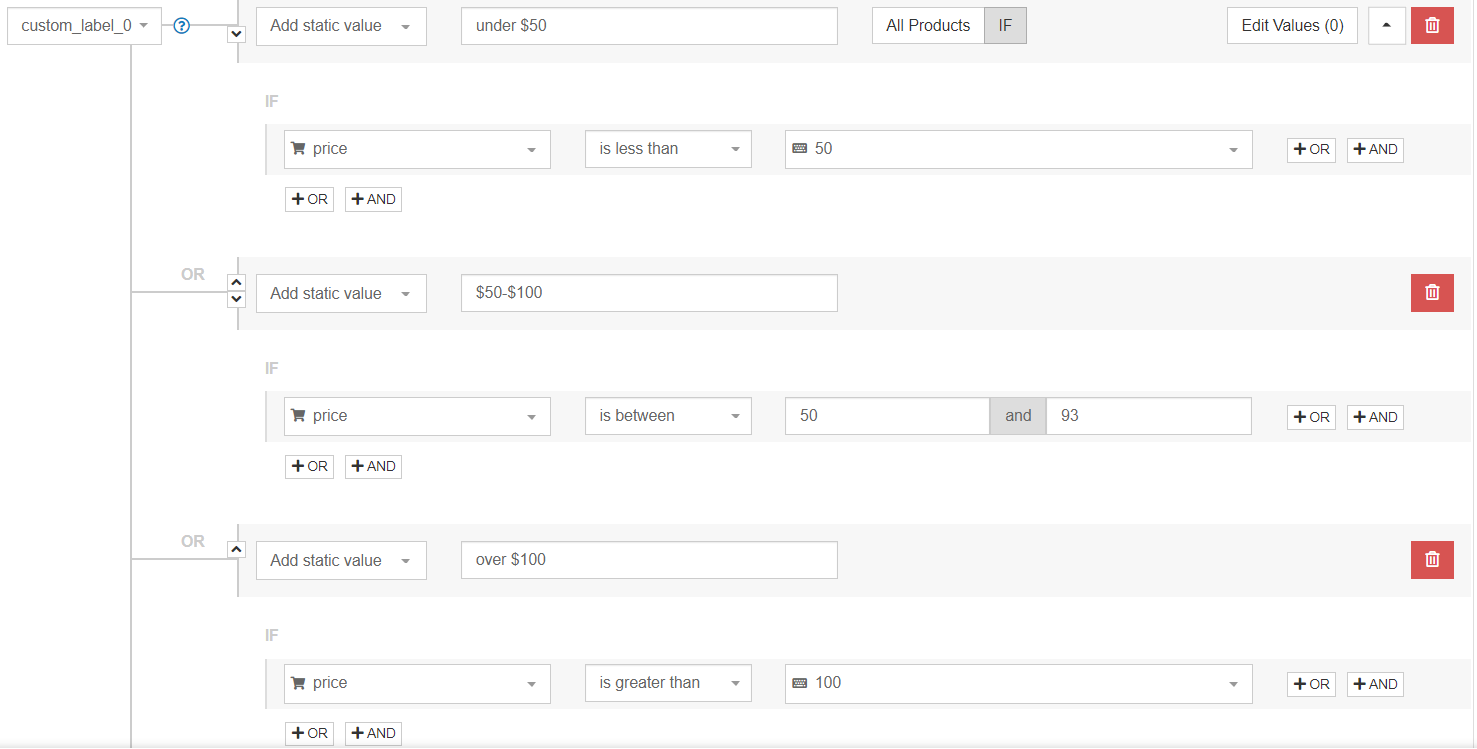 Having that set up, you will be able to moderate your bids in the Shopping Campaign for each price group. Making sure you don't overspend on specific items.
5. Using the right titles and product descriptions
The perfect title and product description are integral for potential buyers finding your product over someone else's. Because of this, you need to take care over the words used, and the order you use them in for your title and product descriptions. Always try to have the most essential information within the title. This may include the brand name, what the product is, and a number of other attributes, such as color or size. Remember not to use capitalization, as this can be considered as spam.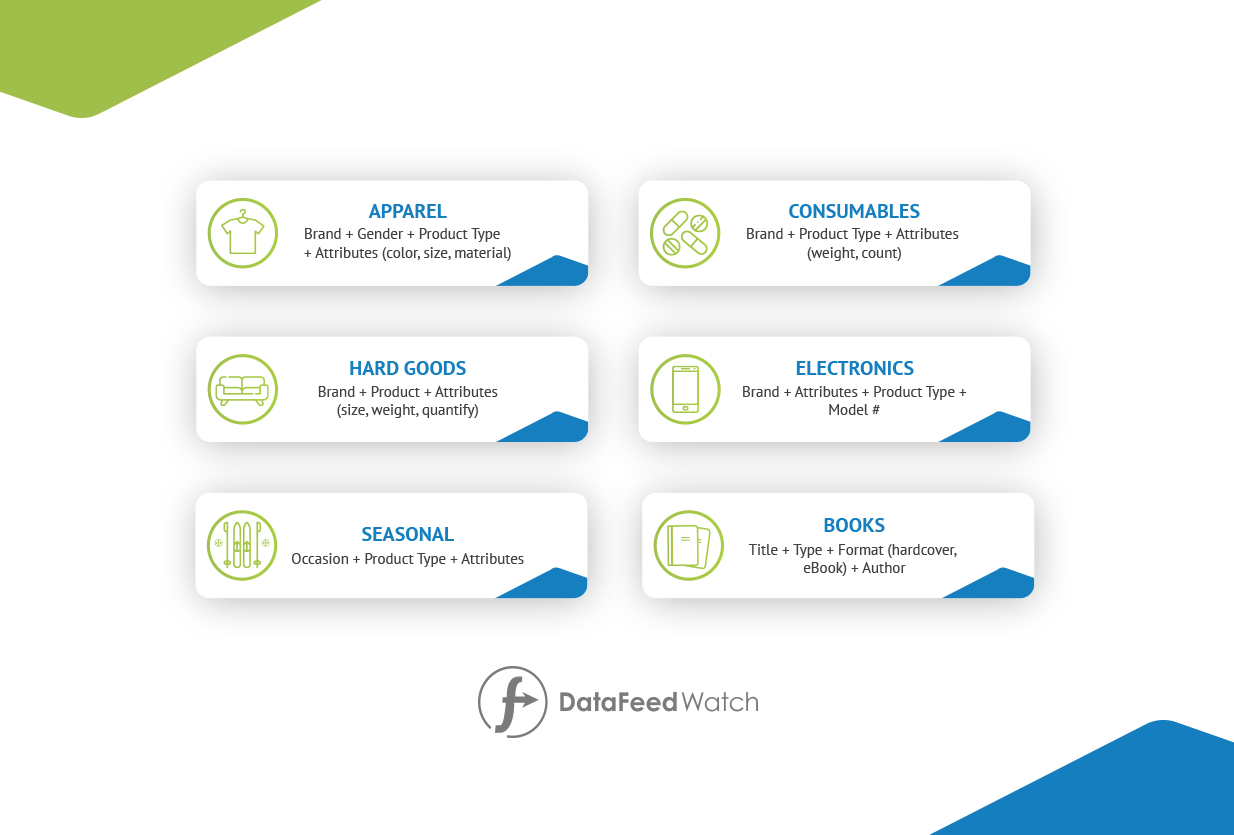 Similarly, descriptions should include all the important information on the product itself. However, there is a little more room for freedom. Descriptions should adhere closely to SEO guidelines and include the most important keywords for your product. And remember, you're still writing for buyers, not just Google.
Download The Ultimate Google Merchant Center Handbook
---
Common Google Shopping Feed Errors Shopify Merchants Deal With
Errors on Google Shopping tend to originate from mapping the feed incorrectly. Errors can range from small issues that hamper the quality of your product advertising placement, or major issues that prevent your feed from working at all.
Claimed Domain
One example of a major error is using an incorrect URL. The domain used in Shopify has to match that of the one used in Google Merchant Center (GMC). If this is not added correctly then the feed will not upload successfully. This will prevent you from making any progress at all. A complete Shopify URL includes 'My Shopify' and will read as x-shop.myshopify.com. In GMC the domain claimed is usually a shorter version: x-shop.com. To avoid the hustle, make sure you include the claimed domain link in your product feed. You can replace it easily in a feed tool:

Price Attribute
Another major issue tends to be caused by the mislabelling of the price attribute. This can occur when compare_at_price is listed instead of price, or when a currency code is either missing or incorrect. Currency codes must be written as the abbreviation rather than the symbol. Mislabelling can lead to issues as items may show no price at all or show the item as cheaper than it actually is. In either case, it will lead to an unnecessary financial loss.

Images
Smaller issues in Shopify consist of things like image sizes being incorrect or the wrong image being used (the default image rather than the variant). In cases like these, it can lead to customers being deterred and simply skipping your product in the shopping carousel as it was not what they wanted. A default image could be used because the image attribute was selected, instead of variant_image. This can create situations where the wrong color product shows up in a search, such as in the example below.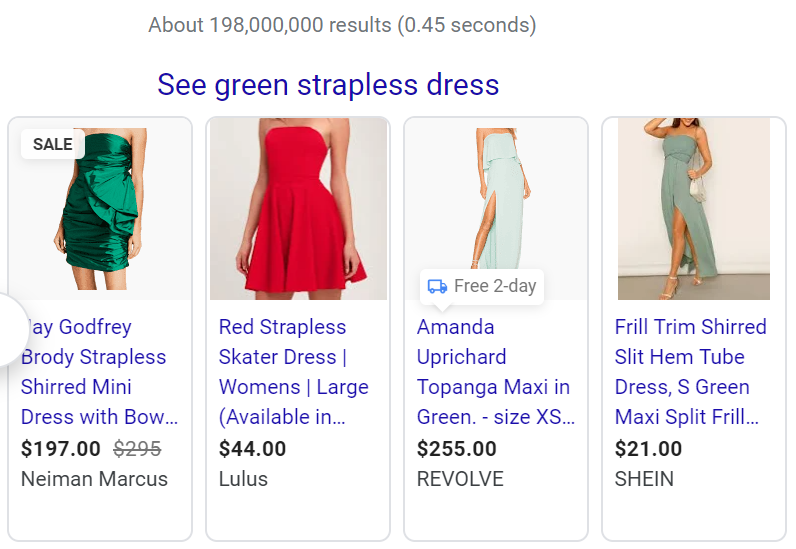 Similarly to using variant images, another common error is to use the default product URL for all variants. This can be just as misleading and can lead to a disproportionate sale of one item over another. It can also lessen sales due to inaccuracy in terms of the product details, as well as deter customers if a variant's price differs from the one featured in the ad.
To avoid this kind of mistakes you can create a rule in DataFeedWatch solution that helps you match the right image with the right product variant.

Weight
Last but not least, weight in a common issue. It generally has to do with shipping cost information that is required by Google. Many merchants base their shipping cost on weight and/or measurements of the product - in those cases, you have to make sure you provide shipping weight within your feed. The confusing part is that there is no 'shipping_weight' attribute in Shopify. The field that you're looking for is called 'grams'.

When sending the weight info to GMC make sure to also include the unit (g, lbs, kg) and you're good to go!

Download The Ultimate Google Merchant Center Handbook
---
Final thoughts
When you're running a Shopify eCommerce store, there is a lot to manage and consider. You will need to conduct a great deal of product research, whilst managing orders, inventory, customer service, and logistics. This makes it easy to skim over the marketing side of things.
However, an optimized product feed will always improve your Shopify sales. At DataFeedWatch, our aim is to help you grow your business and ensure your marketing budget is spent on getting the very most out of your sales.
For more optimization tactics check out our other articles for Shopify:
---