1. Gather market intelligence using Google Trends
When it comes to raw trend data, there's no better research tool than Google Trends. As the biggest search engine out there, Google collects enormous amounts of data on its users every day.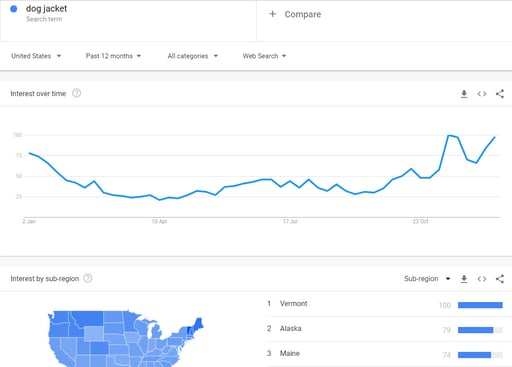 Source: Google Trends
This data is later analyzed and used for Google's own many purposes. And fortunately for us, everyone can use this data as well under the name of Google Trends.
Google Trends is super easy to use and there are 2 main methods you can use as an online store owner to find the best products to promote and scale.
The first method doesn't require any keyword research. It's done by choosing the Country of your interest and scrolling down a bit to see the Recently Trending topics google has already collected for you.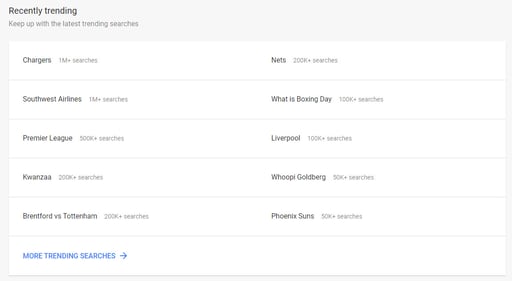 Source: Google Trends
As you can see from the screenshot above, the most trending topics are about the recent NBA games which are getting a lot of searches right now. As an online store owner who gets traffic, your best move will be to put the Basketball related products to the front because it's the hottest thing right now.
Or if you run paid ads to your store, it would be best to grab the best Basketball related products on your store and set up a quick campaign in order to get some quick sales.
The second method is one that requires actual keyword research, and this time it depends on the actual products you want to push forward. Let's take this cute dog jacket as an example: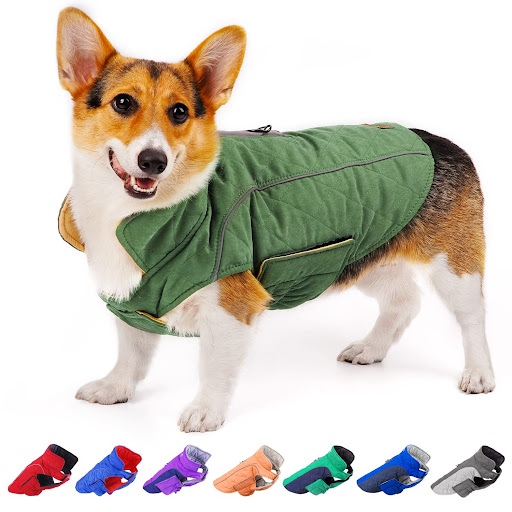 If you want to know the right time to start selling this jacket, then a simple keyword search of the words "Dog Jacket" will indicate the best time to promote this product.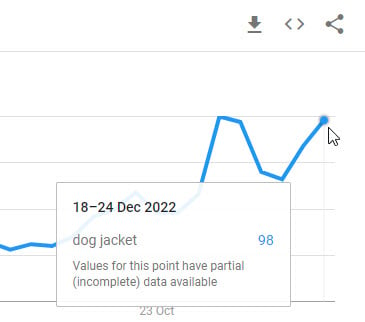 Source: Google Trends
It's that easy… Rinse and repeat for each product to see the best time of the year to promote.
---
2.
Gather market intelligence using TikTok
In 2021, TikTok officially surpassed Google as the most popular website of the year.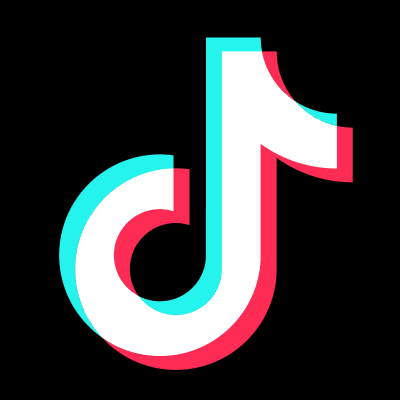 Source: TikTok
It may come as a big surprise for many, but as an advertiser myself, I knew it was just a matter of time before TikTok became officially the #1 visited website worldwide. TikTok is currently the most VIRAL platform out there, but it's not only about the challenges and the constant flow of "new celebs" that keep popping up each new day.
TikTok also acts as a product and trend research platform, and it can help you with scaling your product catalog if you use it correctly. As with Google Trends, you'll have to manually do your own research to find the trends of your interest.
The best way to do your research on TikTok is to start with popular hashtags: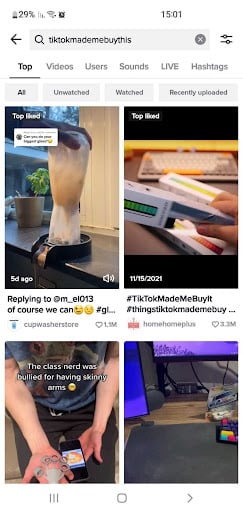 Source: TikTok
One of them is #tiktokmademebuythis, where you'll find a lot of cool products other users have bought and shared on this platform.
You can basically scroll infinitely there and find suitable products you can add to your product catalog to scale. And if you want more recent results, just click on the Recently Uploaded filter tab, and this will prompt the most recent products shared by TikTok users.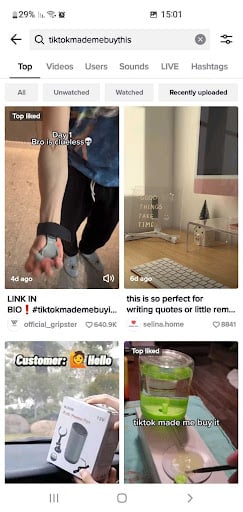 Source: TikTok
Note: Not all of these are viral or worth selling. Choose wisely the products from the Recently Uploaded recommendations. I always recommend pairing it up with Google Trends just to see how popular the keyword/niche is Worldwide. This will give you a clearer picture of what to sell and what not.
---
3. Gather market intelligence using Ecomhunt
If you don't have time to do your own research and you're looking for a platform that already does this for you (and more), then Ecomhunt is exactly what you need.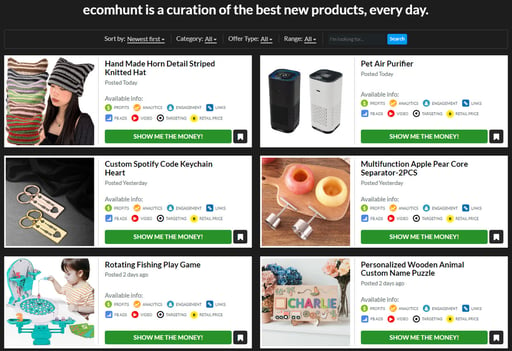 Source: Ecomhunt
Ecomhunt is a product research platform for online sellers that recommends winning products to sell on your online store. So, instead of doing your own research, you can let the team of product researchers on Ecomhunt recommend what products to sell.
And if you like a more data-driven approach, you can always choose to use one of the research tools available on the platform.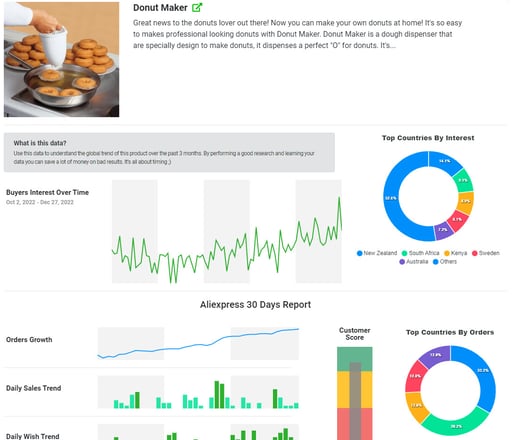 Source: Ecomhunt
This is where you'll get all the data in one place which will help you scale your product catalog successfully.
---
4. Gather market intelligence using Pinterest
Pinterest, unlike all the other options mentioned in this article, isn't your regular platform where you can instantly see numbers and data that back up your choice.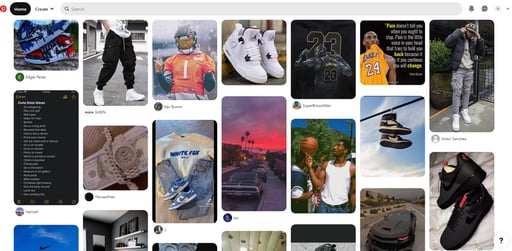 Source: Pinterest
It's basically a custom board where you see the stuff that interests you the most. All of it is uploaded by Pinterest users and you don't really have the option to sort it out by what's the most or less popular.
But this is where the magic happens and if you use Pinterest correctly, you can potentially find hidden nuggets that will boost your sales.
So first of all, as an online store owner with a catalog of products, you'll have to choose the niches that interest you the most.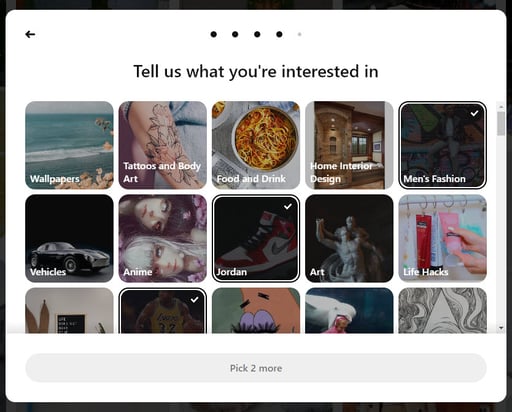 Source: Pinterest
This is actually quite simple to do as you are asked by Pinterest to choose at least 5 interests to complete your registration.
And from there you either test your luck by exploring the custom feed you get and maybe fall on a product that many users are liking right now. Or you can choose to use the search bar and ask Pinterest to help you out with a more specific search request.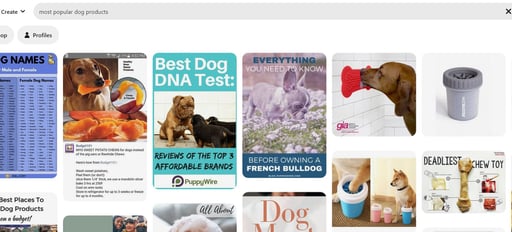 Source: Pinterest
Either way, Pinterest can be a product research goldmine if you give it a chance.
---
Summary
Now you know the 4 product & niche research tools that will help you scale your product catalog successfully in 2023.
Use these research methods to promote the products of the most interest in 2023 and to save your advertising budget on the products that actually sell.