Everything you need to know to start selling on MyDeal
---
What is MyDeal?
MyDeal is an online marketplace focused on home and garden retail. The brand was started in 2011, in Australia. MyDeal states that it currently offers over 1 million lifestyle products in over 3500 different departments. The brand works with most of the largest retailers in Australia, as well as independent sellers. It also claims to be Australia's most trusted marketplace.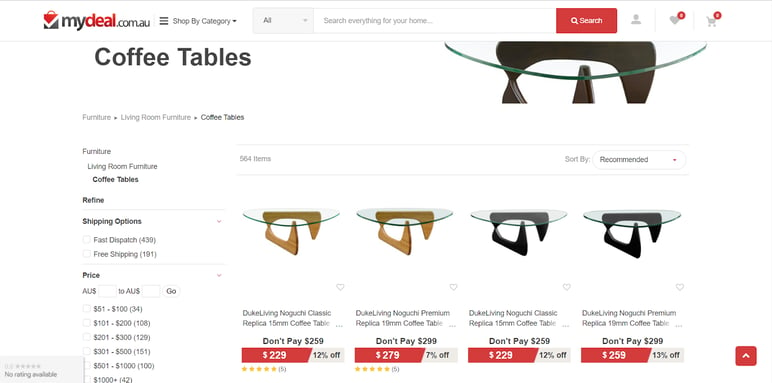 Back to top or
---
Why should you sell on MyDeal?
Due to the brand's strong presence in the Australian market, there are numerous benefits to selling on MyDeal. The first of those benefits is the fact MyDeal has cornered the market in terms of selling homeware and lifestyle products. The platform is by far the most established in Australia when it comes to selling within that niche. Therefore, as a seller, you have the advantage of most customers coming to MyDeal when shopping online for that kind of product.
Another advantage of the marketplace is that it offers expert advice on marketing, strategy, and utilizing technology to its sellers. This saves merchants cash as they no longer have to recruit experts themselves for areas of business they are unfamiliar with.
Last but not least, MyDeal is also home of

Australia's Night Online

. This national event is exclusive to MyDeal sellers, and is one of Australia's biggest sales events. This gives merchants a great opportunity to draw in new customers.
Back to top or
---
Getting started
To be
eligible to sell
on MyDeal, you need to meet/agree to the following requirements:
Agree to the seller terms and service agreement
Sell in AUD
Sell products in compliance with Australian product and consumer safety regulations
Have possession of your own stock - No third parties are allowed to be involved in sales and fulfillment
Deliver across Australia within a maximum of 15 days
Delivery should not require a freight quote prior to shipping
Be able to respond to customer service requests within 48 hours of receiving them
Be able to resolve warranty and fulfillment issues within a 10 business day period
You also need to sell products related to one of the following departments:
Furniture
Home & Garden
Appliances
Electronics
Tools & Equipment
Baby & Kids
Toys & Games
Sports & Outdoors
Health & Beauty
Clothing & Accessories
Books & Media
Arts & Entertainment
Food, Beverages & Liquor
Any sellers looking to sell products outside these categories will not be allowed to sell on the marketplace.
To begin selling on MyDeal you will have to enter the following details:
Your name (first and last)
The name of your business
Your company website
Your email address and phone number
The shopping cart you use, for example, BigCommerce or Shopify
An estimate of the number of listings you expect to have
The type of product/s you will be selling
There is also space for any additional details to be entered in the 'message' section. This is also a great place to address any questions you may have regarding the application process.
After filling in all your details, simply click 'send enquiry'.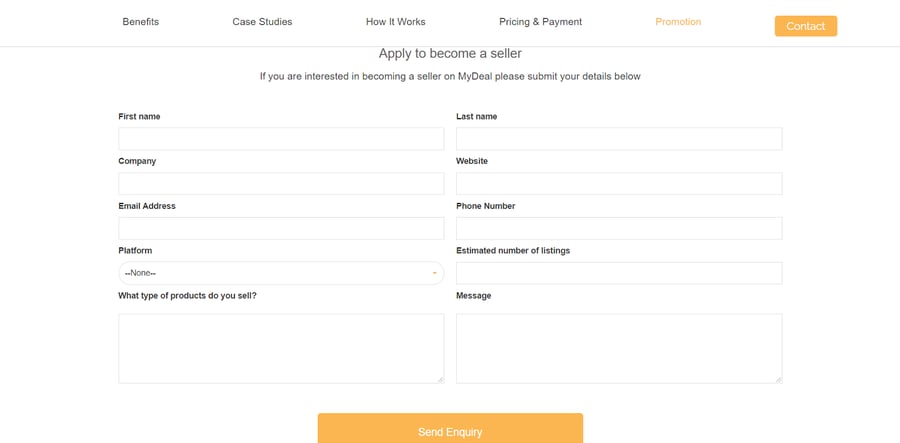 Back to top or
---
Product Feeds for MyDeal
Those who manage the store manually through MyDeal Marketplace and do not use any APIs to submit products may introduce new products or update existing ones using the "Update or create new products" feature in the portal.
To do this, sellers need to create a Product Data CSV file and import it to the Marketplace. After the file is successfully imported (no errors), any new products or product updates will be published on MyDeal.
In general, you can list your products on MyDeal in 3 ways: via APIs, through a direct integration with several e-commerce platforms, or via data feeds.
Feeds can really help you get more from your marketplace listings. If you do decide to streamline your listings on MyDeal, you will need to add certain fields. These include:
Title
Description
Product category
Currency (set to AUD)
Price
Stock/quantity
Image URL
GTIN
Don't forget that the more data you include, the more you help the customer make an informed decision and this will help reduce the number of returns.
Back to top or
---
Fees and charges
MyDeal sellers rates are completely dependent on product category. Should you wish to find out how much selling on MyDeal will cost you, you can submit a request on their website.
Back to top or
---
Product Listing Optimization Tips
Conduct keyword research for titles and descriptions
Titles and descriptions are two of the most important areas in any listing. Therefore, you need to use the right keywords to get the attention of the right customers. By doing keyword research, you can ensure that you appear for all the most relevant search queries.
Use the perfect set of images
Most marketplaces already have image requirements that can limit you. However, you can still try to showcase your items from various angles. If you are selling certain products, you can even try showing it using a lifestyle image. This can help customers to understand how the product looks in use and could be exactly what you need to make the sale.
Exclude Products
The secret to increasing your ROI is advertising smarter, and sometime it means excluding products. Consider skipping certain seasonal products (e.g. summer dress in the winter time), those out-of-stock, or those with low profit margin. Do they really bring in more revenue than what it costs you to advertise them?
If not, exclude them from your data feeds. This way your ROI will grow naturally.
Go Deep with Product Category
MyDeal offers a predefined list of available product categories. When selecting the category for your products keep 2 things in mind:
keep it as relevant as possible
The more relevant the category, the more chances of making a sale. You can easily set up categorization rules for product groups or even individual products in DataFeedWatch. For example you could decide that any product that contains

'chair'

in the title will belong to the

'Furniture > Dining Furniture > Dining Chairs' MyDeal category

.


go as far down the hierarchy as possible
For example, instead of stopping at 'Furniture > Bedroom Furniture', you could go 2 levels deeper:
'Furniture > Bedroom Furniture > Bed Frames > Queen Bed Frame'
That way you ensure that shoppers looking for a very specific product (usually they are at the very end of their buyer journey) find and consider your offer.

Include Variations
Shoppers can search for a specific color or size of a product. If you don't include variations in your listing, the product may not appear for specific searches. It's equally crucial to also include the information about the availability of the variants sold in the source feed.
Back to top or
---
Automatically list your products on MyDeal with DataFeedWatch
One of the obstacles to going multichannel with your sales is knowing which fields are required and whether they have been filled incorrectly.
To automate the whole process on MyDeal try integrating via DataFeedWatch. That way you can easily create rules and optimize your bidding with our mapping tool. Your data become even more powerful when your listings look precisely how you want them.

DataFeedWatch helps by giving you a ready-made template with all mandatory fields clearly defined.You can start right away for free and try it out and make your feed up-to-date and hassle-free.
Back to top or
---
Final thoughts
If lifestyle products are your area of business, there is no better marketplace to enter the Australian market than MyDeal. As a platform that buyers trust and sellers continue to embrace it is the perfect starting point to get your foot in the door.
Grow Your eCommerce Sales by Expanding to New Channels: