Table of Contents
What is Pinterest and how does it work?
Who is the Pinterest audience?
Benefits of selling on Pinterest
How much does it cost to sell on Pinterest?
How to Sell on Pinterest: 11 Key Steps
#2 Connect your online store to Pinterest
#4 Get your product catalog in order
#6 Create your pinterest boards
#8 Launch your Pinterest Shopping campaign
#10 Set up dynamic retargeting for Pinterest
#11 Plan for Success - Pinterest best practises
Ready to sell on Pinterest! - Conclusion
---
What is Pinterest and how does it work?
Pinterest is an online platform that is a mix of a search engine and a social media. It looks a bit like the old message board, but of course one that was transformed for the digital world.
Pinterest focuses on the visual, allowing users to search for new products, ideas and inspirations through images and videos. What sets this platform apart from the others is that users can choose to "pin" any image or video that they find inspiring and save it to a board (pinboard) that they have created. These can be all sorts of customized boards, such as "Beautiful wedding dresses" or "My dream bedroom". This ability to pin images or videos of products that link directly to the sellers website, is one of the ways Pinterest lends itself to business, particularly for online retailers.
If you post some pictures on Pinterest, you can also add a short comment or description and hashtags. However, the focus is still on the visual part.
The platform focuses on functionality, unlike some other platforms, Pinterest has adopted the less is more ethos that has worked well for Google and Twitter. The interface is easy to use, increasing its appeal to a non-techy audience.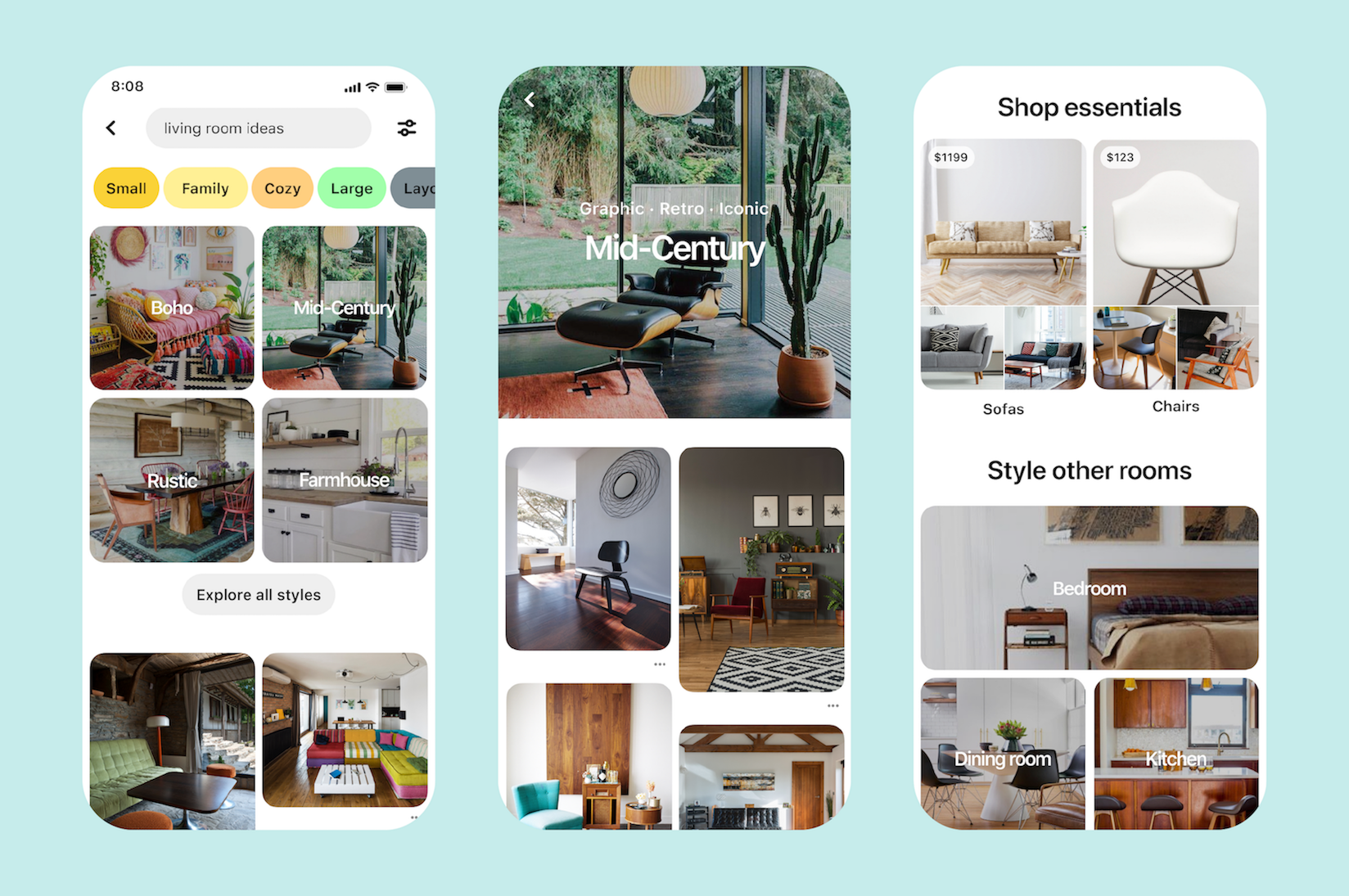 Shopping pins | Pinterest
Pinterest's history in short
Pinterest was launched in 2010, but it started selling ads to the public only in 2015. Its ad product was only available to English-speaking countries up until it kicked in only at the end of 2018. And it finally launched in Europe.
France was the first non-English speaking country to be launched. Followed by Germany, Austria, Spain, and Italy. The fact that Pinterest has been around for a long time, but only started its advertising business recently, makes it very attractive for marketers. They now can rely on an established engaged audience and at the same time be early adopters of its ad product.
As it happened for all the major online adertising and selling platforms, businesses who started early enjoyed lower costs, higher exposure and higher overall returns. The likes of Facebook and Google Ads are now saturated, which makes them very competitive and expensive.
Therefore, it became more challenging for businesses to obtain a relevant return on ad spend. Pinterest Ads is still fairly new and represents an unmatched opportunity for who is ready to take on the challenge of testing a new selling channel.
---
Who is the Pinterest audience?
An aspect that marketers love about Pinterest is its very targeted audience. The Pinterest audience is made of "Deciders". The people who actually make purchase decisions, for themselves or on behalf of their families and friends.
Most Pinterest users are women. They make up 60% of the entire global Pinterest community, but it's worth noting that the number of male users is increasing year on year.
The vast majority of people use Pinterest on mobile. This suggests that people seek inspiration the moment something sparks their interest or gives them an exciting idea. It's good to take this into account when creating your content for Pinterest so that it is truly mobile-friendly.
---
Benefits of selling on Pinterest
Unlike Facebook and Instagram, where people mostly check what their friends are doing, Pinterest is used to find inspiration and some more or less specific products. On Facebook, users often see ads for products they didn't ask for, but on Pinterest, you don't show content to people who aren't interested in what you're offering at all. Pinterest users are looking for something specific, so they are ready to buy. That's Pinterest's big advantage over other social media platforms, where the main purpose is different.
1. Pinterest increases brand awareness
97% of all searches made on Pinterest are not related to brand. This means that Pinterest users are very open to discovering new brands through beautiful and inspiring videos and images they find on the medium.
Sellers can choose from many different ad formats on Pinterest, giving them great opportunities to promote new products and brands.
2. Pinterest drives lots of traffic
Pinterest's main benefit to business is how good it is for driving traffic to external sites. Each image, video or product pinned to a board is automatically hyperlinked to its source. 445 million Pinterest users use the platform for shopping inspiration and to plan purchases each month. Users are actively looking for new things, new ideas and often ready to make their next purchase.
Unlike Facebook, users don't view brand content as an interruption to their viewing, but as an opportunity and an inspiration.
Excitingly, 97% of searches on the platform are unbranded meaning users are open to new things, they come looking for something not a particular brand, they are looking to be inspired by new ideas. In addition, 46% of users in the UK said they use the platform to discover new brands and products making it particularly useful for small business and start ups.
With each pin being linked directly to the sellers website, this offers sellers a valuable opportunity to generate traffic from active buyers to your site. For this reason, referral traffic from Pinterest can be far higher than that from other platforms, like Twitter or YouTube.
3. Pinterest has high conversion rate
Pinterest has a higher conversion rate than other platforms. 50% of users reported that they had bought a product after seeing it on Pinterest and it's not just online sale, as 93% of users said they used the platform to plan offline sales.
Since users are easily able to view content that really interests and inspires them, Pinterest users are not just viewing products on retailers' websites, they are also buying, and the number of conversions is increasing - three times the conversions versus competing social platforms.
Buyers from Pinterest are also spending on average 2.5 times more per shop than shoppers from Twitter or Facebook.
Pinterest has introduced a range of new tools to make it easier to shop from the platform, including Shop from a Board, Shop from Search and Shop from Pins.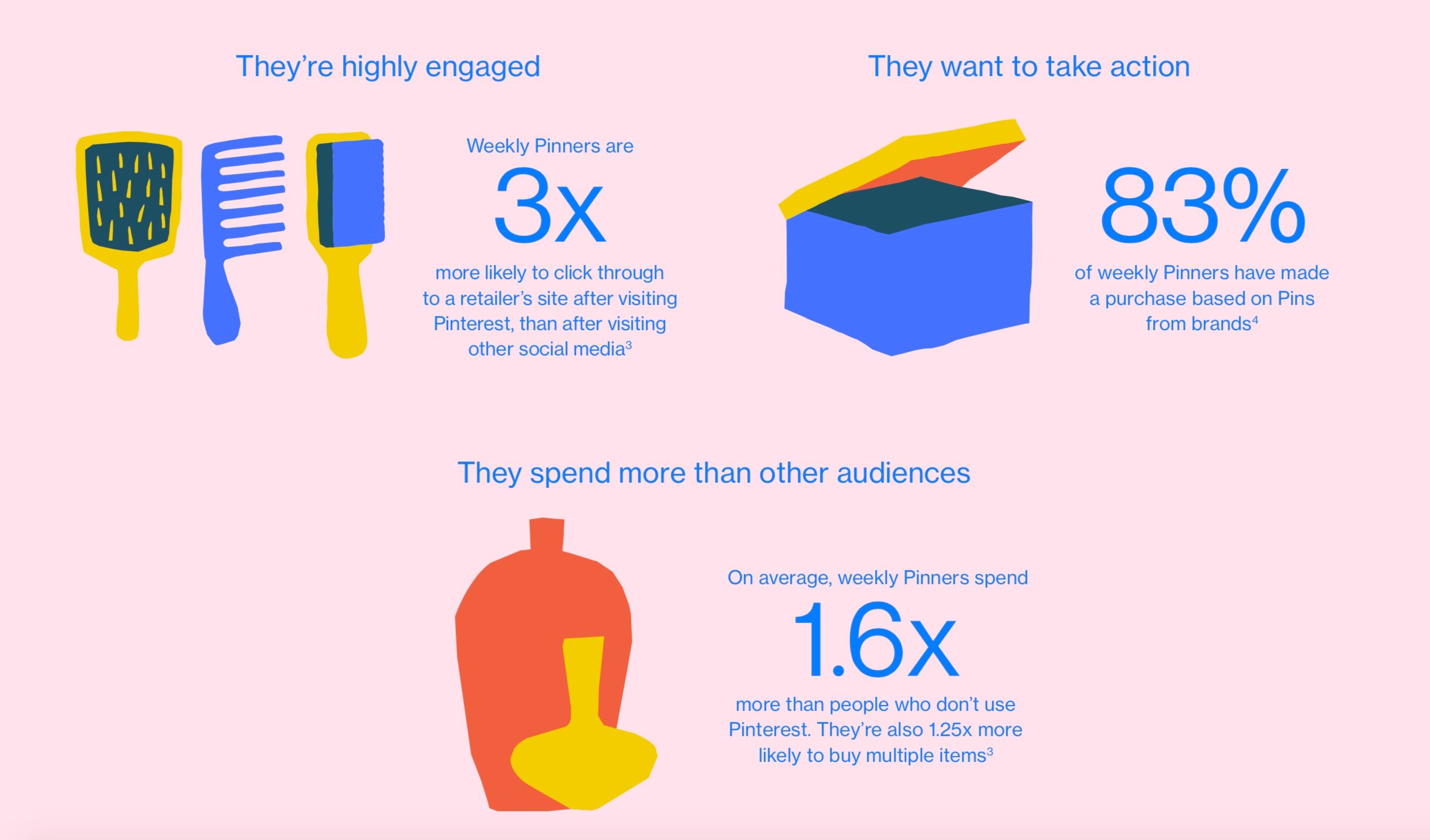 Pinterest users | Pinterest
4. Pinterest has the highest order value among social media
85% of Pinterest users say they use Pinterest to find buying inspiration and thus plan future purchases.
In addition, a US study found that almost 50% of users used Pinterest to buy products. Facebook was second, with only 15% using the platform for this purpose. Thanks to this study, we can see that Pinterest is actually one of the strongest (if not strongest) channels for shopping and your business will have a great opportunity for increased sales here.

5. Helps Boost Your SEO
Pinterest profile and boards rank in a search. By creating multiple boards you can take up more space for your brand name on the search results page.
The pins themselves will not count as backlinks to the site and will not help with Google ranking.
However, the more your pin with the hyperlink to your site is liked and shared, the more links there are and potentially more quality traffic is directed to your website, and this quality traffic is good for your website's Google SEO.
6. It's Free to Start
If you are just starting out or if you are on a tight budget, the good news is that Pinterest is free to set up and you can create your own boards and add pins, generating large amounts of re-pins and traffic to your website without spending any money!
By optimizing your pins and using attractive content, you can achieve high impressions without having to pay for engagement.
We're going to look at how to get started with Pinterest, how to connect your online store and how to promote your business.
7. Organic posts on Pinterest live longer than on other media
Pinterest has really high interaction rates and users can save as well as re-pin other people's pins. Therefore, the lifespan of an organic Pinterest post is 3 months and it is worth noting that on none of the other social media is it longer. On Facebook, an organic post has a lifespan of 2 to 5 hours and on Instagram a post lives up to 48 hours. Pinterest is the undisputed winner in this category and if you choose to advertise your products on the medium, the lifetime of your posts will be even longer.
---
How much does it cost to sell on Pinterest?
If you already know how to sell on Instagram or Facebook, Pinterest uses the same system. It works like a live auction, where you set your desired budget and you pay for each kilk on an ad. Selling on Pinterest is still less popular than on other social platforms or Google. Therefore, both CPA and CPC for Pinterest advertising is relatively low compared to the other platforms. This can be an advantage for you, where you can save some ad costs and at the same time show your product ads among still not so many other sellers.
The average cost of a Pinterest ad (all ad formats combined) in 2021 was $1.50 per click. With Cost per thousand (CPM), you might expect to spend $2 to $5 per 1,000 impressions. Keep in mind that prices can change all the time under the influence of multiple factors.
Daily or Lifetime budget
As an seller on Pinterest, you can choose how much money you want to spend on advertising. You can use a daily budget or a lifetime budget. If you're new to the platform, this decision can sometimes be a little difficult to make. That's why we explain it a bit below:
Daily budget
You should create a daily budget for your ads if you want to create a continuous flow of your Pinterest ads. This way, Pinterest will spend approximately the same amount of money to display your ads every day. Remember, if you decide to run a campaign based on the daily budget, do not include seasonal or limited offer products in it.
Lifetime budget
You should create a lifetime budget if you know in advance how much money you want to spend on Pinterest ads and promote certain products or services that have a limited time offer or are seasonal. In short, in this case you are specifying a desired budget for a longer period of time.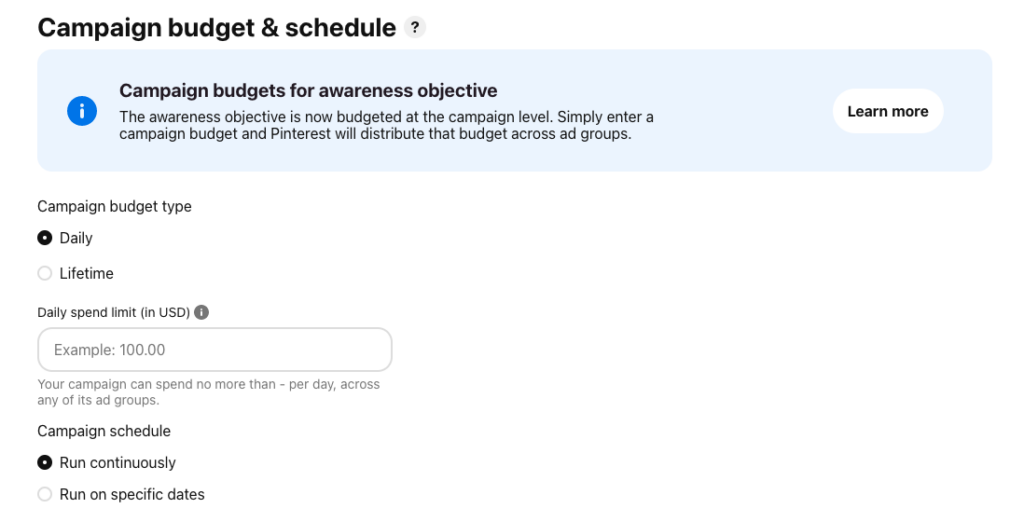 Scheduling campaign | Pinterest
Pinterest Bidding options
You can choose either a custom or automatic ad group bidding option. There are of course minimum bids, which depend on the competition and ad format, but you have full control over the maximum bid.
If you choose automatic bidding, Pinterest will manage all bids for you. Pinterest automatically adjusts your bids throughout the day and every day to get the most value for money.
---
All about Pinterest ads
Pinterest Shopping Ads or Catalog Sales Ads are Pinterest's feature for eCommerce businesses, who can dynamically advertise their products on the platform.
Advertisers can upload their full product catalog, create product groups and show product Pins on their business profile, in search results and recommended products section. Product Pins show a large product image, product title, price, availability and a "visit" CTA button that links to the product page on the sellers' website.
Once your catalog has been uploaded, your product Pins can show organically on the platform and they are also ready to be boosted through Catalog Sales campaigns.
Pins can be either static images, GIFs or videos. All three formats are available for advertising. The buying and bidding model is CPM (cost per thousand impressions).
What do Pinterest ads look like?
Ads on Pinterest show up naturally in the user's feed and look very much like organic pins. In fact, the resemblance is so strong that Pinterest users rarely know they've come across an ad.
When the user clicks on the ad, it unfolds and you can see the specific products with prices.
One can also click on "see more" to be transferred to the website (folded out directly in the app) where the particular product comes from.
Images are crucial to the success of your Pinterest selling. It is important that they are stylish, inspiring and just exciting to look at for the user. Your product should blend naturally into your Pinterest image, so it is recommended that the images are of everyday situations.
For example, if you're selling shoes, it's good to show a real person wearing your shoes in the photo. This person could be walking down the street or sitting at a table in a restaurant. It just needs to look natural so your potential customer can imagine themselves in that situation with your product.
Pinterest ad formats and ad sizes
Promoted image Pins
This is the most basic type of ad on Pinterest. It's just an image featuring that product or service, along with a short text that elaborates on the message. Sponsored pins appear in a prominent place either in the main feed of people that belong to the advertiser's desired target audience or in the user's relevant searches. A very small message saying that the specific pin is promoted is also visible on the image..
Depending on what the advertiser wants, by clicking on a sponsored pin, the user can be redirected to that website, webshop or to another board with additional great Pinterest images of the same product.
Recommended image pin size: 2:3 aspect ratio (1000 x 1500 pixels)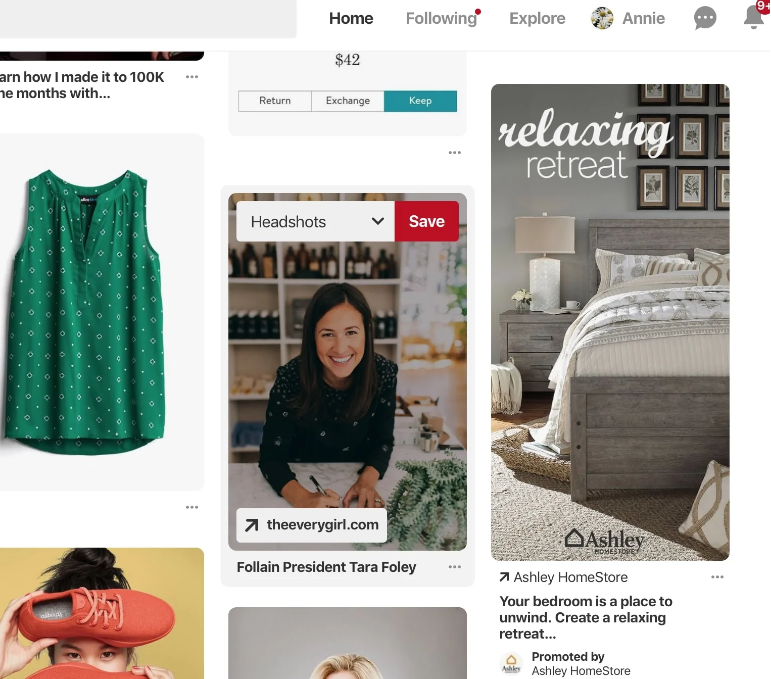 Promoted pins | Pinterest - source
Promoted video Pins
Promoted video pins are video ads that showcase your product or service. To be successful with these, make sure that your product is shown in the video in an inspiring setting or that there are some cool details about the item that is being featured. The main goal of Pinterest-promoted videos is, of course, to pique people's interest.
Sponsored video pins appear in the feed of your target audience, in people's searches or in the "Following" tab.
As with image ads, you can also add a short text to your video. Remember that it should be search-optimized for searches on Pinterest.
Recommended video pin size: 1:1 (square) or 2:3, 4:5 or 9:16 (vertical)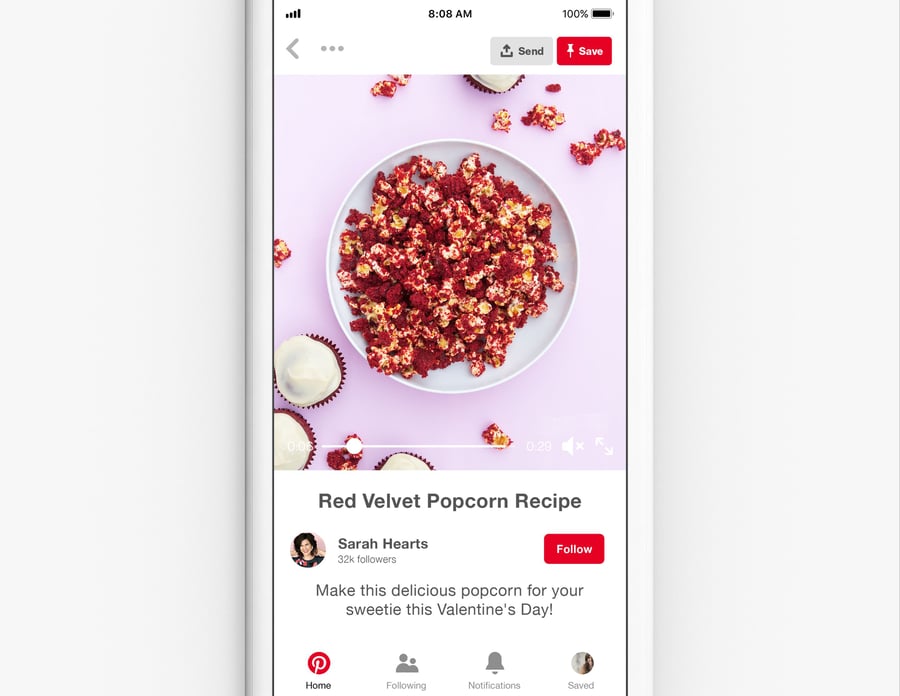 Promoted video pins | Pinterest
Carousels
Carousels are not just one image, but a series of images. They show your product in many different situations or in each picture from a different angle or just tell some kind of story about your brand or product.
You can add up to 5 images to your carousel. As with sponsored images and videos, promoted carousels can appear in the home feed, search and in the "Following" tab.
Recommended Carousel Pin size: 1:1 or 2:3 aspect ratio
Promoted video pins | Pinterest
Collections
Collection ads appear to mobile users only. It's not a problem as mobile users stand for 82 % of all Pinterest users.
A collection ad consists of one large, featured video or image and 3 supporting images. If a user taps your ad, you can then show up to 24 supporting images on the ad detail page.
These types of ads are perfect for e-commerce brands, especially in fashion, home decor and beauty industries. The best way to create a collection is combining all available formats: video, product images and lifestyle images.
Pinterest can automatically create collection ads for you, including dynamically selecting related products from your product feed.
Recommended Collection Pin size: image:1:1 (square) or 2:3 (vertical), video: 1:1 (square) or 2:3 or 9:16 (vertical).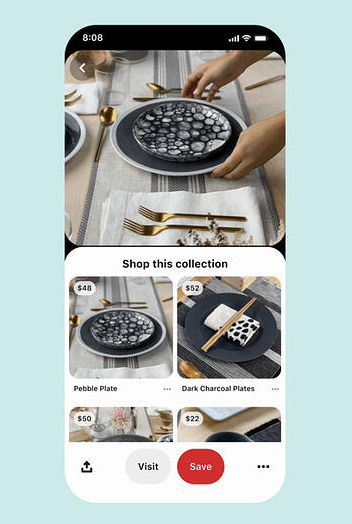 Collection pins | Pinterest
Shopping pins
This Pinterest ad format allows users to make a purchase instantly through the pin. They can do this either via a buy button or via a link that takes them to the particular online store.
Products can be directly imported from your product feed.
Apparently retailers experience 3 times greater conversion and 15 % increase in ROAS using this Pinterest ad format and Collections.
Recommended Shopping Pin size: 2:3 aspect ratio.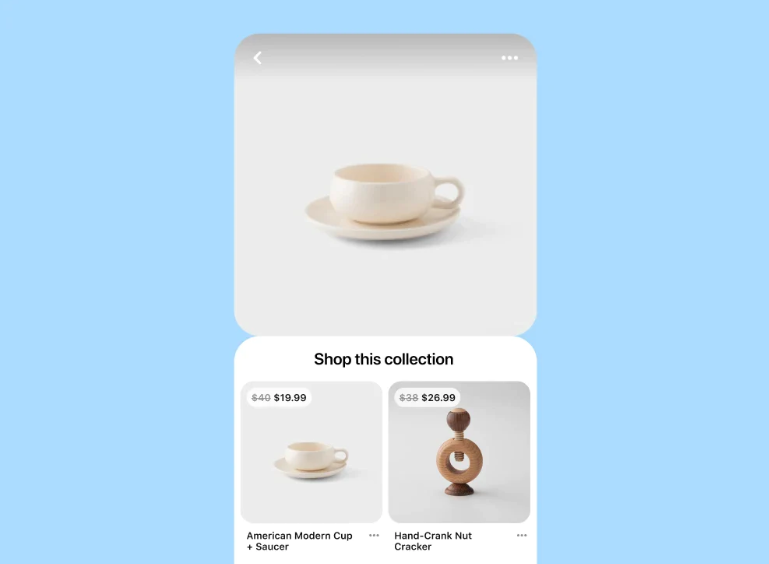 Shopping pins | Pinterest
Idea Pins (new 2022)
Idea Pins are a multi-page video format, or a series of up to 20 images. It is similar to Instagram stories. The purpose of this Pinterest ad format is to make the video content more shoppable. Pinners can partner with different brands to utilize affiliate links and sponsored content.
With idea pins you can take advantage of:
User tagging

Interactive stickers

topic hashtags

Text and graphic overlays

Voiceovers

Option to add detail pages, for example materials, ingredients, instructions
At this point, this is an organic-only format but sponsored Idea Pins are coming. They're now in the test phase for the U.S. but going to be available to everyone soon.
Recommended Idea Pin size: 9:16 aspect ratio (minimum size 1080×1920).
Try On Product Pins (new 2022)
Try on product Pins is a mix of your content and augmented reality that allows users on the app to virtually try on products using Pinterest Lens feature.
This ad format can work great for beauty and accessories brands.
In order to launch Try on Pins you need to upload your product feed to your Pinterest Business account. However this ad format is not available everywhere yet and for now you need to work with a Pinterest account manager to manage the ads. Hopefully Try on Pins will be available for all advertisers soon.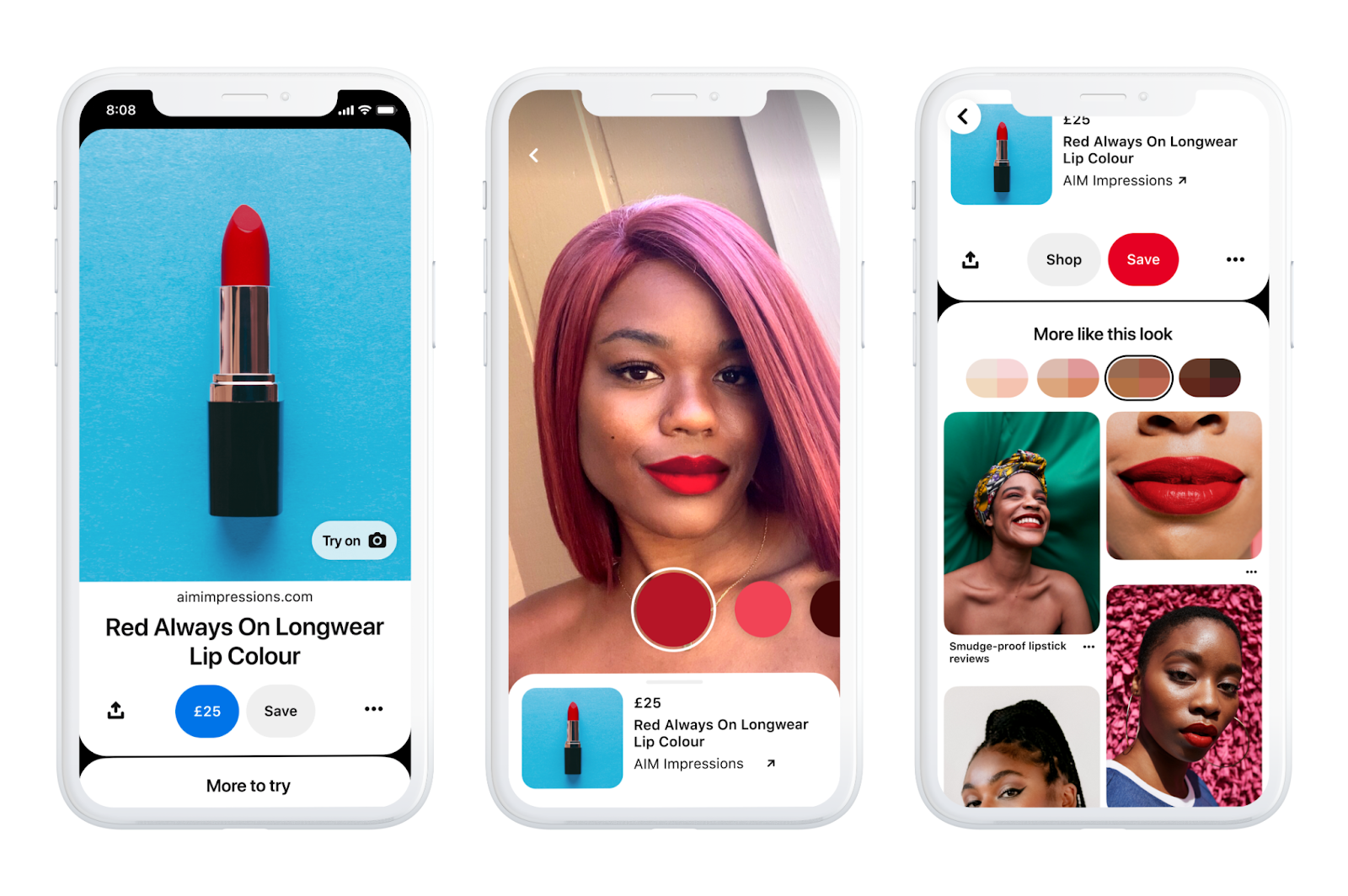 Try on product pins | Pinterest
Recommended Try On Pin size: 9:16 aspect ratio (minimum size 1080×1920)
Pinterest Ads Campaign Objectives
Similarly to Facebook, Pinterest Ads offer several campaign objectives to choose from.
Campaign objectives | Pinterest
Its offering spans from top-funnel brand awareness campaigns, to conversions and catalog sales campaigns.

Brand Awareness

and

Video Views

campaigns aim to show your Pins to as many people as possible. This helps spread the word of your brand. It is perfect for aspirational content and generic branded messages.

Traffic

campaigns aim to drive traffic to your website. The goal here is to get click-throughs. Therefore, you want to make your Pins engaging and related to a specific offer of product.

Conversions

and

Catalog Sales

objectives aim at purchases on your website. The former requires advertisers to manually create their Pins, the latter is feed-driven. More on this in the next section
Pinterest Ads Targeting Options
Pinterest Ads offer three targeting options:
Keywords Custom Audiences
Sellers can create their own custom audiences based on first-party customer data gathered either through the Pinterest Tag on their website or through their CRM system. The following are the options you can choose from: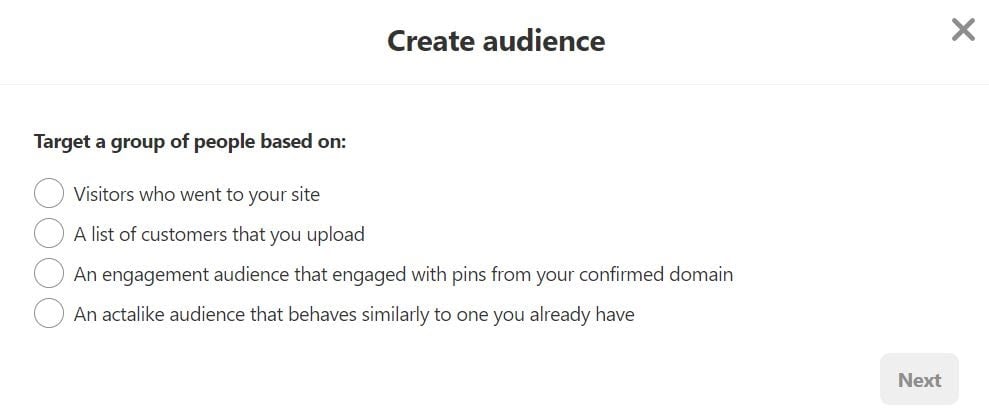 Creating audiences | Pinterest
Actalike audiences work like Facebook lookalike audiences.
If you choose to target your potential customers based on demographics and you have you Pinterest-tag installed, you can segment your audience like that: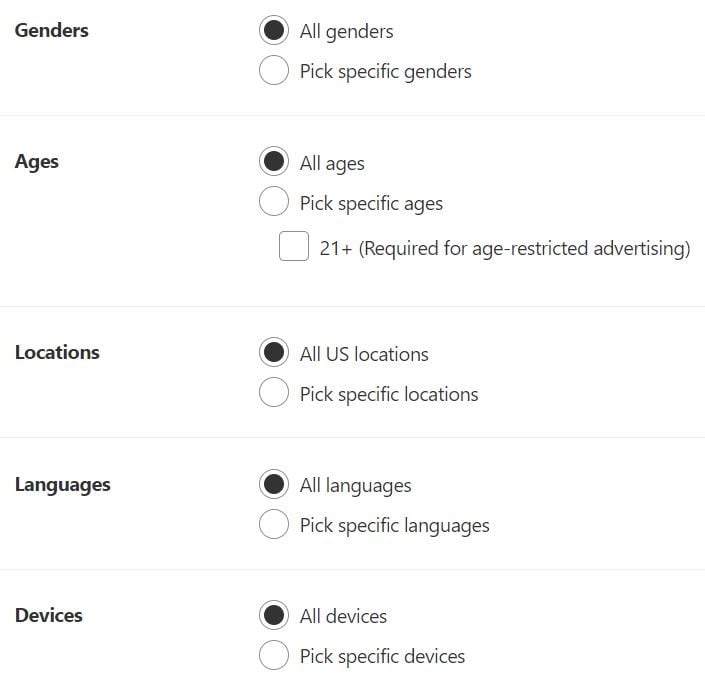 Choosing target groups | Pinterest
Also, the same as on Facebook and Google, advertisers can target their audience based on interests. There are more than enough to choose from.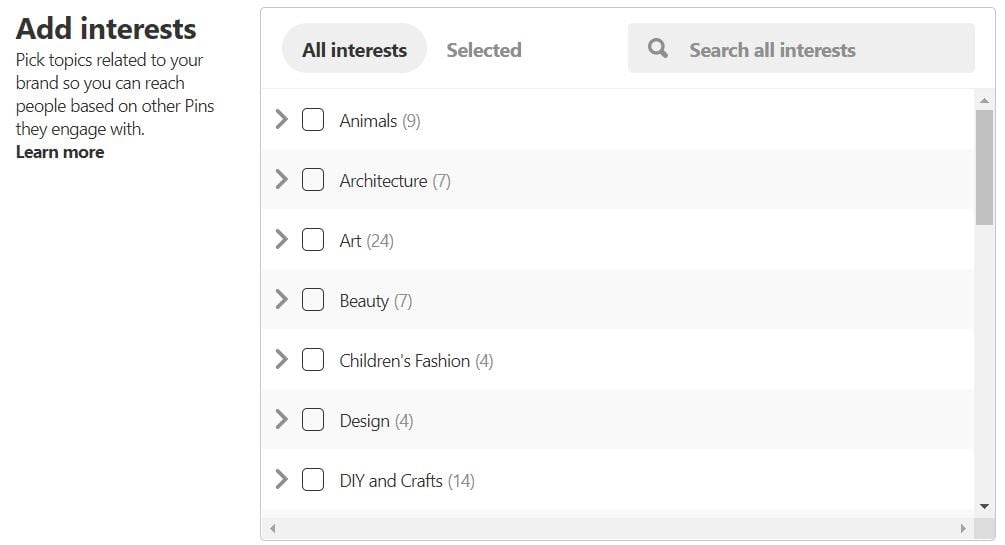 Creating target groups based on their interests | Pinterest
Keywords are what distinguish Pinterest Ads from Facebook and Instagram. Pinterest is an unusual social media because it is also a search engine. This is what makes Pinterest so valuable to eCommerce businesses.
Marketers can capture the customer intent like never before on social media, at the bottom of the purchase funnel. Bids can be set at the keyword level (as well as at ad group level).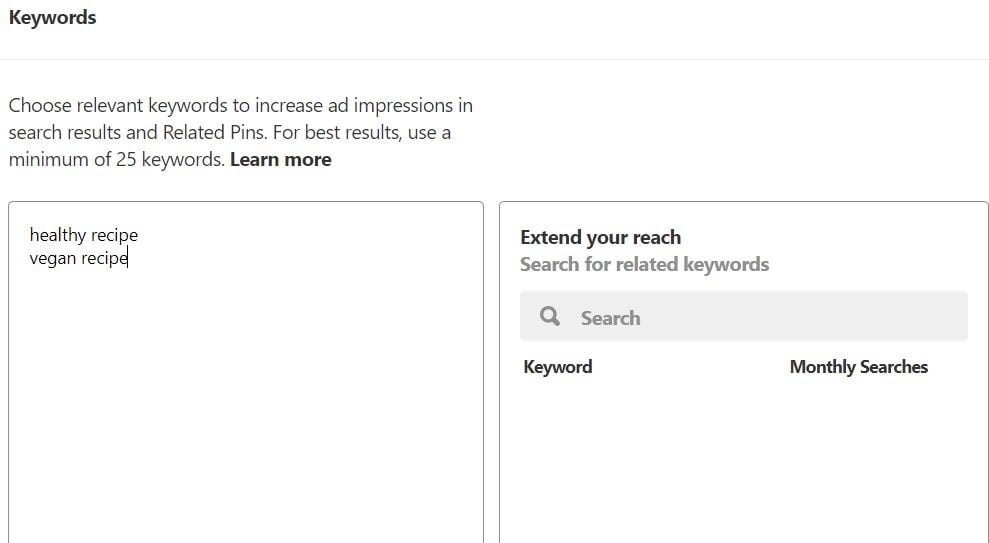 Choosing relevant keywords for your campaign | Pinterest
Bear in mind that, unlike on Google Display Ads, the keyword targeting method doesn't narrow down the interest targeting. Rather, it expands it. Roughly, it is the same that the targeting Observation mode does on Google Ads.
Think of the following logic statement: "Target users who are interested in food and drinks OR search for a 'healthy recipe' ". For this reason, we recommend creating separate ad groups for interests and keywords.
---
How to Sell on Pinterest: 11 Key Steps
If you are not currently using Pinterest for your business, here's the most important actions you'll need to take to get started:
Below we describe 10 steps to create a successful Pinterest ad campaign.
---
#1 Set up a Pinterest account
We're going to look at how to create a Pinterest Business Account step by step. Setting up a business account on Pinterest is free, this will give you access to analytics on your pins and the ability to set up paid ads.
If you have an existing personal account you can create a business account, allowing you to sign in with the same email address.
You can also convert your personal account into a business account. You just need to log into your account and navigate to account settings. Then click Get started next to "Convert to business account" and then click Switch to business.
To set up a new Pinterest business account from scratch:
Enter the email address you'd like to use to sign up and password

Click

Create Account

Check your email for the verification email.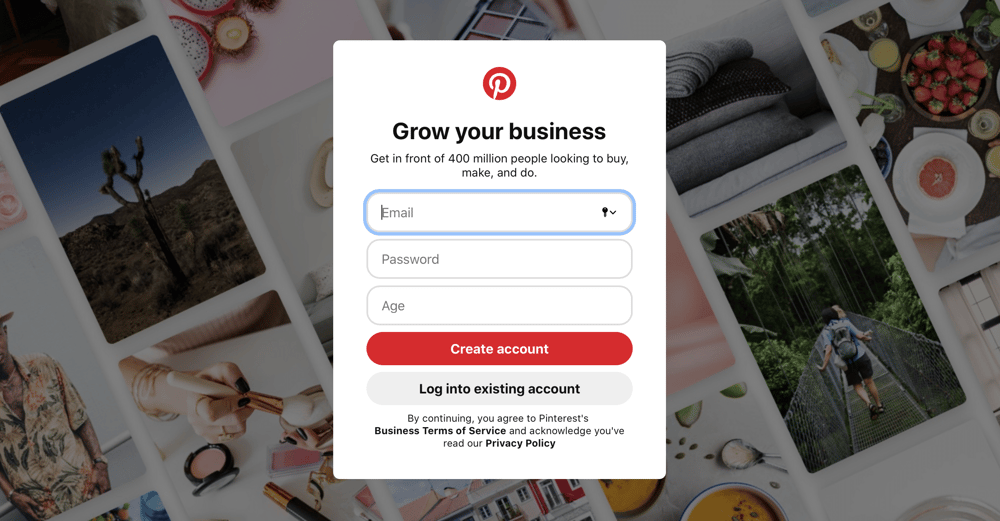 Creating a business account | Pinterest
Build Your Profile

by adding you business name and website, then selecting your region and language, then click

Next.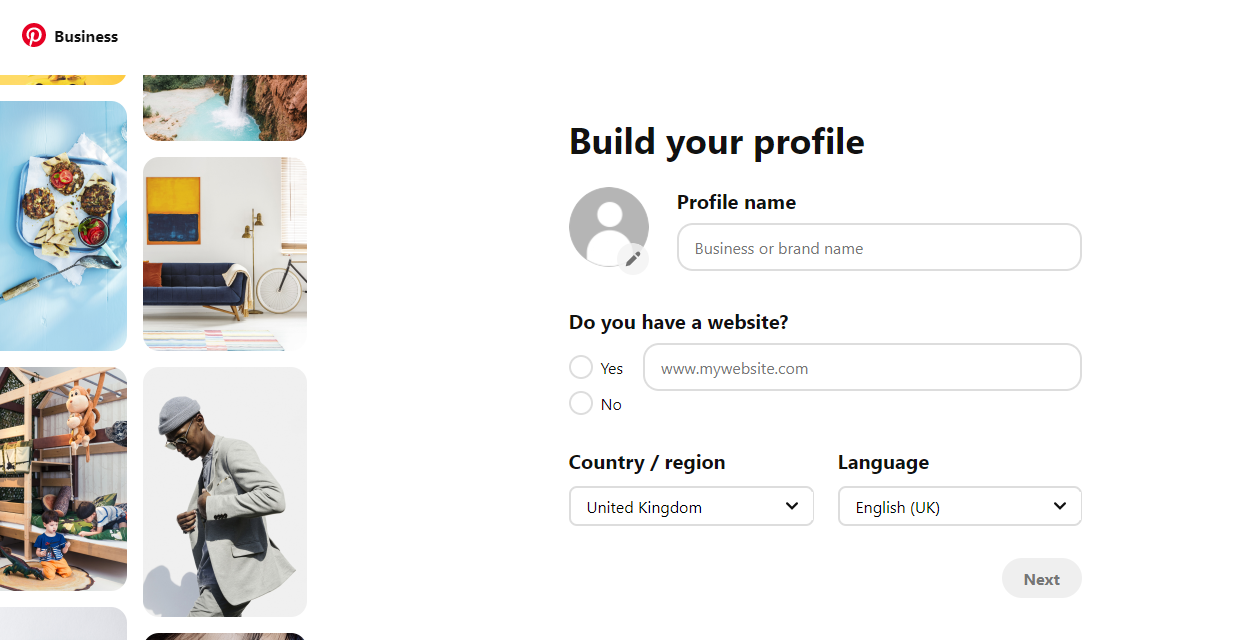 Building your business profile | Pinterest
On the next screen you will be asked to

Describe Your Business

, select the option that best describes your business, then click

Next.

Select if you want to run ads (you can always change this at a later time), then click

Next.

You will now see a pop up, Pinterest will give you options to get started, either select one or click the X to close the pop up and view your new Pinterest Business account.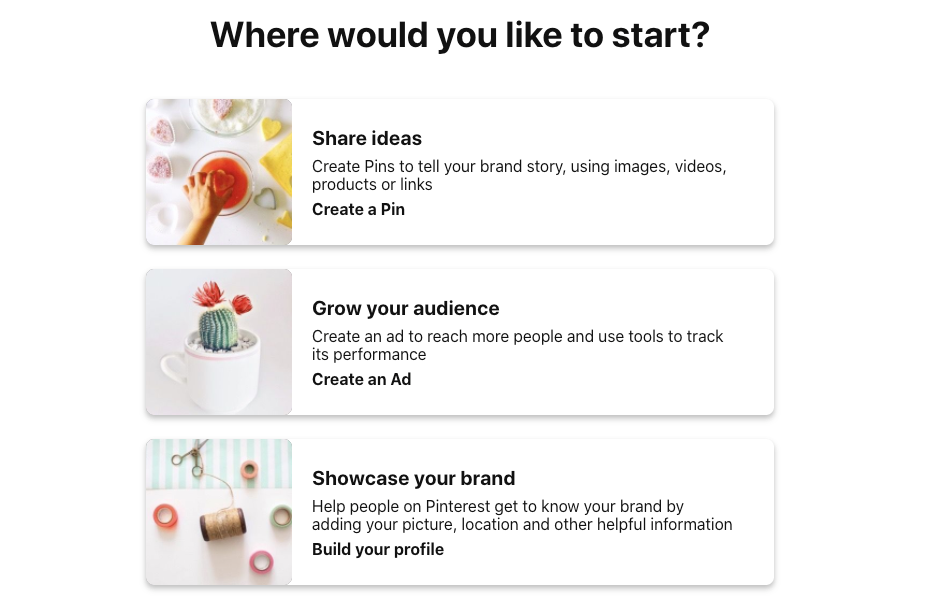 Setting up a goal for your campaign | Pinterest
As a business you may want to add other team members or partners to your new account, you can do this by clicking the down arrow at the top right of the screen for the main menu, and selecting Business Access.

Adding partners | Pinterest
Again, by clicking the down arrow at the top right of the screen you can access the main menu, select Settings, then select Claim from the menu on the left. Here you will be able to claim your website, Instagram, Etsy and YouTube channels, this will ensure you get credit for any of your content on Pinterest. Your name and profile image will appear next to any Pins that come from your site or your accounts.
---
#2 Connect your online store to Pinterest
With nearly half of all users logging in to shop there are a lot of new customers ready to be reached. The next step is to reach your potential new customers by connecting your store.
Whatever platform you use, Shopify, WooCommerce or BigCommerce, you can easily connect to Pinterest and begin selling. When your store is connected, Pinterest will automatically pull through the meta-data, such as the name, price and availability, from your product page to a pin. Pinterest refers to this as a Product Pin, which is a type of Rich Pin.
Pinterest also now offers Buyable Pins, where retailers can sell directly on the Pinterest platform.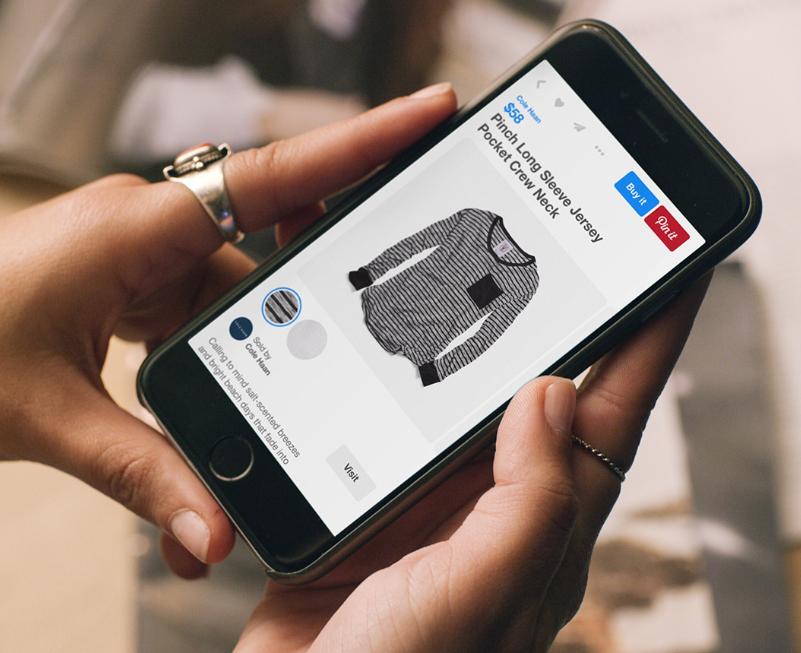 Buyable pins | Pinterest
How to connect Pinterest to Shopify
By linking your Shopify store to Pinterest you can easily promote products you are selling in your store.
There are two ways to connect your accounts:
Connect via the Pinterest for Shopify App.

Manually add the Pinterest Tag to your Shopify site (for this method visit

Pinterest Help

).
Connecting via the Pinterest App is by far the easiest way to do it. Here's how:
Log into your Shopify Account.

Click the + icon next to the Sales Channel menu option on your Shopify home page.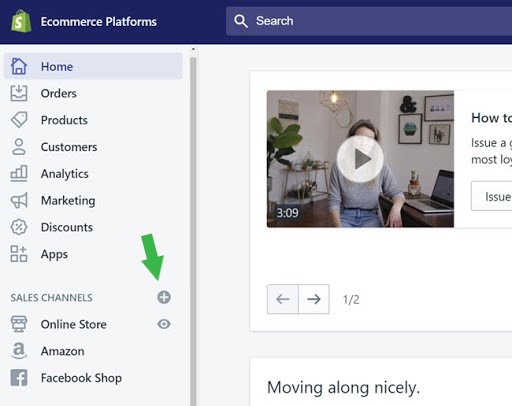 Linking your Shopify and Pinterest accounts
A new pop up window will appear showing a list of sales channels that can be added to your store. Click the + icon next to Pinterest: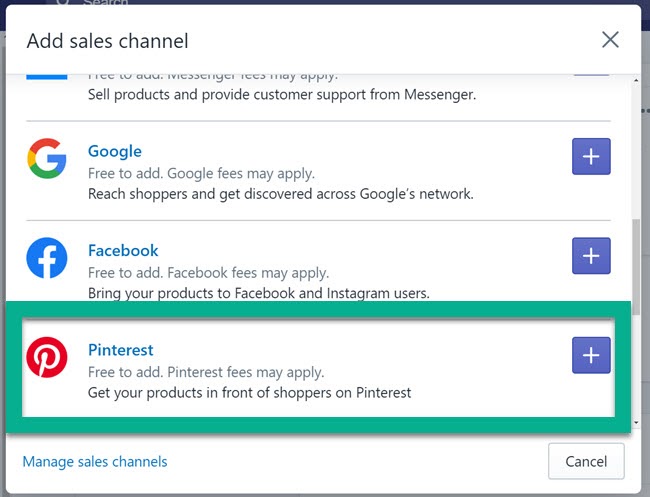 Linking your Shopify and Pinterest accounts
The next window will provide you with privacy information. Click

Add Sale Channel

.

Alternatively add the app directly from the Shopify App Store.

Click the

Connect Account

button this will take you to the Pinterest site.

Ensure you are logged in with your business account and click the

Give Access

button.

Linking your Shopify and Pinterest accounts
You will now see your Pinterest page which is connected to your shopify site.
How to connect Pinterest to BigCommerce store
Your BigCommerce store can be connected to your Pinterest account by adding your Pinterest Tag. This will allow you to track traffic and sales origination on Pinterest.
Linking you BigCommerce Account with Pinterest
To connect your accounts:
Navigate to your BigCommerce control panel.

In Channel Manager, Click Get Started, next to the Pinerest channel.

Click Get Started and sign in with your Pinterest Business account.
Adding Pinterest Tracking code to BigCommerce
To add this tracking code you will need to:
Select

Storefront

from your BigCommerce Admin

Click

Script Manager

Click

Create a Script

Complete the form with the information below:
Name of script = Pinterest Base Code

Description = Pinterest tracking tag

Location on page = Head

Select pages where script will be added = All Page

Advertising for Script category = Targeting

Script type = Script




Paste the
Tracking Code
into the box.
On Pinterest Ads Manager get your unique tag ID.
Click

Ads

.

Click

Conversions

Under

Install Pinterest tag

, click

Get Started.

Copy the 13 digit tag ID and paste it in the Tracking Code box.

Click

Save

.
Sharing Your Product to Pinterest
It's easy to share your products on BigCommerce to Pinterest, as well as other popular social media, via the Share Button on each product page. If you don't see the social sharing button, you can turn this by going to Store Setup, selecting Store Settings and clicking Share tab. To take advantage of Pinterest Buyable Pins, ensure this function is also enabled, by selecting More Options and enabling Rich Pins.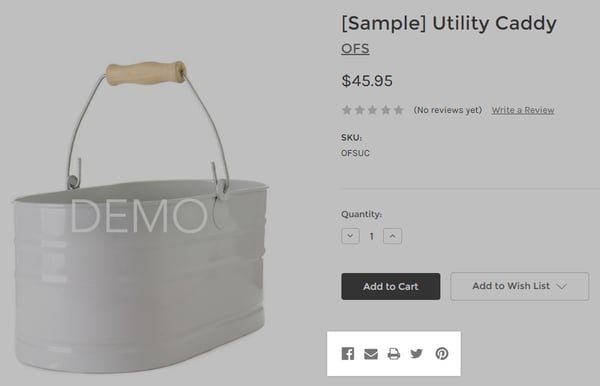 How to connect Pinterest to Woocommerce
Connecting your WooCommerce store to Pinterest is straightforward. You can install the Pinterest for WooCommerce App. This removed the need to manually create and edit your product pins by allowing you to connect your store and automatically generate product pins.
New products and updates are automatically synced. You will also be able to take advantage of Pinterest tracking of traffic and sales through the channel.
Bear in mind that there is an additional cost for the app. However, once you have purchased the app and installed it, you will need to connect your site to your Pinterest account, here's how:
Go to

WP-admin.

Select

WooCommerce settings

.

Click

Connect

.

Navigate to the

Integration Tab

.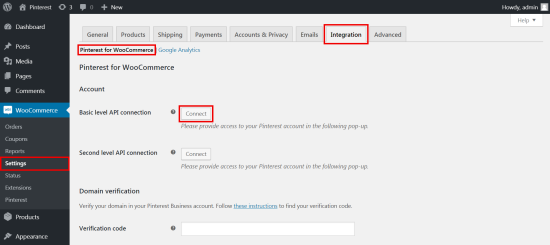 Linking your WooCommerce and Pinterest accounts
Basic level API conversions - Click Connect.

A WooCommerce app permission pop up will appear - Click Okay.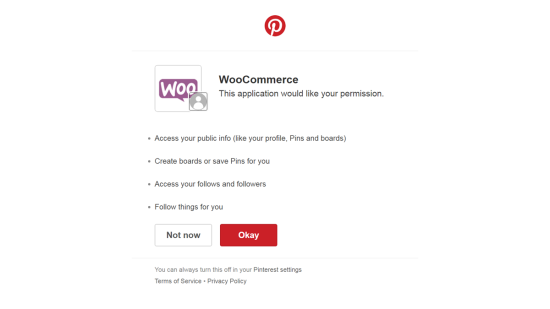 Linking your WooCommerce and Pinterest accounts
You will then be directed to this message from WooCommerce "You just authenticated Pinterest" - Click

'THAT'S MY SITE – REDIRECT ME'.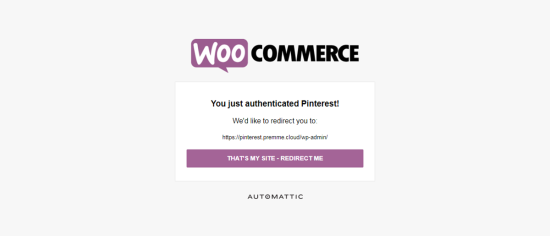 Linking your WooCommerce and Pinterest accounts
Navigate back to the WP admin WooCommerce Settings Integration Tab.

Click

Connect

beside the Second Level API Connection.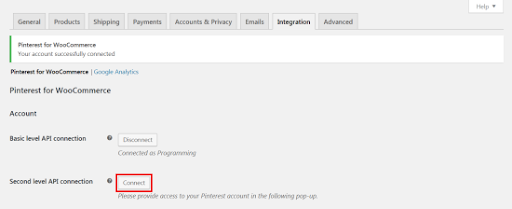 Linking your WooCommerce and Pinterest accounts
A Pinterest popup will appear, ensure you are signed in with your business account and click Authorize App

You will again receive the message from WooCommerce "You just authenticated Pinterest" - Click

'THAT'S MY SITE – REDIRECT ME'
---
#3 Optimize your page
Before you get stuck into all the pins and boards, don't forget to edit your profile To do this, navigate to the business hub dashboard and click the pencil next to your name.
Carefully choose a high resolution image for your cover and profile. Choose one that reflects your brand.
TIP: Keep your profile imaging coherent across all your social media platforms so your brand is easily recognizable to users.
Ensure your store is connected and all relevant information is being pulled through to Pinterest.
When writing your bio, ensure you include relevant keywords if you want to appear in a Pinterest search bar. We'll look at how to find these keywords in the next step.
---
#4 Get your product catalog in order
Uploading a product catalogue to Pinterest
First of all, you need to make sure that your product catalog follows the Pinterest formatting requirements. You can download a catalog template here. As you can see from the template, the catalog format is quite similar to the Google Shopping one. There are some required fields and some optional ones.
Required fields:

Creating product titles | DataFeedWatch

Mapping prices | DataFeedWatch

Mapping availability | DataFeedWatch
Among the optional fields we recommend you use the following:
product_type:

custom product categorization

additional_image_link:

Pinterest creates a new Pin for any additional image. It increases the chances to show your products

sale_price:

add this field so you can highlight your discounted price

brand:

if you sell products from multiple brands, this can be helpful for categorizing them accordingly

custom_label_0-4:

add custom labels for better product group management
Your product feed can be uploaded as a .csv, which is quite a standard format. Although the feed format looks very similar to the Google Shopping one and therefore you might be able to use the same file for both platforms, you might want to optimize them differently.
In fact, some fields like custom labels can be tailored to the platform-specific needs. We talked about custom labels extensively in our blog. They help you categorize your products based on your commercial needs.
You might want to group all discounted products together, or all the bestsellers in a bespoke group. This can be achieved only through custom labels.

Labeling on sale products | DataFeedWatch

Labeling top seller products | DataFeedWatch
Since bids and competition can change significantly from one platform to another, it might be the case where your Google categorization doesn't really work well for Pinterest and vice versa.
While customizing your feed specifically for Pinterest might seem like a big task, it doesn't have to be. DataFeedWatch helps you do just that. You can upload a single source feed and then customize it based on every platform needs.
If you have already connected your store or data feed to Pinterest and you have claimed your website, you can use product catalogs to create pins.
To add your catalog:
Navigate to Business Hub, Click the

Ads

in the top left menu, Click

Catalogues

.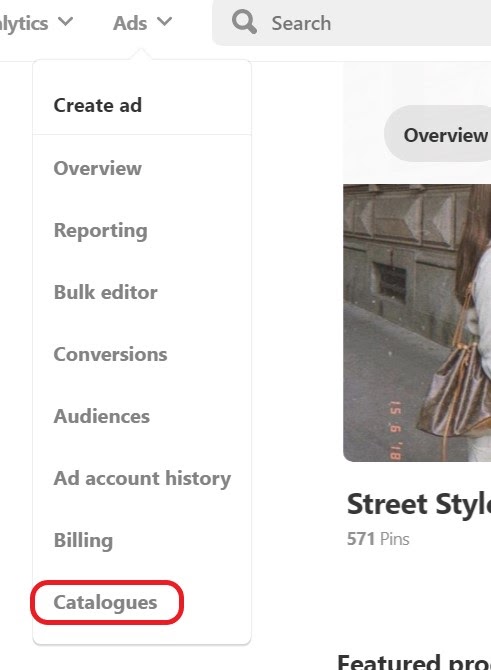 Adding a catalogue | Pinterest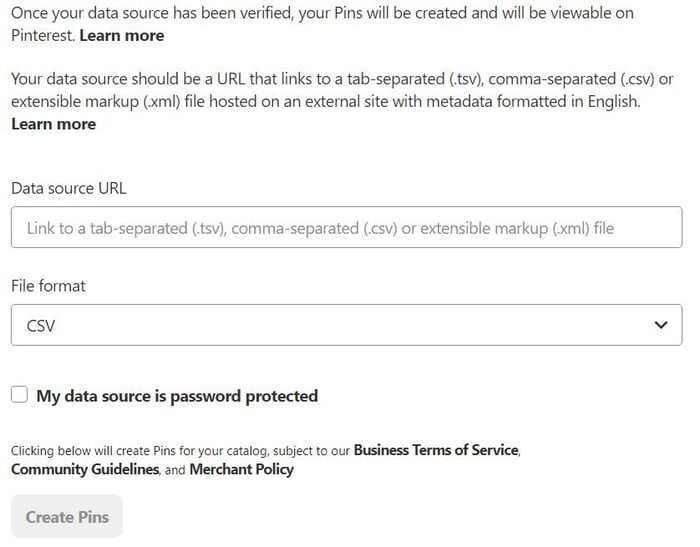 Uploading a product feed | Pinterest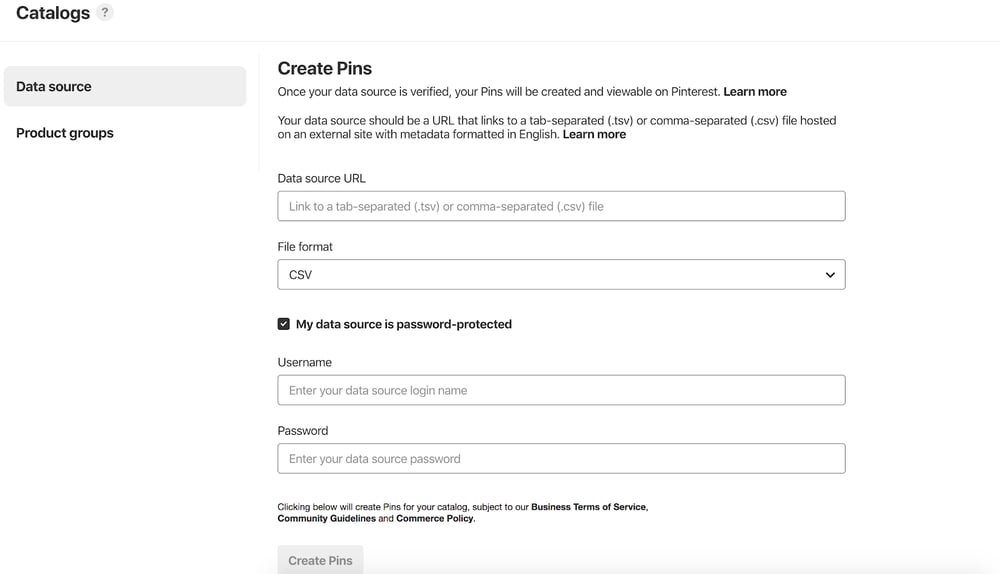 Creating pins | Pinterest
It may take a while to create your new data source (up to 48 hours). Pinterest will email you when this is done.
When your catalog is created, you can edit it by clicking the pencil icon next to it on the catalogs page.
DataFeed Optimization Solutions can help to create and optimize your data source to improve traffic and sales.
---
#5 Conduct keyword research
Pinterest analytics tab has some keyword research tools, however, a simple way to find out what keywords to use is to type a keyword relevant to your business into the Pinterest search box and view the suggestions.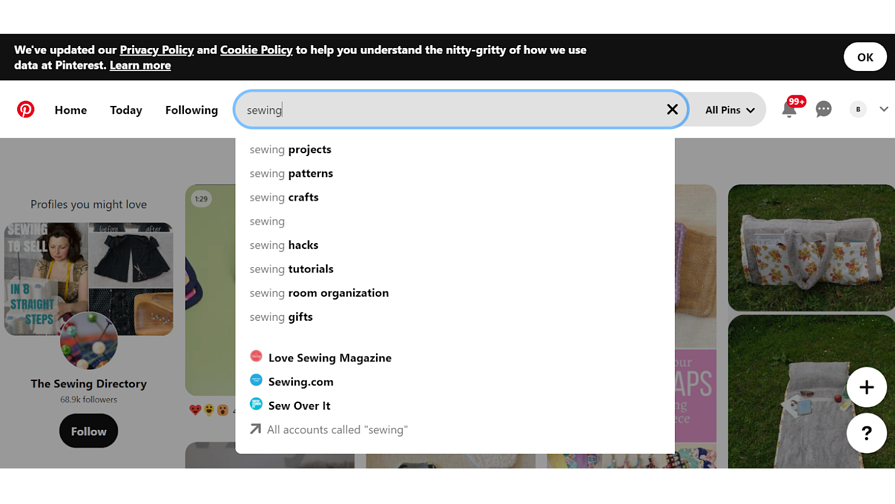 Searching for relevant keywords | Pinterest
Pinterest works like a search engine, so keywords help it to drive the right traffic to your page. Try to include 4-5 keywords in your page bio, as well as including them in your pins.
---
#6 Create your pinterest boards
Now we have the page setup, it's time to set up your first board. Boards are where you keep a collection of pins, a pin being an individual product, image or video.
To create a board:
Go to your business hub, Click the + icon Create Pin.

Click

the down arrow

beside the red Publish button.

Click

Create Board

.

Name the board, remember to include keywords you want the board to show for.

You can choose to keep the board secret if you are still working on it.

Click

Create.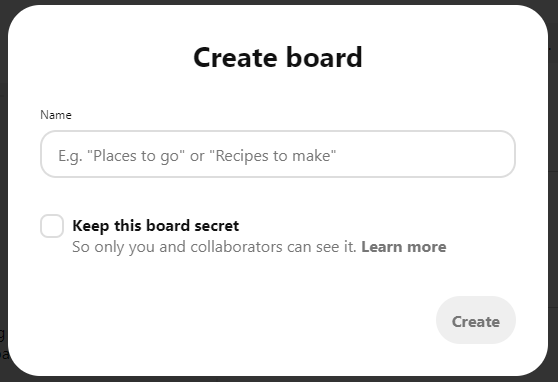 Creating a board | Pinterest
TIP: Before you start, it's worth taking the time to work out how you want to organize your boards and pins. For example, if you are selling clothing, you might want to have a board with a certain type of clothing, such as dresses, you may want to have a board with a certain colour theme or a board for the new season or one for best sellers.
Think outside of the box - what themes are there that could relate to what you are selling? If you have multiple products, try to group them together in creative ways. Rather than just showcasing them plainly, show how they fit into part of a wider lifestyle image. Take a look at Airbnb's page for a great example of this.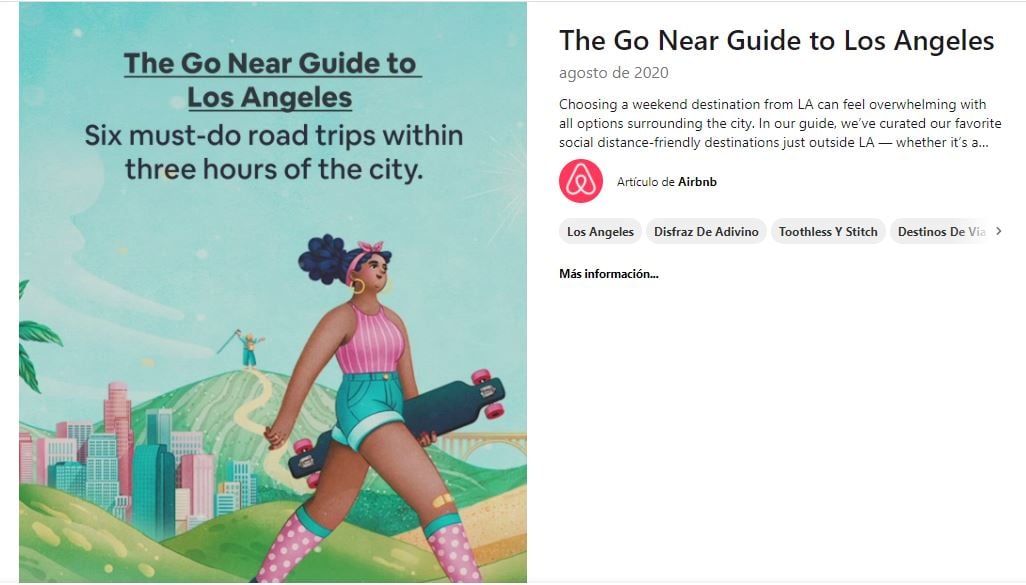 Example of a Pinterest board | Pinterest
It's important to note that there are two main types of content: pins are individual posts while boards are collections of pins that are organized around different themes.
Make sure to use original images as the Pinterest algorithm will promote these more. You can also use Pinterest trends to gain inspiration.
---
#7 Create product pins
We've finally reached the all important stage, the pins! The Pinterest platform is made up of high quality images and videos, known as pins. Each of your pins will be linked back to your online store, your company information or blog. Therefore, having engaging pins can really drive traffic to your website and sales. A Pinterest study revealed that 85% of users place more importance on images than text.
If your focus is driving sales, you will want to create product pins. Product Pins are more than just an image from your website, they also contain metadata about your product and formatted to let viewers know that they can buy your product.
If you have created a catalogue in Pinterest, your product pins can be created automatically and dynamically.
They can also be created by pinning the product directly from the product page of your website. By enabling rich pins from your website, you will also allow visitors to pin your product to their boards.
As on Instagram, high quality images are key, so ensure all your pins use high quality photos that are sharp, in focus, well composed, and showcase the product while remaining true to your brand. Unlike Instagram, which mainly uses square images, vertical or portrait imagery, a 2:3 ratio, works best.
But don't forget the wording! As with the board descriptions, keywords are key! Ensure all the captions to your pins are search-friendly or your beautiful images will not show up in potential customers search results.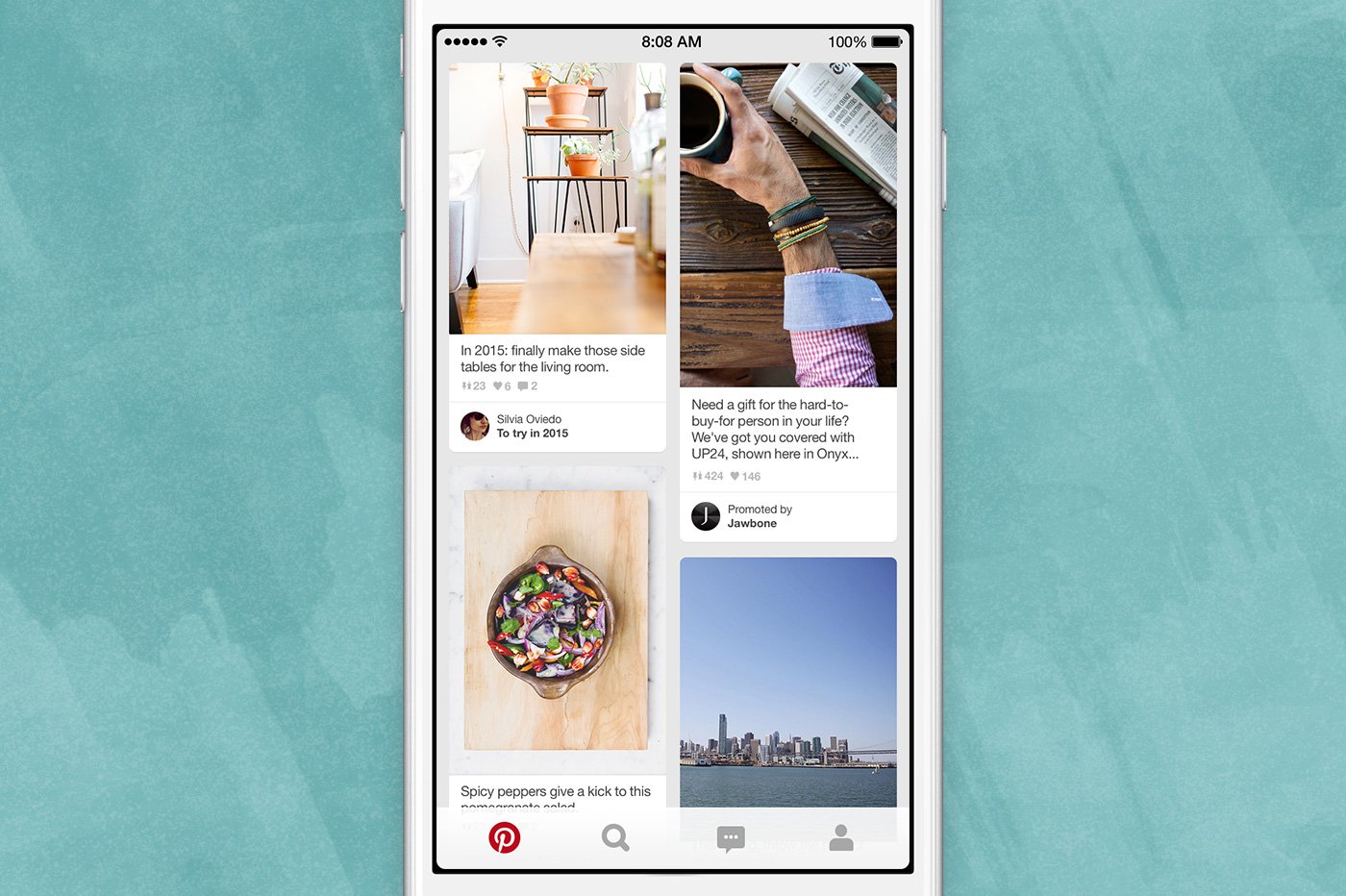 #8 Launch your Pinterest Shopping campaign
At this point, your product Pins are ready to show on Pinterest. Initially, they will show as organic Pins. In fact, they will always show as organic Pins as well.
Unlike Facebook, organic and paid Pins are basically the same Pins that run at the same time. You can just choose to push some Pins putting ad money behind it.
But, as an advertiser all you want to do is sell, right? You want to show your product Pins to as many users as possible and maximize the chances of making a sale.
All you have to do is navigate to your Pinterest Ads section, create a new campaign and select Catalog Sales as your campaign objective.
Choosing your campaign objective | Pinterest
Choose your preferred target group
You will now be prompted to create your first Ad Group. You can choose between "Audiences" or "Dynamic Retargeting".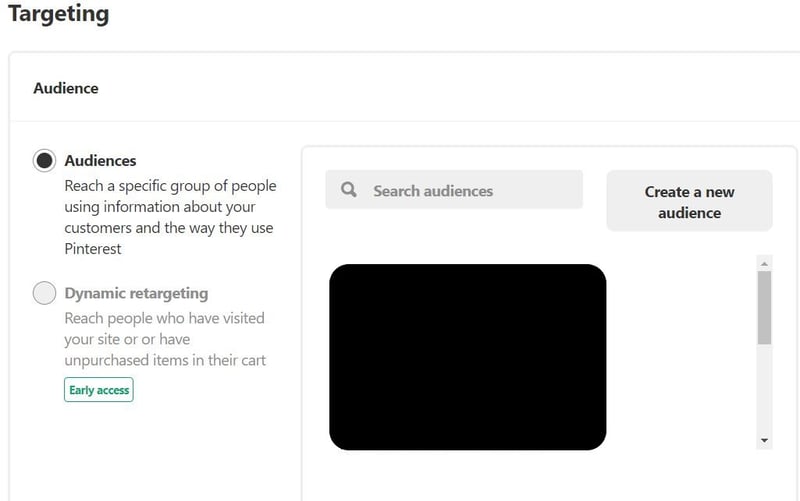 Setting up audiences | Pinterest
On the right-hand-side, you can choose to target one of your custom audiences. As we mentioned before, custom audiences can be created based on users' behavior on your website or their engagement with your Pins (usually based on data from Pinterest-tag).
There are three ways you can target your Pinterest ads. Check them in this chapter.
Targeting based on your custom audiences (Pinterest tag)

Targeting based on keywords

Targeting by interests.
Note that no keyword or interest targeting is necessary for Catalog Sales campaigns! The Pinterest engine will automatically show your product Pins to the people who are most likely to be interested in your offer. However, you can narrow down your audience based on demographics if you have a Pinterest tag installed.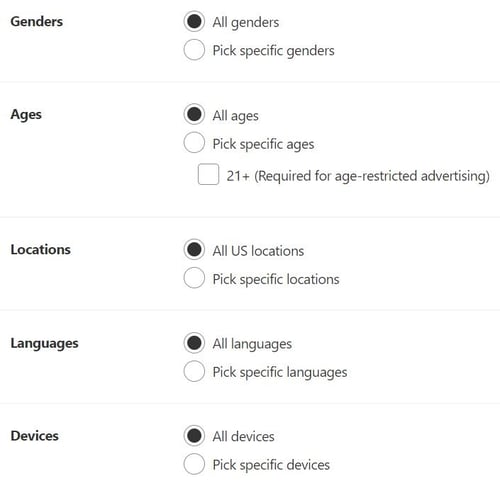 Creating your ideal target group | Pinterest
Select the product groups
Now it's time to select the product groups you want to advertise with this ad group.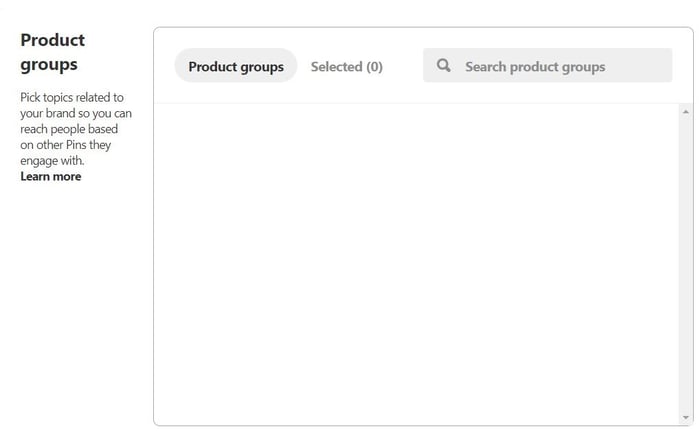 Creating product groups | Pinterest
Choose where you want to show your pins
You can now choose where you want to show your Product Pins.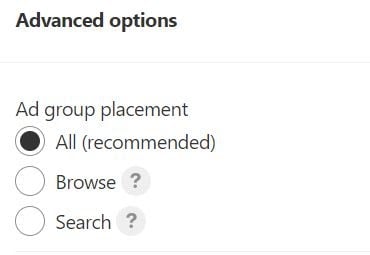 Choosing ad placements | Pinterest
Browse

: Your ads will appear as people browse their home feeds and related Pins.

Search

: Your ads will appear in search results and related Pins.
As with Facebook Ads, the "All Placement" option is the recommended one.
Finally, it's time to set your budget and bids: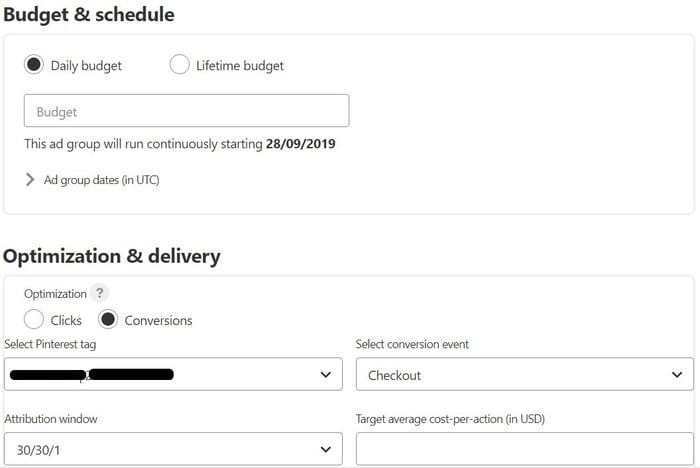 Setting up budget | Pinterest
You can choose whether you want to optimize your Pins delivery per Clicks or per Conversions. Obviously you need to have a Pinterest Tag implemented on your website if you want to use the Conversion optimisation.
You can then set your ideal cost per click or average cost per conversion. Note: you will still pay per impression regardless of what optimisation option you choose!
The Cost per Click and Cost per Conversion amount that you enter in this section are just instructions that you give to the Pinterest Ads engine. It doesn't mean you will pay only if a conversion happens.
The Pinterest Ads team recommends you start with a daily budget that is 3.5x your target cost per conversion. Eg. cost per conversion $50, daily budget $175.
Unlike other campaign objectives, you don't have to select any Pin. In fact, Pins will be automatically created based on your product feed data.
---
#9 Monitor Your Analytics
Monitor Your Analytics - Now you have your account set up, you have organized your pins into engaging boards, it's essential that you monitor your Pinterest analytics.
From your Business Hub, select the Analytics drop down at the top of the page and choose Overview.
By reviewing what boards are working well and what pins are seeing the most interaction you can optimize your content to increase engagement.
There are also additional useful metrics on Audience Insights and Trends.
Audience Insights
Pinterest is quite transparent when it comes to reporting on its audience demographics. Businesses can even compare their profiles' audience with Pinterest's overall audience.
If you hold a business account, you can click on "Analytics" on the top left-hand side corner of the screen and then on "Audience Insights". You will access a valuable set of information about your audience and the total audience on Pinterest..
Travel brand's audience in blue and Pinterest total audience in purple.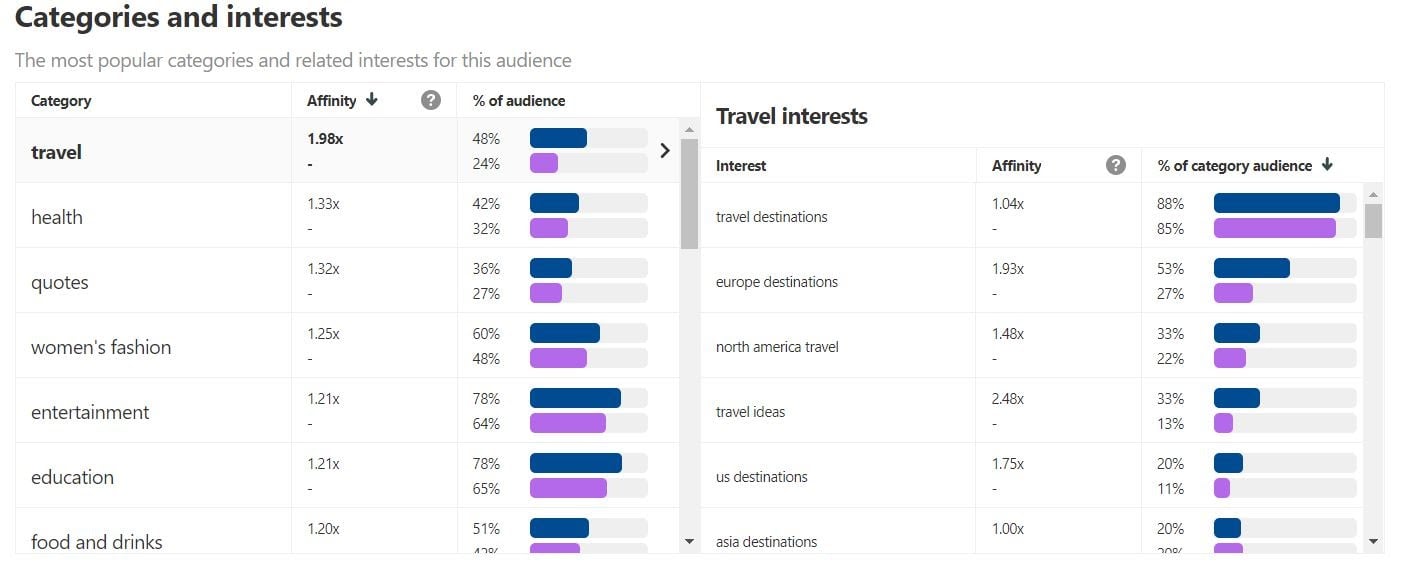 Audience Insights | Pinterest

Audience Insights | Pinterest
Not surprisingly, the two audiences quite match! We are sure that many eCommerce businesses would notice the same trend.
---
#10 Set up dynamic retargeting for Pinterest
Dynamic Retargeting allows you to dynamically retarget on Pinterest users who have previously engaged with your products on your website.
As we mentioned earlier, during the Pinterest Shopping Ads campaign creation you can select Dynamic Retargeting in your Ad Group settings. Bear in mind that this is an Ad Group setting, it is not a campaign type.
You need to meet the following requirements to run Dynamic Retargeting Ad Groups:
You have Catalogs active with your products.

You have placed the

Pinterest tag on your website and are tracking the following conversion events

: Checkout, Add to Cart, Page Visit.

Your events are passing back the product ID event data, and the product IDs being passed back are the same as the product IDs in your Catalogs.

You meet the necessary number of Page Visit and Add to Cart events in the last 7 days.
It is not really clear what is the "necessary number of Page Visit and Add to Cart events" required. You will notice the Dynamic Retargeting option being available whenever you will have met these requirements anyway.
Common strategies for Dynamic Retargeting are:
retarget users who abandoned a product in the basket without completing the purchase

retarget users who searched for a product on your website without adding it to the basket

cross-sell users who completed a purchase on your website and might be interested in similar products

up-sell users who purchased an item on your website and might need additional accessories or upgrades
You can achieve all these objectives through a strategic product group structure and audience definition.
---
#11 Plan for Success - Pinterest best practises
In addition to the 9 tips we have previously discussed which focus on setting up your Pinterest Account and creating your initial content, these final points look at how to maintain a successful Pinterest marketing strategy.
Pin Regularly
Pinterest recemends pinning something each day. This is more effective than creating a new board and filling it with pins all at the same time. You can schedule pins on Pinterest in advance and use the audience insights to see what times of day your pins get the most engagement.
Plan Ahead
Pinterest users are planners, they regularly use the platform to search for ideas for upcoming events, that means you need to be ahead of the game. It's recommended that you share seasonal content 30 - 45 days in advance. This Pinterest marketing calendar is a really helpful tool for planning in advance.
Take Pinterest to the next level with paid ads
Pinterest allows businesses to target ads based on keywords, location, interests, age etc. In addition, it allows you to target audiences based on:
A customer list

Website visits

Pin engagement

Engagement with similar content
Optimize your Pinterest product feed
By adding a perfectly optimized product feed to Pinterest (and using Catalogs), Pinterest will create the ads for you and you won't have to worry about anything. If you don't make sure that the feed is optimized in terms of the platform's requirements, you risk some of your products not being approved and some errors occurring. Remember that you can always use a feed optimization tool.
Optimize your Pinterest campaign
Pinterest Shopping Ads campaigns are very straightforward and easy to implement. However, there are still some actions you can take to improve performance. Check this Pinterest Help Center article for more information.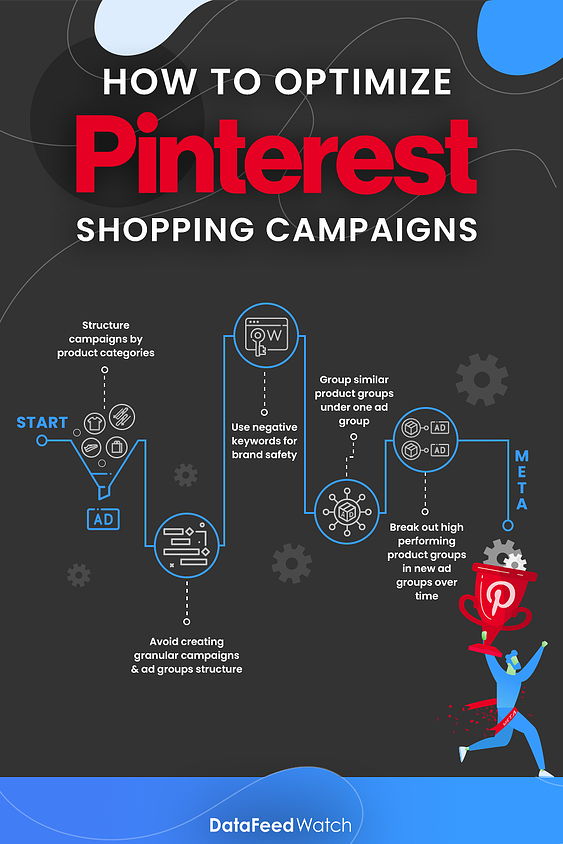 Pinterest suggests you:
Structure campaigns by product categories for ease of optimizing and negative keyword management.

Avoid creating granular campaigns & ad groups structure where daily budgets may be spread too thin.

Use negative keywords for brand safety, not as an optimization lever that can limit distribution.

Group similar product groups under one ad group to better leverage optimization levers (bids, budgets, audiences).

Break out high performing product groups in new ad groups over time.
Negative Keywords
The negative keywords topic is quite peculiar and it worth spending a couple of words on it. Unlike other social media, Pinterest has a search engine.
This means that your Pins will show up against users' search terms. You can consult your search terms in your "Reporting" section and you should add negative keywords accordingly.

Adding negative keywords | Pinterest
While you can't bid on keywords in Pinterest Shopping campaigns, you can still add negative keywords for brand safety.
Connect Pinterest with your other accounts: Youtube, Instagram
If you also have accounts on other platforms that focus on the visual, such as Etsy, Instagram or Youtube, it may be a good idea to connect them to your Pinterest business profile. This will allow Pinterest users to follow you on these platforms as well and can of course positively impact your sales results.
Advertising on Pinterest can really help get your products to an engaged audience looking to purchase. To find out more read Pinterest's Guide to Advertising.
---
Ready to sell on Pinterest! - Conclusion
Pinterest is a really useful tool to grow your business, while keeping costs down, much of the cost comes from the time spent setting up and regularly pinning. It's a great source of organic traffic to your website from an audience who is looking to purchase.
Pinterest is a positive platform that is proven to drive traffic and sales and it's FREE to get started. It's easy to connect your online store and add your data feed to create Product Pins. By regularly pinning engaging pins with beautiful images of your products you will see results for your efforts.
To optimize your product feed for Pinterest to ensure you maximize your sale, check out DataFeedWatch's Feed Optimization Solution. DataFeedWatch will simplify and automate your product feed to Pinterest helping you to grow sales.
---