Add tracking code to each CSE-feed
If you add UTM codes to your product URLs, for each channel, each product type and each product, you can segment data any way you want, in Analytics.
Example:
You are selling cameras on various Comparison Shopping Channels (on Google Shopping in this example), as part of your US PPC-campaigns.
| | |
| --- | --- |
| Product URL | http://camerastore.com/products/Sony_Alpha_A37 |
| Source | Google Shopping (or any other CSE) |
| Medium (= Channel) | CSE |
| Term (= ID) | 378 |
| Content = (Product type) | Cameras |
| Name | PPC_US |
So this is what you want your Product URL to look like:
http://camerastore.com/products/Sony_Alpha_A37/?
utm_source=GoogleShopping&utm_medium=CSE&utm_term=378&utm_content=Cameras&utm_campaign=PPC_US
Obviously it is different for each product. So how do you build that for thousands of products in just 1 minute?

Our shopping feed software enables you to add UTM codes (text and dynamic codes) to your product URL, so you can segment by product or by product type in Google Analytics.
You may want to replace "ID" with "Name", so that you'll see the product names in Analytics, rather than a long list of numerical product IDs.
How it is different for Google Shopping
There are 2 ways to achieve the same thing for Google Shopping:
1. Override Auto-tagging
Autotagging by AdWords overrides the UTM-tags that you may add manually. In other words: adding those UTM-tags manually is useless, as long as autotagging is active.
So if you want your manual UTM-tags to prevail, you need to tell Google Analytics to override Autotagging: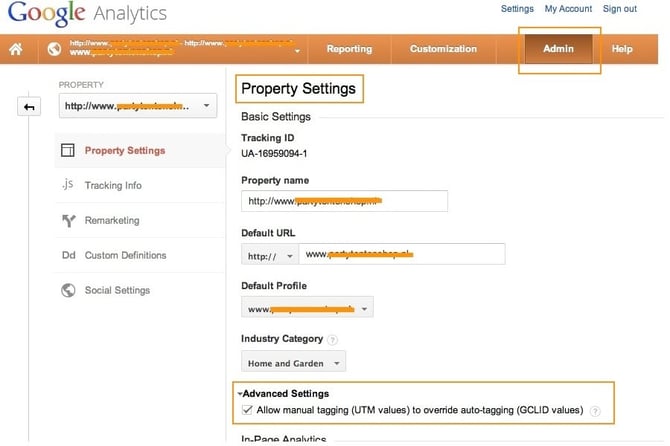 The disadvantage is that other AdWords data will not be visible in Google Analytics, but you DO get the performance data gathered by your own UTM-tags.
2. Set a Product target for every product
AdWords shows performance data for every product target. So setting a Product target for every product is another way to get performance data on product level.
The advantage is that you do not have to override autotagging. The disadvantage may be that you have a lot of product targets to manage, but if you put those product targets in a limited number of adgroups (example: 1 ad group per product type) it is still manageable.