1. Amazon market share
Amazon's share of the eCommerce market is projected to increase to 50% in 2021.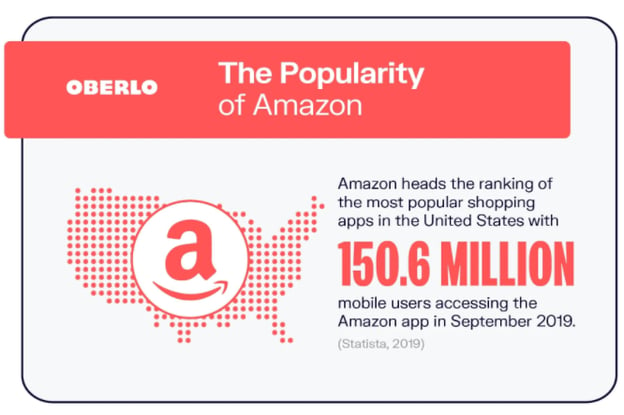 Amazon's share of the eCommerce market has seen a significant increase in the last three years. In 2017, it had a 37% share, and this is set to increase by 13% this year alone.
Many people might put this down to the coronavirus pandemic and the sudden necessity for online, socially distanced shopping. But, even before the pandemic, in 2019, Amazon's share of the market was already at 45%.
This substantial proportion of the eCommerce market shouldn't come as a surprise when, in September 2020, Amazon received over 2.4 billion visits to their platform.
The most staggering stat is that almost 60% of that was direct traffic. This means nearly two out of three Amazon visitors were there to find something specific.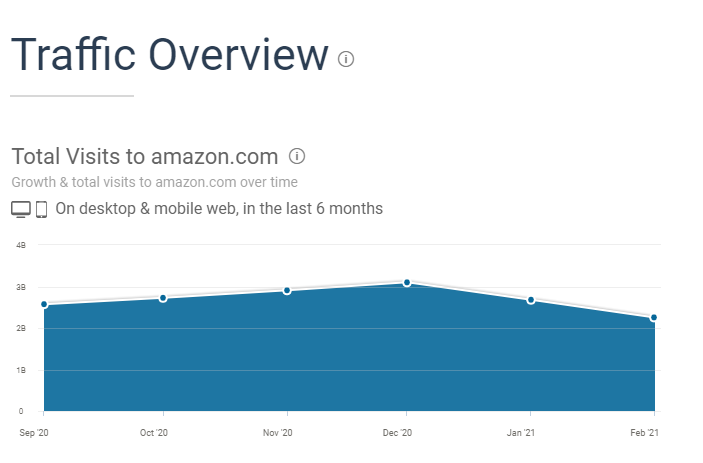 It's clear that, whether you're a small retail software development company or Apple, Amazon is the place you need to be to increase your sales.
Back to The Top or
---
2. Amazon Prime
Almost 2 in 3 amazon users are subscribed to Amazon Prime.
Amazon's crown jewel is their Prime subscription. Amazon Prime is a premium delivery service that enables users to get next-day delivery on any Prime items, and it is currently priced at $119 annually or $12.99 per month.
An Amazon Prime subscription also comes with free access to their video streaming service, a wide range of books and magazines, exclusive discounts, and unlimited, ad-free music.
Here are some more Amazon Prime facts and statistics you need to be aware of:
The average Prime user will spend around $1,400 on Amazon every year.
Amazon Prime's conversion rate is a staggering 13.5%. The average eCommerce conversion rate is only around 3% in the US and 4% worldwide.
Amazon Fresh, which allows consumers to get same-day grocery delivery, has been added to Amazon Prime as part of a new sales channel strategy.
The most important statistic is the level of loyalty subscribers have to Amazon Prime. Almost 50% use the service to purchase something every week.
The good news is any seller can begin trading on Amazon Prime, but there are some criteria you need to fulfill to bring your products directly to the consumer (DTC). This is known as the Seller Fulfilled Prime (SFP) trial period. Here are some of the rules:
1. Obviously, to enable next-day shipping.
2. Have a 99% order ship rate
3. Have a less than 0.5% cancellation rate
4. Use Amazon approved carriers
5. Make sure you accept and abide by any other Amazon terms and conditions, such as their returns policy.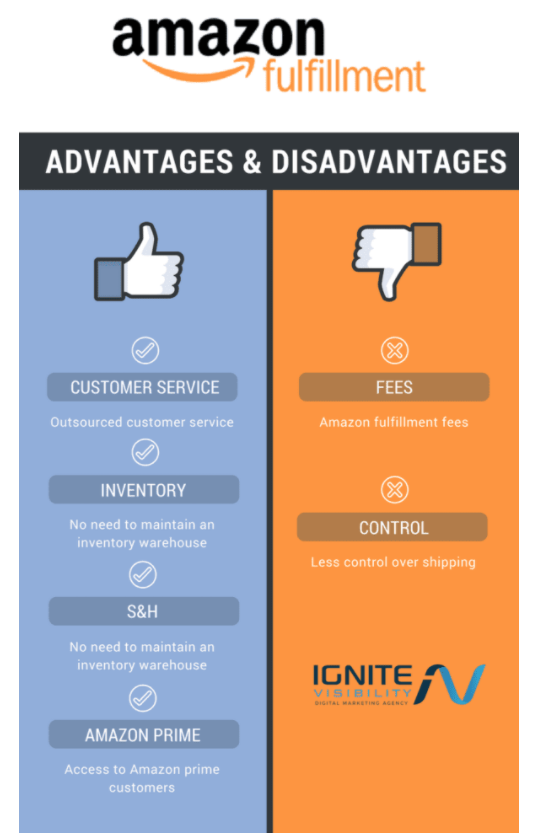 Back to The Top or
---
3. Consumer opinions on Amazon
Almost 90% of consumers are more likely to purchase a product from Amazon than any other website. This percentage increases to over 95% when the consumer has an Amazon Prime account.
Consumers trust Amazon. Their dependable service and fair policies make it the place people turn to when they need a product.
Here are the top nine reasons consumers choose Amazon:
1. Free shipping – even if consumers don't have an Amazon Prime account, there are often countless offers for free or incredibly cheap shipping.
2. Competitive price – due to Amazon's scale and size, they can significantly reduce their costs, charge a far lower price than other services, and still be in profit.
3. Fast shipping – this is a crucial advantage that allows Amazon to compete with brick-and-mortar shops.
4. Ease of use – Amazon's straightforward website design makes the user shopping experience seamless.
5. Dependability – consumers are far more likely to purchase again from Amazon after a positive experience.
6. Variety – the highly competitive selling nature of Amazon is excellent for consumers as it ensures there is always a wide range of well-priced products available.
7. Returns – returns are incredibly simple with the various Amazon parcel drop-off points that are now present.
8. Preference – many consumers prefer shopping from home.
9. Reviews – the legitimacy of Amazon product reviews.
These factors are crucial for any Amazon seller. Implementing as many of these specific criteria as possible will considerably increase your chance of success on Amazon.
Back to The Top or
---
4. Amazon's revenue
In the last quarter of 2020, Amazon raked in an enormous sum of around $125 billion in sales revenue.
Pretty much everything from data quality software to fidget spinners experienced an increase in sales on Amazon in the last year. One of the main reasons for Amazon's success during the pandemic is its quick reaction time. It spent almost $12 billion on expanding its teams and resources.
As we mentioned above, Amazon has a massive 50% stake in the eCommerce market. But the truly staggering statistic is how far ahead of the competition they are. eBay came in second with a measly 6.6%, and then Apple and Walmart had around 4%. This is important for Amazon sellers to know so they can target their marketing efforts in the right direction.
Back to The Top or
---
5. Sellers profile
There are currently around 2 million active sellers on Amazon, and 10% of these will reach at least $100,00 in annual sales.
Statistics show there are almost 10 million total sellers; however, only around 20% of these have actively listed products for sale.

From January to March 2021, an additional 280,000 sellers joined, with 1.2 million more expected to join by the end of the year.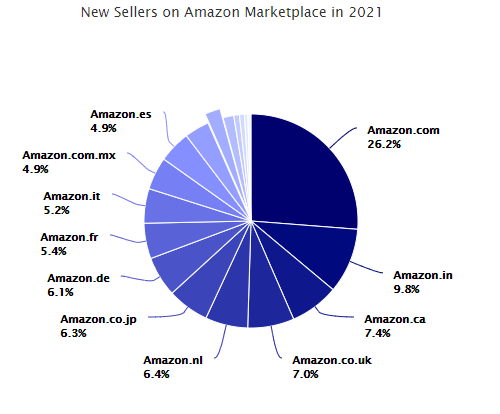 So, sellers need to be aware of the fierce competition and find ways to stand out on Amazon. We will discuss this further below. But, don't let this discourage you. There is still a vast amount of money to be made.
54% of all Amazon sales come from third-party sellers like yourself.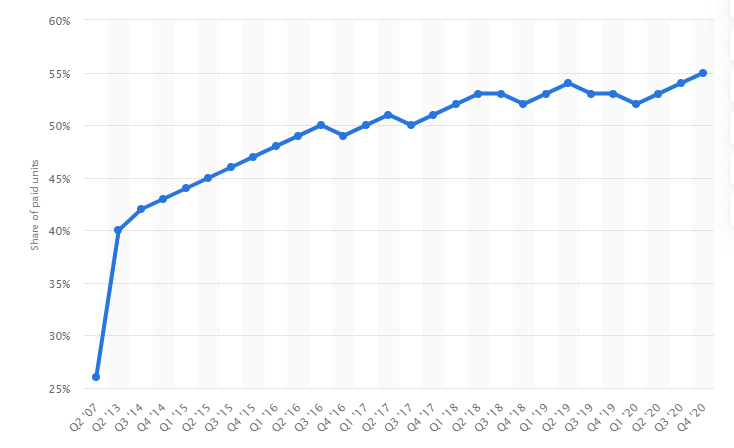 This statistic isn't just down to the pandemic either; it has been relatively consistent since 2017.
Back to The Top or
---
6. Amazon's recommendations
Over a third (35%) of Amazon's revenue comes from cross-selling.
Cross-selling is something we are all familiar with on Amazon. This is the banner at the bottom of the web page that says, "Customers who bought this also bought."
Cross-selling is the process of recommending a similar or complementary item to the one in the buyer's basket.
They will also bundle items together by saying, "frequently bought together." For example, let's say you were in the process of purchasing POS systems software. Amazon may also recommend some sales analytics or inventory management software.
The best thing about this for sellers is that without having to market anything, the Amazon algorithm, which we will discuss below, could automatically recommend your product to the ideal client base.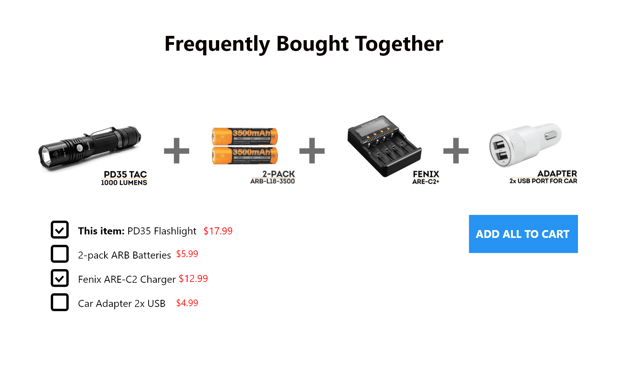 Back to The Top or
---
7. Amazon's algorithm
70% of all Amazon consumers do not browse the second page of the search results, and 35% of them look and click on the top search result.
Amazon has its own ecosystem, with the king of the jungle being the Amazon algorithm. The first three search results receive over 60% of the clicks. So, you need to get on its good side.
Here are a couple of tips you can use to leverage the algorithm in your favor:
1. Advertise – Your product needs to be seen by viewers.
You have various options at your disposal: headline and banner ads, product detail page ads, or the most effective, sponsored product ads.
2. Create high-quality content.
Using premium product pictures and videos and well-written product descriptions can help to increase sales by 5%. It's also imperative for you to use original material that differs from content you have used on other eCommerce platforms. This will help you to avoid keyword cannibalization.
Back to The Top or
---
8. Popular product categories
The most popular product category with sellers is "home & kitchen". 40% of sellers have a product listed in this department.
The top three categories are home & kitchen, sports, and toys. Sellers must ensure they are listing their products under the correct categories.
Statistics show that popularity doesn't necessarily correlate to profitability. Electronics are the 15th most popular category, and video games the 22nd, but they are the first and second most profitable categories respectively.
New sellers need to be aware that the less popular the category, the less competitive it is. This means there is an opportunity for higher profit margins.
Back to The Top or
---
To sum up
With remote and virtual work on the rise, and people moving out of densely populated cities to more rural areas with fewer brick-and-mortar stores, it's no wonder experts are forecasting another profitable year for Amazon.
Third-party sellers are a crucial part of Amazon's sales strategy. The best sellers are constantly looking at data and statistics, like the ones above, to give them an edge over the competition.
How will you use these to your advantage?