The results that advertisers are seeing by using Customer Match in their Shopping Campaigns are very encouraging and it has proven that their initial excitement was not just a flash in the pan.
Advertisers, like The Children's Place, used Customer Match to re-engage with old customers who hadn't converted in a while and they've seen a 287% increase in their ROI and 153% increase in conversion rate.
---
What is Customer Match?
Customer Match for Google Shopping campaigns is a powerful tool when paired with a strong email list and loyal customers.
The customer lists can be uploaded manually or through the API to AdWords. Emails are matched to Google sign-in emails and anonymized.
Customer Match marks the first time Google has allowed advertisers to target ads against customer-owned data in Adwords.
---
Requirements and Limitations on Customer Match
The Personally Identifiable Information might have put some retailers on the fence, but Google is being very clear with how the information can be collected and what are the restrictions that apply to customer match lists.
It is not all roses, because Google will only be able to place your ads to customers who have Gmail, and they must be signed into their Gmail.
Also, there is a restriction that all emails used in these audiences must be obtained firsthand by each advertiser.
---
How to use Customer Match in the Google Shopping Campaigns?
Being able to organize the customer lists based on intent and context opens the door to endless possibilities for retailers that have been meticulous about segmenting their lists on very specific criteria. Segments such as buyers in the loyalty program, frequent purchasers, discount hunters, offline buyers require different approaches and their ROAS will be different.
Upsell to recent purchasers - Using customer match is a great way to re-engage customers who already know your brand and have recently purchased from you. By showing these customer ads based on previous purchases you can entice them to return.
Cross-sell to past customers - Past customers convert better than new ones. Even if the audience is limited, the value of the customer is high and the share of orders is higher.
Target frequent re-purchasers - Buyers from your loyalty program should be rewarded. Since they have already bought from you on multiple occasions it is a good idea to give them a freebie or some sort of special discount to make sure you stay top of their mind.
Offline Buyers - the purchasing behaviors have changed massively in the past few years and the biggest change is that customers are now having multiple online interactions with a brand before making the ultimate purchase decision.
Nonetheless, a lot of them will prefer the offline shopping experience, so they should not be forgotten.
In-app customers - according to Criteo's latest study on the state of the mobile commerce the conversion rate of mobile browsers versus mobile apps is quite striking: 39% conversion rate versus 90% conversion rate.
---
How to set up Customer Match for Shopping Campaigns?
In your Adwords account head to Shared Library and Select Audiences: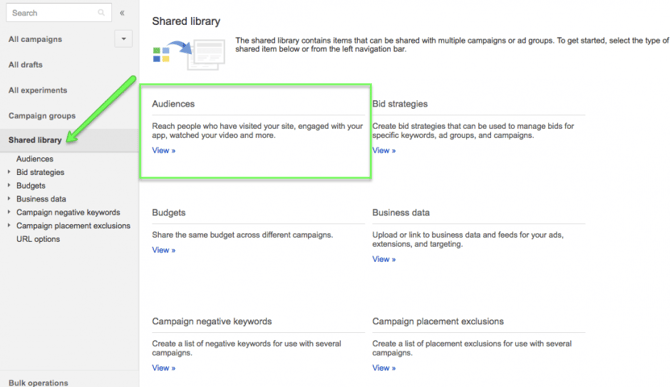 Go to the Remarketing Lists dropdowns and select Customer emails: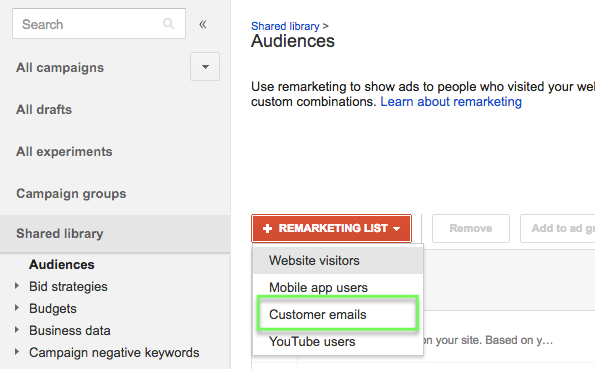 Next, upload the list of customer emails. When uploading the list you have multiple possibilities: to upload the full list of customers, a segmented list based on your chosen criteria or to create custom combinations.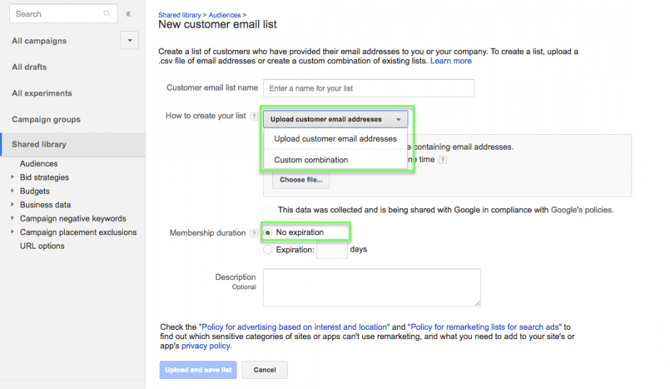 After you upload it, Google will take up to 24 hours to match it to existing accounts and create an audience list that you'll be able to use in your campaigns.
By pinpointing customers using customer match it usually leads to higher CTR's and ROAS. Because these customers already informed about your products you should give them a higher bid using the bid adjustment tool.
Paid campaign managers are excited with the fact that customer match gives room for some noteworthy targeting option and is uniquely accommodating experience for the users that a brand has interacted with previously.
There are many possibilities in the future for customer match coming soon that will help with increase spend and average order value.
If you are already using the Customer Match for Shopping Campaigns please comment below to let us know how it has helped you better spend your advertising dollars!