New search bar for easy 'combine' rule creation
Easily find the attribute you're looking for when adding them to a rule using the combine feature. Using 'combine' in a rule allows you to put multiple attributes together in the order of your choice. This allows for the creation of fully optimized fields like product titles and descriptions.
For example, the data titles might be in an order that isn't recommended for Google Shopping listings. To fix that, you can easily place attributes like color, size, brand, and more in the order best suited for the category of your product. There are some ideas in the graphic below.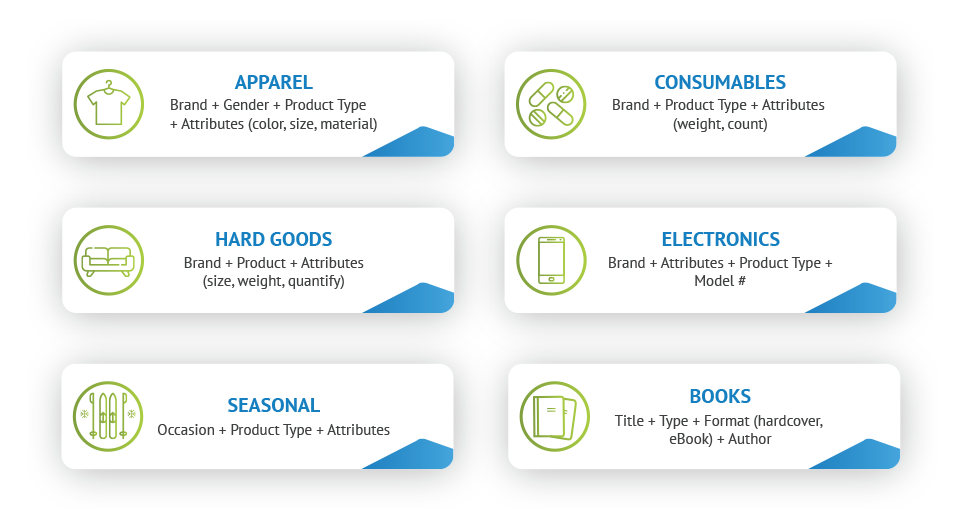 Over the last few months, you may have noticed that we've been making adjustments to elements of the app like more intuitive dropdown menus and text unification. This update follows suit. You'll now see a searchable box within the dropdown menu. This will make it easier for you to find the exact attribute you're looking for.
Before
There was still a dropdown menu before the update, but in order to select the right attribute you would need to type it in to the main text box.

After
Now a search box appears within the dropdown menu with an additional 'Enter Text' column to more easily add your own text that isn't an internal or input field.

Solutions 8 x DataFeedWatch video chat
Recently, DataFeedWatch CEO joined Solutions 8 founder Kasim Aslam on their YouTube channel. The two PPC experts had a chat about all things eCommerce. Their insightful conversation was filled with gems like:


The best kept DataFeedWatch secrets
Why retailers should branch out into niche channels
The importance of ongoing data feed optimization, and more!
Watch the video here or check it out on the Solutions 8 YouTube channel.
Webinars with DataFeedWatch
Part of helping merchants grow is sharing our eCommerce knowledge. One way we do this is speaking at webinars and sharing
International webinars
The Nordics country manager at DataFeedWatch, Anna Hanarz, spoke at a couple of Danish webinars in October. They were hosted by Adtimize and Karma. The topics included:
How to double Google Shopping sales
The biggest strengths of online stores - product feeds


Optmyzr PPC Town Hall
DataFeedWatch CEO Jacques van der Wilt also joined the PPC Town Hall with digital agency Optmyzr. The three PPC experts had an engaging conversation about:


Check out to video to make sure your holiday campaigns are going full force in the final quarter of 2021.
There's a lot more where those webinars and live chats came from so keep an eye out on the DataFeedWatch LinkedIn or sign up for our newsletter to be sure to get information about upcoming events. We'll be sure to keep you in the loop!
Conclusion
In addition to these updates, we've been working away behind the scenes to improve the app's stability, along with overall UI improvements and bug fixes. As always, we'd love to hear your feedback.
That's all for October, but stay tuned next month for another round of updates. See you then!