How Google's algorithm sees product titles
Your product title is one of the most important factors for Google when deciding which products to show. Google uses them as a primary source of information to assess whether your product is relevant to what the potential customer is typing into the search engine.
Google's algorithm works really well and is constantly improving. Nevertheless, it has its limitations. At present, it would be impossible for Google to make connections between every single potential search term or keyword.
Get started with feed optimization - 15-day Free Trial
---
Reasons behind implementing a duplicate ID advertising tactic
If you have used the Single Keyword Ad Group (SKAG) strategy for Google text ads before, you may see a similarity between these two strategies, except that the duplicate ID tactic is for Google Shopping.
It may be a good idea to implement a duplicate ID strategy for you if you know that people are searching for your products using different keywords. By using this hack, the same items can appear for different search terms in Google Shopping.
In addition, it can be very useful to differentiate your bidding. You can bid differently:
for the bottom of the funnel and high ROI terms
VS.
the top of the funnel and high volume & low ROI terms
Using a duplicate ID tactic does not affect your dynamic remarketing campaigns or conversion tracking data. When your potential customers click on your new ad, they still go to your website where they can see the original product title. That's because your duplicate IDs still refer to the one specific product found in the Google Merchant Center database and the one specific product ID on your site.
For a more in-depth explanation on this, check out this video by Kurt Prosser of Easton Digital.
What you can achieve
Thanks to this strategy, each product can be represented by a few Google Shopping ads that correspond to the specific target audience (e.g. bottom of the funnel searches and top of the funnel searches). You can drive more traffic to your store.
Your additional new Google Shopping ads may have higher relevance to the target keyword. Implementing a duplicate ID tactic also often contributes to achieving higher CTR, since the new product titles match the user's query better.
Combined higher relevance and better CTR typically results in higher ad rank and lower CPC.
Example: You may already run a Shopping ad for a product titled "Modern Sleeper Black Sofa". But using a duplicate ID strategy, the same product can be displayed with a completely different title, such as "Modern Velvet Black Couch" or "Comfortable Dark Fold-out Sofa Bed". In this way, you are targeting two (or three) different groups of potential customers who are both searching for your product but using different keywords.
The only downside to this multi-title tactic is that it requires more time investment in comparison to only managing the original product set. For example, instead of 100 products, you have to manage 200 products. You need to create different titles for each product and optimize them all for different keywords. It's definitely worth it though, especially when you recognize the potential of getting more quality traffic this way as well as increasing sales and profits.
There are ways you can easily copy products, for example by using a feed management solution like DataFeedWatch - more about that in the next chapter ↓
GTIN restrictions
Before jumping to implementation, it's important to take the GTIN set-up into account. The current Google policy regarding UPIs is clear on a couple of things:


1. You shouldn't submit the same GTIN for multiple products. If you do, it'll result in an error in Google Merchant Center.
2. You can advertise products without submitting GTINs, although Google recommends using them when they are available.
So, what does that mean for advertisers looking to try the Duplicate ID tactic?
For products without GTINs:
Advertisers who generally do not have GTINs for their products (the GTINs either don't exist or the merchant doesn't have access to them) may simply implement the tactic by following the steps outlined in the next section of the article. GTIN configuration will not be a concern.
For products with GTINs:
If you're advertising products with GTINs and would like to try the duplicate ID tactic, it would be necessary to remove the GTIN attribute from the duplicated feed(s). That comes with a drawback you should be aware of: a lower priority from Google on this "new" product set. So, why implement it?

You may need to weigh your pros & cons here, but to highlight the positive: you still have your original product set with GTINs and that is your priority feed. The duplicated one could serve to supplement and expand your reach and visibility. To catch broader terms. It might make sense to use the duplicated, "no-GTIN feed" to target top-of-the-funnel searches, where GTIN doesn't play such a big role in matching the product ad with the search query.
In the end, there's only one way of discovering the true impact of this tactic on your revenue and ROI - testing it in practice.
---
How you implement your Duplicate ID tactic using DataFeedWatch
The process of creating multiple titles for single products is easy when using DataFeedWatch. In short, your product IDs (SKUs) need to be duplicated within the feed and then you will be able to diversify your product titles.
In practice, you do this by copying your original feed in DataFeedWatch and changing the product IDs in the duplicated feed by adding a suffix to make them unique. You will also want to edit the set-up of your titles at that point.
Once you have created a new feed (channel) with duplicate IDs, you will need to get the new data imported into your Merchant Center account. It will be just like you had additional products in your Google Shopping campaign.
Step-by-step guide
What you precisely need to do is duplicate the products in your feed by changing their product IDs slightly. You are basically copying these items. Then you can optimize the new titles to the keywords you want to target.
Step 1
First, add a new channel to your already existing channel. This second channel will also be Google Shopping. It will be almost the same, except for the titles you're going to replace with new ones and the IDs, which will be slightly different.
Add all the necessary information - exactly the same as in your original channel.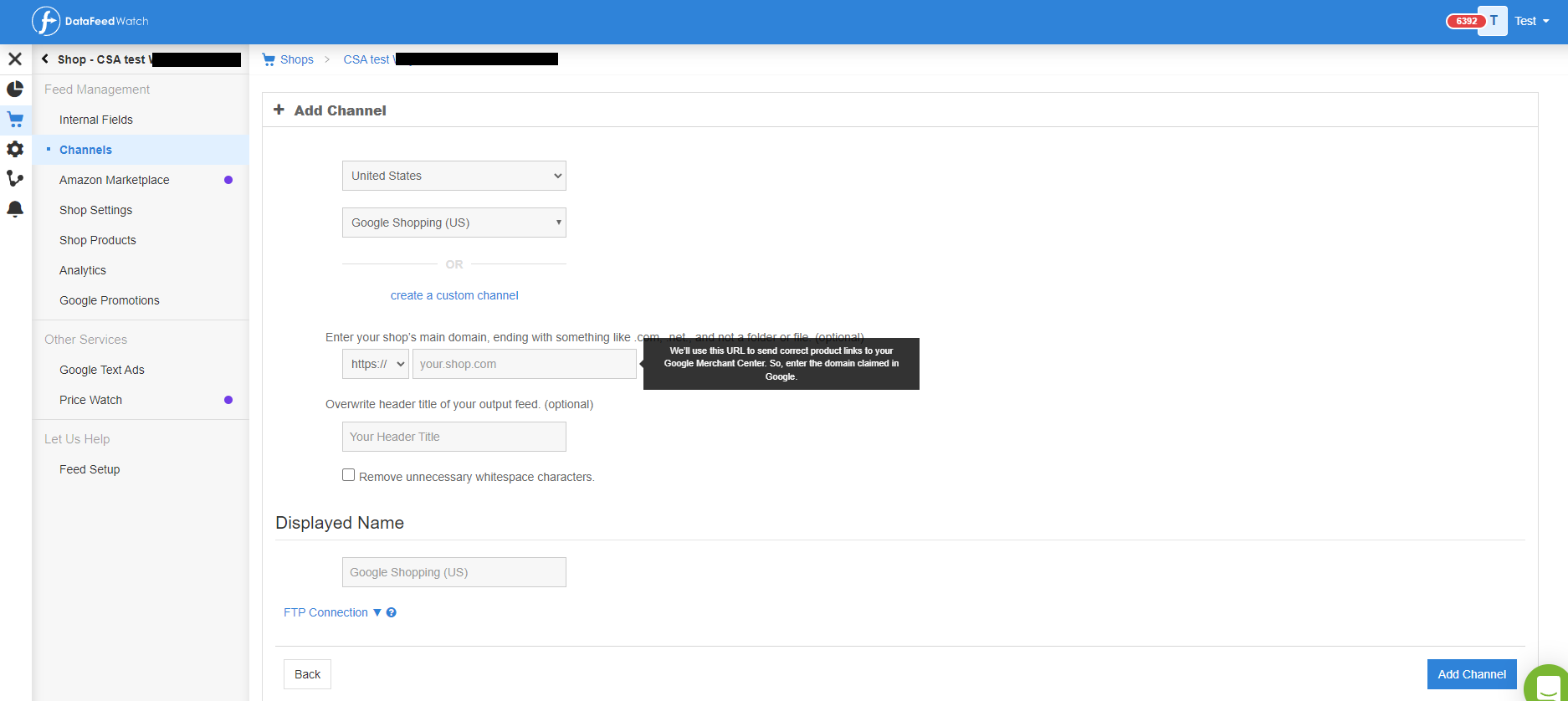 Step 2
Once you have created your new channel, it is easiest to copy all the mapping and rules from your first channel. This way you don't have to set up the whole new feed from scratch.

Step 3
Your copied mapping will appear. The next step is to create new IDs in your new channel.
To be able to do that, click "Unlock".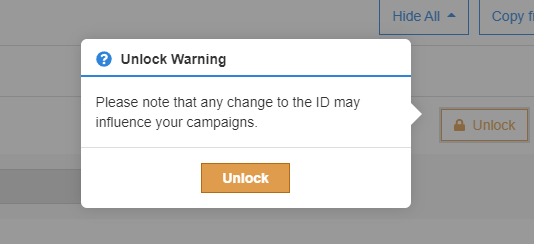 Step 4
Now map the ID field by selecting combine functionality and then choosing id from the list of your internal fields.

Then you have to manually add another element to your ID field, which is an underscore and number 1,2,3 etc. depending on which copy of the feed you're making. It will look like this: _1, _2, _3 etc.

Your exemplary ID mapping should look like below:

Step 5
At this point, you can optimize your new product title to the specific terms you are trying to go after. Your changes will only be applied to the second channel (feed), leaving the first channel of original products untouched.
Of course, you don't have to copy all your products. You can only apply this strategy to your bestsellers and monitor how your traffic and sales change.

Note: Remember to remove the GTINs from the duplicated feed if your original feed includes them. See "GTIN restrictions" section above for further details.
Step 6
Once you've done adjusting the feeds, you can move forward with deploying the strategy in your campaigns. Upload the new feed(s) to your Google Merchant Center account and proceed to create search term isolated campaigns in your Google Ads.
For the strategy to work well, you'll want to be quite meticulous about setting the negative keywords for each of your campaigns.
Back to top or Get started with feed optimization - 15-day Free Trial
---
Summary
A duplicate ID tactic can be a very effective way to increase your ad traffic and relevance. Despite the fact that it requires a lot of your work, it can drive new groups of potential new customers to your store and bring great results. With a feed tool like DataFeedWatch, it's easy to implement such a strategy and quickly see its benefits.
---