However, with more competition than ever before on the platform, without the right eBay images, your products are likely to get lost.
And without adhering to eBay's strict image requirements, your listings might never get approved in the first place… Even something as simple as eBay image size can be fundamental to your success on the platform.
The quality of your data feed is what will determine success and one of the most important parts of your data feed is how well you optimise your eBay images.
In this guide, we're going to explain everything you need to know when creating and uploading your eBay images.
---
Adhere To eBay Image Policy
To ensure good user experience, eBay have implemented a number of image requirements. To get your listings approved and your products seen, you need to ensure that your eBay images meet eBay guidelines and image policy.

eBay Image Policy
EBay Image Policy ensures that all images used belong to the person using them. Current eBay Image Policy rules are:
1. All images must comply with eBay image size rules and technical requirements (more about these requirements in the next section).

2. You must have rights to use the image and the image cannot infringe on the intellectual property rights of any third-party.

3. You must include a minimum of one image per product. The maximum number of free images you can have is 12, but we talk about how to add more than 12 photos to ebay listing later in the article.

4. The images must be of the product and they must show a real representation of that product. To meet eBay Image Policy, make sure you don't crop out any key details.

5.The images should not show anything other than the product that is in the listing and should not include:
borders,
superimposed logos,
barcodes or copyright marks.

Some users' eBay feeds are filled with placeholder images that convey messages - for example, that an item is out of stock. However, this is banned in eBay Image Policy so including information on delivery, item condition, and other seller information within an eBay image is not advised.
eBay watermark policy dictates that watermarks of any type are not allowed.
6.You should only use stock photos for items that are new or in impeccable condition. We talk more about using stock photos on eBay later in the article.


Primary Image eBay Guidelines
There are slightly different rules to follow when it comes to primary eBay images and general eBay image guidelines. Primary images should:
Showcase only the product and nothing else.
Show as many details of the product as possible.
Not include a box or packaging, unless the detail on the packaging is essential.
Bundles: eBay Image Guidelines
Bundles can be a great way to drive sales on eBay. However, eBay image guidelines dictate that images of bundles should show all products included and not include seller details such as how many bundles are on offer.
---
The technical requirements for eBay product images include
Take Note Of Technical Requirements:
The minimum size for images on eBay is 500x500 pixels;
The maximum image size is 9,000 x 9,000 pixels;
The maximum file size is 12MB;
Don't scale up thumbnail images to the required size as they will look pixelated and distorted;
Images must be in one of the following formats: PNG, JPEG, TIFF, BMP, or GIF;
If the photo is a JPEG, it should be 90 or higher on the JPEG quality scale.
eBay Image Size Requirements 2021
While general eBay image size guidelines dictate that images should be a minimum size of 500x500 pixels and a maximum of 9,000 x 9,000 pixels, the best size for eBay photos will differ slightly depending where on the page it will be included.
The best size for eBay photos is that which facilitates quick page load times. The best eBay image sizes are as follows:
Images in eBay descriptions should be no larger than 480 pixels wide. To learn how to add pictures to ebay descriptions, read this section.
Profile images should be 150 x 150 pixels.
When it comes to eBay cover photo size, dimensions are 1200 x 700 pixels
The best size for eBay product photos is 800-1600 pixels on one side. This allows users to use the zoom in function to see product details.
How To Resize Pictures For eBay
You can use an eBay picture size tool to resize pictures for eBay, but it's important to remember that the more compression you put into an image, the less sharp it'll appear.
For this reason, minimal resizing is advised. You should try to attain the best size for image photos upon photo upload.

If you do need to resize pictures for eBay, however, a great eBay picture size tool can be found here.
---
eBay Images Set Up
Beyond eBay watermark policy and eBay image guidelines, there are a few less talked about but equally important things to bear in mind when setting up to take photos for eBay.
If you are taking photos for eBay that include clothes or jewelry, be careful to avoid nudity.


You can only include people or body parts where necessary- for example, when selling watches or wearable tech.


Do not include props. Keep your images clear and don't include distracting items.


Set up a white background and use natural lighting so as to avoid reflections and hot spots.
How To Take Pictures For eBay With White Background
The answer to the question of how to take pictures for eBay with a white background is a lot simpler than it first may appear. Most of us will have a white or cream background at home, but if not a screen can be ordered cheaply online.
Lamps or camera lighting should be used as a backlight to ensure that there are no product shadows. Whilst it is not necessary to edit eBay photos, the results can be touched up simply using iPhone or desktop software and increasing exposure.
---
How To Take eBay Pictures- The Quality Requirements
When you start actually taking photos for eBay, be sure to consider the quality requirements; these are:
1. You cannot use placeholder images.
2. Images should have a white or light grey background. This means you should not include images that have black backgrounds or backgrounds of any other colour.

3. One of the images should be a primary image – this is the first image on your listing. This should be a front view of the product, either straight on or at a slight angle. It should also be an image that is as close-up to the product as possible. This ensures maximum visibility of the product's details. On listings for multipacks, the primary image must clearly show the main product.
4. While primary images must be of the front of the product, secondary images can show the product from different angles.

5. You can use images that include two representations of the product. When you do so, it must be clear that both representations are of the same product with each representation being different. For example, showing the product from the front and the back in the same image is okay, but simply having two mirrored representations of the product on the one image is not.
6. You can crop images, so long as the cropping does not remove important product details.
---
How To Take Good eBay Photos
There is a difference between the question of how to take eBay pictures and that of how to take good eBay pictures. To fully optimise the images on your eBay listings, use the following tips:
Make sure you clean the product before you take a photo
Make sure you set the camera to the highest resolution possible
Make sure the product fills the frame of the image as much as possible
eBay images should be taken from multiple angles;
Don't use filters as natural colours are better at showing the buyer what they can expect.
Take a variety of images for each product listing, including close-ups
Keep your image style consistent to build a brand
Buy a tripod for extra stability
Another important thing to remember when optimising eBay images relates to changing or updating images.
To add product images to your eBay data feed, you will need to upload them to a location on the internet. Often, this is the location of the image on your own website.
When you want to update an image, however, you will need to upload the updated image to a new URL.

---
Common eBay Image Mistakes to Avoid
Mistakes in your listings slow down your sales efforts and can create problems with your workflow. How can you prevent this from happening?
Only uploading one or two images per listing;


Uploading low-resolution images;


Using images that are poor quality. Examples include images with cluttered backgrounds or poor lighting;


Adding additional elements to the image such as borders, copyright watermarks, logos, or promotional text.
---
eBay Product Images in Practice – Good and Bad Examples
Let's take a quick look below at some listing examples for the same product. The difference in how the two adhere to eBay image guidelines is what sets them apart.
Samsung Galaxy S8 Listing - the bad

What's wrong with it:
Text on the image
Warranty logo on the image
Multiple representations of the same product
Samsung Galaxy S8 Listing – the good:

What's right with it:
Nothing added to the image, including text or logos
Fills the frame
Clear representation of the product
Casio Men Watch – the bad:

What's wrong with it:
Includes packaging
Cluttered background
Hard to properly see the product
Casio Men Watch – the good:

What's right with it:
No packaging or other unnecessary items
White, clear background
Product fills the image and is easy to see properly
Nike Air Sneakers – the bad: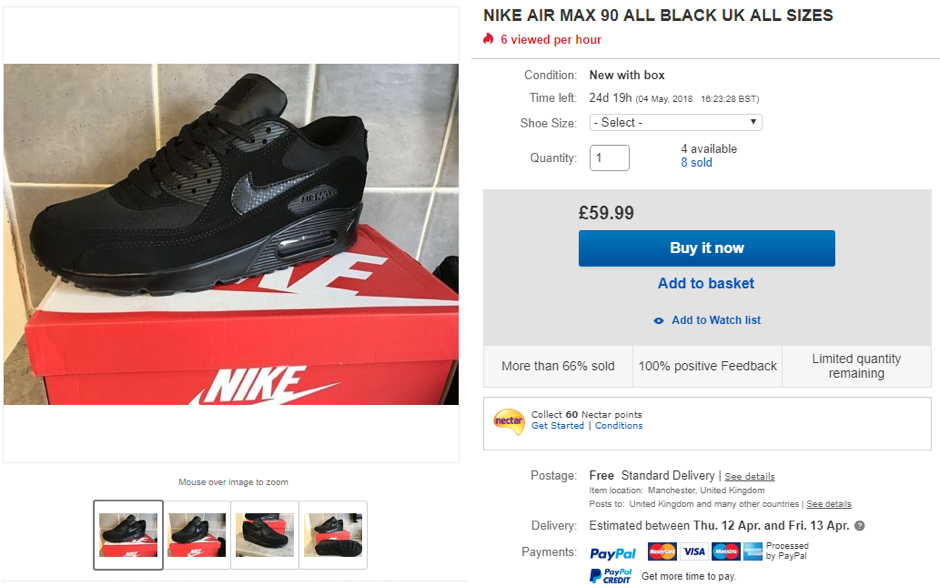 What's wrong with it:
Not well lit
Background is poor
Includes packaging
Only four images uploaded
Nike Air Sneakers – the good: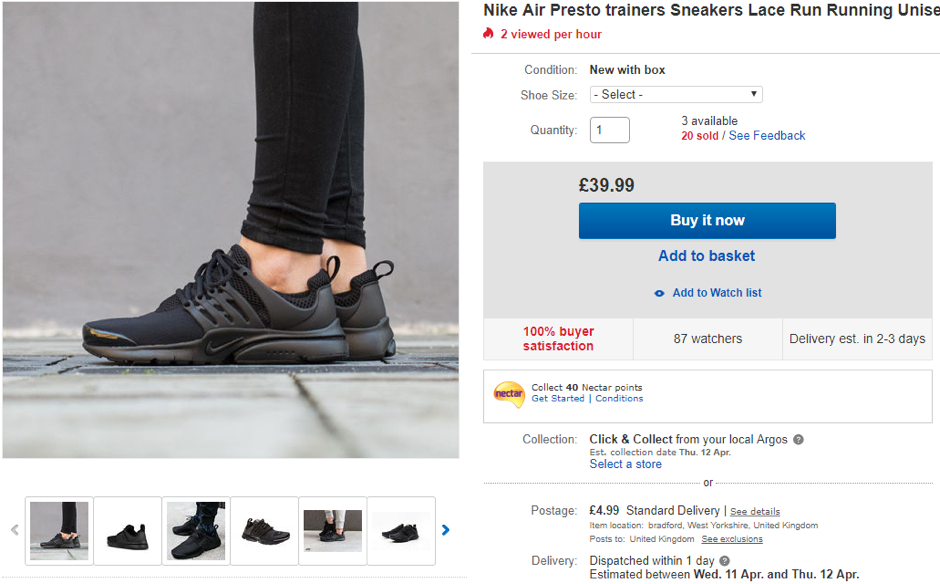 What's right with it:
Shows the product in use
Maximum number of images uploaded
Well-lit images with white backgrounds on product-only images
No packaging
Kettle – the bad: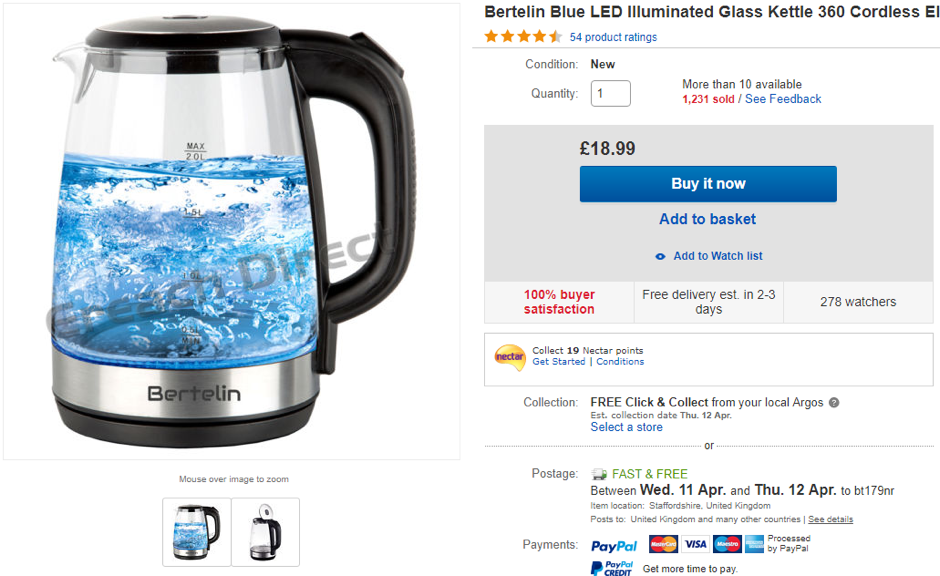 What's wrong with it:
Includes a watermark
Only two images uploaded
Doesn't show the product in use
Kettle – the good: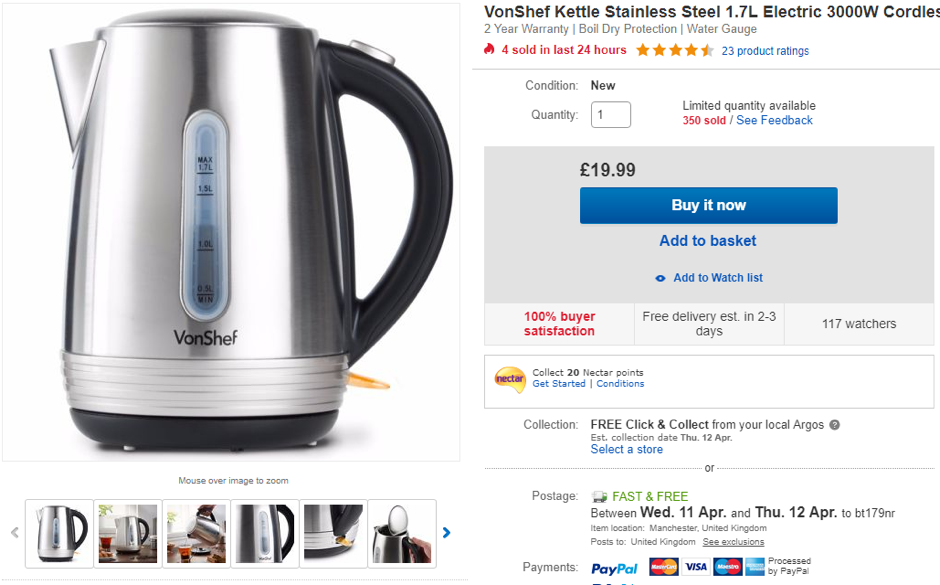 What's right with it:
Nothing added to the image – it is only the product
Shows the product being used
Maximum number of images used
Back to The Top or Get your simplified eBay images checklist here.
---
eBay Images FAQ
Can you use stock photos on eBay?
Yes, but you should only use stock photos that you get from your product vendor. Using generic stock photos means that you are likely to get flagged by the eBay image policy, but manufacturer photos are fine as long as you are selling a new and undamaged product.
How do you add pictures to an eBay description?
Many users look to add images within their descriptions to provide clarity to their listings. When considering how to add pictures to ebay description, the easiest method is to copy and paste images having uploaded them to the Internet- for example, in your Dropbox or Google Drive.
How do you add more than 12 photos to an eBay listing?
To add more than 12 photos to an eBay listing, you traditionally had to join eBay's paid listing service. However, by adding photos to the image description as we outlined earlier in the guide, you are able to work around this.
Back to The Top or
---
Conclusion
You only have to look at eBay guidelines to understand the importance that eBay places on images. Images are key to making sales and skyrocketing your e-commerce business on eBay
Checking and updating the images in your eBay data feed is an administrative exercise, but it will help increase your sales on the platform… As well as following the tips in our eBay images guide, be sure to check back on your page to see which types of images perform well.
To optimize your eBay feed and watch your sales grow, check out our feed marketing solution.
---