---
Make sure your listings are mobile responsive
Nowadays, more than half of eBay transactions are made on mobile devices, as reported by the eBay seller centre article on mobile optimisation. If you don't want to lose any of these potential customers, you have to upload listings that are 100% mobile optimized.
Some of the best practices to follow to have mobile responsive listings are:
Keep the formatting simple: use a black font with character size 12-14 px on a white background. Show the main features into the items description using brief sentences in bullet points.
Do not upload any picture into the items description, but use the picture gallery instead, which allows you to upload up to 12 photos for free. This reduces the listings page load time.
You can easily check whether your listing is fully optimized for mobile devices by using the free tool i-ways Checker: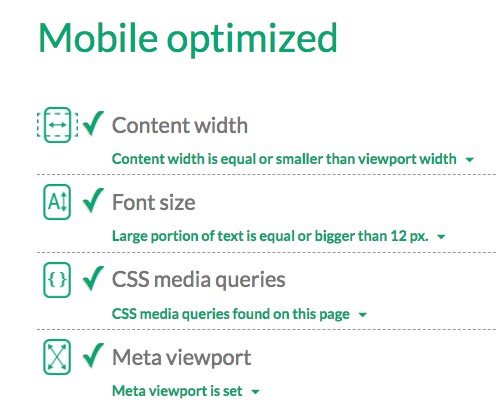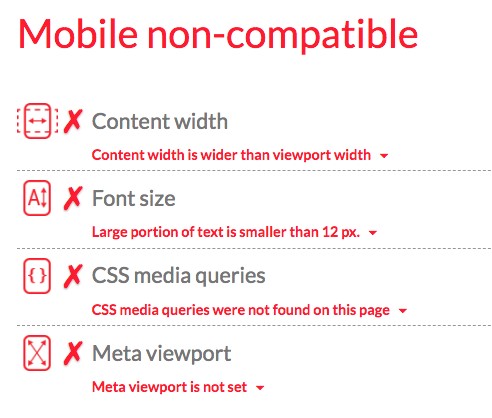 Return to top of page or Get your simplified eBay images checklist here.
---
Do not use any active and HTTP content
Page load time has a massive impact on listings success. Make sure your listings do not have any form of active content, like JavaScript, Flash and form actions.
i-ways Checker is again the tool you can use to check whether your listings are active content free.
HTTP content refers to any kind of non-secure element you can have in your listing. If buyers are Google Chrome users and your listing contains HTTP content, the browser will mark the page as Not secure. This could discourage your potential buyers from completing the transaction.
In March 2018 eBay added the button See full item description into those listings that have HTTP content. By clicking on this button, users are then redirected to another page where they can visualize the full item description. This additional click might represent another obstacle to the completion of the transaction.
Overall, active and HTTP content have a negative impact on your listing's ranking and visibility.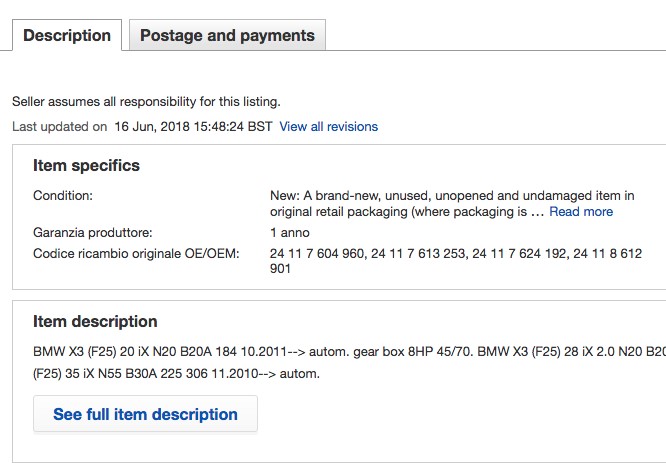 Return to top of page or Get your simplified eBay images checklist here.
---
Optimize your Data Feed
To boost your items visibility, you have to make proper use of the several listings attributes. If you struggle with taking care of every listing manually, you might also think of using a third party tool to work on your listings in a structured way.
DataFeedWatch can help you make sure your listings are in line with all eBay requirements. The main elements you have to work on to boost your item's visibility are:
Titles and images
We already stressed the importance of accurate product titles and images in our previous articles. Work on effective titles making sure you use relevant keywords. Remember you can use up to 80 characters for each listings title.
Pictures are equally important. You can add up to 12 images per listing for free. Make sure you use your own photos and they are high quality and relevant for that specific product.
One of the most common mistakes sellers make is to insert images into the items description instead of using the listings gallery. This has a negative impact on the page loading time and items visibility.
Description and condition
Write an accurate and truthful description. Use simple and short sentences to present the main features and explain how the buyer will benefit from using your item.
Do not mention any information about postage and return. Use the specific sections for those instead.
To reduce the number of returns, make sure you mention your items condition. This contributes to creating the right expectations and will reduce the time you spend handling returns and negative feedback revisions. If you are unsure about your items condition, check the relevant eBay seller centre article to learn more.
Price and category
Make sure you list your items at a competitive price. If you are not sure about the right price, consider to simply search for what your direct competitors are offering on the platform by using the eBay advance search tool.
Choosing the right category is equally important to let buyers find the right product in the right place. Many buyers refine their search on the platform by filtering the results by category. If you choose the wrong category, your item will not be there when users are searching for it and you will lose a potential sale.
If you are not sure about the most appropriate category, you can refer to your competitors' listings. Alternatively, you can select a matched product from the eBay catalogue when you start listing.
Product identifiers and item specifics
Adding the correct product identifiers is extremely important to boost your listings visibility. The main product identifiers you can use are:
1.Brand
2.Global Trade Item Number (GTIN):
European Article Numbers (EANs)
International Standard Book Numbers (ISBNs)
Universal Product Code (UPC)
Japanese Article Number (JAN)
3. Manufacturer Part Number (MPN)
Item specifics include size, type, colour and style, and they vary depending on what you are selling.
These are all the information you should have in your catalogue and you have to refer to your supplier in the case you miss any of them. EBay buyers can use product identifiers and item specifics to narrow the results when searching for a specific product. Another good reason to include them is to boost your visibility in search engine results, like Google or Bing and to appear in Google Shopping results.
Postage options
Buyers like to receive their items quickly and they are therefore more attracted by those listings with a short expected delivery date.
Before listing your item, make sure you can offer a fast delivery service. Many sellers sign special contracts with carriers to be able to offer fast delivery at a competitive price.
If you can offer free delivery, your items will get even higher visibility. Free delivery is one of the main search results filter used by buyers on the platform. If you offer free delivery within three working days from the date of payment, your listings are entitled to show the FAST & FREE logo.
When calculating the estimated delivery date, the system takes also into consideration your dispatch time. This time refers to the number of days you need to deliver the item to your postage provider after you have received the payment from the buyer. Make sure you work with reasonable dispatch time to reduce the delivery time.

Next Read: What is an eBay Item Number and How Can You Find it?
Return to top of page or Get your simplified eBay images checklist here.
---
Choose secure methods of payment and offer convenient return policies.
The most secure method of payment you can offer on the platform is PayPal. All eBay sellers are required to offer it with the exception of few categories. This condition aims to attract the highest number of buyers on the platform since the eBay money-back-guarantee program only covers buyers using PayPal.
If you would not offer PayPal as a method of payment, buyers will most likely make their purchases from someone else in order to be covered if something goes wrong (e.g. item arrives damaged or it is not as described).
Other forms of payments you can offer are credit cards, cheques, postal orders and cash (in case of items collected in person).
A 30-day buyer's remorse return policy is also key to boosting your visibility and increasing your sales. In 2017, sellers on eBay who changed their return policy from 14 days to 30 days experienced an average 13% lift in their conversion rate.
You can choose whether you or the buyer is going to pay for the return costs Keep in mind that since May 2018 eBay has removed the 14-day return policy for the following categories:
Fashion
Health & Beauty
Home & Garden
Sports, Hobbies & Leisure
Media
Vehicle Parts & Accessories.
Therefore, you have now the following options:
30-day buyer pays return postage
30-day free returns
60-day buyer pays return postage
60-day free returns
Return to top of page or Get your simplified eBay images checklist here.
---
Conclusion
As creating a listing is the first step in getting your item in front of buyers you need to go through several points that can make a significant impact on your eBay sales. In fact, you can see yourself how many sellers do not actually follow these suggestions.
Building high-quality listings is your chance to stand out and climb to the top of the eBay search results.
Now is the time to make that extra effort you need to optimize your listings and boost sales! Every eBay store owner needs to understand how to present its listings to buyers and convince to make a purchase.
Put yourself in the buyer's shoes and best of luck and happy listing!
Check out more resources on advertising on eBay: