About Bonanza
Bonanza was created in 2007 as a solution to a failed (and rainy) Seattle garage sale. Since then, the almost improvised platform has transformed into a full-fledged marketplace. It reached success in 2017 and is now constantly growing.
Due to its popularity now, various sellers have turned away from eBay to choose it instead.
This could be because they feel the weight of eBay's commissions, they want a larger range of tools, or because are looking for better value for money. The fact is that while the former loses some of its sellers, the latter is gaining in popularity.
Let's get to know Bonanza together and discover what prompted these sellers to switch their platforms.
First, you need to know that Bonanza could be considered a niche platform. You can find everything but the ordinary, as they claim.
It also has the functionality of a common platform where dealers list their products to be sold within the category they belong to. The categorization allows shoppers to quickly find what they are looking for.
Although we have defined the products on sale as non-ordinary, you should know that it's not a small amount. Bonanza exhibits over 22 million extraordinary items, from finely crafted textiles to branded, rare, or high-quality goods.
It is the ideal space for:


Craftsmen

Traders of design items

Toys

Home appliances

Cosmetics

Household utensil accessories

Jewelry.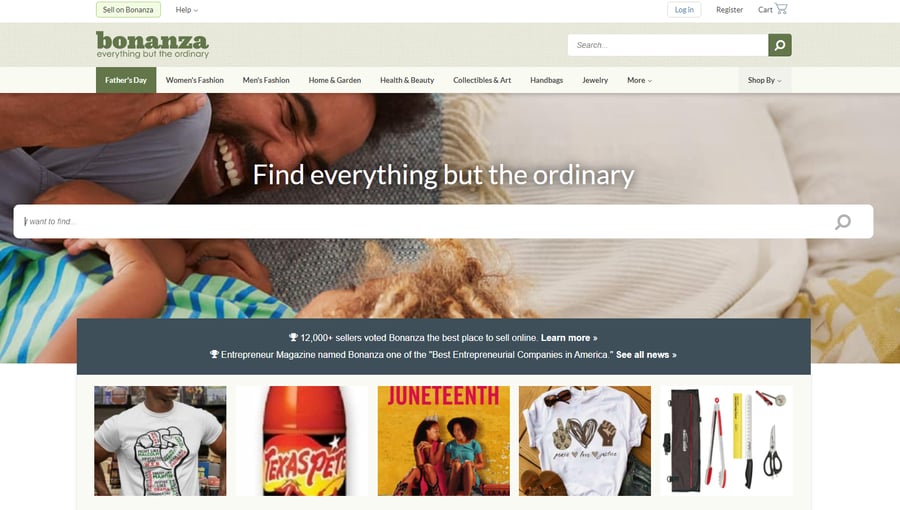 Many sellers choose Bonanza alongside other online sales channels thanks to the ease of its tools for importing products from other platforms. This amplifies and speeds up sales.
But now let's break down all the details to find out if Bonanza really fits you.
Back to The Top or
---
Is Bonanza Legit and Safe?
As with everything new, especially if we have to entrust our business to it, we should ask ourselves first if it is legit and safe. Reading reviews is helpful for this.
In the case of Bonanza, millions of payments take place every day on the marketplace through secure circuits such as PayPal and Amazon Payments, just to mention some of the most popular and monitored.
In the vast amount of daily transactions, no anomalies are found and the reviews clearly speak of a safe commercial space.
Nevertheless, there are malicious users. Bonanza is very active in identifying them and promptly blocks fraud attempts.
Sellers and buyers themselves are required to report any suspicious activity, allowing the platform to remain the safe and legit place it is.
We focused on reading some reviews. And, as often happens, they were not all consistent, neither towards a positive or negative judgment. On the one hand, we were able to grasp the sense of security of buyers who have purchased their products safely and who received the service they had expected. In other reviews, however, we read about unfulfilled waiting on purchased products.
All in all, we got an objective answer to our question. Bonanza has been awarded a rating of 8.4 out of 10 by the Better Business Bureau, thus falling within the A+ level.
Adding to this is its recognition by the Sellers' Choice Awards as one of the 360 best companies for entrepreneurs.
Back to The Top or
---
How to sell on Bonanza
We will now show you how to sell on Bonanza in just a few steps.
Bonanza is a vast showcase for selling products of every category. Mostly high-quality items are divided into categories that affect a very broad target.
Statistics show how Bonanza users belong to both genders of various age groups, thanks to the possibility of finding a wide range of goods on the platform.
Therefore, in order to intercept the ideal user, you should identify the product category to which your good belongs before selling.
You can choose from:


Women's Fashion

Men's Fashion

Home & Garden

Health & Beauty

Collectibles

Art

Handbags

Jewelry

Children's games

Musical instruments

Electronic devices

Tickets for events

Travel

...and many more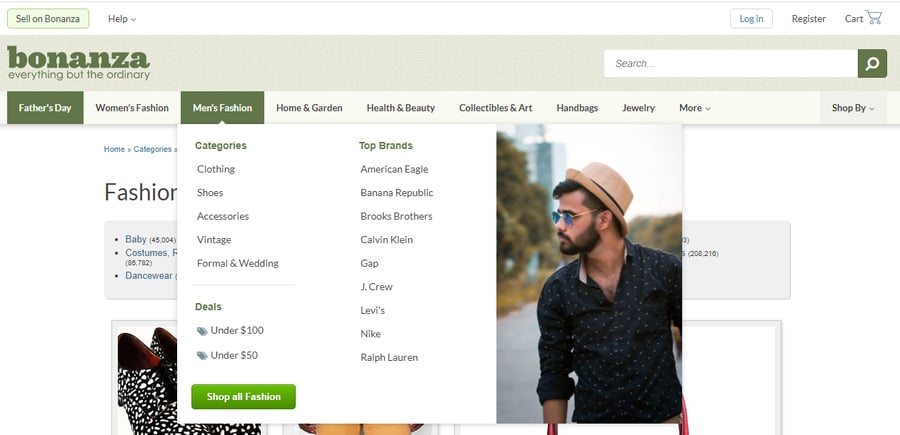 Once you have identified your ideal category, you can be sure that you have chosen the right platform for selling your products.
At this point, you can proceed with uploading your products and organizing your sales.
Here's how to easily sell on Bonanza.
Click on the

"Start Selling"

page and indicate if you already sell on another online store.

Choose the name of your favorite Booth, where your shop panel will appear.

Click on "Open Your Booth".

Enter your personal details and the way you want to get paid.

Provide your credit card details. It is necessary to do this to enable invoicing and to debit the sellers' fees.

Choose if you want to pay for extra advertising on other online platforms. You can change this at any time.
The option relating to the choice of preferred membership status is optional. You can do it later, or never.
By following these simple steps, you will be online with your products and start selling immediately!
Back to The Top or
---
Bonanza or eBay: Which One is Better for You
Now that we've gotten to know Bonanza better, we want to go back to the Bonanza vs eBay comparison to help you figure out which is the best sales channel for you.
There are many aspects for both sales channels to consider and evaluate before making your decision. We'll compare them all, side by side.
We have already seen how simple it is to create an account on Bonanza. This means that you will save time opening your showcase, listing products, setting prices, scheduling ads, and setting fees. That way you can use all your energy for the rest of your offline business.
Also, the interaction with customers facilitated by live chat allows you to create immediate relationships. It would be harder to get this from a common email exchange.
Now, however, let's analyze the most salient points by comparing their efficiency in Bonanza and eBay. In the next paragraphs we will see in detail:
type of products to propose and find;

selling fees;

financial aspect and fees;

quick sales system on multiple platforms;

shop window and sales customization tools.
Products
A comparison between the products of Bonanza and eBay may seem pretentious because by observing the categories we realize that they are similar, or at least they seem so.
But if we look closer and start to search, we notice that Bonanza welcomes common products in its showcase alongside many niche products. They range from handicrafts to artistic productions. It also offers collectibles and items from well-known brands.
Bonanza thus satisfies the needs of common buyers, but also of lovers of unique, vintage, or high-value objects. Among these, however, there are also the most popular products like jeans, fashion, toys, household appliances, and perfume.
So if you are looking for the ideal place to sell one-of-a-kind items, your ideal customers are probably more on Bonanza than on eBay.
Selling fees: price and payment
When it comes to comparing Bonanza and eBay in terms of selling fees, the former easily wins.
Bonanza transaction fees are based on the final offer value (FOV) and the sales performance of your item with these results:
FOV of less than $ 500 - 3.5% commission

FOV above $ 500: fee of 3.5% + 1.5% of the amount above $ 500
Prices increase if you opt for an advertising program. Fees will increase from 9% to 30% based on the program chosen (Basic, Standard, Superior, Elite), or if you choose the monthly advertising subscription plan such as Stripe Checkout with advertising on social media, and more.
eBay bases its selling fees on the number of ads posted. With less than 40 ads per month, you pay a flat rate of 10.9% on each sale. If you intend to list more than 40, you can opt for a monthly or annual subscription.
In this case, the selling fees vary from 4% to 10%, with a complicated calculation system, for which it is necessary to use the eBay calculator.
There is also a higher fee for managed payments and an even higher (20%) fee for disputes.
It goes without saying that for simplicity and convenience, Bonanza has more affordable selling fees.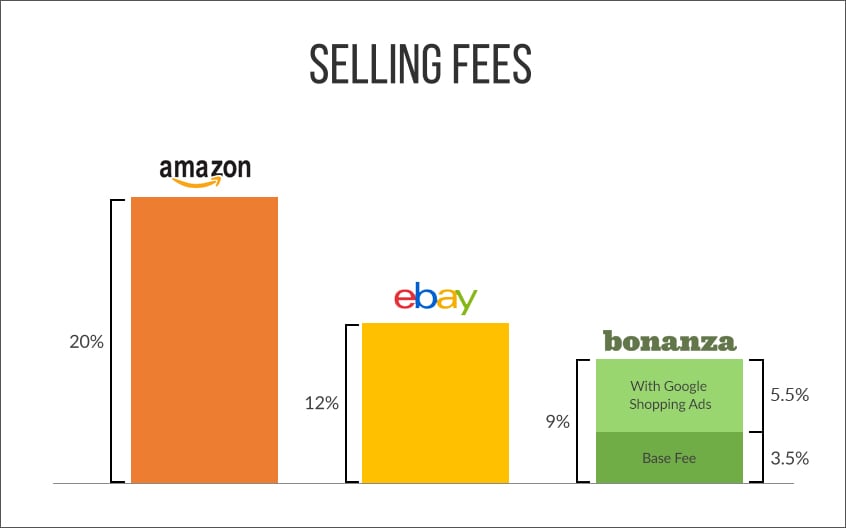 Product import
Many sellers decide to import and sell their products on multiple marketplaces to increase and multiply their sales exponentially.
Both Bonanza and eBay are equipped with a product import tool.
However, there are systems that greatly facilitate the product import operation that allow you to reduce manual work and import products in a few clicks.
In the competition between Bonanza and eBay, we see that the buyer/seller relationship is in favor of the first marketplace. But, we cannot deny that the second has a greater presence on the web.
Hence the need to import products on more platforms to enhance their effectiveness.
Tools for sellers
Selling online is much more aggressive than selling in a physical store. For both Bonanza and eBay, there are listing tools available that allow you to power up your product listings.
Let's see what tools are available for Bonanza sellers:
Advertising solutions,

which can be activated in just one click, without upfront commissions, and by choosing the best plan according to your budget.
Turbo Traffic, to boost your advertising plan up to 300% more traffic. You can activate it automatically after signing up or upgrading to a Platinum or Titan subscription or purchasing a TurboTraffic Pack.

Webstore, for opening customized online e-commerce that is separate from the platform and has style and custom domain name. An easy way to double your chances of selling.

Bonanza Batch Editor is one of the free Bonanza tools to modify groups of elements at the same time, for example, to apply a discount percentage, establish shipping mode on a group of products, etc.
Inventory Sync, to synchronize and import products from other platforms such as eBay and Amazon to Bonanza.
Stats dashboard to analyze your buyers' habits, traffic, and revenue trends, maximizing your earnings.


DataFeedWatch - a multichannel listing tool that will help you optimize listings on Bonanza for increased sales. Offering unlimited data transformation options to give you full control of how your products are featured within the marketplace.
Now let's analyze what tools eBay offers sellers to enhance its service:
DataFeedWatch:

using DataFeedWatch's Feed Marketing Solution for marketplaces sellers can automate listing creation, enrich their data to better work with eBay's algorithms and manage all upcoming catalog changes from one place.
3Dsellers

is one of the paid tools for listing, email templates, feedback reminders, tracking product shipments, and managing inventory.
DSM,

with a free basic plan and paid solutions, is useful for analyzing demand before bulk purchase, maximizing sales and optimizing the price of listed products in real-time.
Etail,

a paid service for connecting your sales system to the supplier network, managing inventory, and listing products.
F

rooition

is a quick and easy eBay listing tool. Its cost varies by project.
SixBit is a platform for expanding your e-commerce (listing, inventory, tracking, dropshipping, and order management) at a relatively cheap price.
Bonanza & eBay Selling site features
Many seller reviews reveal that Bonanza has better selling site features than eBay, both in terms of use and in economic conditions. But many others testify to the great return of eBay visibility and a variety of performing services.
Since the choice is rather difficult, let's analyze both selling site features so that you can understand what is best for you.
Let's see them one by one.
Shop analytics is present in both, free of charge in Bonanza and paid in eBay.

The two marketplaces have the option of setting fixed prices. But while on Bonanza this is a valid feature for every product, eBay also offers an auction pricing model.
Among the best-selling site characteristics, the import system is slightly easier on Bonanza compared to eBay.
The two have an effective rating system and reviews. However, we must point out that Bonanza feedback import features allow us to display an average of the last 1000 feedback pages on eBay, instantly gaining customer trust.
eBay has an effective service for promoting listed products, through visibility and through easy and targeted campaigns, which are more usable for the seller than the paid advertising system of Google AdWords that Bonanza uses. There is also the possibility of advertising directly through the platform on Bonanza and eBay, reaching even those who have not landed directly on the marketplace.
Both platforms make it possible to establish discounts and coupons for customers, even by organizing them into groups of elements.
In favor of Bonanza we mention the integrated chat that users can contact to solve purchase problems. Faster and more practical, it reduces waiting times making the customer feel assisted.
When it comes to visibility, there is no doubt eBay has much more traffic.
Generally, we can say that Bonanza and eBay offer a great number of possibilities to increase your sales. Bonanza selling site features are mostly represented by free services. eBay, on the other hand, provides a much wider range of selling site factors but with variable costs based on use.
And given that their features allow it, their combined use could be the best solution for your business.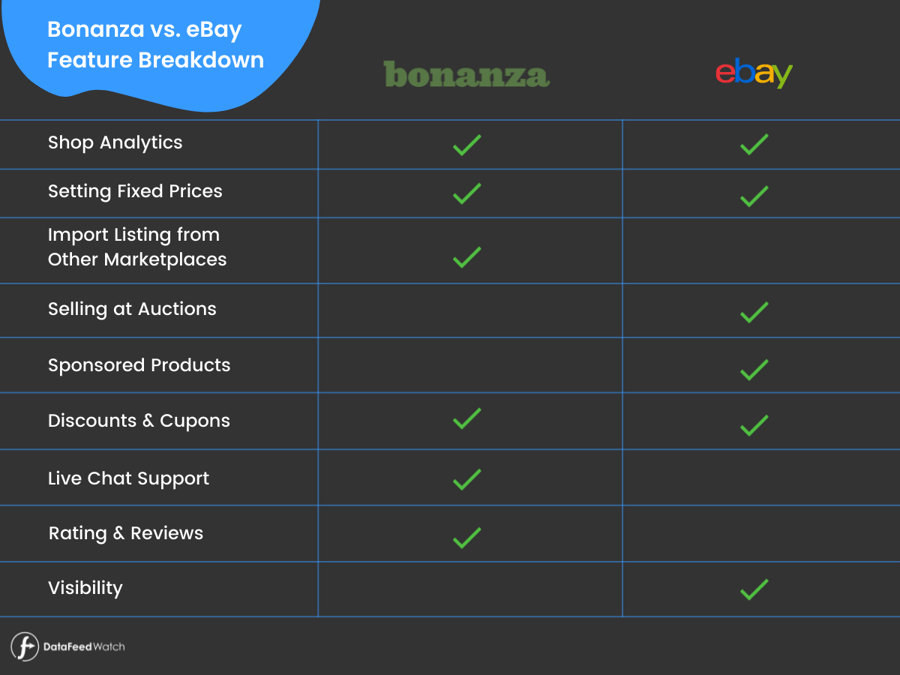 Back to The Top or
---
Selling on Bonanza: Pros & Cons
By following the Bonanza reviews, we want to analyze all the pros and cons of using this marketplace.
Around 40,000 sellers around the world have created their online store on Bonanza. They are currently earning a satisfactory income by making the most of its potential and tools, but we want to analyze the advantages and disadvantages of this platform so that you can make an informed choice.
By looking at the positive and negative reviews, you can get a feel for the results you might obtain from the marketplace. You can also see the fees, customization options in the presentation of the product, and everything that makes Bonanza useful for sellers and buyers.
Based on the reviews, let's start with the analysis of pros and cons based on the features that distinguish Bonanza from major competitors, such as eBay.
Bonanza Pros
These are the characteristics that entice many users to move to Bonanza.
Commissions are lower and are applied only in case of sale.


It is a community-oriented marketplace. It favors direct communication and immediate chat dialogue between seller and buyer who can even chat during the purchase.


It has a simple sales system, ideal for those who want to save time.


It allows you to modify groups of products simultaneously in an automatic way.


Encourages the choice of multiple advertising plans or paid advertising on Google.


The neutral background creation tool help give a professional look to products.


It has a high level of security.


It is possible to synchronize the sale with other platforms.


The drop-down 'Categories' menu is a practical way for the customer to find products quickly.


By analyzing sales, there is a high possibility of intercepting target customers because they can quickly find items they are looking for.
Bonanza Cons
Although the pros are many, there are also some cons.


Bonanza is still less visible than eBay. The modest size implies a slightly lower inventory of products than eBay's.


The layout customization options for specific article lists are somewhat limited.
Back to The Top or
---
Selling on eBay: Pros & Cons
Now we will do the same pros and cons analysis of eBay. With over 180 million users, it is indisputably one of the most active marketplaces in the world.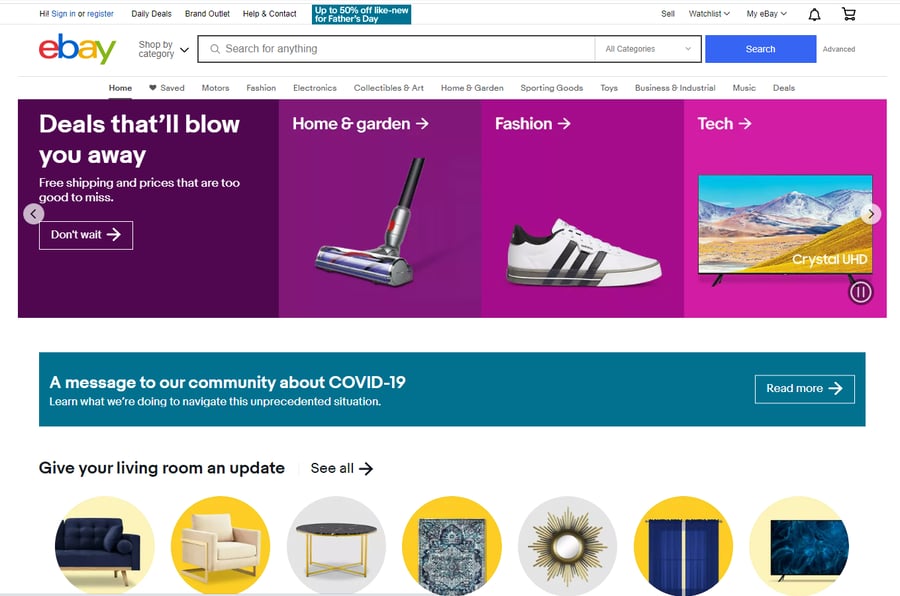 Let's start with the pros of selling on eBay:
eBay Pros:
First of all, eBay has a massive online presence and a huge number of customers around the world.


Creating an online showcase is quite easy.


It offers multiple selling options, such as "Auction" or "Buy Now", which give customers a dynamic and interactive feel.


It has forums that allow Q&As and discussions, facilitating the exchange of information between users.


It has a good buyer protection system in case of fraudulent or delayed transactions.



It assists in disputes by applying a higher selling fee.
eBay Cons:
Now let's see the cons that may make eBay less profitable.
The financial aspect is one of the platform's weaknesses: the commissions are higher than those of Bonanza. And, after a certain number of sale adverts, the seller is charged an extra fee.


There is strong competition between sellers due to the high volume of goods for sale.


Shipping times are often long or delayed.


The site is subject to frequent updates which can be annoying for users.
Back to The Top or
---
Final Thoughts
Now that we have compared the two platforms side by side, you should have a clear idea of what you can find on Bonanza and eBay.
Bonanza has less visibility online than its majestic competitor, eBay. But opening a shop here is quite simple and it costs nothing. The fees are applied only in case of a sale, or advertising plan. In general, the marketplace is very suitable for communication between sellers and customers.
On one hand, the small size is a disadvantage in terms of presence on the web. However, it significantly reduces competition by directing goods directly to a targeted user.
After evaluating the simplicity of each platform, the assistance, the costs, the shipping service, and the various available tools, you can now choose which marketplace is for you. You may even come to the conclusion that it's a winning combination, thanks to product import synchronization tools.