Related: Expand onto multiple markets with Google Shopping
The Current Status of the UAE eRetail Market
The United Arab Emirates has the second strongest economy among Arab countries. It's also one of the most diversified.
The U.A.E. electronic retail market is progressing really well, thanks to the quick spread of devices and Internet services.
In fact, the U.A.E has the best internet penetration rate in the entire Middle East, 85%.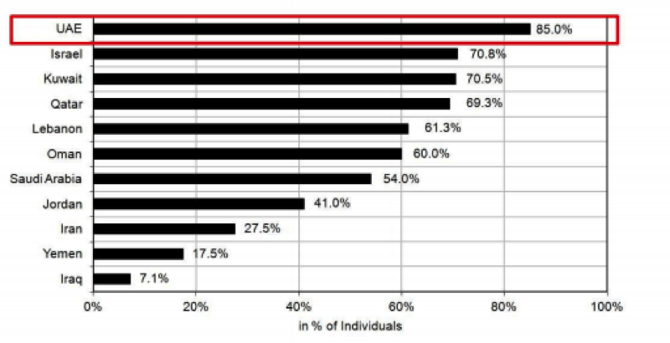 The U.A.E eCommerce market is forecasted to reach an impressive $10 billion in 2018. From a total population of around 10 million, more than 3.5 million Emiratis shop online.
Naturally, millennials are the most active category, 76% of them use the Internet to research and order items.
What kind of products do the Emiratis purchase online? The categories that generate most revenue are electronics, computers, and jewelry. Fashion and clothing items are also pretty popular.
As for the shopping frequency, 34% of U.A.E. residents acquire products online between 1 and 5 times a week.
We must emphasize Dubai's importance for the eRetail landscape in the United Arab Emirates. The metropolis is home to almost half of the online shoppers in the country.
Secondly, Dubai's superior infrastructure levels make the city an excellent location for retailers to base their operations, even for other markets in the Middle East.
---
How to get started with Google Shopping in UAE?
1. Register for a Google Merchant Account and start creating your product feed according to Google's Shopping Feed Specifications. Don't focus on optimization yet.
The purpose right now is to get your feed in a good shape to have it approved in the Merchant Center.
2. Check the list of common Google Merchant Center disapprovals and warnings and make sure you avoid them.
3. As soon as your feed is approved, and is error free, start optimizing it:
4. You should take the time and make sure that the following feed elements are optimized:
The Image of a product listing ad
5. After you have optimized your feed next step is going to be creating the bidding strategies for your Google Shopping campaign.
7. And last, but definitely not least: Analytics & Reporting. You will have to review the performance of every product in Google Shopping and create filters and customize your view.
Compared to other parts of the world, eCommerce is generally a small and underdeveloped segment in the Middle East. U.A.E is a notable exception. The country is currently the largest eRetail market in the region. Most likely, it will continue to grow at an impressive rate.
We can help you get your feed ready and optimized in no time for Google Shopping in UAE. Get in touch with us for a demo or a feed consultation. We will have a look at your feed and let you know how to optimize it in order to achieve your sales goals.
Also see: New countries eligible for Google Shopping Ads