Long titles and description truncation

The title and description attributes that exceed the character limits (150 and 5000 respectively) will no longer result in disapprovals and warnings. Rather, Google will automatically truncate them.
This is good news as you'll find one less disapproval in your diagnostic tab in Merchant Center.
---
Condition
In the same effort of simplifying product feed management and avoid disapprovals, the condition attribute will no longer be required for new products. If you fail to provide a condition for your products, then Google will interpret it as new.
Thankfully, you will never see the following warnings again.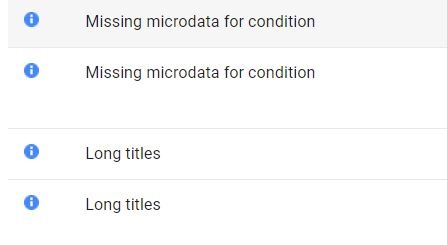 ---
Cost of Goods Sold
(NEW)
Now advertisers are able to enter the cost of goods directly in the feed through a new attribute: cost_of_goods_sold. This will help report the gross profit on sales.
It is quite an interesting news, as the goal for any account manager is to maximize the return on ad spend but ultimately, to increase the actual profit on ad spend. This attribute will also allow marketers to better segment their products based on margin.
In DataFeedWatch, you can add this new attribute to your feed in the optional fields section.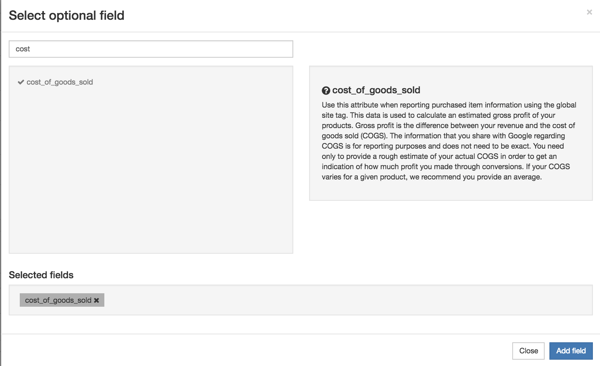 ---
Size, color, and link attributes
On the other hand, the requirements for these attributes will become stricter.
A product will be required to have one size, one color and one link. If a product has more than one color or you need to list all colors as one attribute and separate them with
''-'' or ''/'' and no '',''.
Correct: [Color: red/pink/burgundy] OR [Color: red-pink-burgundy]
Incorrect: [Color: red,pink,burgundy]
Same goes for the size attribute. If your product has multiple sizes use hyphens and slashed to separate the sizes. No commas.
---
Adwords_Redirect (NEW)
Ads_redirect is an optional field merchants can use to better track the traffic they receive from Google Shopping.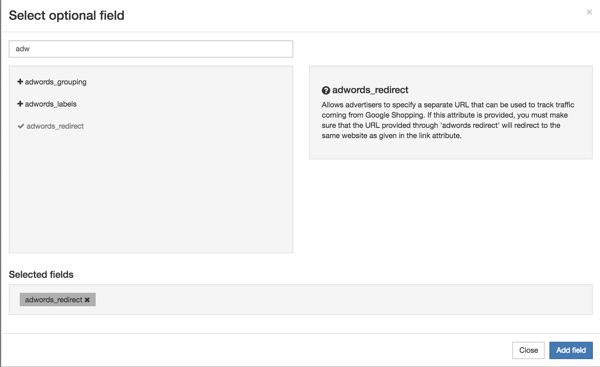 Starting February 1st, 2019 all redirect links for Adwords Tracking will have to match the link and mobile_link attributes. To continue using this optional fields, merchants will have to opt-in for parallel tracking in Google Ads.
All in all, this is good news for the merchants as they are less likely to get their products disproved for having longer titles or not providing a condition.
If you want to read more all the Google Shopping updates of 2018 we covered them in the recent post linked above.