---
Also see: How to Easily Transition Your Brick-and-Mortar Store to Online


Google offers the following advertising products to help retailers get the most out of online channels and drive store visits:
Local Inventory Ads
Local Inventory Ads is an ad format specifically made for offline retailers. In fact, in many cases, advertisers don't even need a website to be eligible for this ad solution.
Local Inventory Ads appear on Google as very similar to regular Shopping Ads (PLAs). The only difference is a small blue label showing "in store". This label tells users that the product shown in the PLA is also available in store. After clicking on the ad, users land on a Google-hosted landing page called 'Local Storefront' instead of the advertiser's website.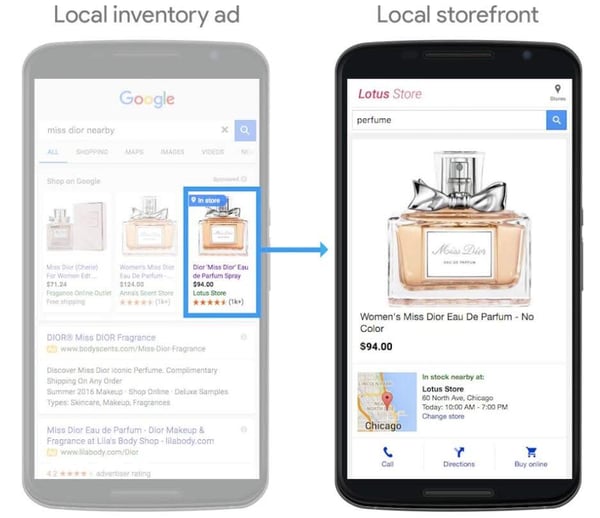 The Local Storefront shows the item in-store price and availability. Also, it shows the closest store address, opening hours, phone number and directions.
A "Buy online" button is also included, so users who might find your store too far from their current location, can still buy on your website, if you have one. In a mobile-first 'age of assistance' shoppers turn to their mobile on-the-go to be 'assisted' in finding what they are looking for in the quickest and simplest way as possible.
When walking around town, visiting a physical store on the high-street is the quickest way to shop what it is needed at that particular moment. It is in that moment that brick and mortar shops need to be found and attract intent-rich shoppers who otherwise would simply go somewhere else. Local inventory ads let them do just that.
How to Start Local Inventory Ads Requirements
Unfortunately, Local Inventory Ads are available just in a few selected countries. Therefore, the first requirement for you to be eligible for this ad format is having physical stores in at least one of the following countries: Australia, Brazil, Canada, France, Germany, Japan, UK, and US.
If you are selling in the EU, you would also need a website where to host an About page. (Follow these instructions to know more on how to make your About Page compliant with Google and EU regulations). Outside of Europe, this requirement is not mandatory and you can use Inventory Ads even without a web page.
Google Accounts: My Business, Merchant Center, AdWords
The second step you need to follow in order to get started with Local Inventory Ads is setting up a Google My Business account, a Merchant Center account and an AdWords account.
If you are already advertising on Google Shopping, you would definitely have the last two. What you might be missing is a Google My Business account.
Through this Google service, physical businesses can upload their store locations' info on Google Maps. It is extremely important for whoever does business offline. If you have more than one physical shop you can bulk upload all the info at ones. You would need to choose a 'store code' for each location.
This will be very important when setting up Local Inventory Ads. In fact, through store codes, the system will automatically match your locations on Google My Business with product data you will upload onto Merchant Center. Continue reading to know more about product uploads.
How to Activate The Local Inventory Ads Feature on Google Merchant Center
As said above, in order to start with Local Inventory Ads, you will need a Google Merchant Center account.
This is where advertisers upload their product feed for Google Shopping and now for Local Inventory Ads as well. First of all, you need to activate the Local Inventory Ads feature.
In the Google Merchant Center main view, click on the three-dot icon in the top right-hand-side corner and select 'Merchant Center Programs'.
From there you can click on 'Get Started' in the Local Inventory Ads card.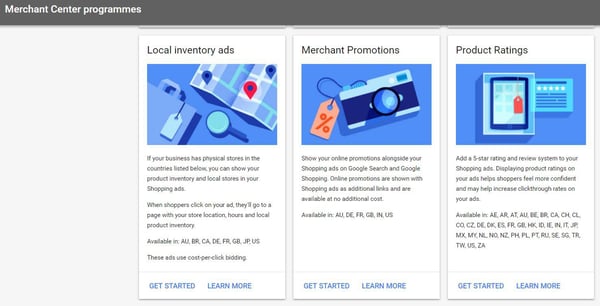 How to Start with Local Product Feed
Following the instructions, at one point you will be asked to upload your Local Product Feed. A Local Product Feed must be either in .TXT (recommended) or .XML format and must contain your products data like item id, title and description, price and so on. (Check the full local product feed attribute requirements).
If you are selling both online and offline you would need both a regular online product feed for Google Shopping and a Local Product Feed.
While if you just sell offline, the only feed you will need is the Local Product Feed. In the former case, where you would need both feeds, the only attribute required for your Local Product Feed is the item id.
In fact, the system will match the data contained in your main online feed with the item ids in your Local Product Feed.
There is no need to enter the same data twice. In order to make this work, it is of primary importance that the id attribute in your main online feed equals the item id in your local product feed.
Basically, you need to make sure that you always use the same product ids across all your feeds. Follow this Local Product Feed template to make sure your feed complies with the requirements.
How to Start with Local Product Inventory Feed
Beside a Local Product Feed, you will also need a Local Product Inventory Feed.
This is where the magic happens. Local Product Inventory Feeds are a list of the products you sell in each store. The feed must also contain the products' in-store price, which might differ from the online one and from store to store, and products' current in-store availability.
Check out this Local Product Inventory Feed template to start creating your feed. The first column of the feed must contain your store codes. Store code values must match the ones on your Google My Business account.
This way the system will match your product data (price, availability etc) with the respective stores on Google Maps. While store code, item id, price and quantity are mandatory attributes, you can also add optional data to enrich your feed and local storefront information. For example, you can add a sale price and special 'limited availability' or 'on display to order' availability values. Check the full Local Product Inventory Feed specification.
Recap: How many and what product feeds you need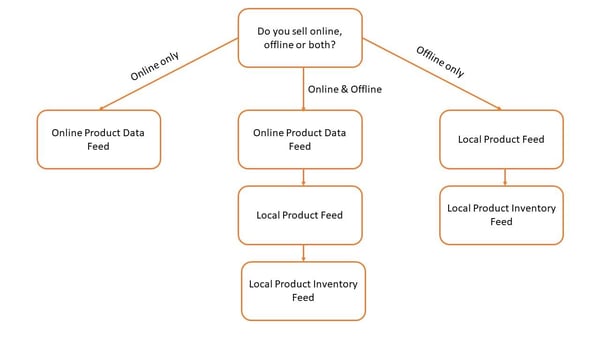 It can't be stressed enough that you have to keep your product ids consistent across all your product feeds.
This is the only way for the system to match your product data with the right stores. The same story goes for store codes, across Google My Business and the Local Product Inventory Feed.
See below how product data mapping would work across your feeds. Learn more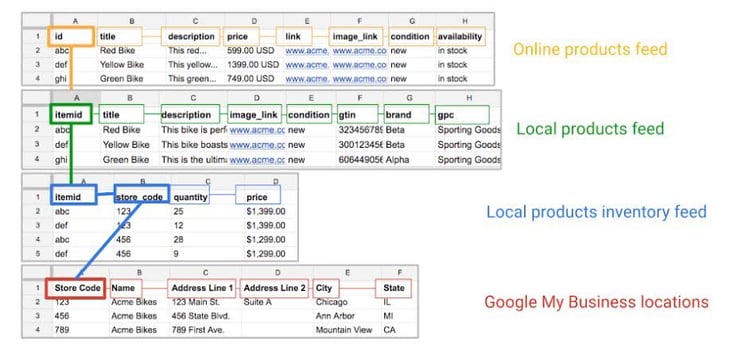 In the case for some reason you really can't keep the same product ids across your feeds, you can add the webitemid attribute to your Local Product Feed, which should match the id in your main online product data feed.
The whole process of matching ids across your feeds can be made much easier through third party feed management providers like DataFeedWatch. In fact, through custom feed rules, webitemid and possibly custom label columns, you are able to properly map every id attribute in your feeds.
Enable Local Inventory Ads on AdWords
Once you have created and uploaded your feed on Merchant Centre, the last step required to finally starting to advertise with Local Inventory Ads is enabling them in your Google Shopping campaign settings.
Select a Shopping campaign, navigate to the settings, select 'Additional Settings' and thick the box to "enable ads for products sold in local stores".

What happens next?
If you sell both online and offline and, therefore, you have both an online feed and a Local Product Feed, you might be wondering how Google decides whether to show Local Inventory Ads or regular PLAs.
The answer is that Google decides based on the user physical location, monitored through mobile GPS and IP address. If a user searching for your products is close enough to one of your stores, he will be shown a Local Inventory Ad, otherwise a regular shopping ad.
However, if you only sell online, obviously he will only be shown a Shopping Ad. On the other hand, if you just sell offline, he will be shown only Local Inventory Ads, provided he is located close to one of your stores.

---
Local Catalog Ads on Display
Local inventory Ads are only available on search through the Google Shopping property. However, Google recently launched a new ad unit called Local Catalog Ads on Display, which basically shows local inventory ads on the GDN.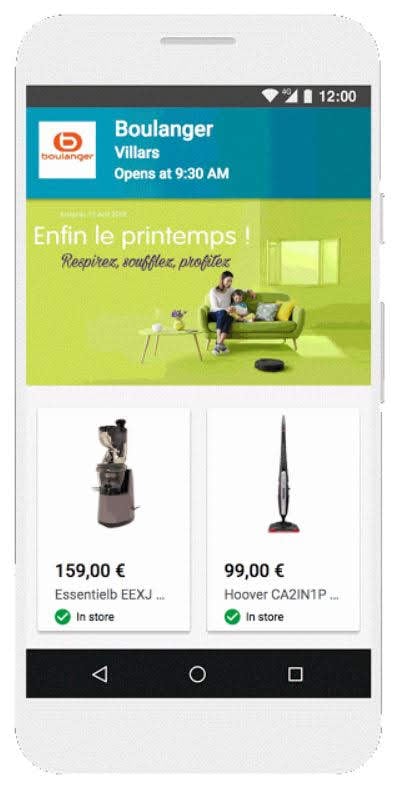 This is a very interesting and innovative ad unit as it gives shoppers visual inspiration and contribute to creating your brand image in an omni-channel world.
In fact, Google recommends you use Product Catalog Ads to "complement your traditional print campaigns – including catalogs, flyers, and circulars – with the added audience and measurement benefits of digital ads."
You may find interesting: Google Discovery Ads for E-commerce: All You Need To Know in 2021
---
Affiliate Location Extensions
We went through how Google solutions can help retailers drive traffic and sales in their physical stores. What if you are a manufacturer who sells through a network of distributor and physical retailers? Well, Google has something for you as well. Affiliate Location Extensions.
Through Affiliate Location Extensions manufacturers can call out which physical stores are currently selling their products. Users will always see only the closest stores to their current location.
They will also access additional info like photos, opening hours, phone number, address and directions. All the info are stored in Google My Business. Affiliate Location Extensions have been around for a while on Search and Display, but just recently they were launched on YouTube as well, giving users a seamless shopping experience across all the Google properties.
This maximizes the brands' advertising reach as well.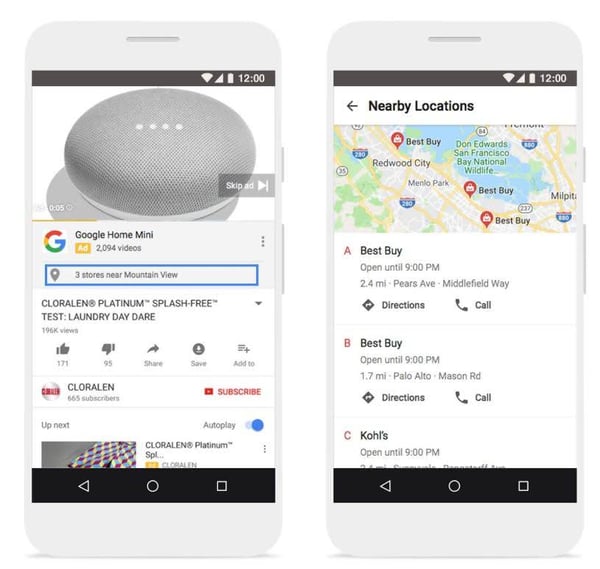 ---
How to Measure In-Store Traffic Acquired Online
Along with the advertising solutions mentioned above, Google also offers relevant measurement and reporting features tailor-made for brick and mortar businesses.
Measure Local Inventory Ads Performance
In order to measure the Local Inventory Ads performance separately from the regular PLAs, you would need to segment your AdWords reports by click type. The below screenshot is taken for the relevant AdWords Help Center article and show what click types are available and how to add them to your reports.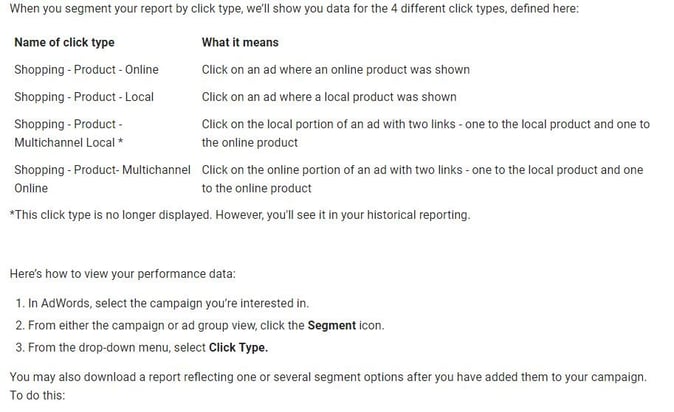 In addition to that, you can also measure and report on how users behave on your local storefront page. In order to do that, you need to track your local storefront page with Google Analytics.
To get started you would need to create a new GA property and fill this form. After that, you will be able to create a custom dashboard in GA for local storefront reporting
Along with the usual Google Analytics dimensions and metrics, you will find custom click events called "click for directions" and "click to call". The magic starts when you combine GA dimensions like device, locations or users segments with these click events.
You will be able to see how many times users in London clicked for directions vs users in Manchester, for example.
Measure Store Visit Conversions
Store Visit Conversions let you track the impact that online advertising campaigns on Google Ads had on foot traffic in your physical stores. Thanks to mobile localization data and machine learning, Google is able to tell how many users who clicked on your ads actually visited one of your stores.
In order to be able to see store visit conversions in your Google Ads account, you need to ask your Google representative to check your eligibility and set them up for you.
In fact, store visits conversions are only available to large retailers in a few selected countries.
---
Conclusions
The retail landscape has become 100% omnichannel, where users seamlessly switch from online to offline and require brands to accommodate this behavior with more and more services like click & collect and checking in-store availability online.
Google Shopping and Local Inventory ads are the perfect advertising solutions for retailers who don't want to be left behind in the omnichannel space and want to maximize revenue and customer acquisition through all the channels today available.