What are image extensions?
Image extensions are a type of enhancement that can be added to your paid search ads. They allow you to include an image in your ad, providing more relevant information to viewers and generate more traffic to your websites.
These extensions can be incorporated at different levels, such as the ad group level, which applies to all ads within a particular ad group, or campaign level, which applies to all ads in a single search campaign.
Multiple images can be added as image extensions, but only one image will be displayed per ad impression. Google Ads allows up to 20 images while Microsoft Ads allows up to 6 images per extension, each with its own unique URL.
---
History of Image Extensions on Google Ads
Google has been developing image extensions for some time. They attempted to introduce them in 2013 and then again in 2016 with visual Sitelink extensions. In September 2019, they announced Gallery Ads, which featured image carousels, but these were discontinued in 2020 to concentrate on image extensions.
Google began testing image extensions in December 2019 and after extensive trials, they announced at Google Marketing Livestream 2021 that image extensions were officially available to all advertisers.
This indicates a significant step forward in Google's continued efforts to enhance the visual appeal of their search ads and improve the experience of users.
---
How to set up Google Search Image Extensions (through Google Ads account)
Until few years ago, it was not possible to add images to search campaigns at all. The introduction of the image extension was the first step to complement this type of advertising with images.
Setting up Google Search Image Extensions can be done through your Google Ads account.
1. To begin, log in to your account and navigate to the Ads & extensions tab.
2. From there, select the
Extensions
tab and click on the blue plus button to create a new extension.
3. Choose
Image Extension
from the dropdown menu and select the campaign or ad group you want the extension to apply to.
4. Upload the image you want to use and add a description for the image. You can also customize the URL for the image, and add a headline and a call-to-action button.
Once you've completed all the necessary fields, click Save to activate your Google Search image extension. It may take a few hours for your extension to be approved and start showing with your ads. Remember to test your ads frequently to ensure that your images are displaying correctly, and adjust your settings as needed to optimize your ads' performance.
---
What is the benefit of using image extension with DataFeedWatch?
Right now, if you are already running your search campaigns with DataFeedWatch, you can add your images directly in our feed marketing solution in just a few clicks. In addition, you can edit them and see previews before uploading them to Google to make sure they're perfect.
Any important benefits of adding images via DataFeedWatch instead of directly in Google?
Yes! The key word here is automation
The general process for adding an image extension in Google Ads account is the following:
You can add image extensions on the campaign or ad group level. Once you have chosen on which level you want to do it, you need to add the image URL or upload your picture (there are also other options than uploading - see the graphic below).
In Google Ads account you would need to add all image URLs one by one and it is time-consuming.
If you use DataFeedWatch, adding images to your text ads will be an automatic process, where images will be uploaded directly from the URLs that are in your data feed. You can pull the image link tag and it will automatically choose the right link with the product.
The main benefits of using DataFeedWatch to add images to Google Text Ads are:
You save time uploading your images
Your extension images are unique
---
How do image extensions work in DataFeedWatch?
If image extension is enabled, a maximum of two images will be uploaded to a product. The DataFeedWatch Feed-Driven Text Ads (FDTAs) solution always tries to create both types of images, i.e. landscape and square. If either of them fails to upload, only one is uploaded instead of two.
What else does Feed-Driven Text Ads do?
In case you change the URL of the image, FDTAs will update the uploaded images.
If you change the creation method from CROP to PAD (or from PAD to CROP), the changes will only be reflected for new products in the campaign (for new ad groups).
If you turn off image extensions in FDTAs, the image you have uploaded so far will still remain in Google Ads (they will not be deleted).

---
How can you start using image extension with Feed-Driven Text Ads?
Below you can find the steps you need to take in order to correctly add images to your text ads using DataFeedWatch. This is a less complicated and quicker way.
1. Map your image URL
Go to the Tag assignment & filters section and map the image URL from your feed. This is necessary for FDTAs to know which URL of the image should be used in the Image Extension.

2. Go to the 'Ad pattern' tab and check the preview image
Ad previews are styled according to the new style currently used by Google. If the image extension is enabled, the preview image will also be displayed.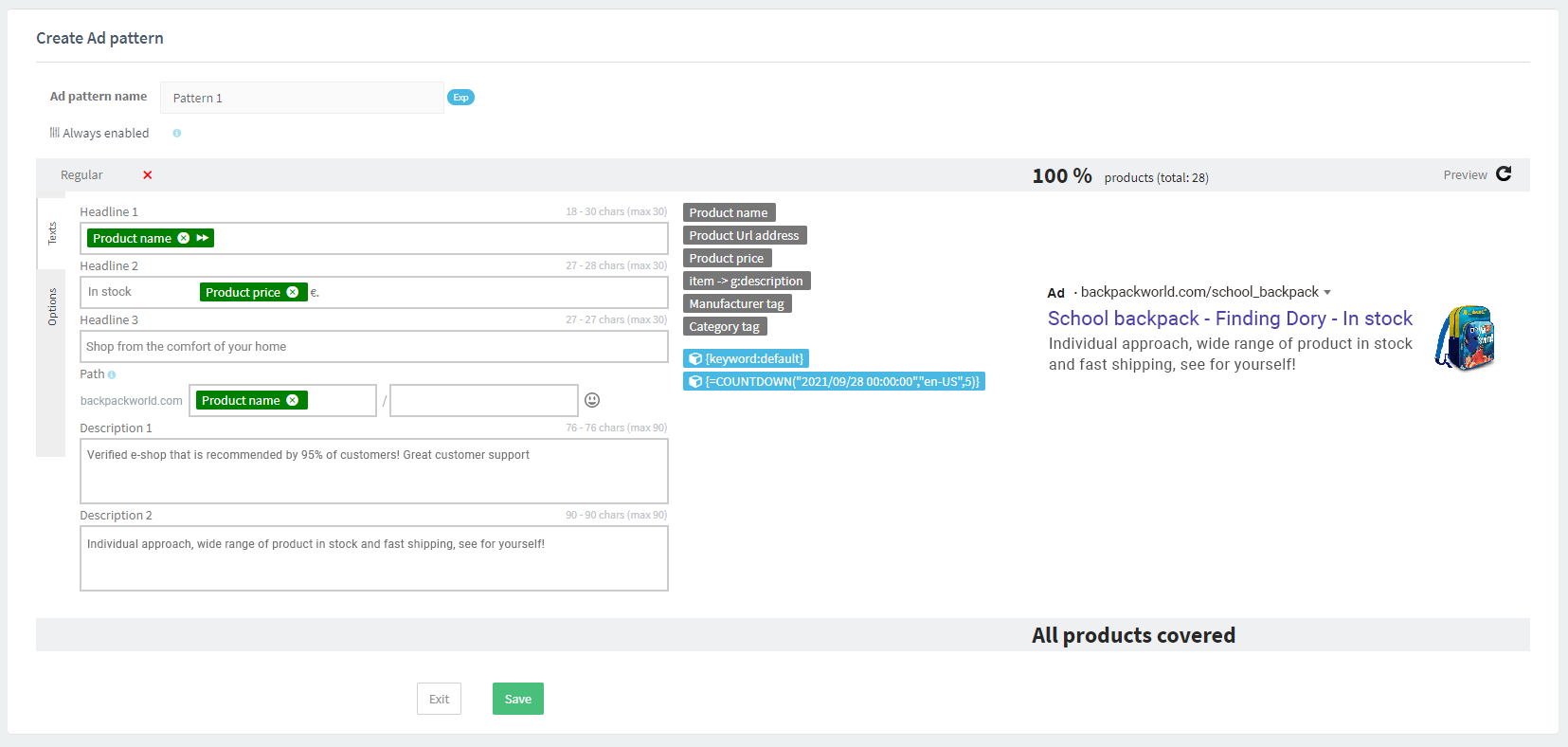 3. Go to the 'Ad Extensions' tab and choose the type of image
Image extensions can be turned on and off in the Ad Extensions tab. In order to use it make sure it's set to ON.
It is possible for you to decide how FDTAs should prepare images before uploading them to Google Ads. You can choose between CROP and PAD method as well as padding color. See the screenshot below.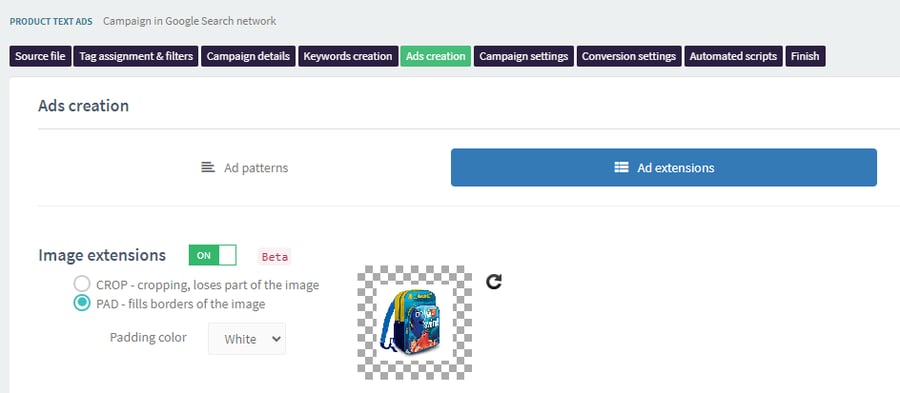 4. See the final results of your image extension update
The summary result of the image extensions update will be displayed in the campaign comments. You will find there the following information:
If the image extensions were uploaded
How many image extensions were uploaded
If there are any errors

It is important to note that not every Google Ads account can use the image extension.
Google's conditions for your account to use image extension:
Your Google Ads account needs to have a good history of policy compliance.
Your Google Ads account needs to be in an eligible vertical or sub-vertical. Some sensitive verticals or sub-verticals are not eligible for image extensions, f.ex. sexual content, gambling or alcohol.
Your Google Ads account must have been open for more than 90 days.
Your Google Ads account must have active campaigns, and you need to run Search campaigns so that there are active text ads.
If the image extensions cannot be uploaded from FDTAs to Google Ads, then you will be informed about it in the comments: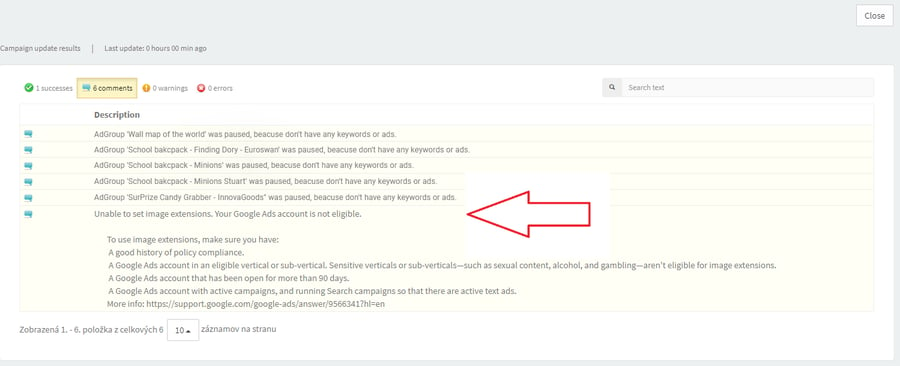 ---
Requirements for image extensions
Image extension that you upload must follow Google's very strict guidelines. To avoid disapprovals you need to make sure that your images meet all image extensions format and creative requirements.
File Formats
It can be PNG, JPG or static GIF.
Aspect Ratio and resolution
1x1
This one is required.
Minimum pixels: 300 x 300
Recommended pixels: 1200 x 1200
1.91x1
This one is optional, but highly recommended
Minimum pixels: 600 x 314
Recommended pixels: 1200 x 628
Other requirements
Your images cannot have text or graphic overlay (including brand logos, also the ones that are being used as the image asset)
Your images cannot have excessive whitespace. The focus of the image should be proportioned so that the product is recognized without any problem.
Your images cannot be collages or sets of images combined together.
Your images cannot be blurry or unclear
Your images must be understandable. They cannot be visually warped
Your images cannot show prohibited content such as nudity or other sexually suggestive elements
---
3 tips to create powerful image extensions
Use these 3 tactics to make your image extensions even more effective for Feed-Driven Text Ads. Create A/B tests within these image variations to discover what images work best for your campaigns.
Upload both square and landscape images
Use images with both kinds of aspect ratio (square 1x1 and landscape 1.91x1). However, prioritize the square images as they are required and landscapes images are just recommended.
Make sure your images are relevant
Your images need to be relevant to all the following:
the queries that they will be shown for
the text ads they will be shown together with
the landing page your ad URL leads to
Not only images, but also product titles and descriptions need to be relevant.
Focus on the quality of your image extensions
The best way you can do it is to focus your content in the center to 80% of the image. It will help the users to understand what your image is about. Simple backgrounds also help to get through your content to the user.
The images can contain great selling points as well. Try visually to show how to provide useful information and encourage people to take action.
---
How to get started with Feed-Driven Text Ads
Want to add Feed-Driven Text Ads to your online selling strategy? It's easy to set up!
Head to this page and either:
1. Book a demo to speak with a feed expert 1 on 1 and get more information.
2. Start your 30-day free trial and start automating how you create text ads right away.