Let's look at the 4 main reasons why you would want to pause your feed downloads:
Stock-taking: you want to reassess, change or update your stock
Optimization reassessment: you want to "switch off" your campaigns so you can look at ways to further improve your campaign and increase your ROI
Website maintenance: your website is under maintenance or you are migrating to another server
Corrections: your data feeds are incorrect and are being rejected by channels or you need to change things like images, available colors, etc.
Something important to note as this point is that you can only pause your download. So DataFeedWatch will stop downloading the product data from your store.
DataFeedWatch will also not upload your channel-feeds via FTP. But if you upload your channel feeds via HTTP, then the channels will still be pulling your data feed from DataFeedWatch.
In this case, you would need to go to your Google Merchant Center and pause your feeds there as well.
Let's have a look at how you would pause your feed download using our DataFeedWatch tool (other tools will differ):
Go to your Shop, click on the options button to the right and scroll down the tab to EDIT SHOP.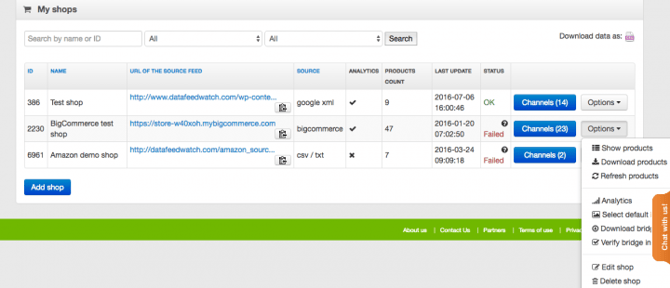 Click on EDIT SHOP and this will take you to your download schedule.
Scroll down the page to the Schedule and simply change the Schedule status from "active" to "pause."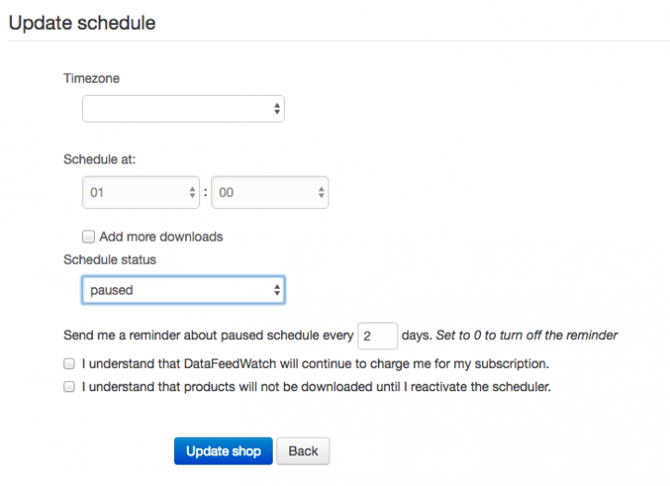 Once you click on "Pause" remember to hit the "Update shop" button or your changes won't be implemented!
Now you can set a reminder so that you don't forget about the fact that you paused your download. You will also still be charged during pauses, and no products will be downloaded until you reactivate your schedule.
Original author: Amour Setter