DataFeedWatch-Analytics shows you clicks, conversions and revenue for every individual product. You can see which products are unprofitable and remove them from your data feeds with a single click.
This way, the unprofitable products are no longer part of your campaigns and your advertising budget will only be spent on products that make you money.
How to boost your RoI with DFW-Analytics
You manage your CPC-campaigns on (sub-) category or brand or a combination, because
a) managing per product would take too much time
b) most channels do not provide you with product level data
With DFW-Analytics you continue to optimize the overall campaign performance but you add another optimization:
1. Find your unprofitable products in 20 seconds

2. Remove unprofitable products with a single click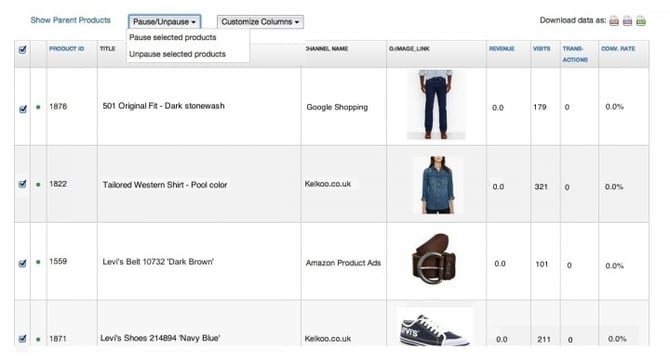 Removing products that only cost you money is a big saving. You will no longer waste this part of your advertising budget, but spend it on profitable products instead.
Other Benefits
Identify your winners
You can identify the best performing products the same way. If you know which products get you the most profit, you can increase your bids, improve titles, etc.
All performance data on a single page
You can review the performance of your products on each channel on a single page. That is so much easier to review and compare than having to log in to every channel.
Optimize across channels
You can see for every product how it performs on different channels. Some products do well on channel A and not on Channel B or the other way around.
Price: $0
DFW Analytics is FREE. Gratis. $0 per month per store. Compliments of the guys at DataFeedWatch. Enjoy!
How does it work?
Simple: We add tracking code to your product-URLs & we ask you to install one line of additional Google Analytics javascipt to your site. That enables us to track data on product level (and for each channel). We then download your Google Analytics-data and present all performance data per product in a simple overview:

How can I get Analytics?
Simple: You click 'Install' on the Analytics page.

You will be asked to log into your Google Analytics account and approve the access for DataFeedWatch and to select the right profile.
That's it!
Please note that it will take 24-48 hours after adding the Google Analytics javascript to your site, before you see the first results. And it will take a month before you have gathered 30 days of product level data. So start today!
FAQ: What happens to my own tracking code?
Nothing. It stays as it is. Whether your own UTM-codes were already in the source feed or if you added them in DFW: our Analytics tracking code is added. So: behind yours.
FAQ: My AdWords data is different from your DFW-Analytics data
Yes. That is correct. You know that we use the data from your own Google Analytics account. And even though AdWords and Analytics are both from Google, they do not track exactly the same way. Let me give you a few examples:
Visits vs Clicks
Some visits may be attributed to the All Products target in AdWords, but to the specific product ad in Analytics.
If people click a PLA and then bookmark the page and then return the next day, it counts as 2 visits in Analytics - but only 1 click in AdWords.
Transactions vs Conversions
Analytics assigns a conversion to AdWords, if AdWords 'provided' the last click – AdWords assigns all conversions to AdWords if an ad was ever clicked.
AdWords and Analytics have different cookie-times
Also see: