Using Instagram as a marketing tool is a cost-effective way to show your business to the world. But with so many features and possibilities, it can be difficult to know what the best strategy is.
That's why we're bringing you 12 common Instagram mistakes that retailers make and how to avoid them. You'll also find tips on how to optimize these areas of your Instagram profile for happy customers and increased sales.
12 Common Mistakes on Instagram:
#2 Unstable branding and inconsistent visuals
#3 Using images with poor quality
#4 Posting too much or too little
#5 Ignoring analytics and having no strategic plan
#8 Not engaging with followers
#9 Not optimizing your Instagram bio
#10 Not encouraging Social Proof
#12 Not advertising on Instagram
1. Buying likes and followers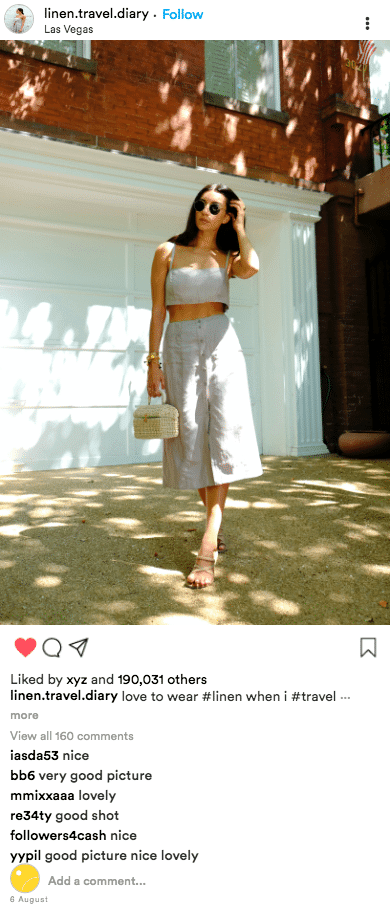 Yes, it is possible to get more likes and followers very quickly. Everyone can go on a shopping spree and buy likes and followers. This is a shortcut that will allow your business to look more powerful in less than a week. Great, isn't it? Well, not so much.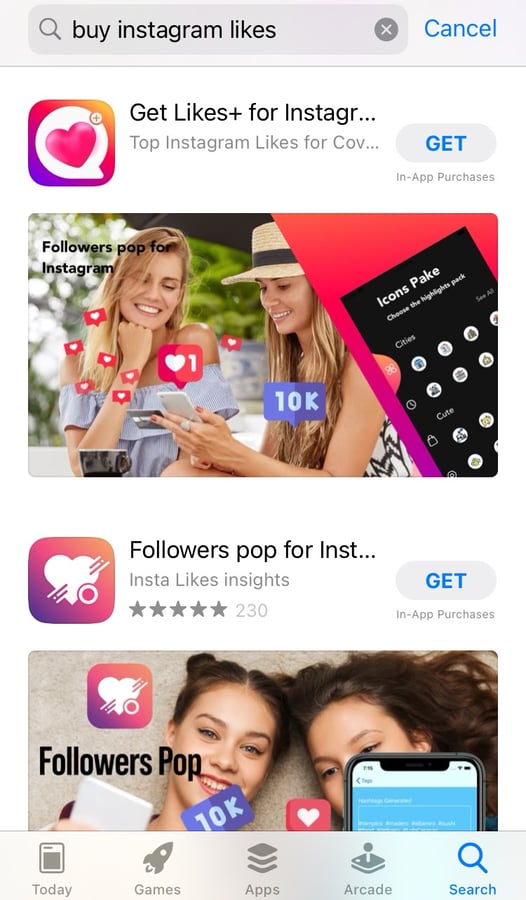 When you buy likes and followers the result is getting many low quality followers and likes. There's also the potential of the interaction they bring to taper over time. In that case, your follower count would be high, but your engagement would be very low. Low engagement results in Instagram showing your posts to less people and will decrease your chances of showing up on the explore page.
Even if the numbers look good, your audience will be full of robots that add no value to your business. Plus, if potential customers take notice of this, then it could have a negative impact on your sales. This is because it can make your brand look less trustworthy.
Another drawback is that you won't have a clear idea of what your 'real' audiences' behavior is, such as likes and dislikes. That makes it difficult for you to improve your marketing strategy. All in all, while it seems like a quick fix, it could end up creating more trouble for you than benefits.
Ready to commit to building your Instagram audience the right way? Shopify has put together a comprehensive guide on how to grow followers for your business.
Back to the Top or
---
2. Unstable branding and inconsistent visuals
Your Instagram account should act as a mirror of your brand. Each channel you use for your eCommerce store promotion, like your website and social media, should have a consistent thread. They should all showcase your brand strongly and clearly.
That means every channel should share the same visual style and editorial tone. Otherwise you'll be confusing to your audience and reduce the chances of creating a positive user experience.
Your grid should tell your brand's story. To create this cohesive story, your images should all feature the same colour palette and work together to create one solid visual representation of your brand.
If you have a lot of people working on your social media, it's useful to provide them with consistent guidelines about the templates to help them understand your mission. These are commonly referred to as 'style guides'.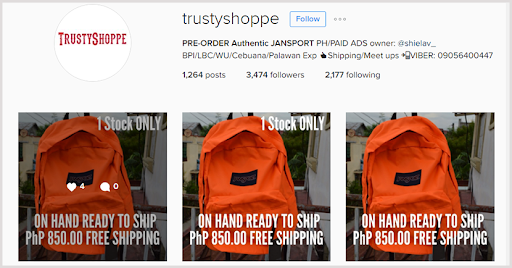 While the image above does have a consistent theme, it doesn't showcase their product or creativity very well. They could have used lifestyle images, even if the backpack only comes in one color.
Take a look at the images below and compare the Louis Vuitton website to their Instagram grid.
Here's what their website homepage looks like: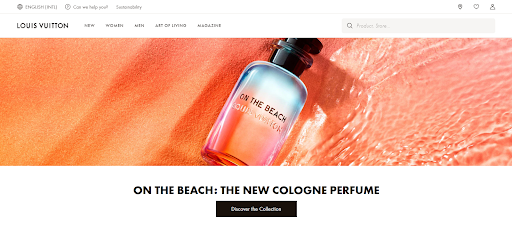 And here's a snapshot of their Instagram grid:
This is a great example of keeping the two consistent. They effectively used their Instagram page to elaborate on the current collection.
Back to The Top or
---
3. Using images with poor quality
We all know that Instagram is a visual medium. So, if you're not investing in good quality photos, then you are losing potential followers and customers. Bad product photos can make online shoppers think your business is less trustworthy or that the product themselves won't have a good quality either.


These kinds of product photos are less than inspiring. But, what if you can't afford to hire a professional photographer?
Chances are you already have some of the needed materials to DIY the photos yourself. You can also find tutorials online about how to use your mobile device to take high-quality photos and videos. They'll show you which editing apps, mobile camera settings, and lighting tricks to use that will take the quality of your images up a notch.
For example, Shopify has this how-to video describing how to take product photos with your smartphone.
Back to The Top or
---
4. Posting too much or too little
What is the right amount of posts to share on Instagram? This is a tricky question. If you post too much, you might seem desperate or annoying. You run the risk of users feeling like they've seen too much of your content and then unfollowing you.
But if you post too little, then you might not show up on their feeds at all.
There is no exact formula to this question, but you can work on finding the right balance for you. One great way is to look at your analytics and check what time your users are most active on specific days of the week. You can plan to post once a day at those times and then experiment with the frequency.
Another tactic you can use is posting interesting content to your Stories daily. This can be helpful if you don't want to publish as many posts, but still want to reach your audience. In theory, the more your followers interact with (or watch) your stories, the closer to the top of the line they'll be.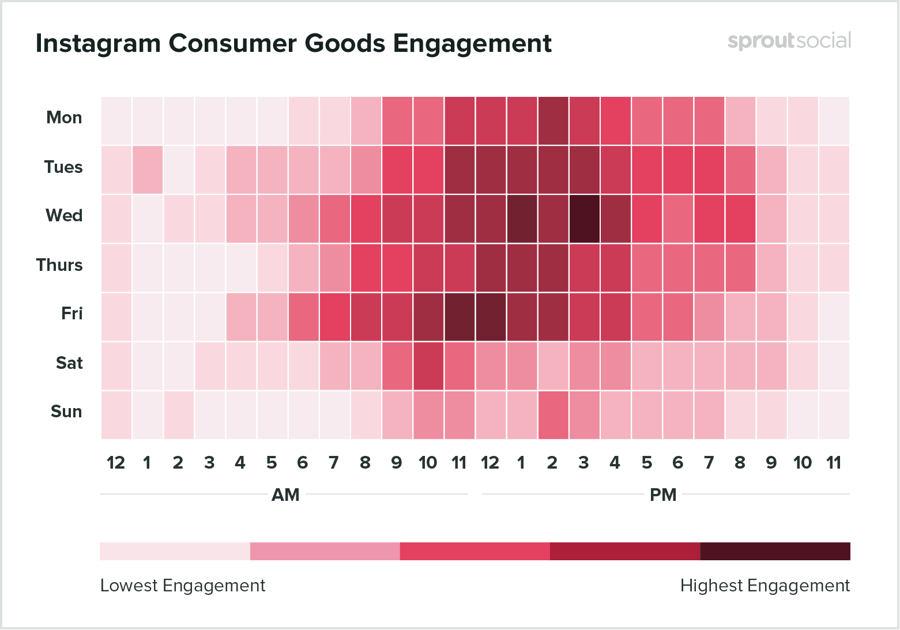 Above is a heat map of the general best times to post for consumer goods.
Every brand is different, you need to analyse when your followers are on line and experiment with your social media posting schedule. Only data can give you the right answer.
Back to The Top or
---
5. Ignoring analytics and having no strategic plan
Many marketers totally forget about analyzing their data. That's a big mistake as you should be obsessed with your data and up to date with all the important metrics. You can check for daily trends and use all this info for getting the most from your marketing strategy.
It's difficult to raise your engagement rate if you're not even monitoring your stats. Isn't it?
When analyzing your data, you should be asking yourself the following questions:
It's important to know the answer to these questions, otherwise you won't have any idea of what you want to achieve.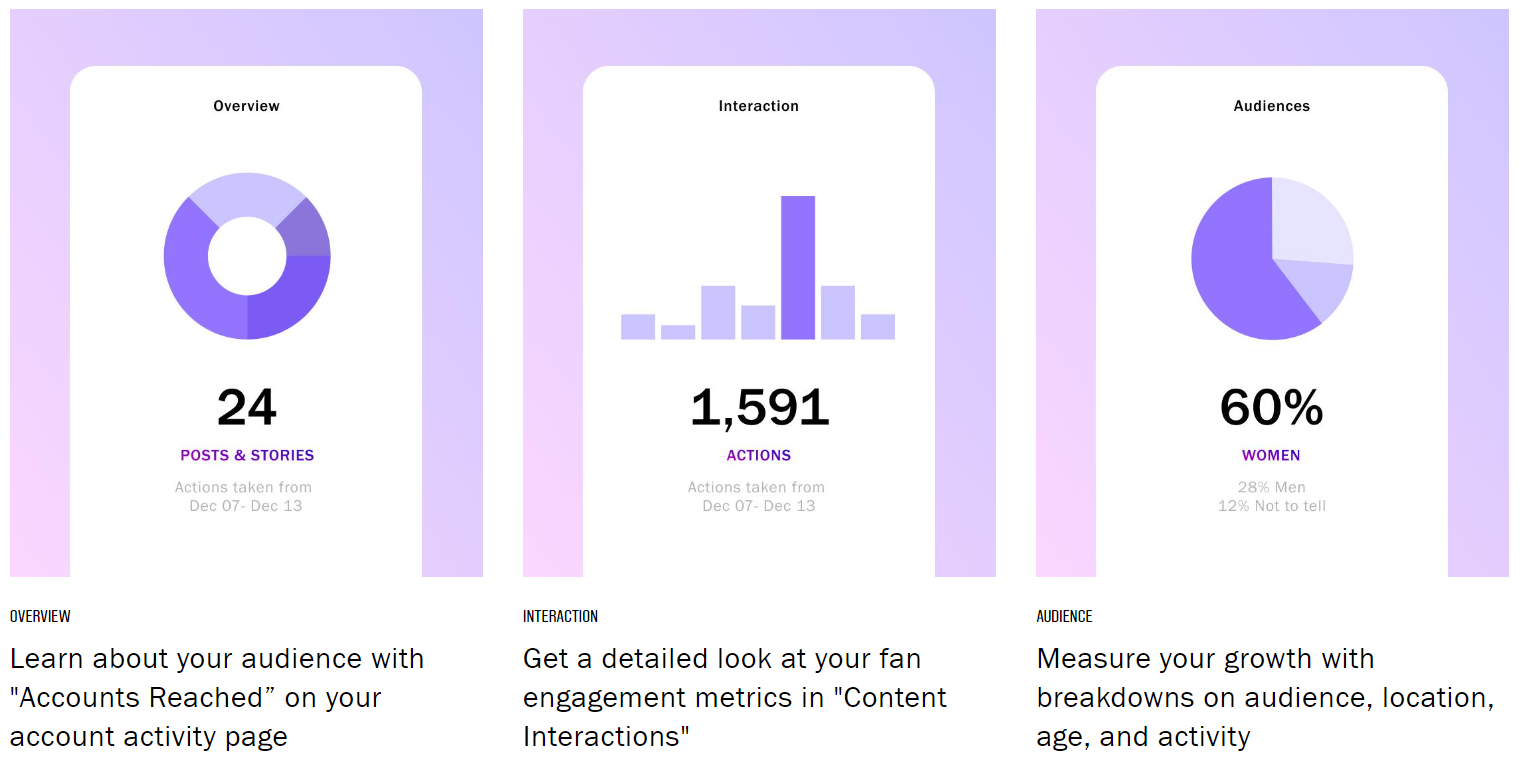 You can access your analytics data, called Insights, a few ways:
Going to the 'Insights' tab found on your profile page
Swiping up on your current Stories and switching to the 'Insights' view
On individual posts by tapping on 'View Insights' under your image
Just start with one goal and create a specific marketing plan with your team to get there. After that, measure, measure and measure!
Back to The Top or
---
6. Using too many hashtags
Hashtags are one of the best ways to help users find your content but, if used in the wrong way, you can easily look like a random spam account instead of an established brand. Each post has a limit of 30 hashtags, but it's recommended to use around 5.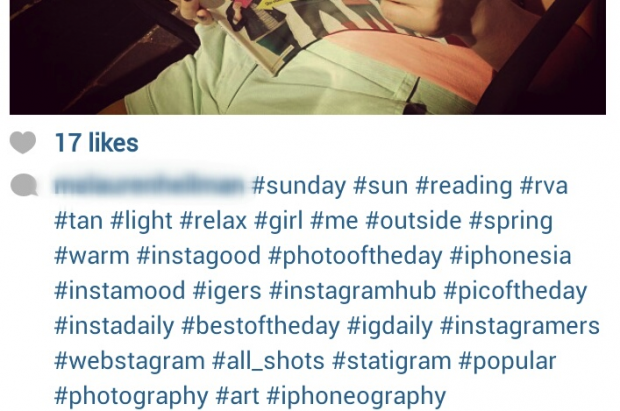 If your posts look like the above image, they might be a bit overwhelming for your followers.
So how do you narrow it down to the 5 that will have the most impact? Here's some ideas:
One that's specific to your brand - your customers can use the same one to post photos of their purchases.
What's your niche? Use a hashtag that's trending and related to your brand.
Get ideas from your competitors.
If you want to use more than 5 hashtags, considering adding them as a comment rather than in the post's text.
Tip: If you want to use hashtags in your Stories, but don't want them to be visible, use this trick - add the hashtag you want your Story to appear under and then cover it with a GIF or image (for example, your product sticker).
Back to The Top or
---
7. Not using Stories or Reels
If you're not taking advantage of Instagram Stories, you're missing out on the opportunity to connect with your followers. Since they only last for 24 hours and are easily skimmable (users can tap next or even swipe to the next profile) they're a great way to stay in the consciousness of your followers without clogging their feeds.
You can also use the Shoppable Stories feature so that users can click through to information like price and how to make a purchase right away. By adding the product sticker, your followers will be able to get direct access to your products.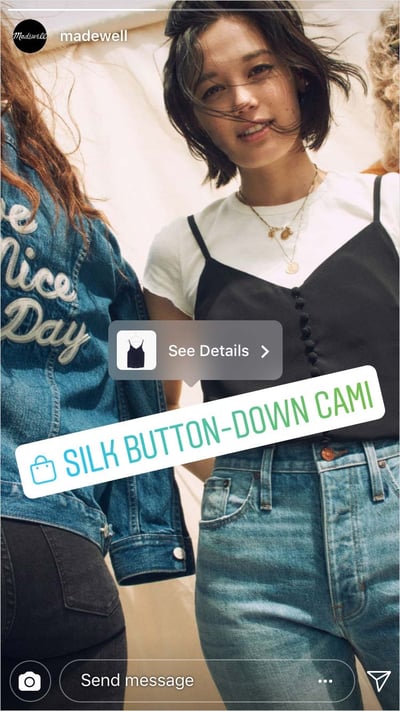 Tip: Save stories with important information and categorize them into groups. They'll appear at the top of your page and stay there so your followers can access them easily. Let's take a look at Louis Vuitton's page again: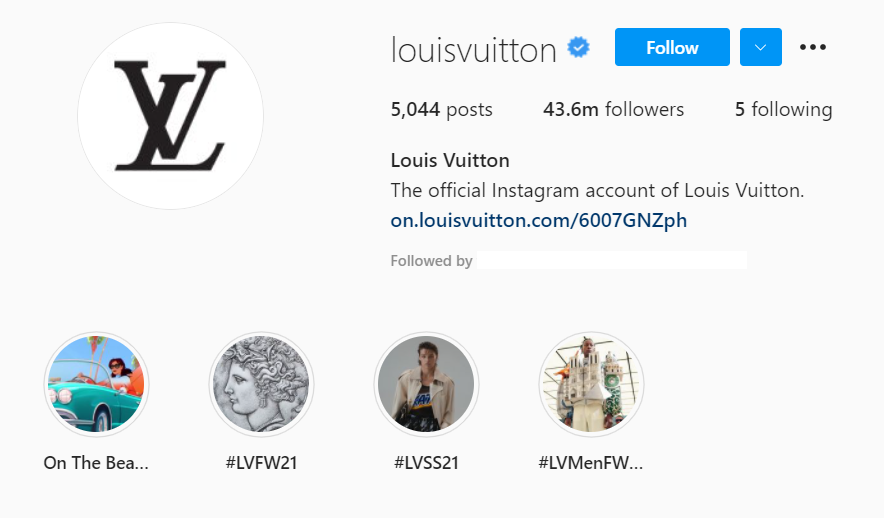 You can see they've added stories with their current campaign as well as the runway looks for this year.
Instagram Reels
Instagram also recently introduced another video format called Reels, seemingly to compete with TikTok. Instead of 15 second videos that disappear after one day, you can use Reels to stitch multiple videos together and show off your products like this clothing company.
---
8. Not engaging with followers
When you use social media as a business, you are starting a conversation. If no one responds, and if you're not listening to your followers then you risk wasting your platform. Look out for these two scenarios:
Ignoring a user who has an issue or question
Every time a user comments or asks a question, you should reply back to them since it's an opportunity to create a positive experience. It's very common for customers to ask for assistance on social media when they need help with an order or have run into another issue. So it's a chance for you to quickly fix any issues they're having and leave your customer with a good feeling about your brand and the service they received.
Not responding when users are enjoying your content and products
Responding to positive comments can also do wonders for your image on Instagram. Even if you don't have a lot of time, you can simply reply with a few emojis that convey a positive emotion.
Remember that engagement is really important to being seen on Instagram. So if users know that they're likely to get a response and therefore interact with your content more, it can bump your posts to the top of timelines and may even get you on the Explore page.
Tip: Don't forget to take a look at your inbox as well and reply to customers who are looking for help or answers to their questions. They're more likely to do business with you in the future if you took the time to help them out.
Back to The Top or
---
9. Not optimising your Instagram bio
As soon as someone sees your profile picture and takes a glance at your page, they should be able to tell what your brand is all about.
Images paint the picture of your brand quicker than words, but for little details you need to use your Instagram bio. Your bio is the line of text at the top of your profile and includes your own text as well as a link and your location.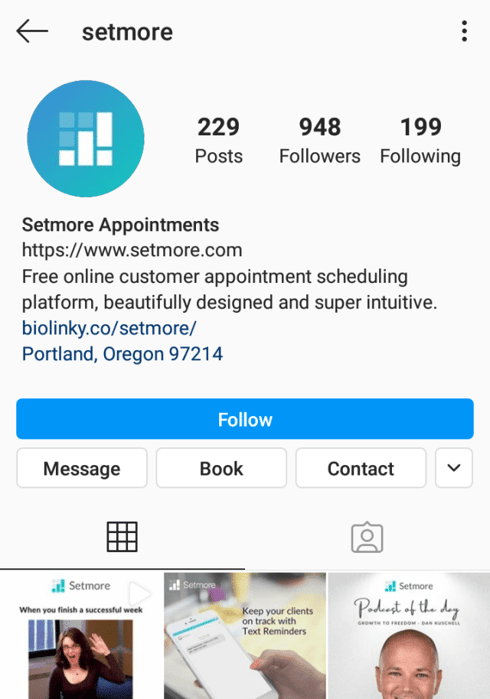 Instagram only allows one link per bio, which means that choosing the right one can be very difficult. Thanks to that dilemma, there are now a host of link-in-bio tools that eliminate the need to make tough decisions.
Users can click this link and an in-app page pops up with additional links or clickable images that lead to your desired web pages. The only thing you need to decide is which tool to use.
Let's take a look at some of the most commonly used tools:
url.bio

- You can get started for free

linktree

- Free and premium plans available ($6/mo)

tap.bio

- Free plan available
When you click on the link in Louis Vuitton's bio, it opens up a page that lets you 'click to shop'. After clicking on an image and a product, you'll be taken directly to their website where you can make a purchase.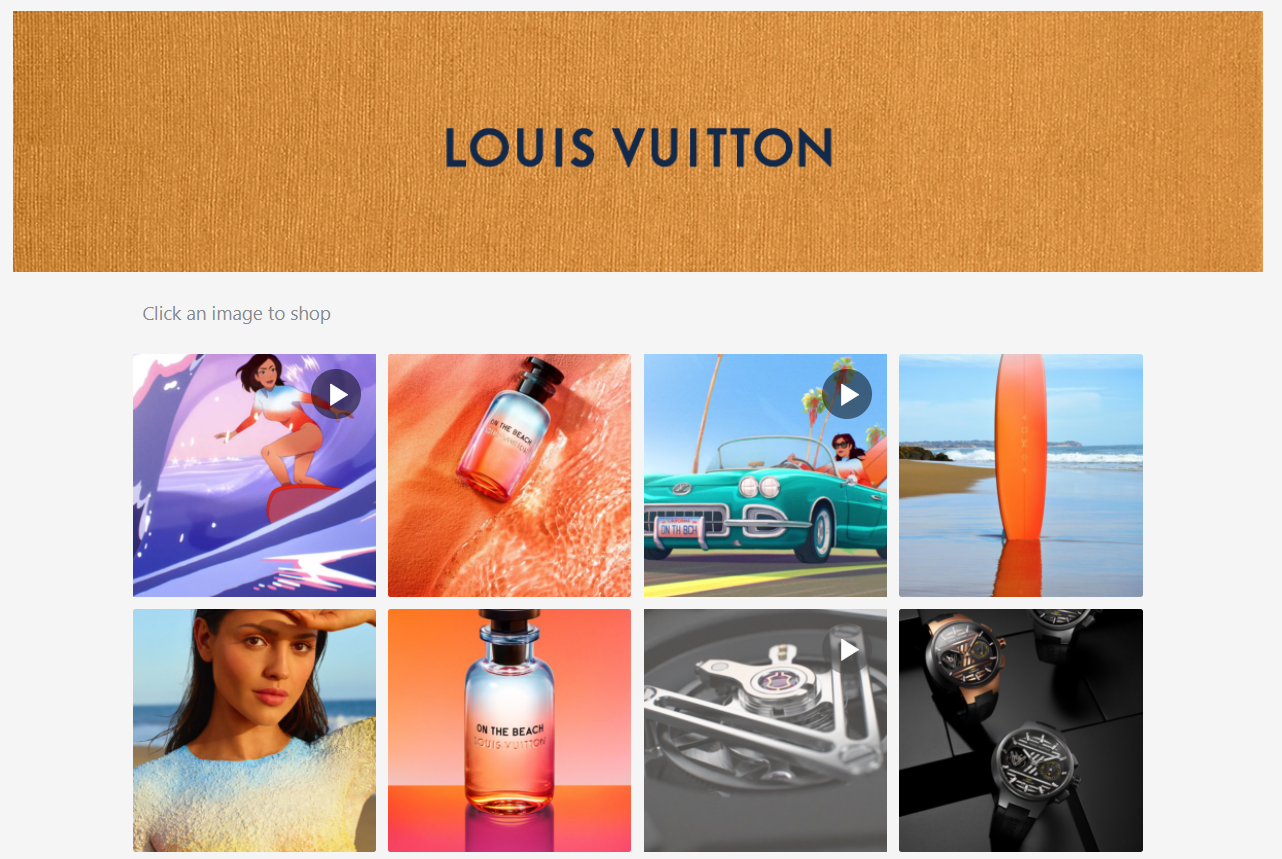 Pro tip: As an Instagram Business account, you can add call to action (CTA) buttons to the top of your profile, right underneath your bio. Each button works in partnership with a company.
For example, if you're providing a service you can choose 'Booksy' and your customers will be able to make an appointment through them. Here's how to set it up:
Go to your profile and tap on 'Edit Profile'
Find 'Public Business Information' and select 'Contact Options'
Then choose 'Add an action button'
Choose which button you want and make sure you're compatible with the chosen partner.
Tap on 'Next'
Enter the URL to the website
Hit 'Done'


Back to The Top or
---
10. Not encouraging Social Proof
What is social proof? Marketer Robert Cialdini defined Social Proof as ''a psychological phenomenon that occurs when people start copying the actions of others as they are considered to be the correct behaviour in a given situation."
Users pay attention to social proof as this makes their decision to buy easier. There are many different types of social proof, including:
User-generated content
User testimonials
Celebrity endorsements
Acquiring social proof is vital to gaining new customers.
Looking for tips on how to optimise your Instagram page for social proof? Here's a few ideas:
Create a separate account for customer reviews and add this account in the bio section so your followers can find it.
Use an Instagram Story Highlight album to show customer reviews
Create a specific hashtag for gathering customer feedback and show this in the bio section.
Also, don't forget to share positive reviews on Instagram!
Check out this example below:
---
11. Forgetting to proofread
Even the best of us can make a typo, but a spelling or grammar mistake in one of your Instagram posts can be off-putting for your followers. Customers tend to have a less forgiving eye for businesses, so mistakes like these can cost you credibility.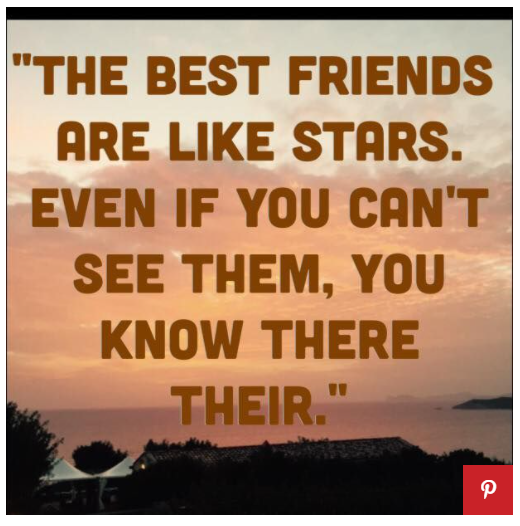 Luckily, if you notice a spelling mistake in the caption of one of your posts after it's published, you can go back in and edit it. But, if you have an error in an image, then unfortunately you'll need to delete the post and upload it again.
How to avoid spelling mistakes in your Instagram posts:
Double and triple check what you've written, and/or ask for a fresh set of eyes to check it for you
Read your post out loud
Prepare the copy beforehand
Check for commonly misused words like 'your/you're', 'affect/effect', and 'their/there/they're'
Back to The Top or
---
12. Not advertising on Instagram
Instagram has over 800 million active users. Not advertising on Instagram is a big mistake, as this means losing out on a lot of opportunities to reach your future customers.
One of the greatest benefits of advertising on Instagram is that you can target your audience more precisely. You can target your customers by:
Location
Interests
Demographics
Behaviours
Your ad will be shown to the exact target audience, increasing the opportunity for sales. You can target your audience and monitor the results.
Using Instagram ads will help more people become aware of your brand. One of the best parts about Instagram advertising is that you can use it even if you a low budget. You don't need to spend a fortune to make an effective campaign, so you can pay less and still reach a good audience.
Instagram uses a pay-per-click model. You will pay only if users click on your post, visit your website or make a purchase. If this doesn't happen, you are not going to pay. Of course, you will need to adjust your expectations if you're spending a lower amount. But it's still an effective way to reach more people.
Back to The Top or
---
Conclusion
Instagram has cemented itself as a big eCommerce contender. Nowadays it's one of the best channels to grow your followers, increase website traffic and build a connection with an audience that is going to trust you.
Here's a recap of our 12 ways of how not to grow your Instagram account:
Buying likes and followers
Unstable Branding and Inconsistent visuals
Using poor quality images
Posting too much or too little
Ignoring analytics and having no strategic plan
Using too many hashtags
Not using Instagram Stories or Reels
Not engaging with followers
Not Optimising Your Instagram Bio
Not encouraging Social Proof
Not spell checking
Not advertising on Instagram

There is no need to feel overwhelmed by these mistakes. The best thing you can do is learn from them and measure and fix any kind of issues you run into on your marketing journey.
Next Recommended Read: Is Instagram Becoming a Shopping App Exclusively?