In the internet age, online visibility is one of the most important factors every business has to consider while planning a marketing strategy. An established online presence means more people know about your business, which leads to more online and offline visitors and more sales. It is a basic rule valid across all industries, so it is in the automotive industry.
With the global e-commerce automotive market expected to grow to 176,24 U.S. billion dollars by 2031, car dealership businesses should put extra effort into leveraging their online presence. One of the ways to do so is by implementing SEO practices for the automotive industry. In this article, we will break down all the most critical factors you should cover while planning your car dealer SEO strategy in 2023.
Why is car dealer SEO important for your sales?
SEO (search engine optimization) is a set of practices to improve a website's presence in organic search results in search engines like Google, Bing, Microsoft, etc. In the automotive industry, characterized by a complex buyer journey with multiple touchpoints, it is essential to use SEO effectively.
Before people make a car purchase decision, they browse the web first and ask multiple intent-driven questions like which car is the best, what the costs are, where they should buy it, etc. This process can last months before they make a decision. The graphic below shows different micro-moments that a person intending to buy a car faces.

The consideration stage of a potential car buyer |Think with Google
As a car dealer, it is crucial to be useful for potential clients in all those moments and finally be there for them in the moment of purchase decision. By implementing the following car dealership SEO strategies, you will achieve your goal and stand out in the automotive e-commerce industry.
---
Car dealership SEO practices to follow
Ranking your website is a long-term process that consists of multiple steps. Below I described seven best practices that you should follow in order to reach the top SERP positions. They are complementary, and you will be able to achieve the best results if you follow all of them.
1. Keep your website healthy.
Your website is the first thing you should care about to get satisfying SEO results. Good quality and healthy website is a base without which other efforts will not bring the expected result. This paragraph will refer to technical SEO practices.
Here is the list of the most important things you should check to make your car dealership website healthy:
SEO-friendly site structure

- make a website accessible for crawling and indexing. Keep your

site structure simple and flat

- any webpage on your site should be accessible in 4 clicks or less. Use category pages to stay organized in the long term.

Fix broken pages and links

- prevent poor user experience.

Fix duplicate content issues

- common issues that e-commerce websites face due to faceted navigation. It allows clients to filter products by different categories, but unfortunately, sometimes, it creates multiple URLs for the same content.

Mobile friendly

- with

63% of all searches

in the automotive industry happening on mobile devices, it is crucial for car dealers to make their websites accessible and well-optimized for mobile devices.

Website speed

- page speed is an important ranking factor. It also directly influences conversions and user experience.
These are just a few essential elements you should consider while handling your technical SEO. Still, if you want to have a complete picture and be more knowledgeable when talking to your developers, read this article about a full technical SEO audit. Remember to audit your website regularly to ensure it stays in good condition.
2. Appear on local listings
Local listings are an important part of online visibility for every car dealership. They show your business to potential customers in a structured and simple way, displaying essential information like your website URL, location, opening hours, contact details, etc.
Google Business Profile is an excellent example of a local listing. Here is what it looks like: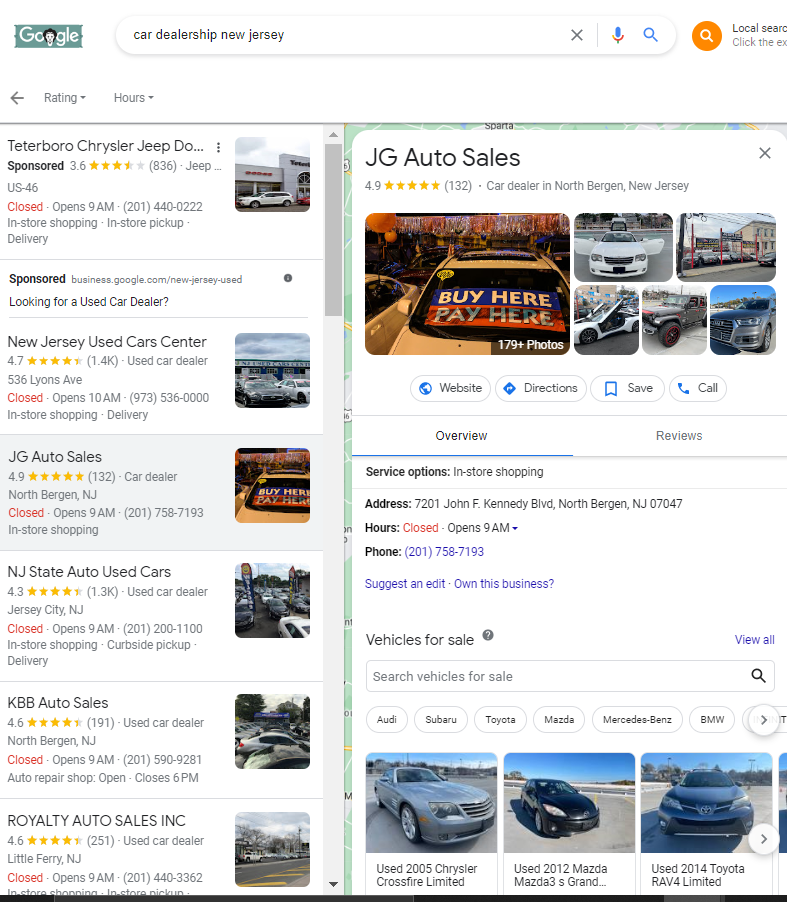 An example of a Google Business Profile popping up after typing "car dealership NewJersey"| Google search bar.
There are also other listings available across the web. While using multiple listings, keeping all your business information up to date and consistent across all the resources is essential.
Local listings are crucial for overall SEO efforts because they:
help to build trust with your customers and show that your business is legitimate

increase your brand awareness

direct more local traffic to your website

help potential customers to find basic information about your business

link to your website.
If you don't have your Google Business Profile yet you can create it here.
3. Choose the right keywords
Choosing the right keywords to target is essential in automotive dealership SEO. While conducting keyword research, you should consider parameters like keyword volume and difficulty, but there are more clues. Checking the searcher intent behind the keywords and making sure it aligns with your customer's needs at any stage of the buyer journey is equally important.
Let's talk about how it works in practice. Imagine there is a person named Kate who wants to buy a car. She has just decided to do it, so she is at the beginning of the buyer journey in the "what car is the best" moment (look at the graphic at the beginning of the article). She also has a husband and three kids. While researching, she will probably start with queries like "the best family cars" rather than going directly for "car dealership near me."

Example of keyword for automotive industry SEO | Ahrefs
Both mentioned keywords are great for your car dealership SEO strategy. Still, they refer to the needs of potential clients in different stages of the buyer journey. If you want to refer to the need behind the keyword "best family cars" and rank for it, you could create an article that will contain a ranking of 10 best cars for families based on different criteria. Extensive analysis of customers' needs and problems will help you discover more relevant keywords and put your business out there for potential customers in every stage of their buyer journey.
Another method that you can use to discover more relevant keywords is competitor analysis. Check what keywords your competitors rank for and you don't. You can easily create a list of those keywords using ahrefs site explorer. Here is an example: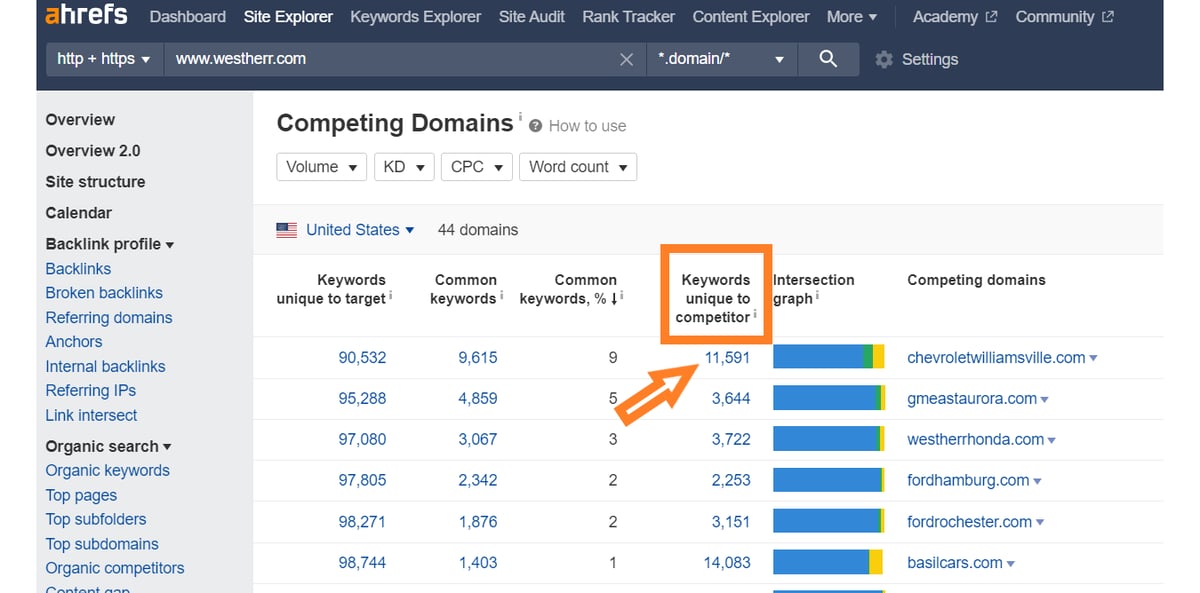 Competitor analysis | Ahrefs
After clicking on the number, the complete list of keywords you want to rank for will appear. Now all you need to do is create content that will outrank your competitors.
As a car dealer, you should remember the value of local keywords. For example, "car dealership in New Jersey." As Google policy is to show the most relevant results in the moment of search, by using them, you will ensure that your business pops up each time someone searches for a company like yours in your location. The previously described Google Business Profile will enrich these efforts.
4. Publish good quality content regularly
Many car dealership owners limit their regular updates on websites to uploading new offers and promotions. You might need more to outrank your competitors, though. Having a blog or a news section and publishing regularly will definitely help with improving your SERPs position.
Now, what topics should you cover on a car dealership blog? In the previous point, we described how to find the right keywords for your automotive SEO strategy. Keyword research can bring you many ideas about what to write on your blog. Don't forget about the competitor's analysis as well.
According to the latest guidelines from Google, good quality content should align with the E-E-A-T concept. Here is what it means:
E - experience

- content should demonstrate some real experience and should be created by or in communication with someone that used the product
E - expertise

- the creator of the content is an expert in the field
A - authoritativeness

- both website that publishes content and the creator have authority in the industry
T - trustworthiness

- clarity on who wrote the content, references to trustworthy resources.
You should keep this in mind when creating content for your car dealership website.
Let's see what blogging in the automotive industry can look like in practice. Manhattan Motorcars is a car dealership based in New York. They sell Porshe, Bentley, Lamborghini, and Bugatti vehicles. They describe themselves as one of the most successful luxury and performance automotive dealers in the world. Take a look at their blog:
Example of car dealership blog | Manhattan Motorcars
They cover all topics related to the brands they are selling, including technical information, business news, and also topics that might resonate with their potential customers like "The Fun-To-Drive 2020 Porsche Macan".
5. Use AI-based solutions to streamline your SEO processes
In straightforward terms, artificial intelligence is a combination of computer science and data analysis designed to solve problems faster and better than humans. It has existed in SEOs discussion for a couple of years, precisely since 2015 when Google announced RankBrain - an AI-based system to process search results.
SEO experts use AI-based tools to create keyword lists, plan and create content, monitor competitors, and more. While creating content using AI tools, remember not to violate google's spam policy.
Here is an example of using an AI tool to generate a keyword list based on the topic. It has just taken a few clicks and less than 1 minute to get the following results.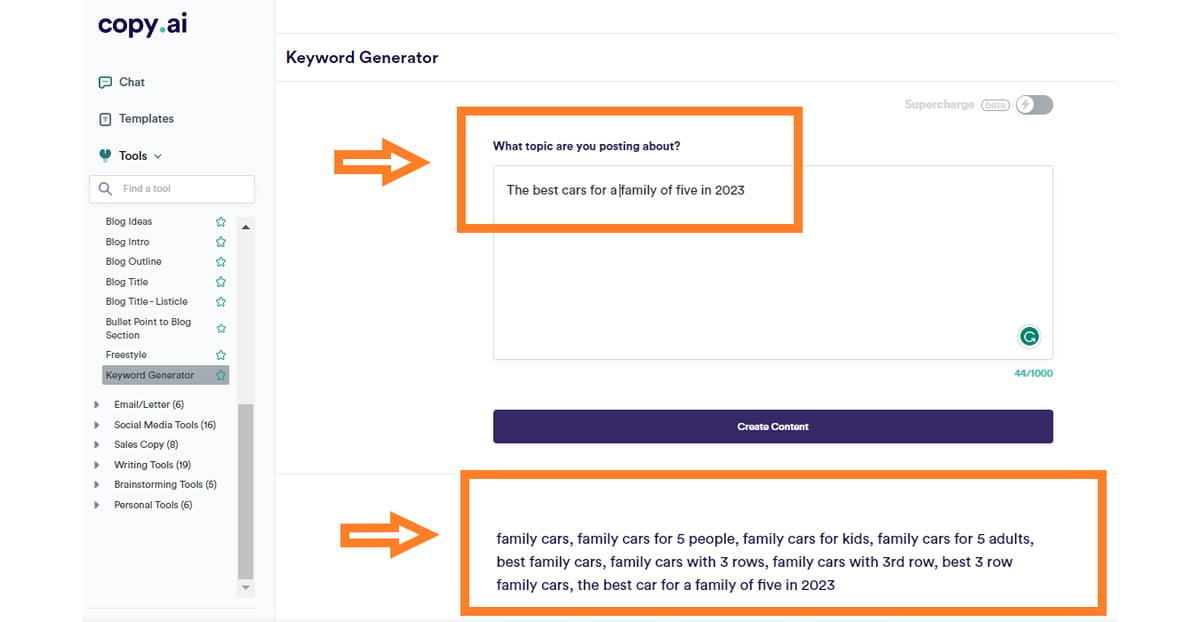 The example of using AI tool to generate a list of keywords based on the topic | Copy.ai.
Suppose you want to get ahead of your competition. In this case, it is a good idea to keep an eye on how search engine optimization experts use AI across industries and implement it in your automotive dealership SEO strategy.
6. Leverage business relationships and build authority
Leveraging strategic relationships with businesses relevant to yours and getting backlinks to your website is crucial from an SEO perspective. Co-marketing initiatives like guest posting, webinars, and co-promoting products with local businesses will benefit your rankings.
Volunteering for case studies with your partners and vendors is also a good idea. It can be an excellent opportunity to build a solid relationship and showcase your cooperation. Mentioning your business on your partner's websites will positively influence your brand recognition and will help improve your rankings.
If anything interesting happens with your car dealership, try media outreach. Prepare a piece of news and send it to local media and relevant magazines. It can be about the charity event your business supported or a local event you helped organize. It can also contain any updates about your business that could be interesting and meaningful to your audience. Tools like Muckrack or Prowly can help you search for journalists, create media outreach campaigns and analyze the results of your efforts.
7. Use video SEO for car dealerships
As of February 2023, Youtube is the second largest social media platform (ranked by the number of active users monthly), right after Facebook. Besides, over 75% of car shoppers were influenced by videos while buying. If you put those two facts together, it appears that, as a car dealer, you should use videos in your marketing strategy.

Source: Think with Google
You can implement videos into your marketing strategy in two ways. In the first one, you can choose a platform like YouTube and host your videos there. In this case, Google will automatically index your videos, and they will appear on the video tab in search results.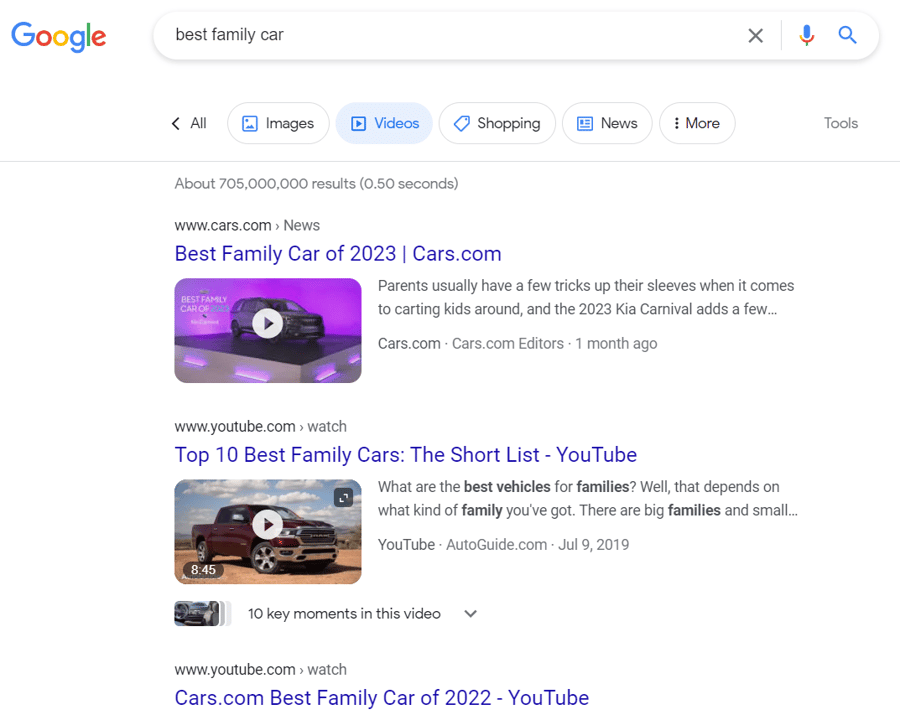 Example of Google video search results for a query "best family car" | Google
Create a proper clickable title and description to make your videos rank better for specific queries. Remember to include relevant keywords. You can also add timestamps that enable linking to any second of the video. Each timestamp will have its own title and will appear in search results for different queries. In this way, your video will rank for more keywords. Use YouTube thumbnails to grab some extra attention. Be visually consistent and brand-oriented, add catchy images and titles.
The second option is to host videos on your website. In that case, you need to do extra work to enable search engines to index them. You can provide a video XLM sitemap and then upload it to Google Search Console or use schema.org markup or make it easier for yourself and use a ready plugin like Yoast Video SEO plugin. If you decide to host videos on your website, remember that the content around them should also be SEO optimized and relevant to the topic of the video.
---
Conclusion
Implementing good SEO practices in your car dealership will not only increase your visibility but also will increase your sales. With the predictions that the automotive e-commerce industry will grow 4,6 times during the current decade, it is crucial to start working on your position immediately. Ensure that your website meets all technical SEO standards, refresh your Google Business Profile and check if your company details are up to date. Take a closer look at your content creation process and include video content. Leverage good business relationships to support your PR efforts. Stay on top by testing new AI solutions for streamlining and optimizing your SEO workflows.
---