Video campaigns are now able to drive users from the top to the bottom of the conversion funnel. We know this thanks to the data-driven attribution model and the incremental impact that video ads have on conversion activity.
More and more often, video campaigns are becoming involved in e-commerce PPC strategies. So let's take a look at the best options and opportunities related to them.
---
Google video ads: Glossary for beginners
If you're only starting out with video ads then let's go over a few key terms you should get familiar with before diving deeper into the article. If you're experienced with video ads - feel free to jump to the next section.
TrueView in-stream ads
TrueView in-stream ads mean that your video ad will play before, during, or after other videos. After 5 seconds, viewers have the option of skipping the ad.
TrueView discovery ads
TrueView video discovery ads can run on the YouTube search results page and watch pages for both desktop and mobile, as well as the mobile app homepage. The ad unit consists of an image thumbnail and up to three lines of text. Clicking the ad will deliver a user to the YouTube watch or channel page to view the video rather than playing the video within the ad unit itself.
Companion banner ads
Companion banners help convey your message and drive additional viewers to your website. When comparing video impressions with companion impressions remember that companion banner ads are not served on all YouTube pages where in-stream ads are served.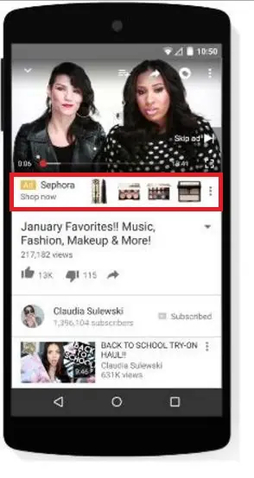 Source: Tinuiti.com
Call-to-action (CTA)
A Call-to-Action (CTA) encourages viewers to click through to your website from your TrueView Video Ad.
Google Video Partners
Google Video Partners are high-quality publisher websites and mobile apps where you can show your video ads to viewers beyond YouTube.
Back to The Top or
---
How attribution works for video ads
With the cross-network attribution reporting for YouTube campaigns, advertisers are able to opt-in to see YouTube clicks and video engagements in their 'Top paths', 'Path metrics', and 'Assisted conversions' attribution reports.
Machine learning is able to assign credit to ad interactions in a user's journey. This gives you more details about the ability of video campaigns to drive users to the designed conversion and how different channels complement each other in moving users through the customer journey.
This brief introduction related to the data-driven attribution model helps us decide on the video campaigns involved in the strategic organization of our campaigns for e-commerce. Video campaigns are not only related to brand awareness or generic engagement but can also play an important role in conversion lift.
Being focused on e-commerce requires you to choose which type of campaign could perform better for improving engagement and reach more sales.
Back to The Top or
---
Best Options of Video Ads for Online Retailers
As we have seen before, there are several options for video campaigns based on different goals. They are:
Drive conversions (TrueView for Action)
Influence consideration
Shopping (TrueView for Shopping)
Ad sequence
Skippable in-stream
Non-skippable in-stream
Bumper
Outstream
Ad sequence


Today we'll be taking a look at the two different options strictly recommended and related to the conversion objectives that are able to help retailers reach their goals:
TrueView for Shopping Campaign
TrueView for Action Campaign
---
Advertise on YouTube with TrueView for Shopping
How does TrueView for Shopping work?
TrueView for Shopping is a simple and effective way to add product details and shopping links to video content by linking to Google Merchant Center. This makes it easier for consumers to click on and purchase products that are directly related to the video ad they are watching. Shopping cards increase engagement with viewers and help advertisers reach potential customers across mobile, tablet, desktop, and TV screens.
It includes information like:
Product title
Price
Image of product
TrueView for Shopping runs on TrueView in-stream ads only (not on Google Video Partners). That means they don't run when organic videos are played or on TrueView discovery ads.
These ads use the Merchant Center product data to generate shopping cards, and up to 6 shopping cards may appear on a video ad at a time. It's possible to filter the inventory or select specific products to limit which products can show with the video ads or choose products related to the video.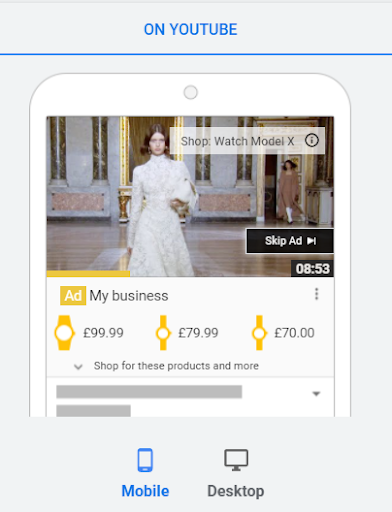 Product Filters in TrueView for Shopping Campaigns:
There are three ways that you can select the products you want to feature:
None - use all products: This allows the system to pull from approved products within your feed and optimize based on the products that are seeing the highest engagement. This option is best when using remarketing since the system customizes the products for each user to show those products that each user has previously visited on your website.
Choose specific products (also known as Product Picker): This allows you to select the exact products (up to 10) that you want to feature in your video. This is a great fit for advertisers that want to promote a finite set of products (~1-10) within their TrueView ad. You can select a max of 10 products, but keep in mind only 6 products will show at a time. If you specify more than 6 products then the products shown in the ad will be based on popularity and remarketing signals. It is often useful to specify more than 6 products in case any of the products go out of stock while the campaign is running.
Create custom filters: This allows you to use filters that are set up within Google Merchant Center to narrow serving down to a group of products. In the new Google Ads, custom filters are defined by Custom Labels created in your client's GMC.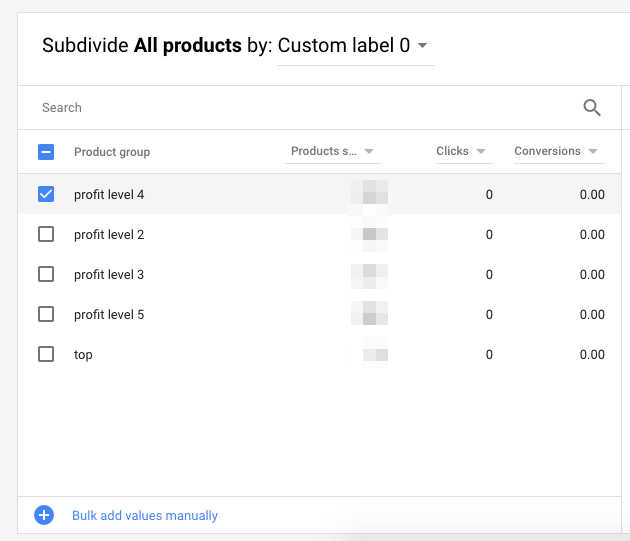 Examples of the most useful and popular filters:
| | | |
| --- | --- | --- |
| Custom label | Your definition | Your choice of possible values |
| custom label 0 | Season | Winter, Spring, Summer, Fall |
| custom label 1 | SellingRate | BestSeller, LowSeller |
| custom label 2 | Clearance | Clearance |
| custom label 3 | Margin | LowMargin, HighMargin |
| custom label 4 | ReleaseYear | 1900 to 2100 |
TrueView for shopping "cards" are displayed in the companion banner and are no longer displayed within the video.
As a result, if a video has an organic CTA then the CTA can be displayed. And, if a video has organic info cards added to the video then they can be displayed.
The companion is visible during the ad playback but also remains after the ad has finished and the host video is being watched.
Key benefits of the companion banner:
Simple: A scrollable display ad that features the same products from your video and is created automatically for all TrueView for shopping campaigns across devices.
Drive more traffic to your site: Experiments have shown that shoppable companions drive 10X more card clicks.
Capture more attention: Users do not have to open the cards in the video to see products in the companion and the companion remains on the watch page even after the ad is complete.
How bidding works
This type of campaign only works with CPV (cost-per-view) bidding, meaning you pay when:
The viewer watches 30 seconds of your video
The viewer watches the full duration of your video (if it's shorter than 30 seconds)
Or, if the viewer interacts with your video (clicks on companion banner)

It depends on whichever of these actions comes first.
The bid strategy is related to performance, but just remember that you pay based on impressions for video campaigns, and you pay for interactions with CPV with:
Target CPM
Target CPA
Maximize conversions bidding
How to get started with TrueView for Shopping
What you'll need to get started
Provide Google Merchant Center (GMC) with the feed ID with product details adhering to the creative specs
Have product images that lead to the product landing page setup in GMC
9 Steps to creating your TrueView for Shopping campaign

Select 'New campaign' then select the 'Product & brand' consideration goal.

Choose the Shopping campaign subtype, then select the linked Merchant Center account for the products you want to use in this campaign.

If you want the shopping cards to use all products in the linked Merchant Center account, leave the 'Product Filter' setting to the default option, 'None - use all products'.

If you want to choose a subset of products to advertise in your campaign, select 'Choose specific products' to search for individual products from your Merchant Center account.

Set your daily budget, then choose your location and language targeting. Note: 'YouTube videos' will automatically be selected in 'Networks'.

Enter a name for your ad group, then set an ad group bid.

Edit the targeting methods you want to use for your ad.

Next to 'Your YouTube video', choose a YouTube video for your ad. Note: 'In-stream ad' will automatically be selected for the ad format.

Enter the required information to create your ad.
Best Practices for TrueView for Shopping:
If you don't need to select specific products, videos could become even more relevant to the viewer when dynamic remarketing is implemented to further influence which products to display.


Example: Say I visited your website and looked at a blue dress, but did not purchase it. Later I see your TrueView ad on YouTube and I view the cards. The blue dress I had browsed appears with your video so I can see the details again and easily click through to purchase on your website.
Back to The Top or
---
Advertise on YouTube with TrueView for Action

How does TrueView for Action work?
TrueView for Action is a campaign format and bid optimization on video that is designed to drive lower-funnel actions, such as website clicks and conversions. TrueView for Action uses target CPA or Maximize Conversion bidding. Of course, in order to run TrueView for action, conversion tracking is a requirement.
The budget settings affect how quickly you can optimize your campaign for conversions. For campaigns using Target CPA bidding, it's recommended to set a budget that's at least 15 times the target CPA, for Maximize Conversion bidding the daily budget should be at least 10 times the expected video CPA.
TrueView ad formats have tailored and enhanced call-to-actions for website clicks and conversions. They help advertisers looking to optimize their video campaigns towards clicks to site and on-site lightweight conversions. This is especially relevant for advertisers that offer products or services with high consideration, like financial, automotive, or travel services. But it's also for retailers.
This campaign, also called Drive Conversion, could be selected by 3 different goals: Sales, Leads, and Website traffic from the New Campaign Panel in Google Ads.
TrueView for action ads are made up of the following components related to the ad format:
Headlines that promote products or services and are the primary line of text next to the video ad. They can contain up to 15 characters including spaces.
CTAs direct users to the website specified as the landing page URL and appear alongside the headline. They can be up to 10 characters including spaces.
End screens display after a viewer reaches the end of the ad for 5 seconds on mobile devices and 7 seconds on desktop. They are generated automatically based on the related YouTube channel but it's possible to manually upload an image.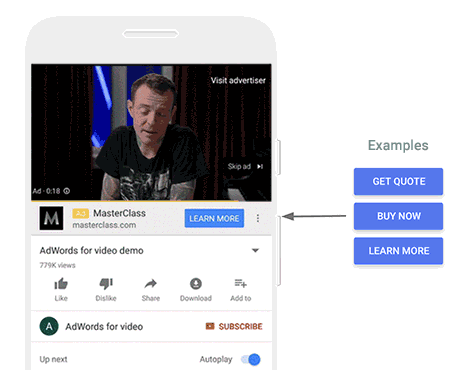 How to get started with TrueView for Action
TrueView for action is a video format that is available under the "Sales", "Leads" & "Website traffic" campaign types in the New Campaign panel. You must have conversion tracking enabled in order to be eligible to run. The additional information needed to provide includes call-to-action text and headline text.
10 Steps to get started
1. Select the Sales, Leads, or Website traffic goal.

2. For the campaign subtype, 'Drive conversions' is automatically selected.
3. If you select Leads, choose the questions that you want to ask for in the lead form. You'll need to select at least one option to continue.
Name (can be customized as First name and last name or Full name)

Email

Phone number

City

Zip / Postcode

State / Province

Country

Company name

Job title

Work email

Work phone number
4. In the 'Bidding strategy' section, set your bidding strategy to Target CPA or Maximize conversions. If you select Target CPA, set the target amount you're willing to spend for a conversion.
5. Under 'Ad group type', select 'Standard'.
6. Choose the demographics and audience types you want to reach.
7. Use the editor to create your ad.
8. Your YouTube video: Search for a video you've uploaded or paste the video URL from
YouTube. Provide the final URL (the landing page people visit when they interact with your ad) and the display URL (the website URL that appears in the ad).
9. Enter a call-to-action and headline
10. Select either an image that's automatically generated from the videos in your YouTube channel (recommended) or an image that you've manually uploaded as your companion banner. Companion banners appear on computers only.
Best Practices for TrueView for Action:
It's recommended to include as many demographic groups as possible. If you limit your targeting to certain demographic groups, your ads may see a more limited reach.
Start with custom audiences (based on search keywords), Customer Match audiences, remarketing audiences, in-market audiences, or similar audiences. In addition to these audiences, you should opt-in to audience expansion to show your ads to more people who are likely to convert.
It's also recommended to use different Ad Group for different audiences.
If you're using custom audiences (based on search keywords), use 10-15 of the suggested keywords based on your past conversion performance or your highest converting search keywords.
Back to The Top or
---
TrueView for Shopping vs TrueView for Action
Differences
The main difference between TrueView for Shopping and TrueView for Action is that you're able to link Google Merchant Center with TrueView for Shopping.
TrueView for Shopping gives you the option of showing product cards in your ads. TrueView for Action gives you the possibility of driving towards a specific goal or a specific landing page.
One distinguishing feature of TrueView for Action is the possibility of showing ads on Google Video partner and the possibility of selecting the Responsive Ad Group type to show different formats.
With the Responsive Ad Group, the format will be auto-selected to optimize results based on the video in the ad. This included skippable in-stream and video discovery. However, with standard Ad Groups, it's only possible to create skippable in-stream ads.
Similarities
Both campaigns use companion banners.
These two campaigns can also work together while using different objectives. One is more related to the product and getting direct sales (Trueview for Shopping), while the other (TrueView for Action) is able to drive more relevant traffic. Thanks to lead form extensions, TrueView for Action can also help you capture interest when potential customers are searching, discovering, or watching relevant content.
It's recommended to use different audiences for both campaigns, like:
YouTube audiences
Targeting users who have already interacted with the video or the YouTube Channel
Remarketing list related to the website
Similar audiences
In-market
Affinity and life events audience lists
How can you measure the results?
It's possible to see the number of times users converted from your ads based on a 30-day lookback window. View-through conversions are not included in the conversions or total conversions metrics. But it is possible to use the separate view-through conversions metric to see this data.
Back to The Top or
---
Final thoughts
These two formats are the most likely to reach performance goals and are driving video campaigns with smart bidding in a full-funnel conversion-oriented strategy where the video campaign implements the other activity in the user's customer journey.