What We Experienced
52 phone calls

+24,000 visitors to our website

+300,000 ad views

+1,300 Swipe Ups

We get more traffic to our website than Snapchat informs us

The user engagement is sick high!
Mostly Young Users
According to statistics there are about 1,400,000 Danish users and most of them are below 35 years old.
In the first quarter of 2017 Snapchat had a total of 166 million users which is 36% higher than the first quarter in 2016. The majority of Danish users are below the age of 35, indicating that the medium is most relevant for companies targeting younger people.
According to DR's major research of media development in 2016, people are generally more active on Snapchat than they are on Facebook, where their behavior is more passive and observational.
This fits well with the commitment we got from the viewers. Several of them added our Snachat and responded with Snaps. Our director, Simon Paag, who participated in the video also received countless of calls from curious Snapchat users.
Will Snapchat Become a new eCommerce Platform?
Earlier this year editor in chief of Cosmopolitan and a Snapchat board member, Joanna Coles, said that Snapchat at some point will morph into an e-commerce platform where you'll be able to buy directly from the Snapchat app.
In my opinion this is way too soon to think off Snapchat as a new eCommerce platform. Until then Snapchat is a great platform to advertise to the younger segments. Online merchants can use Snapchat's shoppable ads to target younger and highly engaged audiences.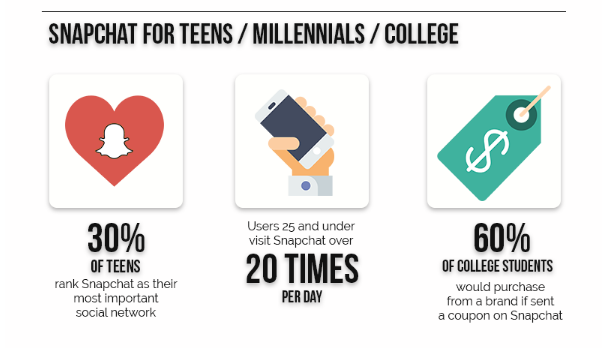 Source: Snapchat Demographics
We didn't taget a specfic segment of age which allowed us to test the whole 'age scale'. Both boys and girls between 15-19 was the most engaging. So if your business aim for 15-19 year olds you definitely have to try advertising at Snapchat.
We Tested Swipe Ups with Traffic as a Goal
So far, you can choose between four different ad goals:
Drive Traffic to My Website

Drive Installs of My App

Grow Awareness

Get People To View My Content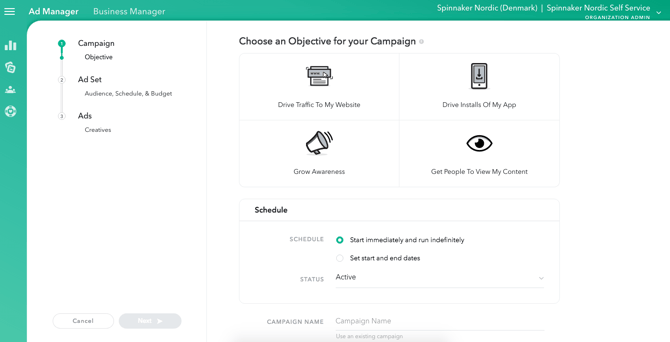 We decided to go for more traffic to our website
www.spinnakernordic.com
.
The result: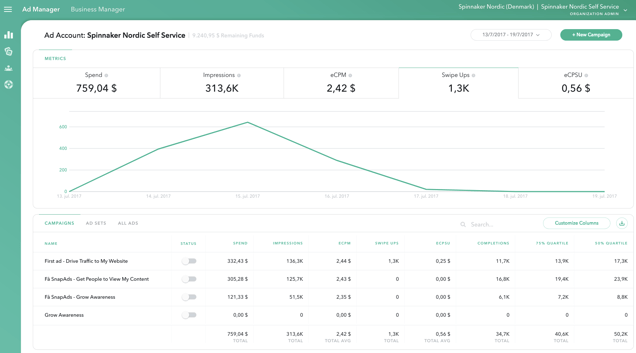 The result of the $759.04 over a period of 3 days, was 313,6K impressions which makes Snapchat relatively cheep compared to other platforms. The CPM is just over $2.4 and the effective cost per Swipe Up was $.56.
However, in Google Analytics we have evidence of an acquirement of almost 24,000 unique visitors to our website in that period of time - from Snapchat! We guess something is a bit off here because Snapchat tells us that we got around 1,3000 Swipe Ups?
This number should be closer to 24,000 because the Swupe Ups actually is the event happening just before they are sent to our website.

Traffic peaked in the evening where it was continuously around 150 visitors.
52 Phone Calls After Making a Short Snap
A total of 52 phone calls is a bit more than we normally get from paid ads. There's kind of an ad blindness to it - people are ready to be exposed for images and videos like ads.
Just like Simon puts it:
"Snapchat is a lean forward medium, where you are ready to interact with the content in front of you."

— Simon Paag
Though the majority of the calls came from confused teenagers must be seen at as an experience.
Simon got one angry mail from a guy named John. From my perspective is a relatively good result in relation to 300.000 impressions.
A lot of Bugs
Simon and the others did complain about the interface itself - there's a lot of bugs like slow loading, system crashing and we experienced being logged out on several occasions.
Otherwise, the design is pretty cool.

— Simon, Mads, Rasmus & Mathias
Limitations
The geographical targeting methods are a bit limited. You can advertise in 39 countries - Looking at the possibilities in Denmark, we can only target our audience at a regional basis, which in Denmark is 5 relatively large areas.
This means that, unlike when we advertise via Facebook and AdWords, we haven't been able to target very specific areas such as decisive zip codes. This is less appropriate, for example, local companies in far away from Copenhagen may not be interested in advertising to people in Copenhagen.
Demographic segmentation consists of age, gender and language used. Snapchat also allows you to segment by education, income, civil and job status.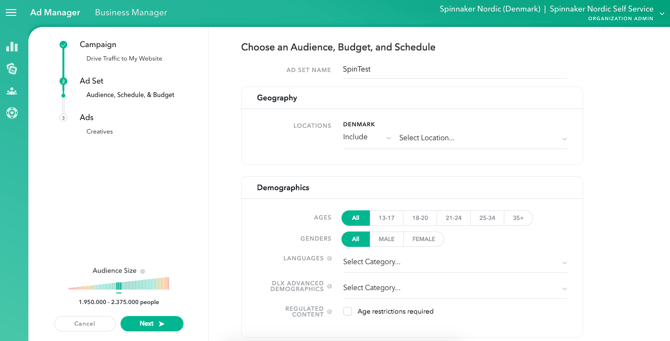 A big amount of the data is made available by Snapchat themselves. Keep in mind, when choosing "Lifestyle" as an audiences is based on all of Snapchat's users in the world - this is something bigger companies in particular will benefit from.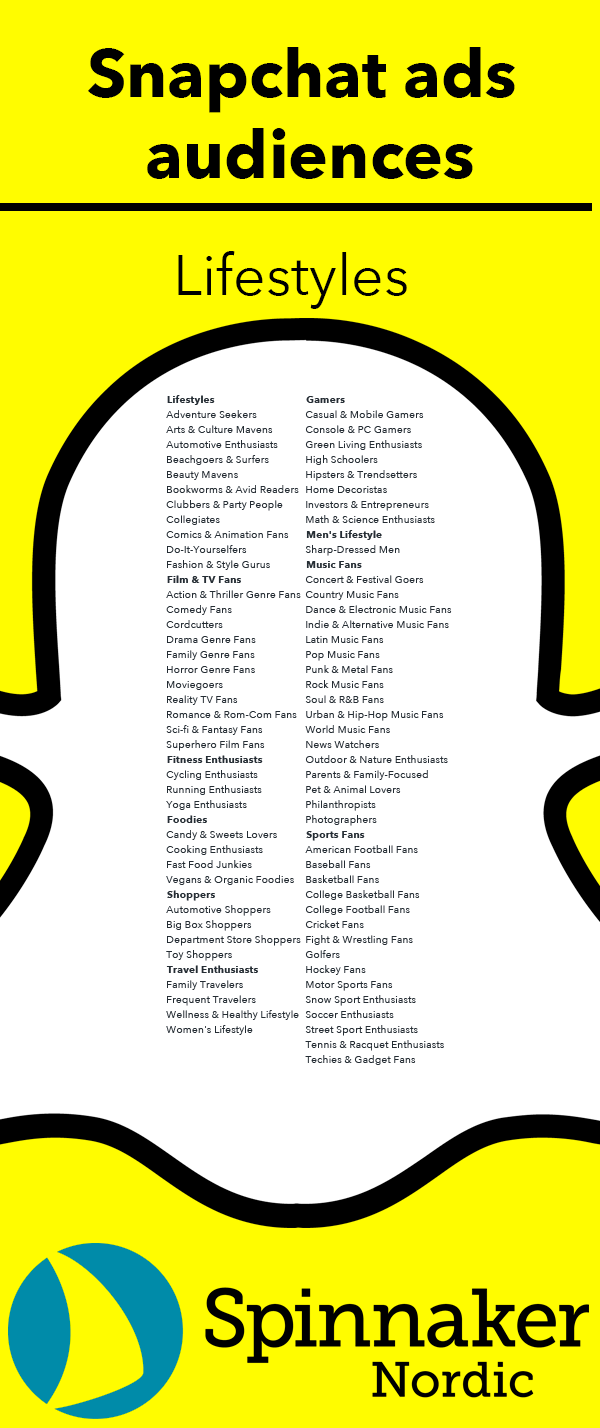 You're also able to target specific devices, education, languages and phone companies.
We choose all danish regions, ages and gender which gavea target group of 880,00 to 1,075,000.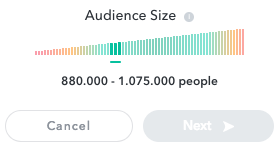 Raw and Untouched ads at Eye Level Seems to Work!
Out best takeaway from the test is that the ads doesn't have to be great and well-produced. Simon and the team filmed a short video and added some call-to-actions which is pretty much it.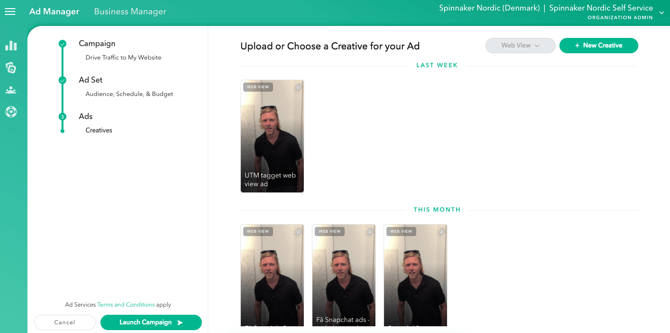 The ad we made reminded a bit about ordinary Snapchat movies you sent to you friends.
Below you can see Simon in action! It's in danish but I believe you'll get the point about low-produced content and flying call-to-actions:
Snapchat as a medium calls in many ways for a very special aesthetic. Snapchat videos are often short and handheld, where a given moment is shared with a selected group.
The quality of the videos is rarely super good. Despite the possibility of filmed filters and the like, many of the videos shared on Snapchat are authentic.
There is something raw and untouched over most of the videos produced and distributed on Snapchat. These characteristics are also relatively descriptive of the ads we tested.
In the ad above, Simon presents himself followed by a short introduction to the possibility to advertise on Snapchat.
"I had briefly planned what I would say, but not really practiced it, which contributes to the immediacy and naturalness of the video, and exactly the nature and immediacy which characterize the Snapchat medium.

Snapchat is a the place where users show their unpolished pages. Here, everything is shared from pictures of food to toilet pictures, while a media like Instagram is more used to share exaggerated polished images."

— Simon Paag
In addition, a number of graphic elements are used in our videos. These contributes to a silly expression and certainly doesn't make the video look professional. The silly expression, and the lack of professional touch, doesn't make our video significantly from the content that the users themselves share.
We do Think That Professional Videos Will Work
It's important to clarify that we aren't telling you to stop being professional about you video ads - we do believe they will work on Snapchat. We're just sharing our thoughts and experience with a low-budget production.
I and the team at Spinnaker Nordic are very interested in your experience with Snapchat Ads.
"My question for you guys - will Snapchat Ads continue to work or will they be a mayfly?"

— Patrick Hoffmann