But that doesn't necessarily mean it is the best option every time. Other marketplaces survive for a reason. So what are the drawbacks of Amazon? And who are the best alternatives offering something a little different?
---
Table of contents:
---
The drawbacks of Amazon
Despite its global reach and largely positive reputation, Amazon isn't perfect for buyers or sellers. For sellers, Amazon's global reach can be one of its biggest advantages. But it also has its drawbacks.
Local choices can be better
In many cases sellers and buyers are rarely local to one another. Therefore there are plenty of opportunities for things to go wrong during the supply chain. Amazon tends to do fairly well in minimising issues like this. However, it tends to be more vulnerable to external issues than local suppliers. This was evident during the COVID-19 pandemic (2019/2020) and the eruption of Eyjafjallajökull in Iceland (2010).
Related: How Coronavirus is Impacting eCommerce (Data Digest)
Multiple websites can be disruptive
Amazon's use of multiple websites can also become problematic to sellers. Using several websites for several countries means the global reach offered by the brand is drastically reduced. The only way around this is to list each product on each Amazon website. But that costs both time and money.
Cost and competition
Money in general is a big drawback for sellers when using Amazon. Despite the lack of a listing fee, Amazon can still be expensive to sell on. This is because of high storage and fulfillment fees. These fees may drastically reduce the workload on the seller, but they also take a good deal of the profits. This in turn tends to make sellers increase prices to make up the loss, and therefore deters some potential buyers.
In addition to the more obvious financial drawbacks, Amazon sellers may also suffer due to competition. On Amazon, there is very little opportunity to showcase your brand. Most buyers will simply choose the first option for each product, without checking brand reviews. Because of the high level of competition, it is not certain you will even be the most visible brand. This can lead to lower sales than on other marketplaces.
Return to top of page or
The best alternatives to Amazon
Sometimes there may be better options than Amazon for sellers. Here is a list of potential alternative marketplaces (listed by home continent), where sellers might get more value:
---
North America
Newegg
Newegg is another US based marketplace. However, it currently has less global reach than its US counterparts on our list. Most of Newegg's focus is on computers and technology. The marketplace has 30 million active users and even offers help with promotional activities. This makes it a great alternative to Amazon for tech. Commission lies between 9-15% depending on the type of product you are selling.
Benefits:
Great for selling technology as it is the go to place for many US consumers.
Good commission rate for tech products
High levels of customisation available for marketing
Drawbacks:
Less global reach
Less popular with non-tech buyers
Getting started:
To start selling on Newegg, simply enter your details here. Newegg will then review your application. If approved, you can begin to list your products before promoting them. Seller fees range from $0-99 a month depending on the seller package you choose.
---
eBay
eBay was founded in the US and now has over 183 million active users. eBay offers a lot of freedom to its sellers with numerous options available. You may list your product as buy now or as part of an auction amongst other things. Due to its worldwide presence, eBay now has several location specific websites. However, sellers can still choose whether they want to ship internationally or not. This is made easy by eBay's global shipping program.
Commission lies between 7-11% and there are no monthly fees. Although you can pay a monthly fee, starting around $25 for better branding and merchandising tools if you so choose. eBay's global presence makes it an excellent alternative to Amazon.
Benefits:
Global reach
No monthly fee
Further merchandising tools available
Buy now or auction features give sellers freedom
Ability to negotiate with buyers can lead to more sales
Although the brand is American, eBay is exceptionally popular in the UK and Germany, as well as the US.
Drawbacks:
Global reach somewhat restricted by multiple websites
Getting started:
To start selling on eBay, you simply need to create an account. You can then create a product listing, which eBay will verify. After verification your product will go live. You can create a product listing manually. However, it is also possible to create product listings in bulk by using a feed. For feeds, third party tools such as DataFeedWatch tend to be the best way to easily generate and optimize bulk eBay listings. It is also important to ensure you have the perfect eBay listing prior to going live. It can be difficult to edit some eBay listings without additional cost.

eBay Advertising Resources You May Find Useful:
---
Wish
Started in the US, Wish is the 6th largest eCommerce marketplace in the world. Wish now has over 300 million customers globally, with 90 million customers using it at least once a month. Wish charges 15% commission (on average, using a revenue sharing model) to sell on it's marketplace. This is somewhat cushioned by the lack of a monthly fee or listing fee. For a while, Wish didn't even demand registration. However, with the introduction of Wish Merchant this is now necessary.
Due to this size of Wish, the marketplace offers many extra features that are similar to that of Amazon. These include fulfillment by Wish (where Wish ships your product globally using its own warehousing and logistics), and the option to use paid campaigns to advertise your products.
Benefits:
No listing fee
Global reach
Drawbacks:
Getting started:
To start selling on Wish, you need to create a Wish merchant account, and verify it by email. You can then upload your products to the relevant categories, whilst Wish screens your shop for approval. While you wait, you can make other choices, such as which payment gateway you want to use. Once approval is completed, your products will automatically go live. Alternatively, you can bulk upload all your products to Wish using a feed tool such as those provided by DataFeedWatch.
---
Etsy
Although Etsy started in the US, it has a global presence. With 35.8 million active users and 2.5 million sellers, Etsy is the home of handmade goods. What is great about Etsy is that there is no monthly fee, so anyone can sign up and sell the produce of their talent. Commission is a very affordable 5%, whilst each listing costs $0.20. It is important to note that Etsy also does charge a 5% shipping fee and a further fee for using their payment system. Despite this, Etsy is generally a cost effective way of selling goods. Especially if your products are unique.
Benefits:
The place to go to sell handmade goods
Low commission
Drawbacks:
Lots of extra fees, from shipping to payment
Listings fees
Getting started:
Getting started on Etsy is simple. First, create your account. You can set your shop location, along with your chosen currency. Next, name your shop before setting both your payment and billing methods (how you want to be paid and how you want to pay).
Finally, you can start to manually add your listings.
---
Europe
Bol
If you are looking for an Amazon alternative in the Benelux region, look no further than Bol.com. This Dutch eCommerce website has over 8 million active users and you only pay commission (6-17%) on what you actually sell, without a monthly fee.

The main advantage of selling on Bol.com is the opportunity it brings sellers to gain customers. With over 2 million people visiting the website every day, Bol creates a useful opening for those hoping to sell in the Benelux region. The brands dominance in the area is reinforced by it's revenue. Bol generated a revenue of 1.2 billion euros in 2017 alone. Over 500 million euros more than its nearest competitor in the region.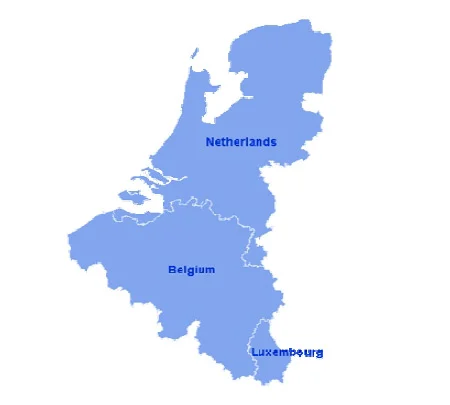 Benefits:
You only pay commission on what you actually sell
Commission is generally low
Has more buyers in the Benelux region than any other marketplace
Drawbacks:
Limited to the Benelux region due to language barrier
Getting started:
To start selling on Bol, you need a customer account. You then need to log in and from the dropdown menu select sales account. From that point you may enter your details and confirm via email. You will also need to verify yourself using a code received by mail. You can then begin adding products to your account. This can be done manually through Bol, or through a third party feed solution such as DataFeedWatch - which will integrate your store with the marketplace using a content channel. When using the content channel for the first time, you will conduct a download as an offline file and send it as a form to Bol. They will then create an FTP login for you.
After that, follow these instructions:
Fill in the FTP logins in the Bol Content channel in DFW. Be aware that an EAN (GTIN or UPC) is required.
After that, you can create your own Bol feed. You do this by providing API credentials that you will get from Bol, under settings > API information.
Finally, fill your fields in, from delivery time, to price and quantity.
---
Asia
Rakuten
The leading eCommerce marketplace in Japan, and the world's 4th biggest, Rakuten has 111 million active users. Unlike many of the other major marketplaces around the world, Rakuten allows you the space for your own branding. The platform also offers sellers an eCommerce consultant, and the ability to conduct marketing through the website.
Registering as a seller on Rakuten will set you back back 60,000 Japanese Yen (Approximately $600), whilst the subscription fee is 50,000 Yen (Approximately $460), taken every 6 months. Commission lies between 3.5-5.5% and Rakuten also charges a 0.1% system charge. Card payments also take up to 4% of each transaction.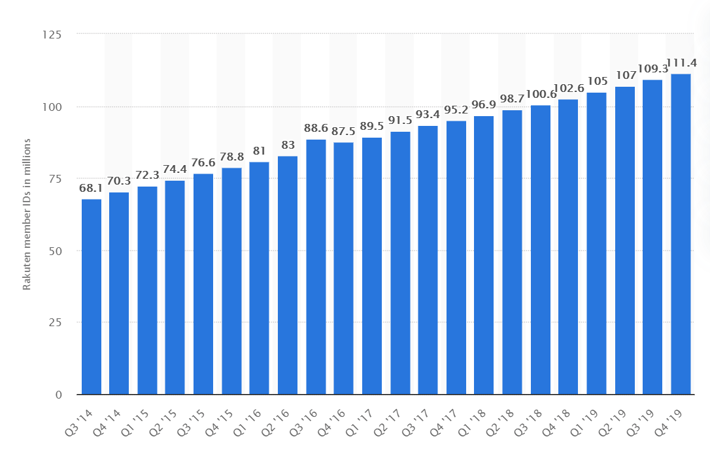 Number of Rakuten members from 3rd quarter 2014 to 4th quarter 2019 (in millions)
Benefits:
Global reach with a huge amount of buyers in Japan
Plenty of useful marketing tools
eCommerce consultant helps to guide you through selling on the platform
Drawbacks:
Expensive in comparison to competitors
Getting started:
To start selling on Rakuten you must create a seller account and fill in your company's details. You will then have to wait 3-10 business days for confirmation before you can list your products. In the meantime Rakuten will guide you through the processes of getting the most from your listings, whilst you go through the brand screening process. It is also possible to create a feed with DataFeedWatch in the meantime. This will help to speed up the listing process and can be used across multiple platforms.
---
Ali Express
Ali Express is Alibaba's retail marketplace, selling smaller amounts of produce. Ali Express allows you to create your own branded shop within their website to showcase to their millions of active users. However, there are certain regulations before you can create your branded shop. These include having an Alipay account and paying an annual service fee. You will also pay 5-8% in commission for each sale and an initial $1500 setup fee.
Aliexpress also offers a nifty feature where you can purchase your product directly from an Ali Express supplier. Once it has sold it will be dispatched directly from there. This helps to save sellers money by avoiding shipping fees.
Benefits:
Large, worldwide reach so more potential buyers
Can create a branded shop
Low commission
Can purchase products directly from suppliers to save on shipping and storage costs
Drawbacks:
Strict regulations when making your account can be tiresome and difficult
Substantial set up fee
Getting started:
AliExpress is one of the more challenging marketplaces to get started on. Firstly, you have to set up your account. This includes listing all your business details and choosing the country you will be based out of. You are then required to set up an Alipay account. At this point, your application will be reviewed. Should it be successful, you can begin adding your listings.
---
Elsewhere
Mercado Libre
Mercado Libre (Mercado Livre in Brazil) is the largest eCommerce marketplace in the South American continent, and across all Latin America. There are currently 320.6 million registered users and over 160 million active users. The website has a cross border trade program, meaning one account lets you sell across two continents with ease. The program includes an automatic translation feature for titles, descriptions and any messages sent or received.
Furthermore, Mercado Libre allows you to fulfil your own orders, as well as offering partner carriers, and even their own service in Mexico.
When it comes to fees, Mercado Libre charges no monthly fee or listing fees. However, it does have a flat commission rate of 17.5% in Mexico and 16% in Brazil, Argentina and other South American nations.
Benefits:
Substantial amount of users
Entry to Latin American markets
Auto translation feature and cross border trading program make selling in numerous countries easy
Mercado Libre has its own carrier in Mexico which saves on delivery fees and supply chain issues are lessened
Drawbacks:
High commission rate
Less useful outside the Americas
Getting started:

To start selling on Mercado Libre, you must first complete the registration form. Once that is completed, you can begin listing your products. You will choose the type of product, category and title. The process is relatively straightforward and the website guides you throughout. However, if you wish to save time you can always use a feed optimization tool.
Return to top of page or
---
Final Thoughts
As you can see, there are a wide range of marketplace options available to sellers. Many are better for specific areas of business, or specific locations around the world. Some of these marketplaces may even offer more benefits to sellers than Amazon would. Others may offer less.
In the end, it is best to weigh up as many options as possible. Some sellers may find Amazon is still their best option after all. Whereas for many others, there may be greater opportunity and profit available at one of the many Amazon alternatives.
---