---
Benefits of using the Date Selector:
Show your products to the customers at the right moment
Improve campaign ROI by excluding seasonal items during periods of low demand
Avoid delays when launching new products or promotions
Plan and set up ahead of time & don't worry about it later

---
Where to find the Date Selector?
Date Selector is available to use in any IF statements you create for your feed rules. Whether it's Internal Fields, the mapping section of your channel or in the Exclusion tab - you can use it to improve the organisation of your feed and most importantly...your timing!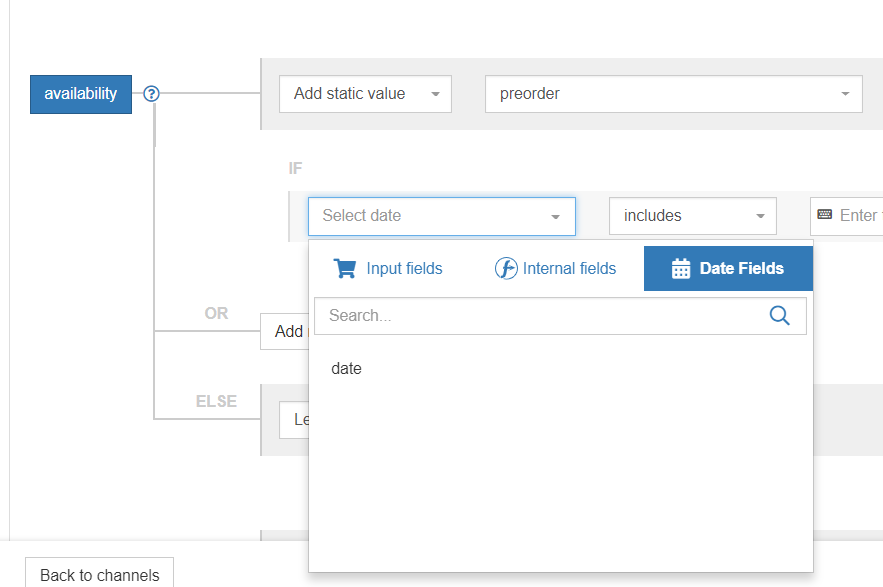 Speaking of...there is no time like the present, so let's get to it, and check how you can get started using the Date Selector.

---
How to use the Date Selector: Examples
There's a multitude of possibilities to use the new functionality to improve your promotion set up and much more.
Let's quickly run through a few examples:
1. Apply Seasonality Rules
Perhaps this example will mostly speak to the fashion retailers, although if you find yourself featuring special-occasion items in your store, for example: christmas-themed or Mother's day gifts, etc. then you can definitely apply it across your feeds as well.
Let's say your store offers a selection of apparel that's suitable for different seasons.
And while your amazing line of swimming suits would be an excellent material to advertise in the summer, it could become a very unprofitable business in the winter season.
Solution: With Date Selector you can easily exclude seasonal items from your feed outside of their respective relevance period & put your advertising budget into more profitable products.

Here's how a Date Selector rule could look like in DataFeedWatch: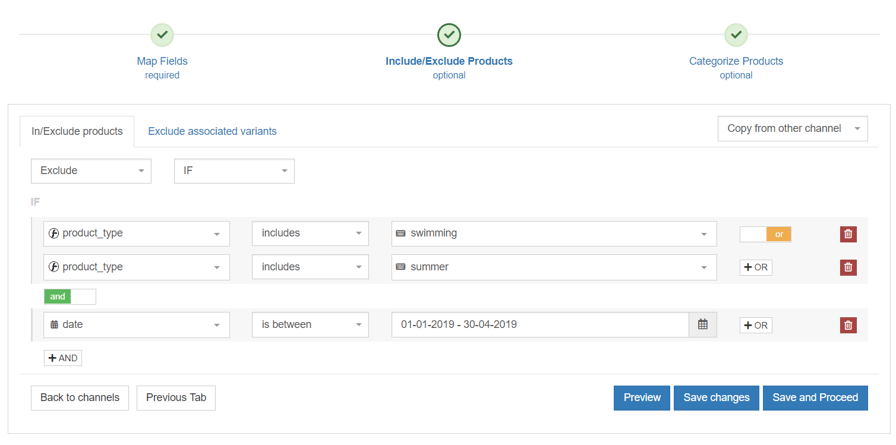 With such rule, your summer collection would only kick in with the beginning of May.
---
2. Schedule Promotions in advance
Another use for the new date functionality could be to specify the promotion dates:

Planning on running a sale in 2 weeks?
Or maybe the Black Friday is coming up and you want to have everything in place before the buying spree starts?
Set up the promotional price in advance, so there are no delays once the discounts become active.If you've already established the discounted prices and know when the promotion kicks off - you can make sure that your feed will pick it up at just the right time:



In the above example the field 'special price' contains the discounted prices that will be effective during the Black Friday Weekend.

---
3. Product availability period
Every now and then you want to add new products to your eCommerce store. Perhaps you'd like a chance to hype up the upcoming collection before its official release, to entice customers to buy eagerly upon launch.
Solution: In such case, you could include the new products within your feed. To start with - available for pre-order, and schedule the availability to switch to 'in stock' on the day of the release.
An extra perk of this solution is that you won't have to wait for the channel to approve your new products once they are officially launched, as they've already completed the check when you first submitted them.

Take a look at the screenshot below for an example set-up: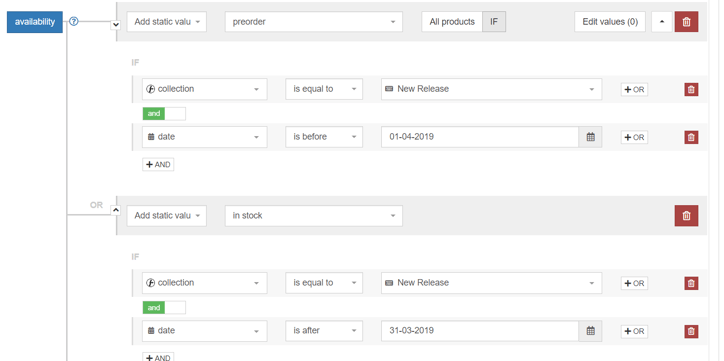 ---
4. Schedule Limited Period Custom Labels

Let's say you're gearing up for Black Friday (Yes, Black Friday again - cause you just don't get enough of it ;)
How to use the custom label?

To make the most out of your promotions you might consider setting up custom labels (read more about why custom labels are important here), for the products you're planning to include in the sale, or those with the biggest discounts.

That will enable you to identify the hot products in your Shopping Campaign and adjust bidding appropriately - for example - increase bids by 10% for the products with the hottest deals, to make sure you get them right in front of your customers.
How the Date Selector can help?

Since Black Friday doesn't last forever - the promotions and the custom label would have their own expiration date. Using Date Selector you can set up the label for the relevant products for the relevant period of time.

Tip: To get this done you can create a rule in your feed using a list of products (we already wrote about the perks of using product lists in the feed in this article) and the date selector:

---
Conclusion
The Date Selector feature comes with many advantages for the feed marketers, so don't hold off on implementing it right away. If there are date based rules that you would like to apply to your feed, and you don't know where to start just write us an email at support@datafeedwatch.com and we will assist you.