We have a look at Google Shopping features such as customer match, shopping ads on image search, showcasing shopping ads and the currency conversion tool. Many of them are relatively new, launched by Google to enrich the shopping experience for consumers. They also give you new opportunities for increasing ROI.
Back to The Top or
---
1. Customer Match
Customer Match on Google Shopping lets you use your own customer email list for ad targeting. This can include customers who have made purchases with you before or those who sign up for your newsletter.
People buy clothes regularly and often have a style that results in an affinity or loyalty with particular brands. On top of it, it costs five times as much winning a new customer than it does to retain previous customers. In addition, 66 percent of consumers spend more with brands they are loyal to.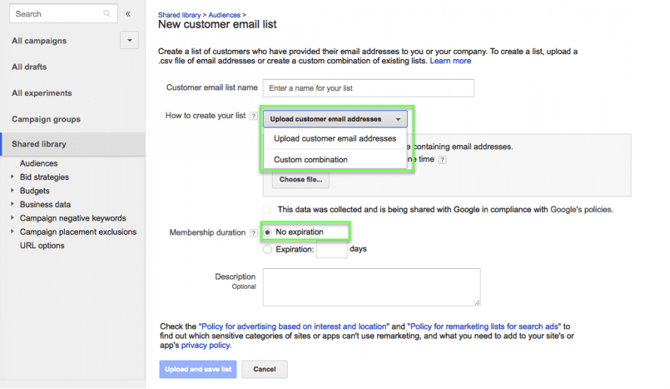 Consumers want personalized ads and they want loyalty offers. The benefits of using Customer Match include:
Improves conversion rates and ROI

Improves ad targeting

Helps you generate new business from previous customers, including those who haven't spent with you in a while

Gives you an opportunity to upsell and cross-sell

You can target specific offers at regular customers

Gives you an opportunity to turn offline customers – those who physically come into your store – into online customers, providing you collect their email address at the checkout
The most important element when using Customer Match is the quality of your email list.
How to get the most from Customer Match on Google Shopping:
Getting the best results is as much about who you exclude from campaigns as it is who you include.

Adjusting your bid strategy for specific list segments can also improve results. For example, you can raise the level of your bid for regular customers searching for products in your range.

Upload large email lists. Customer Match only works when people on your list have a Gmail account and Google can match the email on your list to that account.

Test everything. Test running campaigns depending on the device used by a particular audience segment, test different segments, test different offers, and more.
Back to The Top
or
---
2. Shopping Ads on Image Search
Google includes Shopping ads on its Image Search pages for some keywords. The placement of these ads is very prominent – they appear directly below the options for narrowing the search but above the organic image listings.
The ads appear in a carousel format on both desktop and mobile. Users can scroll through the ads by swiping on mobile or clicking the arrows on desktop.
In addition to the placement being visually appealing, the location is a natural fit for consumers.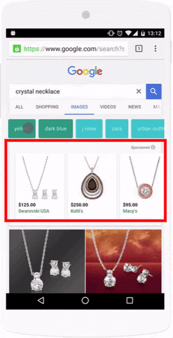 One thing you do have to be aware of is that Google Image Search is part of Google's search partner network, not the main search network. Therefore, if you want your ads to appear in Google Image Search, you will to need target your campaigns at the search partner network.
When you do this your ads will be eligible for all search partners, not just Google Image Search.
This is likely to result in an increase in impressions and an increase in clicks. This might benefit your store but you should monitor ROI and make adjustments to your campaign as necessary.
Back to The Top or
---
3. Showcasing Shopping Ads
With a Showcase Shopping ad, you display multiple products instead of just one. This makes it the ideal type of ad for general search terms such as brand searches or a particular category of clothing. Examples are "summer dresses" or "swimwear".
These ads can appear on Google Shopping as well as Google Search. They can also appear on Google search partners.
This helps customers along the buying journey. One way to do this is by including your best sellers or latest additions in the range of products in the ad.
The ad looks like this: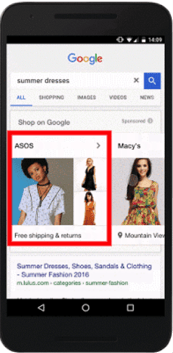 When a customer clicks on the ad they see a Google-hosted page with information about your store. They also see all the products included in your Showcase Shopping ad.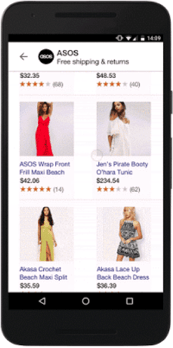 When the user clicks on a specific product they go to your website – Google charges you for this click.
In other words, Showcase Shopping ads increase your chances of getting worthwhile clicks on general search terms.
Here are some tips to help you maximize results with Showcase Shopping ads:
They work best with generic search terms so don't target them at anything too specific

When just starting out, include a wide selection of products in your ad groups. You can start narrowing this as you see what works and what products or ranges work best.

Track the performance of Showcase Shopping ads and make adjustments when required.
Back To The Top
or
---
4. Currency Conversion Tool
Google's Currency Conversion tool is ideal for small and medium-sized fashion retailers as it reduces the work you must do to sell products internationally. If you are a US-based fashion retailer, for example, you will grow faster when you sell overseas, plus your business will be more secure.
With the Currency Conversion tool, however, you can keep your website as it currently is while targeting campaigns at users in other countries. Those users will see your ads with prices in their local currency.
The benefits include:
Sell to consumers in up to 24 different countries without any website investment

Setting it up requires minimal resources as you can use the same product feed as you do now

You can customize your campaigns for each country without having to worry about pricing

You are in complete control so you decide the campaigns to run in each country, the products to include in the feed, and more
Getting started with the Currency Conversion Tool involves uploading a product feed for each country you want to target.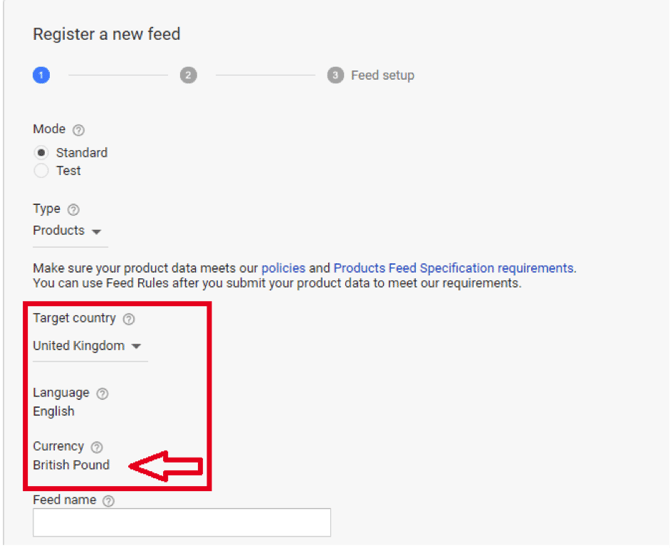 Google then uses the Currency Conversion tool to access Google Finance for an up-to-date exchange rate to calculate the correct price.
Here are some things you should know when using the currency conversion tool:
You don't have to worry about currency conversion but language requirements still apply to your ads, i.e. you will have to use the correct language in your text. This won't matter if you are, for example, a US fashion retailer expanding into the UK. It does matter, however, if there are language differences between your country and the country you plan to target

The price a user sees on your ad may be different to the price they ultimately pay. This is because currencies continuously fluctuate in addition to there being price differences between credit cards, banks, and online payment services like PayPal.
Conclusion
To be competitive in the modern world of online fashion retailing, you need every advantage you can get. After all, the fashion industry is growing but you have to appeal to a wider range of customers and in a way that is more relevant to them if you are to compete.
If you are an online merchant in the fashion industry and you have found this post useful, then you'll probably find our eBook The Complete Guide to Data Feed Optimization useful. Download it and learn how to improve the quality of your feed and your campaigns.