1. Incomplete Product Pages
Reducing the number of steps required to buy something is vital for increasing sales. This is especially true for mobile customers. An important part of this is ensuring everything customers need to make a purchase decision is right there on the product page.
Customers should not have to search around your site or start the checkout process to find out your return policy, postage costs, or other details.
Product pages should also include suggestions for similar products, items that work well with the product your customer is currently viewing, and any useful extras. This makes it more convenient for users to find everything they need. It's also a great way to increase your average order value.
It is just as important to make product pages concise and able to convey all this information at a glance. Poor page design can be just as bad as incomplete pages, for example: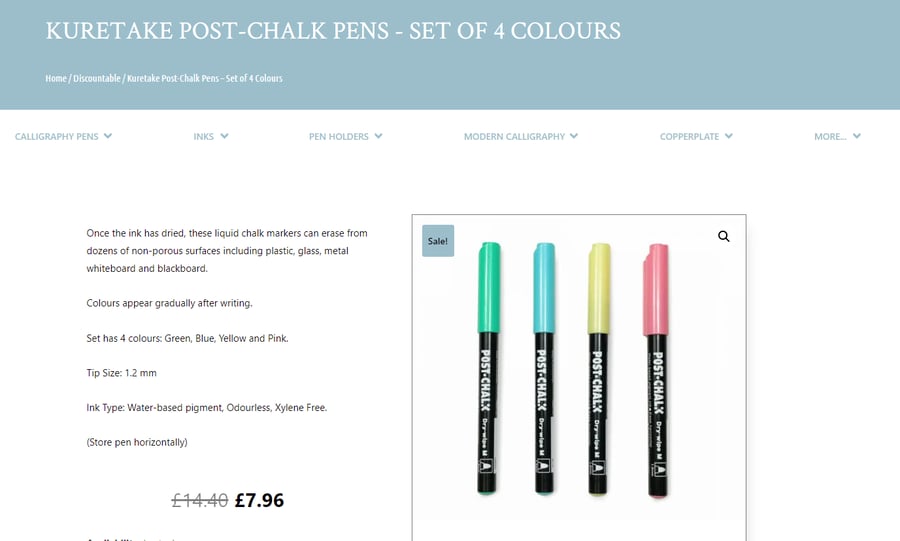 The product image doesn't fully fit onto the screen before scrolling. Additional information, related products and reviews all require further clicks or scrolling to access. Even the 'Add to Cart' button doesn't make it onto the screen.
This means that if the product description and the top half of the product image doesn't convince a user to buy immediately, nothing else on the screen provides any more information, social proof or alternative suggestions.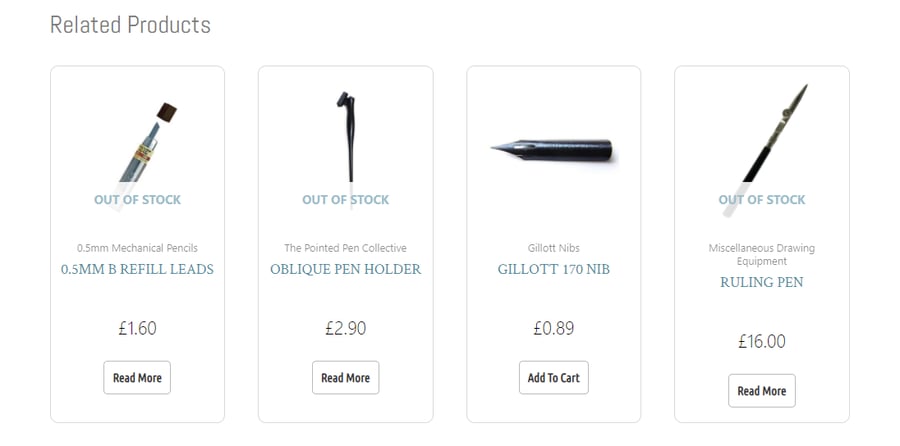 This example also shows the importance of relevant product recommendations.
This is the product page for a set of colored erasable marker pens. None of these items can be used to support the product we are looking at, nor are they alternatives.
Even if they were, 3 of 4 suggestions are out of stock. In a store that also sells a wide range of colored markers, paper and sketchbooks, this is a serious waste of a cross-selling opportunity.
Product Page Tips
Do:
Keep the

product description

,

image

and 'Add to Cart' button above the fold

Suggest related in-stock items

Include customization options and

clear pricing

Standardize product specifications for easy comparison
Don't:
Wait to display shipping and customization options at checkout
Require additional clicks to reach the review section
Forget to include returns and warranty information
Back to The Top or
---
2. Shipping Options
The above product page is also lacking any indication of shipping options. Offering a range of delivery options improves the customer experience and makes it easier for busy or impatient buyers to purchase from your store.
If an order will take more than a couple of days to arrive, many consumers will search for a faster alternative. Similarly, busy customers need to be able to specify a delivery time and date by choosing a courier delivery option, as missing the delivery creates the additional chore of collecting it.
It's not all about speed, however. Cost is also an important consideration for many buyers, with high shipping costs causing 65% of abandoned purchases, so stores can also underperform by failing to offer a slower, cheaper option as well as faster delivery.
Shipping Options Tips
Do:
Include a free shipping option whenever possible
Promote same-day and next-day deliveries on product pages
Offer specific delivery times and tracked deliveries
Don't:
Forget to display shipping options on every product page
Only offer one shipping option
Back to The Top or
---
3. Poor Site Design
More than half of all eCommerce traffic comes from mobile devices, yet many businesses still lack responsive website design. Furthermore, even customers who are only browsing via mobile are unlikely to return to a different device after a poor first impression.
Site builder apps offer ready-made responsive templates to solve this issue, however, relying heavily on these can make it difficult to stand out. As a result, these should be used as a foundation for your own design and site layout to create a structure more appropriate to your products and services.
On the other hand, if you decide not to use templates altogether you might end up with something like this: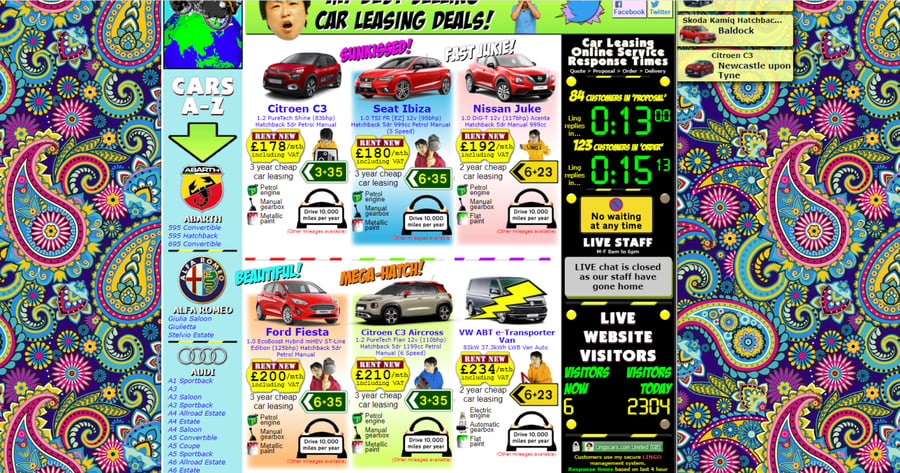 Okay, well this definitely accomplishes the task of standing out from the competition. But that's about all it accomplishes. This site presents a confusing jumble of images and text that takes significant effort to make sense of what we are looking at.
Beyond the terrible first impression, there are real navigation issues here. The most obvious is a lack of product categorization by vehicle type. Besides the random front page selection, the only way to view items is by selecting the manufacturer and model from the scrolling vertical list, which extends many pages below the rest of the content.
The horizontal navigation header bar with drop-down category selection used by most other sites is ubiquitous for a reason. It's intuitive, easy to find specific products or browse, and all your site visitors already know how it works.
Site Design Tips
Do:
Provide navigation tools like a header and search bar
Group products into categories and sub-categories
Prioritize visual clarity
Don't:
Let a bold visual design draw attention away from your products
Create hard-to-read dense clusters of images and text
---
4. Slow Page Loading
Whether users are browsing via mobile or computer, eCommerce stores need to be fast as well as responsive. This is another issue that sounds basic, but it can have a major impact on your store's sales performance. Most online shoppers will wait less than 3 seconds for your site to load before giving up.
There is a range of factors that affect page loading speed, including:
Location and reliability of hosting providers
Shared IP addresses and server hardware may be cheaper, but their performance is out of your control
Reliability and compatibility of site apps and plugins
Number and size of on-page videos and images
Embedded external resources such as YouTube videos and social media feeds
Hosted solutions tackle many of these issues for you by offering a complete package, which can save some hassle if you don't want the flexibility of doing everything yourself.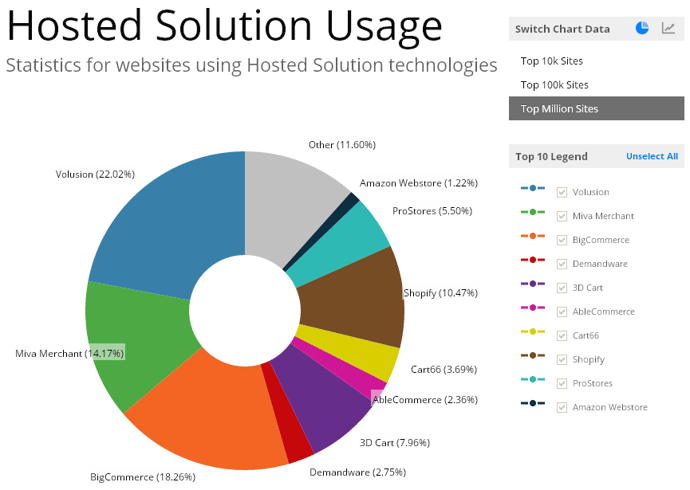 Page Loading Tips
Do:
Research a provider's coverage of your area and mobile networks
Read reviews and testimonials from customers with similar needs
Research app and plugin compatibilities before installing new systems
Don't:
Fill pages with uncompressed high-quality images and video
Embed multiple social media feeds and videos on the same page
Use shared hosting for complex, demanding sites
Back to The Top or
---
5. Ignoring Abandoned Carts
Almost 70% of online shopping carts are abandoned. That's a huge number of potential sales to let slip through your fingers, and they shouldn't be dismissed as people who are 'just browsing'. With the right message or offer, you can reach out and recover many of these lost customers.
There are many ways to bring these buyers back, including:
Convincing them with social proof,
Adding an incentive in the form of a free item or discount
Using exit-intent technology
Offering help and further information

The right abandoned cart strategy depends on the situation and your target audience, so it is vital to analyze your performance and adapt accordingly.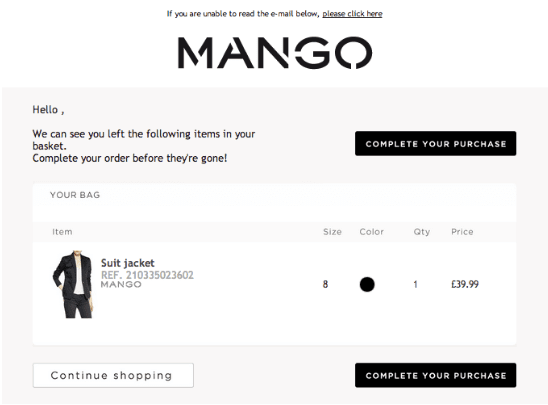 This example does the bare essentials of reminding customers of their incomplete order and providing a checkout button, but what if the customer abandoned the cart because of a concern about the item's quality, price or suitability?
This abandoned cart email doesn't provide any extra information or social proof to change their mind. It also doesn't sweeten the deal with a price reduction or suggest any alternative items. Not addressing any of these causes for cart abandonment loses the opportunity to recover anyone who stopped checking out for those reasons.
Emails aren't the only form of remarketing that can tackle cart abandonment, however.
Targeting customers who abandoned their cart with ads on social media, YouTube and other online ad space make effective ways to follow up a customer's interest with content focused on specific features, social proof or alternative items.
Abandoned Cart Tips
Do:
Send a reminder message within a few days of the failed purchase
Offer support or an added incentive to address the reason for their abandoned cart
Provide social proof for the in-cart items
Suggest similar alternative products
Don't:
Only send one abandoned cart message, follow up again in a week or two
Send generic reminders that lack personalization
Follow up with the same message that didn't recover the cart the first time
Back to The Top or
---
6. Customer-Focused Content
Creating content for your customers in the form of videos, tutorials, blogs, and newsletters can boost your store's performance in several areas.
Helpful or interesting content gives customers a reason to stay engaged with your business by returning to your site, visiting your social media, or signing up for your newsletter, even when they aren't actively looking to buy.
At the same time, you get the opportunity to educate them on your industry, your products, and the latest trends. This knowledge enables customers to feel more confident about buying the right products for them. Customers can be 131% more likely to make a purchase after reading educational content.
For example, an online bicycle store could create blogs and videos explaining and comparing bikes for different terrains and activities. Content like this helps out beginners who might be overwhelmed by the available choices, introduces existing customers to new products, and attracts new visitors searching for information on the topic.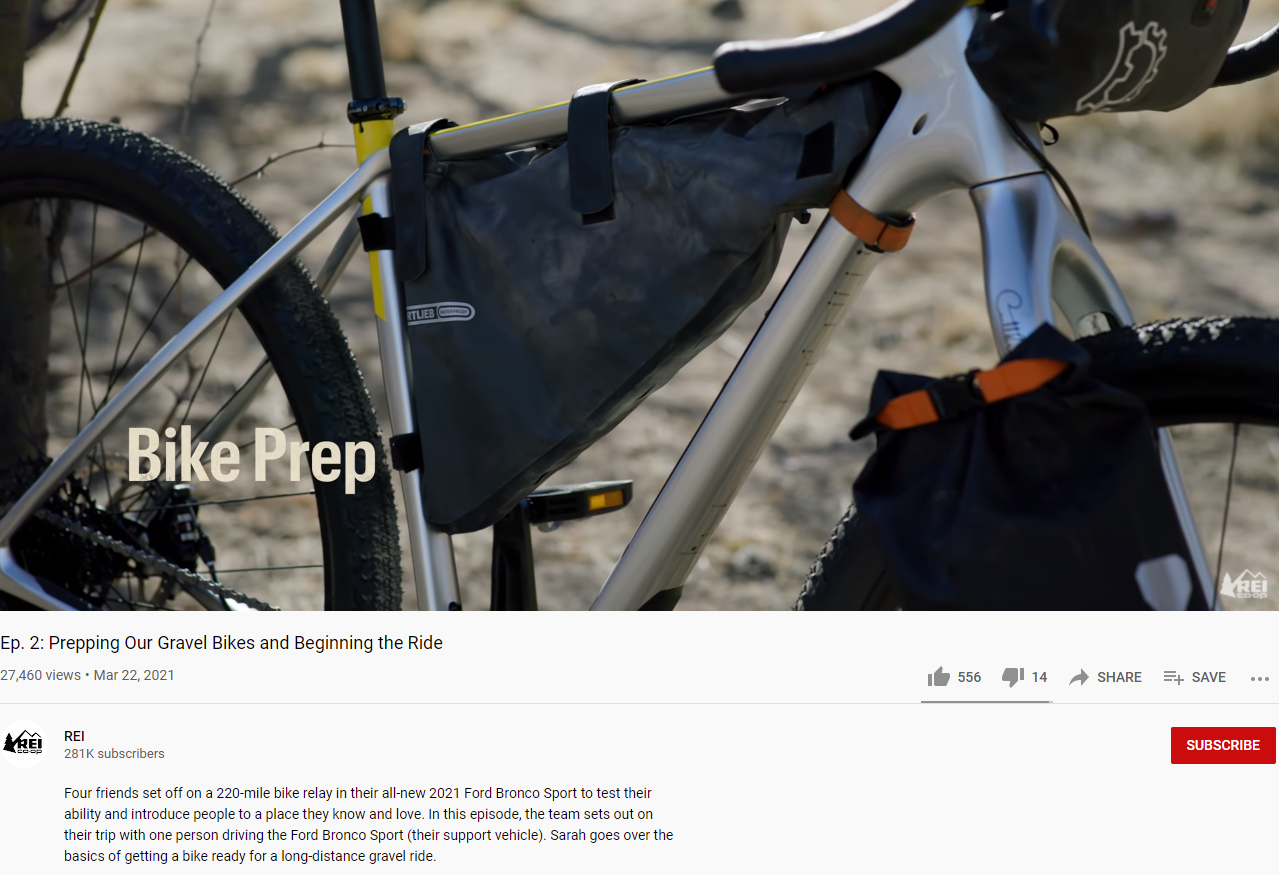 Outdoor clothing and gear store REI does a great job of this with their YouTube channel, creating content that appeals to the lifestyle of their target audience while educating them to be able to shop with confidence, such as in their vlog series covering equipment and preparations for different activities.
Content Tips
Do:
Create a range of content types including text, video and image content
Focus on the activities and lifestyles associated with your products
Entertain and inform instead of selling
Don't:
Prioritize quantity over quality
Post about topics that have nothing to do with your business or your audience's interests
Get stuck in a rut, always be open to new content ideas, formats and platforms.
Back to The Top
or
---
7. Follow Up
Customer service is one of the biggest factors in deciding if a customer will shop with you again. As a result, the great customer service shouldn't end as soon as they make their purchase.
Post-sales interactions let you ensure every buyer is happy with their purchase. Taking this opportunity to ask for feedback and address any issues or complaints can make sure any negative experiences end on a positive note.
Post-sales emails are often ignored until it is too late to matter, so SMS surveys and feedback requests are an effective way to get in content while the purchase is still fresh in your customer's mind.
Besides feedback, these text follow-up messages can help customers get the most out of their purchase, such as tips on using or maintaining their product, suggesting ways to upgrade the experience with accessory products, or offering a deal on refill orders.
Follow Up Tips
Do:
Ask for feedback after every purchase
Act quickly in response to complaints and negative feedback
Offer further support and tips for using their new purchase
Don't:
Wait too long to send a feedback request, when your customer may have forgotten about the interaction
Waste the opportunity to ask for a review or testimonial, especially after receiving positive feedback
Back to The Top
or
---
Avoid These Simple Mistakes
Effective store design with easy-to-understand options and layouts are vital for ensuring your site has the best chance of converting visitors and convincing existing customers to spend more. These errors don't just cost sales; they could lead customers to form a negative impression of your business.
It's not all about your store itself, however. Post-sale customer service and responding to feedback is a crucial step to improving your business's performance.