DatafeedWatch's Google Text Ad tool enables our customers to automatically create ads for every product in their feed. When we say every product, we mean that each product in the feed gets its own ad group and individual keywords, as well as ads.
After enhancing the functionality in beta, we've recently released Responsive Search Ads. It's now available for all DatafeedWatch customers using our Feed-driven Text Ads solution. In today's post we'll discuss in detail how it works and how it can benefit you.
Table of Contents
What are Responsive Search Ads?
When creating a regular Google Search Ad you have a limit of 3 headlines and 2 descriptions. But sometimes that can feel like it's just not enough. We wanted to create a solution that gives you the ability to create additional headlines and descriptions. From all of those, Google will then try to pick the most relevant combination to show on the results page.
Using Responsive Search Ads will now let you have up to 15 headlines and 4 descriptions. However, it's still important to keep in mind that only a combination of 3 headlines and 2 descriptions will be selected for each ad. And for smaller screens, it can sometimes be 2 headlines.
Return to top of pageor Get yourUltimate Guide to Data Feed Optimization
---
How do Responsive Search Ads work ?
You might be wondering how it's possible to offer so many headlines and descriptions to Google and still get good results. Over time, using machine learning, Google will test multiple ad combinations and learn which combinations work best for different kinds of search queries.


The more options Google has to test different combinations, the better the results that can be expected in the future. Together, those combinations can have up to 43,680 variations. So the testing possibilities are really endless!
To take full advantage of Responsive Ads, Google suggests having a minimum of 5 unique headlines. But many other advertisers have reported that the sweet spot is 8.
Return to top of pageor Get yourUltimate Guide to Data Feed Optimization
---
How can you use Responsive Search Ads in DatafeedWatch ?
We at DatafeedWatch have made it easy for you to take full advantage of Responsive Search Ads. The feature is available for free to all our current customers. If you're already familiar with our Google Text Ads tool, you'll be happy to know that the interface is kept the same.

When creating Responsive Search Ads, you'll see an additional option to add more headlines and descriptions as shown below.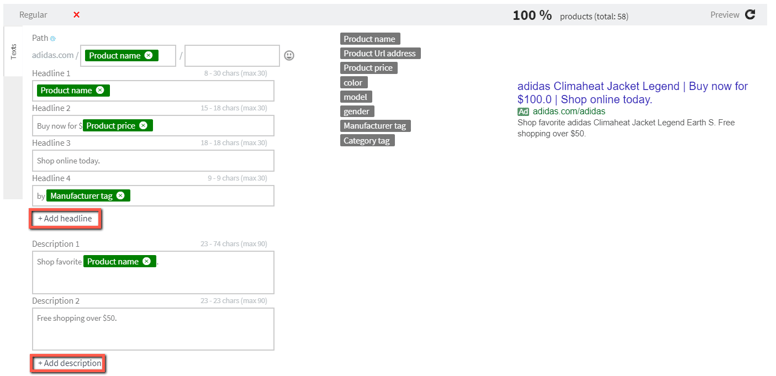 Another key difference is that you'll now get individual settings for each headline whereas in a regular ad you can only make changes to the whole template.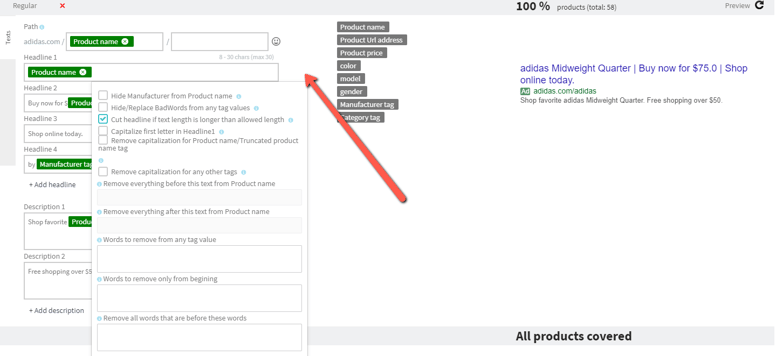 You also have the option to pin a headline, just in case you want one to always appear in a specific place. You can pin them to appear in the first, second or third position.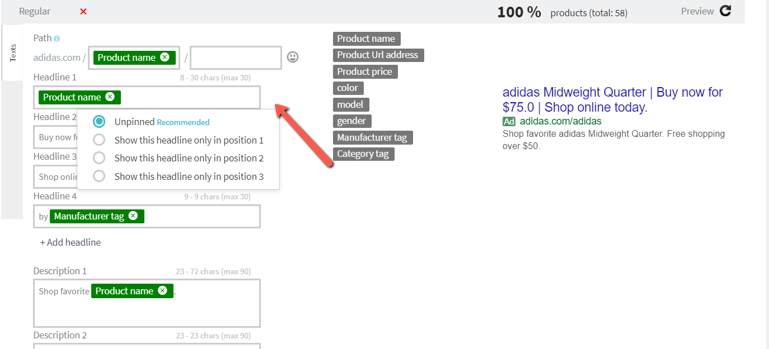 Just remember that using this option isn't recommended as it will prevent Google from choosing the best combination and displaying them in those positions.
Return to top of pageor Get yourUltimate Guide to Data Feed Optimization
---
Responsive Search Ads best practices
There are some things you can do to make the most out of using Responsive Search Ads.
Writing headlines and descriptions:
Take advantage of the extra space. Write as many additional headlines and descriptions that you can. Like we saw with the graphic, the more options you give Google, the more their machine learning has to work with. That means better results for you.
To optimize your performance, try highlighting something different in each headline and description.
Make sure you're including a keyword in at least two of your headlines. Out of all the headlines you write, at least 5 need to be unique. It's best to have at least 8-10 headlines in total.
You should have at least 2 unique descriptions. The more information you can say that's not already in your headline, the better.
The key is to make them as unique and relevant as possible
Pinning:
If you are wanting to pin headlines and descriptions, avoid pinning just one for each position. As we mentioned, this won't allow Google to test combinations and choose the best one. Instead, you can pin 2-3 for each position. That way, there are options and the process can be successful.
Keep in mind that if you pin headlines and descriptions to each section, this will cause the other unpinned options not to show
General
Aim for getting either 'Good' or 'Excellent' Ad strength for each of your responsive ads. This rating will let you know how your ads are doing overall. If you're not quite there yet and you have some pinned headlines and descriptions, try unpinning them to see if that helps.
Check your ads that are already high-performing and re-use some of the content from them. That way you can have peace of mind knowing that the content is already doing well.
Return to top of pageor Get yourUltimate Guide to Data Feed Optimization
---
Conclusion
That's about it! We're looking forward to you trying it out for yourself. If you have any feedback or suggestions on how to improve the Responsive Search Ad feature, feel free to contact us. We always love hearing what you think.


Learn more about Google Search Ads: