---
The best Google Ads - Features and data
Ideally, the best Feed-Based Text Ads will be high performing. This means they get plenty of impressions, clicks and then they convert. But what causes an ad to perform better than another?
Advertisements perform well for a number of reasons. The first of those is relevancy. If an advert is relevant to a search term, people will be more likely to click the URL. If they click the URL and stay on the page, the advertiser will have a lower bounce rate. This is because both the ad and the landing page itself were relevant to the search query. If both the ad and the URL are well aligned, an ad will stand more of a chance of receiving a higher quality score. Therefore it will be listed above other advertisements and competitors as Google perceives it as good material. All of this then contributes to the continued success of the advert, due to the historical success then contributing to the brands future ad ranking. Thus, making these practices essentials.

But what makes an advertisement relevant to a search in the first place?
The answer to that is keywords, and content. Keywords are how an advert is matched to a search term. The placement within the content and choice of keyword dictates where you land on the page and what terms you appear for. Therefore, every word should be chosen wisely.
It should also be noted that you are not only writing for Google, but for potential buyers too. So you can't simply mash as many keywords into the text as possible for two reasons. First, Google will notice and mark the ad down in quality. The second, it will read poorly and deter potential buyers.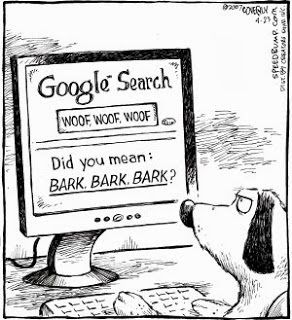 How an ad reads is important throughout. The content should include a few things, such as:
A clear message to what you are offering
The product/service itself
A call to action that is effective and persuasive
Keywords!
Wordstream's study of the best Google Ads also noted that certain words have a positive effect on ad performance. Words such as 'you' and 'your' perform well due to make an ad more personable. Whilst 'free' also performed exceptionally well due to potential buyers being lured in by sales, discounts and extras. The word 'get' was the most useful in calls to action.
Surprisingly, Wordstream also noted that 48% of the top ads used exclamation marks. By implying a sense of urgency, ads become more successful. Commas were also frequently used to break up separate points in the adverts and make each one stand out.
The same study indicated that the uses of numbers did not greatly influence the success of ad. So despite discounts being effective to utilize, they didn't have to be numerical to have an effect.
Finally, it was stated that it was best for the ad to be at about a ninth-grade reading level. This is so as many customers as possible could understand the ad and begin on their purchasing path.
Return to top of page or
---
How to ensure your Google Ads convert into sales
So you've created your Google Ad. But how do you make it convert?
The first step to making an ad convert successfully is to measure data. This can be done using KPI's (key performance indicators). In this case you should look at statistics such as your impressions and CTR. Having a lot of impressions is always good as this means your ad is being seen. However, the click-through rate is even more important, as it shows how many people are actually visiting your page after seeing the ad. High impressions but a low click-through rate may mean your ad and page aren't relevant to a search term.
To ensure your ad is relevant to a search term, you should use both keywords and negative keywords. Choosing the right keywords will ensure you appear to the right kind of searchers. However, negative keywords can be just as vital. This is because they can rule out people who are searching using your keywords but for the wrong phrases. For example, if you are selling 'blue trainers', you may not want to appear to people who are searching for 'secondhand blue trainers'. Negative keywords would allow you to rule out that search term.
After that, if you're getting the relevant searchers, but they're still not clicking through to your page the issue could be with your ad copy. Good copy is essential for a successful ad, it should be persuasive, relevant and try to highlight your brand's unique qualities whenever possible. It should also include a call to action in the ad itself and as many extensions as viable. When you have the perfect ad copy, you then need to ensure all the landing pages for the ad and its extensions are relevant to the search.
Otherwise, your page will receive a high bounce rate, you will get less sales and your quality score will decrease. It is also important to note that the landing page should be easy to navigate and load at a good speed. Otherwise, potential buyers may still leave a relevant page.

Ideally, if you want to maximize your ad conversion rate, you should conduct A/B testing. You can do this by creating several ads and comparing their performances against each other by making small changes between each one. You can also further optimize your ads and keywords by introducing feed-based text ads into your PPC strategy. It will allow you to automate the creation of search campaigns for your entire product catalog making each ad unique and tailored to the product you're selling.
Return to top of page or
---
Create attention-grabbing Google Search Ads
Creating an attention-grabbing Google Search Ad can be more complicated than it seems. You need a compelling copy, an understanding of your customers, as well as the ability to highlight your brand's unique qualities. So how do you go about implementing search ads best practices in your Feed-Based Text Ads?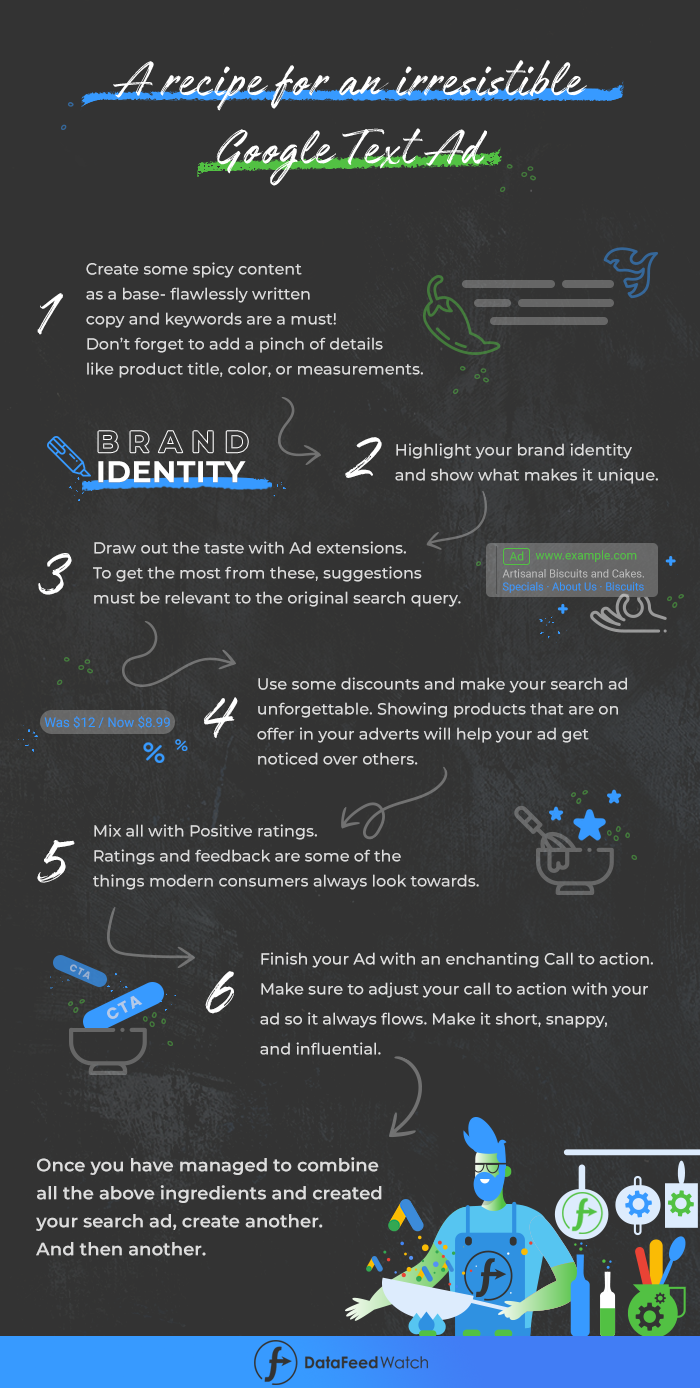 Content
To grab someone's attention, you need to be in their line of sight in the first place. Therefore it is important to use the perfect keywords in your content, so you show up in relevant searches. On top of that, you should make sure the copy is flawlessly written and includes the product title, plus any other necessary details, like color or measurements. The message within the content should be short and snappy, as most people will simply scan over a page.
Brand identity
You should try to highlight your brand identity in the ad. Highlight what makes your brand and product/service unique. Whilst using other factors such as your rating (further details below) to show your brand's reliability and trustworthiness.
Understanding your customers (choosing the right products to advertise)
An essential part of making your advertisement noticeable is knowing your customers. You need to understand what they will be looking for. Therefore you should do plenty of research on keyword searches and purchasing patterns throughout different time periods. You should also look at what products generally sell the best. It is important to ensure that your adverts showcase the right products, so potential customers don't simply skim over them. The advertised product is just as important as the ad itself.
Ad extensions
Ad extensions are the other suggestions that appear beneath your ad. They may direct you to other areas of the advertiser's site, to a product or provide information. However, to get the most from ad extensions, these other suggestions must still be relevant to the original search query. Useful ad extensions that may catch the eye could include:
Shop location
Links to other relevant areas of your website
Price extension allowing customers to browse products in the ad
A link to customer support
App extension - aims to convince customers to download the app
Using discounts
Discounts are great for grabbing the attention of potential customers. Showing products that are on offer in your adverts will help your ad get noticed over others. Just make sure it's still a product related to the original search query.
Positive ratings (feedback)
Ratings and feedback are one of the things modern consumers always look towards. When buying online, you can't simply look the shopkeeper in the eye and deem whether they are trustworthy or not. Ratings help to bridge the gap of trust between customer and seller. Therefore it is important to advertise products with plenty of positive feedback. And if you do receive a negative review, respond to it and resolve the issue. Good customer care always looks good to consumers and helps to highlight reputability and trust.
Call to action
Having a call to action (CTA) in an ad is important. It helps to drive the customer into the purchasing process with a persuasive tagline. Make sure to adjust your call to action with your ad so it always flows. Make it short, snappy, and influential.
Compare
Once you have managed to combine all the above features and created your search ad, create another. And then another. By creating several search ads you can compare them all against each other and judge their performance. This will allow you to measure effectiveness and create the one ad to rule them all.
Return to top of page or
---
Google Ads examples you can't miss
Here are some examples of great Feed-Based Text Ads worth taking a look at. The following examples all grabbed our attention by using the best text advertising techniques.
---
Upwork
Upwork uses extensions very well, linking to other areas of their website to help both freelancers and businesses better understand the brand. They use various call to action terms across their main advert and their extensions, all of which remain highly relevant to one another. Upwork also makes use of the word 'get' in its calls to action, which according to Wordstream's study is the most effective call-to-action word.

---
Beds.co.uk
Beds.co.uk also uses extensions very well, offering discounts on various types of bed products and directly linking to them. This also links to the main title of the ad which is focused around that sale. The focus on sales also continues in the description, alongside the addition of free delivery and focus on the ease of the purchasing process.

---
Argos
We mentioned trust before. Argos builds their advertising on trust. It highlights the convenience of buying with the store and tries to highlight the control they give the customer with terms such as 'it's up to you'. Argos also makes great use of the word 'free' for any extra services advertised.

---
JC Penney
JC Penney uses ad extensions to highlight its sales. This allows potential customers to skip straight to the discounted products that they may be more likely to buy. The brand also makes sure to list everything it sells throughout the advert.

---
Easons
Easons uses discounts in their ad to draw potential customers in. It also uses the highly ranked word 'your' to make the ad seem personable. Finally, Easons uses its extensions to highlight its rating of 4.4, with plenty of positive feedback. This will help customers to trust the brand and thus encourage purchases.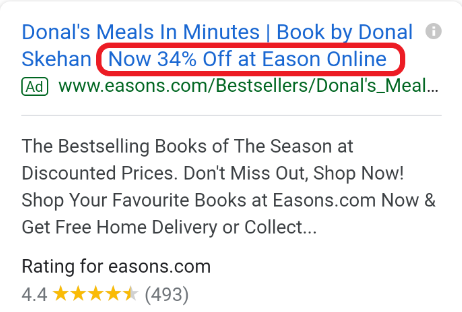 Another interesting addition to Easons' ad (seen below) is the highlight of low stock levels. This creates a sense of urgency to buy before stocks run out. It also creates the sense that the product is popular and therefore of good quality.
But, that's not the only way you can go about putting emphasis on the popularity of a product. In the 3rd example, you can see the shoppers attention has been directed at the number of copies already sold:

---
Booking.com
Booking uses ad extensions to their maximum with their ad, offering you the option to go straight to comparing deals or look at different types of accommodation. Booking also does well with adding various calls to action, such as 'search now' and 'book now'. Once again, the highly ranked word from Wordstreams study, 'you' is used throughout the ad.

---
Shopify
Shopify also uses its extensions well. It showcases pricing structures and offers to take you straight into selling. In addition to that, Shopify also mentions security and a free trial, both of which are convincing to sellers as their business will be secure and more profitable. Shopify uses various calls to action throughout and reinforce their unique features with personable terms like 'you'.

---
Takeaway.com
Takeaway.com (known under several names, including Pyszne.pl, depending on the country) uses plenty of calls to action through its ad and extensions. It tries to highlight all the benefits of using the site through its extensions, such as order tracking and secure payments. As well as these reassurances, it also uses extensions to link to its loyalty shop for discounts. In addition to all, the ad utilizes both the words 'you' and 'your' which makes the ad seem personable. They are also words ranked highly (1st and 10th most used) in the top advertisements from Wordstreams text ad study.

---
Monster
Monster uses extensions to highlight different sectors of jobs and jobs in a localized area. It highlights all the brand's unique services within the ad, whilst using a wide range of personable calls to action. It also promotes using a sense of exclusivity with the term 'be the first to see'.

Return to top of page or
---
Final thoughts
Text ads still remain one of the most successful ways to advertise on Google. They can provide large amounts of information for customers and provided they are done effectively, they can be cost-friendly.
Text ads still provide a number of benefits, from being simple to construct to being highly versatile and manageable for any product.

If you want to further optimize your text ads and ensure they are unique and stand out from the crowd, consider using an automated search ads solution. Text Ads generated based on the product feed enable merchants to automatically create and update their text ads and keywords for every product in their catalog. Making sure you're getting the best possible results from your eCommerce Search Campaigns.
Learn more about Google Search Ads: