This article will guide you through the process of getting started with Kogan's Marketplace, creating and managing your products and selling to the Australian market.
Here are the areas we will be covering:
What you need to know about Selling on the Kogan Marketplace
Originally Kogan.com focussed on its products. Their product range has expanded from electronics to include: Kogan Mobile, Internet, Insurance, Travel, Money, Cars, and Energy. The site is now open to sellers of a wide range of products.
According to Kogan.com, Kogan Marketplace was built on three key pillars:
"An unwavering commitment to provide Aussies with better value products and services."
"A constant obsession to create the best possible shopping experience, from easy purchasing to efficient delivery and reliable after-sales support."
"Our revolutionary online-only business model that allows us to bypass the expenses of bricks and mortar stores and pass the savings onto our customers."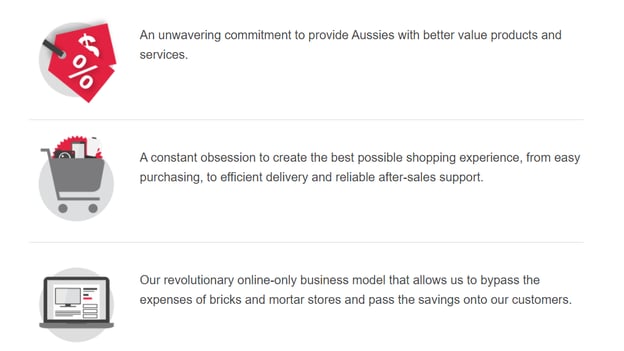 Here are a few things you need to know before you start to sell on Kogan.
Back to The Top or
---
What is the Kogan Marketplace?
The Kogan Marketplace is the area of Kogan.com that is open to brands, retailers or distributors to gain access to new customers through the platform. Customers purchasing products sold on the Kogan Marketplace platform will be eligible for benefits, including Interest-Free Finance Options and earning Qantas Frequent Flyer points.
Clients can also use their existing Qantas Points or Citi Reward Points to buy through the Kogan Marketplace. Sellers will have access to marketing support, payment gateways, customer support, and integration with backend operations.
Why Sell on Kogan?
Sellers on Kogan get access to an established platform with millions of users per month.

Kogan.com is one of the leading e-commerce platforms in Australia. Listing your products on the marketplace can be very profitable.

Sellers can take place in marketing and promotional activities. Sellers can boost sales by taking advantage of Kogan.com's marketing options, including email promotions and marketing events such as Black Friday and Kogan Frenzy.


Kogan.com facilitates a smooth customer experience, encouraging customers to return again and again.
Back to The Top or
---
Ways to Sell on Kogan - Marketplace or Supplier?
There are two options for selling on Kogan: become a supplier or join the marketplace.
Supplier
If you have products you wish to sell but do not have online fulfilment capability, you can partner with Kogan and become a supplier to sell your product to the Kogan audience. To register as a supplier, you will need to complete a registration form. Providing the following information:
Your Name
Email Address
Company Name
Website
Brief description of your company
In what country is your warehouse located?
What products/brands do you supply?
If you are offering a particular deal, please include the pricing and availability of stock.
You can view the Supplier Registration form HERE.
Marketplace
If you have products and the capacity to sell direct to customers, you can register to list on Kogan.com. You will need to complete a Marketplace Application. You will need to provide the following information:
Your Name
Email Address
Company Name
Website
Description of your product range and competitive advantage
Do you currently have eCommerce fulfilment capability? (Yes/No)
Do you currently sell on other marketplaces (including abroad)? Please provide links to your stores.
What is your preferred integration method:
Spreadsheets and/or managing individual orders
Direct API connection
ChannelAdvisor integration
An extension to my Shopify Store
An extension to my Neto Store
A plugin to my Magento website
Omnivore integration
Don't know yet
Other?
You can view the Marketplace Application form HERE.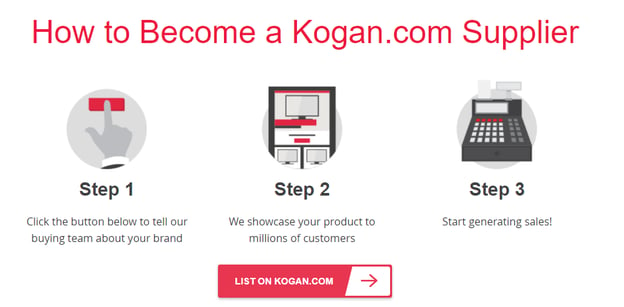 After completing either the Supplier or Marketplace form, you will be contacted by the Kogan team with further instructions.
Popular Products
Like Amazon, Kogan sells a huge variety of products, but some categories are more popular than others.
Currently, the most popular categories are:
TV & Home Theatre.
Laptops & Computers.
Phones, Tablets & Wearables.
Cameras & Drones.
Audio.
Appliances.
Heating & Cooling.
Home & Garden.
Prohibited & Restricted Products
Products sold on Kogan Marketplace must comply with Australian laws and regulations as well as Kogan's restrictions. Sellers must take into consideration the following:
the Prohibited and Restricted Product listed below.
whether the product is the subject of a product safety ban or recall by the manufacturer or a government regulator.
whether any ACCC Mandatory Standards apply to the product.
Prohibited Products
The marketplace allows for the sale of a wide variety of products, however, some products are prohibited for sale on the platform, including:
Animal or wildlife
Combustible candleholders and decorations
Currency, coins or stamps
Drugs or drug paraphernalia
Event tickets
Firearms or weapons
Lockpicking devices
Real estate
Sky lanterns
Used products (except for approved refurbished electronics in select categories)
If you are concerned about your product, you can check the full list of prohibited or restricted items.
Back to The Top or
---
Kogan Marketplace Fees and Payments
Kogan works on a commission basis. Customers will make payment to Kogan using various payment methods offered on the Kogan Marketplace.
Sellers will be reimbursed the purchase price of the goods sold, minus Australian Goods and Service Tax and commission. The commission will be specified in the registration form when the seller signs up.
It may be useful to read over the full Terms & Conditions for further details.
Selling in Australia and New Zealand
If you sell on the Kogan Marketplace you will be required to comply with Australian Goods and Services Tax laws.
How does GST (Goods and Services Tax) work for international sellers shipping into Australia?
Products A$1,000 or under before GST
Goods valued at A$1000 or less, sold to Australian customers from suppliers outside of the country, require 10% GST to be added to the price. As the platform operator, Kogan is required to collect and pay GST on these sales.
For all products sold and shipped from outside Australia, Kogan will:
Add 10% GST to the sale price of your products that are A$1,000 or less;
Collect the 10% GST from customers and remit it directly to the Australian Taxation Office.
Therefore, there is no action required from sellers for products that are A$1000 or less.
Products over A$1,000 before GST
If a product is over A$1000 or if multiple items under A$1,000 are purchased together in one order that totals over A$1,000, you will be responsible for the GST. You need to add 10% GST to your sale price and use your Direct Duty Paid (DDP) solution with your shipping partner.
For all orders shipped to Kogan customers into Australia, the following will be required in the shipping documents:
the Kogan ABN number below in your customs documents provided with each shipment.
Specify "GST PAID" and Australian Business Number and include a commercial invoice with the value of the goods.
For more information on the new GST rules, visit https://www.ato.gov.au
Shipping
There are three options for including shipping costs on Kogan Marketplace.
A flat rate for shipping for each product anywhere that store ships to, even if a customer buys multiple products.
No shipping charge, you may want to include shipping in the product price.
If your shipping costs change depending on the destination, you may want to vary your shipping costs. You will need to discuss this with your Marketplace Account Manager.
You may also find interesting: A Complete Guide to Dropshipping in Australia
Back to The Top or
---
Getting Started with Kogan Marketplace
To get started with Kogan.com:
1. Create and Manage your Products
Once you have been accepted by Kogan.com as a partner seller, you will need to add your products.
You can add and manage your product lists using the Seller Template.
The template contains 12 mandatory fields:
PRODUCT_SKU: Unique identifier
PRODUCT_TITLE: Name of the product
PRODUCT_DESCRIPTION: HTML description of the product
CATEGORY: A list of categories and IDs can be viewed here
STOCK: Number of products available
PRICE: Price excluding shipping costs
SHIPPING: Shipping Cost
IMAGES: The first URL will be the main image.
PRODUCT_GTIN: Global Trade Item Number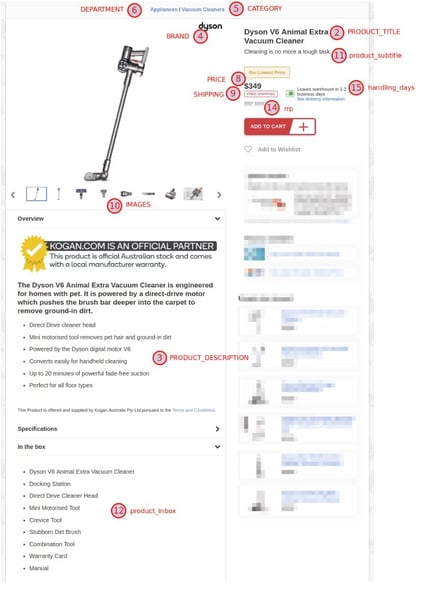 The following 6 fields are optional:
BRAND
PRODUCT_SUBTITLE: currently not being used
PRODUCT_INBOX: What's in the box?
RRP: Seller's List Price
HANDLING_DAYS: Number of days before item ships.
PRODUCT_LOCATION: The location from where the product is sold from
You may want to add in variations of your products for customers to choose from. For example, various clothing or shoe sizes or colour of homeware or electronics.
You can add variations by including the following fields in the seller template:
variant_group_id: This is the same as the parent SKU
variant_group_title: This is the description that should be consistent across the group
variant_facet_type: Always use "Size"
variant_facet_group: Variant category depending on product type, e.g. clothing
variant_facet_value: Variant value, e.g. size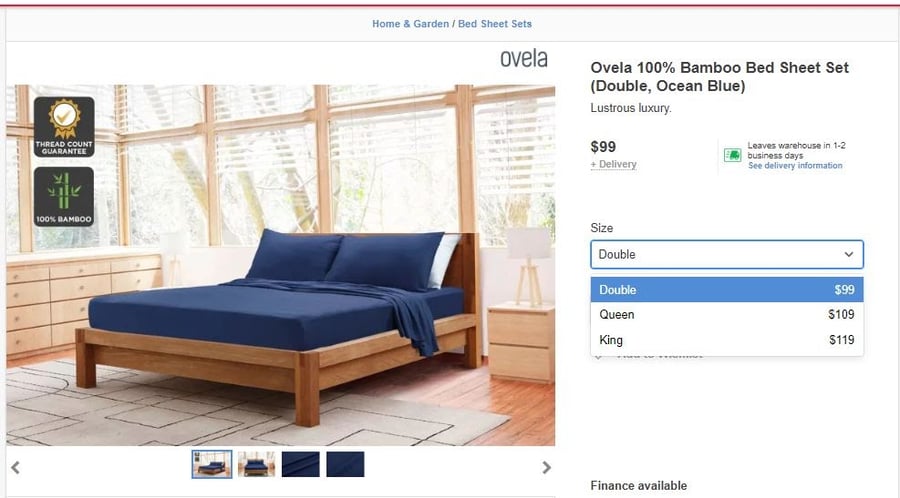 Once you have completed your Seller Template, it should be hosted as a CSV file on your web server via a fixed URL, allowing it to be retrieved by Kogan.com.
It should be hosted with a URL such as- https://www.example.com/feeds/kogan/.
2. Product Feed
Kogan.com supports integrations with most e-commerce platforms allowing you to create product feeds directly from your platform. During your onboarding process, you will be given the API key and access to a test environment.
Up to 500 products can be created at once. You will need to include the same information required for the Seller Template outlined above.
Following the testing process, your Marketplace Account Manager will give you access to the live environment.
Using DataFeedWatch to Create & Optimize Your Kogan Product Feed
Your Kogan.com Marketplace Account Manager will ensure you can set up your product feeds effectively, either through the Seller Template or API integration.
When creating your product listings, keep the following in mind to ensure your products stand out in the marketplace:
Use multiple, high-quality and professional images. You may also want to include a video or 360 view.
Ensure your descriptions are clear and detailed and cover everything a buyer would need to know.
Keep your products updated, make sure you remove older products and continue to add in new product ranges.
Kogan is a busy marketplace, particularly if you are selling electronics, it's important to make sure your listings stand out.
You can also use a tool, such as DataFeedWatch. This Feed Marketing Solution tool can help to ensure your product feeds are optimized. DataFeedWatch automates and simplifies product feed management.
Feed Templates: Pre-set templates with Kogan's specifications will help to save time.
Automatically Update Product Listings: Your Kogan feed will be updated with new products in your shop.
Quick Review - You can save time by automatically checking your listings for any missing data or errors.
DataFeedWatch can be used to manage your Kogan Marketplace feed and also efficiently manage all your channels. Book a FREE demo.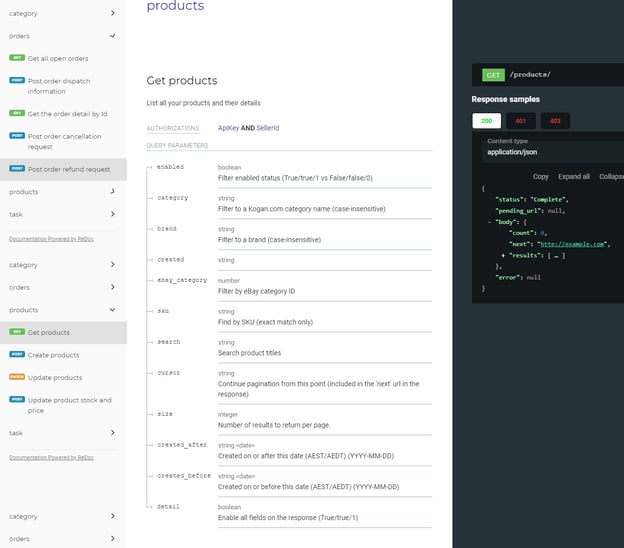 3. Receiving and Dispatching Orders
Now you have your products live on Kogan Marketplace, your order will start to come.
Order Manifest - Each day you will receive a list of orders via email or your API integration.
Dispatching Orders - Each business day, you will be required to return a list of orders dispatched that day, as a dispatch report. Reports should be submitted via Kogan's web portal or through the integration.
Dispatch Portal - You will also be able to view your orders here and add in delivery tracking details. From here you can also issue refunds and cancel orders.
There are further details on how to use Kogan.com Marketplace effectively on the website.

To sum up: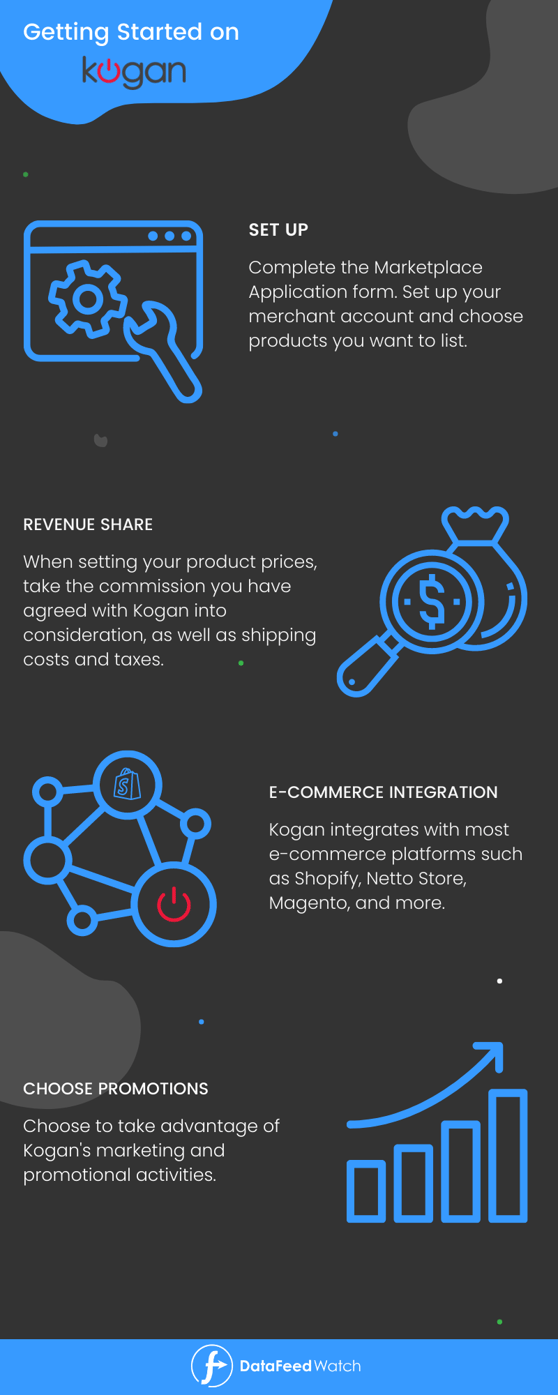 Back to The Top or
---
Conclusion
If you are looking to enter the Australian marketplace, Kogan.com is a great alternative to Amazon or eBay. The platform has a large existing customer base and allows sellers to take advantage of its additional marketing opportunities.
You can either choose to become a Kogan Supplier or a Kogan Partner Seller and you will be given a Kogan Marketplace Account Manager to help you set up your account.
You May Also Find Interesting:
---