Get your own copy of 8 Steps to Run Vehicle Ads on Google
---
Vehicle ads - a new ad format on Google Search
At the National Automobile Dealers Association (NADA) Show, which took place on March 11, 2022, Google announced automated vehicle ads. Vehicle ads are a new ad format on Search that shows new cars that are located nearby and are for sale. With this new form of car advertising, you can easily reach customers who are looking for a new vehicle online.
Currently vehicle ads are only available in the U.S. (and in a limited beta in selected countries), but according to Google they're coming to more countries soon.
Google matches shoppers' searches with ads using vehicle ads data feeds. That means that in order to be able to advertise cars on Google Search you need to upload a data feed in Google Merchant Center.
It's important to highlight that you can only promote vehicles and cannot use vehicle ads to advertise and sell vehicle parts, tires, accessories or services.
Also the vehicles that you wish to promote must be non-commercial, meaning they must be passenger vehicles, for example cars or pickup trucks.
You cannot use Google's vehicle ads to advertise RVs, buses, boats or trains.
Benefits of using Google vehicle ads
Vehicle ads allow you to show ads of cars to auto shoppers online in response to their search queries with the right information to take them further in their customer journey (closer to a decision stage). We can highlight a few benefits of using vehicle ads by car dealers.
With vehicle ads, you can reach more car buyers searching for cars online if you have matching models on your listings.
By showing key information and well-made visuals about the car in your vehicle ads, you can improve the relevance of your offer and get more qualified leads.
Improved omnichannel strategy
Vehicle ads will help you optimize for both online and offline conversions (qualified leads and store visits)
Fully automated targeting = less work
Vehicle ads are a part of a Google Smart campaign, so there's not much work with them. The relevant vehicle ads will automatically be shown for a related search query.
---
How Google vehicle ads work
Google has developed the vehicle ad format to help auto retailers to advertise and promote their vehicles to potential clients on Google.
Google matches users' search queries with Google vehicle ads by using the product details included in your vehicle inventory data feed. Therefore it's important that your feed is well-optimized since it's the core of car advertising.
You will need to have an active Smart Shopping campaign on Google Ads to use vehicle ads.
After clicking on a vehicle ad, the potential customer is being redirected to the vehicle description page on your website. There, they can read more about the specific car, fill out a form and get your dealership's contact information. You as an advertiser can measure different kinds of activities, such as leads (after filling out the form), store visits, abandoned carts etc.
To make it more clear, we can describe this process in 4 steps:
1. A user clicks on your vehicle ad.
2. Google passes the Business Profile store code where the vehicle is available
OR
In case you use the store feed - Google passes the store code from your store feed.
3. Your landing page, showing a vehicle's price and availability at the location associated with the store code, is being generated for the user.
4. On your dealership's website, the customer then has the option either to buy a car right away (and wait for it to be delivered) or reserve it online and pick it up at your dealership that is located nearby.
What does a vehicle ad look like?
A Google vehicle ad consists of:
Image of the vehicle
Make
Model
Price
Mileage
Condition
Advertiser's name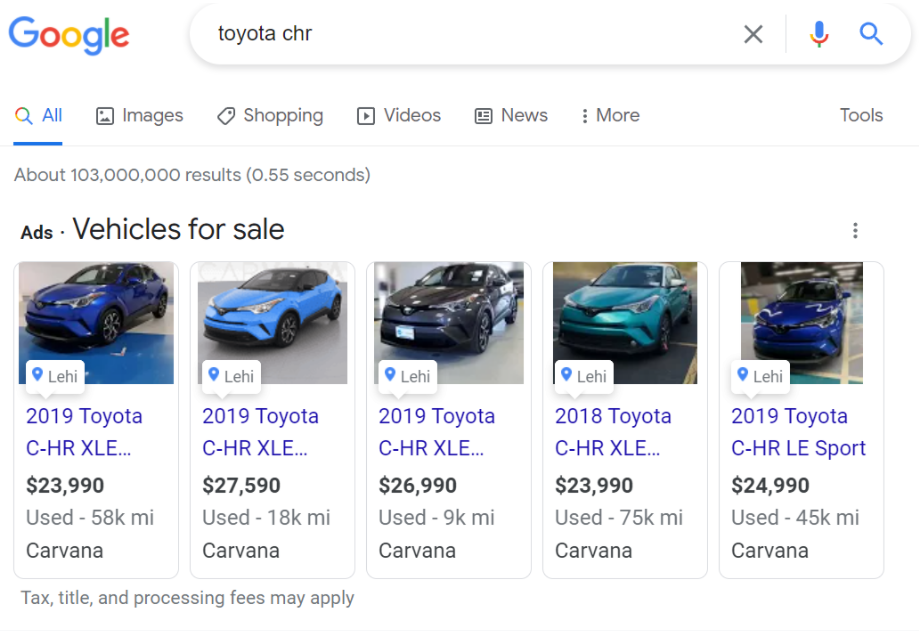 In an example above someone searches for a Toyota C-HR. The several vehicle ads appear and the users can either purchase a car of their choice (which is located nearby) or they can get it delivered.
If you're interested in expanding your car sales online, you can also read our article on how to advertise your car inventory on Facebook.
---
8 steps to get started with ads for automotive industry on Google
To be able to show your vehicle ads on Google, you must provide information about your business and dealerships to Google. You also need to upload a vehicle data feed, that contains all the relevant information about the vehicles you're selling: for example makes, models, prices, mileage (more about that in the next chapter).
Below you can read our step-by-step guide to creating vehicle ads on Google Search:
Step 1: Create and set up 3 accounts (if you don't already have them)
If you want to show your vehicle ads you need to have 3 separate accounts connected to Google. These are a Google Merchant Center account, a Google Ads account and, in case you are not submitting a store feed, a Google Business Profile.
After creating those accounts you need to link them to each other to gather all information across sources. That means you need to connect your Google Ads account and Business Profile with your Google Merchant Center account.
Step 2: Request to enable the vehicle ads program
The next step is to fill out the Google form asking for enabling the vehicle ads program. When you get a confirmation email from Google, you need to log in to your GMC account, navigate to Growth, then Manage programs and click Get Started as well as choose the country where your dealership is located.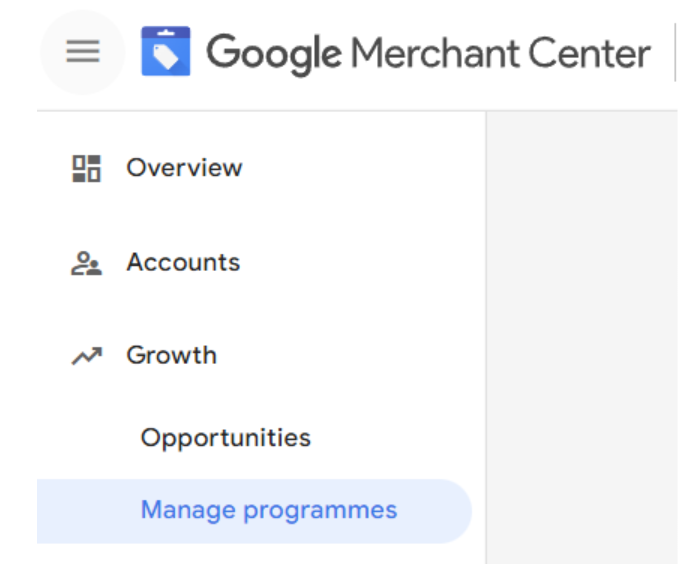 Step 3: Add your store name (business information)
On every vehicle ad there's a place for your store name. That's why you'll be asked to add the name of your store when setting up your account. There are specific guidelines regarding what your store name should be like and you can read about them here.
Step 4: Create your primary vehicle ads feed
Your vehicle inventory feed is a list of all your vehicles with descriptive attributes. It's also Google's one and only source of information for your vehicle ads. That means, that information you submit in your Google vehicle inventory feed is exactly what appears to users that search for cars such as yours.
You can use Google Shopping management service to get your vehicle ads feed ready and optimized in no time with a pre-set template. We have described in detail how to create it in our solution in the next chapter.
The attributes are divided into:
Those that are required for all vehicles in your data feed

Those that are required for certain types of vehicles in your data feed

Those that are optional for all vehicles in your data feed (but highly recommended)
Please note that if you do not provide any of the required attributes, this may result in the particular vehicle ad not appearing in Google search results. Recommended attributes are also important, so not providing them may also affect the ad's performance in a bad way.
Your vehicle feed needs to be created as a delimited text file (spreadsheet) or an XML file (or you can use API).
Below you can see which attributes are required, and which are recommended for your vehicle data feed.
Required attributes:
Google product category

Vehicle fulfillment

VIN

ID

Store code

Image link

Link template

Link

Price

Vehicle MSRP

Condition

Brand

Model

Year

Mileage

Color
Recommended attributes:
Product Type

Additional image link

Mobile link template

Mobile link

Ads redirect

Certified pre-owned

Trim

Vehicle option

Body style

Engine

Description

Custom label

Included destination

Excluded destination
Step 5: Submit your feed
In order to submit your feed to Google (through GMC) you need to first register it in your Google Merchant account (only the first time you submit the particular feed). This will create a place in the account where GMC will know to place the file.
Then you just need to upload your feed to your Merchant Center account.

If you want to find out more about these processes read this article.
Step 6: Link your Google Business Profile to GMC and select your location group
If you haven't already done it, the next step is to link your Business Profile to your Google Merchant account.
Then select your location group (physical business locations).
It's important to mention that if you don't own or manage the Business Profiles for your dealer locations, you will also need to create a store feed with additional specifications.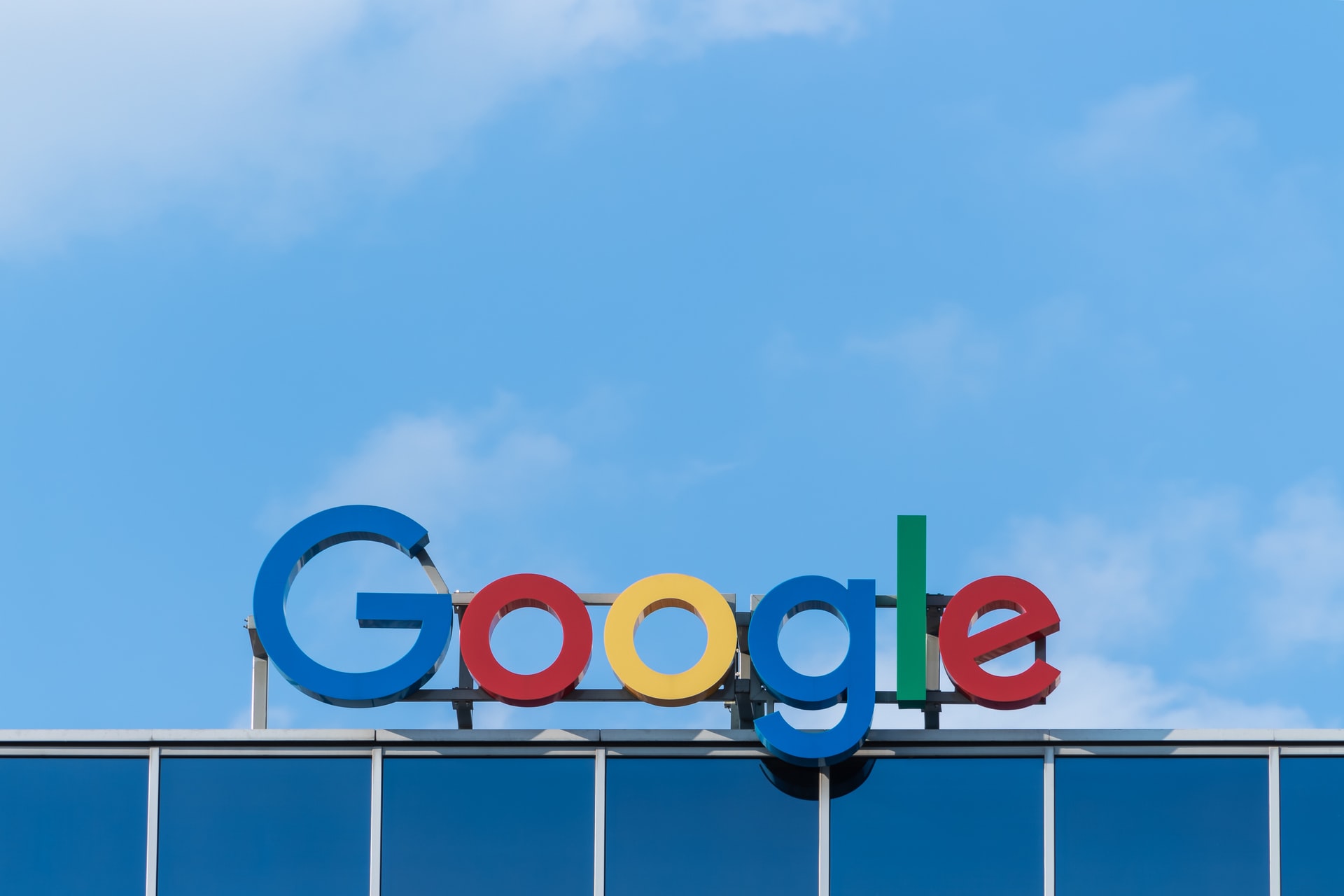 Step 7: Pass the Google's website policy test
A. If you want to show vehicle ads on Google you must also meet some requirements for your website. On your landing page, the following information must be displayed:
dealership name
dealership location
vehicle price
MSRP (if listing a new vehicle)
VIN
mileage (if listing a used vehicle)
availability information
price
All of this information must be displayed PROMINENTLY on your page, so users have no doubts about their importance.
B. You also need to make sure that
all the required attributes are included in your feed
and submitted.
C. Once you've made sure your landing page meets all requirements and you've finished updating your feed attributes, Google will review your website's landing pages to make sure they're compliant.
Step 8: Set up your vehicle ads in the Google Ads account
At this point you should make sure that your Merchant Center account is linked to your Google Ads account (step 1). If that's the case only the last step is left.
To show your vehicle ads you need to create a Smart shopping campaign in your Google Ads account.
You need to log in to your Google Ads account.
Create a

Smart shopping campaign

.
Check the box for "Show vehicle ads".
Click Save.
"Show vehicle ads" option can only be enabled while creating a campaign. If you hadn't checked this box before you saved it, it will not work. You'll need to create a new campaign.
Read how to create a Google Smart Shopping campaign here.
---
Create your Google vehicle ads feed using DataFeedWatch
Creating your vehicle ads data feed is veryy easy when you use a feed management software like DataFeedWatch. The process of creating your feed and uploading it to Google Merchant Center looks like this:
Connecting your product data to DataFeedWatch
Adding a Google Vehicle Ads feed
Matching your data with Google's required fields
Reviewing your feed
Uploading your feed to GMC
The great part about creating a feed in such a solution is that you don't need to know all the requirements of the specific channel. The DataFeedWatch feed template will guide you through the feed creation and will come with some pre-filled suggestions as well. It will be a quick and pain-free experience.
We described all the steps in detail below:
Connecting your product data
1. Log in to your DataFeedWatch account and click "add shop" to create a space for your vehicle ads feed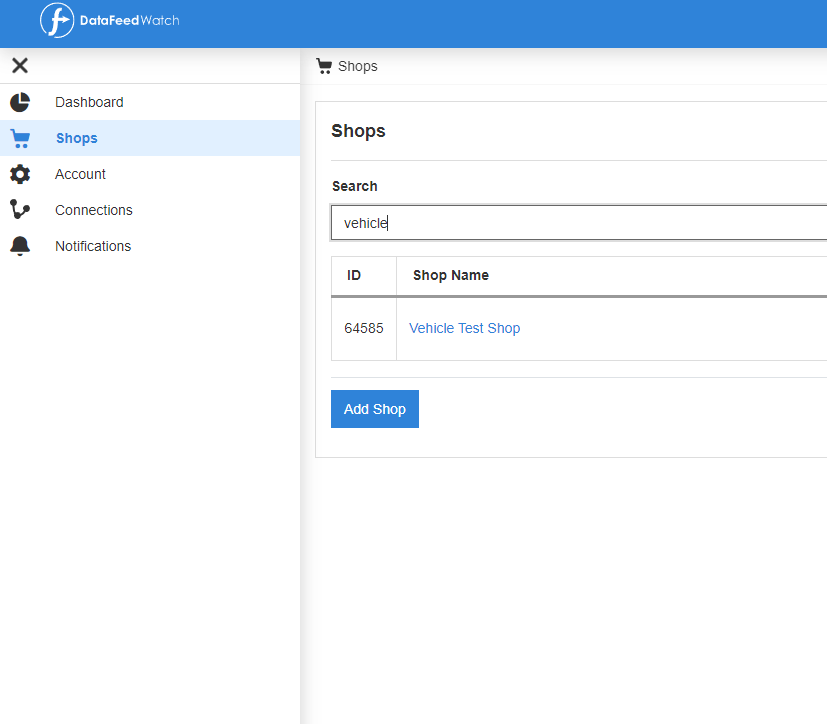 2. Select your website platform (or file type) from the list, and insert your source location.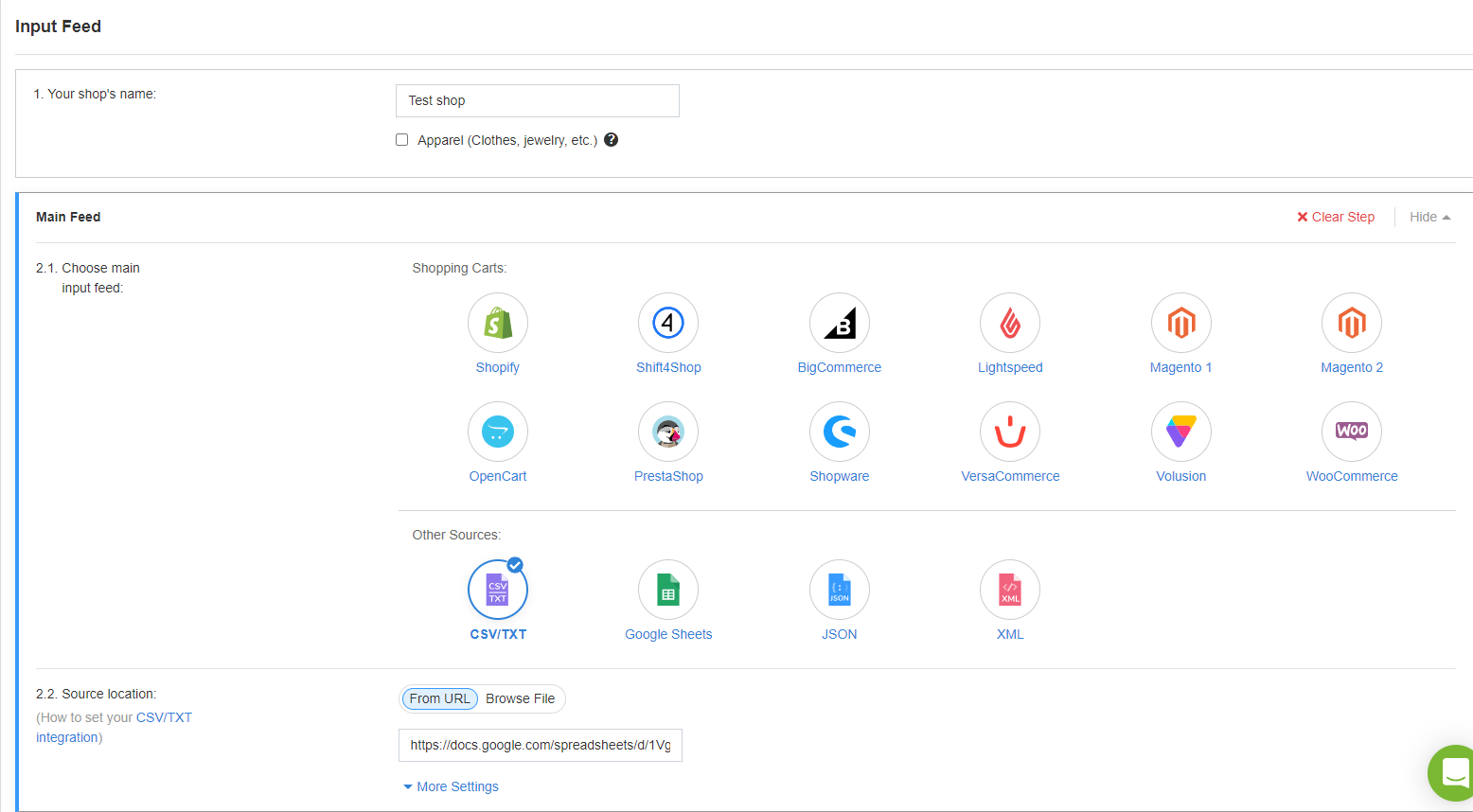 3. Decide how often and what time you'd like us to download your fresh product data.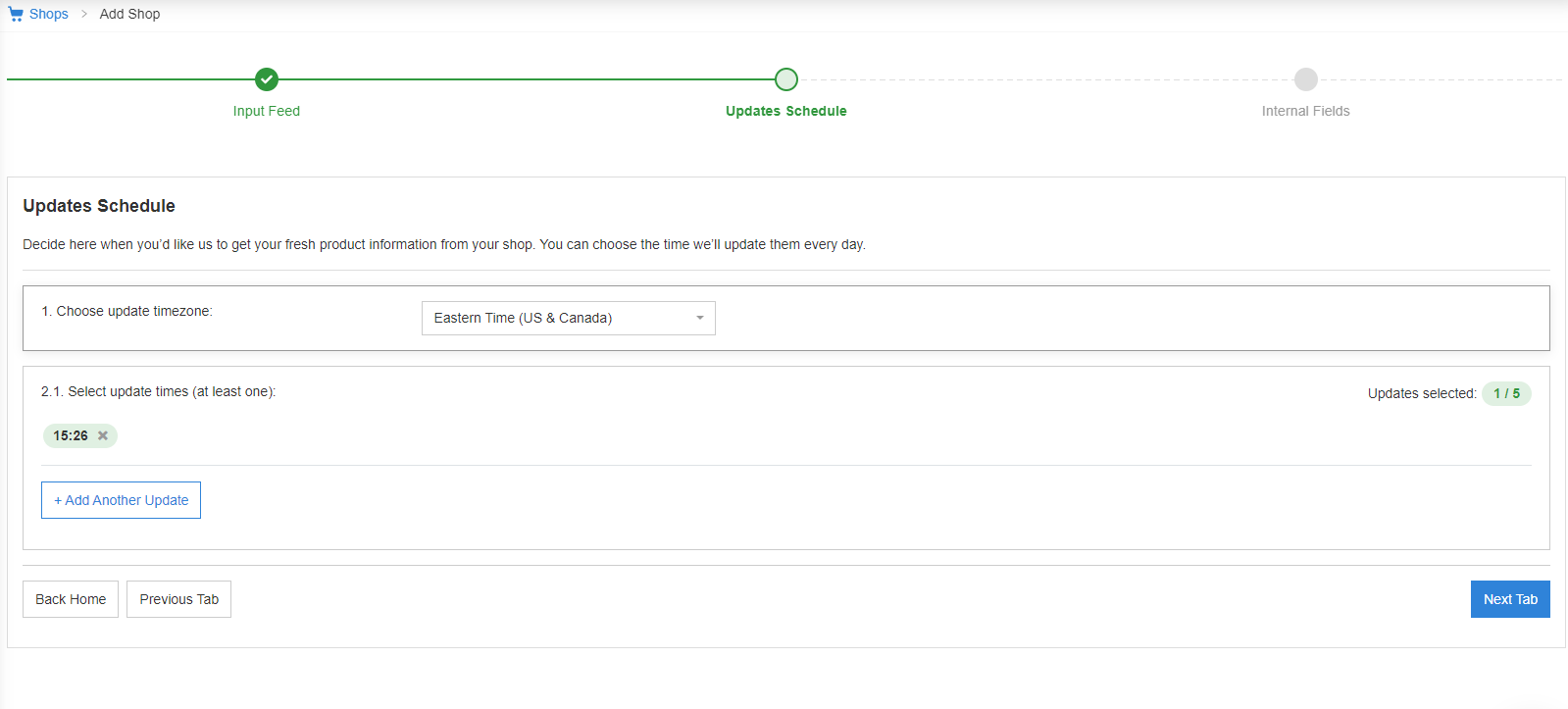 Adding a channel
On the left panel choose Channels and then click "Add channel" on the bottom of the page. Select the country and pick Google Vehicle Ads as the channel you will advertise your products on.

Mapping your fields
To create your vehicle ads data feed you need to map your fields. Remember to map all the fields required by Google. Don't worry! All of them will be listed in the template so you will clearly see which ones are a must-have and which are recommended.
Many fields are already pre-configured by the system, or at least are partly pre-configured, so you will not have to choose all the details.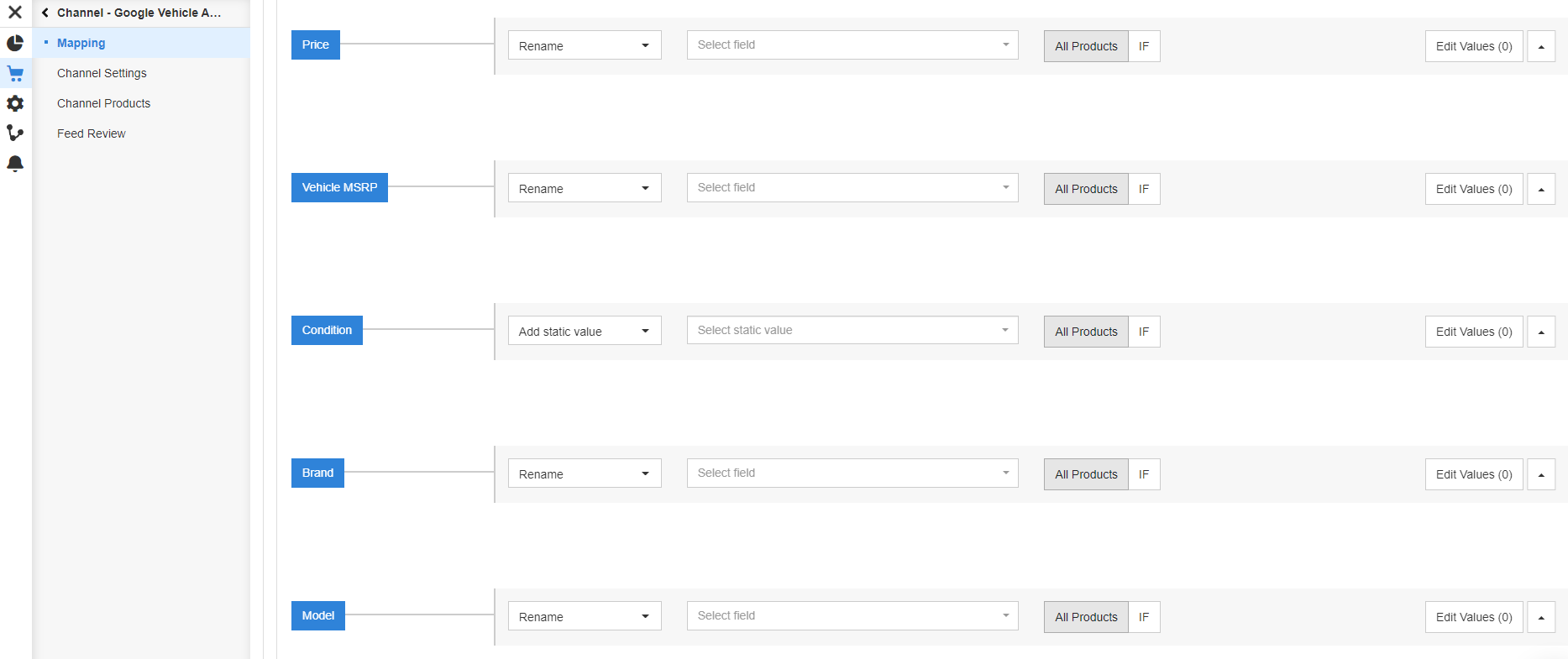 Reviewing your vehicle ads feed
When you're done mapping your feed, you can check with our Feed Review if everything is correct and ready to go.
If not, the system will show you the errors that you need to fix before uploading your feed to Google Merchant Center.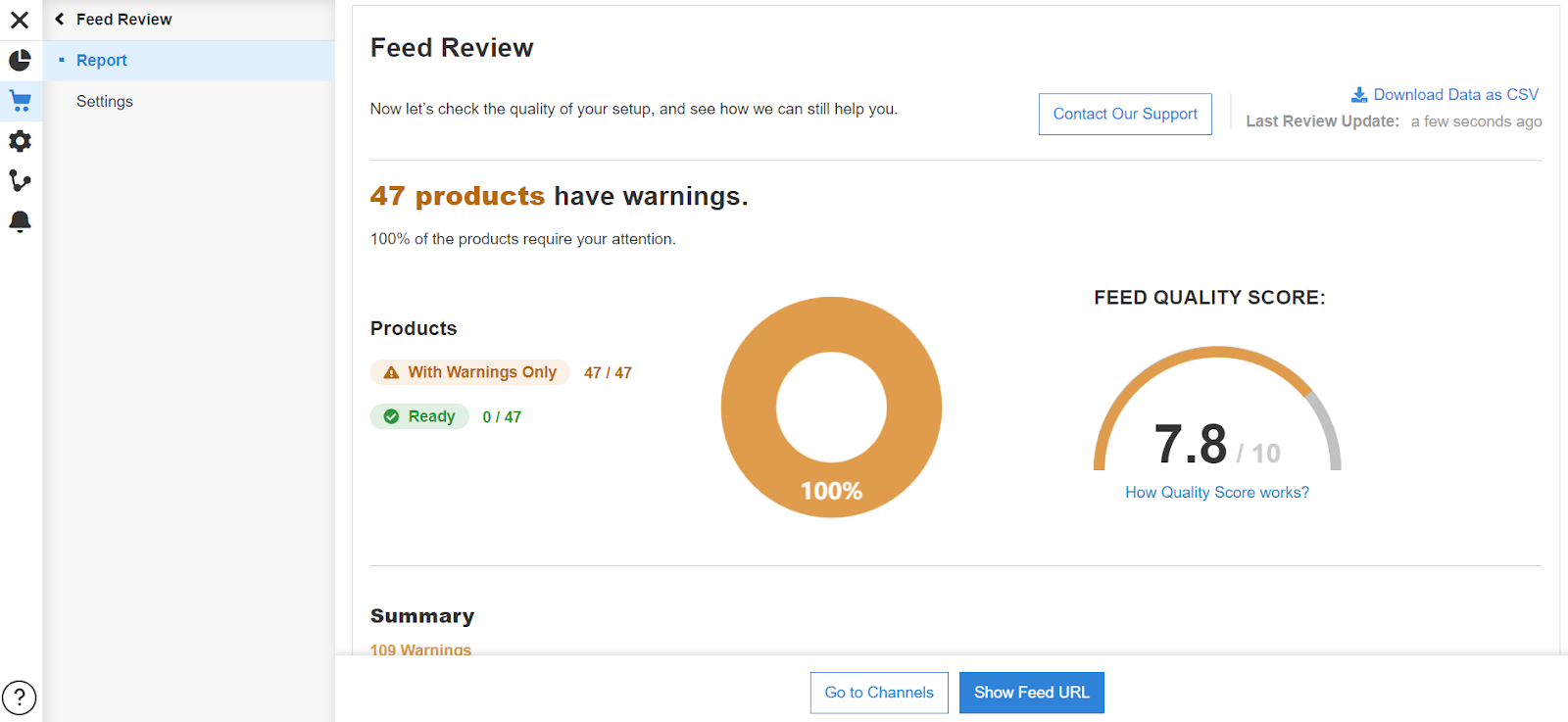 After you have fixed all the errors, the system will tell you that your feed has no errors.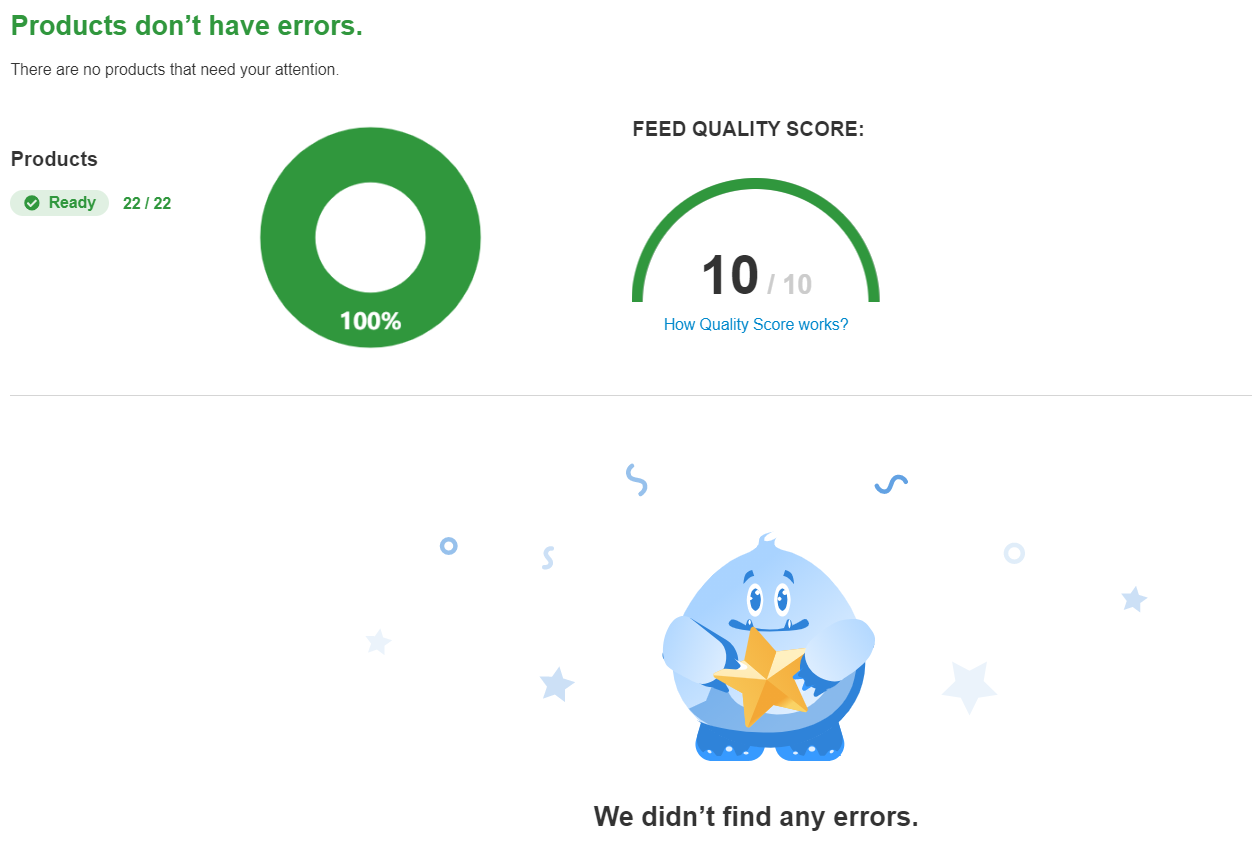 Now it's the time for the last step - uploading your vehicle feed to Google Merchant Center.
Uploading your feed to Google Merchant Center
You can choose to upload your feed via FTP, HTTP, or download it from your Local Drive. We have prepared guides to all these ways of uploading it and you check them out under the following links:
No matter what way you choose you will need to:
1. Log in to your Google Merchant account and go to Products -> Feeds
2. Click the plus button


3. Choose your target country and language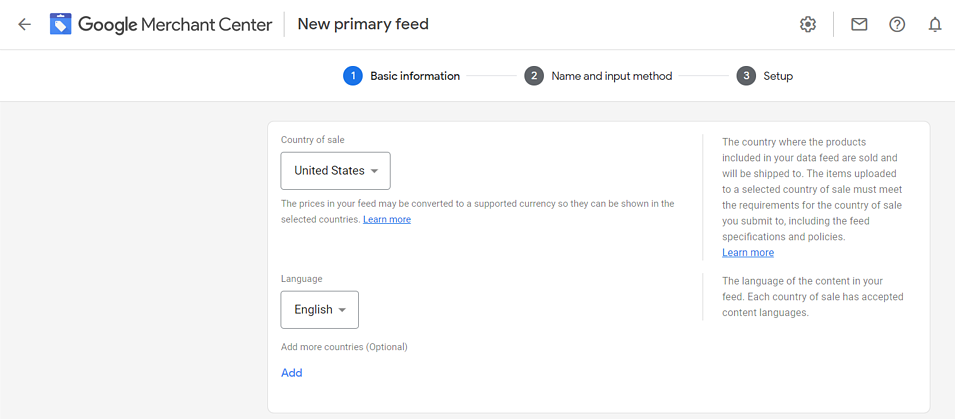 4. Provide a name of your feed and select one of the available setup options (in our example - scheduled fetch)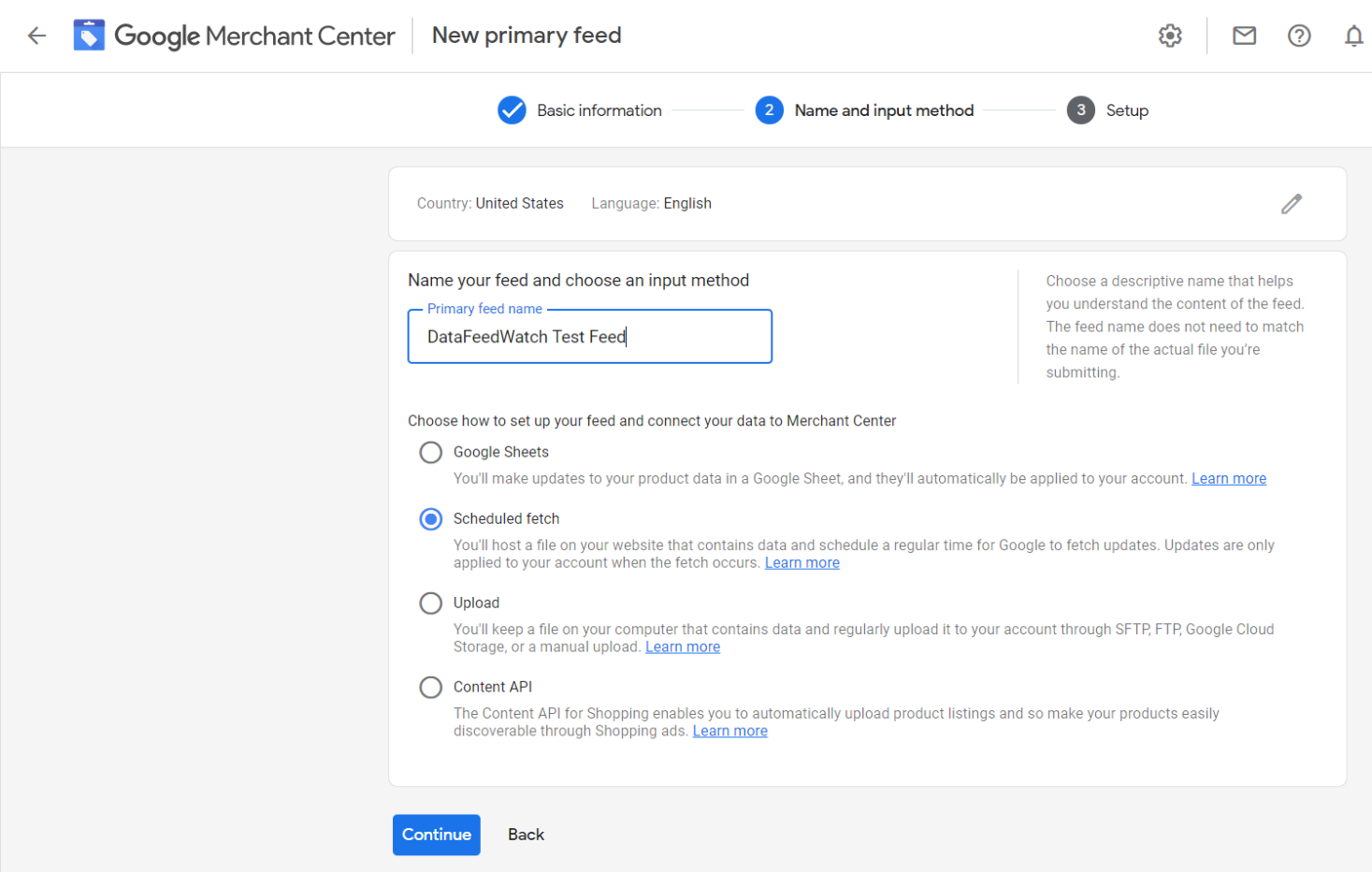 When running vehicle ads, it is recommended by Google to choose the Scheduled fetch option as for example stock information tends to change very fast in the automotive industry.
5. Enter the name of your feed file and fill in fetch details (if you have chosen this option)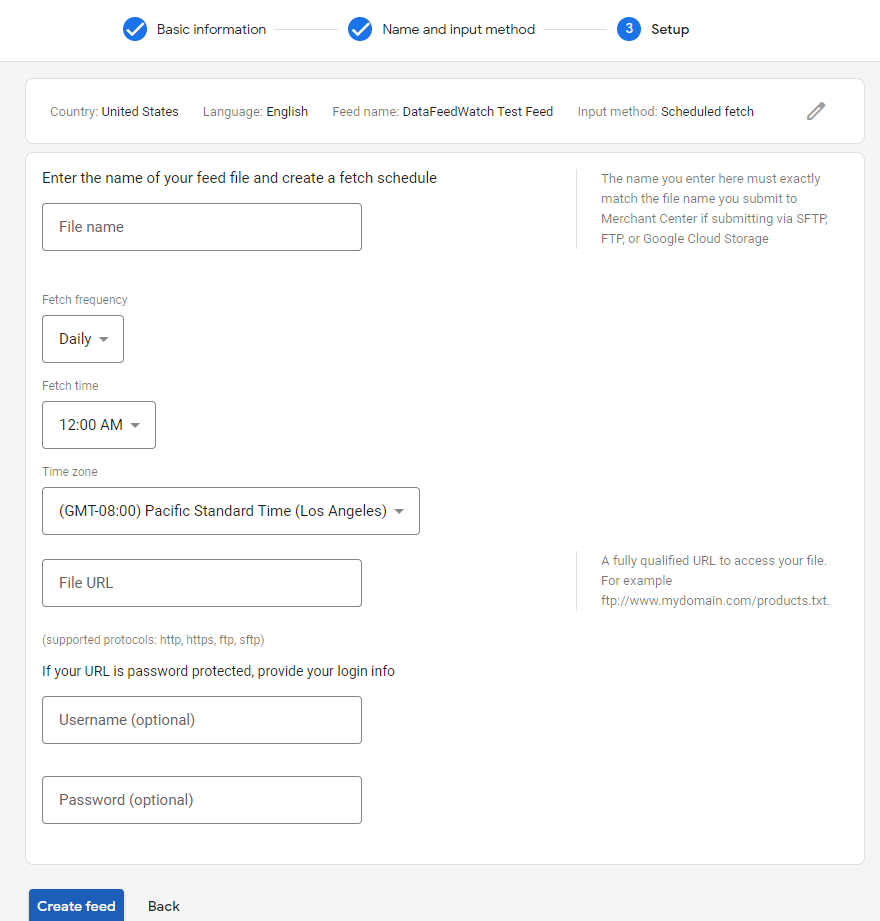 The rest of the steps differ depending on the selected upload method: FTH, HTTP or Local Drive.
---
Summary
Google's vehicle ads are first of all a great opportunity to get your vehicle inventory in front of your potential customers and at the same time increase your website visits. They
can start a whole new era for car dealers and boost the online car sales even more than covid-19 pandemic already has. The automotive industry is changing and car retailers need to keep up with it.
Read also other articles and case studies connected to the topic:
Inside The eCommerce Automotive Industry Landscape In 2021
[Case Study] 620% Increase in Conversions with Automated Text Ads
Vehicle ads overview by Google