Amazon is the biggest e-commerce marketplace in the world and offers incredible opportunities. In the US, 81 percent of the people who use the internet use Amazon. It is also strong in other markets, including the UK where it is the most visited e-commerce website.
You can generate sales on Amazon without winning the Buy Box, but the Buy Box is where the real action takes place. Now we get to the juicy part – up to 90 percent of Amazon's sales go through the Buy Box. That is a figure approaching $100 billion a year.
Related: Benefits of Selling on Amazon


If you would like to get more sales from Amazon, winning the Amazon Buy Box is instrumental.
This article explains what the role of the Buy Box is and how you can substantially increase your chances of winning it.
Grow your Amazon revenue with a practical checklist to Amazon Pricing Strategies
---
What is the Amazon Buy Box?
There is a lot of information on a product page on Amazon, but the most important is the Buy Box. In fact, 82 percent of sales on Amazon go through the Buy Box. The figure is even higher for sales on mobile devices, and many experts believe that the overall figure could be closer to 90 percent.
The Buy Box allows customers to make choices about a product, such as the quantity they want to buy, as well as provide information about the seller. Crucially, the buyer can click Amazon's Add to Cart button to make their purchase - this button is also present in the Buy Box.
On a desktop computer, it appears on the right-hand side of the screen. On a mobile device, the Buy Box appears below the product image and the most important product information - price, discount information, availability and shipping information.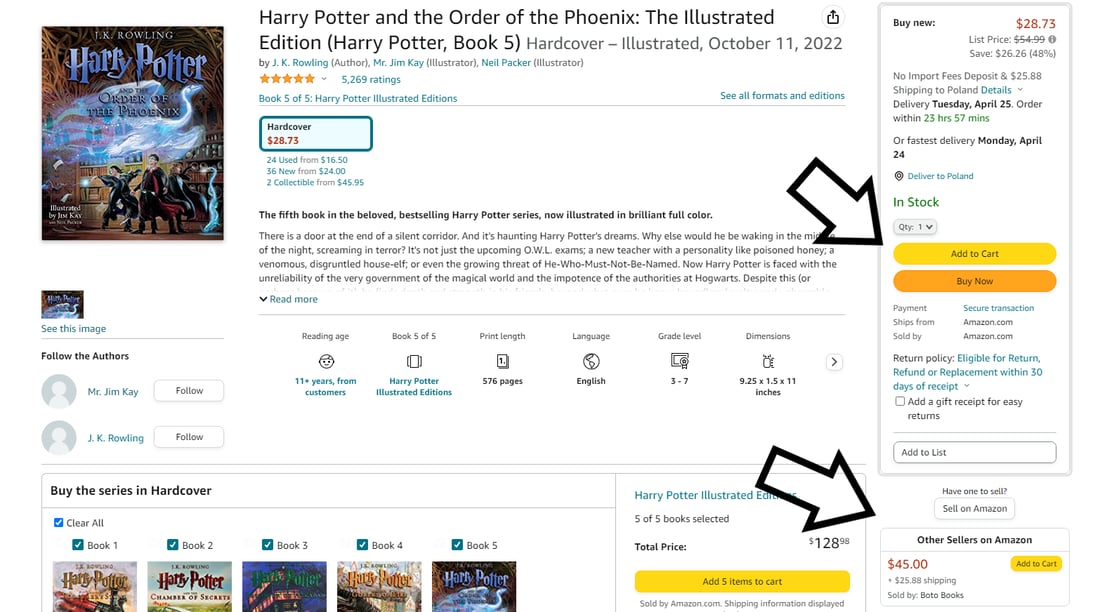 In other words, if you are a seller and it is your product that is in the Buy Box, you are the one who gets the sale. Winning the Buy Box is therefore extremely important to succeed on Amazon.
If other vendors are selling the same products as you, you will be competing with them to get the Buy Box. So if more sellers are selling the same product, Amazon will decide through an algorithm which seller is best suited to win the Buy Box.
When a customer clicks the Add to Cart button, the items of the seller who won the Buy Box will be added to the shopper's cart.
Can you buy products from other sellers that haven't won the Buy Box?
Of course, shoppers can choose not to buy from the seller in the Buy Box but to use another seller. There are multiple ways to do this.
For example, shoppers can click on the link to view all sellers for a product and can then select the merchant they want to buy from manually. However, the vast majority of people will simply click on the option in the Buy Box.
The Buy Box is displayed on individual product pages and is the quickest and easiest way for a customer to buy.
---
How does the Buy Box work?
Winning a Buy Box on Amazon is no easy task. It's not as simple as having the lowest price or the best seller performance. In fact, the algorithm that determines the Buy Box winner is a complex, data-driven system that takes into account numerous factors to provide the best value to customers.
Amazon's Buy Box algorithm is powered by machine learning and analyzes millions of data points to evaluate each seller's performance. It considers various layers of information, including the overall marketplace, current market conditions, and individual sellers. While price is an important factor, it's not the sole determinant of winning the Buy Box.
What we know for sure is:
The algorithm looks at multiple variables and assesses which seller offers the best overall value to customers based on various performance metrics.

The algorithm assigns different weights to each variable, which can vary depending on the product or category. For example, for time-sensitive products like birthday cards, shipping time may be given more weight, while for electronics, it may have less impact.
It's important for sellers to understand that the Buy Box algorithm is dynamic and can change based on various factors. A seller who may be losing to a competitor on one product may be winning on another unrelated product. Therefore, it's crucial for sellers to identify and focus on improving the variables that matter most to Amazon's algorithm.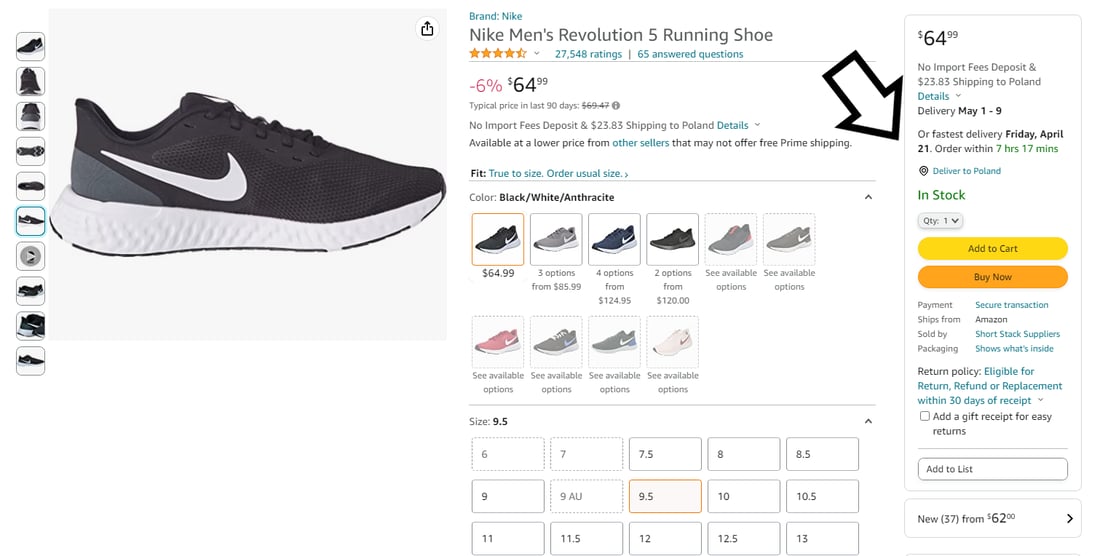 ---
How to get into Amazon Buy Box
Getting your listing into, or winning the Buy Box, involves understanding how Amazon's algorithm works. It looks at several factors to decide if a seller is eligible for the Buy Box.
For most products, there will be multiple eligible sellers. Amazon then further analyzes the eligible sellers to determine what share of the Buy Box each should get.
In other words, a single seller does not win the Buy Box every time. Instead, it gets a share of the Buy Box.
However, Amazon doesn't allocate the Buy Box share equally. Instead, sellers who are strongest, according to their criteria, get the highest share.
Therefore, as a seller, there are two steps you must take:
Become eligible for the Buy Box
Once eligible, optimize to get as much share as possible
Let's explore both steps in detail.
---
Becoming Eligible for Amazon Buy Box
Before you start competing for the Buy Box, you have to become Buy Box eligible. There are several requirements:
1. Professional Seller account (Pro-Merchant account in Europe)
You must have a Professional Seller account (a.k.a. Pro Merchant account) to be considered to win a Buy Box.
2. Order defect rate < 1%
The Order Defect Rate (ODR) is determined by analyzing customer feedback. It takes into account several areas: negative feedback, a successful A-to-Z claim and credit card chargeback. The combined occurrence of these defects should be less than 1%.
3. Pre-fulfilment cancel rate < 2,5%
To sell on Amazon, a seller's account should have a Cancellation Rate (CR) of less than 2.5%. Amazon keeps a close watch on seller-initiated order cancellations and may suspend accounts that have excessive cancellations.
4. Late Shipment rate < 4%
The Late Dispatch Rate (LDR) measures the percentage of orders for which the shipping confirmation was posted after the expected ship date. To avoid receiving a warning or suspension, your LDR should be kept below 4%.
5. Products: in stock, new and available
The products you sell must be in stock, they must be new and available for sale.
You can check if you are Buy Box eligible in Amazon Seller Central. For a detailed description of all the conditions and requirements of becoming Buy Box Eligible you can check your Buy Box Eligible Status or take a closer look at theSeller Performance Measurement.
Once you are eligible for the Buy Box, the situation becomes a competition between you and other eligible sellers. The only judge in this competition is the Amazon Buy Box algorithm.
---
Optimizing the Variables to Win Amazon Buy Box
Winning the Amazon Buy Box is a critical goal for sellers to increase sales on the platform. But cracking the Buy Box code is almost impossible because Amazon keeps adjusting the percentage and weight of the variables it takes into account when determining the winner.
To increase your chances of winning the Buy Box and gain an advantage in the competitive Amazon marketplace:
1. Believe you can win the Buy Box
Any eligible third-party seller can theoretically get into Buy Box, even if they compete with Amazon itself. So don't give up at the start, just get the necessary knowledge and gradually steer yourself towards the goal of winning the Buy Box.
2. Understand how it works
It's highly important to have an understanding, how Amazon uses an algorithm to decide which seller gets the Buy Box.
There is a misconception that price is the biggest factor in winning the Buy Box. This is incorrect because the seller with the cheapest price is not guaranteed to win. In fact, there are many other factors that influence the final outcome.
Competing purely on price also creates other problems, such as a race to the bottom between sellers. Nobody wins when that happens.
In general: gain a competitive edge on Amazon by understanding the key variables that impact the Buy Box.
3. Learn as much as you can about Buy Box variables
Familiarize yourself with the variables that influence the Buy Box algorithm, including pricing, fulfillment method, seller feedback, and more. Stay up-to-date with Amazon's policies and best practices, and continually monitor and optimize your performance metrics. Leveraging sponsored products, improving product detail pages, and utilizing Amazon's advertising tools can also be effective strategies.
4. Optimize the Buy Box variables that are under your control
The good news is that most variables are under your control and you should focus on getting them optimized: stellar feedback, shipping on time, responding quickly to customer inquiries, FBA, having a competitive price and always up-to-date inventory.
Discover strategies to optimize these variables and increase your chances of winning the Buy Box, boosting your sales and success on the platform.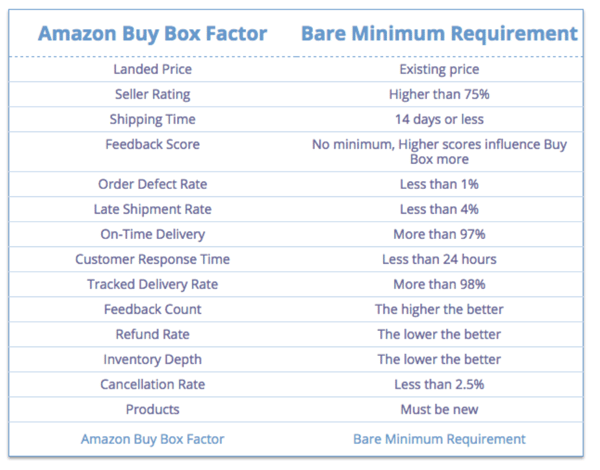 ---
Changes to the Buy Box for 2023
As of now, the rules for Buy Box 2023 are no different from those of previous years.
Amazon's net revenue has grown steadily over the last ten years, reaching more than $502 billion in 2022, of which more than $416 billion came from Buy Box sales.
What you need to pay attention to in 2023 are the general e-commerce trends, which is to take care of social proof: collecting good reviews and feedback as well as providing excellent customer service. At a time when competition is very strong, these aspects can be important and are taken into account by Amazon's algorithm.
---
Tips on how to win Amazon Buy Box
It's better to use Fulfillment by Amazon
This is a challenge for most merchants on Amazon, i.e. those who self-manage fulfillment. The Amazon algorithm gives an advantage to sellers who use Fulfillment by Amazon or Seller-Fulfilled Prime.
If you fulfill your own orders, you have two options:
→ The first is to focus your optimization efforts on the other variables in this list. You can still win a greater share of the Buy Box with this strategy.
→ The second is to explore becoming a Seller-Fulfilled Prime seller where you continue to fulfill orders but you do it according to Prime terms and conditions.
Aim for the competitive landed price
The Landed Price is the total price of a product once it has arrived at a buyer's door. It includes the ''Price'' at which you list your product on Amazon, but it also takes other elements into account, like shipping price, distance, shipping provider, product price, seller margins, and manufacturer.
It is important to state that the lowest price will not guarantee that you'll get the Buy Box, but it might even hurt you by being perceived as a cheap seller instead of a quality one. Having said that, it is important to stay competitive, but don't aim for the lowest price.
Still, if all the other variants are equal among sellers, a lower landed price will improve your Buy Box share. It may also help when you are not performing well with some of the other variables.
Pro-Tip: To stay profitable while also maximizing your Buy Box share, use a third-party repricing tool to automatically adjust your prices based on your competition. This will ensure your prices go up as well as down, depending on the market. There are repricing tools on the market specialized in winning the Amazon Buy Box, such as RepricerExpress, RepriceIt, and Appeagle.
In DataFeedWatch you can then merge the repricing feed with your product feed, creating rules to make the necessary adjustments.
Get your Perfect Order Percentage (POP) score
This is an Amazon metric that considers a number of factors relating to orders. This includes late shipments, cancellations, negative feedback, chargebacks, A-to-Z Guarantee claims, and buyer-initiated messages.
If you have a low POP score, you will struggle to win the Buy Box. In fact, even if you have a high score you still might not win if your competitors have a better score (assuming everything else is equal).
Pro-Tip: To give you an edge, you should consider using a third-party order management tool to ensure your order process runs as smoothly as possible. Then you stand a better chance to improve the POP score especially if you are selling your inventory in more than one place. You can synchronize all the orders that come from Amazon in one place and improve your fulfillment and shipping time.
Cut back on your Shipping Time
Shipping is considered by the Amazon algorithm in a number of ways, but the most important is promised shipment time, i.e. the shorter the time, the better.
Keep in mind Amazon's shipping time categories (0-2 days, 3-7 days, 8-13 days, and 14 or more days).
Moving to a better category is much more effective than making improvements within a category. For example, it will make a bigger impact moving from three to two days than moving from four to three days.
Other shipping factors that influence the Buy Box are late shipment rate, on-time delivery rates, and shipping cost (in relation to landed cost, i.e. cost of product + shipping).
Pro-Tip: Reduce your shipping time, ship quickly, and consider offering free shipping.
Feedback score - good feedback scores, particularly in the last 30 days, will help you win the Buy Box.
Minimize Order Defect Rate
The higher the rate, the worse your Buy Box performance will be. Amazon calculates the order defect rate based on negative feedback, A-to-Z guarantee claims, and chargebacks.
Customer response time - responding to messages quickly and making customers happy helps.
---
Calculate your Buy Box percentage
The Buy Box Percentage on Amazon is a seller metric that indicates how often your listed item's product page displays the Buy Box when buyers view it.
It is not a performance metric that can trigger a suspension on its own, as it does not carry significant weight with Amazon. It simply quantifies the popularity of a Featured Offer based on page views, but it is not directly tied to performance or account health.
According to information from Seller Forums, the Buy Box Percentage is calculated by dividing the number of times you owned the Buy Box when customers viewed the listing by the total number of page visits.
It applies only to active listings and may fluctuate during campaigns, as it is entirely dependent on Buy Box ownership. Amazon refers to it as Buy Box Wins and provides two separate values for it in Seller Central, one for the last 2 days and another for a 30-day period. The Buy Box Percentage for the last 2 days is accompanied by a trend arrow icon for easy reference.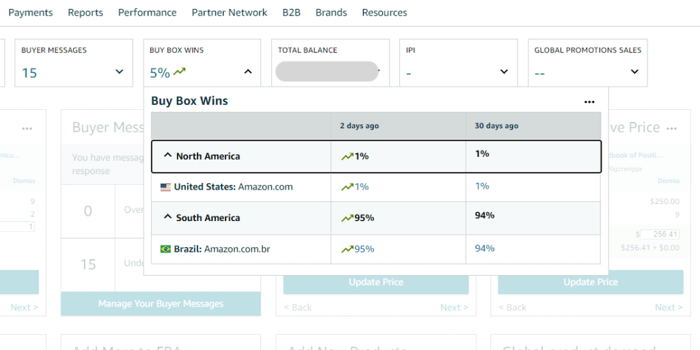 ---
Amazon Buy Box Mobile - increasing importance
Mobile devices have become the key driver in shopping. On mobile, the Buy Box takes on heightened importance.
That's because, unlike on a desktop or laptop, the mobile site features the Buy Box directly under the product image. On mobile devices, the winner takes it all. The "Buy Box" is critical because it is directly below the product image and price. To see anything else, the customer has to scroll down.
Most people don't scroll, so they won't see the other options or even know they exist. Even when they do scroll, all they will see is a link to all sellers as there is no option for pre-selected Other Sellers.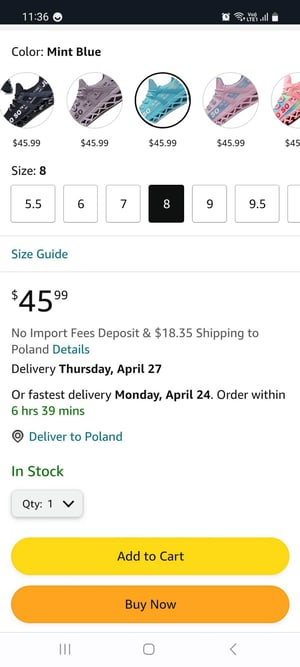 More people buy through the Buy Box on mobile than desktop. This will increase given that, since October 2016, there are now more mobile users on the internet than desktop users.
14 million people aged 25-34 access Amazon only on mobile.
To understand the importance of mobile further, consider how Amazon displays its products. On desktop devices, customers see the Buy Box, a list of Other Sellers, and a link to all sellers. The Buy Box has the most prominent position, but sales do leak to the other options.
---
Conclusion
Focusing on Amazon Buy Box will help you achieve more sales. However, you should do it intelligently so you don't hurt your profitability. Target your optimization efforts strategically and effectively, using automation and third-party tools where possible.
Don't try to beat or trick the algorithm by, for example, adopting an aggressive pricing strategy or artificially inflating your reviews. It sometimes results in short-term gains but the gains medium-term and long-term are non-existent. There is no one-trick to beating the Buy Box, but rather a complex web of metrics to be tracked and developed.
If you are looking to ramp-up the quality of your Amazon listings, then you might find our article How to List Your Products on Amazon useful.
Amazon is the place to be and maximize your returns - there's no doubt about that. Getting the most out of Amazon isn't easy-peasy, but when you know how to optimize the Buy Box, you can definitely increase your chances of selling more.
Other Amazon-related articles you may find useful:
---