Price Watch helps you gather relevant information about your competitors
ECommerce is not an easy industry. The competition is breathing down your neck all the time. But what if you knew what your competitors were up to, and you could use that knowledge to decide your next move? That would give you a huge advantage, especially when you have to make important pricing decisions. To take steps in the right direction, you should gather information such as:
What products are your competitors selling?
What prices are your competitors currently offering?
Do your competitors provide free shipping?
How many other competitors sell the same product as you? How many other offers are there?
Price Watch is the tool that allows you to get all the above information and more. At DataFeedWatch we have been working hard to improve it and offer our customers a fully developed product.
---
What you'll get from using Price Watch
You need to stay ahead of your competitors to be successful, and the key to achieving this is collecting data. It's now becoming more and more crucial to monitor what your competitors are up to.
It is quite certain that your competitors think the same way and that they are also keeping a close eye on you. In fact, many of them may already be undercutting you, especially on your best selling products. If your product prices are not matched, your competitors might come up with different strategies and tactics to steal sales from you.
Example: If your competitors see that your price for the same product they are selling is lower than theirs, they may try to beat you on this price and compensate for the loss with higher shipping rates.
Among the many benefits of monitoring your competitors with Price Watch, we have listed the most important ones below:
You get a complete overview of the industry you operate in.
You know what your position is in relation to your competitors.
You save a lot of time by not having to manually search for your competitors' activities. All relevant knowledge is handed to you on a silver platter.
You have all the data you need to support your decisions when creating and defining strategies.
When the strategy is implemented correctly, your ROI will increase.
You are able to find and view suggested prices for your products.
---


How does DataFeedWatch's Price Watch work?
Our latest solution - Price Watch - allows you to keep an eye on your competitors by giving you access to lots of relevant data about their activity. This knowledge will allow you to effectively improve your product pricing strategies.
Using Price Watch you can monitor the prices for as many products as you want and set up the desired number of updates per week. It all depends on how much you're willing to invest in the tool.
The technical basics of Price Watch
Price Watch is a service that searches for other online retailers that sell the same products you are at the same time. Thanks to our tool, you are able to get an overview of the products and metrics all together and clearly see your pricing position. This, in turn, allows you to compare your own offer to your competitor's offer.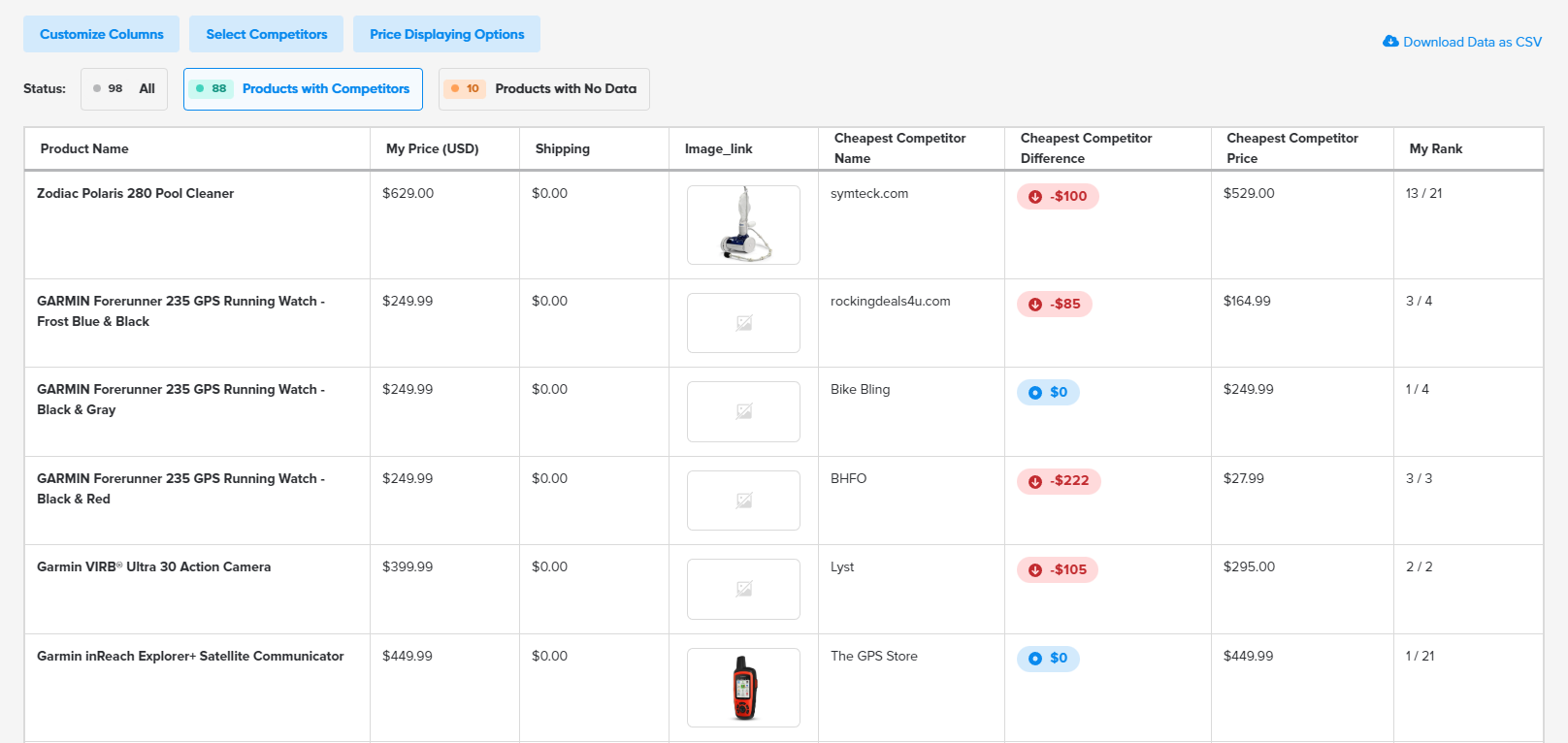 Price Watch takes the following steps:
1. The system identifies and matches your products.
It uses your product feed to do that. It matches your GTIN number with your competitor's GTIN for Google Shopping.
Matching the GTIN numbers seems to work much better than matching the product names. This is because this approach is completely error-free unless you or your competitor have the wrong GTIN number.
2. The system scraps the pricing data.
3. The data is downloaded and split into various metrics.
These metrics are:
Cheapest Competitor
Closest Cheaper Competitor
Competitor's and Closest Cheaper Competitor's Price
Price Difference (in percentage or numbers)

4. You get to see the data presented to you in a structured way.
Additional functionality - GTIN Validation
Using Price Watch gives you access to an additional feature - GTIN validation. This functionality allows you to check if you have the correct GTINs for the selected products.
How does it work?
When you select products during the Price Watch set up, we will check every one of them and let you know if there are any GTIN issues. We will also inform you about products in your feed with missing GTINs and missing price. For your Price Watch you can only select products with valid GTIN numbers and with an assigned price.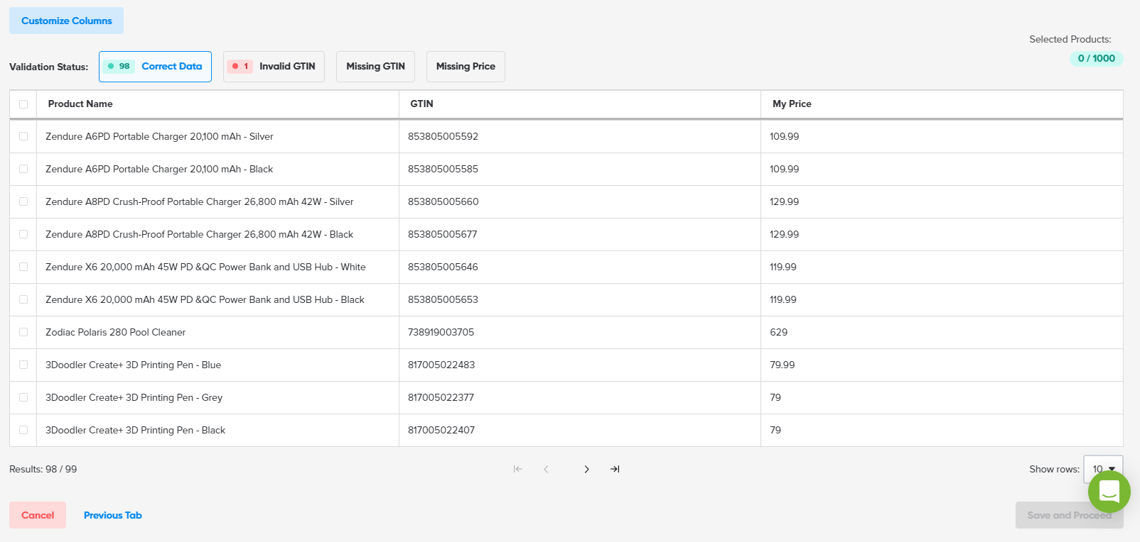 You can customize your columns to see the list of information that you want.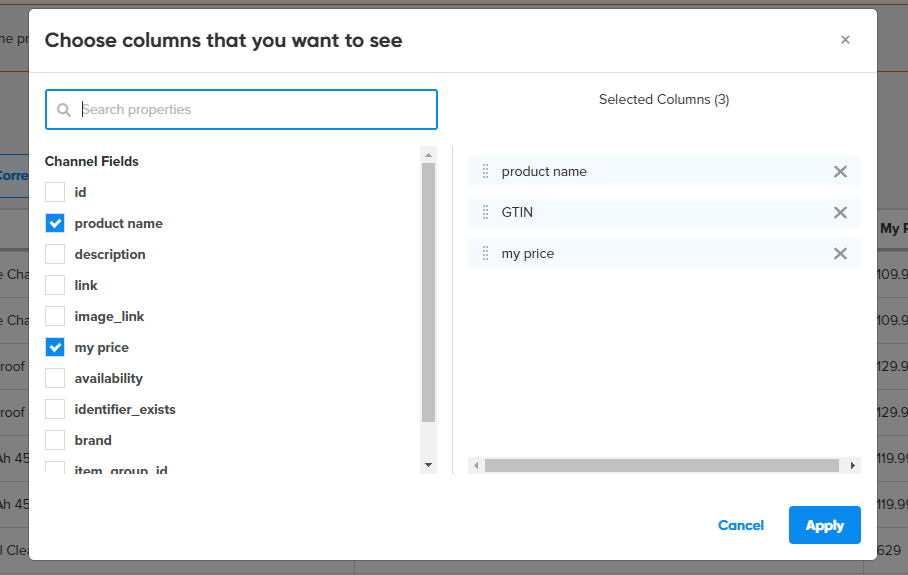 It is especially important to have correct GTINs assigned to your products because Price Watch uses GTINs in the process of finding specific products of your competitors on Google Shopping and matching them with your products.
You can check products with different or wrong GTINs by using our quick filters located in the status section. They will show you a list of all products with invalid GTINs. Once you are aware of missing or incorrect GTINs, you can add the correct ones directly to your feed.
In the example below, there is only one invalid GTIN. As you can see, you cannot select it for your Price Watch.

Focus on your key competitors
To make it even simpler, you can filter the data you get. Simply choose which competitors you want to sort the data by. This feature is particularly useful if you want to keep track of a very specific retailer or shop.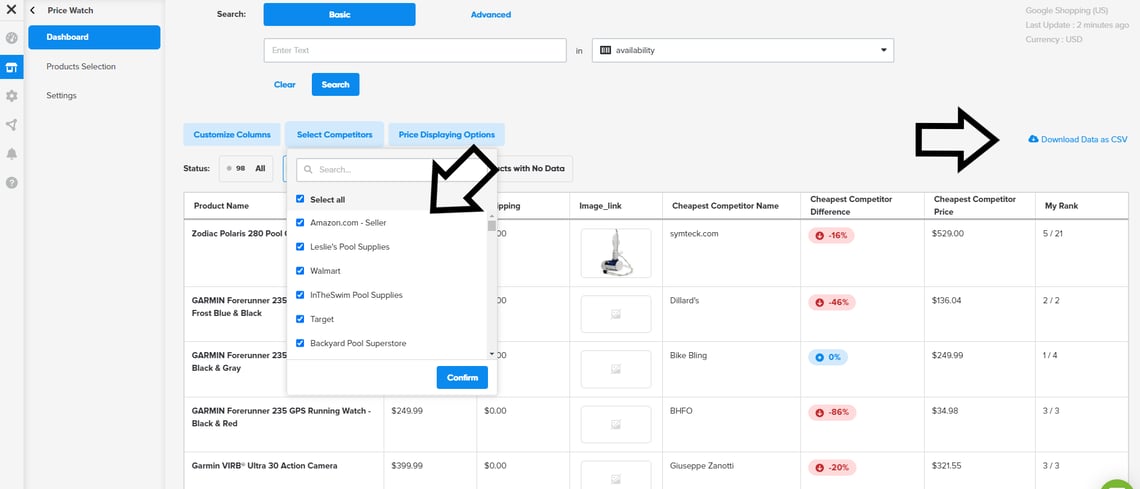 Besides, you've got two options to view the data: you can either view this data online, or you can download it in the form of a CSV file and take it with you.
You can also include all of your products in your dashboard or just a group of them by creating an advanced rule. In this example, the dashboard will show you data for all of your products which include "Coffee machine" in their titles.

Price comparison details at a glance
Our main goal with Price Watch is to provide DataFeedWatch users with as much relevant information about their competition as possible. However, we realize that the more data you get, the more overwhelming and confusing it sometimes becomes. That's exactly why we decided to add a special pop-up to make the way of viewing data more coherent. Simply click on a specific metric, and you'll get to see price comparison details of all your competitors in one place.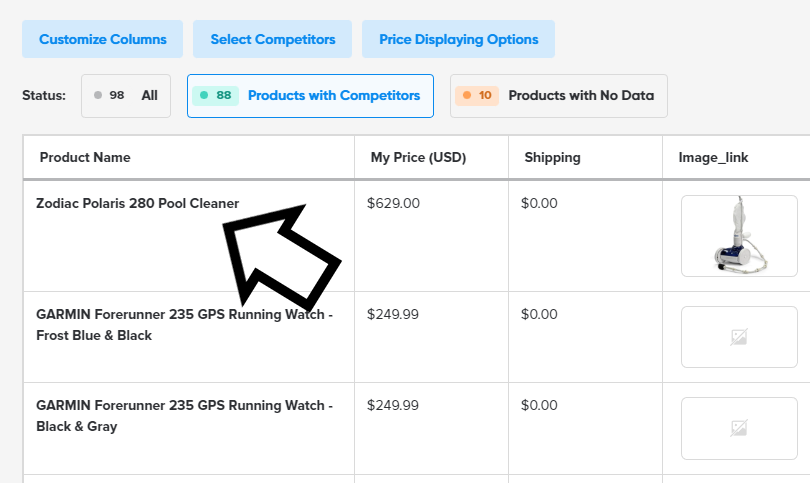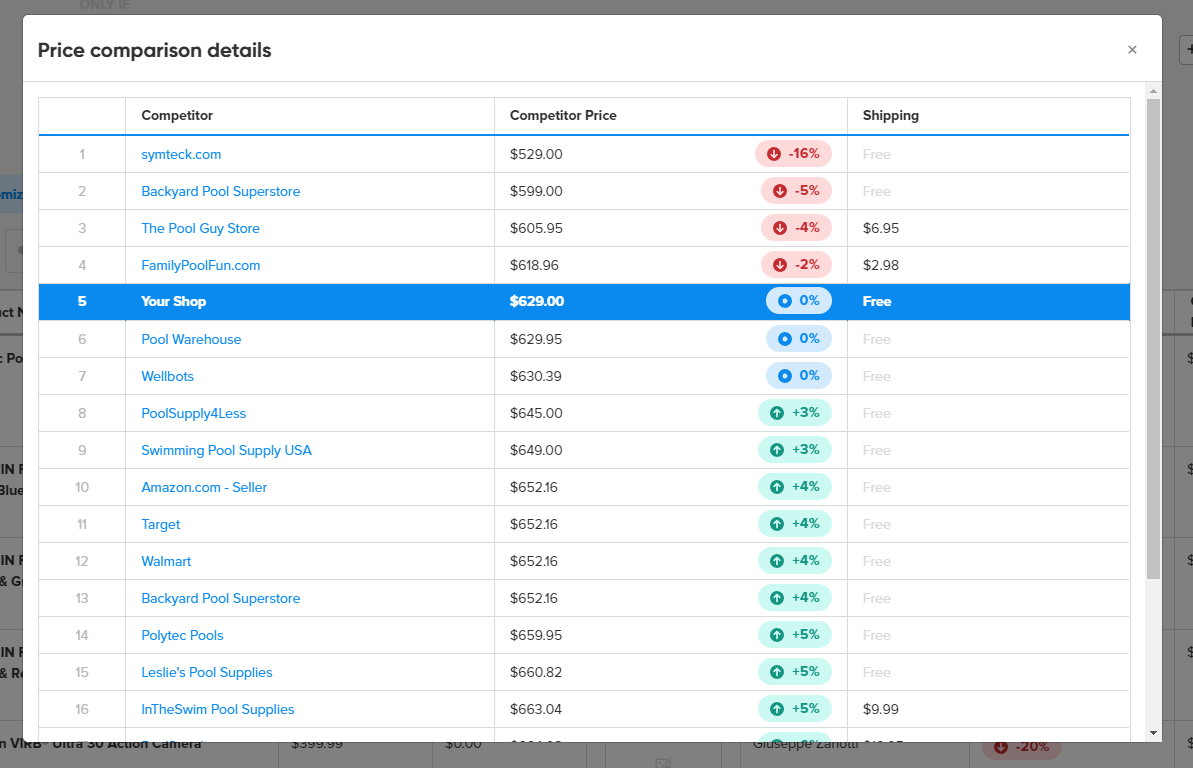 By clicking on the specific competitor, you can go directly to their website and check their product offer in detail.

---
Start with Price Watch
Our previous versions of Price Watch were very popular among DataFeedWatch customers. Since then, we have improved and fine-tuned the tool, taking into account all comments and suggestions to prepare this final version.
To access Price Watch, simply follow these steps:
1. Log into your DataFeedWatch account.
2. Click on 'Price Watch' on the left panel.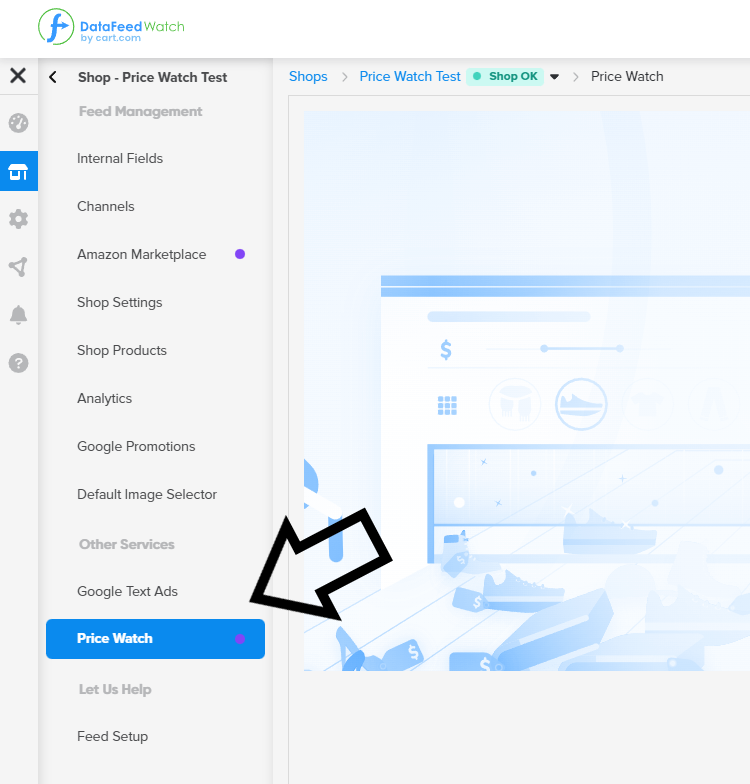 3. Follow the system's instructions from there.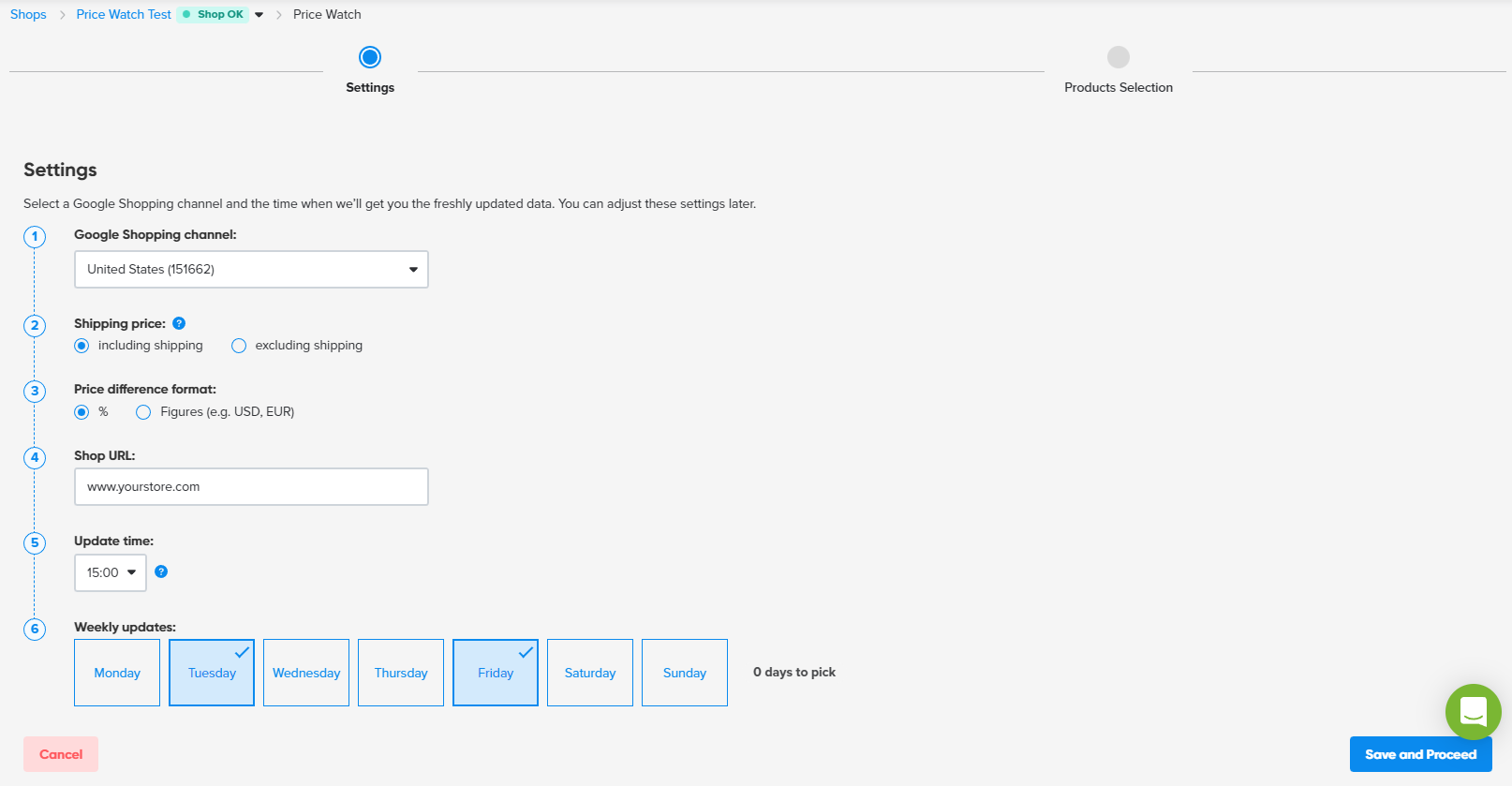 The price for Price Watch starts from as low as $19,99. To learn more about the pricing, visit our Help Page.
Where is PriceWatch available?
You can monitor your Google Shopping competitors in the following countries:
| | |
| --- | --- |
| Region | Countries |
| Africa | South Africa (za) |
| North & South America | Brazil (br), Canada (ca), Mexico (mx), and United States (us) |
| Asia | Hong Kong (hk), India (in), Japan (jp), Korea (Republic of) (kr), Singapore (sg), Turkey (tr), and United Arab Emirates (ae) |
| Europe | Austria (at), Belgium (be), Czech Republic (cz), Denmark (dk), Finland (fi), France (fr), Germany (de), Greece (gr), Hungary (hu), Ireland (ie), Italy (it), Netherlands (nl), Norway (no), Poland (pl), Portugal (pt), Romania (ro), Russian Federation (ru), Spain (es), Sweden (se), Switzerland (ch) and United Kingdom (gb) |
| Oceania | Australia (au), New Zealand (nz) |
---
Summary
We operate in an industry that is data-driven and can change very quickly. The data you get from Price Watch can help you make informed and, above all, correct business decisions regarding product pricing. You will be able to achieve and maintain a good market position among your competitors. We encourage you to try out Price Watch and see for yourself.'
Need help to get started or want to learn more about the pricing or Price Watch pricing? Drop us a line! We'll be more than happy to dispel your doubts.
---