What Are Callout Extensions (Assets)?
Callout assets are small snippets of text that feature alongside your text ads. A minimum of 2 and a maximum of 10 callouts can show at a given time, depending on the character spacing, browser and the device that you're using. Google will decide when to show them, what callouts to serve and how many.
Google has the power in terms of callout delivery and how they're rotated, however, it's down to the advertiser to build powerful callouts that are going to improve the impact of ads.
Here's an example of callouts in action, highlighting that Graham & Green is an independent, family-run business that has longevity and offers free delivery: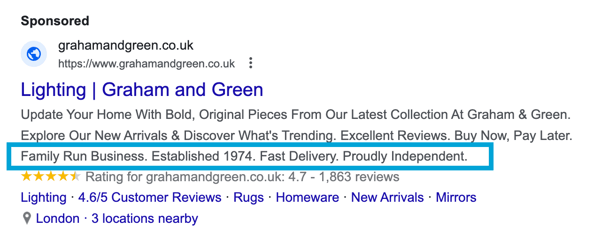 Each callout can be up to 25 characters in length and there's no limit to how many you can add to ad groups, campaigns or the account. They can be added at these different Google Ads levels and there's no right or wrong way of using them, it just depends on what makes sense for you.
For example, if a callout is relevant to all campaigns, then it makes sense to add it at the account level. If your callouts can be tailored to campaigns or ad groups based on the theme, product or service that's being promoted in a given campaign or ad group, then add them at the campaign or ad group level.
Are Callout Extensions The Same As Sitelinks?
They look similar to site links, only without the link. They also look similar to structured snippet assets, except that they can be slightly longer and they don't have to be categorized in the same way structured snippets do. It's best practice to use all of these Google Ads assets wherever possible as they all serve a slightly different purpose.
The following screenshot shows all of these Google Ads assets in play and it's clear how they differ from each other. The callouts are USP-focused and in this example, the structured snippets are promoting store locations, while the sitelinks are providing useful landing pages that might be of interest to the searcher.

---
5 Benefits To Using Callout Extensions - Here's Why They're Important
You might be wondering what adding callouts to your Google search ads enables you to do? Or why exactly are they important?
Here's a rundown of 5 key benefits to using callout assets in Google Ads:
1. Callouts Highlight Key Features
Firstly, what callouts enable advertisers to do is highlight key features and USPs surrounding their brand, products or services. They provide the space to add additional information in a format that's short and punchy, making them both informative and useful from a user perspective.
They also increase the size of an ad, meaning the ad takes up more space in the SERPs, which in itself is a really key benefit because it helps your ad to stand out by taking up more screen space.
2. Positive Impact on CTR
Callouts can have a really strong impact on CTR, largely due to the reasons mentioned above. Making USPs and key features more prominent, along with increasing the size of your ad, has been proven to entice clicks and have a positive impact on CTR. This is one of the main reasons why callouts can help drive an increase in clicks.
3. Improve Ad Relevance
Another benefit to using Google Ads callouts is the impact they can have on ad relevance. Ad relevance measures how closely an ad matches the intent behind a user's search, so by including callouts that are relevant, and making sure the callouts complement the keyword, ad relevance can improve.
4. Callouts Can Improve Quality Score
This leads onto quality score, which is an important metric that lets advertisers know how well their ads are performing relative to competitors. It's measured from 1 to 10 with 10 being the highest, and a good quality score is linked to lower CPCs and better ad delivery.
Ad relevance is one of the 3 components that make up the quality score, along with expected CTR and landing page experience. Therefore, by including callouts that improve CTR and ad relevance, there are benefits to be had from a quality score perspective.
5. Callouts are Flexible and Adaptable
Last but not least, callouts are both flexible and adaptable, making them a perfect addition to ads for all advertisers. They can be adapted for specific types of businesses, products and services and easily tailored as required.
They are also flexible when it comes to ad scheduling, with the ability to add a day of the week and time of day schedule to callouts. A few ways this makes them handy could be to ensure callouts align with store opening times or promotions that happen on specific days of the week.
Knowing the benefits of callout assets makes it easy to understand why they are such an important addition to your Google Ads account.
---
Google Ads Callout Extensions Best Practices (With Real Examples)
We know the benefits of using callouts are plentiful, so let's look at some actual examples of callout extensions alongside best practices. Follow these best practices to make the most of this valuable tool, helping you to drive as much traffic and conversions as possible.

1. Use Callouts to Highlight USPs
One of the benefits of using callouts is their ability to highlight key features, and that's exactly what this best practice is about. Use callouts to promote unique selling points (USPs) that improve the attractiveness of your entire offering, helping it to stand out from competitors and enticing users to click.
This best practice applies to both B2C and B2B advertisers as well as to lead generation and e-commerce businesses - in fact, all of these best practices do. It's about leveraging callouts to highlight USPs in a way that makes sense for your business.
💡Tip: Here are some examples of callout extensions that solely focus on highlighting USPs, broken out with examples that could be relevant to both B2B and B2C advertisers: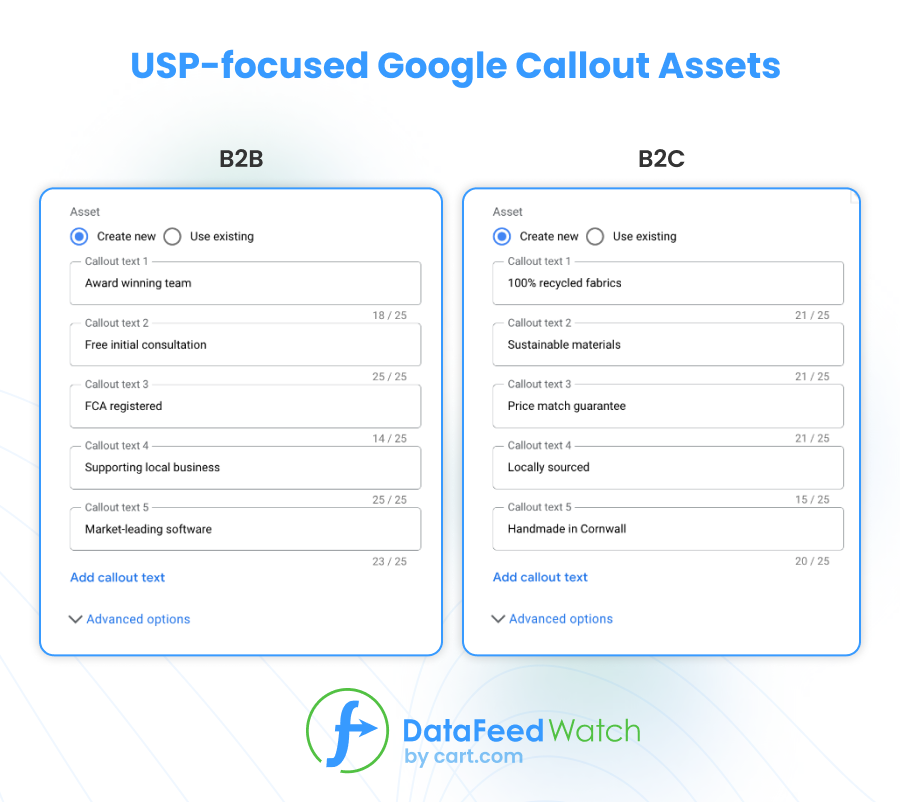 2. Focus Callouts on Customer Value
As well as making sure the key USPs of your product or service are being used in callouts, another best practice is to focus on adding value for your customers. USPs can add value in that they set an ad apart from competitor ads and provide a user with information that resonates with them.
💡Tip: Think about your audience's desires, what their needs are and what they find valuable and use that to your advantage with callouts. For example, '100% recycled fabrics' could add value if your customers are mindful of recycling and environmental impact, and if it's something that sets you apart from competitors.
Other ways to add value could be around the practical aspects of the business, such as delivery, returns, samples, demos, things that are free, and ways to add monetary value, such as sales and promotions. These can be standard things that users expect in your industry, or they can overlap as USPs as well.
Here are some examples of callouts that are focused on adding value for customers:
| | | |
| --- | --- | --- |
| Sale / added value | Shipping and returns | Extra service |
| 10% Off First Order | Free & Fast Shipping | Order Free Sample |
| 20% Sale Ends Soon | No Quibble Returns | Book A Free Demo |
| Free Gift With Every Order | Money-Back Guarantee | Free Consultation |
3. Make Your Callouts Concise and Punchy
The second best practice to keep in mind when developing callouts is to ensure they are short, concise and punchy. There are only 25 characters to play with so they are naturally going to be short, but aim to keep them as short as possible. If your callouts can be reworded so that they have fewer characters, but still convey the same message, then it's worth it.
💡Tip: The main reason for keeping callout assets concise and to the point is so that each callout takes up as little space as possible, which will allow Google to show more callouts in an ad. The more callouts that are delivered equals a greater number of USPs being highlighted.
Another reason for keeping them punchy is so they are more prominent and easy for the user to read and take in. This is especially true for mobile devices where screens are smaller.
To illustrate how to do this, here are some valuable callouts in the Original column, that have then been shortened to make them more concise in the Shorter column, without taking away from the message: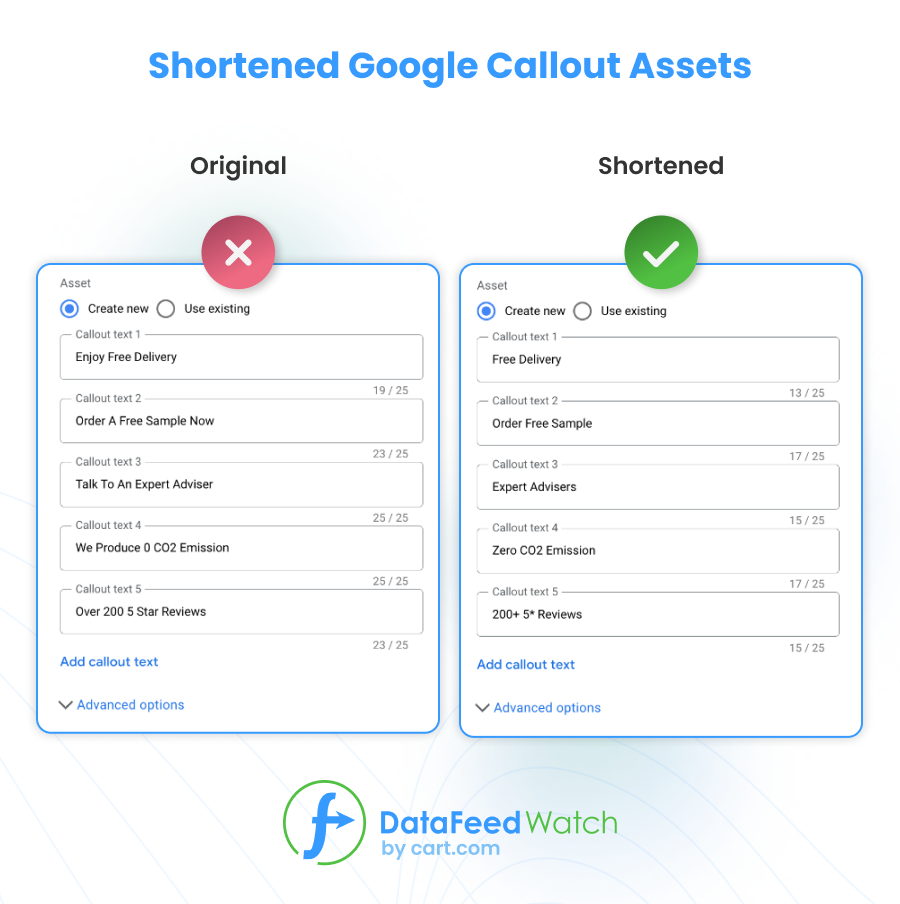 4. Align Callouts With Ad Copy and the Landing Page
It's important for callouts to align with the rest of the ad and assets, and with the landing page being used. Think about the ad and landing page as a whole and design callouts that complement everything else.
In the Loaf example below, the callout 'Order Free Swatches' doesn't align with the ad and the search for 'ceramic coffee cups', nor does it align with the landing page which is focused on ceramic mugs. Fabric swatches relate to a different product altogether, presumably furniture. However 'No Quibble Returns' and 'Hassle-Free Delivery' are relevant to the search and therefore align.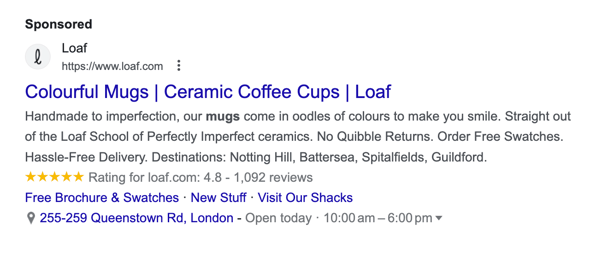 Instead of 'Order Free Swatches', a callout relating to ceramics or coffee cups, or something more general that relates to all products, would align better.
💡Tip: To ensure callouts align with ad copy and landing pages, add them at the ad group level if there are different types of products in play in different ad groups. That way, callouts can be ceramic cups focused in ad groups that relate to ceramics, and furniture focused in ad groups that relate to furniture.
When there are thousands of products on offer, like there probably are for Loaf, this can become quite complex, however getting it right will make a difference to ad relevance and user experience.
5. Test Multiple Callouts
Callout best practice number four is to test multiple callouts at the same time. You are able to add as many callouts as you like and I would recommend adding a minimum of 4, but I would always suggest aiming for 10+ callouts if possible.
💡Tip: Google will rotate the delivery of your callouts and over time, prioritize the top-performing callouts. By providing your ad groups and campaigns with more, you'll be in for better chances of benefitting from machine learning and generating better results. This will also enhance callout data that can be used later for asset optimization.

For example, let's say you've included 10 callouts and after a month of delivery, there are 4 clear winners with a higher CTR than all of the others. Look at how these top performers differ from the rest, try to get insight and understanding into them and then develop new callouts that are along similar lines. Pause the poor-performing callouts to streamline them and ensure the best ones get the most visibility.
6. Analyze The Effectiveness of Callout Assets
Last but not least, regularly analyze the performance of your callouts. This best practice is a continuation of the above and highlights why testing multiple callouts is really important. However, the next part of that is to continually analyze and optimize them.
💡Tip: The most important metrics to keep an eye on will differ for each business depending on your goals, but as a general rule, CTR, conv. rate, cost / conv. and ROAS will be the most important metrics to focus on. And while Google takes care of what callouts to show and when, advertisers benefit from seeing the performance of each individual callout.
Navigate to the 'Assets' section in your Google Ads account, under 'Ads and Assets', and then select the asset you would like to analyze. In this case, select 'Callouts'.

Make sure you've selected the right date range, updated your columns with the metrics you would like to analyze and then review the performance of each callout:

And that's all there is to it. Regularly analyzing the performance of your callout assets, updating them and keeping them fresh will help improve their effectiveness and drive better results.
---
How To Setup Callout Assets in Google Ads
We've looked at the benefits of callouts, the best practices for writing and setting up callouts and some examples of good callouts. Now let's walk through the steps involved in setting up callouts in Google Ads.
Firstly, I like to create my callouts in a spreadsheet so that I can see how various combinations work together, customize them for ad groups and campaigns, as well as easily keep track of the character count:

When you're happy with your callouts and ready to add them in your account, in Google Ads, navigate to the 'Assets' section and choose 'Callouts' from the selection of Google Ads assets. Then click on the blue plus icon to add new callouts:
Select whether you would like to add your callouts to the account, campaign or ad group level and add in the callout text one by one.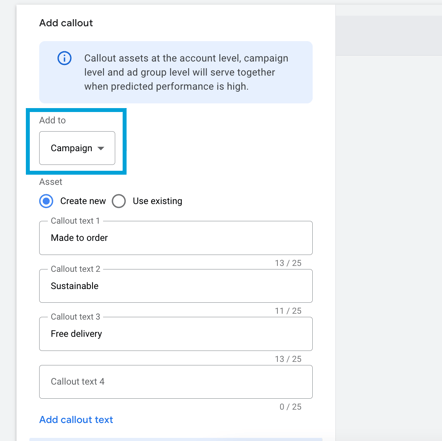 Finally, expand the advanced settings if you would like to set a start and end date to your callouts or if you would like to add an ad schedule, then hit save. If these things don't apply to you, ignore this and just hit save.
For those who are familiar with Google Ads Editor, an offline tool that allows you to make changes to your Google Ads account in bulk, adding callouts is even easier.
In the Asset Library navigate to 'Callouts', add your callouts individually or in bulk and then amend the start date, end date and ad schedule as required, and associate them to the relevant account, campaign or ad group.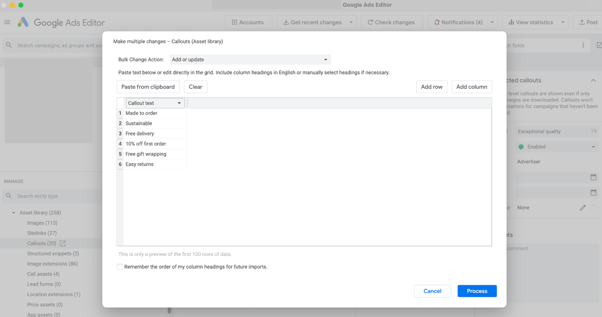 Don't forget to 'Get recent changes' before you begin and then 'Post' your changes once you've finished building them.
How to automate callout extensions set up?
Consider using the tool Feed-Driven Text Ads to automate the process of setting up callout extensions in your Google Ads account. The tool allows you to automatically create and optimize ad copy for thousands of products based on the keywords included in your product feed. It's easy to use and will save you a lot of time in manually setting them up.
Not only that, in various case studies where businesses have adopted Feed-Driven Text Ads, there has been a clear uplift in performance. In one case study, by making ads more unique to each individual user and the product they were searching for, there was a 109.43% increase in conversion rate.
---
A Practical Callout Checklist To Get Started
Before you get started with creating callouts, there are a number of questions that you should ask yourself. Shape your callouts around the following questions to ensure they will be as effective as possible:
What is the objective of the campaign? Understand the objective and then shape callouts so they help achieve the campaign goals.
What do the keywords within the ad group/campaign relate to? This is about making sure callouts are relevant and align with your keywords and what your customers are searching for.
How can callouts complement ad copy? Look at the bigger picture and review ad copy and callouts, along with all other ad assets that are being used, in a holistic way.
Are the callouts relevant to the user's search query? If a user searches for a specific product or service, make sure the callouts are related to this, or ensure they don't reference different products or services.
Do the callouts add value for the searcher? Callouts are all about promoting USPs, adding value and complementing ad copy. If they don't add value, perhaps they shouldn't be included.
How are competitors using callouts? It's good practice to be aware of what competitors are doing and use this to enhance your callout strategy.
---
Troubleshooting Tips – Why Callout Assets Get Disapproved
Finally, things aren't always smooth sailing in Google Ads (actually, in most ad platforms) and there are a number of rules that need to be followed.
So here are some callout troubleshooting tips. Follow these to prevent your callouts from being disapproved or if they've already been disapproved, perhaps one of the below could be the reason why.
Include more than one callout - there needs to be a minimum of two callouts added in order for Google to serve them.
There's no minimum character length but there is a maximum. Callouts can't exceed 25 characters.
You cannot use dynamic keyword insertion, something that's designed for ad headlines and descriptions, in your callouts.
Symbols and special characters will likely get disapproved. It is fine to use currency symbols and percentages.
You cannot repeat callouts or have duplicated callouts in the same ad group or campaign. Each callout needs to be unique.
Don't use ALL CAPS as this will result in disapproval. Title or Sentence case is the way to go.
The same rules apply to callouts as they do for headline and description ad copy, in that explicit and inappropriate text will be disapproved.
---
Conclusion
So there we have it, a comprehensive guide to Google Ads callout assets, formerly callout extensions, and how to use callout assets to your advantage. Follow the best practices laid out in this article and you will be sure to make the most of this versatile asset and benefit from driving more clicks and conversions from your ad spend.
Callout extensions are a great addition to responsive search ads and they can be used to a/b test responsive search ads to increase conversions. Discover 7 ways to a/b test responsive search ads with the use of ad extensions in a/b testing at number 6 on the list.