The reason behind creating custom data feeds
If you choose to create a custom feed in DataFeedWatch, you can do it in one of the 5 available feed formats (CSV, XML, RSS, TXT, JSON). You can also choose the exact product information that will go into the feed, and name the attributes and the feed itself.
There are quite a few cases where you as an online retailer or marketer will want to use custom data feeds:
When you want to send your product feed to a partner site or a distributor.
When you want to create a data feed for a niche channel, or simply a channel that doesn't have a preloaded feed template available.
When you want to upload products to your own store - you can optimize the (e.g.) CSV-file first or make sure it meets all the field requirements of your shopping cart.
When you want to create a feed for product recommendation engines to run on your webshop.
When you have several teams in your organization working with product data in their own way and you need to adjust the product data format before sending it from one team to another.


---
Step by step guide - custom feeds
Follow the steps below to create a custom feed successfully in DataFeedWatch. We've described everything in detail.
1. Log in to your
DataFeedWatch account
, choose your shop and click add channel.

Adding a new channel feed | DataFeedWatch
2. Then choose the country of sale and click on "create a custom channel".

Creating a custom channel | DataFeedWatch
3. Select the desired format for the output feed. It can be:
CSV,
XML,
RSS,
TXT
or JSON

Then name your custom channel whatever you like. In this example the custom channel is called simply "My Custom Channel".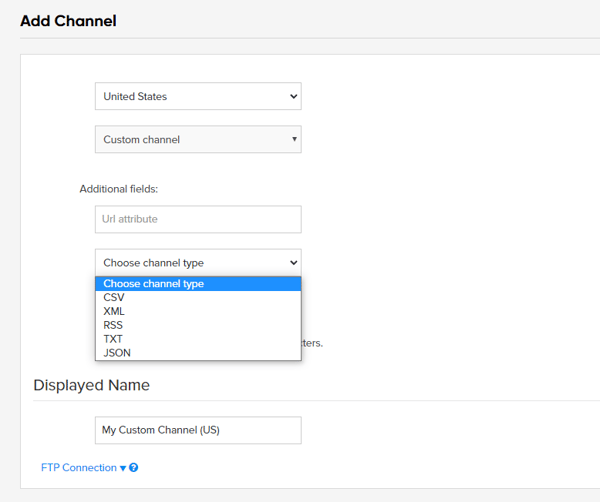 Choosing channel type | DataFeedWatch
4. Depending on the file format selected, you may be asked to add some additional information.
For example, when you choose a CSV file, the system will generate fields to choose a separator (comma, semicolon, tab, vertical bar) and a quote character (quotation mark, apostrophe, vertical bar, none).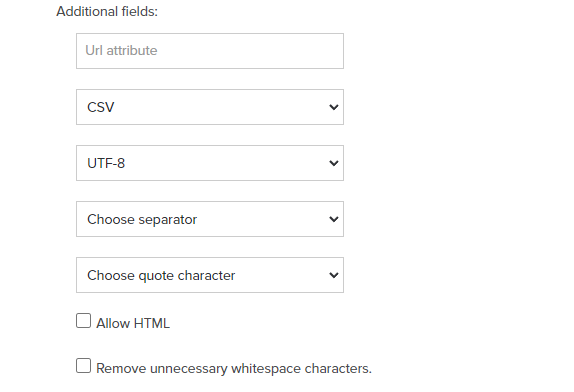 Configuring custom channel settings | DataFeedWatch
5. Click on the blue button that says "Add Custom Field" in the on the left side.

Adding custom fields | DataFeedWatch
6. Blank fields will appear. First you need to enter a name for this particular custom field, and you can choose any name you like.
The next step is to map it. You can choose all the functionalities that DataFeedWatch offers (rename, add static value, combine, use lookup table, extract from, leave blank) - just like in any other channel.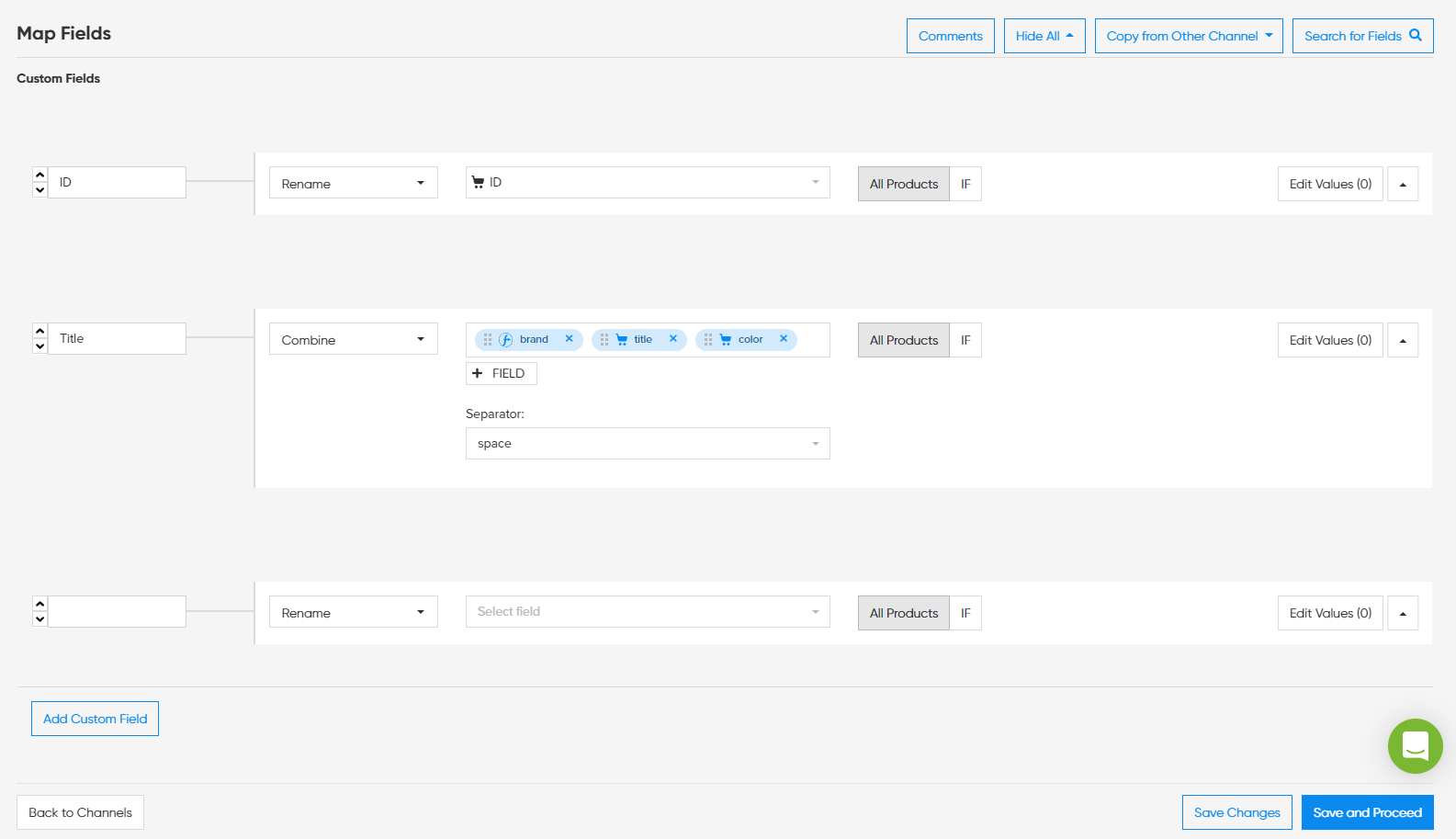 Adding custom fields | DataFeedWatch
7. Repeat all these steps to add as many fields as you need.
Of course, you can also exclude products from your custom feed. You will find this functionality as usual in the Include/Exclude field next to the Map Fields tab.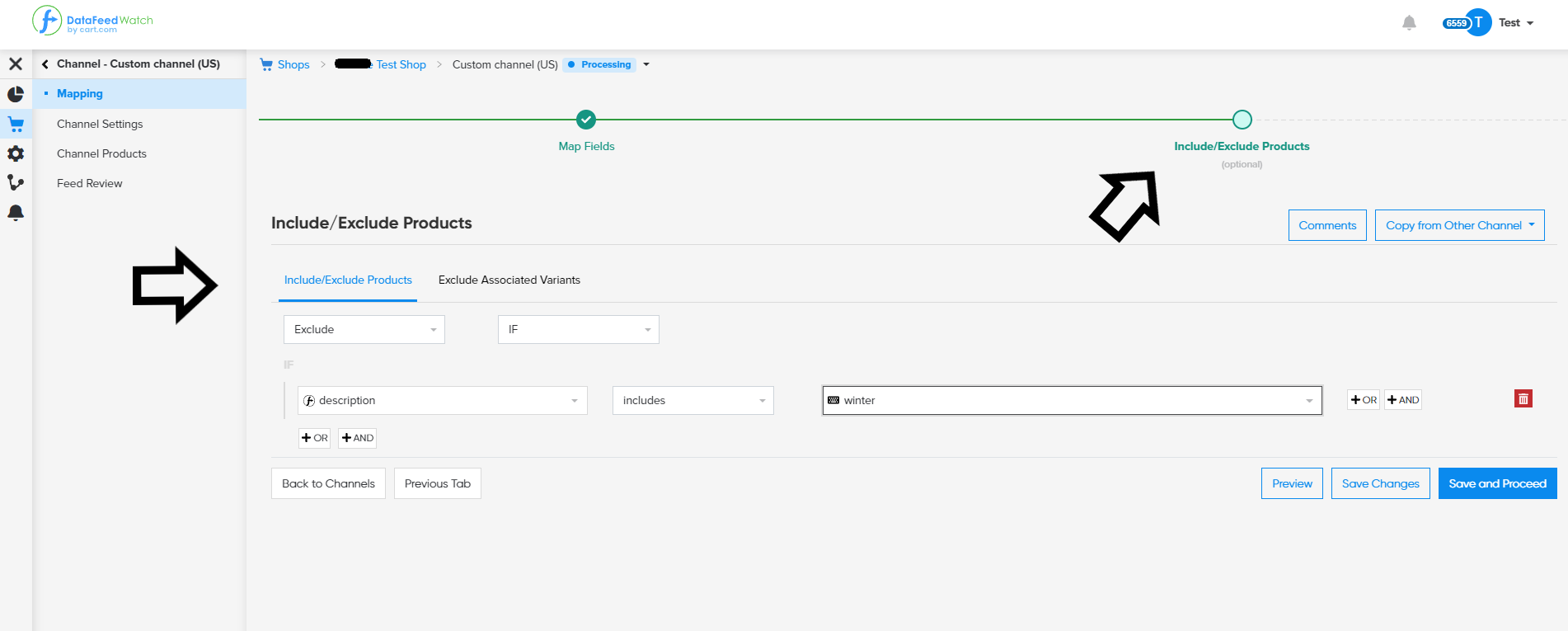 Excluding products in custom feeds | DataFeedWatch
8. Once your custom feed is ready, simply click "Save and Proceed". Now you can copy your custom feed URL and use it for any purpose you wish: send it to a partner site, a distributor, a niche channel, a product recommendation engine and more.

Copying your custom feed URL | DataFeedWatch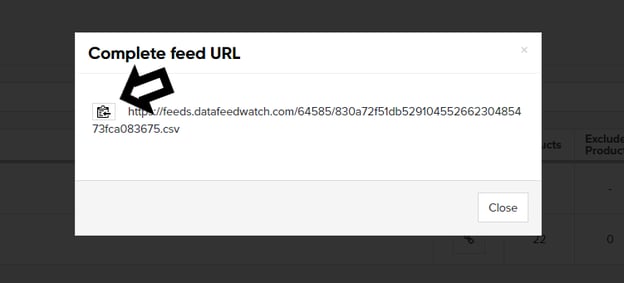 Copying your custom feed URL | DataFeedWatch
---
Summary
As you can learn from this short guide, it is quite easy to create custom feeds in DataFeedWatch. You just need to have a vision for your feed: what you will use it for, which fields it will include and how to name them, etc. If you run into any questions our support team is always around via email, live chat or a call.
---