The summer is in full swing and lots of online retailers are competing to win as many customers as they can. Summer products are clearly top sellers at this time of year, but with this high number of advertisers it is often difficult to break through. Consumers have a huge selection of summer items online from which to choose: clothing and accessories, beauty products, sports equipment and much more. Many of these products are sold by many different online stores. And what can you do to make your summer product ads stand out?
Start by optimizing your data feed.
In this article, we'll show you 9 hacks for improving your product data and make your summer PPC campaigns more successful! We focus on Google Shopping, but many of our feed tricks can be used on other channels as well.
1. Optimize your titles with summer-related keywords
The title is one of the most important parts of any online ad. Right after the image, it is the element that users pay the most attention to when a product ad is displayed in front of them. It should be filled with relevant terms and inform consumers whether the featured product is exactly what they are looking for.
Google allows you to add between 1 and 150 characters in the product title. Despite the fact that Google only shows up to 70 characters in a Shopping ad, we encourage you to use all the space available. The part of the title that won't be visible can still help the ad appear to the right audience. Simply put the most relevant information first and the rest second.
June, July and August are the months when consumers buy many summer or holiday-related products. It may therefore be worth trying to boost your titles with summer-related keywords.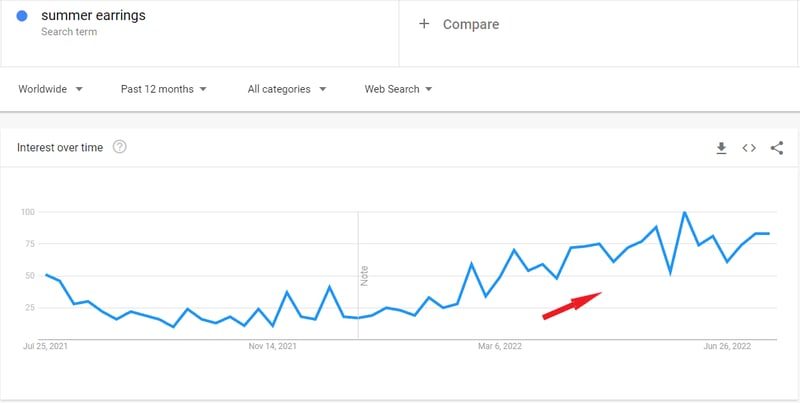 Summer-related keywords trending
Users often search for products using keywords such as "summer clothes", "holiday dress" or "summer jewellery". If you include these kinds of keywords in your titles, your ads are more likely to reach the right audience looking for summer products.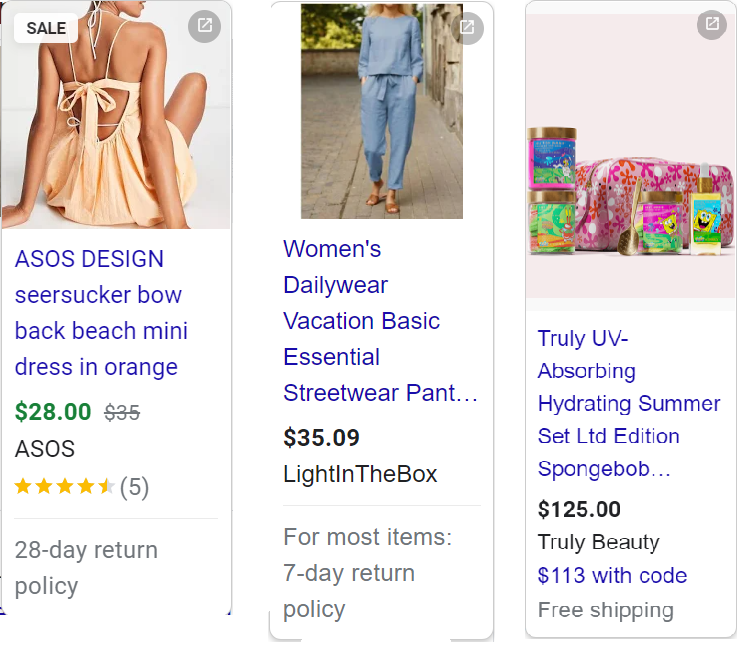 Summer Shopping ads | DataFeedWatch
Of course, a phrase like "summer dress" isn't good enough for a catchy title. You should combine your main titles with other relevant attributes you have in your product feed, such as color, size or brand (if widely known). Users often search for very specific summer items, for example in blue only. With DataFeedWatch, you can easily create perfect product titles for your summer-related products using "combine" functionality as below:

Optimizing summer google shopping titles | DataFeedWatch
There are some recommended title structures depending on an industry. To learn more about how to fine-tune your product titles, read our article dedicated to this topic.
---
2. Segment your products according to seasonality
You probably advertise and sell your products all year round. In your catalog, there are both winter and summer products. Spending your ad budget on ice skates in the middle of July makes no sense and would be a waste of money.
Seasonal products are not just about clothing and sports equipment, as you might think. For instance, if you sell vitamins like vitamin D, you may notice a trend towards it becoming a much more popular product in the colder months. In this case, you might consider making your vitamin D offers less competitive in the summer and more competitive in the winter. This is just one example of a product that sells differently depending on the time of year. We're sure you have more of this kind of product in your product feed.
If you sell lots of seasonal products like this, you will need to segment them so that your ads don't get unnecessary clicks that lead to no sales. When you do this, you will easily be able to exclude winter products from your feed in the summer and summer-related products in the winter. This is possible at product-group level both in Google Ads, Facebook or other social media platforms. By segmenting your products, you can also simply lower your budget on the out-of-season items when you know that they won't be a big seller for you this time of the year.
In DataFeedWatch, you can create custom labels to segment products in your feed exactly the way you want. Below you can see an example of segmenting products into products related to the summer season.

Segmenting products according to seasonality | DataFeedWatch
And here's an example of how to create a custom label with winter items so you can later exclude it at the product-group level in Google Ads.

Segmenting products according to seasonality | DataFeedWatch
---
3. Exclude winter products from your feed
Advertising winter products in summer is not a good investment. In summer months you can better use this ad budget to bid more aggressively on your summer-related items, because that's where you get a bigger chance of succeeding. It's necessary to filter out out-of-season products if you want to spend your advertising money more efficiently and keep your conversion rate high.
This is where the exclusion rules come in handy. With a few clicks, you can exclude some products from your product feed and not worry about paying for completely irrelevant clicks.
One way to exclude products with DataFeedWatch is to do it using:
Product titles
Descriptions
Collection

Excluding seasonal products from your feed | DataFeedWatch
With this approach, you might consider specifying keywords a bit more. This way you avoid excluding products that are not clearly your top sellers in summer, but might still be interesting products to buy for some customers. For example, some shoppers buy warm sleeping bags in summer because of the trip to the high mountains.
Moreover, you can assign a time window during which the products should be excluded. Once this period is over, all your products will again be included in your campaign.

Excluding seasonal products within a specified period of time | DataFeedWatch
There's also another way of excluding products from your Shopping campaign. If you have segmented the products in your product feed by season using a custom label, you can exclude the entire group of products that have been assigned that particular label. You can do it at the product-group level in Google Ads.
---
4. Assign GTIN to your summer items whenever possible
Summer is the time of the year when people do a lot of shopping to prepare for holidays. Online retailers know that and offer lots of summer-related products. In order to make your products more visible among so many similar ones, you need to make an extra effort when optimizing your campaign. One way to boost your ads on Google Shopping is to make sure that your products have been assigned the correct GTIN numbers.
GTIN, short for Global Trade Item Number, is a quite significant part of the feed optimization process. It is a number that is unique to a product but depending on a region or type it can appear in several different forms. Anyway, it is ideal for identifying products. You can usually get valid GTINs directly from the manufacturer.
Having correct GTINs assigned to your product gives you quite a few benefits.
Firstly, you know that your product information is correct and it won't conflict with your competitor's information.
It also keeps counterfeit items out of the market, so you don't have to worry that your competitors sell fake products at lower prices.
Items with correct identifiers receive a higher priority than those without. You can notice an increased impressions and conversions of the product with assigned GTINs. All because searches are more accurate when you advertise products with GTINs.
GTINs also give your products greater visibility within searches such as "Top" or "Best". These types of searches also use customer reviews (from review companies like Trustpilot, Verified Reviews etc.) to determine your ad rank.
As you can see, having GTINs assigned to your product when possible (in some cases there will be no GTIN), can be very helpful to get ahead of your competitors with your summer products.
How to map it in the DataFeedWatch tool?
The identifier_exist attribute is set to TRUE by default. Set it to FALSE only in case your product does not have a GTIN (e.g. if it is a hand-made product)

Identifier exists set to TRUE | DataFeedWatch
Depending on how your identifier is named in your feed, simply map it.

Mapping GTIN in your feed | DataFeedWatch

Mapping UPC number | DataFeedWatch
---
5. Optimize the color attribute
When it comes to summer-related products color is very important. At this time of the year we wear colorful clothes, use colorful things like cups, plates etc. and have colorful decorations at home. Therefore, it is important for you to take care of the color_attribute in your product feed.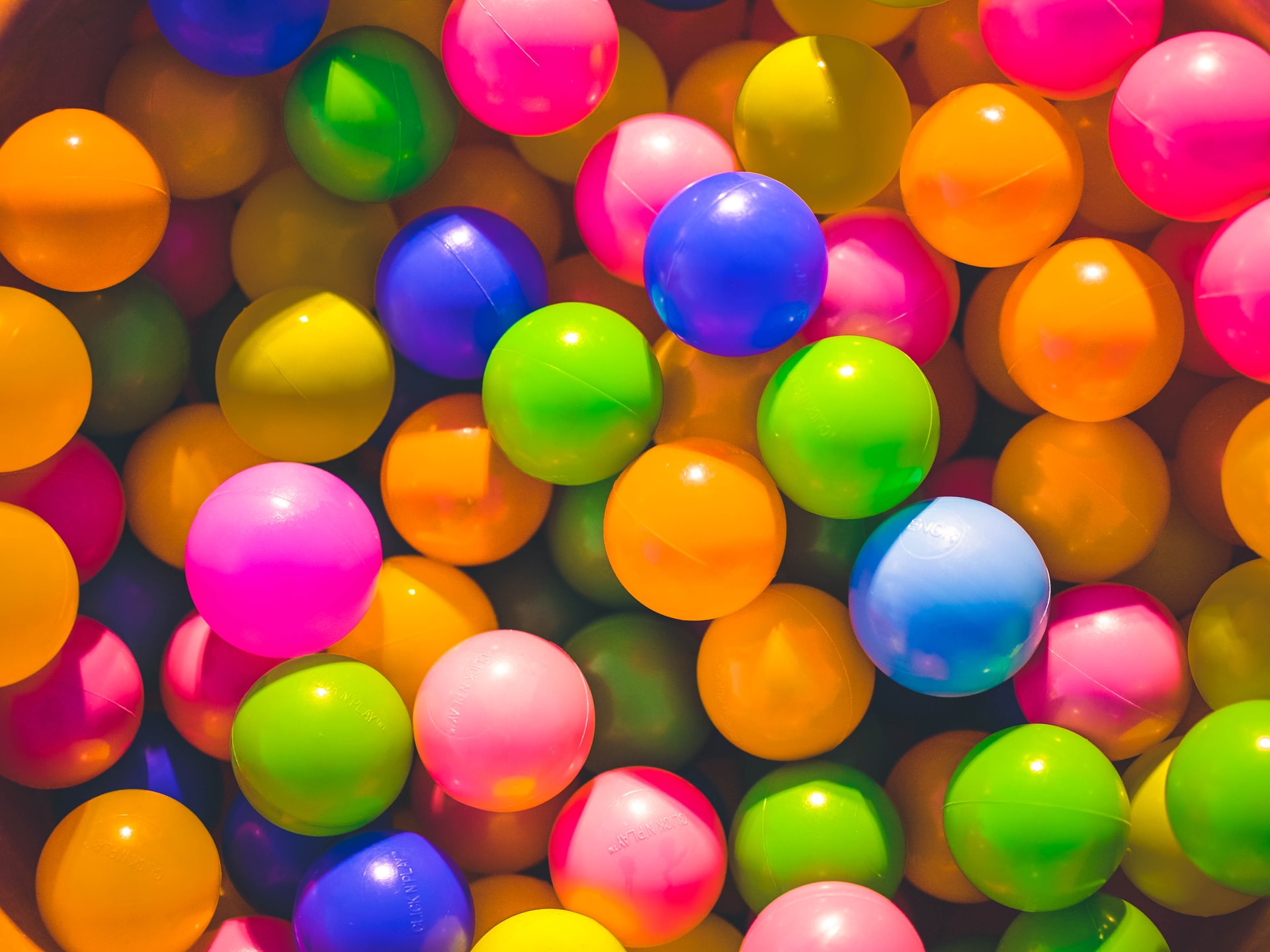 The color attribute is actually required for the category Apparel & Accessories in countries such as: The UK, France, Germany, The US, Brazil and Japan. In other cases it's optional but it's hard to imagine summer items without color! It is highly beneficial to provide customers with the color information in your product ads. Probably most of them have a very specific vision for the product they are looking for.
In DataFeedWatch, there are few ways to map colors for your summer items. It depends on how comprehensive your product data is. Even if you don't have a color listed in a color attribute column for every single product, you can extract it from other attributes, for example description. You do it by creating a simple rule using the "extract from" functionality.

Extracting color from product description | DataFeedWatch
You simply create a list of all colors you've got, upload it and tell the system that you want to extract information about the colors from product descriptions. The tool crawls through your product data. If any of the colors you've listed appears in the description, the system will "fill in" your color attribute for every product where the color was missing. This way every product will very quickly get a value for "color".
You can add 1 primary and 2 secondary colors for each product. Please note that your color value in Google Shopping must match the color information on your landing page. If they do not match, your product will be rejected.
---
6. Add multiple images of the same product from different angles
Since consumers can't touch the product when they shop online, they at least want to have a good idea of what it looks like. This is particularly important with summer products, which as mentioned are full of colors and can look different from different angles. Therefore, it is crucial to optimize your product images.
The main product image should both capture the customer's attention and be descriptive of the product. Customers should be able to clearly see and understand what you are selling. For the main image, you should choose the best image you have.
In DataFeedWatch, you can easily map images via the image_link attribute.
Mapping image link in the feed | DataFeedWatch
Clearly one image is not enough to really get to know the product. That's why Google allows you to add 10 additional images via the addition_image_link attribute in your product feed. We strongly encourage you to take advantage of this option because it can really make a difference in conversions.
By including many different images of the same product, you are able to show it to buyers from many different angles. You can use both regular and lifestyle images to really make your potential customers feel like they know your product. Consider running A/B test to find which images are most compelling for your target audience. If you are allowed to add 10 extra images, we recommend that you use no less than that.
To add an additional product image, you simply add an optional field in our feed tool - the additional_image_link attribute. If you want to add more than one additional image, add this field as many times in your data feed as you have images (maximum 10).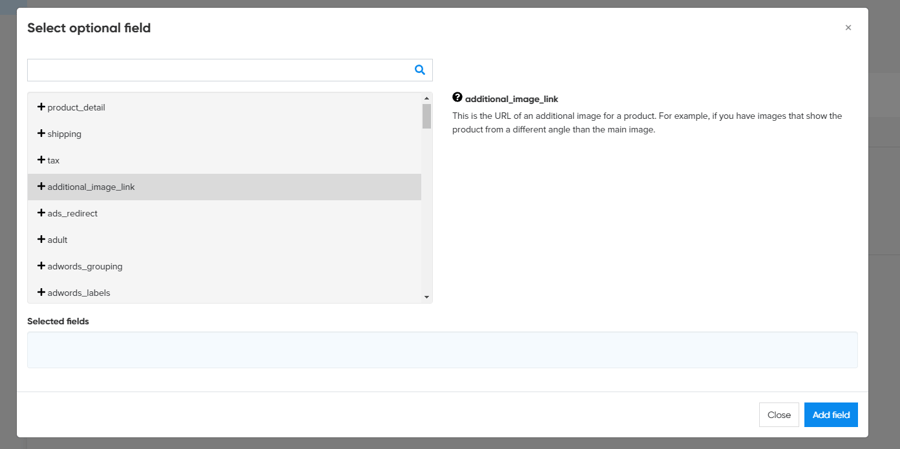 Adding additional field in DataFeedWatch | DataFeedWatch
Then all you need to do is map it.

Mapping additional field in DataFeedWatch | DataFeedWatch
---
7. Target specific summer search terms on Google Shopping using duplicate ID tactic
There are many options for which keywords you can include in your product titles in your summer campaigns. Sun, summer, beach, heat, holiday or skirt shorts vs skort are just a few examples. People search for summer items using different keywords, and there's no way you can reach them all with one product title. Not to mention the competition breathing down your neck...
Fortunately, there is a way to solve this problem and give your campaign a chance to reach more groups of potential customers. We're talking about a duplicate ID tactic. This hack allows you to create multiple Shopping ads for the same product, but with different product titles. This way, you can increase your ad relevance and reach more shoppers looking for your summer product. This in turn results in:
more quality traffic
higher CTR
more sales
In short, to use this tactic you duplicate the products in your product feed by changing their IDs slightly. You simply copy these items and you act as if you had additional products in your feed. Once you've copied all summer items you've wanted, you can optimize the new titles to the keywords you want to target.
In DataFeedWatch implementing the duplicate ID strategy is quick and simple. First you create a new channel and copy everything from the existing one where you have products with original titles.

Adding a channel | DataFeedWatch

Copying the data from the other channel | DataFeedWatch
Then you need to change the ID slightly. You do it using a "combine" functionality and adding id field + underscore + number 1,2,3 etc. (depending on which copy of the feed you're making).

Duplicate ID tactic | DataFeedWatch
Finally, simply change the title to a new one that targets different people using different keywords to find your summer products. The last step is to upload the new feed to Google Merchant Center.
We elaborated on the duplicate ID topic in this article on our blog, so check it out if you're interested.
---
8. Attract customer with summer sales
There aren't many better things in life than summer sales. You can see people scrolling through online stores' websites everywhere: on the beach, on the bus or on a park bench. People on holiday also have more time to shop online than at other times of year. Why not take advantage of this opportunity and set up promotions for your summer items? It's definitely one of the best ways to convince more customers to buy from your online shop.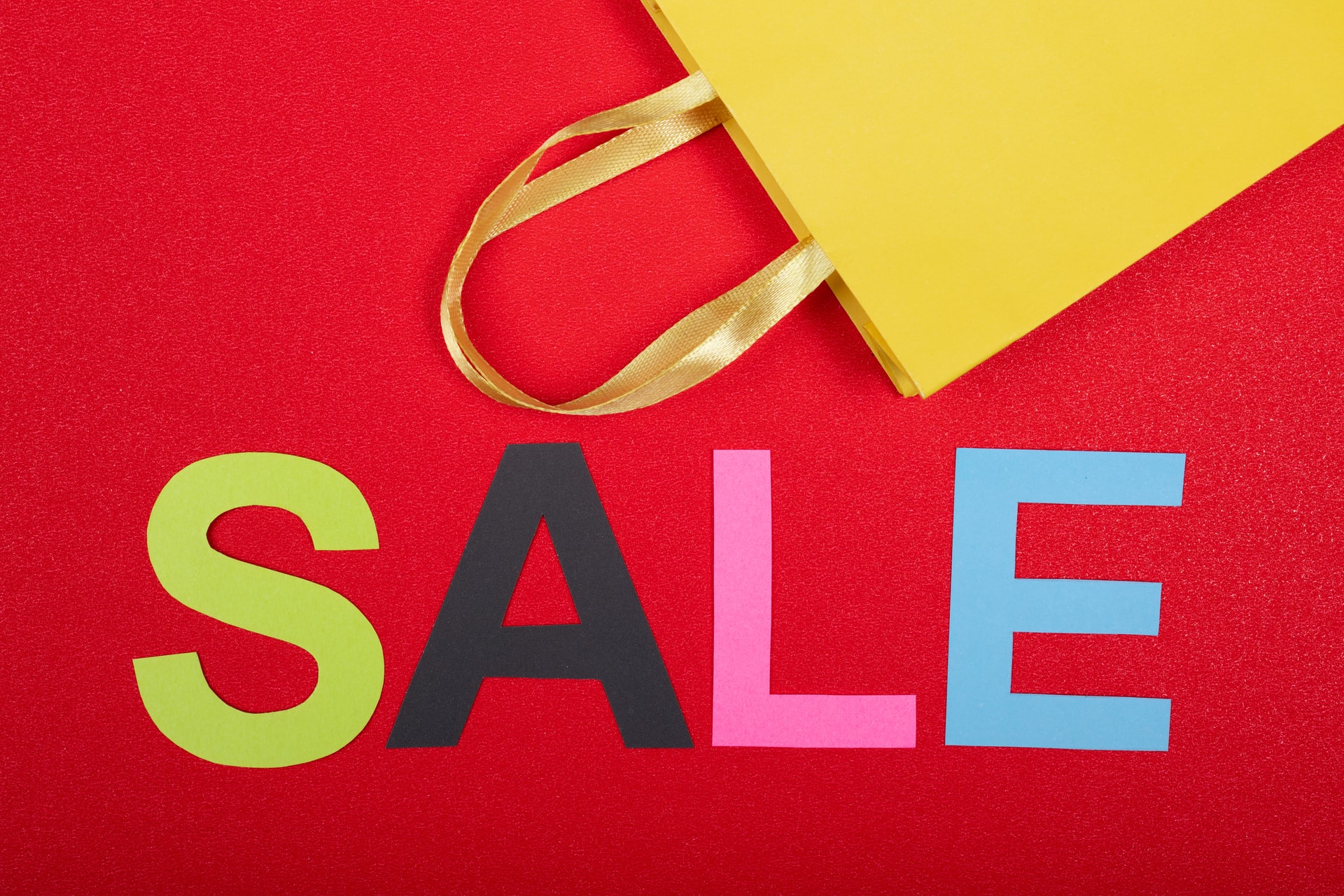 You can store your Google Promotions feed along with other feeds in the DataFeedWatch tool. Once you've added your Google Shopping channel, you can also create a Google Promotions feed. It will be available under a URL, just like any other feed. The same URL can be used when adding a promotions feed in Google Merchant Center.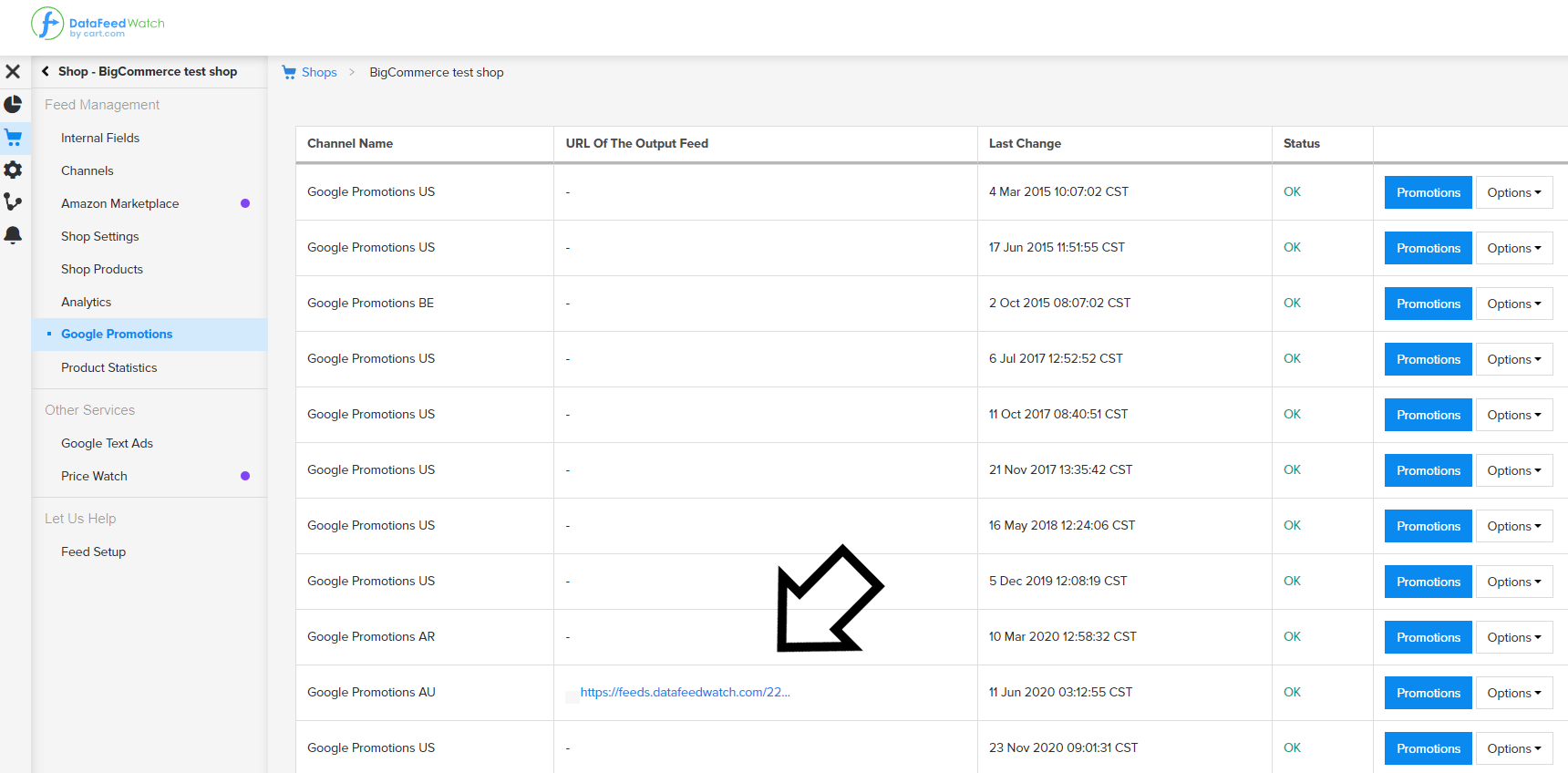 Adding Google Promotions feed | DataFeedWatch

The following feed attributes must be included in each promotion:
Promotions_id
Product_applicability
Offer_type
Long_title
Promotion_effective_dates
Redemption_channel
If you want your promotion only apply to products from one brand, for example Asics, you can segment your products by the promotion_id "ASICS_promo" and then map it in your Google Shopping feed like below:

Mapping promotions id | DataFeedWatch

Here you can read more about how to add Google Shopping Promotions to your summer campaigns.
---
9. Remind undecided customers about your summer products using remarketing
People in summer, especially on vacation, have lots of external stimuli. They may find it hard to focus on anything. For example, they may tend to abandon shopping carts and not complete their online purchases. That's exactly why dynamic remarketing was invented for, and you should take advantage of it.
Dynamic remarketing allows you to display personalized ads to past visitors based on their latest activity from your website.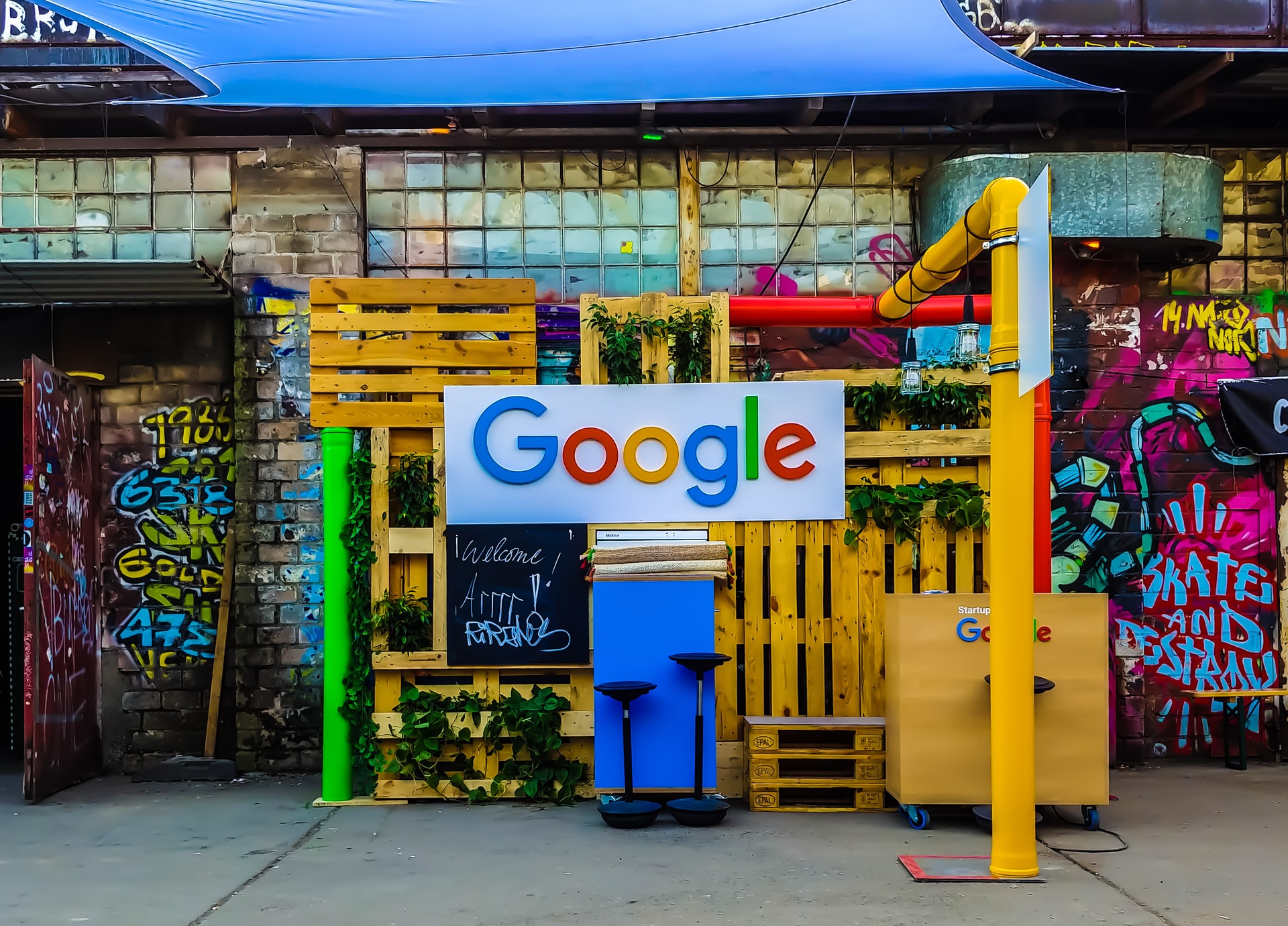 In order to start using dynamic remarketing you need to:
submit your product feed to the Google Merchant Center account.
link your Google Merchant Center and Google Ads account.
create a new dynamic remarketing campaign.
If you've already created your regular Shopping feed, you can make it easy and use the same data to create your dynamic remarketing feed. DataFeedWatch can help you set it up quickly by showing you pre-loaded templates, so you know what fields you should fill in. This way, you can be sure that you have included all the necessary data in your remarketing feed and that it is perfectly optimized. Your chance of creating a successful dynamic remarketing campaign will grow!
You can also simply add additional attributes to your existing feed and use the same (primary) feed for two different purposes. The additional attributes you should add to the feed are among others: display_ads_id, display_ads_title, ads_label. In this article you can find a list of additional fields connected to remarketing.
Extra tip
The good practice is to isolate your on-sale summer products into a separate campaign. Segmentation allows you to create customized dynamic remarketing campaigns and ad-groups to adopt different bidding/budget strategies. In the example below the discounted products were leveraged to stimulate sales:

Creating ads label | DataFeedWatch
This way you can increase your CTR and conversion rate significantly. To find out more you can check out our case study about this remarketing strategy created by Midsummer Agency.
---
Summary
Summer is an intense period in online advertising. But using these 9 feed-hacks in your campaign strategy can make your life easier. Don't wait for your competitors to steal your sales. Optimize your product data for the summer, and be prepared.
---