Why is it important to choose the right feed solution?
Choosing the right feed management tool is one of the most important factors contributing to the long-term success of your online business. The ideal software should have all the necessary features that allow you to implement your feed management strategy without any problems.
The data feed is the foundation of an online campaign. A well-optimized feed gives you greater chances to increase your online visibility and boost your online conversions. With a proper feed management tool, it becomes much easier to create perfectly optimized feeds for different channels and always keep them fresh and updated. It's especially useful if you manage multiple feeds at the same time because it makes your work well-organized. You can store all of them in one place.
Read on to find out what elements you should pay attention to when choosing a feed software for your business.
---
Characteristics of an ideal feed management solution
An ideal feed tool consists of a wide range of features that make the life of those involved in feed management much easier. Below we have elaborated on 6 areas related to feed management that should work seamlessly in your dream feed tool:
Feed management
Data feed creation
Analysis of performance
Feed Quality control
Expert support
Working with feeds in digital agencies
Mapping explained
In this article we mention a lot about "mapping" fields in your feed. So it's worth explaining what mapping exactly is.
Mapping is a process of translating fields (attributes describing products) from a format imported from your online store to a format required by a particular sales channel. Mapping also allows you to choose if you would like the fields to be copied 1:1 without any changes (Rename functionality), or adjust them using other options (for example combine, extrtact from etc). Usually mapping is not that simple and some modifications are necessary.
The right feed solution should make mapping easy.
---
1. Easy feed management
Reliable feed integration
Why do you need integration?
The data from your store needs to be transferred to the tool, and from there you can manage and manipulate the data according to your needs.
The feed management tool you choose should integrate with all your import data sources. It should support all possible file types as well. It should be able to:
connect to your shopping cart (eCommerce platform) in order to download the product data from your store - via API or with a plugin.

Connection to Shopping carts | DataFeedWatch
download common file types such as CSV, XML, TXT, JSON.
upload feed file via

FTP-location

or URL (if you have a built-in system).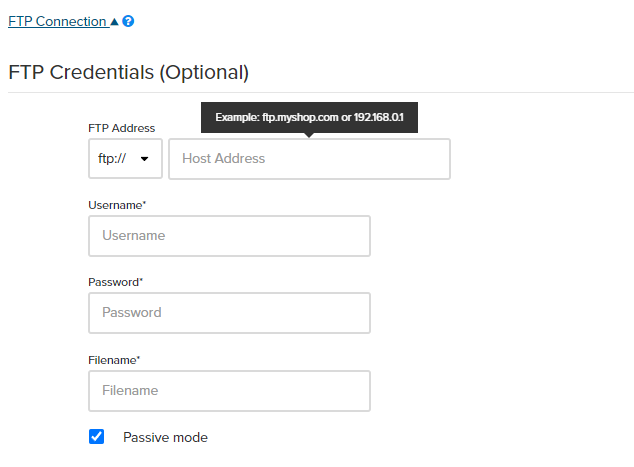 Setting up FTP connection | DataFeedWatch
download multiple language versions of the same shop.


Available data source merging
Find a feed solution that is able to merge all kinds of product data sources into one. This feature is useful in several different cases. Some channels require that you provide all variants in one field in your feed - then you need to merge your product variants. Other times you would need to do exactly the opposite, that is convert your feed with parent products to a feed with variants.
It is also useful if, for example, you want to merge your re-priced feed with the master feed, or merge feeds from multiple suppliers into one feed.
The ideal tool should be able to: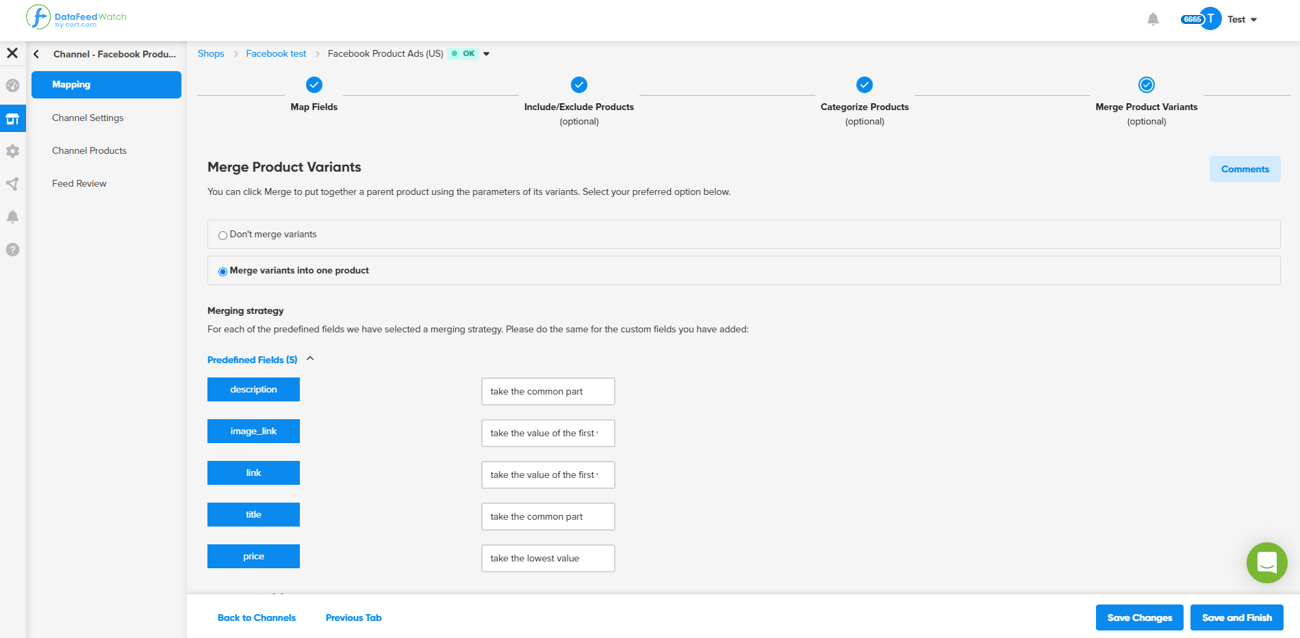 Merging product variants | DataFeedWatch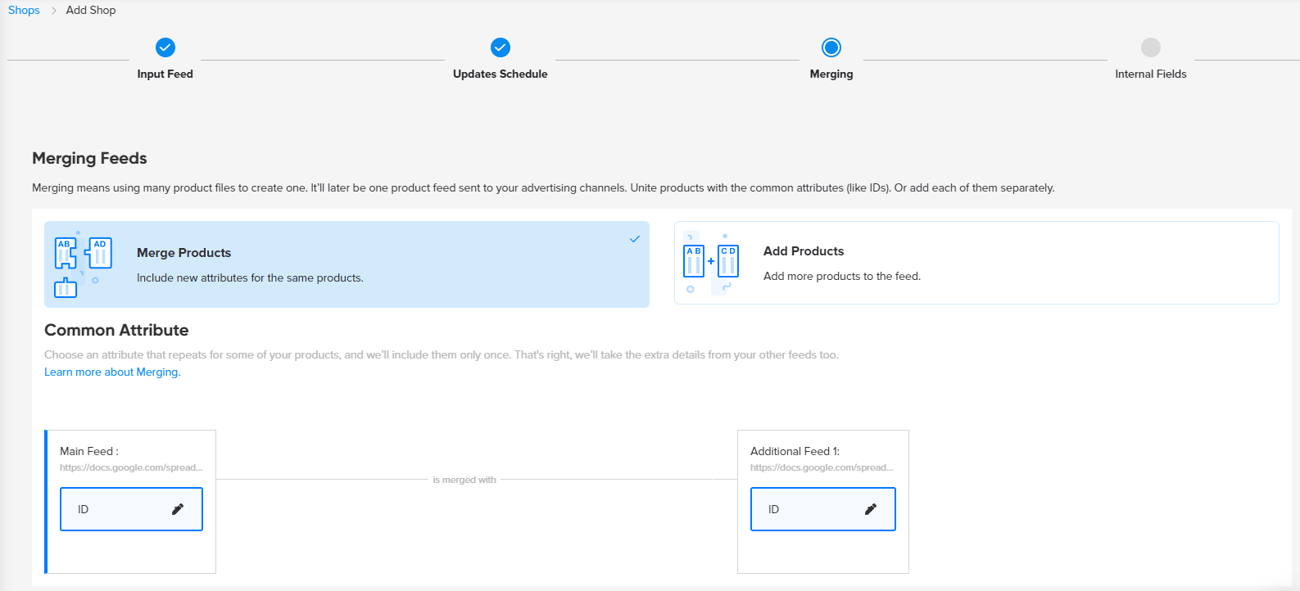 Merging feeds | DataFeedWatch
unmerge input feeds, which means converting your feed with only parent products into a new feed with each variant as a separate product.
Automatic and frequent feed updates
You should look for a feed tool that downloads your product data automatically and on a daily basis. And it can do it at high speed!
The availability status of your products can change very quickly, for example prices change, products go out of stock, etc. Automatic and frequent feed updates keep your ads up-to-date. They also allow you not to waste your budget on out-of-stock items.
The software should allow you to schedule multiple daily updates to keep your product data fresh at all times.
The ideal feed solution should be able to:
allow scheduling the preferable time of your automatic daily updates.
Scheduling feed updates | DataFeedWatch
allow scheduling automatic updates multiple times a day.
allow manually updating the feed in special cases, for example, if you need to make a quick feed update and want the changes to be implemented immediately.
Download even feeds with a large volume of products at high speed.
Reviewing your feed directly in the tool
Since you don't want to get errors and product disapprovals when you send your feed to a specific channel, it's good to review it first. And you can do that using some of the feed tools.
The feed tool you choose should be able to:
allow you to review your source feed directly in the tool based on specific attributes (product types, product category, etc.).
allow you to

review all output feeds

based on the requirement of the specific channel directly in the tool.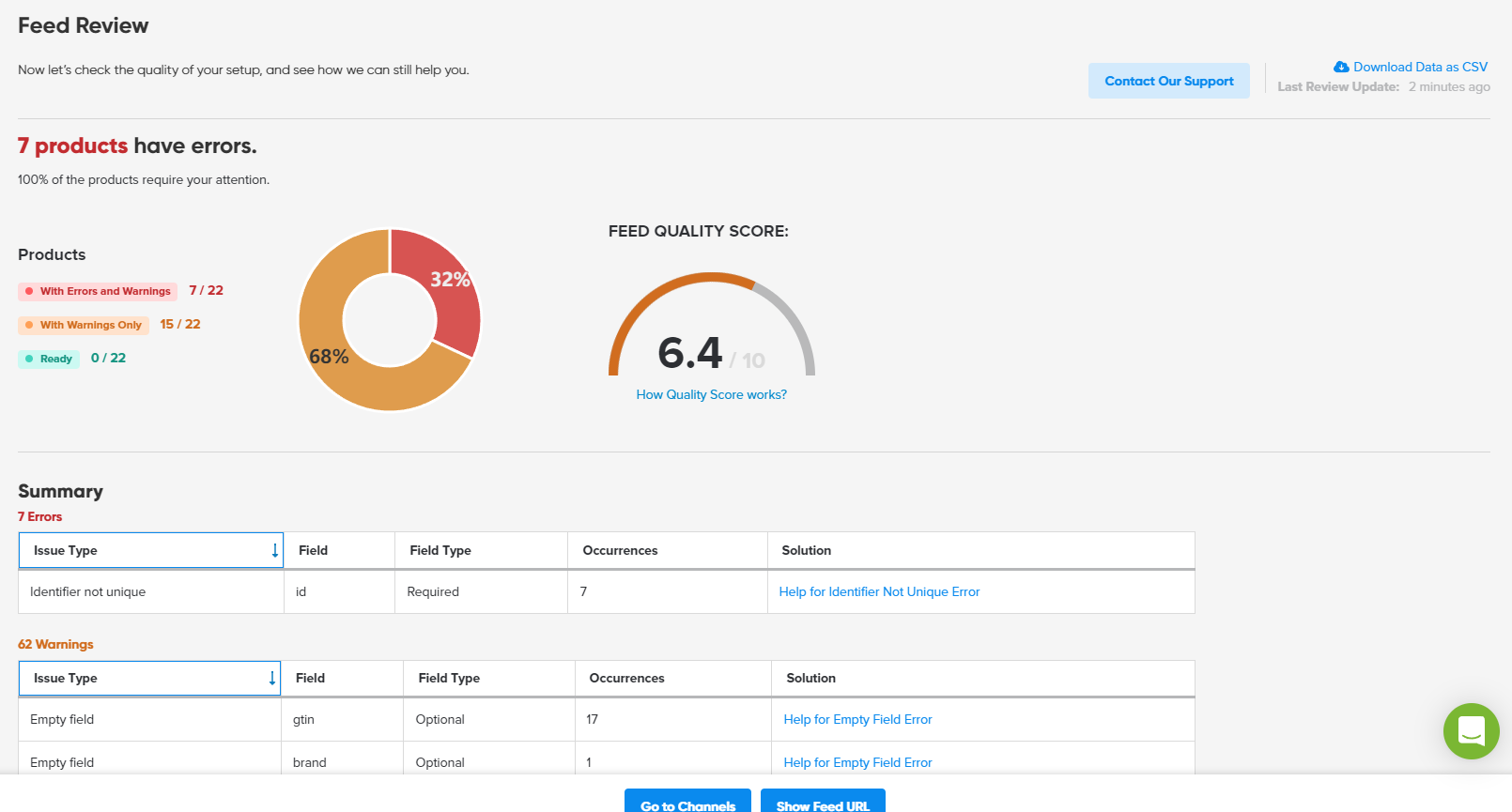 Reviewing data feeds | DataFeedWatch
show you excluded products for each channel and let you download the list of them.
let you download your input feed in the preferable format: CSV, XML or XLS.


---
2. Easy data feed creation for all channels
Wide range of export destinations: channels & marketplaces
The ideal feed solution should meet your expansion needs. You should consider the channels you want to use right now but also the possibilities of expanding your sales in the future. If you think about growing, choose a tool that has multichannel and omnichannel potential.
The feed software you look for should be able to: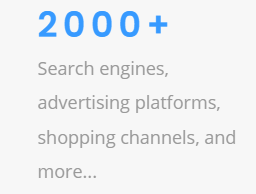 add a new channel to their integrations upon your request, and do it free of charge.
let you

create your own custom feeds

only with the fields you need (according to your own specifications) in the desired format. For example, it can be useful with affiliate feeds.

Creating custom feeds | DataFeedWatch
Adding custom fields | DataFeedWatch
sync orders from marketplaces with your store.
Easy feed mapping
Mapping feeds for each channel you choose should be quick and straightforward. The right feed tool will have all the requirements for all the channels pre-loaded in templates. You shouldn't worry about requirements such as file format or mandatory and recommended fields. Instead, you should go straight to mapping and let the tool guide you. The ideal software will prevent you from doing anything wrong like forgetting about mandatory fields or entering a value that is not accepted. It will also auto-correct the most common errors.
The ideal feed management tool should be able to:
provide you with a pre-loaded list of required fields for each channel. With such templates, you will save the time spent on checking each channel's feed requirements.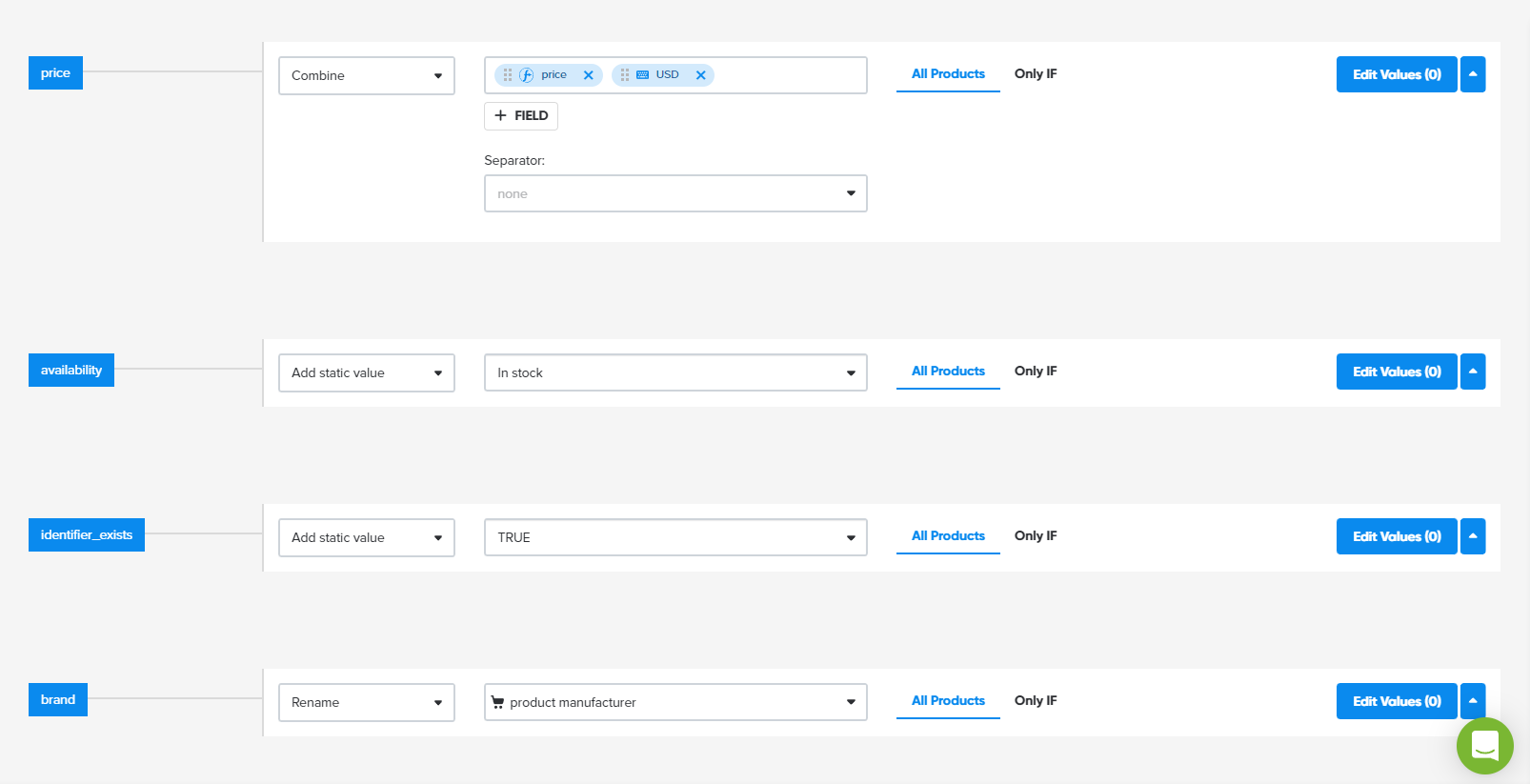 Mapping fields | DataFeedWatch
map input fields for each channel. You can call it automapping.
auto-correct the most common errors, for example, remove capital letters from product titles or adjust the title to the maximum character length.
let you add additional fields and map them manually.
Adding_optional_fields | DataFeedWatch
extract missing fields in your feed from other existing fields. For example, if you don't have color fields populated in your feed, you can extract colors from product descriptions.

Extracting missing fields | DataFeedWatch
stop you from sending your incorrect feed to the channel until all required fields are mapped.
show you which fields you still need to map in order to meet all the requirements of the specific channel.
allow you to copy already existing rules from one channel to other channels and countries. This way you won't need to recreate them every single time.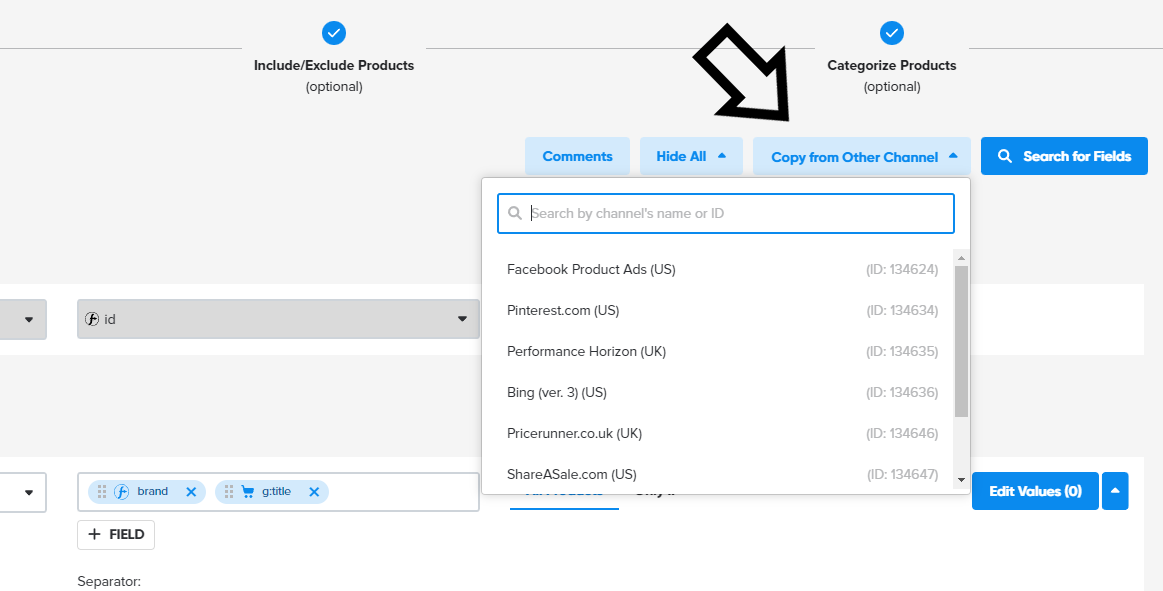 Copying from other channels | DataFeedWatch
Broad feed optimization possibilities
This is one of the most important elements you should pay attention to when choosing a feed tool for your business. The right solution should give you the flexibility to optimize your feed exactly the way you want. It will allow you to combine different fields and create new ones. You will be able to remove, modify, change, replace, and overwrite all the values you want based on the requirement of the specific channel. And there are even more possibilities.
A feed tool that provides flexibility in optimization must be able to:
combine many different input fields into one single output field. For example - title including Manufacturer + Color + Title + Size.

Mapping title | DataFeedWatch
modify your data.
overwrite the existing values in the data feed with completely new values.
replace existing text with new text and apply it to a selected list of products or all products.
add prefix or suffix to the desired value.
remove textual, numerical, and special characters from the fields by creating one single rule.
create rule-based conditions to specify an attribute for a select group of products, for example, availability is "in_stock" if quantity > 0.

Mapping availability | DataFeedWatch
recalculate prices or shipping costs by adding, subtracting, multiplying, or dividing by the desired number.

change your text to uppercase, lowercase, or capitalized for selected fields.
use regular expressions.
create custom fields based on your custom labels and other criteria.
select which image to show in shopping engines (if you have more than one).
remove duplicate words/values from titles in your feed.

Removing duplicates | DataFeedWatch
Simple exclusions and inclusions rules
We all know that the quality of your data feed is important. Excluding some products that are not good for our campaigns is a great way to optimize your campaign. Sometimes you sell more by advertising fewer items.
With simple rules, you can exclude unprofitable, out-of-stock, seasonal, or low-margin items from your product feeds. You can also include some items only under certain conditions.
The ideal feed solution should be able to:
exclude products based on any criteria you wish: price, price rank, availability, seasonality, gross margin, profitability, product type, brand etc.

Excluding products based on seasonality | DataFeedWatch
exclude products that meet more than one criterion, e.g. brand + price + seasonality.
exclude products based on campaign performance criteria, e.g. CPA or ROAS.
upload a list of items to be excluded from the feed.
exclude products

when certain variants go out of stock

.

For example, you sell shoes in five sizes: 36, 37, 38, 39 and 40. The size 37 and 38 account for 75% of your total sales. After your best selling sizes go out of stock, people might still click on your ads but not buy. The advertising budget will be wasted. With this functionality, you can exclude all remaining variants until you restock.

Excluding associated variants | DataFeedWatch
include products only in the output feed.
Category mapping available in the tool
Sometimes category mapping can be a long and unpleasant task. A feed tool should make it easier for you and ensure that always the right category and subcategory are assigned to the right product.
Your desired feed management tool should be able to:
pre-load

the taxonomy

of the channels (product categories).
quickly update the certain channel's taxonomy if it changes.
match automatically each product type to the most appropriate Google subcategory.
combine manual and automatic category mapping for better personalization.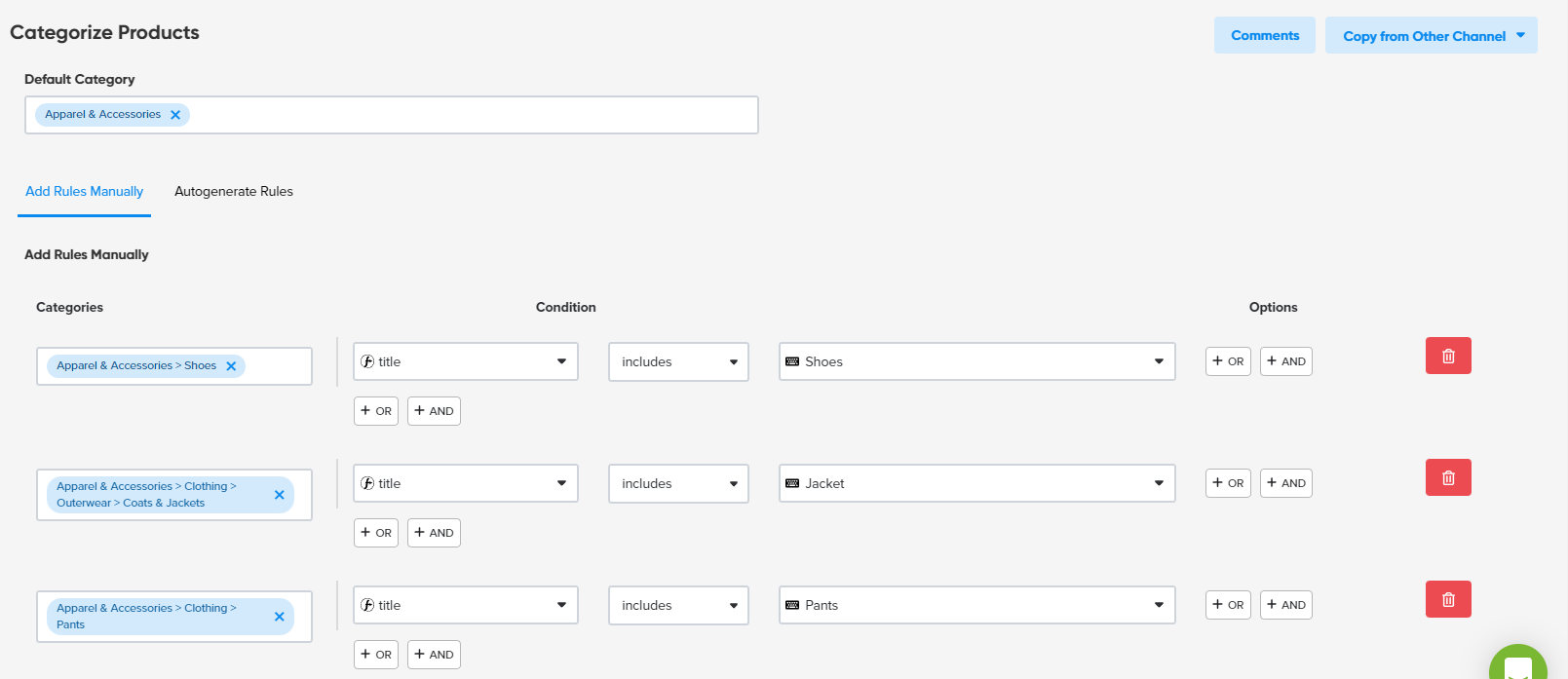 Mapping Google Shopping categories | DataFeedWatch
map the categories based on the product types.
use already mapped categories in the field if you had already prepared them before investing in the feed tool.
---
3. Performance Analytics in the feed tool
Every channel provides you with some analytics data regarding your performance. But there is no such thing as too much data gathered. It's good if you have an Analytics feature also directly in your feed software.
The ideal feed tool should be able to:
provide an overview of the performance of all of your channels.
show aggregated product level statistics or channel product statistics both on parent and variant levels.
create performance filters and exclude certain products on several channels at the same time if they perform poorly.
---
4. Feed quality control 24/7
The right solution should protect your product data, so your business information is 100% safe. It should let you know immediately of any errors that may have occurred on your account.
The feed solution you're looking for should be able to:

Enabling products drop functionality | DataFeedWatch
---
5. Good customer support and expert guidance
The proper feed tool provides you with good support, including various contact options such as Help Center, e-mails, calls, and live chat. The support should be always there to help you with your feeds and give advice.
The right feed tool should be able to:
give you easy access to support who can help you in a short time.
offer you

different pricing options

and allow you to adjust it according to how fast your business grows.
offer onboarding calls.
give you an opportunity to get your own account manager.
give you expert feed guidance.
---
6. Dedicated offering for online marketing agencies
Digital agencies have different needs than typical online retailers. Firstly, they often manage multiple feeds with thousands of products and they need a pricing plan dedicated to them. They don't want to overpay just because they run a special kind of business.
As an online agency, you should have the possibility to create multiple sub-account for the main account in the feed tool. And you should be able to give different levels of access to different people involved in feed management.
The ideal feed solution should be able to:
offer you a dedicated pricing plan that suits the needs of online marketing agencies.
allow you to create multiple sub-accounts to give access to the tool to your customers or account managers.
provide you with high limits on data usage - multiple stores and multiple channels in each of them.
allow you to add

comments to the mapping

, so everyone else in your agency working on the same account knows why this particular feed has been optimized in this way.

Leaving comments on mapping | DataFeedWatch
---
Summary
The most important aspect of choosing a feed management solution is just knowing what your business needs. If you've already considered that, you just need to compare different feed tools and choose the one that has all the features you were looking for. Always keep in mind that your business is developing and you may need a more advanced solution in the future. It's better to choose the best possible feed tool right from the start. Check our offer.
---