And of course, we want you to get the benefit.
So sit back, pour yourself a cup of coffee and read below how this is possible and how to get your hands on that 20% saving!
---
How is it possible?
You might remember that the EU fined Google in 2017 for breaching EU antitrust law.
Their response was to start including ads from competing CSEs in the Google Shopping Carousel.
In February 2018 EU advertisers might have got surprised in seeing something like this: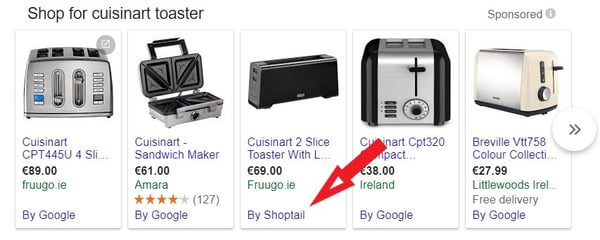 or this...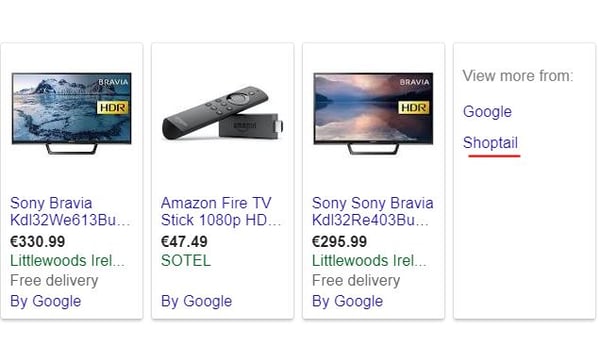 With shopping ads eating text ads, everybody wants a slice of this super-profitable cake. The bad news for smaller advertisers here is that, as expected when competition grows, PLAs have become more expensive.

Also check: Combine Shopping and Search Campaigns for Maximum Results


To counterbalance this Google created a Partner Program: Product Ads on Google Shopping can be offered through a CSS Partners with bids that are up to 20% lower.
DataFeedWatch is now a CSS Partner and can offer you these big savings!
Back to top or
---
How does DataFeedWatch Shopping work?
Running your existing Google Shopping campaigns via our DataFeedWatch Shipping CSS instead of directly on Google is a painless and quick procedure. It can be done in a simple 6-step way.
Let's see step by step what actions would you need to take, the amount of work involved, and the impact.
#1 Don't change anything!
You keep your Google Shopping campaigns as they are today.
You use the same Google Ads account as today, with the same Google Shopping campaign linked to the same Google Merchant Center (GMC).
#2 Link your GMC account to DataFeedWatch
The only action you need to take is to send us an email requesting to link your Google Merchant Center (GMC) to our Multi-Client Account (MCA).
That is all. An email with a simple request.
#3 Your ads now look like this
This is how your ads are going to look in Google Shopping. Notice any difference?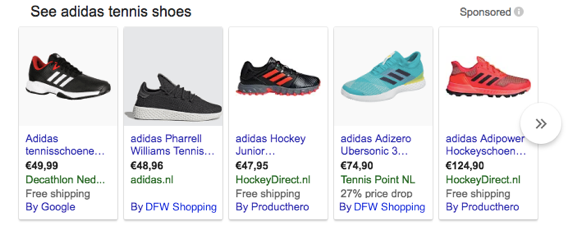 Probably not, because it is still the same ad.
If you take another closer look you'll notice it says 'By DFW Shopping' at the bottom. When potential buyers click the ad, they still go to your product page.
#4 Your products are listed on our DataFeedWatch CSS
All products that are in your Google Shopping campaign will also be listed on our own Comparison site: https://dfw.shopping/.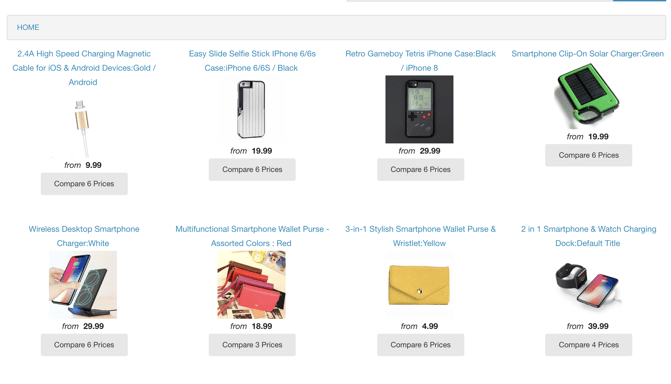 There is no charge for having the products listed on our CSS website.
Back to top or
---
Why should you join our CSS program?
It is quite unbelievable for the skeptical ones, but there are no downsides to joining the program.
Google is offering some remarkable monetary rewards and incentives. Let's see what's to gain when joining the program:
Reap the 20% Discount Reward: Lower your bids
or
enjoy the extra traffic
Thanks to the 20% discount you get for advertising your products through DataFeedWatch Shopping your bids now have 20% more 'bidding power'.
Here's what we advise you to do: In the first few days, you should do nothing to your bid strategy. Based on the outcome you can next tailor your bidding strategy:
No additional traffic
If you are not getting additional traffic (you were probably already doing well in the auction and/or spending your budget), you start lowering your bids.
Start with 10% and see what happens before you lower it by another 5 of 10%.
New additional traffic
If you are getting additional traffic, you have a choice: you can keep the bids as they are and be happy with the extra sales.
Or you can still start lowering the bids and save money. You need to find your optimum RoI.
Back to top or
---
Google CSS program is Time Sensitive
Hurry up! Don't wait any longer.
There are strong reasons why you should take advantage of this offer right away:
The HOLIDAY SEASON is starting. The ad spend (and thus the saving) is even higher.
Your competitors have either joined or are seriously considering doing it. Not joining is not an option in this gold rush period. You will out-bid by your competitors that

do

advertise via a CSS.
Extra money in your pocket. You can save 20% of your Google Shopping cost, so why would you not …
No strings attached.

You can cancel every month at any time after joining the program.



You can schedule a call here so we can get you started or mail us at css@datafeedwatch.com.
Back to top or
---
Great! How much do I have to pay for that?
To provide all services that enable you to get the full 'CSS-saving', we will charge you a % of the Google Shopping budget that you spend via our CSS. The % depends on the size of your ad spend.
No worries: we'll only take a small chunk of your big saving ;-)