What is a sales channel?
When in its simplest form, a sales channel is a third party website that allows online sellers to advertise their products. The channel shows these listings, allowing customers to browse and then click if they are interested. By clicking, they are then taken to the merchants website, or occasionally to another marketplace.
---
Why use a sales channel?
Shopping channels can be a very useful way to broadcast and sell your products. They can extend your reach beyond its normal parameters and give you an opportunity to reach out to new consumers, and those who previously would not have come across your line of products.
You can also use shopping channels as a means of product comparison, which helps you get the best deal when purchasing a product.
Top uses for sales channels:
Advertise your products
Sell your products
Reach new customers
Helps customers compare vendors and their products
Back to The Top or
---
The types of sales channel
There are three main types of sales channels. They consist of price comparison sites, marketplaces, and social media networks.
Price comparison sites
Price comparison sites are a type of shopping channels where the customer can compare the products and prices of multiple sellers at once. They can then visit the website of their chosen seller from the price comparison site to complete their purchase. Some of the best known price comparison websites are Google Shopping and Prisjakt.
Marketplaces
Marketplaces are another popular form of shopping channel. On marketplaces, products are listed via merchants in the same way as on price comparison sites. However, the purchase is made directly through the website in this case, rather than going to the website of the merchant. The best known marketplaces globally are probably Amazon and eBay.
Social media networks
As well as marketplaces within social media networks such as Facebook and Instagram, there are also product listing ads. These ads list products in a few ways, from standard advertisements, to carousels. Customers are shown ads based on their past browsing history, and social media history. These channels are important for sales management as they allow businesses to reach customers through multiple touchpoints and increase their chances of making a sale.
Back to The Top or
---
How does a shopping channel differ from a marketplace?
The main difference between marketplaces and other forms of sales channels is that on marketplaces, you buy directly from the website itself. This means you can collect several items into a basket and complete all your purchases in one swift manoeuvre. Contrastingly, other forms of shopping channels direct you to various merchants' webpages to complete your purchases individually.
Because of this key difference, marketplaces can sometimes be a little bit more limited. This is down to brands often having to pay a little extra to use a marketplaces distribution, packing, shipping and other features. They are also required to set up their entire store on a marketplace, separately to their own website. That is where other forms of shopping channels have an advantage, due to being a little easier from the get go.
Back to The Top or
---
Shopping channels - The world tour
There are a great number of sales channels, competing on a global scale. And with many based in different parts of the world, some may be better than others for you to buy, and sell on.
Europe
Europe is one of the world's hubs for sales channels, with a diverse range from worldwide forces to national brands. Here are some examples of the top shopping channels in Europe:
Fruugo

- UK based, worldwide presence
Fruugo is a UK based marketplace, which offers a wide range of products. The unique thing about Fruugo that allows it to stand out from many of its competitors, is that you can sell on a global scale from one website. Fruugo translates languages, and shows prices in a range of currencies for all its products, which makes it easy to reach new markets of customers anywhere in the world and sell across borders.
Check out Fruugo here.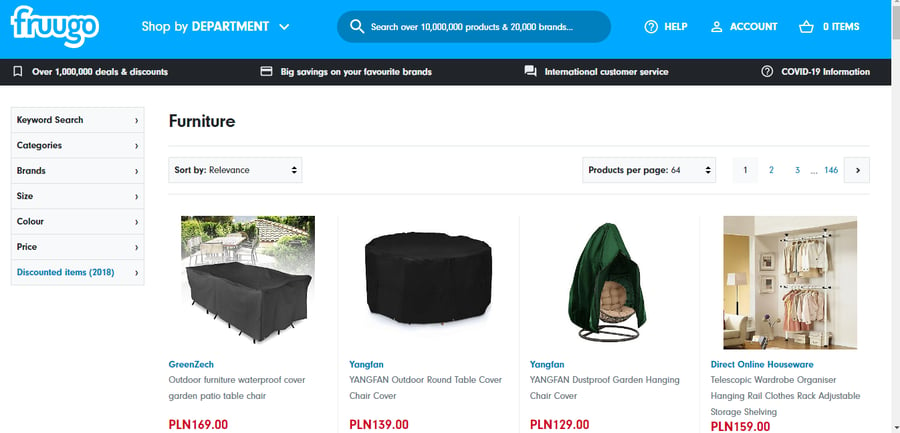 ASOS
- UK based, worldwide presence
ASOS is a UK based marketplace which focuses around the sale of clothing and accessories. It is the most popular online apparel store in the UK, and has an ever growing global presence too. In addition to its own marketplace, ASOS also offers a separate marketplace for one time sellers and smaller brands to sell their products. The brand is also renowned for its environmental policies regarding deliveries, and even has an eco line of clothing products.
Check out ASOS here.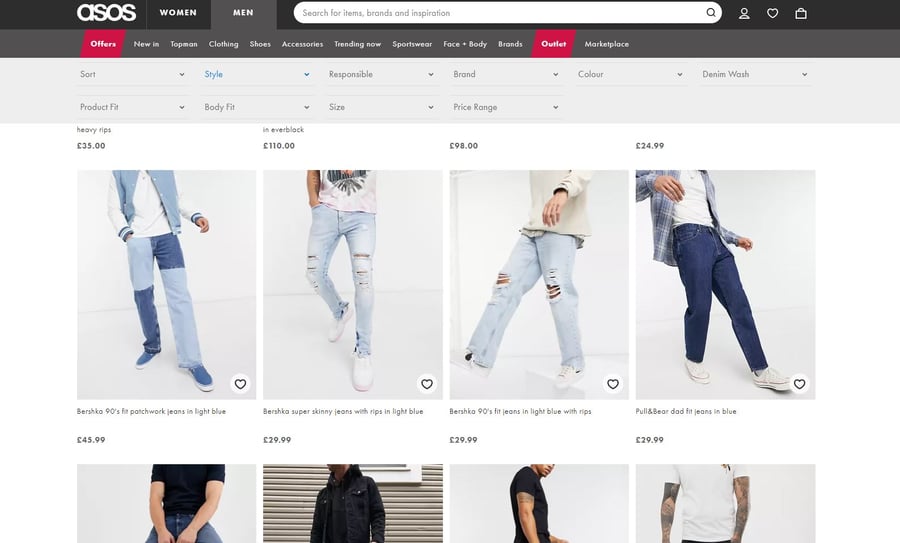 Zalando - German based, European presence
Arguably ASOS biggest competitor in Europe, Berlin based Zalando is another big apparel and accessories marketplace. Zalando's European presence in 15 countries has allowed them to dominate certain areas of the apparel sector, which makes it a great place to sell your clothing products. The brand is currently the main marketplace for online clothes in Germany, Poland, Austria, and Switzerland.
Check out Zalando here.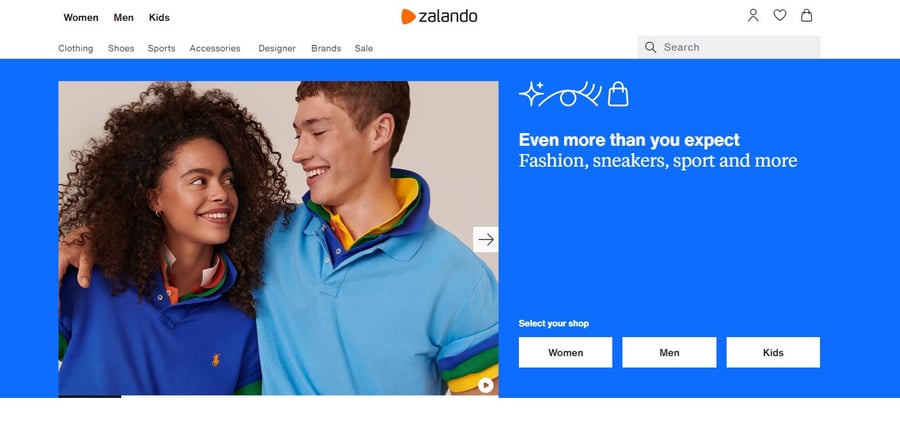 Bol.com - The Netherlands
Bol.com may be an unfamiliar name to anyone who isn't from The Netherlands. But if you are, you know exactly why Bol is on this list. That's because Bol.com is by far the most prevalent sales channel in The Netherlands. In fact, the success of Bol may be part of the reason Amazon was so hesitant to enter the Dutch market for many years. And understandably so, as this is still the place to sell if you are looking for a foothold in Dutch eCommerce.
Bol.com sells a bit of everything, and its consistent popularity with buyers in The Netherlands and Belgium make it an ideal starting point for BENELUX sellers.
Check out Bol here.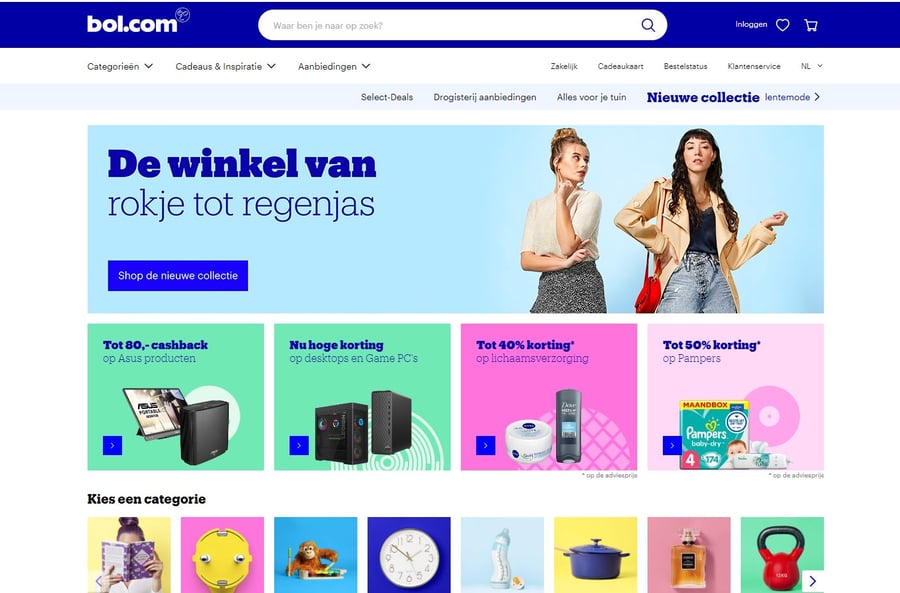 Prisjakt.no
- Scandinavia
Prisjakt.no (PriceSpy) is a Swedish brand that is also one of the top price comparison sites in Norway's ever growing eCommerce market. Prisjakt prides itself on always being free for its customers to compare the best deals for products throughout Sweden, Norway, Denmark, Finland and a few other European countries.
One of the best things about Prisjakt is that if you do decide to sign up and become a free member, you can set up notifications for price changes. This is a great way to ensure your own listed product pricing remains competitive in the Scandinavian market.
Check out Prisjakt here.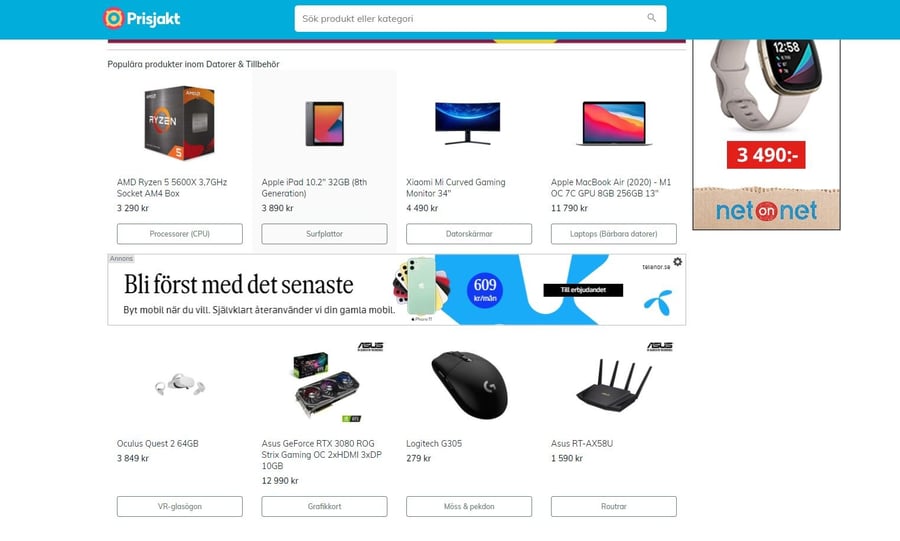 Allegro - Poland
Allegro is Poland's main shopping channel, operating on a national scale. Now operating for over 21 years, Allegro has amassed 117,000 merchants in that time, and is officially the 10th most visited eCommerce website in the world. Allegro currently average's 20 million customers each month, so if you are looking for a way to enter the Polish market, or even to buy in Poland, Allegro is your place.
Check out Allegro here.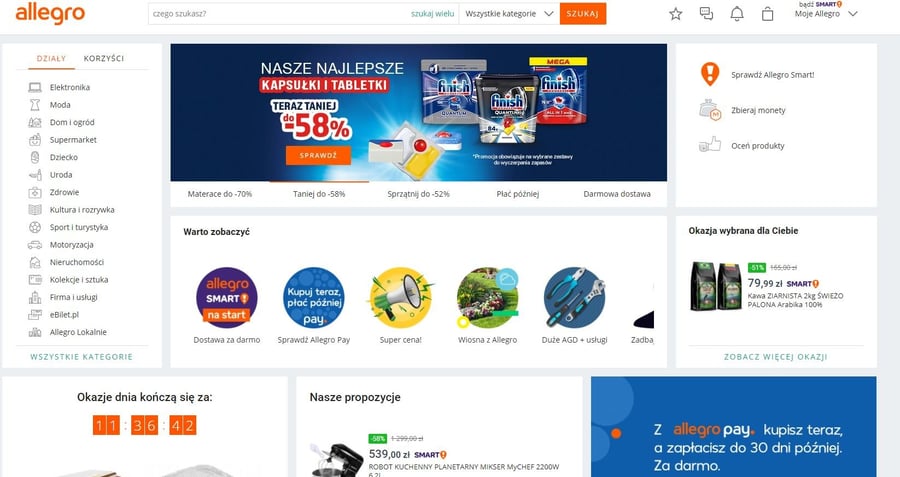 North and South America
Google Shopping - US founded, worldwide presence
Google Shopping is possibly one of the best known sales channels in the world. It is also one of the largest and most substantial. Google Shopping is a price comparison shopping channel that directs you to other merchants' stores. However, it has a huge advantage over other comparison channels, as it is integrated with the world's largest search engine. This means any merchant advertisement listed on Google Shopping can be shown on a standard Google search results page, the Shopping Tab or Google Image search.
Recently, Google even changed things up, so merchants can even list products for free. However, free products are limited to a certain amount of space where they can be shown.
Check out Google Shopping here.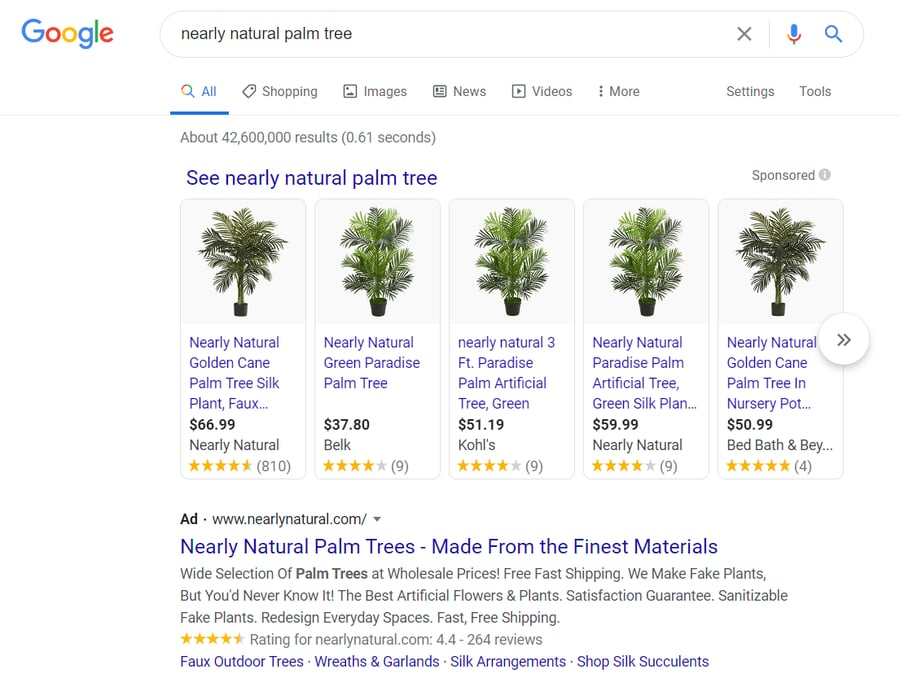 Amazon - US founded, worldwide presence
As the world's largest marketplace, Amazon is the place to shop for a variety of items. Amazon was initially founded in the US, but now has separate websites and a presence in the UK, Italy, Spain, Germany, Poland, The Netherlands and more. It is also planning entry to other countries such as Sweden.
In addition to its online marketplace, Amazon also operates an additional service known as Amazon Prime. Prime includes a video streaming service, music streaming, audiobooks, and fast 1 day delivery. With all these services included at a small extra fee, and a massive customer base, Amazon is a great place for all sellers to make their mark.
Check out Amazon here.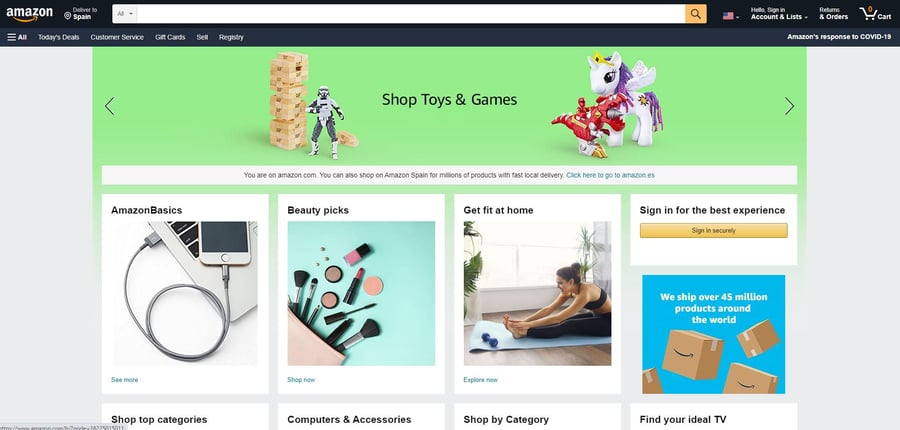 eBay - US founded, worldwide presence
Another significant US brand with a worldwide presence, eBay is a marketplace that began as an online auction site. Nowadays, eBay also functions with the option of selling for a standard price, as well as auctioneering. This choice has made the brand popular worldwide.
Similarly to Amazon, eBay's vast customer base gives you access to a large amount of consumers as a merchant. However, you will have to have several accounts if you want to sell across numerous countries.
Check out eBay here.
Mercado Libre - South America
As South America's largest independent marketplace, Mercado Libre (Mercado Livre in Brazil) is the ideal starting point for sellers looking to get a foothold in the South American world of eCommerce. The site even provides its own shipping service in certain countries, known as Mercado Envios, which ensures fast reliable delivery, helping to improve buyer/seller relations.
Check out Mercado Libre here.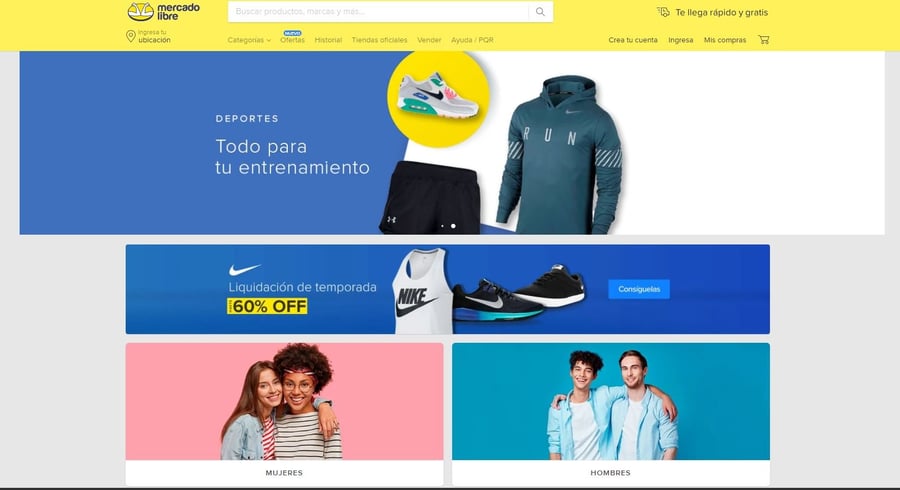 Asia
Rakuten - Japanese origin, worldwide presence
Japanese heavyweight Rakuten claims to have over 1.4 billion members worldwide. It is by far the biggest marketplace in Asia, selling a diverse range of products. But Rakuten goes beyond just being a marketplace. It even offers video streaming, ebooks, and travel services to draw customers in. And if the wide range of customers and great access to the Asian market doesn't sell you on Rakuten, there are other perks of selling on the platform, such as extensive advertising assistance, with consumer insights.
Check out Rakuten here.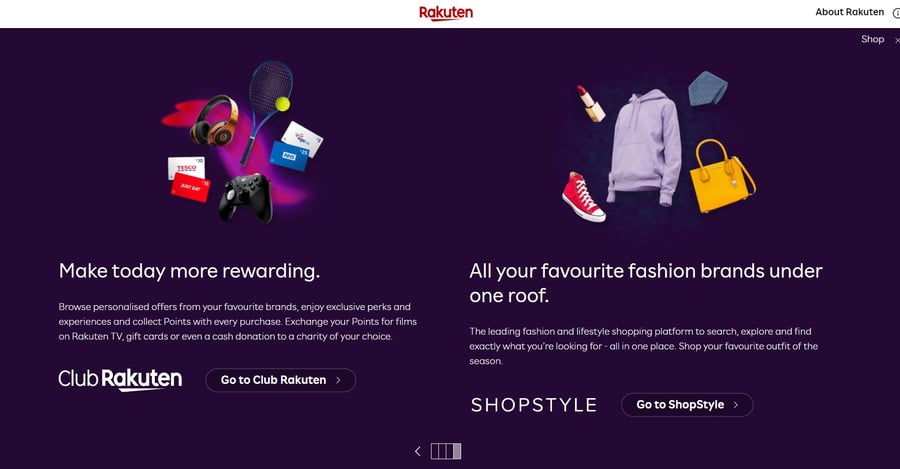 AliExpress - China-based, global presence
China based AliExpress is part of the equally well known AliBaba Group. AliExpress is one of the world's leading marketplaces, and is China's first choice for online shopping. The brand welcomes both Chinese and none Chinese merchants, and has a separate sign up process for the two.
Check our AliExpress here.

Lazada - South-East Asia
As South-East Asia's leading eCommerce website, Lazada gives merchants the opportunity to sell to markets in Indonesia, Malaysia, the Philippines, Singapore, Thailand and Vietnam. Lazada currently estimates that they will have over 300 million customers by 2030, which would ensure the marketplace remains a competitive place to sell in the future too.
Check out Lazada here.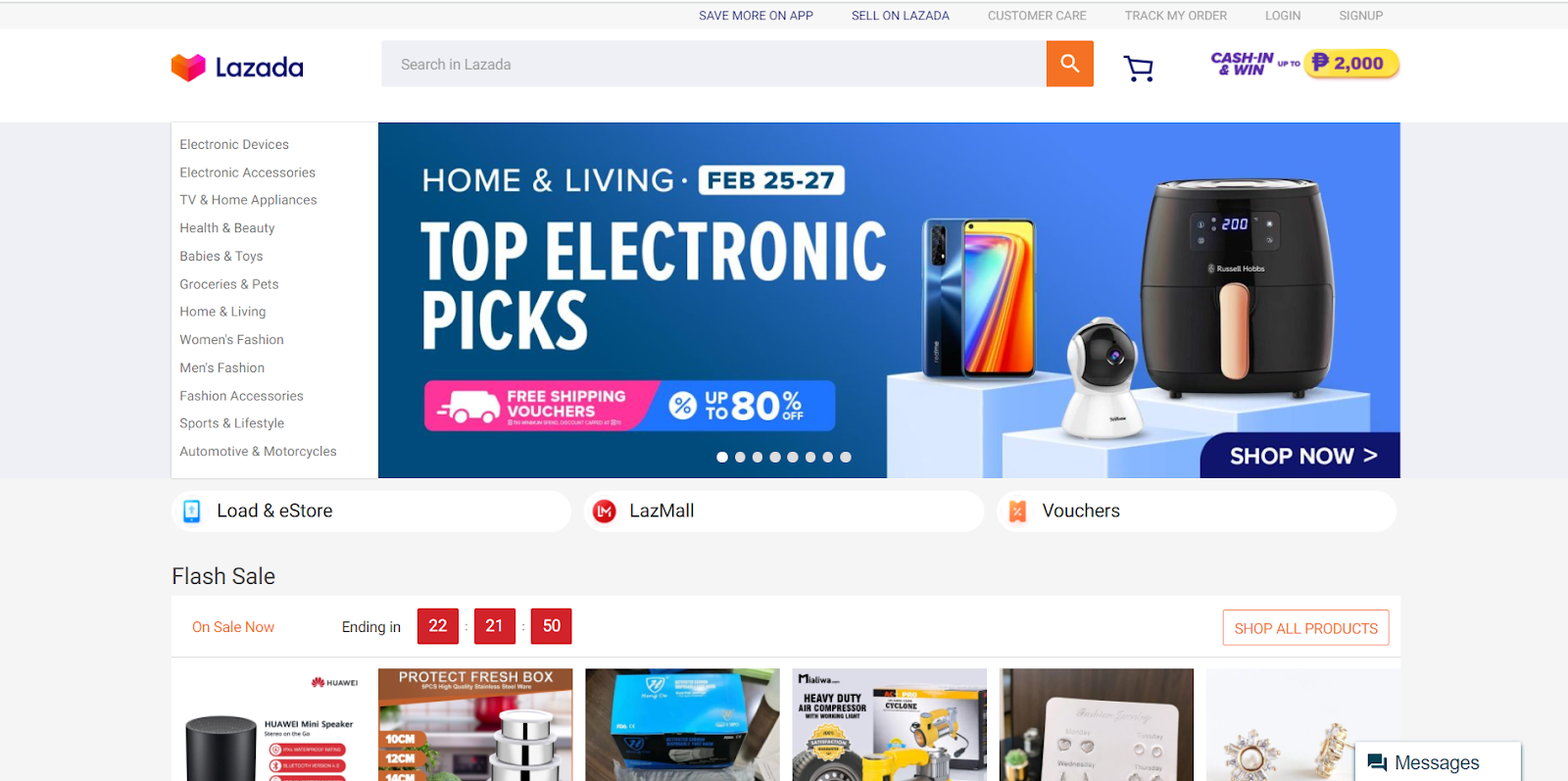 Australia, New Zealand, and the Pacific
Catch
Catch sells a wide range of products, and is the number one e-retailer in Australia. This is mainly down to its excellent use of its app. Over 70% of Catch sales are made via the app or mobile site, making it a great place to reach Australia's market that buys via mobile.
Check out Catch here.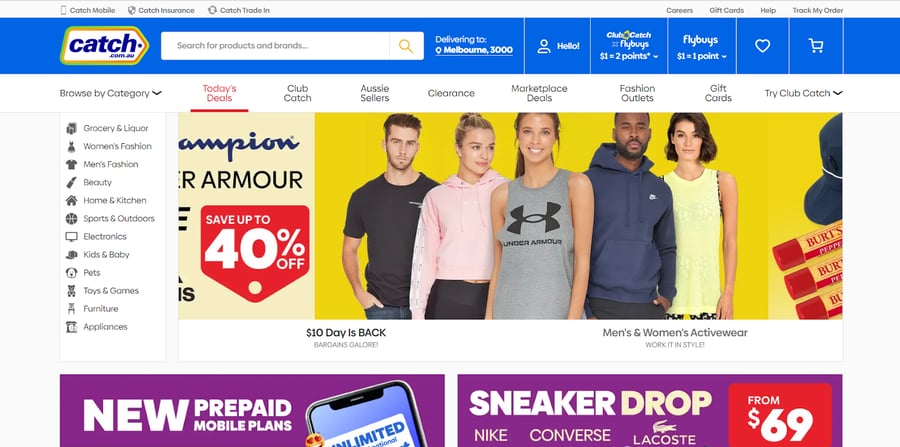 MyDeal.au
Operating in Australia since 2011, MyDeal focuses on the sale of lifestyle products, including electronics and furniture. However, due to the brand's successes it has since started to expand into more areas of lifestyle products, and even some outside that niche.
Check out MyDeal here.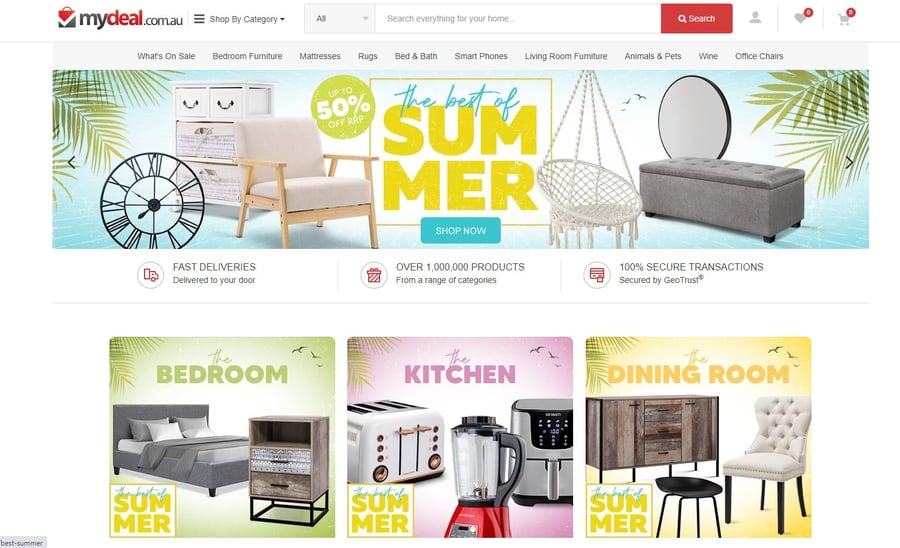 Kogan
Kogan is the place to sell in Australia and New Zealand if you are a pre-established store. One time sellers are not allowed on this leading marketplace, so you need to have a stable and recognised business to have a chance at selling.
Kogan also offers its own range of products alongside those from recognised merchants.
Check out Kogan here.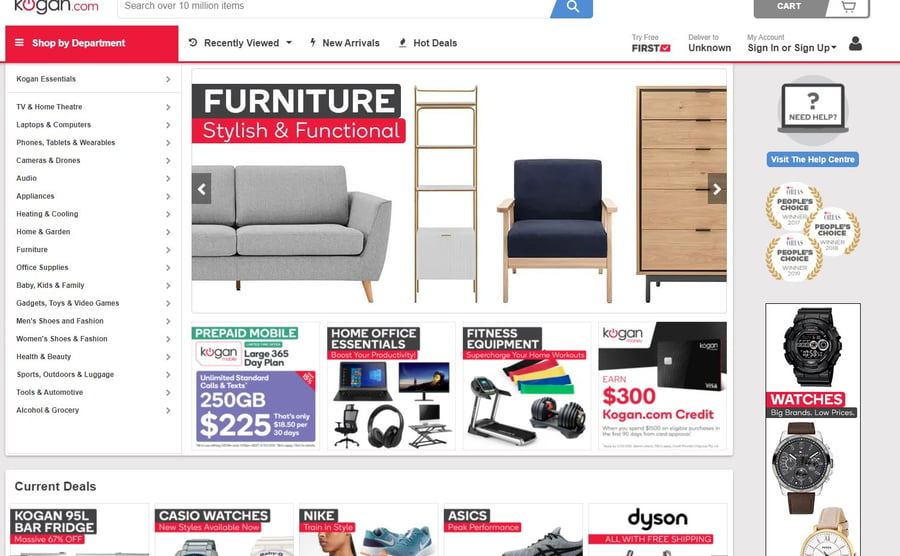 Africa
Takealot
Household South African brand Takealot has been at the forefront of African eCommerce for almost a decade now. It is easily the largest eCommerce retailer in South Africa, selling across 21 departments, and is still growing. The company aims to be highly customer-centric, whilst also supporting merchants with integrated delivery, returns and other logistics.
Check out Takealot here.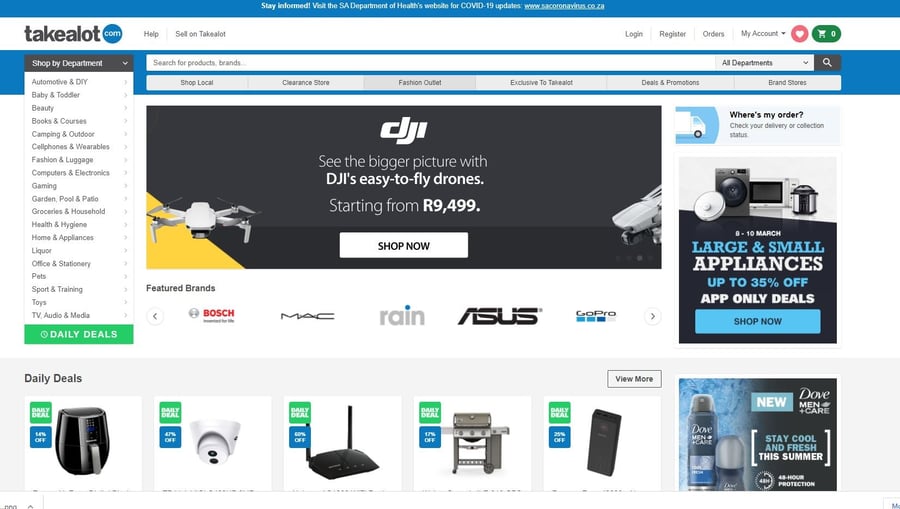 Jumia
Nigerian brand Jumia currently sells over 6 million products across 13 different nations. With over 10,000 active vendors, and over 15 million monthly visits in Nigeria alone, Jumia is a great way to sell to the African market.
Check out Jumia here.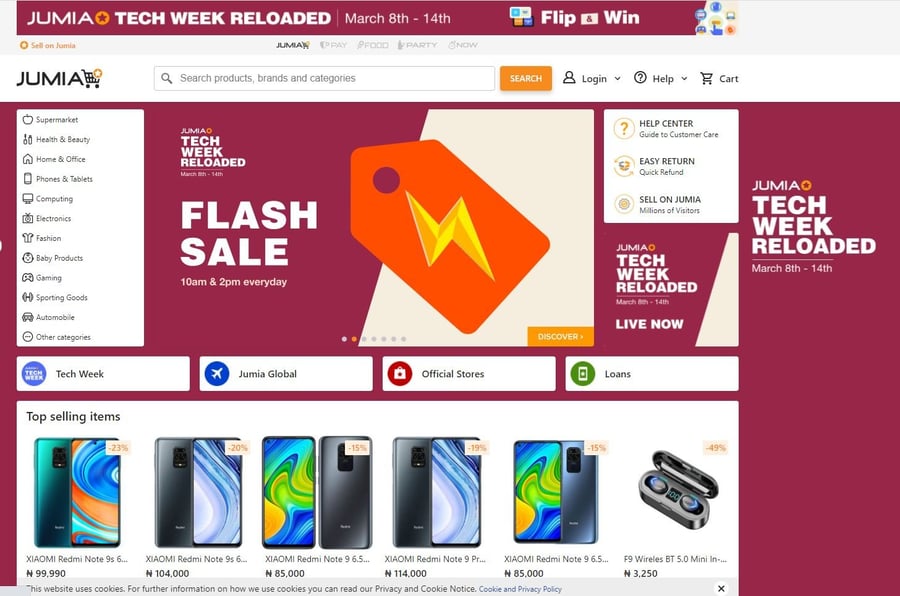 Back to The Top or
---
How to start selling on a shopping channel
As this is such a broad question, we firstly need to state that this can change depending on the shopping channel you decide to sell on. However, most shopping channels do follow a general premise.
You can start usually selling on a shopping channel fairly quickly, by following these steps:
You will need to create some form of seller profile, regardless of the choice of sales channel.
After creating a seller profile, the sales channel will take some time to review your seller profile.
Once you have been granted access to sell on the channel you will then have to upload a product feed. On most channels, you can upload your

product feed

manually, or automatically. If you have a large product catalogue,

you should always do this automatically.

With larger product catalogues, things can get untidy when you upload a product feed. This is when you need

to optimise your feed

, to ensure your products are being shown to customers as you'd like and intend them to be.


Back to The Top
or
---
How to optimize your shopping channel feed
Optimising a product feed sounds like something that could be incredibly complex. But don't be put off by the idea. Feed optimisation is simply tweaking data so that it appears in a way that people, and search engines will understand it and find it. So what kind of things can you do to tweak and improve your sales channels feed?

Again, this is partially down to the sales channel. But here are a few ground rules that all feeds for all channels should be following.
Titles and descriptions
Titles and descriptions can be optimised in a number of ways, such as the following:
Your titles and descriptions should always include keywords related to your product. And by keywords, we mean the words people are searching for. By including the right keywords, your product will appear to the right searchers. And when they see that word at the forefront of your title, they will be more likely to take interest in what you are selling. You can check keywords using numerous keyword search tools.
Titles and descriptions are limited to a certain number of characters. So try to ensure the most important information is placed at the forefront of your titles and descriptions. That way, it is always seen. You should also consider characters on mobile devices, which further limit visible characters.
When

optimising your title

structure, the order of wording is completely down to what you are selling. For example, the brand of a tv would be considered important, but the brand of a lollipop would be much less vital than its flavour.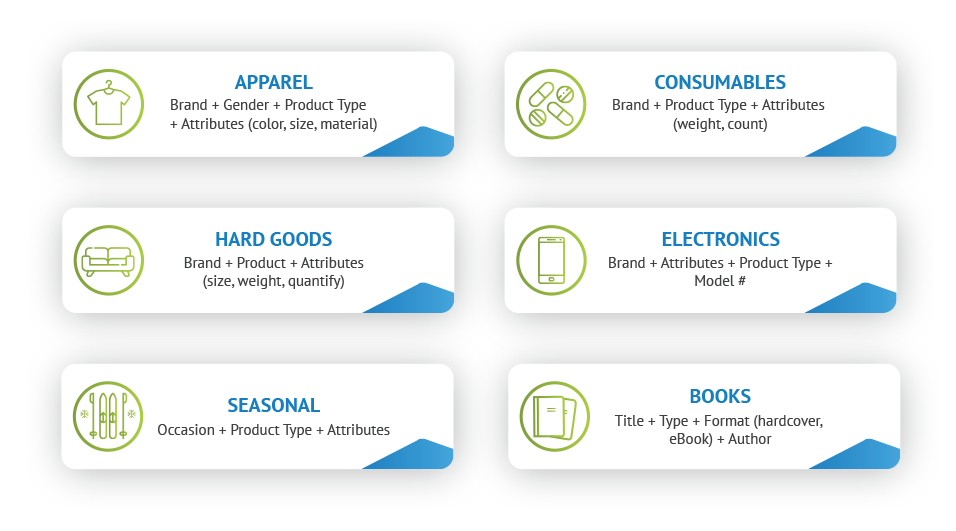 Colours
Just like with titles, with colours you also need to consider search intent. This means if you are listing a product, try to use colours that people will be searching for. This is especially important if the colour is a significant part of your product, like in clothing. Many people will search for 'blue shirt' for example. But very few will search for 'cyan shirt'. For this reason, you should try to use commonly used colours throughout your product listings.
Images
Images are one the focal points of any listing. They are often the first thing potential buyers look at when viewing your ad, so they need to be effective. A perfect image set will meet all the shopping channels requirements, whilst also having these features:
High quality resolution
Shows the product (product image) or the product in use (lifestyle image)
Shows the product at different angles
Shows the product clearly, with nothing obscuring it
Shows the product at different levels of zoom
You should also ensure that you avoid any branding, watermarks, or sales banners on your images as these are normally prohibited by channels.
GTINs
Global Trade Item Number, often shortened to GTIN, is another very worthwhile attribute for your feed. Including a GTIN will help your products become more searchable for consumers, whilst also ensuring that they include the correct information.

GTINs also allow certain channels to group all identical products into one, allowing customers to compare and find the best offer. This gives a real chance to get one over on your competitors.
Back to The Top or
---
Using a multi channel strategy
If you are already an established online merchant, you may wish to consider selling across multiple platforms, to further enhance your success in terms of sales. Multi-channel selling takes things that one step further than standard advertising, by showcasing products across numerous platforms at the same time. It might not be an easy task, but it's well worth the hard work to have a strong presence in your market.
A multi channel strategy can include any channels from marketplaces, to social media, such as Instagram and Facebook. This strategy could also help you determine where your target market spends most of their time online.
There are many places your potential customers could be. A survey of shoppers in the US found that:
54% shopped at eCommerce marketplaces
74% shopped at large retailers
44% shopped at web stores
36% shopped at category-specific online retailers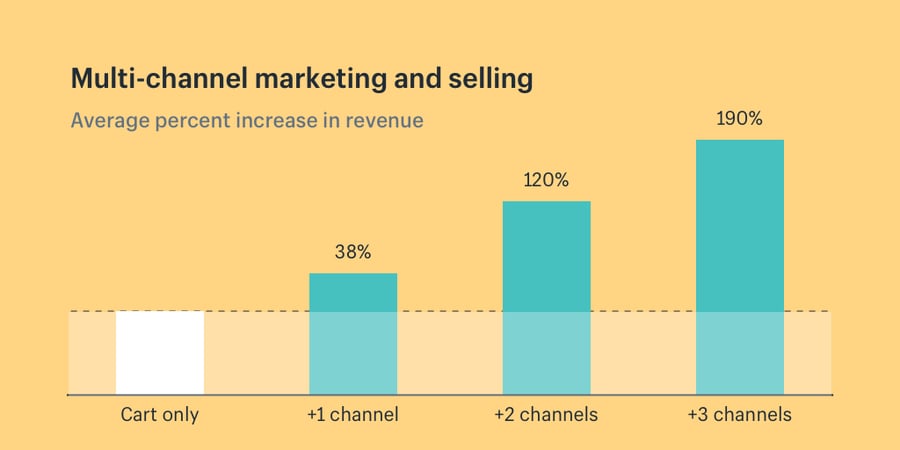 You may have heard about omnichannel retail as well. While similar, the difference here is that omnichannel aims to create one unified experience for your audience, regardless of where they come across your brand. By using this strategy, you further the chance of your target audience seeing your store on numerous platforms. If they already have an account on any of those platforms, your chance of a sale just increased. This strategy also improves the ease of use for customers, which again, can only be beneficial for both parties.
Multi-channel strategies differ slightly, as they treat each part of the buyer's journey as a separate entity. This allows you to choose what you show, from prices, to promotions, depending on the channel a person finds you on. For example, you might have a product at a lower price on your own website but then show it at a higher price on Amazon to compete in the market. This could also encourage buyers to go directly to your store on your site in the future, benefiting you as a merchant due to the fact you can learn from your customers from each sale.
Of course, a multi-channel strategy comes with a wide range of benefits. However, there are also challenges to this kind of strategy. Here are just some of the main challenges you may encounter, and a few quick ways to resolve the issues:
Challenge - Tracking your sales quantities
Tracking and forecasting your sales quantities may become increasingly time consuming and difficult. This is because you will be required to measure your successes and failures across more platforms than before. This can prove to be a lot of additional work. However, this work is essential, as you don't want to end up advertising out of stock produce on one of your channels. Especially as it may turn your customers towards your competitors instead, when you can't offer them what you initially say you can.
Resolution
The best solution for this kind of issue is to use a feed management system. By doing so, you can create conditions, where you hide any products from your advertising feed if their quantity goes below a certain amount. This rule will help you avoid situations where you are selling a product to customers that is currently out of stock.

Because you're selling on multiple channels, you won't want to wait until your product is completely sold out to stop showing it. Someone could be making a purchase on another channel at the same time before your product data has a chance to sync up, so this gives you some buffer room. Once you have those products in stock again, they'll automatically begin to show.
Another useful thing to do is to utilise the data within each shopping channel. Many channels will include sales history, that may well help you predict the amount of sales you can expect for each product, or if there will be a flurry of sales at a certain stage in the year.
Challenge - Creating unique pricing strategies
Selling across a number of channels can be rewarding. But you need to ensure you adapt your pricing strategy to the platform. Each different channel will have its own costs, competitors, and maybe even niche.
This means you will need to do a little research on how to get the most from each channel, before developing your unique strategy for selling on each platform.
Resolution
The best way to combat this issue is generally to take your time. Make sure you do plenty of research on your competitors on each channel, and check the fees to see how they will impact your revenue.
Remember, you can always adjust your pricing if things aren't quite right. So don't be afraid to trial things. A price monitoring tool can be useful for understanding the current market. Also, keep in mind any additional regulations on a channel. Price comparison sites require your website price to match the listing price.
Challenge - Choosing the perfect channels
Finding the right channels to sell on for your business can be one of the most difficult things to master. The wrong channel could consume a lot of your time and money, for very little reward. So how do you avoid this?
Resolution
Again, research is the best way to get around this issue. Ask yourself questions such as:
Will this platform give exposure to the right audience?
How much time will it take to set up and maintain?
Does this platform fit into my budget?
Does the channel fit into your existing order fulfillment plan
By asking these questions, with a small amount of research you can avoid any unnecessary wastes of time, save valuable budget, and focus on channels that will actually be beneficial to your business.
Back to The Top or
---
All About Amazon
What is Amazon?
Amazon currently has over 310 million active users worldwide, and over 6 million sellers. This makes it the most prominent worldwide eCommerce platform, and the biggest sales channel in most countries.
Amazon is a marketplace that has no specific niche. It is essentially a haven for all kinds of products, and in certain countries, it even offers its own food and grocery delivery service. In addition to selling merchants products, Amazon also has its own line of basic and high standard product ranges.
The marketplace is one of the go to places for many customers, and has a substantial presence in the UK, US, Spain, Germany, France, and many other countries around the world.
How to choose an Amazon selling plan?
There are two types of Amazon selling plan. They are the professional plan, and the individual plan. When you first sign up to Seller Central, Amazon will automatically place you in the individual plan. Should you need additional features, you will have to opt in to the professional plan. So what are the differences between the two plans?
The individual plan is the plan everyone starts on. It is ideal for those merchants who sell on a small scale. Amazon's limit on this plan is 40 on less items sold a month. You can still use Amazon's fulfillment program, known as Fulfillment by Amazon. However, you will have less features outside that.
The plan costs just $0.99 per item sold, plus referral fees. If you are selling on Amazon UK, France, or in any other nation, this fee will be the equivalent when exchanged.
Please note that UK fees may also be influenced by Brexit in the coming months, depending on how trade deals work out.
Contrastingly, the professional plan gives you full access to all Amazon Seller Central and its features, including advanced selling tools and Amazon advertising. In addition to those tools, you will also have the ability to check the numbers behind your sales through Amazon analytics. Analytics allows you to better understand how to improve your selling on Amazon. From there, you can use a third party data feed to further enhance your advertising on Amazon, at a better price. All of this totals up to $39.99 a month, plus referral fees.
How to list your product on Amazon
Listing products on Amazon isn't a long process. However, first you will need to create a seller central account. Then you just follow these simple steps:
Ensure all your product details are up to date

, with any necessary information filled in. Amazon requires certain fields of information for you to list your products with them. These include a title, description,

ASIN

, images, price, product category, weight and dimensions.


Once you have created your account, and it has been approved, you can upload your feed. This can be done manually, or automatically. Amazon also gives you the option to add one product at a time.


Next, go to the inventory menu and select the type of upload you desire. This could be a singular upload, bulk upload, or upload via a spreadsheet.


Next you can

select your primary category

. If your feed already specifies categories, try to make sure it matches as closely as possible. Adding subcategories is also recommended as it helps customers to narrow down their searches.


After this, you just have to press upload. However, it is also possible to go to the advanced view and add further details. This is done one product at a time, so if you're doing a bulk upload, it is easier to use a data feed service to cover this kind of task. Otherwise it can become quite time consuming and monotonous.


Images on Amazon
On Amazon, images are at the forefront of a listing. Every listing must contain a main image, at a minimum. However, it is strongly recommended that listings have several images, and maybe even a video. That way customers can see your product from a variation of perspectives, and know exactly what it is they're purchasing.
Amazon have specific requirements for their images, they are as follows:
85% or more of the image must contain the product itself
Only the product itself may appear in the picture
The image must be an accurate representation of the product
Recommended dimensions include 1000 pixels or more to be eligible for the zoom feature
Minimum dimensions are 500 pixels in either the width or height
JPEG is preferable. However, TIFF and GIF are also accepted
Main images may have a pure white background


Amazon pricing strategies
There are four main types of strategy when it comes to Amazon. They are:
Economy strategy
This is a strategy that uses small profit margins, with low advertising costs. It does so by aiming to make the product available to a large market. It will usually have little to no shipping costs and will rarely rely on sale prices. This strategy is most useful, and is commonly used with everyday products such as detergents.
Premium strategy
Taking the opposite approach to economy strategy, premium strategy uses high prices and identifiable branding to generate interest. As brands still have to vye for the Buy Box on Amazon, many will turn to discounts to enforce this strategy more effectively.
This strategy works best with reputable brands that are market leaders in their sector, such as Dell laptops.
Skimming strategy
Skimming strategy is the most acceptable form of pricing. It essentially requires vendors to start at a higher price, only lowering it when another merchant matches their original price. This strategy is ideal for unique products, or those new to the market. However, the merchant needs to be able to anticipate and plan for future competition.
Skimming strategy is ideal for short term profits. However, it is less effective in the long run. The best examples of this strategy lie in the gaming industry, with PlayStation and xBox. Both their games and consoles are initially priced high, and then gradually lowered over time. They will also lower their prices when competing with one another.
Penetration strategy
Penetration strategy is when you add products at prices lower than competitors to gain market share. This tactic is normally used by new brands, or existing brands releasing new products. Generally, this strategy is only used short term, in the form of a promotion. Prices will then rise once the brand has reached their targeted sales.
Despite this strategy not being useful long term, in the short term it can help to get the Buy Box and then generate interest in your specific product. Afterwards, you can rely on returning customers due to brand loyalty.
Amazon does not always give Buy Box to the cheapest option, therefore this strategy tends to work better for more unique products on the platform. An example of this is vegan products, which are typically more pricey and do not have an abundance of worldwide competition yet.
Amazon Buy Box
Amazon's Buy Box is one of the marketplaces most unique features. The Buy Box is displayed on product pages and is the quickest and easiest way for a customer to buy. This is because products holding the Buy Box have the option 'buy now' on the product page.
On Amazon, a product can be sold by multiple sellers, these sellers may be able to compete for the Buy Box. Uses its own algorithm, Amazon will then decide the most suitable seller to have the coveted Buy Box.
There are a number of factors that influence the competition for the buy box. They are as follows:
Fulfillment method
Pricing
Refund rate
Order defect rate (ODR)
Stock availability
Seller response time
Shipping time
Reviews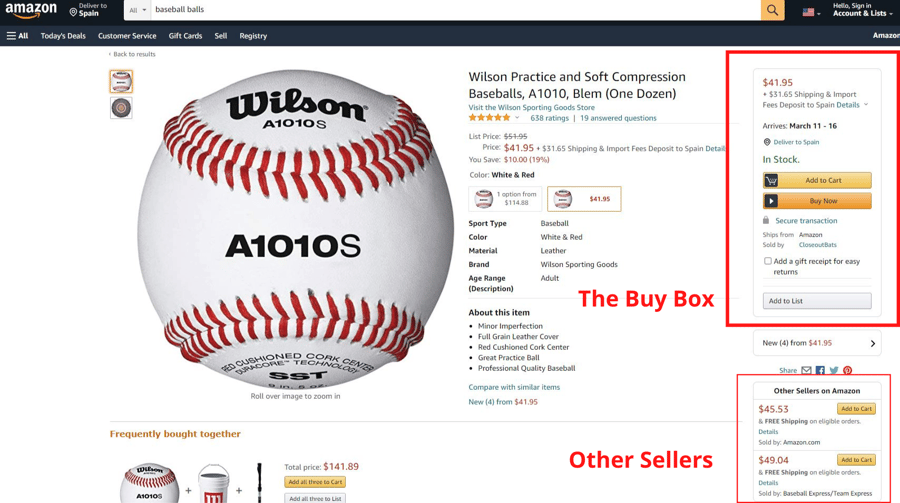 Pros of Amazon
Amount of users
The most obvious pro of Amazon

is its worldwide quantity of users. Amazon is easily the biggest marketplace around the world, and therefore anything you do sell will be available to copious amounts of consumers.
Analytics
Amazon has an inbuilt analytics service known as Amazon Analytics. This service allows you to

better understand your listings

, along with their successes and failures. The idea of this data is to allow merchants to improve the advertising, and general marketing for each of their products in their catalogue - and make the fight for the BuyBox fair and competitive.
Cons of Amazon
Visibility
Due to only the

BuyBox product being shown

on the initial search page, customers may never actually notice your product ahead of the competition, if it doesn't hold the BuyBox itself. This can not only reduce sales but leave them completely stagnant.
Requirement for several accounts
Amazon has a different website for each nation, meaning you will be forced to

create several accounts

to get the most from sales around the world. You can still ship globally from any Amazon domain, but users from the US are unlikely to use Amazon.de due to the language barrier and a slower, pricier delivery process.
Back to The Top or
---
All about Google Shopping
What is Google Shopping
Google Shopping is a worldwide sales channel that allows merchants to list their products for price comparison purposes. Users can browse through products, and by clicking on them they can visit the merchants store. Google Shopping covers a wide range of categories and has both free and paid listings.
Selling on Google Shopping
To sell on Google Shopping, you need a Google Merchant Centre account, which can be done by filling in details about your business, and verifying your website . You will also need an Google Ads account.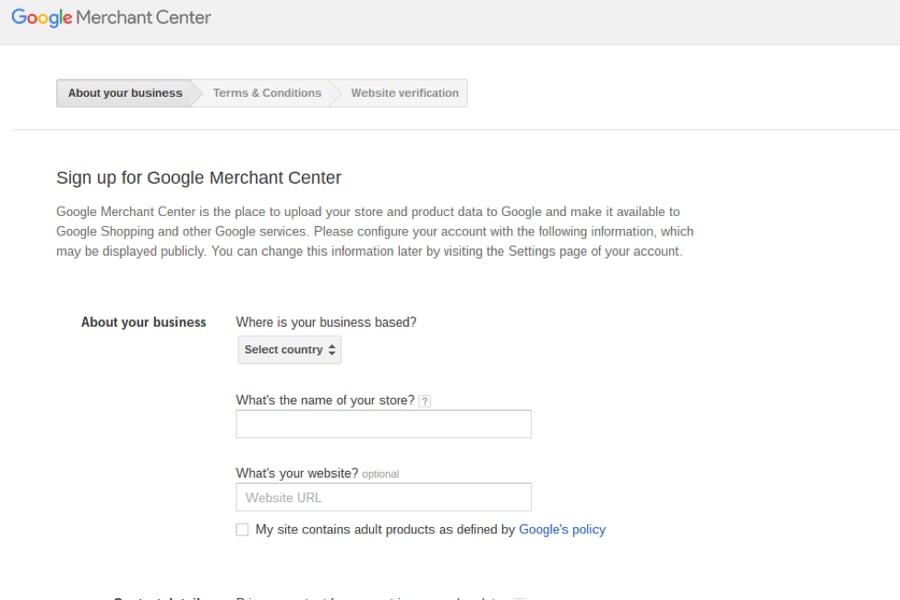 After you have created both accounts, follow these steps:
Make sure your product list meets all

Google Shopping's requirements

.

Upload your feed i

n text or XML format.
Link your Merchant centre and Google Ads accounts by going to Merchant centre's setting and clicking the Google Ads option.
Begin creating your

Google Shopping campaign

by clicking on the 'create shopping campaign' button.
Click the '+Campaign' button and select 'shopping'
You can now start to create your Google Shopping campaign - Remember to manage your campaign throughout. Tweaks may be needed

to get the most out of your campaign

. It may also help to use a data feed service to stay on top of things such as your stock.
Read Next: 35 Common Merchant Center Errors + How to Fix Them
Creating the perfect images
Images are one of the first things people see on Google Shopping, so the perfect image goes a long way. Here are a few do's and don't for when adding images to the channel.
Image requirements
Google provides very specific image requirements. They include image size, format, and URL requirements. Failing to follow any of these requirements means your images will be immediately rejected by Google. Therefore, it is vital to check your images thoroughly before uploading.
For size, Google's requirements are:
Non-apparel images: at least 100 x 100 pixels
Apparel image: at least 250 x 250 pixels
No image larger than 64 megapixel
No image file larger than 16 MB
For format, Google's requirements are:
GIF (.gif) (non-animated)
JPEG (.jpg/.jpeg)
PNG (.png)
BMP (.bmp)
TIFF (.tif/.tiff)
For the URL, Google's requirements are:
The URL must link to the main image for the product.
The URL must start with either http. or https.
The URL must be in line with RFC 2396 or RFC 1738 - examples:
1. Space would be %20
2. A quotation mark (") is %22
3. An octothorpe (#) is %23


In addition, Google also has requirements for placeholder images.
Google states that placeholder images are not allowed aside from two exceptions:
Within the categories Hardware or Vehicle & Parts. Illustrations are allowed here where necessary.
Paint, in any category. With these products, single-color images are accepted.
Things to include for the perfect image
Clarity

-

Your image should always be clear

. By this we mean it should show exactly what you are selling, in a good resolution. That way, customers know exactly what they are getting.
Lifestyle or product images - Certain types of images are better for certain products. Make sure you do a little research on what would be best for your products.
Utilise additional images - Additional images can give customers new perspectives on your product. You could add different image types, show your product from different angles, or even show it at different light levels. All of this could help get you an extra sale!
Things to avoid adding to your images
Text and promotion - Google states that images should not include any promotional text on the image. Any text should go in the description section, that way, the image is always clear.
Watermarks - Watermarks are another thing that can obscure an image. And like text, Google prohibits them for the same reason.
Inaccurate images - Images that do not show the product you are selling will immediately be rejected by Google. Even if it is your company logo.
Utilising negative keywords
If you are getting a lot of impressions on your ad, but very few clicks, it is likely that your ad is showing to searchers who do not deem it accurate. When this is happening, you can resolve the issue with negative keywords.
Negative keywords allow you to state words which your ad will not show for. For example, if you are selling Blue Adidas trainers, you could exclude the word 'preowned', so your ad only show to people looking for new blue Adidas trainers, and is therefore more relevant.
Utilising custom labels
Custom labels are a great way to separate your products, so you only advertise the ones that are most profitable for you.
One example of a useful custom label is price brackets. By creating price brackets, you can focus on advertising your more expensive products with higher profit margins. This would likely improve your ROAS.
An alternative way to use custom labels is to label your products in seasons, that way you don't spend valuable budget advertising winter coats in the middle of a hot summer, and instead advertise sunglasses, or swimming costumes.
Back to The Top or
---
Google Shopping - Pro's and Con's
Pros of Google Shopping
Integration with Google
Google Shopping

is integrated with Google search engine results page, and the image search engine results page. This means any paid listing on this channel can be shown to users who may not strictly

be searching on Google Shopping

for a product, but could just be entering a search term that triggers that ad via keyword.
Features that lower CPC
No charges unless a customer clicks on

the advertisement link and visits your store

. As you can show numerous details to the customer prior to them clicking, this helps to reduce the amount of clicks that don't lead to sales, saving vital advertising budget. Details that can be shown prior to visiting a merchants store include images, a description, sizes, colours, and much more.

Free listings
Cons of Google Shopping
Inability to buy from more than one vendor at once
As it is a price comparison site and not a marketplace, customers cannot buy from multiple vendors at once. This means they are unlikely to make numerous purchases at the same time, and reduces the profitability of having multiple listings on Google Shopping itself.
Limited visible characters for titles
Google Shopping has a very limited number of visible characters available for its titles and descriptions. Even less so on mobile devices. And although this doesn't limit who ads show to, it can limit what people see initially. This could have a somewhat negative impact on campaigns.
Lots of competition
Google Shopping is highly competitive, and only growing in popularity. There may be more and more potential customers on the platform, but there are also more merchants. Therefore, you need to be able to stand out from the competition.
Back to The Top or
---
All about eBay
What is eBay
Shopping channel eBay allows merchants to sell and auction products across numerous categories, on a worldwide scale. eBay has separate websites for each nation and has no specific niche to what it sells.
The platform is very popular with one time sellers, and smaller, growing brands.
Selling on eBay
If you are looking to sell on eBay, you first need to create an account.
If you aim to sell occasionally, or have a small store then you can sell using a private account. You can sell private listings for free up to 1000 products and after that you are charged per listing (the amount depends on where you are selling).
For those who expect to sell more than 1000 products and aim to sell long term, you will need to choose a package deal to allow you to sell on eBay. You can choose to sell through one of eBay's 3 package options, which cost between 25 and 400 euros a month.
Once you have selected a package, the process to begin selling is generally very simple. eBay will require you to meet all their feed requirements to list a product, and will also take up to 48 hours to verify any listing. If you are listing in bulk, you can speed up the process by using the automatic bulk upload option, or a data feed.
Requirements for listed products include:
A product name

Product images

(within eBay guidelines)
GTIN
Product description
Price
Whether it is for buy now, auction, or either
Payment options you wish to make available
Product category
If you have all those details to hand, and up to date, you can start uploading your feed and creating listings. This can be done by:
Clicking sell your item at the top of any eBay page.
Filling in the sell your item form with all the necessary information
Reviewing your listing
Clicking list item(s) for sale after completing the form and review
Note: You can also create listing templates for future listings, by checking the box 'save this listing as a template'.


Creating the perfect title
Titles are one of the most visible elements of listings. They are not just the first thing eBay customers will read, but also the way they find the listing. This is because like many other channels, eBay uses keywords to match listings with search intent.
The perfect title will be easy to read, and include the relevant keywords acquired from keyword research. It will also meet the requirements of only 80 characters per listing.
Optimising your images
Images are as vital as titles when it comes to eBay listings. You can add up to 12 images per listing on the marketplace, which you should try to use to your advantage.
Try to use images that show your products from a variety of angles, and levels of zoom. Also remember that an image with a better resolution will help your product come across more professionally. And most importantly of all, make sure you meet eBay's image requirements, by avoiding any logos or watermarks in the images.
Creating the ideal description
Descriptions are another great way to bring potential buyers to your listing. Like titles, you can do this via keyword research and then using the perfect keywords in a well constructed description. However, you also need to consider the readability of your description. Many customers skim read descriptions, so it needs to be formatted effectively, to allow for quick and easy reading.
The importance of correct categorisation
Categorising your product is another useful way to help potential customers find it. Many potential buyers will use categories as a filter to refine their search. This means choosing the right category is also integral to your product being found.
If you are unsure of what category your product should go in, check your existing competitors listings using a GTIN.
Pros of eBay
Large amount of users
Similarly to Amazon

, eBay also has a large customer base for merchants to tap into. It also offers variations of its website around the world, so you will have a chance to reach large, varied customer bases.
Auction or buy now options
The option to sell products in an auction or buy now format offers merchants flexibility. It can also be a great way to drive interest in products if the auction feature is used for promotions.
Cons of eBay
Requirement for several accounts
eBay may have a large customer base, and global reach, but it is somewhat restricted due to nationally based websites. This means you will need to take the time to create several accounts if you intend to sell in numerous countries.
May not attract certain demographics
eBay has a reputation for attracting one time sellers who often sell pre-owned/ lower quality items. Whilst this is perfectly acceptable, it often means certain types of buyers will not search on the site.
You May Also Find Interesting: Bonanza vs eBay: Which Platform is Better for Selling Online
Back to The Top or
---
Final thoughts
Sales channels are an essential part of eCommerce. Finding the perfect channel, or channels to sell your products on will play a large part in any success you have selling online. But there are various other factors that will impact that too. Remember to optimize your feed on a regular basis, and stay on top of any changes in the market. That way, you will always have a good chance of matching, and bettering your competition.