When it comes to e-commerce, Australia has been picking up the pace for years. COVID19 might have accelerated the move online, but it is one that has been coming for a while. After all, the benefits of e-commerce - from advanced choice to ease of purchase- are too significant to be ignored.

While the last year has also accelerated a number of e-commerce trends, it is important to note that many of these were shaping the market in the years before. For example, the e-commerce variety store space was already growing significantly.
In this article, we're going to dig deep on e-commerce in Australia- looking at the past few years and exploring the years to come. Understanding the state of the market is going to allow you to plan for the future and to optimize your e-commerce business accordingly.
Whether you're already running a store or you're wondering how to start an ecommerce business in australia, this is key reading!
---
The Last Few Years- E-Commerce Australia
In the period of 2015 - 2019, Australia's consumer spending was steadily on the rise. Online shopping slowly but surely became the norm across both rural areas and cities.
Within the market, there were important changes to payment methods and product trends. Buy now pay later payments were picking up pace particularly among the younger generation.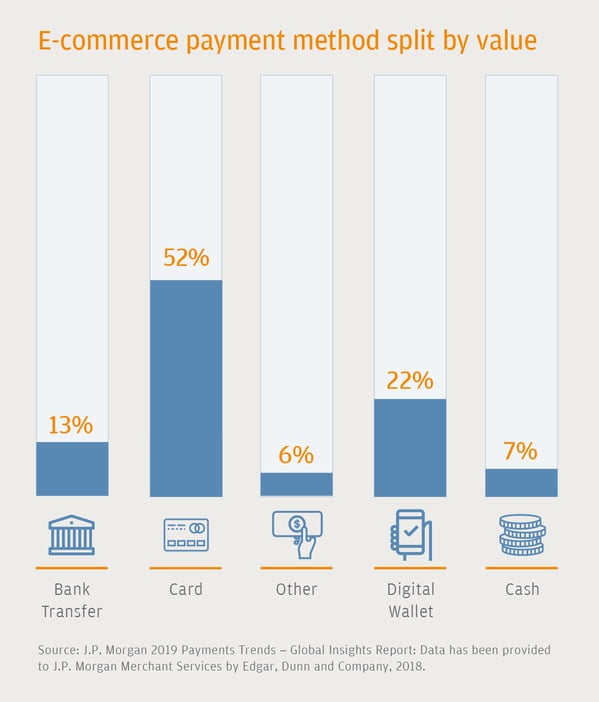 Popular payment methods before the pandemic
At the same time, fashion was solidifying its place as one of the most popular e-commerce product categories due to browsing on social media and in-app.
As a result, it became clear that a seamless, engaging and efficient buying process was key. Increasingly, buyers look for an enjoyable buying process and an easy way to pay.

On one hand, COVID-19 disrupted the market and made consumers more cautious when spending their money due to tighter finances. But it also facilitated huge growth.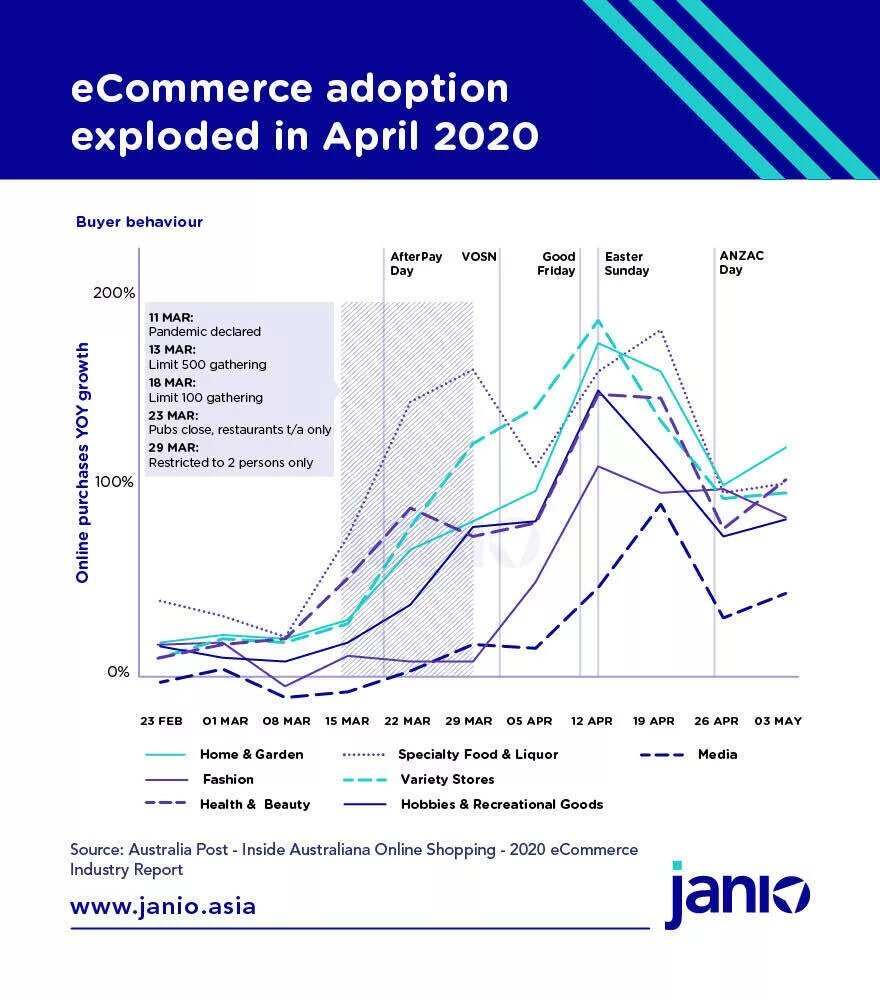 In April 2020, more than 200,000 new shoppers entered the e-commerce market. In many cases, COVID19 saw the permanent move away from brick and mortar with companies moving online to meet demand and fit to Coronavirus restrictions.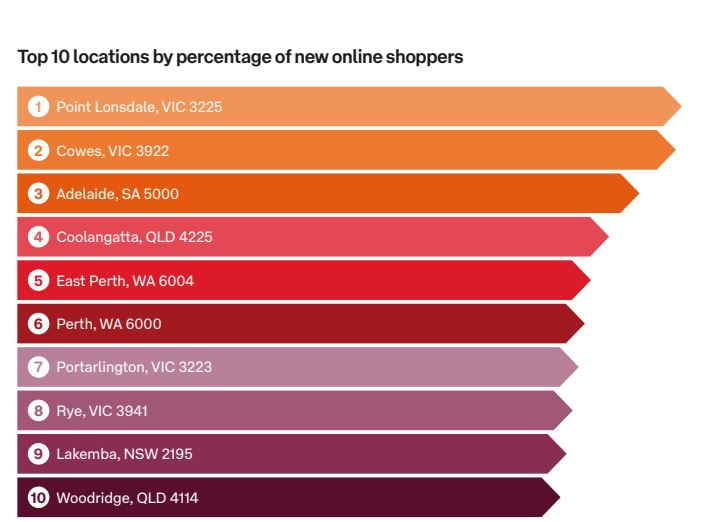 If you want to find out more about moving your brick and mortar store online, check out our complete guide for transitioning your store online.
As Australia moves out of lockdown and the world looks towards a post-Covid19 future, it's important to focus on areas of e-commerce growth. Perhaps you're looking at how to start an eCommerce business in Australia in light of this. The right choice of channel, product and strategy can help you to navigate a slightly more cautious consumer market.
Back to The Top or
---
The Most Popular E-Commerce Channels in 2021
If you're looking to start selling e-commerce, you can choose to sell on online marketplaces (such as Amazon), to use search engine optimisation or paid search advertising, or to sell through social media or email marketing.
Most often, though, your strategy will incorporate a few different channels. For example, a small business selling arts and crafts supplies might focus on a marketplace like Etsy, but also sell via social media and have products on their own site.
When it comes to marketplaces for e-commerce, Australia loves MyDeal. MyDeal is focused on brands who sell bulkier items such as tables and sofas, but it's a great option for many e-commerce businesses because it handles much of the logistics of listing. With MyDeal, your products are exposed to an audience of over 1 million per month automatically. You can easily grab attention here with the right product feed optimization strategy.
While sites like MyDeal are a great place to start, in order to scale your e-commerce business and tap into greater audiences, you will want to look at larger marketplaces such as Amazon. Amazon is leading the way in terms of e-commerce marketplaces, with 55% of buyers going to Amazon to browse. Amazon requires a little more attention in terms of advertising strategy, but luckily, our guide to Amazon advertising trends has got your back.
Search engine marketing is also great when starting an ecommerce business in Australia. Through search engine optimization, e-commerce brands can boost their product higher in search engine results and boost their brand recognition. Search engine paid ads produce similar benefits and are also great for targeting specific audiences - for example, audiences in particular locations in Australia.
When it comes to search engine marketing, Google still dominates.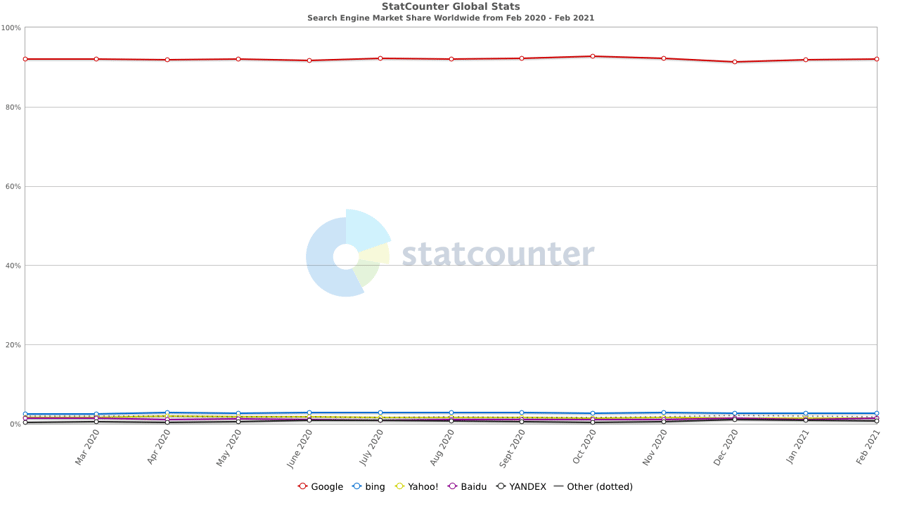 Recommended Read: Google Shopping vs Google Search Ads: Key Differences

In terms of social media marketing, Facebook is still very popular among e-commerce brands. Facebook's Facebook Shops feature streamlines the process of selling on Instagram and Facebook, offering users the ability to manage delivery tracking and product catalogs easily and efficiently.
Pinterest is also a key social media channel for e-commerce sales. With extensive marketing features, Pinterest allows users access to niche audiences through either paid advertising or organic marketing. Organic marketing on Pinterest can be a great option for e-commerce websites in Australia. The platform allows users to build brand awareness through content that is reshared among their audiences.
In 2021, a significant proportion of sales activity occurs cross channel. Buyers often need to be reminded of a brand via several touchpoints and it is therefore best to not limit marketing activity to just one channel.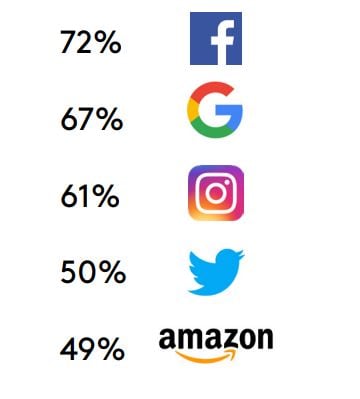 Top five platforms for digital marketing activities (Source)
Back to The Top or
---
The Most Popular E-Commerce Product Categories in 2021
If you're looking at starting an ecommerce business in Australia, it's important to take a look at the most popular e-commerce product categories currently.
Beauty: is similarly still growing; by 2024, it's projected to be a market worth $750bn. Check out our guidefor an in- depth overview of the beauty sector.
Variety Stores: Variety stores accounted for 17% of e-comm sales in 2020 and the continued shift from brick and mortar suggests this market will grow even further in coming years.
Grocery delivery: Following the Coronavirus pandemic, many buyers find themselves preferring to order food and drinks to their homes. The industry has grown by 81% over the past 5 years.
It's important to note that there is always space for new product categories and trends in the e-commerce market. E-commerce owners should focus on solving consumer problems first and foremost.
Back to The Top or
---
The Top 10 Australian E-Commerce Stores in 2021
Taking a look at the top 10 ecommerce stores in Australia can give you ideas for product categories and marketing strategy. We have provided a brief overview of each of the top 10 ecommerce stores in Australia below.
Kogan

offers a huge range of items to a customer base of

over 3 million Australians.

With divisions including Kogan Books, Kogan Retail and Kogan Mobile, the store caters to buyers seeking convenience alongside choice.
The Iconic

is an online fashion retailer which hit a market share of over 15% at the start of 2020.
Woolworths

doubled their e-commerce sales in 2020

delivering groceries and other essentials to thousands of Australians throughout the year.
Chemist Warehouse

delivers medicine to consumers all across Australia. Though they still have brick and mortar stores, Chemist Warehouse made over 340 million US dollars in e-commerce sales last year.
Betta

are an Australian retailer selling electronics and furniture. Their annual sales figures have been growing year on year since 2019.
JB Hi-Fo

is Australia's largest home entertainment retailer. In 2020, they hit over $300 million sales.
Booktopia

,

Australia's leading e-commerce book store, hit their record number of orders in 2020, with 4.2 million orders being shipped in the last 6 months alone.
RY is operated by The Hut Group and predominantly sells beauty products. Their annual sales figures

have grown year on year since 2015.
The Good Guys sell electrical appliances and homeware. Last year they accounted for about

26 percent of all domestic appliance

sales in Australia.
Milligram is an online-only designer boutique selling everything from headphones to handbags. Last year, Milligram continued to implement their growth plans, quickly learning to adapt to challenges posed by COVID19

.
Back to The Top or
---
The Biggest E-Commerce Challenges in 2021
When considering the future of e-commerce, it's important to pay attention to a few key trends.
Voice Search on the Raise
The first of these is voice search. 57% of Australians now use Voice Search on search engines and other sites and this figure is only likely to rise in the coming years. The popularity of voice search means that your e-commerce listings need to be written in a more conversational tone in order to rank well.

For more tips on optimizing for voice search take a look at this article.
Checkout Experience Gains in Importance
The second challenge that e-commerce businesses will have to overcome in 2021 and beyond is the importance of implementing highly efficient checkout and payment methods. With more e-commerce competition online than ever before, a seamless buying process is key.
Consistency with content creation
Similarly, since 81 percent of shoppers conduct online research before buying, e-commerce brands need to aim to put out consistent content that adds value to their audience in order to stand out from the competition. Whilst this might be a challenge in terms of time and budget.
Back to The Top or
---
The Projected Future of E-Commerce
With research indicating that by 2022, e-commerce revenue will grow to $6.54 trillion, there has never been a better time for starting an ecommerce business in Australia.
As more and more businesses turn to e-commerce and away from brick and mortar, there is certainly more competition. However, with the right strategy and use of data in place, e-commerce businesses are set to thrive.
To get ahead and grow your e-commerce business, check out our solutions today.
You may also find interesting: A Complete Guide to Dropshipping in Australia