All About AWIN Affiliate Marketing
---
What affiliate marketing actually is - the power of the network
The popularity of Affiliate marketing is increasing. This tactic allows advertisers and sellers to delegate the performance of marketing activities to numerous independent partners. Publishers are paid in the 'for effect' model.

At its core, affiliate marketing is referral marketing. It is therefore not directly a marketing technique, but rather a model of employing independent marketers motivated by commission remuneration. Publishers who perform activities bringing prospects to the advertiser's website.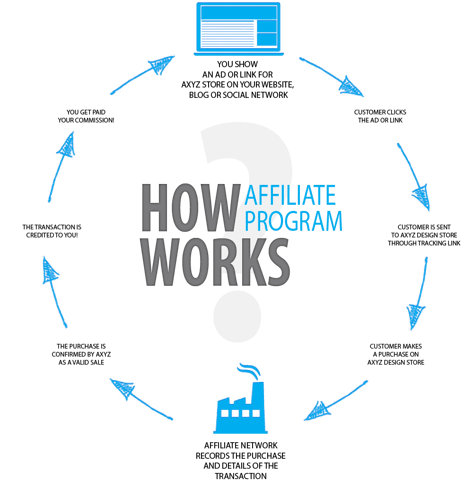 Affiliate marketing can be thought of as outsourced marketing. The business treats affiliates as an independent and away from a standard sales team who engages the brand's audience daily.
This popular tactic drives sales and generates online revenue. It's beneficial to both brands and affiliate marketers. This is a sign of striving for non-traditional marketing with huge profit potential.
Over 80% of both - brands and publishers leverage the power of affiliate marketing. This statistic will continue to increase as affiliate marketing spending increases every year in the United States.

There is a 10.1% increase in affiliate marketing spending in the United States each year, meaning that by the end of this year, that number will reach $6.8 billion.
Return to top of page or
---
What challenges affiliate marketing brings
Conscientiously and effectively performed affiliate marketing is a great tool for e-commerce marketers. It's just about being aware and careful of the challenges that may appear.
Commissions
The risk related to commissions works both ways. There is a possibility that the affiliate impose hefty fees for services, same as merchant may promise high commissions to attract new affiliates then drop commission rates.
It is worth to remember that set up and maintenance may also mean more cash outflow for the merchant if having (too) many affiliates.
Uneven Income
When it comes to generate traffic affiliate programs don't generate it on a regular basis. One day brings dozens of customers, another none. Sometimes it lasts for a whole month.
Advertisers should invest their money wisely and prior check spike periods in sales.
Tricksters & False Advertising
Aiming to getting sales commissions the affiliates may engage in false or misleading advertising. Some of them may also make wrong or exaggerated promises regarding the product and services.
In cases like these, merchants may receive complaints and in the effect lose potential consumers. False advertising on the affiliate's website can breach or even destroy a merchant's reputation.
Hijackers
Advertisers and affiliates should be aware that there are also some roguish individuals who can hijack affiliate links in order to steal their commission in the process.
Affiliate marketing still remain a lucrative source of income and are an efficient tool for drawing new clients. On the whole it is showing potential to produce more and more successful advertisers.
The most important is to be cautious when engaging in a partnership. Before joining the chosen program both- advertisers and affiliates should conduct comprehensive research and look for information about potential partner.
Good relationships and the right partners are crucial to proving favorable in the long run.
Return to top of page or
---
Awin for advertisers
Awin offers wide reach with its diverse and quality affiliates. Advertizers can partner with more than 200 00 partners from different industries.
Awin allows sellers to connect with publishers promoting the finance and insurance sectors, retail and shopping industry, telco and services and ones who are travel partners.
Each partner adheres to Awin's compliance rules as the affiliate network has to provide security for its clients. All publishers are approved before they join the network through an in-depth screening process.
Personalized Affiliate Marketing Service
Awin is a team of global professionals. Across advertiser management, publisher management, technical and support.
The in-house teams' role is to ensure a coordinated and streamlined strategy. It helps the program to operate across multiple markets, territories or website domains.
Tools and Technology to Optimize Affiliate Partnerships
In order for users to interact with ads, a healthy data feed is essential. A perfect base for your ads are a well-optimized title and image as they grab the most of the audience's attention.
Awin's Cross-Device Tracking solution allows advertisers to reward publishers for multi-device journey transactions.
Voucher attribution technology allows further flexibility to the traditional last-click model in the affiliate channel.
AWIN Affiliate Sales API enables advanced affiliate publishers and technologies to integrate AWIN sales data in order to optimize their campaigns automatically.
Return to top of page or
---
How Awin helps to reach your target audience
A cost-effective and time-saving solution boosts sales and might revitalize a business. Through partners and publishers, you can expose the brand to untapped audiences. This not only extends the reach of your products but also creates a buzz around your brand.
Sellers may benefit from affiliates in multiple ways. Here you find some of the main ones:
Performance-based payment system
The most common model is to pay for sales, but some businesses pay for clicks or leads. Paying for just completed sales comes under the heading of performance-based sales, which has a little financial risk to the business.
Ability to reach a wider audience
Finding new traffic is one of the most important aspects of brand marketing. By tapping into a network of established publishers with unique, quality audiences, brands have the opportunity to expose their products to new consumers.
Work with a team of specialists
Employing a skilled internal workforce with different specialties is expensive. Affiliate marketing allows the brand to effectively outsource the process by working with several different publishers.
As we all know tracking performance helps marketers to examine what is working and what needs revamping. It is an opportunity to gather priceless insights into the audiences.
Awin's tracking solution allows advertisers to record and report on a range of data points. That includes basket value, number of products, product type, new or existing customers, use of a coupon code and click-to-sale lag time.
Return to top of page or
---
How to use Awin to drive low-cost conversions for your brand
To calculate the conversion rate for your website, examine the number of visitors viewing the page against active conversions to give a percentage.
Quantifying a typical affiliate CTR is challenging, as they vary across industries, platforms and types of advertising.
It depends as well on how targeted the audience is and how detailed the ad is. However, CTR's of 1.9% are considered average across all industries.
Let's dive into some ways to drive both - traffic and clicks.
Use coupons and promotions
This technique is very effective when it comes to affiliate marketing. 97% of consumers search for deals when they shop online, buyers will not be different on that matter.
Working with coupon affiliate marketing sites is a great way to drive revenue. Many of the affiliate programs on Awin offer a mix of coupons and cashback publishers.
Running different versions of the same landing page is crucial. Simple changes can have a big effect on the conversion rate of a page.
When testing, make one small change at a time to make monitoring of edits easier and to identify which change actually influences the conversion.
The landing page should provide clear signals on the process to follow. The point is to set the directions and all tell prospects what to do.
Vary the type of call-to-action, include contextual linking, banners and different buttons. Make tests to acknowledge what is more accurate to the audience's preferences.
Work with super-affiliates and influencers
Choosing the right partners is crucial to the success of your affiliate program.
Think about those who are influential in your niche. Look for those who write content that sells, and who has a readership that trusts.
Focus more on audience engagement and interaction than the size of the audience itself. Influencers have a big impact on their audience's buying decisions, whether they are considered a micro- or macro-influencer.
Return to top of page or
---
Basics to build your affiliate program
To set an accurate affiliate strategy you need to consider multiple factors. Rethink the role of influencers and niche content sites.
Remember about offering flexible payment models to ensure a fairly rewarded contribution.
Here are some core points to look upon if you want to build your affiliate program
Identify who your influencers are
Choose your ambassadors wisely. Try to put the same weight on conversion but also on building your brand awareness.
Not every affiliate partner, let's say a blogger will bring the purchase but awakening interest and awareness is almost the same important.
Understand the role of multi-device usage
Customer journeys occur across multiple channels and devices at different stages of the buying journey.
It is significant to understand how devices influence each stage and customer behavior.
A significant proportion of mobile activity is in the research and consideration stage while the desktop site is more likely to convert with leads.
Data at the heart of driving decisions
Data available for advertisers are used to make strategic decisions around the affiliate program.
Analyzing each transaction allows understanding the customers being referred by each affiliate. Sellers may identify those partners who deliver the most valuable customers.
It is a straightforward way to make precise decisions, choosing the best partner and understanding your customers.
Return to top of page or
---
Getting Started with Awin - Feed Requirements
A feed tells a publisher about types of products you sell, their price, color and other relevant to your business features. The lack of quality feed causes a struggle to include the advertiser's products on the publisher's site.
Feeds allow publishers to localize and display links quickly. Without the need to manually create own deep links each time. It also gives direct access to millions of product details.
Building Awin Product Feed
To provide consistent data submitted feeds have to conform to some standards. Feeds can be submitted as either delimited text or XML.
When building Awin Product Feed Sellers have to remember to provide proper file type, hosting, and detailed column descriptions.
Managing Product feed in Awin System
To manage their feed sellers need first to import new product data and subsequent tasks around the category mapping. To set up the feed you need to go through a step by step guide. starting with adding and processing feeds. Remember also to keep them up to date and monitor to keep them healthy and optimized.
How affiliates see product feeds
Publishers view the provided product feed via the interface or through the use of our ProductServe API. From there they can easily download the file and display the product of the affiliate partner.
As mentioned there are actually two ways to access data feeds:
→ On the user interface: Downloading feeds using Create-a-Feed
→ Downloading a list (recommended): Product Feed List Download
Return to top of page or
---
Common Product Feed errors and how to fix them
There are some of the error messages which you may encounter in the My Product Feed section of the Awin's interface. Those four are most common errors:
#1 - Invalid Address Error when Uploading a Manual Product Feed
#2 - Unable to retrieve file
#3 - Special characters in XML feed
#4 - Incorrect File Location / File Type (Field delimiter)
To monitor the health of your product feed and fix the errors Awin prepared a guideline for advertisers.
Very often advertisers are struggling with product feed warnings. The feed health report will highlight any potential issues. Those you can easily handle with DataFeedWatch:
Missing prices - fixed by adding a currency via suffix or prefix.

Missing descriptions - can be fixed two ways: by combining attributes (such as brand, size, gender, color etc.) or by using lookup table from an external file.


Missing images - using lookup table should fix this error right off the bat.

Missing names - this issue will be solved the same way as missing description, by combining attributes such as brand and title.
Return to top of page or
---
How to Run Profitable Affiliate Program - Insiders Look into AWIN

In order to run a profitable affiliate program on AWIN, an affiliate needs to feel confident that they understand the program rules and know who to contact if they have questions.
I recommend creating an affiliate welcome pack with the answers to commonly asked questions, background information about the company and details of who to contact if they have questions.
The pack could even have tips for maximising affiliate commissions.
You can upload this to the document section of your AWIN profile.
It's also useful to include links to promotional materials such as a folder of images the affiliate can use.
In general, the better supported an affiliate feels, the more likely they are to engage and actively promote your brand.
Monthly emails to check in with affiliates and remind them of upcoming promotions they can get involved with can also be useful to increase engagement.
Leanne Scott || Passive Income Superstars
Run Activation Campaigns!
These are short-term campaigns that allow you to determine non-performing affiliate programs and see how to approach them. Running activation campaigns will help you tighten your advertiser portfolio, make it more manageable, and boost your functional relationship value.
The best approach is first to have a list of every advertiser you are dealing with. You can always extract this list in CSV or Microsoft Excel Format from the Joined Advertisers tab on your registered AWIN registered account.
After that, go to the Reports tab in the same account and run Advertiser Performance Report. You can view and export this with multiple filters. The report will show you everything from a specific advertiser to various programs with their transaction levels.
Once the report is out, go ahead and compare the active advertiser you have VS the complete list of the programs you joined. Doing this will help you determine potential success areas you are not giving the deserved efforts. The analysis will also help you learn long-term trends and non-performing deals you won't work for you.
Back to The Top || Caroline Lee || Coco Sign
---
Conclusion
The role of affiliate networks is an uprising for sales. Conversion is at the heart of affiliate marketing. The channel is perceived to offer a route to market that is low in risk and generates a great ROI.
For achieving those goals and improving conversion optimizing data is crucial. When you set up your product feed and keep them healthy your affiliates will easily understand them and make the best possible use by promoting your products.
The most forward-thinking sellers are now pushing for the value of the affiliate channels. It's time to focus more on affiliates' contributions rather than just the volume.
Grow Your eCommerce Sales by Expanding to New Channels:
Back to top
---