Google Local Inventory Ads (LIAs) are a powerful tool for retail businesses, specifically those with physical stores looking to promote their products to nearby shoppers. They are especially important now more than ever, with consumers regularly researching products and store information on their devices alongside the growing popularity of click-and-collect.
This makes the ability to reach shoppers whilst they are browsing and in 'research mode' essential for local businesses, which is where Google LIAs come into play. Let's explore LIAs and how to use them effectively to boost product visibility locally and drive sales.
Google LIAs are a form of advertising designed for retail businesses with physical store locations, an effective way to bridge the gap between online and in-store experiences.
They differ from standard Google Shopping ads in their objective, appearance and where they drive users after they click.

Follow our guide to setting up local inventory ads for retailers that have both online and physical stores. Optimize your LIAs by applying best practices and by using tactics to increase visibility when the time is right.
---
What are Google Local Inventory Ads and how do they work?
Google LIAs are a form of advertising designed for retail businesses with physical store locations. The objective for store owners and advertisers is to use LIAs to showcase products and shop information to nearby consumers when they search on Google.
Source: Google support
Essential product information such as availability, product sizes and pricing can be shown to users, along with in-store information such as opening hours, store distance, directions and reviews.
This makes Google LIAs an effective way to bridge the gap between online and in-store experiences, which can improve the overall shopping journey for customers.
For example, if a consumer is interested in purchasing a winter coat and they want to try it on in-store before making the purchase, searching for "mens puffer coats near me" will display the following local inventory ads:
Clicking on any of the above product listings will then open up a Google-hosted page for your shop with the additional information:
Why Local Inventory Ads Are Important
The main reason why LIAs are so important today is because of how much the shopping landscape has evolved over the last two decades.
Consumers now use their smartphones and computers to search for products and find key store information before venturing out and shopping, which they then use to make an informed decision about whether or not to purchase.
It's vital for retailers to reach potential customers during their research phase to stay visible and competitive, providing consumers with the best possible customer experience.
Google Shopping Ads vs. Local Inventory Ads: How are they different? ‍
Although Google Shopping Ads and LIAs have similarities - they may even look the same to an untrained eye - three main differences set them apart.

1. The goal of PLA Google Shopping ads is to drive online sales, making them ideal for e-commerce businesses. However, Google local shopping ads cater specifically for businesses that have physical stores and wish to generate in-store foot traffic.

2. The appearance of the listings differs, with local inventory ads showing labels such as 'In-store' and 'Pick up today', whereas Google Shopping ads are more online shopping focused and may display shipping and promotion information.
3. Where users end up is also different, with Shopping ads directing users directly to product pages making it easy for them to purchase online. Local shopping ads on the other hand use either a Merchant-Hosted Local Storefront or a Google-Hosted Storefront that provides searches with local product and store information.


Both are effective, however deciding whether or not Google Shopping ads, local inventory ads, or both are right for you depends on your business and objectives.
Google Local Inventory Ads Requirements
Before diving into the set-up of LIAs, here's a list of Google local inventory ads requirements that must be met in order to use this type of Google local shopping ads.

1. The business has a physical store(s) that's brick-and-mortar and open to the public
2. The products on sale must not require additional purchases, such as a membership
3. The store is located in a country where LIAs are eligible to run (Australia, Austria, Brazil, Canada, Denmark, France, Germany, Ireland, Japan, Netherlands, New Zealand, Norway, Poland, Sweden, Switzerland, the UK and the US.)


4. Google's shopping ads policies are abided by, related to prohibited content and practices, restricted content and editorial and technical quality standards

Back to Top or
---
Pros and cons of Local Inventory Ads
There are both advantages and disadvantages to using LIAs. Advertisers who can successfully set them up whilst minimizing the cons can expect to generate good results and generally find them a welcome addition to their online marketing strategy.
Pros
Drive shoppers to your store: The primary objective of LIAs is to drive foot traffic to local stores, which is why advertisers and store owners love them. Showcasing product availability and store locations is a great way to attract nearby shoppers.
Highly relevant shopping experience: LIAs are extremely relevant since they target users who are actively searching for products in a specific geographic location. This means that LIAs are able to reach a relevant audience that has high intent, increasing the likelihood of in-store sales.
Connect online with offline shopping: Local inventory ads are a good way to bridge the gap between online and in-store shopping experiences. Showing LIAs could mean the difference between a potential customer choosing your store over a competitor's, following their online search.
Cons
Complex set-up: Setting up LIAs does require integrating and regularly updating product data within a feed, which can be a challenge for retailers that have a large inventory or regularly changing stock. There are, however, third-party tools that can help minimize this.
Lack of customization: The format of LIAs follows a standard structure that's provided by Google and there is little room for retailers to add branding, tailor the local inventory ads or customize their product listings in any way.
Inventory management: A robust local inventory ad management system is required to manage local inventory effectively and it's not a case of setting them up and leaving them to run. This is to ensure product availability data is accurate and up to date.
Understanding the pros and cons, in particular, the cons is essential for businesses looking to leverage local inventory ads. Measures can then be taken to mitigate the cons and ensure LIAs add value to online marketing efforts.
Back to Top or
---
How to set up Local Inventory Ads
Here's a step-by-step guide to setting up local inventory ads for retailers that have both online and physical stores. Follow these steps and reap the benefits associated with running LIAs.
Source: Google support
Here's a step-by-step guide to setting up local inventory ads for retailers that have both online and physical stores. Follow these steps and reap the benefits associated with running LIAs.
Step 1: Link your Google Accounts
In order to run LIAs, you must create and link the following Google accounts:
Google Business Profile - this is your free online listing on Google that showcases information about your business, e.g. name, address, opening hours, reviews, etc.
Google Merchant Center - your GMC account is a platform used by online retailers to upload and manage product data, which can then be used in regular Shopping Ads and local shopping ads
Google Ads - a Google Ads account is also required to set up and run local inventory ads
To link these accounts, head to Google Merchant Center and click on settings, followed by 'Linked accounts'.
From there it's possible to select the type of Google profiles you would like to link to GMC and then link the relevant accounts.
Step 2: Enable Google local inventory ads and add business information
In your Google Merchant Center account, under 'Growth' on the left-hand side, click on 'Manage programs', find 'Local inventory ads' and click on 'Get started'.
You'll then need to choose the country in which your store is located and you would like to run the LIAs in, and then fill out the business information section. This includes the following:
Business name
Address
Contact number for verification
Customer service contact details
Once complete, you'll see a green tick verifying you have added all of the information that's required.
Step 3: Choose a landing page experience from the 3 available options
The landing page experience is what a user will see after they've clicked on a local inventory ad. There are several different options to choose from for your landing page experience, depending on your capabilities and needs as a retailer, which we will run through.
The first step is to navigate to settings in Google Merchant Center and click on 'Local inventory ads setup', then click on the country that has been set for the LIAs.
Next, navigate to the 'Product pages on your website' section, which will bring up three local store front options. Choose the landing page experience that is the most suitable for your business.
To help you determine which option is the right one for your business, here's an overview of each of the options.
Google-Hosted Local Shop Front - choose this option if your product pages are not able to indicate which stores carry a given product. For example, a shoe brand with 3 stores that all have the potential to carry a pair of trainers, however, if this information isn't available on the product page, then a Google-hosted local shop front is the recommended choice.
Merchant-Managed Local Shop Front (Basic) - If your product pages do have the capability of confirming product availability at each of the stores, the basic merchant-managed setup is a suitable choice. For example, if a searcher is able to establish that the pair of trainers is available at their local store, then a merchant-managed local shop front is suitable.
Merchant-Managed Local Shop Front (Full) - Choose the full merchant-managed local shop front option if you are able to confirm product availability at each store, plus you are able to display price and availability for individual store locations.
Step 4: Provide an example product page and a link to your price guarantee policy
If you have chosen the option of using a merchant-managed local shop front, then you must supply Google with an example product page. This is so Google can review your product pages to ensure they are suitable for running local inventory ads.
To do this, simply click on the 'Example product page' section and enter the URL of your chosen product page that you would like to use as the example.
Finally, regardless of the landing page option you have opted to use, submit a link to your price guarantee policy, which applies to retailers that will sell products in-store for the prices that are listed online in LIAs.
To do this, check the box that says 'Shoppers can purchase something in-store for the price on my website.' Then enter the link to your price guarantee policy for review.
Step 5: Upload your product feeds
To run local inventory ads you must first have a primary product feed in place. Your primary product feed is a comprehensive file containing product or service data, along with all of the attributes and product information that defines each product or service.
This data typically includes product attributes such as title, description, product images, size, color, gender, shipping, price, availability, and unique product identifiers, such as the GTINs.
It's up to you to decide whether to set up a product feed manually, or streamline the process and have it created and optimized automatically using a feed management tool. Once the primary product feed has been uploaded, you must upload a local product inventory feed.
A local product inventory feed isn't as broad as the primary feed and it doesn't contain as much data, however, it is used to supplement the primary feed with all things related to a physical store, which includes:
Product ID
Availability
Price
You can easily map it using DataFeedWatch: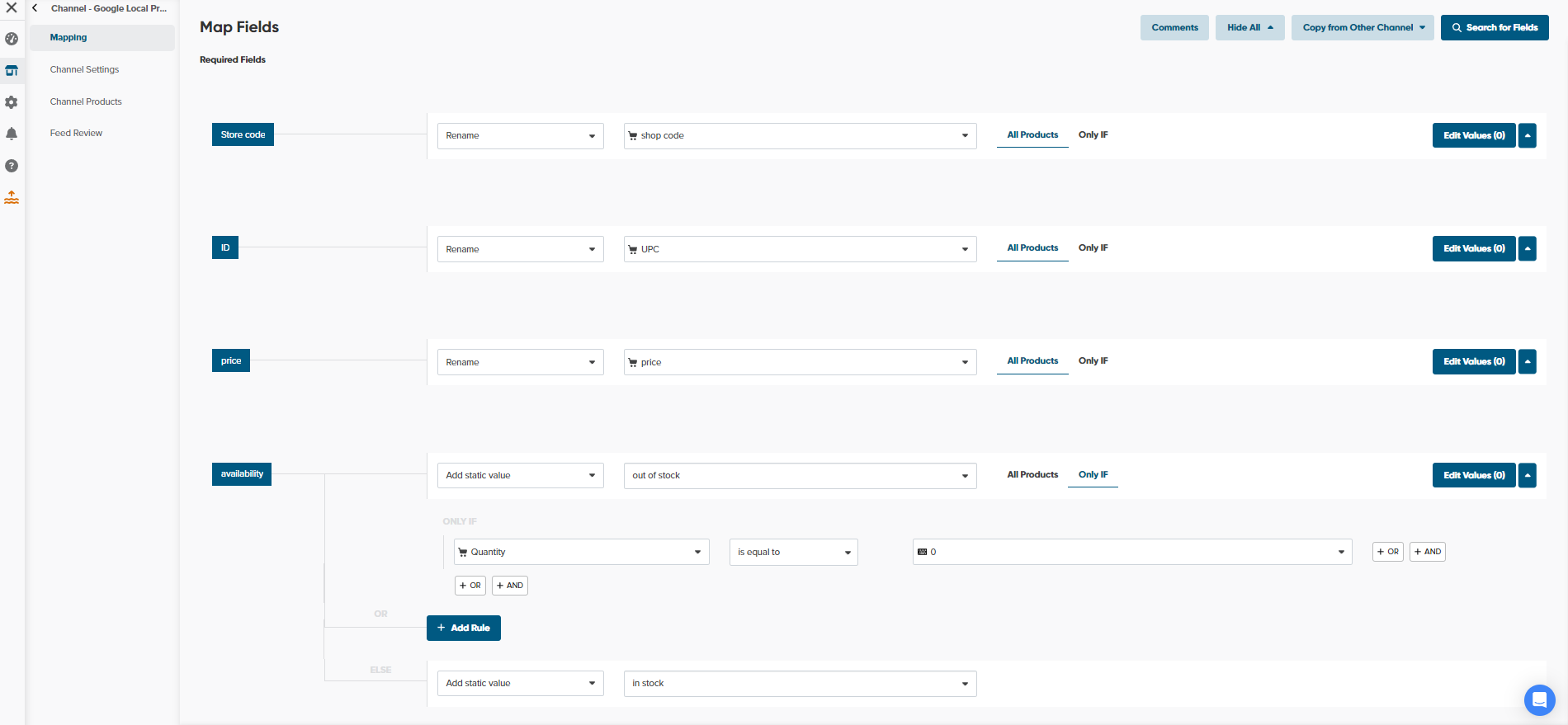 Google Local feed mapping | DataFeedWatch
This information must be kept up to date so that when product ads are shown to consumers, they are accurate.


Upload your feeds in the Google Merchant Center account by navigating to the product section and clicking on 'Feeds':
Step 6: Enable local products in your Shopping campaigns
The final step in displaying local inventory ads on Google is to enable them in your shopping campaigns, which is done in your Google Ads account.
Head over to Google Ads and click on your Google Shopping campaign. Click on campaign settings and then under 'Local products', check the box 'Turn on ads for products sold in local shops' and click Save.
If you are running Google Shopping campaigns as Performance Max campaigns, then skip this step. By linking Google Merchant Center with Google Ads and supplying the local product feed, local inventory ads will be served by default.
Back to Top or
---
5 Local Inventory Ads best practices for successful results
Once LIAs are up and running, follow these best practices to ensure they are optimized and efficient, adding to the success of your PLA Google Shopping.
1. Increase bids for shoppers who are nearby
Local inventory ads are designed to target users within a specific geographic range of your store, typically around 25 to 35 miles.
To optimize the effectiveness of your LIAs, consider implementing bid adjustments that increase bids for shoppers who are nearest to your store. The rationale behind this strategy is simple: the closer a potential customer is to your store's location, the more likely they are to visit your store and make a purchase.
Increasing bids for nearby shoppers ensures that your ads are more prominently displayed to those who are most likely to convert, whether that's in-store or online, thereby maximizing the impact of your local advertising efforts.
2. Increase bids during store hours
In a similar light, consider implementing bid adjustments to increase your bids during your store's operating hours and on the days the store is open.
By doing so, you will boost the visibility of your local inventory when potential customers, who are actively searching for products with high purchase intent, have the opportunity to visit your physical store.
3. Use 'In-Store Pickup' and 'Pickup Today' attributes
Improve CTR and the likelihood of generating a sale by displaying 'In-Store Pickup' and 'Pickup Today' labels with your LIAs. These labels serve as clear signals to potential customers that the product they're interested in is not only available but also conveniently located nearby.
The main benefit of this to a consumer is that a desired item can be purchased with ease on that same day, without the wait associated with shipping.
Set these up by using certain feed attributes that will need to be added to the feed. Full details can be found in this guide by Google.
4. Regularly maintain and optimize your LIAs
Local inventory ads require ongoing management and maintenance, which is vital for ensuring ads are up to date and showing accurate information to searchers.
Confirm product IDs match across all feeds (something that a third-party feed management tool can do automatically) and add optional data to enrich your feed and local storefront information, such as sale price and special 'limited availability' or 'on display to order' availability values.
Third-party tools are the most efficient way of keeping up with day-to-day feed maintenance, which translates to less budget wasted and all-round better results.
5. Monitoring LIAs and Data Analysis
Google LIAs are classified as campaigns in their own right in Google Ads, meaning there is a way to view the performance of your LIAs separately from other campaigns.
In Google Ads, navigate to your shopping campaign, click on segment, and then segment by 'Click type'. This will show online product performance, as seen in the screenshot below, alongside the performance of local inventory ads, if they have been enabled.
This is a good starting place for monitoring the performance of your LIAs and analyzing performance data, to understand their impact in relation to other Google Ads campaigns.
Back to Top or
---
Case study
An independent outdoor clothing and equipment store located in Bristol, UK, used Google local inventory ads to increase in-store revenue by +30% year on year. This was during January to March, which is typically the quietest period for the business.
The store already had established Google Shopping campaigns, however, their objective was to generate an increase in in-store visits during the quieter months.
Being an independent brand, they have less brand recognition than high street competitors who are established and have nationwide stores. Without being able to rely on their brand name alone to generate footfall, local inventory ads proved to be an effective way to stand out in the SERPs and compete on being a local business, whilst offering convenience.
Back to Top or
---
Conclusion
Google Local Inventory Ads bridge online and in-store shopping, allowing businesses with physical stores to ramp up their product visibility. Not only that, they can do so when consumers are actively searching nearby, benefiting from reaching people with high purchase intent.
Setting them up does require some upfront technical work and ongoing management is required to maintain LIAs, however, they are proven to boost overall performance for retailers, making them worth the effort involved.
If you're ready to elevate your shopping campaigns, read our ultimate guide to Google Shopping ads in 2023.
---