1. Shipping settings
One of the most important information you need to provide to Google Merchant Center when you submit your products is shipping settings. Google needs to know how much you charge for shipping and what's delivery time for orders from a customer.
You should always double check that your shipping is set up and that it is correct and up to date. This is especially important because shipping cost and speed are the most common reasons why customers abandon the checkout process without buying.
All features across Google will use your shipping settings: Shopping ads, free product listings, and Buy on Google.
When you need to set up shipping
To run ads of your products in a particular country or region, you must provide shipping information and correctly set up shipping costs for that area.
Provide shipping settings if:
you want to run Shopping campaigns in these countries: Australia, Austria, Belgium, Canada, Czechia, France, Germany, Ireland, Israel, Italy, Japan, Poland, South Korea, Spain, Switzerland, the Netherlands, United Kingdom, United States.
If you want to run Shopping campaigns in another country than your product's primary country of sale.
In case you want shipping to be configured on a product-level (set shipping cost and time for each product individually) and you want to charge for shipping based on weight, label or dimensions, you should include relevant attributes in your product feed.
The following attributes can be used:
shipping label [shipping_label]
shipping weight [shipping_weight]
dimensions (shipping length [shipping_length], shipping width [shipping_width], shipping height shipping_height)
transit time label [transit_time_label]
You can read more about it on Google's helppage.
If you want to charge for shipping based on your shopping cart in total (configure account-level shipping services) or you want to use any advanced settings, you can set up shipping directly in your Google Merchant Center account.
Note that if you set up shipping in Google Merchant Center and add shipping related attributes in your data feed, the data in your feed will override account-level settings for the matching location for that item. Also the shipping [shipping] attribute isn't available for Buy on Google.
Important!
If you provide many shipping services for one product in the same country, Google will calculate the lowest shipping rate for the product for a given situation and this rate will be shown to customers.
Also the shipping costs that you submit to Google Merchant Center must match the shipping costs that you charge for buying through your website (there's a risk that your listing will be rejected if Google's reviewers see a higher shipping cost on your website after clicking on your ad with a lower one).
How to set up account-level shipping in Merchant Center
You need to configure your shipping services on account level either in Google Merchant Center or via the Shipping Settings API if you don't want to get any shipping related errors. Shipping services can be set either for all products or for groups of products ([shipping_label] attribute will help you specify groups of products if you choose this option).
You can configure many settings for each shipping service (shipping cost, delivery speed etc.)
A. Create a new shipping service in Merchant Center
Step 1: Log in to your Google Merchant account
Step 2: Navigate to the tools icon
and select "Shipping and returns" - now you are in the "Shipping services" tab.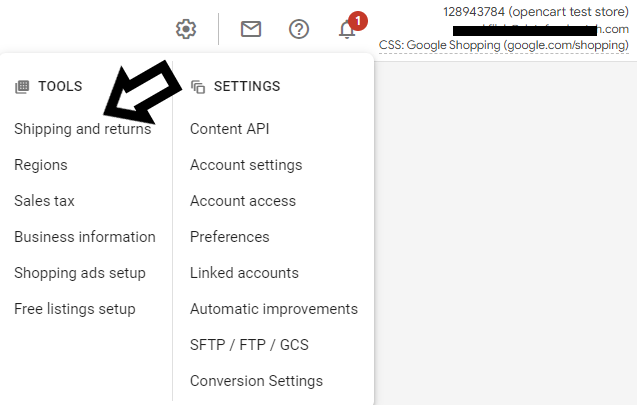 Step 3: Click + New shipping service, which will let you create a shipping service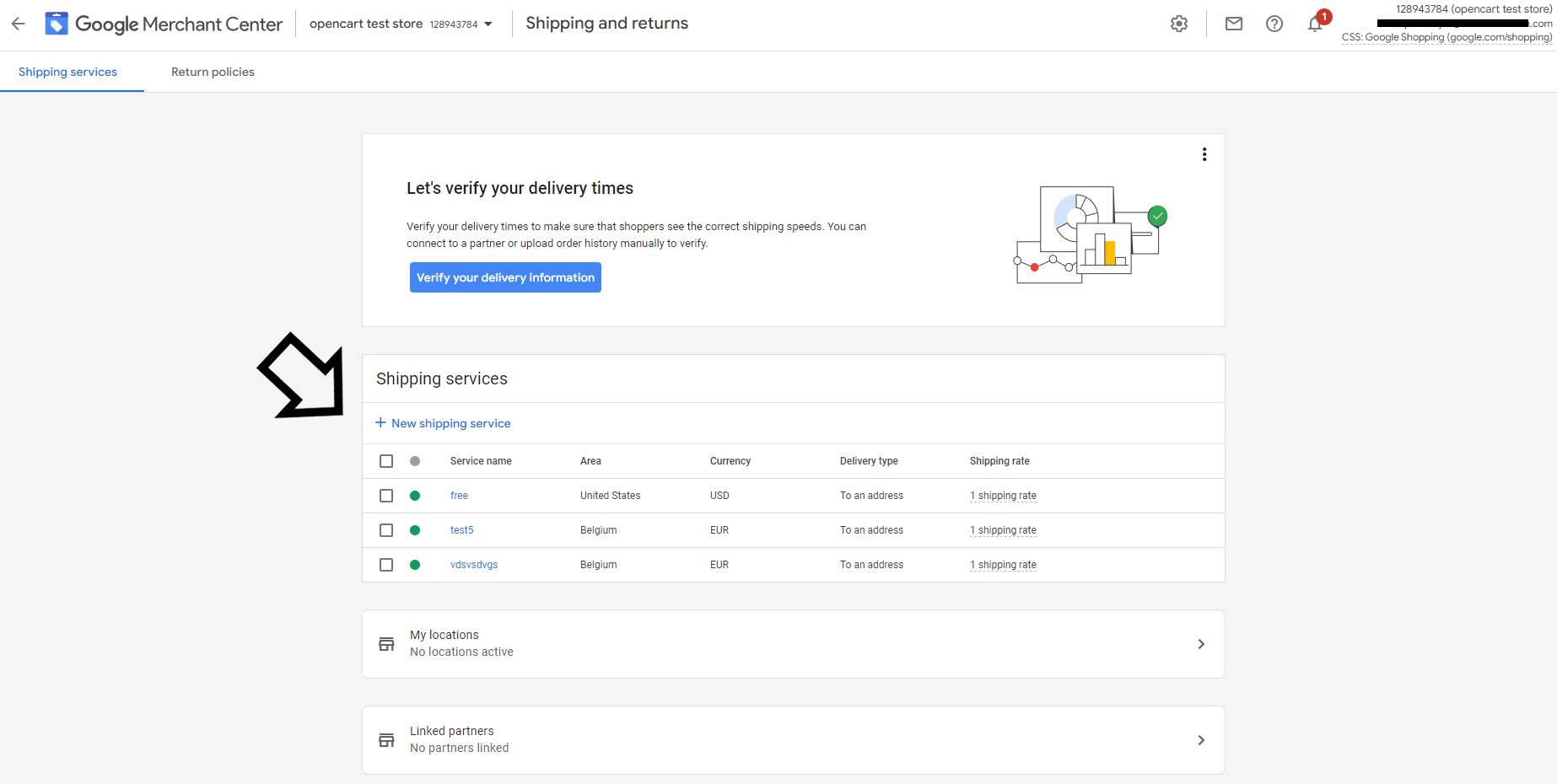 B. Set up your shipping services
Step 1: Name your shipping service
Step 2: Choose the shipping service area - where your products are purchased and delivered (should be the same country as the target country of the feed, not necessarily be where your company is based or the products are shipped from)
Step 3: Select the right currency (the same as in your feed)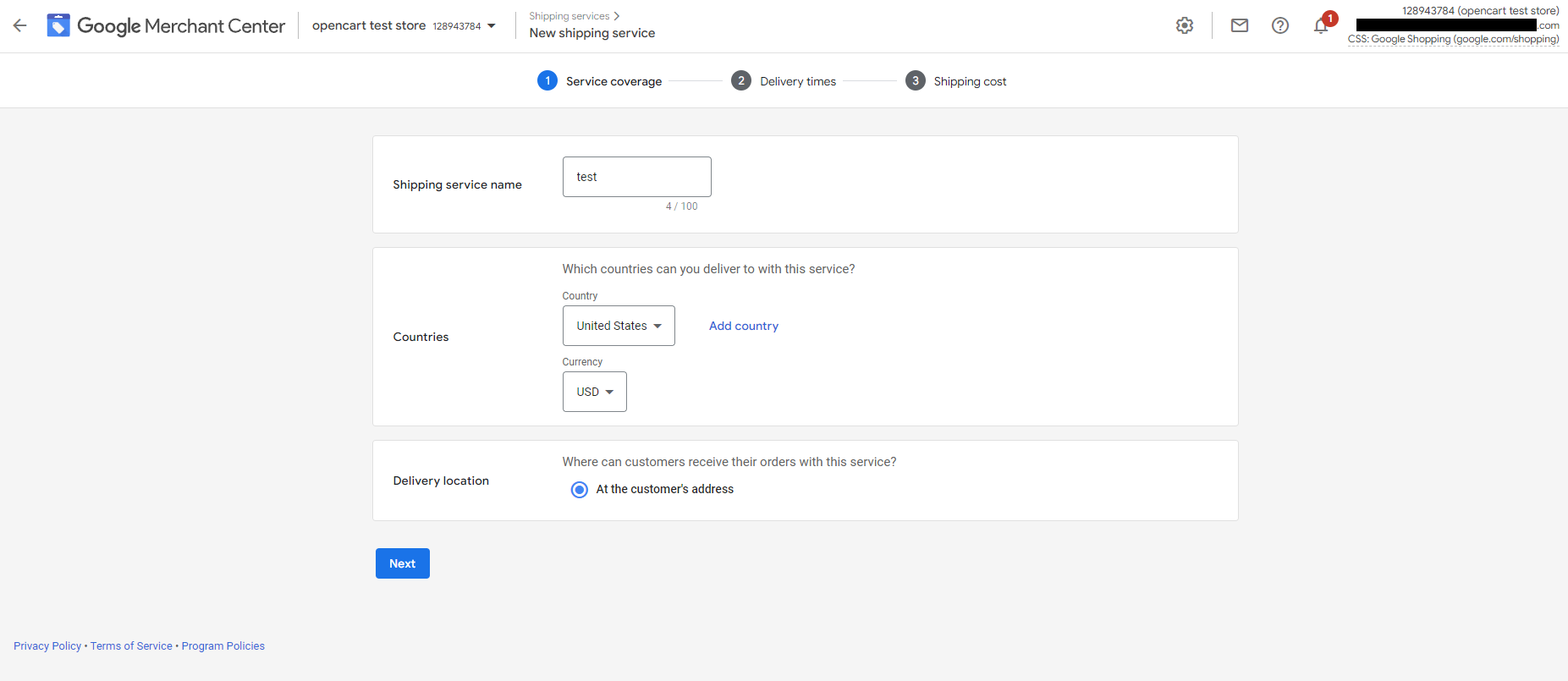 C. Set up your products' delivery time
Step 1: Choose if you want to show custom delivery times (based on your carrier/partner you work with), or set a range of delivery times (Google estimates it for you).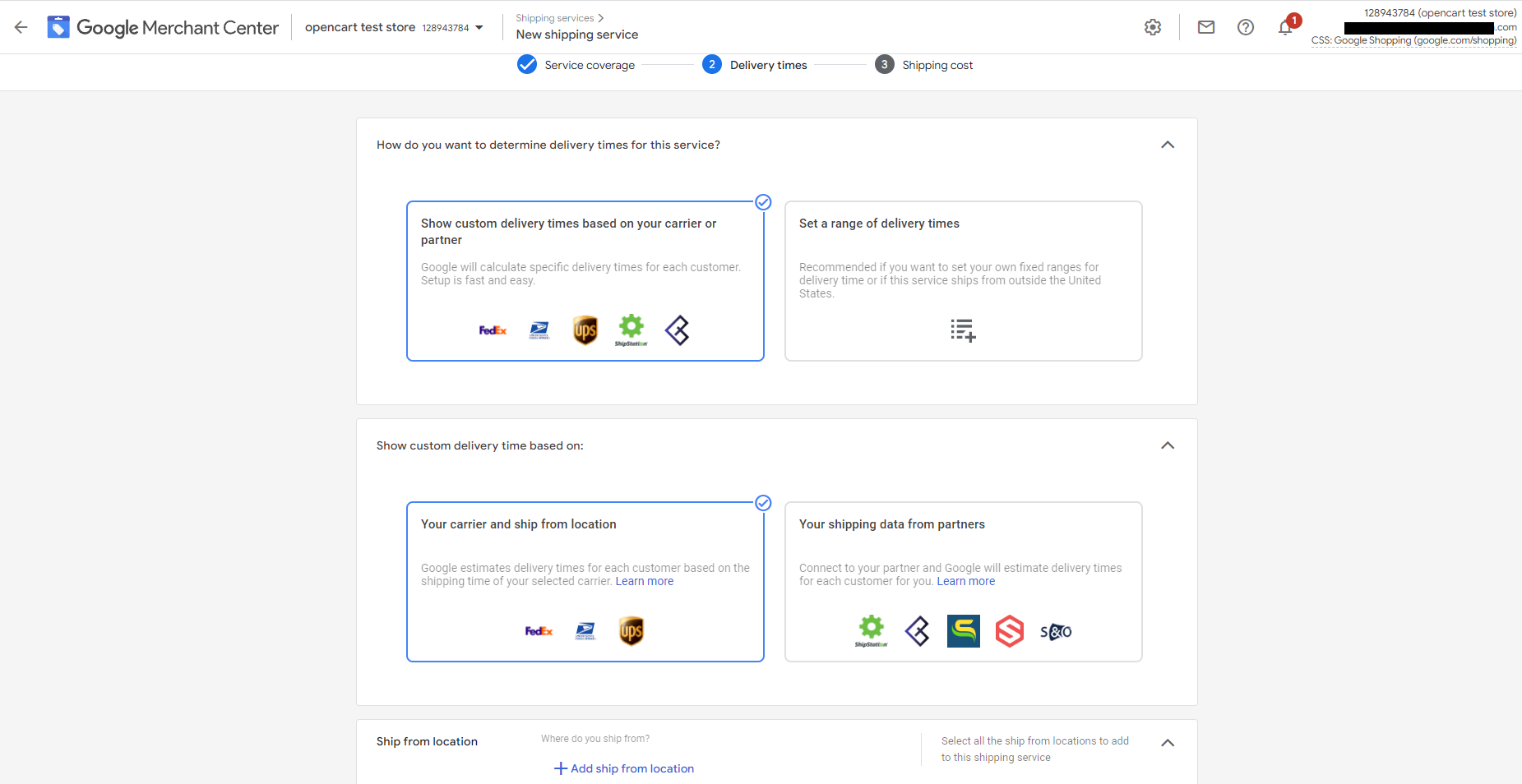 Step 2: Choose the time of day by which a new order must be placed in order to start being processed the same day (it's called cutoff time)
Step 3: Enter the minimum and maximum number of business days required for processing a new order (it's called handling time).
Step 4: Add the number of business days the whole service possibly can take (it's called transit time).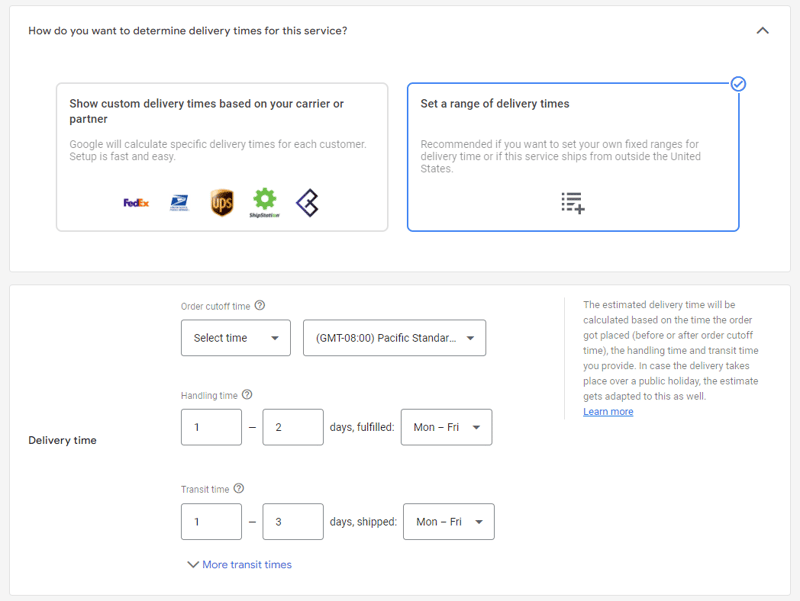 Step 5: Only in the US, France and Australia you can set the transit time based on regions. You can do it by clicking on "More transit times"
Step 6: It's totally optional but you can group products that share the same transit times by including the transit time label [transit_time_label] attribute in your feed and providing values for it.
D. Set optional advanced setting
Step 1: You can enter a minimum order value for the shipping service.
It is generally optional but required if you have minimum order value on your website!
Step 2: You can set a holiday shipping cutoff for your orders if you require that they are placed before a specific date in order for them to be delivered by a certain holiday.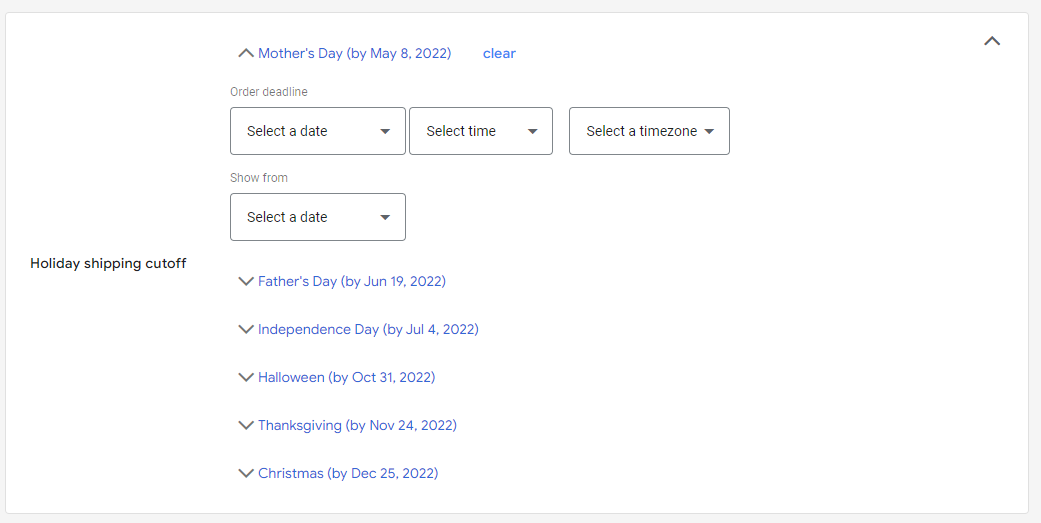 E. Set customer shipping cost
You can either set the same shipping cost for all your items or set ranges of shipping costs.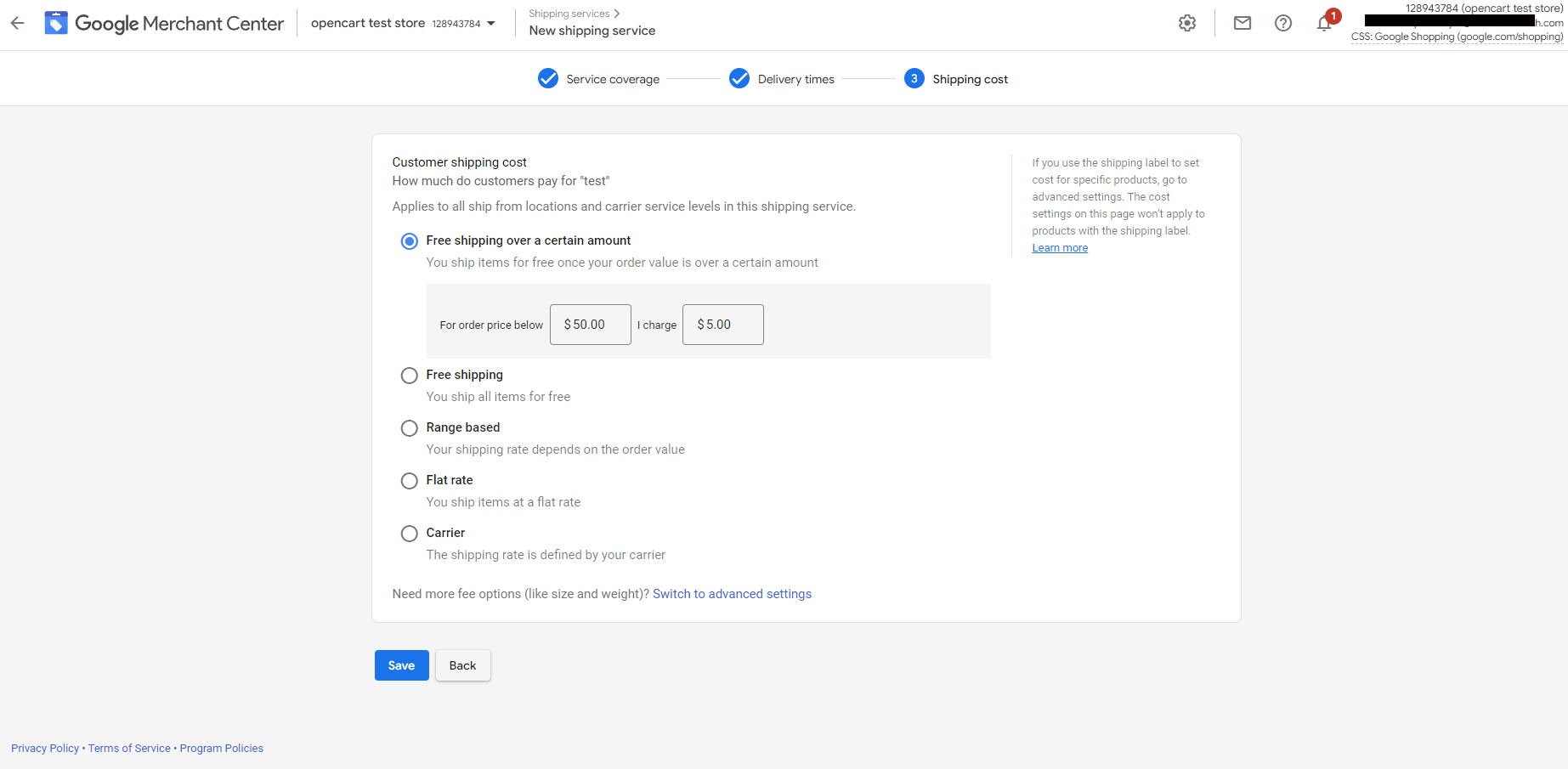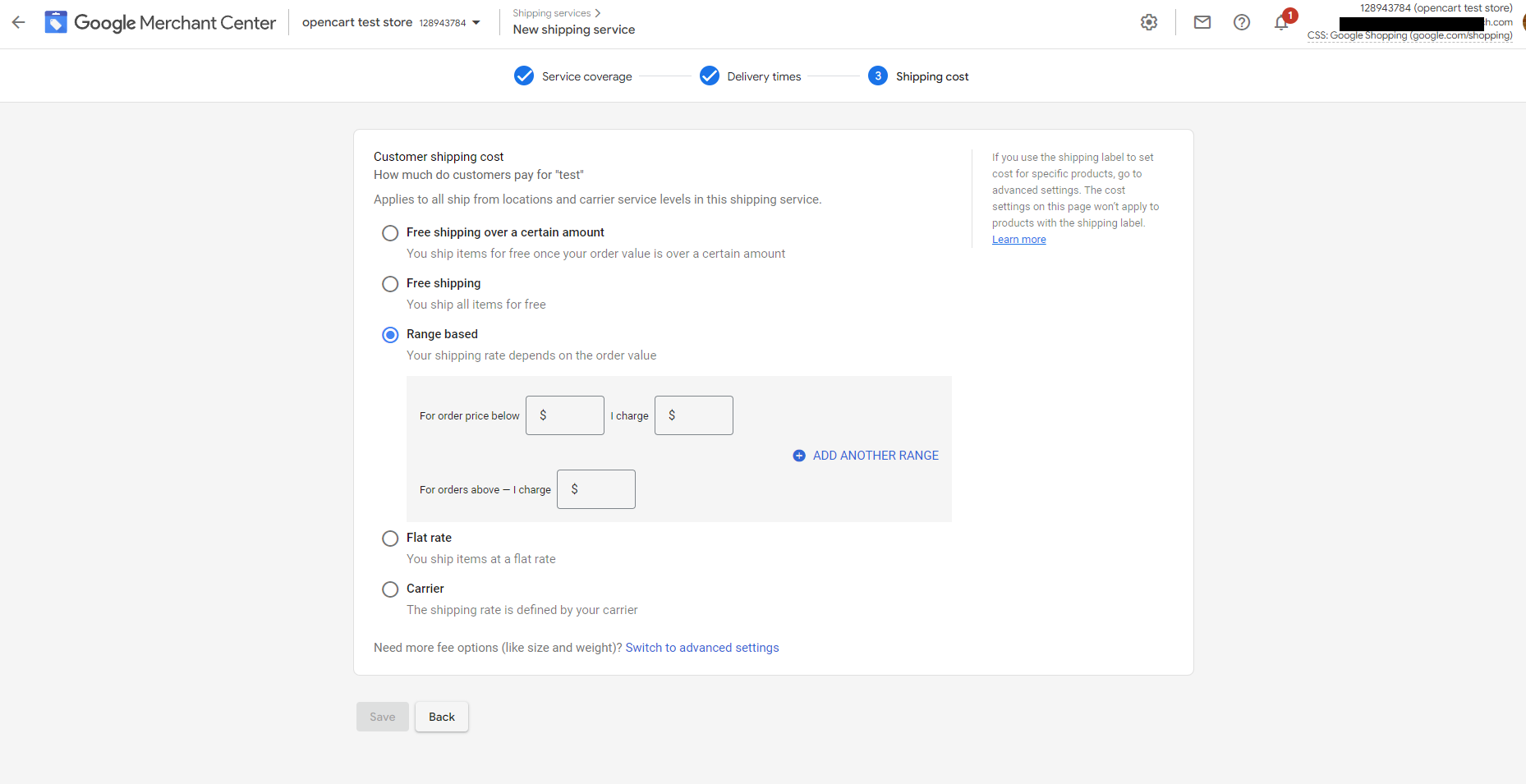 F. Advanced shipping cost settings: Set shipping rate (optional)
Step 1: Add a new shopping rate for the shipping service by clicking plus button +
Step 2: Select if this shipping rate should be applied for all products or just some of products. You can do it under "Affected products". If you choose the second option, select "Filter products by shipping label" and type the values that you've provided for the [shipping_label] attribute in your product feed.
Step 3. Name your table under "Shipping rate name".
Step 4. Work on creating your table by defining either a single rate for all orders or creating rules based on one or two dimensions: price, destination (only US, Australia or Japan), weight, or number of items.
Step 5: Add your shipping cost.
---
2. Return policy settings
Before you start running your ads, it is recommended to check if you have a return policy set up in your account in the Merchant Center.
Return policy is another very important factor for customers who are making a purchasing decision. Showing information about return and refund policies on your shopping ads (or free listings) can boost your products' performance.
Ways to set up return policies in Merchant Center
You can create return policies in your Google Merchant Center account. It's important to highlight that they can be associated either with all products or specific groups of products. In case you want to have the same return policies for almost all of your items with few exceptions - you can create a standard return policy and an exception policy for the exceptions.
If you have experience in web development, you can also share your return policy via the Content API.
You can configure a number of settings for each return policy.
How to create a return policy in Merchant Center
1. Log in to your Google Merchant Center account.
2. Choose
Shipping and returns
for the page menu and click the
Returns
tab.

3. Click
Add policy
(box at the top).
4. Select the program your return policy should apply to -
Ads and free listing.
5. Select the country your return policy should apply to.

6. Enter the return policy URL on your website and decide whether you accept returns from the target countries that you've chosen before.
7. Select the available return methods, e.g. in store, by mail.
8. Decide on the number of days your customer has to return the product and set a seasonal override for products if necessary.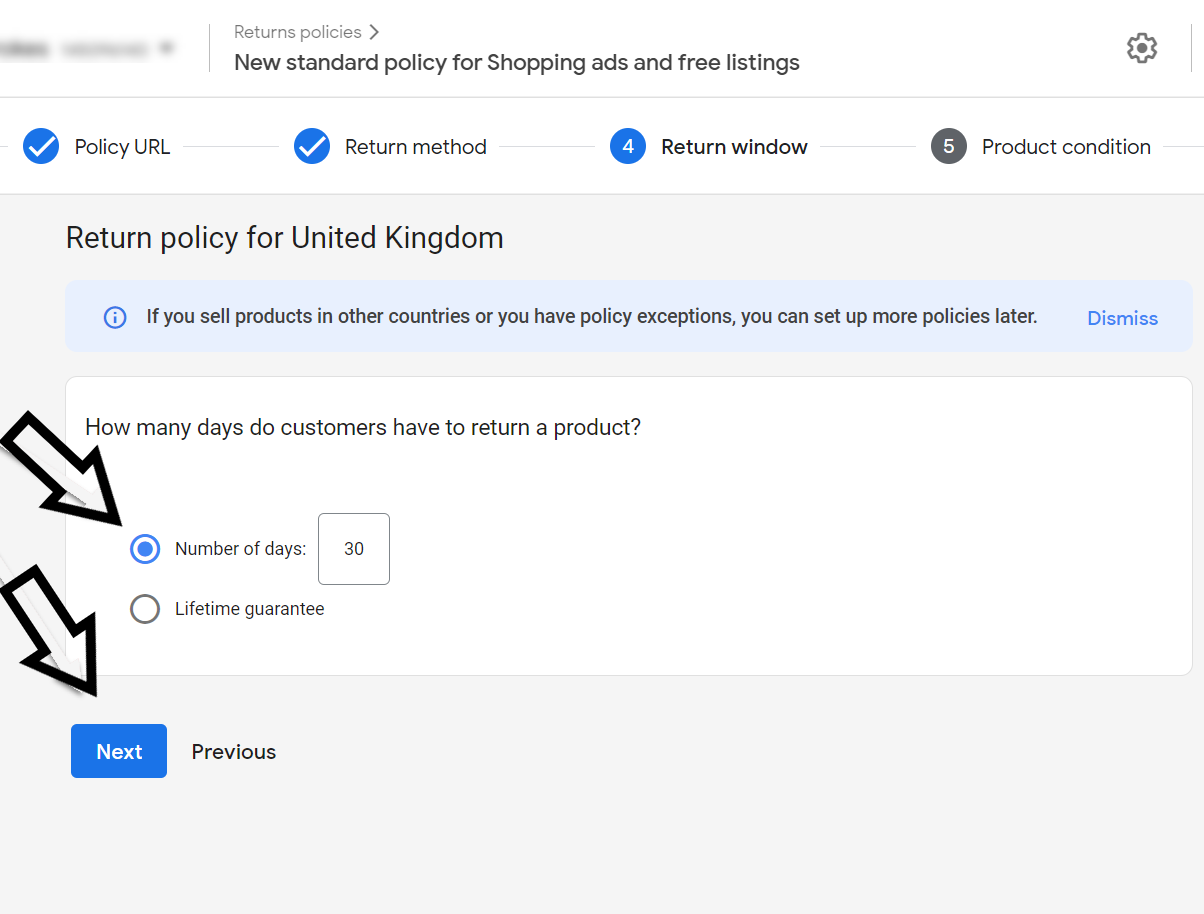 9. Decide on whether you allow products to be returned depending on their condition: new/used.
10. Select and enter return fees: currency, restocking fee, return shipping costs etc.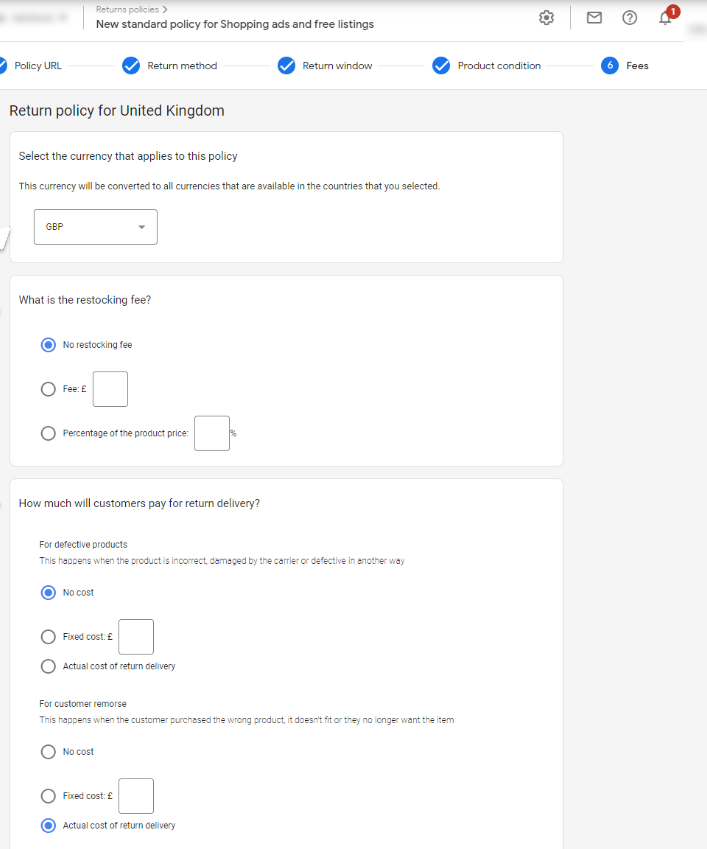 11. Review the information you've submitted and click
Done
.
12. To each return policy you can add en exception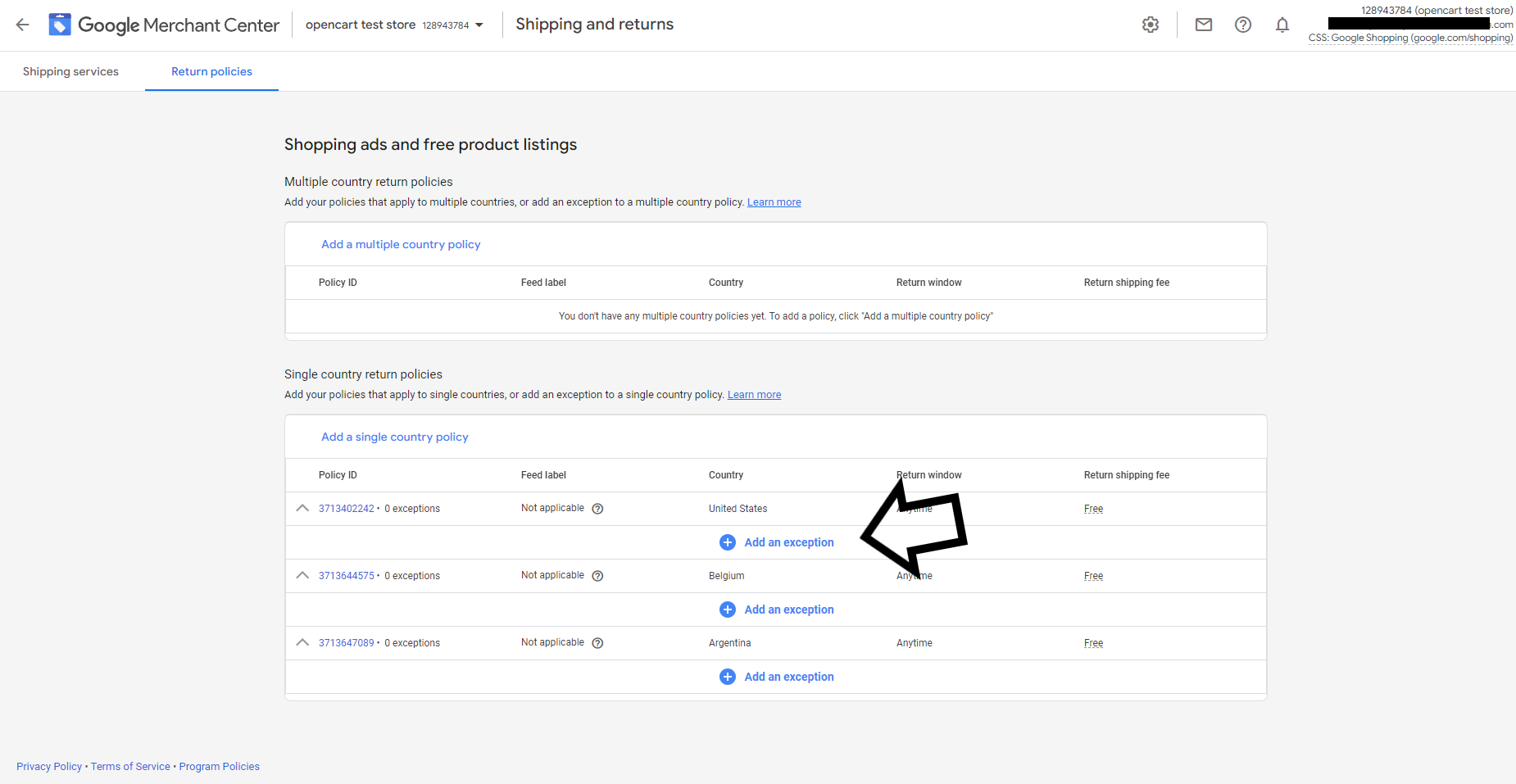 Adding [return_policy_label] to your product feed
You can also add return policies via your product feed if you add a [return_policy_label] attribute to it and then, the return policies can be associated with single products (which have a certain label assigned to them). This way you can create return policy exception based on specific product labels e.g. Electronics.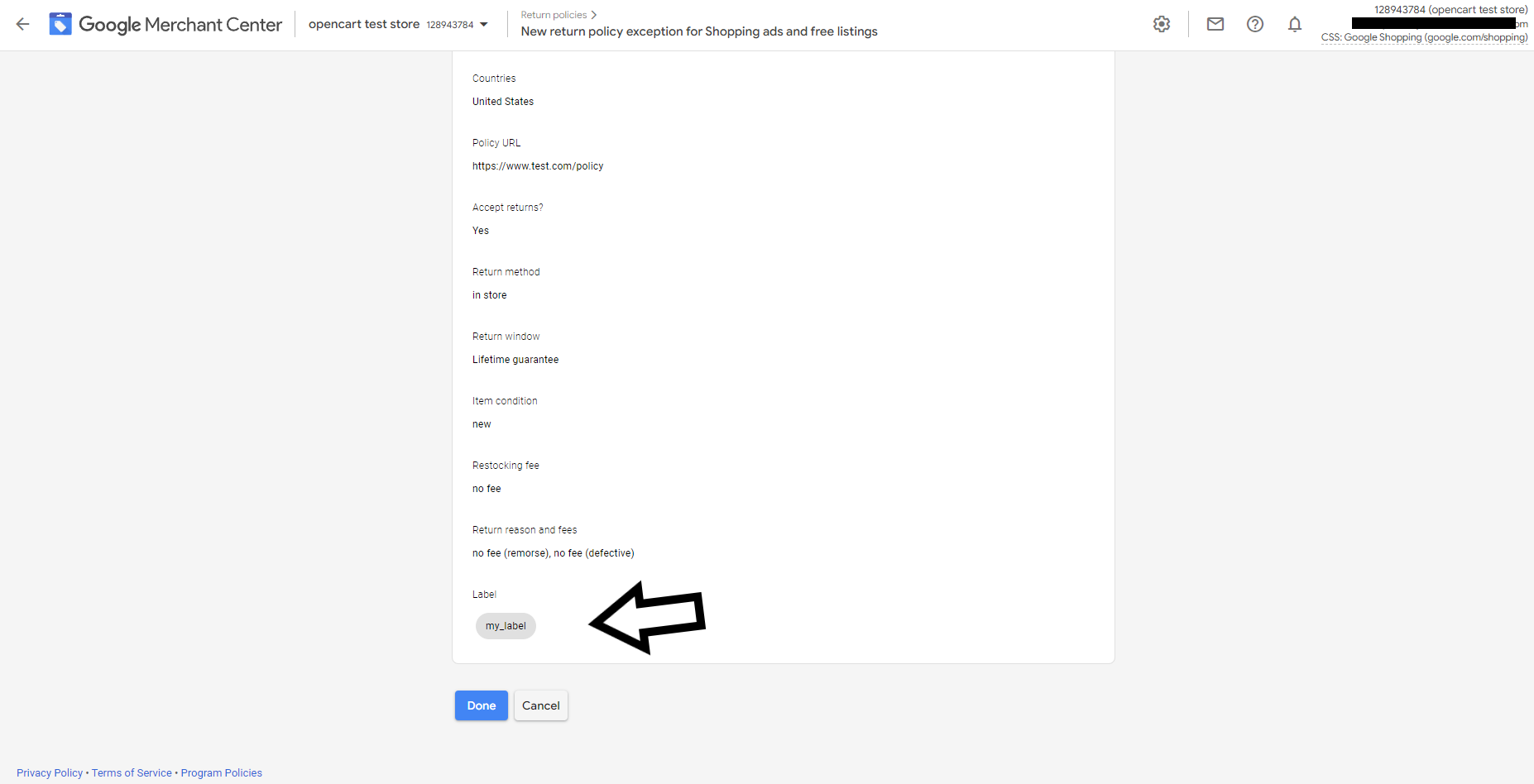 ---


3. Automatic price and inventory updates by Google
It can be hard to always keep Google Shopping Ads up to date when prices or availability are changing all the time, especially if you advertise many variants of the same product. That's why you should make sure you have automatic price and availability updates set up in your Merchant Center account!
Google Merchant Center generally enables automatic item updates by default but it's better to always double check it, because this feature is very important.
What do you need automatic item updates for?
Automatic item updates are currently offered for the price and availability attributes in your product feed. Google uses the information from your website to automatically adjust the prices and inventory (availability of products) you advertise in your Google Shopping and Local Inventory ads. It is constantly checking all of your landing pages and comparing the found data against any feeds that have been provided to them before.
To explain it even more, Google's automatic item updates cover periods of time between updating the pricing or inventory information on your website and uploading a new feed to your Merchant Center account and correct inaccuracies in your product data (reg. price [price] & availability [availability]).
Benefits of using Google's automatic item updates:
They improve user experience a lot
They increase conversion rates and build customer trust (the customer sees the correct price and availability information on your ads)
They reduce the risk of Google Merchant disapprovals (errors reg. price and availability mismatches)
Be aware:
Automatic item updates feature will never be a replacement for regular maintaining and updating your product feed. Google designed it to fix temporary problems with your price and availability accuracy for a small number of your items. In order to keep your product data up-to-date we recommend using a feed management solution on the daily basis.
How to set up automatic item updates in your Merchant Center account?
Before you couldn't use Google's automatic item update if you didn't have structured data markup in the code of your website. Right now there are no technical barriers to using this feature.
From Google's perspective, there is now no reason for merchants to have the automatic item updates feature disabled in Google Merchant Center. That's why it has been for some time now turned on by default.
Google still gives you the option of disabling Automatic Item Updates. If it by mistake was turned off you can manage these settings at the account level in Google Merchant Center at any time. To double check your settings or change the status of automatic item updates:
1. Sign in to your Google Merchant Center account.
2. Click Tools icon
and then select Automatic improvements.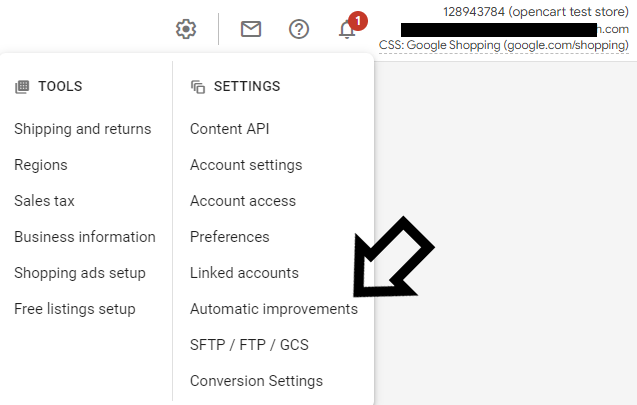 3. On this page, you can either turn on automatic item updates for price, availability, or both price and availability. You can also disable item updates completely.

---
4. Google's automatic image improvements
Another interesting Google's feature is the automatic image improvement. It can bring significant value to your Shopping ads by improving overall user experience. You should check if you have this feature enabled in your Google Merchant Center account before launching your campaign.
Automatic image improvements automatically improve the images that you upload to the Merchant Center. The feature ensures they meet Google's requirements and improve their quality. Google attempts to automatically fix images by removing promotional overlays and other elements, which would lead to disapproval of the products associated with them by Google (the images would not meet the Shopping ads image requirements).
If you enable this feature (the automatic removal tool) in your Merchant Center account, the improvements will automatically be applied to relevant images in your account.
If the removal of unaccepted elements such as promotional overlays on the particular pictures is successful, the old image will be replaced and the product will be reapproved. However it's important to know that it's not always successful - the process is fully-automated and it can fail the task or make mistakes. In case you're dissatisfied with your new automatically improved image, you can upload a new image yourself and replace the wrong one.
How to set up automatic image improvements in your Merchant Center account?
1. Sign in to your Merchant Center account.
2. Click the tools icon
and select Automatic improvements.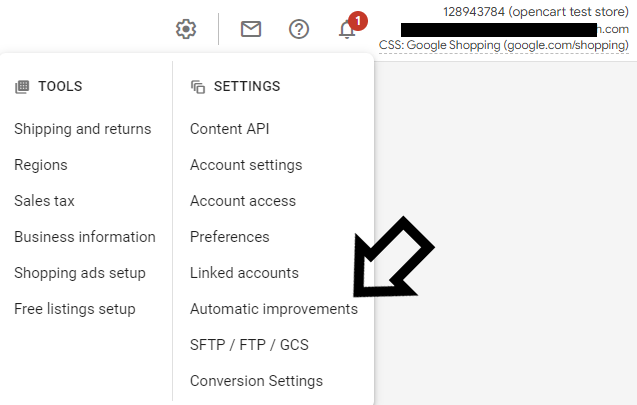 3. On this page click the Image improvements tab and enable automatic image improvements by clicking on the blue button (as on the picture below).

---
5. Data transfer settings - FTP connection
Before you start your Google Shopping campaign, consider how you will transfer your product data to a particular channel and double-check if everything is set up correctly.
If you update your product data more often than once a day, it's recommended that you upload your product feeds via FTP. DataFeedWatch gives you the option to connect your feeds with the desired channels directly from the tool using FTP up to 4 times a day.
After you connect your data feeds manually for the first time, our system will then continue to upload the updated ones to the channel automatically. You will not need to do any additional work.
FTP stands for File Transfer Protocol and is a procedure for transferring files between computers. In reality the files are not actually moved from one source system to another but they are copied from one computer to another computer. It all happens over Internet channels, formally known as a TCP/IP (Transmission Control Protocol/Internet Protocol).
How to upload your product feed to Google Shopping via FTP (using DataFeedWatch solution)
1. Log in to your Google Merchant Center account
2, Click the tools icon
and select SFTP / FTP / GCS.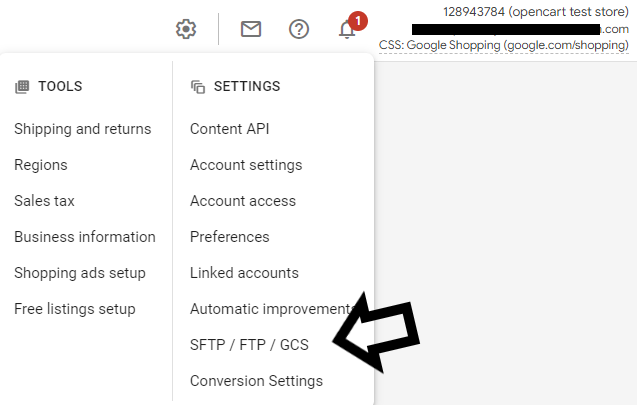 3. Create a new FTP account and save your changes.
4. Note down your FTP credentials.
5. Go to Products > Feeds and click + button to add a new feed.

6. Choose your feed target country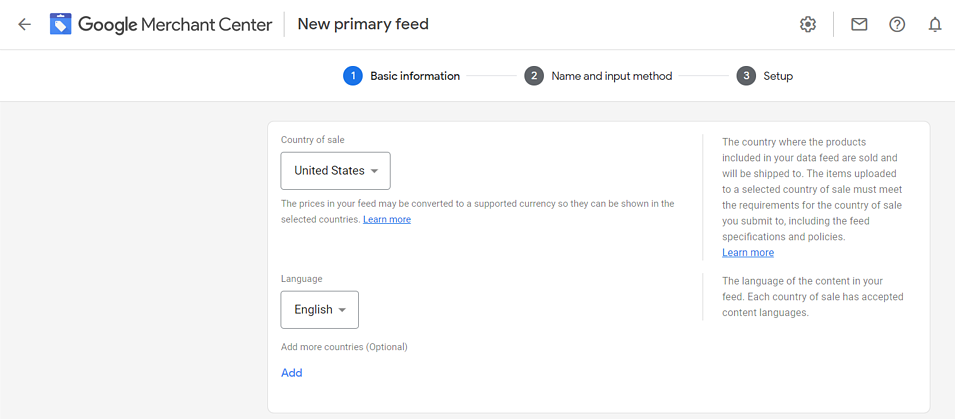 7. Name your feed, select
Upload
option.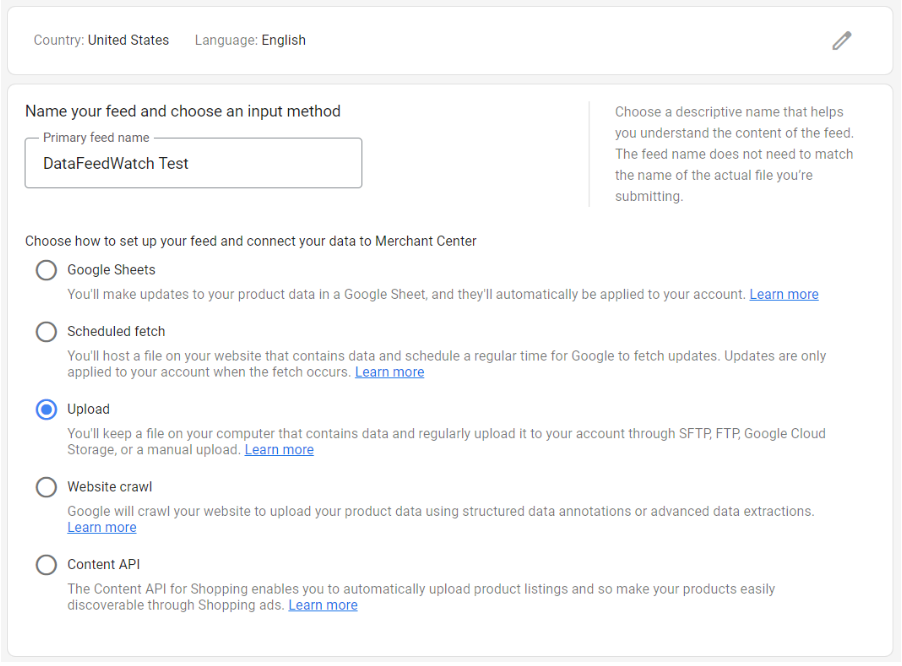 8. Enter the name of your feed file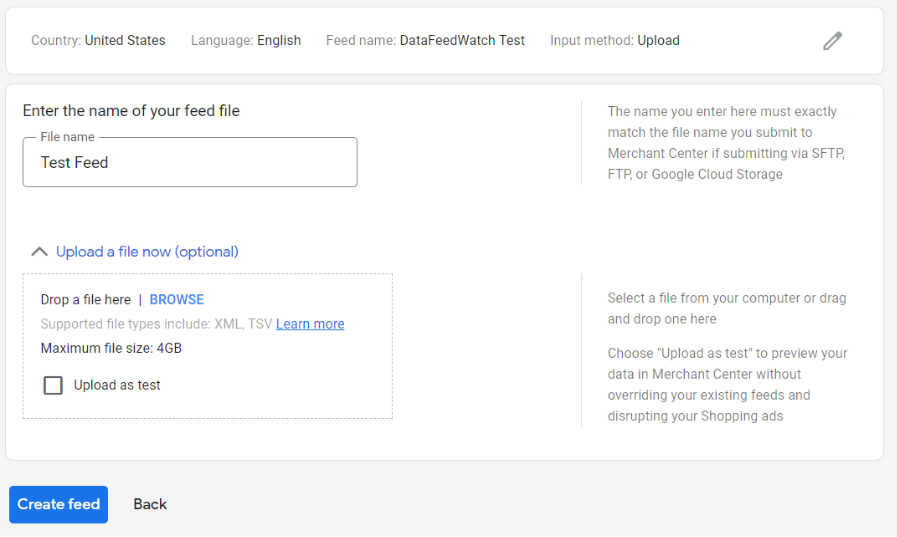 9. In DataFeedWatch go to Shops > your shop's name (e.g. Google Shopping)
10. Select Edit channel from the drop-down menu next to your channel (Options column)

11. Click FTP Connection, and then provide your credentials.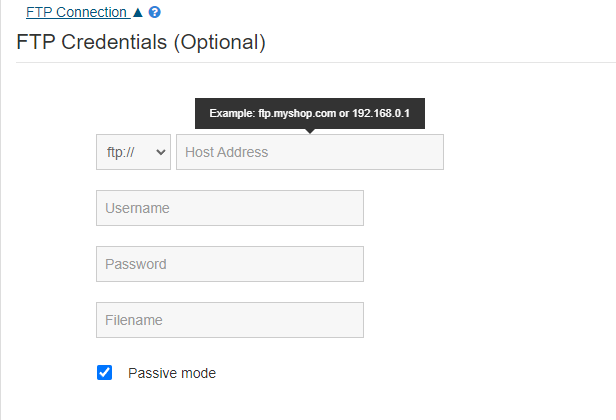 12. Now you can send your feed to the channel by selecting FTP Upload from the drop-down list.

13. From now on your product feed will be sent to the server automatically every day, right after your product data is updated in the DataFeedWatch tool.
---
6. Tax settings (when advertising in the U.S.)
Tax errors are one of the most common Google Merchant Center errors when advertising in the U.S. It's important to focus on setting up tax settings correctly, preferably before you launch your ads.
But maybe you're already running a Shopping campaign and it's not going so great? Do you keep getting tax errors while advertising in the U.S.?
Then apparently you or your client doesn't have the default tax values for each state in the U.S. and you need to change it in your Google Merchant Center account.
How does it work?
What you need to do when advertising in the U.S. is to submit the taxes that you collect, so your customers know the exact price of the product they want to buy.
Tax requirements in the U.S. are different from tax requirements in other countries, because you need to set up tax rates for each state in U.S that you charge taxes for. Each state authority has its own rules regarding taxes, which will affect the amount of tax you should collect.
Usually you are required to collect sales tax in those states where your company is physically present (property, offices, employees, contractors etc.). Some states charge tax based on destination (destination of the buyer within the state) and some others on origin (seller's location within the state).
In case your products target the U.S., but you don't charge taxes in the U.S., you need to indicate that in your tax settings in the Merchant Center.
You can read more in this Google's article but we recommend also to consult it with a tax advisor.
There are few options to determine tax in each state:
Using a custom option to enter a flat rate (in case you charge all customers the same).
Allowing Google to determine the tax amount (in case you charge taxes based on your customers' location).
Using the [tax_category] attribute in the product feed (in case you sell products in a state with a tax rate that is different from standard sales tax rates - some products may not be taxed in some states or their tax rate may be lower than other products' tax rates or they can be exempt from taxes).
How to set up tax settings in Google Merchant Center
The best and least complicated way to set up tax is to use the tax settings in your Google Merchant Center account. There you can set up tax rates for each state. You can also specify tax rates by including a [tax] attribute in your product feed - this will override taxes for each product set up in the Merchant Center.
Set up standard tax rates
(for each state where you charge them)
1. Sign in to your Google Merchant Center account.
2. Click the Tools icon
and select
Sales tax
.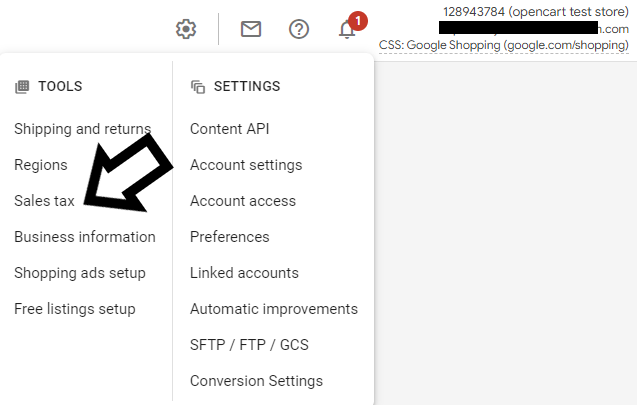 3. Go to the
Tax Settings
tab.
4. Click
Advanced settings
- you'll see the list of all states in the U.S.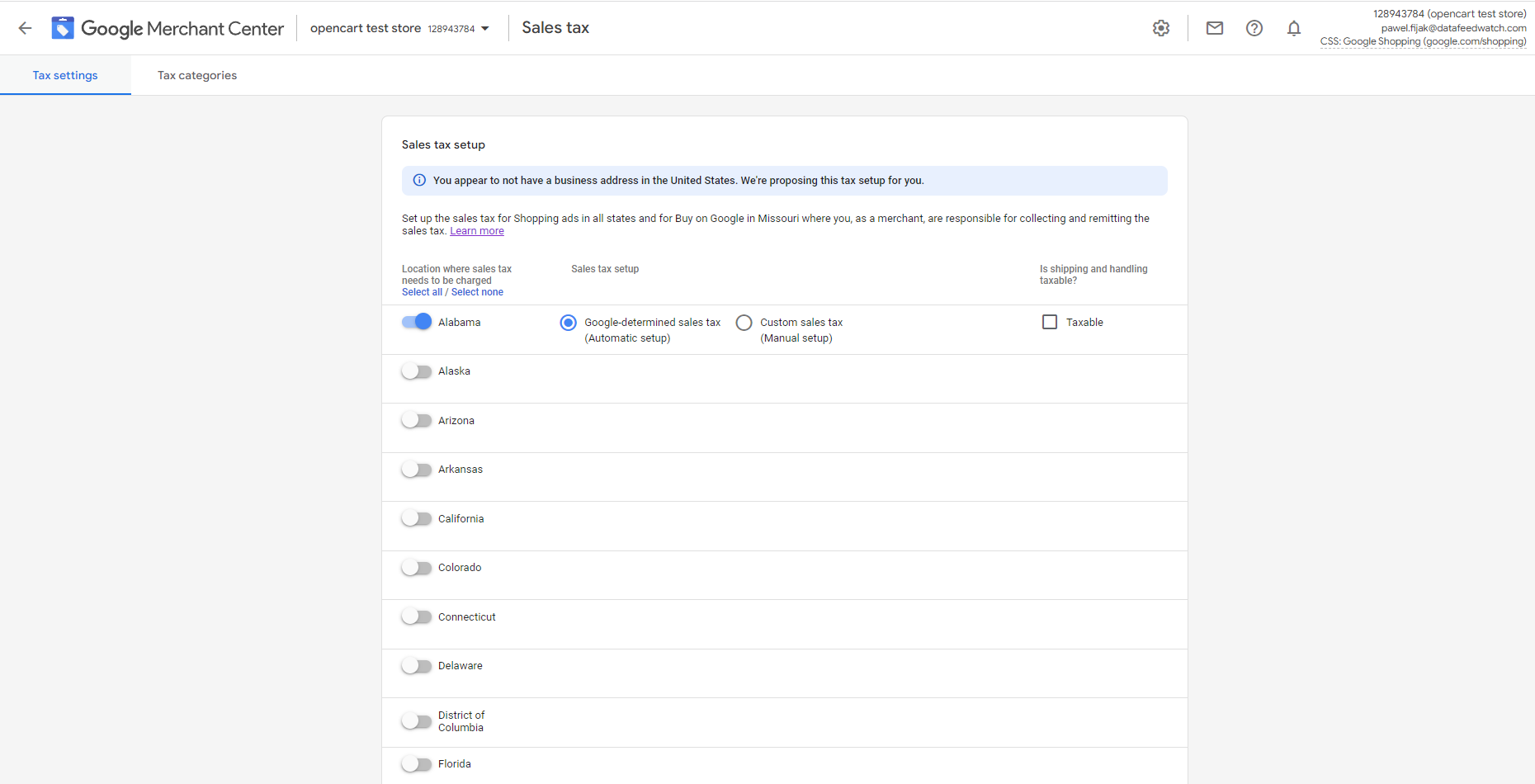 Set up tax rates for each state where you want to charge sales tax:
5. Click the toggle in order to select the state.
6. Choose the right "tax rate" option:
Google-determined sales tax (Automatic setup)
Custom sales tax (Manual setup)
OR

7. After you've set up tax rates for all states click Save.
You can also define a custom tax rate base on the category of your products. There are different ways of doing that.

---
Additional thing to keep an eye on in Google Merchant Center: Google's recommendations
This advice is more for those who already run Google Shopping or Google Ads campaigns and want to improve them using historical data collected by Google. Once in a while it's recommended to check Google's recommendations and try to adjust and update your campaigns so they can become even more successful.
Google's recommendation is an entire section that you can visit in your Merchant Center account, where you get customized suggestions on how to improve your campaigns and get better results with them.
Recommendations can suggest you to use new, relevant features that you haven't known about. They help you find a way to get more out of your budget by improving your ads, bidding or keywords and thus increase the overall performance of your Google campaigns.
What are Google's recommendations based on
As already mentioned, Google gives you tips and recommendations based on your account's performance history, your campaign settings, and trends across Google. It is done automatically without any human insight.
If you just launched your campaign or you haven't started running your ads yet, you will not see any recommendations. But make sure to come back again very soon and check if anything appeared in this section! This will help you quickly fix some mistakes and improve your campaign. Google comes up with new recommendations regularly and also launches some new recommendation types from time to time.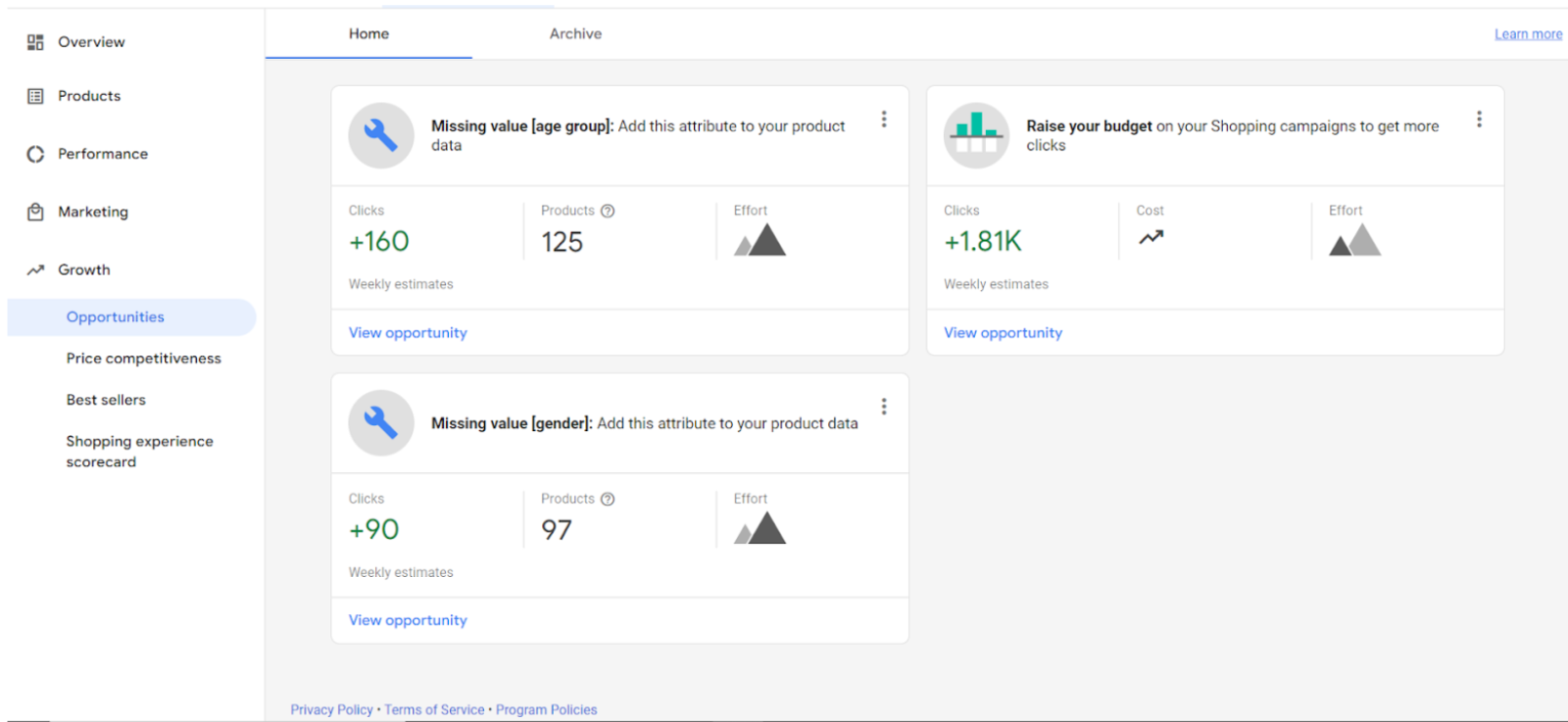 Benefits of using Google's recommendation
You get new ideas on how to improve your campaign's performance based on historical data: previous campaign performance, things people have searched for on Google etc.
You can make improvements right away, without wasting much of your valuable time on research first.
You can always keep your campaigns up-to-date and fresh.
Types of recommendations from Google
You can find the following types of tips from Google in recommendations section in your Merchant Center account:
Ads & Extensions
Automated campaigns
Bidding & budgets
Keyword & targeting
Repairs
Ad suggestions
You can read more about each of them in Google's article about recommendation types.
---
Join important Google Merchant Center programs
To make the most of Google Merchant opportunities, we advise you to join various available programs:
Product Ratings and Customer reviews
---
Summary
Now you know which Google Merchant Center settings to pay special attention to. Forgetting some of them or setting them incorrectly can sometimes lead to errors that you can avoid. Some others will make your advertising much easier. Set up shipping, return policies, automatic price and inventory updates, automatic image improvements, FTP connection, tax and Google's commendation correctly and you can start a healthy Google Shopping campaign without any delays.