Multichannel eCommerce advertising has become the go-to strategy for businesses looking to expand their reach and increase sales. With various channels available, such as social media and marketplaces, this strategy allows businesses to connect with their customers through various touchpoints.
But simply utilizing multiple channels is not enough to master your multichannel eCommerce strategy. Whether you already sell on a few different channels, or want to start expanding, these 8 tips will help you.
Learn how to expand your multichannel eCommerce strategy in a way that ensures your budget is not going to waste.
Discover which channels you should expand to based on your business and inventory to stay competitive.
Get specific product feed optimization tips to drive PPC and eCommerce success.
Read the full Multichannel Marketing Report 2023 here.
---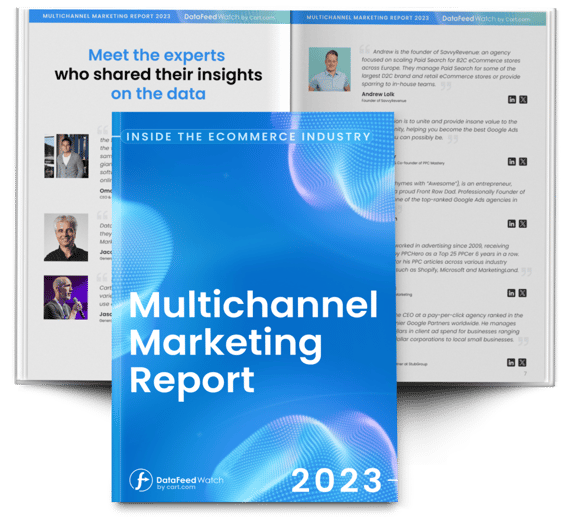 1. Choose your channels wisely
Success in multichannel eCommerce begins with identifying the right channels for your business. One effective way to do this is by examining your sector. Look at where your competitors are selling and take note of their successes and failures.
Are there any channels where your competitors are noticeably absent? This could be an untapped opportunity for your business. Alternatively, if your competitors are all selling on a particular platform but not seeing any significant results, it could be a signal to steer clear of that channel.
Not every channel might be right for your business. It's crucial to add value to your multichannel eCommerce strategy, not just volume.
Niche and local channels
Niche channels cater to specific product categories. Between 2022 and 2023, the use of such channels rose from a 25% share to 29%.
For the Electronics industry in particular, there's been a noticeable shift towards the use of niche channels. Instead of relying solely on popular, mainstream platforms, businesses in the Electronics industry are harnessing the potential of niche channels to connect with their audience.
Look for similar channels you can sell on. If you're selling wine, you could expand to a channel like Pix.com. You can also look for channels that are specific to your geographic location.
Look at the top channels in your industry
The channels you choose to sell on may depend on what kind of products are in your inventory. The top 3 channels in most industries are some combination of Google Shopping, Facebook, and a niche or local channel. So if you're already selling there and wanting to expand more, check the top 5 or even up to the top 10 channels.
For example, for eCommerce advertisers selling furniture, apparel or health and beauty products then Pinterest and Bing are in the top 5 most popular channels.
Back to Top or
---
2. Scale your ads effectively
Scaling is a vital factor when mastering your multichannel eCommerce strategy. As your business grows, you must ensure that you have sufficient inventory to meet the increased demand. Advertising items that are out of stock can be damaging to your reputation and the results of your campaigns.


Regularly updating your product feeds will help to avoid this. It will involve real-time tracking of your inventory across all channels, promptly removing or marking items as out of stock as necessary. Keep in mind, scaling doesn't merely relate to inventory; it also pertains to your capacity to handle increased sales and customer interactions.


Evaluate your current operations and make necessary adjustments to handle growth effectively. This could mean investing in more advanced eCommerce software, hiring additional staff, or expanding your customer service capabilities.


If you find that you have stretched too far with your multichannel plan, then you may want to consider editing down the amount of channels you sell on. In fact, 2023 saw a decrease in channels used across most eCommerce sectors. Focusing your resources in just a few channels can also be an effective solution.
Back to Top or
---
3. Focus on optimizing product titles
It's important to optimize all areas of your product feed. But product titles hold a lot of weight as they heavily influence Google's algorithm and can significantly impact your listing's visibility. Almost 11% of online shops have their product titles optimized in their feeds, so by putting extra attention to this part of your campaign, you can get ahead of your competitors.
It's vital to ensure that these titles are descriptive and include important product details. Start by placing the most important attributes, such as brand, product type, and model number, at the beginning of the title.
Also, include distinguishing features such as color, size, or gender, particularly for apparel products. This can help shoppers see the information they're looking for right away.
Here are the guidelines you can follow to create the best performing product titles by product category.
Avoid using promotional text or capitalizing all letters. Instead, keep your titles informative, straightforward, and within the 150-character limit.
Multichannel eCommerce platforms like DataFeedWatch can help you optimize your titles quickly by allowing you to combine elements of your product feed, like this:
Optimizing your Google Shopping product titles is an ongoing process. Regularly review your performance data, adjust your titles based on what's performing best, and stay adaptable to changes in Google's algorithms and customer search behavior.
Back to Top or
---
4. Harness the power of custom labels
Custom labels are an often-underutilized tool in multichannel eCommerce that can deliver significant benefits. In 2023, just 11.29% of online shops had custom labels added to their feeds. Essentially, these labels are unique tags that you can assign to your products in Google Shopping, allowing you to categorize and segment your inventory in ways that make sense for your business.


The positive effect of using custom labels
Custom labels that are well-developed and strategically optimized can generate a threefold impact on your PPC campaigns.
Enhancing your budget efficiency by ensuring that low-margin and low-potential products are not advertised.
Allocating more resources towards your most lucrative products, thereby fostering their continued strong performance.
Bolstering your ROAS by aiding in the more effective distribution of your advertising budget.
How to use custom labels with Google Shopping
For instance, you might use custom labels to differentiate between seasonal and non-seasonal items, identify top-selling products, or tag items with varying profit margins. You might have labels such as "Summer Collection", "Best Sellers", or "High Margin".

Here's a list of just some of the ways you can use custom labels:


Seasonal items
Holiday
Brand
Performance
Shipping
Size
Price margin
Best sellers
Newcomers
Discounted items
Clearance


This graph gives you an idea of how often each criteria is used:
Custom labels can be especially useful for dynamic bidding strategies. For example, you could bid more aggressively for products tagged as "High Margin" to maximize profits, or strategically promote "Best Sellers" to drive traffic and increase sales.
The use of custom labels also brings enhanced reporting capabilities. By grouping your products using these labels, you can gain better insight into product performance, aiding in informed decision-making and strategic adjustments. Remember, the power of custom labels lies in their flexibility. Use them to highlight what's important for your business's unique needs and multichannel eCommerce strategy.
Interested in going more in depth with custom labels? Check out our article 12 Powerful Custom Labels to Consider for Google Shopping Campaigns to get step by step instructions and tactics from Google Shopping experts.
Back to Top or
---
5. Enhance product images
Successful multichannel eCommerce is greatly enhanced by the quality and quantity of product imagery. Customers are increasingly expecting to see multiple images per product, including lifestyle images that showcase the product in use. This not only adds depth to your product descriptions but also helps customers visualize how the product might fit into their daily lives.
Benefits of adding multiple images
Adding multiple images for each product can boost engagement and increase conversions. These images provide a more comprehensive view of the product, allowing customers to see it from different angles, in various colors, or in different use cases. Multiple images can also significantly reduce the rate of returns, as they give customers a more accurate understanding of what they're buying.
How to add and create more images
Adding and creating more images is a straightforward process. You can upload images directly through your eCommerce platform's dashboard, or use a CSV file for bulk uploads. When creating images, consider hiring a professional product photographer or using high-quality 3D rendering software to ensure all images accurately represent your products. Optimal image size and format may vary from one eCommerce channel to another, so always follow each platform's specific guidelines.
Utilizing multiple and lifestyle images holds immense potential for enhancing your multichannel eCommerce strategy. By providing a more in-depth and engaging product view, you can foster customer trust, stimulate interest, and ultimately drive sales.
Google Shopping best practices for images
While adding more product images, keep these best practices in mind:
Make sure you've added the correct image to the corresponding product.
Use high quality images that are the right size (at least 100x100 pixels or 250x250 pixels for apparel).
View your images from a shopper's point of view.
Retouch your images when needed.
Test lifestyle vs. stock images.
Generative AI for Shopping images
Google has a tool called Product Studio which is AI-driven and originates from the Merchant Center Next platform. This innovative tool enables the generation of product images, thereby eliminating the challenges associated with optimizing product visuals for Google Shopping. With Product Studio, AI-generated lifestyle images can be created, offering a seamless and efficient method to enhance your multichannel eCommerce strategy.
Back to Top or
---
6. Include product identifiers, with a focus on GTINs
Product identifiers are essentially unique codes or numbers that help to distinguish specific items in the world of eCommerce. They have a critical role in multichannel eCommerce strategies, enabling efficient product listing, search optimization, and inventory tracking.
The most commonly used product identifiers include: Global Trade Item Numbers (GTINs), Manufacturer Part Numbers (MPNs), and Brand names.
There are also other identifiers, such as:


ISBN (for books)
UPC (Universal Product Code)
EAN (European Article Number)
JAN (Japanese Article Number).


Why are GTINs important?
GTINs, in particular, are valuable product identifiers because they are globally unique and are recognized across multiple eCommerce platforms. They facilitate seamless product recognition, enhance search accuracy, and improve product visibility. GTINs also enable customers to make smarter buying decisions by offering detailed product information and making price comparison easier.
Google has also mentioned that products with GTINs will be given a higher priority on the SERP than those without.
How many merchants use GTINs?
Despite their significance, many merchants overlook the importance of GTINs. In fact, out of all Shopping attributes, GTINs are the most commonly missed at almost 30%. This omission can lead to lost sales opportunities and lower visibility in search results.
How can you find missing GTINs?
Identifying missing GTINs is a critical step in enhancing your multichannel eCommerce strategy. There are several ways to do this.
Audit your product listings and inventory management system to identify products without GTINs. Then check the packing of the products with missing GTINs.
Consult the Global Electronic Party Information Registry (GEPIR), a global directory that provides access to basic contact information for companies that have encoded GTINs into barcodes, or have been allocated GS1 company prefixes for their EAN or UPC.
Implementing and properly managing product identifiers, especially GTINs, can significantly advance your multichannel eCommerce strategy. By doing so, you enhance product visibility, improve inventory management, and provide a better shopping experience for your customers.
Back to Top or
---
7. Exclude unprofitable products
Just as important as highlighting your star performers, identifying and removing items that aren't contributing to your bottom line can improve your profitability significantly.
How many merchants exclude products?
An increasing number of marketers are recognizing the advantages of selective advertising and reshaping their strategies to determine which products to omit from their campaigns. Presently, two-thirds of advertisers strategically exclude certain products to prevent exhaustion of their advertising budget on items that are unlikely to yield significant profits.
What is the benefit of excluding products?
The primary benefit of excluding unprofitable products is increased profitability. By only paying to advertise products that contribute positively to your bottom line, you ensure your marketing budget is being used effectively.
The damage of advertising unprofitable products
When unprofitable products are advertised, they tie up valuable marketing resources, decrease overall campaign success, and can even detract from more profitable items by cluttering the product offering.
How to choose which products to leave out
Deciding which products to exclude from your multichannel eCommerce strategy can be challenging. Begin by reviewing your product profitability reports, identifying items with low or negative profit margins.
Consider factors such as:
Sales volume
Production costs
Shipping costs
Return rates


Here are the most popular criteria that merchants use to filter out products in their Shopping feeds:
If a product's costs outweigh its sales revenue over time, it may be a candidate for exclusion. You can also consider customer reviews and feedback. If certain products consistently receive negative reviews, they may be damaging your brand's reputation and driving potential customers away.
By regularly reviewing and refining your product offering, you can optimize your marketing spend and increase the overall profitability of your multichannel eCommerce strategy.
Back to Top or
---
8. Understand Shopping Ads attributes
When creating Shopping ads, it's important to understand the specific fields required by Google and how they may differ from the fields defined by your shopping cart software.
In Google's case, required attributes include:
Id
Title
Description
Link
Image_link
Availability
Price
Your shopping cart software may label these attributes differently, or it might include additional attributes not required by Google.
Common shopping cart feed errors
Sellers using Magento see the most errors in their Shopping feeds compared to the other software.
Now let's take a look at some of the most popular shopping cart software and some differences you may find.
Magento
Magento uses 'sku' instead of 'id', 'name' instead of 'title', and 'description' instead of 'description'. Just like with Shopify, you'll need to map these fields correctly to Google's required attributes.
| | |
| --- | --- |
| Magento field | Google Shopping attribute |
| SKU or product_id | ID |
| Name | Title |
| Description or short_description | Description |
| Product_url | Link |
| Image_url | image_link |
| Manufacturer | Brand |
| Is_in_stock or quantity | Availability |
To learn more about how you can use your Masgento data to create Shopping ads, read our article: How to Properly Match Magento Fields with Google Shopping Attributes
Shopify
| | |
| --- | --- |
| Shopify field | Google Shopping attribute |
| SKU or variant_id | ID |
| Title, global_title_tag or attribute combination | Title |
| Body_html or global_description_tag | Description |
| URL or variant_url | Link |
| Images | image_link |
| Vendor | Brand |
| Barcode or UPC | GTIN |
To learn more about how you can use your Shopify data to create Shopping ads, read our article: How to Properly Match Shopify Fields with Google Shopping Attributes.
WooCommerce
| | |
| --- | --- |
| WooCommerce field | Google Shopping attribute |
| Regular price | Price |
| Name | Title |
| Description or short description | Description |
| External URL | Link |
| Images | image_link |
| Brands | Brand |
| In Stock? | Availability |
To learn more about how you can use your WooCommerce data to create Shopping ads, read our article: How to Properly Match WooCommerce Fields with Google Shopping Attributes
How to fix Shopping feed errors
If you come across errors when creating your Shopping ads, it's likely due to incorrect mapping of attributes, as we've seen above. You can fix these errors by reviewing your shopping cart data and ensuring that the right fields are being used for each attribute. Use Google Merchant Center's Diagnostics tab to identify and resolve any attribute-related issues.
You can also use a feed marketing solution like DataFeedWatch to catch the errors before you send your product feed to Google and get tips on how to fix the errors quickly with feed mapping.
The benefits of creating a Shopping feed from shopping cart software
Creating a shopping feed directly from your shopping cart software has several benefits. It simplifies the process of managing your product listings, allows for automatic updates of product information, and ensures that your Shopping ads are always up to date with the latest inventory changes. By keeping your ads updated, you can enhance your customer's shopping experience and increase your conversion rates.
How DataFeedWatch Can Help
DataFeedWatch can help streamline your multichannel integration by providing a unified platform for managing your shopping feeds. This includes the automatic updating of feeds, easy mapping of attributes, and comprehensive error reports to help you quickly fix any issues. This allows you to save time, reduce errors, and enhance the effectiveness of your Shopping ads.
Back to Top or
---
Conclusion
A successful multichannel eCommerce strategy is not a one-size-fits-all approach. From thoughtfully choosing which channels to sell on, to optimizing your product feeds, each aspect plays a vital role in shaping your online retail success. You can also consider finding the best multichannel eCommerce platform for your business to help execute your strategy.
As you navigate the intricacies of multichannel eCommerce, remember that ongoing review and refinement of your approach is key. With the right strategy and tools, you can ensure your marketing efforts are cost-effective and tailored to the ever-changing landscape of online retail.
Read the full Multichannel Marketing Report 2023 here.
---