How Increase Revenue with Multiple Feeds?
Problem 1: Incomplete product feeds
During 2018 and the first half of 2019, nearly all eCommerce retailers that reached out to our agency asking for ad management services had to deal with product feed issues.
The most common problems included:
High product data disapproval rates
Missing GTINs, MPNs and/or brands
Product titles missing valuable keywords
Missing important attributes within the product titles (color, size, material, etc.)
Products from stores missing from the feeds altogether.
Many of our clients just did not know how to deal with these issues. Others had already been using feed management tools, but often these solutions weren't the best option, and only made things worse.
Feed solutions like spreadsheets or free apps, were unreliable. Many times it was impossible to customize critical product data fields, like product titles and descriptions.
One of the worst feed tools was so slow that the process of uploading a feed alone turned out to be a multi-hour project.
These solutions would have made product feed management impossible at a large scale because they were too time consuming.
---
Problem 2: Testing Other Feed Tools
We tested several product feed tools to find a reliable and scalable option. A few met that criteria, but most tools lacked the feed editing features we needed. During testing, we were coming across problems such as:
Product feed tools that froze or couldn't process tens of thousands of SKUs quickly.
Slow-loading or unfriendly user interfaces contributed to spending unnecessary hours on work.
Lack of useful features like additional product image links, MPNs, or title optimization.
Not being able to refresh product data on demand. This was one of the biggest shortcomings which disqualified many product feed tools.
Long waiting times for data feed update processes to be completed. Sometimes even minor changes within feeds couldn't be implemented on the same day.
It made it difficult or impossible to improve product data.
Finally, after a year of searching, we found the perfect data feed optimization software for our agency: DataFeedWatch.
---
Solution 1: Using DataFeedWatch
DataFeedWatch was the perfect solution for several reasons:
Hosting feeds for multiple stores and sales channels. This allowed us to manage feeds for Google Ads, Bing & Yahoo Ads, and Facebook for 40+ clients on a single platform.


Possible to work on multiple feeds with various team members. This allowed us to change our team's time management strategies, and made the workflow a way more efficient.


The copy/paste feature enabled us to transition to DataFeedWatch quickly and easily.
Since then, managing the multiple clients' accounts started to be easy, and helped to organize the workflow across the entire team.
After testing DataFeedWatch on a few large eCommerce stores, we decided to implement it for all client accounts.
---
Solution 2: Implementing at scale
The ease of setting up feeds and the possibility to fully control every data attribute of product feeds meant that the team could address all feed issues quickly and at scale. It was straightforward to:
Send updated data right away
Refresh feeds on demand
Immediately send updated product data to Google Merchant Center
Optimizations like these paid off quickly for Austin's clients.
One of our clients, Parkerbaby.com, a childcare accessories retailer, improved the quality of traffic from their Shopping ads with enhanced product titles and data.
This helped lower their monthly ad spend by 19%, without lowering revenue from ads. It also helped to increase their conversion rate from Google Ads by 21%.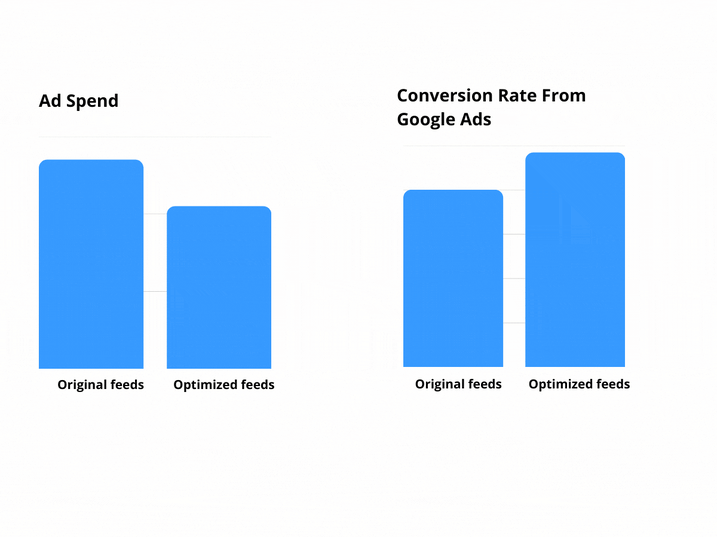 ---
32% avg. ROAS growth across our clients' accounts
Because DataFeedWatch allowed us to quickly update product data and fine-tune each data field, we were able to rapidly improve sales performance across all of our clients' eCommerce stores.
The ease of setting up feeds and the ability to completely control every data attribute of product feeds meant that we could address all feed issues quickly and at scale.
The ability to immediately refresh feeds and send new product data to Merchant Center allowed our team to verify that product data updates were processed as intended, on the same day. This led to less downtime for clients' various products with Google Shopping Ads and other sales channels.
The added value for clients
DataFeedWatch made it possible to save many hours formerly spent inefficiently managing product feeds with cumbersome and ineffective tools. That time could finally be dedicated to planning more efficient and successful strategies.
Now our clients can request and receive product feeds for new sales channels same-day. The problems are getting resolved immediately. We can regularly optimize product feeds and maintain Merchant Center product disapproval rates at or below 1% in most comparison shopping engines.
Furthermore, we were able to provide additional sales channel feeds with minimal labor. For example, we can create additional product feeds for channels like Facebook and TikTok in just mere minutes.
DataFeedWatch's feed-driven text ads builder allowed our team to automate the creation and management of text ads for individual products and product categories for all clients. This gave our clients yet another value-add by improving their Google text ad performance.
After working with DataFeedWatch for over 2 years, we have created and optimized 100 product feeds. The improvements consisted mostly of faster feed optimization and implementation of feed-driven Google Search Ads.
These outcomes can be provided at scale, with minimal effort, making the cost of providing better outcomes much more affordable for Austin's eCommerce retail clients.
From 2019 to 2020, the return on ad spend across all client' accounts increased by 32%. Revenue increased by 136% during the same period.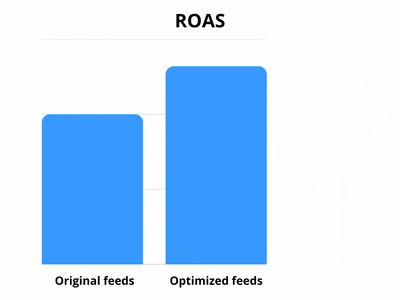 Product feed creation and optimization is now an efficient and manageable regular part process within Austin Becker E-Commerce Marketing's workflow for eCommerce retail clients.
Improved product feeds have led to sales growth for all of the agency's eCommerce Google Shopping Ads clients with minimal cost and effort thanks to the flexibility and scalability of DataFeedWatch's services.