The WEmarket.dk challenge:
The problem: Too many size variants are misleading for Google
As you can imagine, the amount of door size combinations can be massive. And every combination is a different variant. Every color of this combination gives us even more variants. More variants means more decisions for Google to choose the perfect match for potential clients and a smaller chance for Bango to be selected.
Let's say a potential Bango client was looking for rustic wooden doors for their renovated cottage house.
Potential buyers aren't likely to be considering size at the search stage. They will look into this later on the seller's website. The first criteria they are looking at are design and, obviously, the price.
Since Bango's Google Shopping campaign included such a huge number of size variants to process, it was hard to convince Google's algorithm which of Bango's doors was the perfect match for the client's searches.
To help Bango, Wemarket.dk decided to find a way to reduce the number of size variants without giving up the more relevant variants, like design and price. So they reached out to their Account Manager in DataFeedWatch to dispel this nagging doubt: "Can we remove the size variant from the data feed without giving up the most relevant and competitive variants?''
The answer is: Sure, you can!
With DataFeedWatch, Wemarket.dk was able to merge the common features of each model, giving them fewer combinations of variants. The product could now appear in searches as one product in different variants, and the information about the product started to be clear and consistent for search engines.
---
The Solution: Merging the troublesome variants into one product
Merging product variants enables you to combine products with the same attributes into one product in different variants.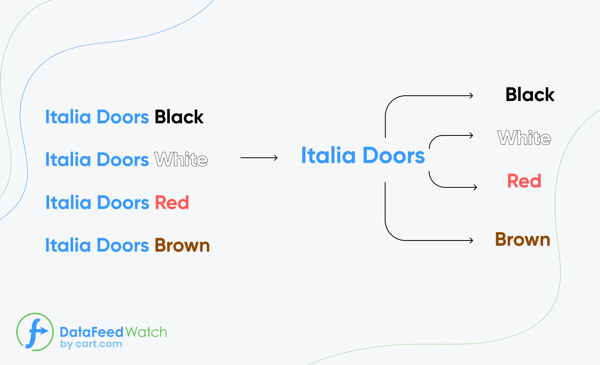 So that DataFeedWatch could recognize these specific attributes belonging to the same product, Wemarket.dk needed to create the feed, including the item_group_id.
The item_group_id is like a common denominator of the products. Let's say we have a model of rustical wooden doors called Italia, which has various size variants.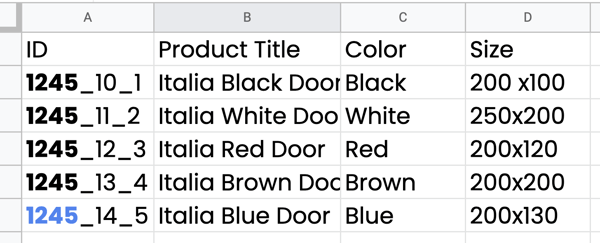 As we see above, the common denominator is the first part of the id number- 1245, and this number will be our item_group_id. This way, DataFeedWatch will know that a vague group of the size combinations belongs to this specific model.

Also, the item_group_id does not have to be a number; it can also be a word or joint formula.
Merging the variants is impossible for Google Shopping, but it doesn't mean that it is totally undoable to implement.
In DataFeedWatch, you just need to create the feed for the Facebook channel first, merge the variants, and once everything is set, you can clone this data feed setting for Google Shopping or any channels you want to advertise on.
Back to Bango. When the Wemarket.dk team finished the mapping, they could start setting the merging strategy. They decided to remove the troublesome size variant and merge other important information to receive optimized information about one product.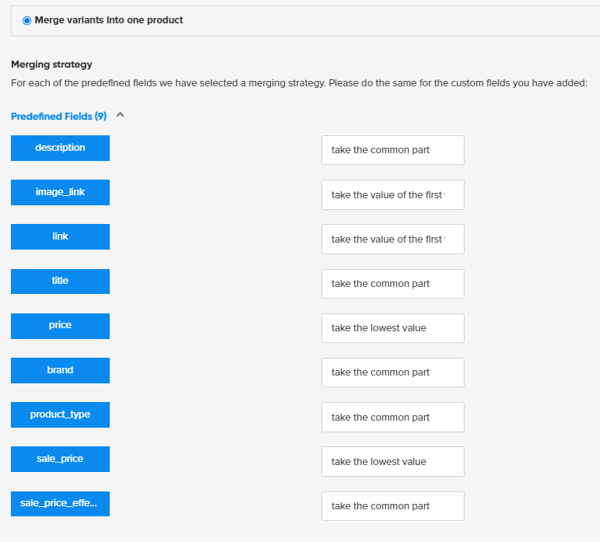 If you want to learn more about merging variants options, visit DataFeedWatch's Help article.
That way, all size combinations of Bango's products considered by Google as different items are now visible under one product in different, more important variants. In other words, Google can scan the feed for one product, instead of comparing information of multiple products that in fact are the same.
As the important attributes of Bango's products became more visible potential customers were more likely to find their dream rustical doors. And when it comes to size, Bango's clients can leave this decision for when they open the Bango shop.
---
The results: 63% Higher Conversions have brought 92% Higher Revenue
Wemarket.dk introduced this solution around the beginning of January 2022. From January to July 20th, they have observed an outstanding growth of many important metrics, considering only Google Shopping results!
After merging the size variants, Bango's products appeared more in Google searches and became more visible to the targeted audience.
Higher visibility caused the ad spend to increase by 18,5%; however, the Return on Ad Spend was also higher, reaching 62%. It means that more than half of the investment went back to Bango.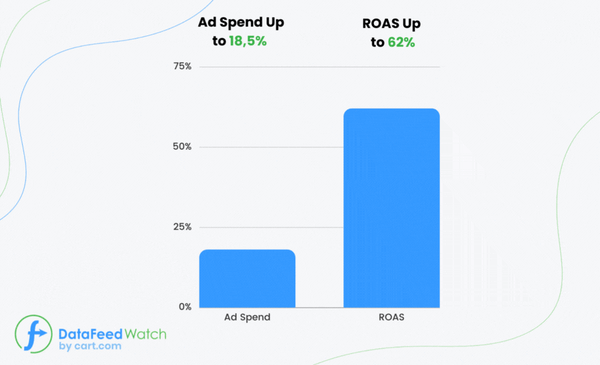 The audience was more interested in Bango's products, which resulted in a 75% higher click-through rate. More clicks, by all means, entails more visits. And the ads also brought better-matched clients to the Bango store, so the conversion rate increased by 56%! What's more, Cost per Acquisition decreased by 27%.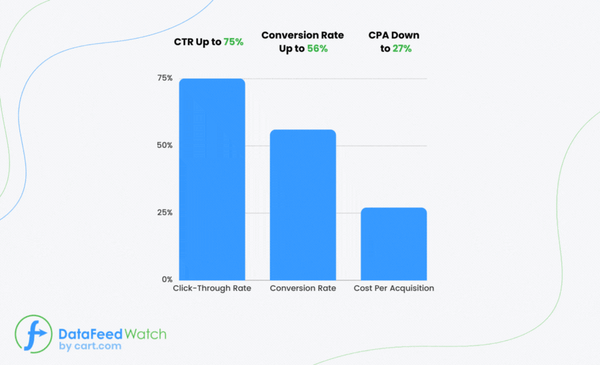 Merging the variants improved the performance of Bango's ads and the overall conversions grew by 63%, and brought new happy clients, which turned into 92% higher revenue.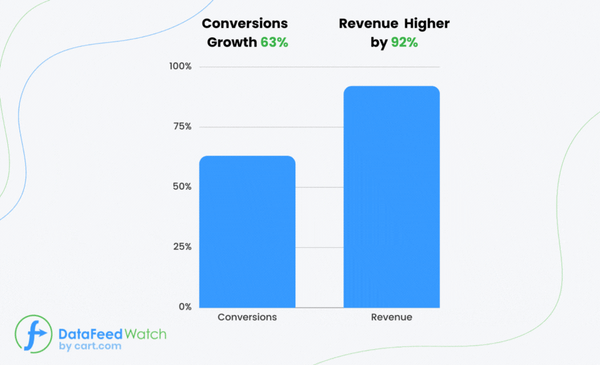 Even if this solution was a small step for Wemarket.dk and DataFeedWatch, it was a giant step for Bango towards Google Shopping campaign optimization.
You may also find interesting:
---