TikTok Shopping has taken the eCommerce world by storm. If you've been on TikTok lately, you've probably seen the #TikTokMadeMeBuyIt hashtag highlighting trending products in captivating videos. TikTok is not just a social channel for inspiration anymore; it's now a shopping destination that keeps users engaged without ever leaving the app.
Thanks to the seamless integration between TikTok and Shopify, users can purchase items directly through videos and merchant profiles. Thanks to TikTok shopping the entire purchasing journey, from discovering a product to going through the checkout process, can be completed right within the TikTok app.
In our ultimate guide, we'll walk you through everything you need to know to tap into the incredible selling potential of this innovative integration.
TikTok - what kind of social media is it?
TikTok is a social media platform designed for sharing short, engaging videos. This network is all about expressing your creativity and connecting with others through fun and engaging content.
With TikTok, you don't need a large following to share your content. TikTok videos often also find their way onto other popular platforms like Facebook or Instagram without much effort.
This widespread sharing has led to a surge in TikTok's popularity, particularly among teenagers. In fact, Business Insider reports that 60% of TikTok users fall within the 16 to 24 age range. If your target audience includes teens, TikTok could potentially be a lucrative market for your business. Don't miss out on the opportunity to connect with this dynamic demographic.
Back to the top or
---
TikTok for eCommerce
TikTok is one of the fastest-growing social media platforms, but not only that. All signs point to the fact that it is also a viable eCommerce platform!
TikTok's internal data reveals that a remarkable one in four users (based on a report by Kantar) either researches or purchases a product after watching a TikTok video. With the majority of users spending over an hour a day on the app, that amounts to a staggering number of videos and a tremendous amount of potential sales.
Shopify has also observed an increasing number of installations across their social commerce channels.
As more and more consumers flock to TikTok and an increasing number of profiles connect their Shopify stores, it has become obvious that it's worth investing in TikTok for eCommerce, because that's where many potential buyers will be in 2023 and beyond.
Why should Shopify merchants use TikTok?
As an online retailer with a Shopify Store, the immense potential of TikTok as a marketing opportunity shouldn't be overlooked. The TikTok market is not only vast, but it's also rapidly expanding, presenting a remarkable chance for your business to thrive.
TikTok predominantly attracts a younger audience, mainly Gen Z, aged 25 and below. However, the older demographic is increasingly joining the platform as well. As a Shopify seller, this should particularly pique your interest, as targeting "older" generations often means reaching an audience with greater purchasing power.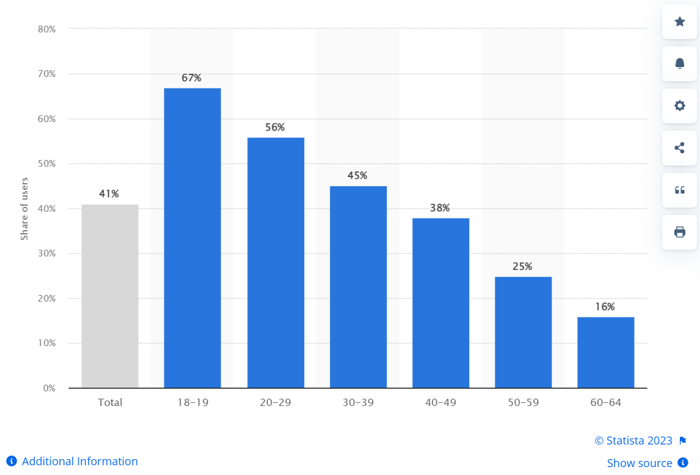 TikTok users in the U.S. | Statista
Here are some fascinating TikTok insights straight from Shopify's data:
One out of every four TikTok viewers has actually taken action, either by researching or making a purchase, after watching a TikTok video
It's also interesting to note that 81% of TikTok viewers plan to continue spending the same amount of time, or even more, on the platform in the next six months. This shows the growing popularity and engagement on TikTok.
For brands utilizing advertising on TikTok, it's encouraging to know that 43% of heavy TikTok users feel that the ads blend in well with the rest of the content. This means your TikTok ads capture the attention of your target audience without intrusive promotion.
Lastly, 50% of TikTok viewers admit to discovering new products through TikTok ads posted by brands. It seems like a great opportunity for retailers to showcase their products and attract new customers.
TikTok for Business
TikTok for Business tool is a user-friendly platform that offers tips, notes, and links to other platforms that work in conjunction with TikTok. This tool goes beyond just providing valuable data on market research and analysis, empowering merchants to gain a deep understanding of the market and optimize their ad campaigns on TikTok.
TikTok for Business offers several features to help businesses promote their products and reach their target audience. Here are some key features:
Campaign Optimization: TikTok for Business allows businesses to set their goals and target audience, and it optimizes ad campaigns accordingly.
Creative Tools: The platform provides intuitive video creation tools that allow businesses to upload their own videos or images, or create new videos to engage users. These tools include filters, effects, transitions, and music options to enhance the creative aspect of the videos.
Analytics and Insights: Business accounts on TikTok provide access to detailed metrics and insights about account growth, follower engagement, and video performance.
Engagement Features: TikTok for Business offers features such as email contact display, website link sharing, and post scheduling.
Ads Manager: TikTok Ads Manager is a tool that enables businesses to create and manage their ad campaigns on TikTok. It provides access to a global audience and allows businesses to target their ads based on specific demographics, interests, and behaviors. Read more below ↓
TikTok Ads Manager - to create TikTok campaigns
TikTok Ads Manager is a platform designed for businesses and marketers to create, manage, and optimize advertising campaigns on TikTok. It provides a range of features to help businesses effectively engage with the TikTok audience and achieve their marketing objectives.
With TikTok Ads Manager, businesses can set up and launch various types of ad campaigns, such as video ads, image ads, and more. It allows advertisers to target specific demographics, interests, and locations to reach their desired audience.
The platform also provides insights and analytics, allowing advertisers to track the performance of their campaigns and optimize them for better results. Advertisers can monitor metrics such as ad views, engagement, click-through rates, and conversions to evaluate the effectiveness of their ads and make data-driven decisions.
There are four key functions that make it easy to manage your advertising efforts in TikTok Ads Manager:
This feature provides an overview of your data and allows you to track key performance metrics for your campaigns and budgets.
This function is where you can create and manage your campaigns, including ads and ad groups, and monitor their progress.
This component is where you can create, manage, and store all of your ad assets, such as third-party trackers, site pixels, creatives, and audiences.
This feature lets you customize reports or choose from pre-defined templates, and you can even schedule them for specific times, such as every Monday.
Back to the top or
---
TikTok - Shopify partnership
In August 2021, TikTok introduced an incredible feature that empowers merchants and creators to enhance their TikTok profiles with organic product discovery and shopping tabs - the integration of Shopify and TikTok.
This integration allows you to easily showcase your products and create a seamless buying experience for your audience.
Many TikTokers are already familiar with how TikTok Shopping works and how to connect with their audience, and Shopify helps them reach their customers where they are and makes it easier to advertise and sell their products.
TikTok Shopping for Shopify sellers
If you're using a TikTok For Business account, it's easy to take advantage of the Shopify integration. Simply add a Shopify tab to your TikTok profile. It looks like a shopping basket icon.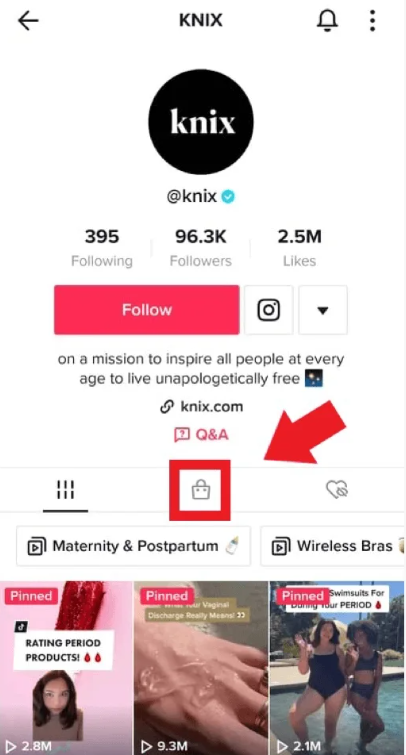 Shopify tab on TikTok / Getsitecontrol
By adding this tab, you can seamlessly link your product catalogs to your TikTok profile, creating a miniature shopping window showcasing your products. What's more, you'll have a direct link that interested viewers can click to visit your Shopify Store and make purchases.
Additionally, you have the option to tag products in your TikTok organic posts. This means that the TikTok audience can either shop directly from your storefront or click on a tagged product within your TikTok video post to be directed to your Shopify Store.
Example of TikTok videos leading to sales in your Shopify store:
How-to-do demonstrations
Showcasing the live functionality of your products
Showing videos of people using and enjoying your product.
Where is TikTok for Shopify available?
Currently, TikTok Shopping integrated with Shopify can be used by advertisers in the United States, United Kingdom, Canada, Singapore, Malaysia, Thailand, Indonesia, and Vietnam. In those countries TikTok-Shopify partnership enables Shopify business owners to effortlessly run TikTok ad campaigns right from their dashboard.
Stay tuned for more!
Back to the top or
---
Steps to integrate your TikTok to Shopify
Integrating your TikTok account with Shopify is a very simple process. Follow these steps to seamlessly connect your platforms and unlock the full potential of social commerce.
1. Create a Shopify store (if you haven't done so already)
To integrate TikTok with Shopify, the first step is to create a Shopify store. Setting up your store is quick and straightforward, even if you're not a tech expert. Simply follow these steps: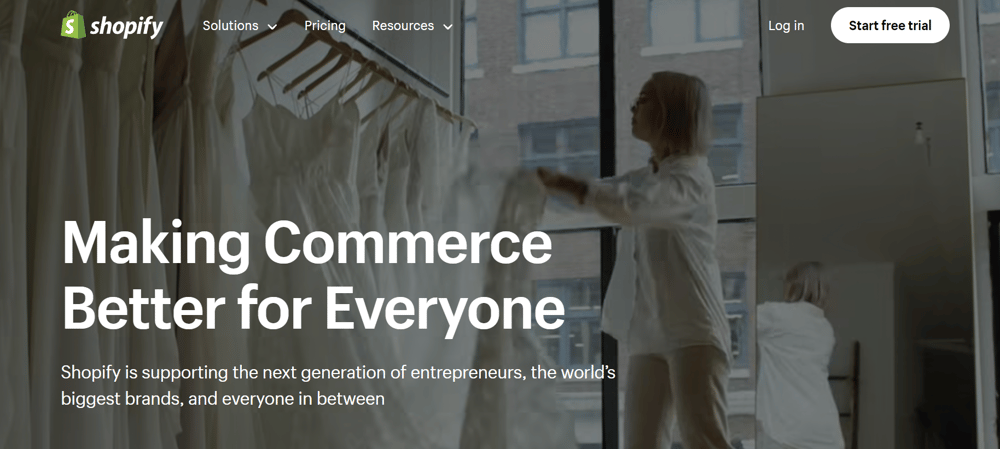 Visit the

Shopify website

and click on the Start button.
Fill in the required information, including your email address, password, and store name.
Customize your store design by selecting a theme from the available options or using your own branding.
Add your products by uploading images, writing descriptions, and setting prices.
Configure your shipping and payment settings to streamline the buying process for your customers.
With these steps completed, your Shopify store is now ready!
Now you're ready to seamlessly integrate your Shopify with TikTok and maximize your online business potential.
2. Download TikTok app
To get started with TikTok shopping and launch TikTok ad campaigns, you need to visit Shopify app store and install the web-based app onto your Shopify store.
By installing the app, you'll gain access to powerful features that allow you to create stunning video ads, track results, and manage your orders on TikTok directly from your Shopify account.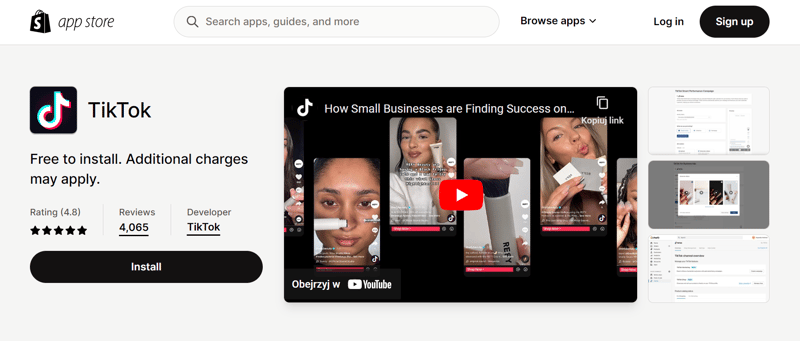 Installing TikTok app for Shopify | Shopify
3. Set up your TikTok business account
To be able to use TikTok as a storefront for your business, you need to have a TikTok for Business account. Creating this account will give you lots of benefits, which regular users don't get. You'll have access to detailed stats about how well your videos are doing and get to add an eCommerce link to your profile.
There are three easy ways to create a TikTok for Business account to use TikTok on Shopify. Let me walk you through them:
Simply click on the Create Account button under the Settings tab in TikTok App on Shopify.
Click on the Connect Account button under the Settings tab in TikTok App on Shopify and then select Sign Up to register.
Alternatively, you can create a TikTok Ads Manager account.
These three methods are all straightforward and take just a few steps to complete.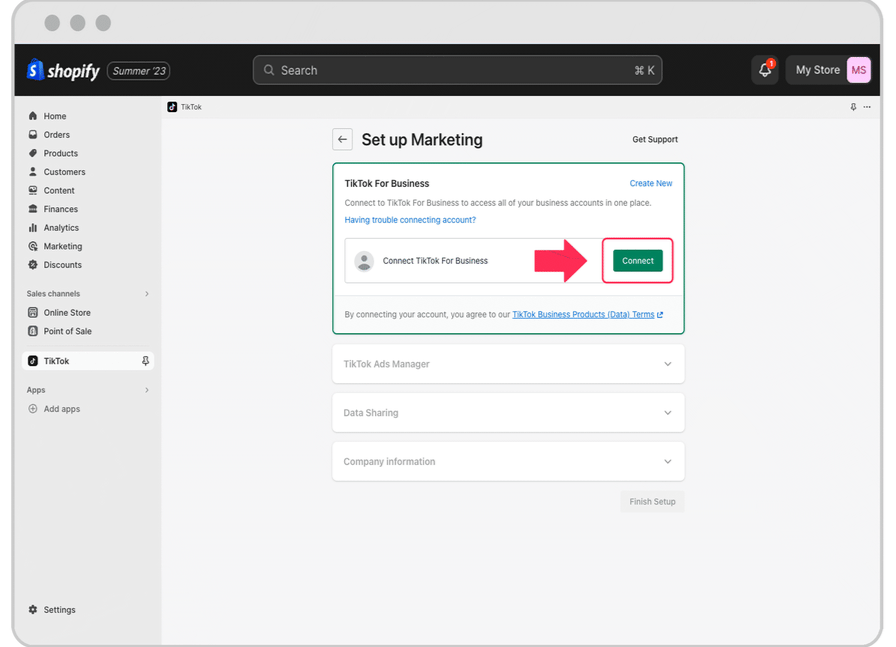 Setting up Business Account | Shopify
If you've already got a TikTok for Business account and want to integrate it with your Shopify store, follow these quick steps:
Head to the "Settings" tab in Shopify and select Connect Account.
Enter your login details.
After connecting, you'll see a list of all the ad accounts you've got Admin permissions on.
Choose the specific account you want to connect with Shopify and select Connect.
4. Wait for the approval
To get started with TikTok, you'll need to go through an approval process. This ensures that TikTok's advertising policies are in line with global laws and cultures. You can easily check the approval status of your ad account in Shopify, and it will be shown as one of three options:
Not Ready: This means your application is still under review or there may be missing information. To see if it's the latter, simply click on "Update" in TikTok Ads Manager. If there are any missing details, just fill them in.
Approved: Congratulations! Your account has been approved and you're all set to start selling.
Unavailable: If you see this status, it means either you've canceled your account or it has been removed for some other reason. In this case, you'll need to create a new ad account.


5. Create a TikTok Pixel Shopify
TikTok Pixel is a tool that allows you to track user behavior, measure your performance, and optimize your advertising on TikTok. It helps you understand which product pages users view, when they start the checkout process, and which ads lead to the most conversions. By integrating your Shopify and TikTok for Business accounts, you can easily access your Pixel without any coding or developer expertise.
How to add a TikTok pixel to Shopify?
To install TikTok Pixel on Shopify, follow these steps:
Search for "TikTok" in the Shopify app store and select the official TikTok app by TikTok Inc.
Install the TikTok app and connect it to your TikTok for Business account and ad account.
Click the Create Pixel button or select an existing pixel to connect to.

How to install tiktok pixel on Shopify | Shopify
The TikTok Pixel events supported on Shopify include Add Payment Info, Add to Cart, Complete Payment, Initiate Checkout, Search, and View Content. Optionally, you can enable Advanced Matching, which allows you to send hashed customer information for better ad targeting and audience enrichment.
By installing TikTok Pixel on Shopify, you can effectively track user behavior and measure the success of your advertising campaigns on TikTok.
6. Complete other steps
Once you've connected TikTok to Shopify, you're all set to take your advertising to the next level. Here's what you can do:
Get set up and start running Shopify TikTok ads by choosing a payment method that suits you.
Set up conversion campaigns
Create complete conversion campaigns within Shopify, from start to finish. You'll receive guidance on campaign creation every step of the way to ensure success.
Reach the right people by targeting a mix of demographic, location, and behavioral variables. Tailor your ads to the specific audience who's most likely to be interested in your products.
Create TikTok-style videos
Make compelling videos by uploading your product videos and images. Choose a TikTok creative to enhance the visual appeal of your ads and capture attention.
Launch ads directly from the TikTok app on Shopify
Seamlessly create and launch TikTok ads without any hassle.
Create custom audiences by specifying genders, ages, locations, and behaviors. This level of targeting ensures that your ads reach precisely the right people.
Tag specific products you sell in your TikTok ads
Highlight specific products in your ads to drive more engagement and conversions.
Tagging Shopify products on TikTok | TikTok
Manage budgets and bidding structures
Set your budgets and choose between bidding strategies like cost cap bidding or lowest cost bidding. This allows you to control your spend and optimize for the best results.
Improve the shopping experience for users by adding a shopping page to your TikTok account. This allows users to access your product catalog by simply swiping left on an ad. And once you make a sale, Shopify helps you manage all the order details, including payments, returns, and more.
Monitor campaign performance
Get quick snapshots of all the important data on your reporting dashboard. This helps you understand your conversion funnel better and optimize your ads for maximum impact.
Back to the top or
---
Marketing settings to get started with promoting your Shopify store on TikTok
Setting up your marketing settings is an essential process after installing the TikTok App on Shopify. Certain advanced features on the TikTok Shopify app, such as creating Conversion Ads, will be inaccessible until you complete your TikTok marketing settings. By configuring these settings, you'll unlock a world of marketing possibilities for your business.
First and foremost, creating or connecting a TikTok Ads Manager account to your Shopify is crucial. This integration allows you to seamlessly manage your advertising campaigns right from your Shopify dashboard.
It's also possible to install the Pixel on your Shopify store with a simple one-click process.
By setting up a marketing catalog, you can sync your products from Shopify to TikTok. This synchronization ensures that your product information is always up-to-date across platforms (particularly useful if you're planning to use Video Shopping Ads with Catalog).
Paid marketing settings

To set up your paid marketing on TikTok, follow these simple steps:

A. Log in to your Shopify Store admin.

B. Go to the Sales Channel section and select TikTok. Then, click on Set Up Now.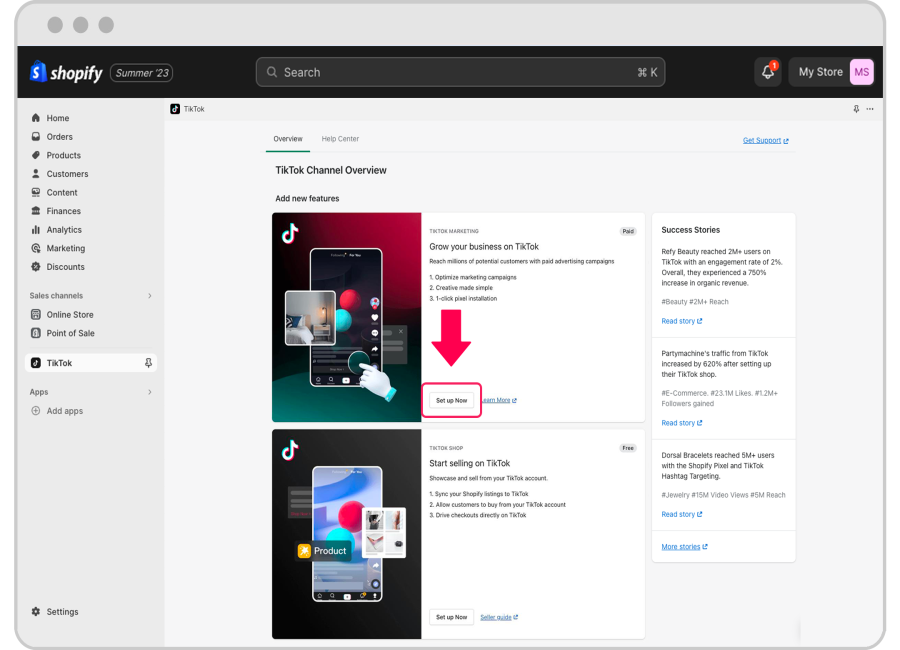 Setting up paid marketing | TikTok

C. If you don't have a TikTok for Business account yet, create a new one. If you already have an account, simply connect it.
D. Connect or create a new TikTok Ads Manager account. This is where you'll have access to your advertising account and the ability to create impactful TikTok ads campaigns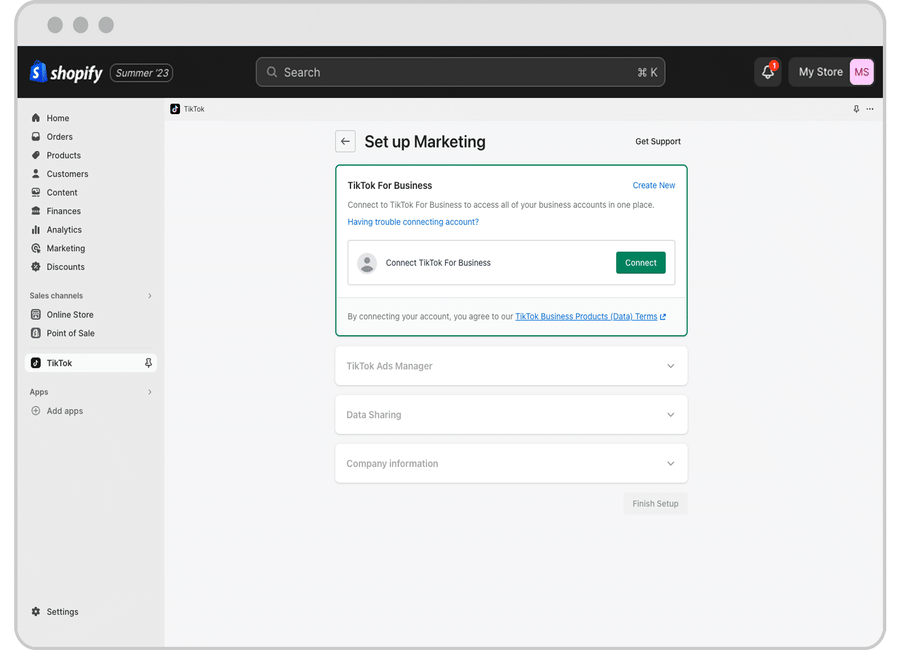 Connecting accounts | TikTok

E. Next, you have the option to choose the level of data sharing that suits your needs. You can opt for standard, enhanced, or maximum data sharing. This allows you to control the amount of data shared between Shopify and TikTok.
F. Finally, click on the install button to add the Shopify pixel for tracking purposes. This pixel enables you to monitor the performance of your ads and gain valuable insights for optimizing your marketing strategies.


By following these steps, you'll be on your way to harnessing the power of paid marketing on TikTok. You can start driving more traffic and conversions to your Shopify store.
TikTok product catalog creation

After you've completed the setup for paid marketing, it's time to set up your marketing catalog. Here's a simple guide to get you started:

A. Go to the Marketing Catalog section and click on Set Up Now.

Creating a product catalog | TikTok

B. You'll have the option to either choose an existing TikTok Business account or add a new one to connect your product catalog.
C. Select the location for your marketing catalog. This helps ensure that your products are visible to the right audience in the appropriate region.
D. Now, it's time to choose the specific products you want to feature in your TikTok ads. Simply click on Manage Products to select the items that align with your advertising goals.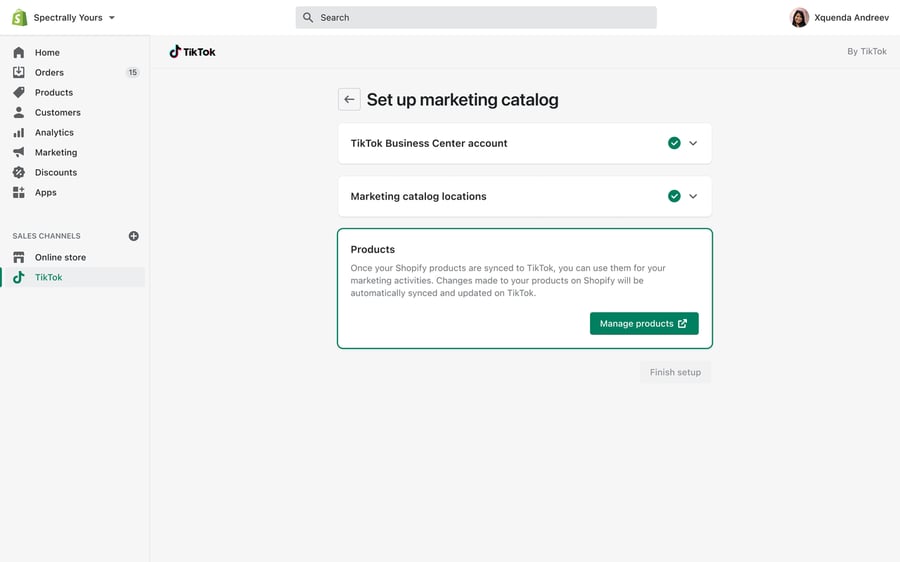 Managing products | TikTok

E. After you've made your product selections, it's important to note that your catalog will require approval. Rest assured, our team will review and verify it to ensure a smooth and seamless experience for you and your customers.

TikTok product catalog integration alternative
TikTok has a direct connection with TikTok, so this means your product data can be automatically sent to the platform and updated regularly. However, there is a downside to this method: you won't be sending a customized feed that's specifically designed for the channel. Instead, you'll be sending the product data configurations set up in your store.
Instead you can use a third-party app that allows you additionally to optimize your feed for TikTok (and other channels using the same tool).
If you choose this option to run TikTok ads based on a product catalog, you need to upload your product feed to TikTok and create a catalog on the platform. TikTok will then use the catalog to generate ads that feature up-to-date product information such as price, size, and availability.
You can create an optimized TikTok product feed using DataFeedWatch.
Find the right channel in DataFeedWatch

Adding TikTok channel | DataFeedWatch
Map and optimize your TikTok product feed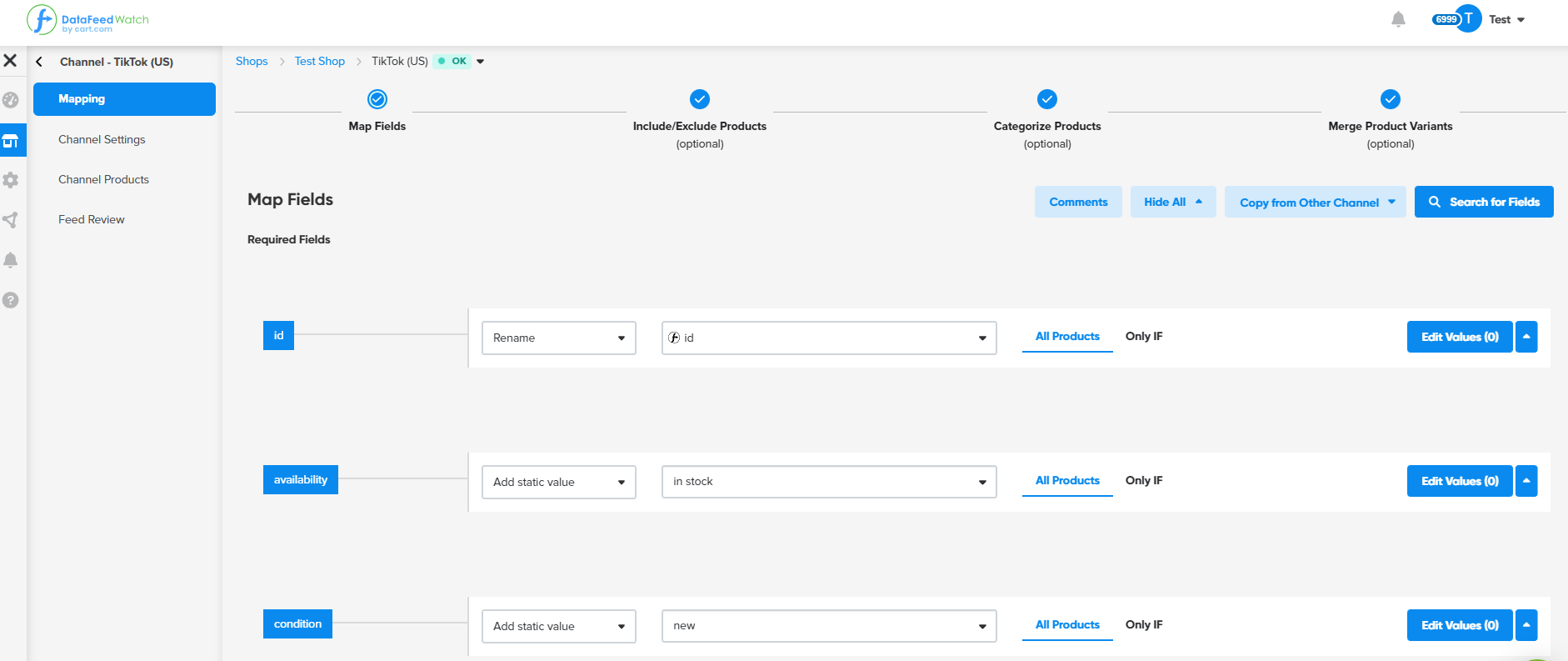 Mapping TikTok feedl | DataFeedWatch
Upload your optimized product feed to TikTok
---
Create your first video shopping campaign on TikTok
Now it's the time to create your TikTok ads. Here are instructions on how to create a video shopping campaign on TikTok:
Visit TikTok Ads Manager to begin creating a new campaign. Choose Product Sales as the Advertising Objective and complete the required settings.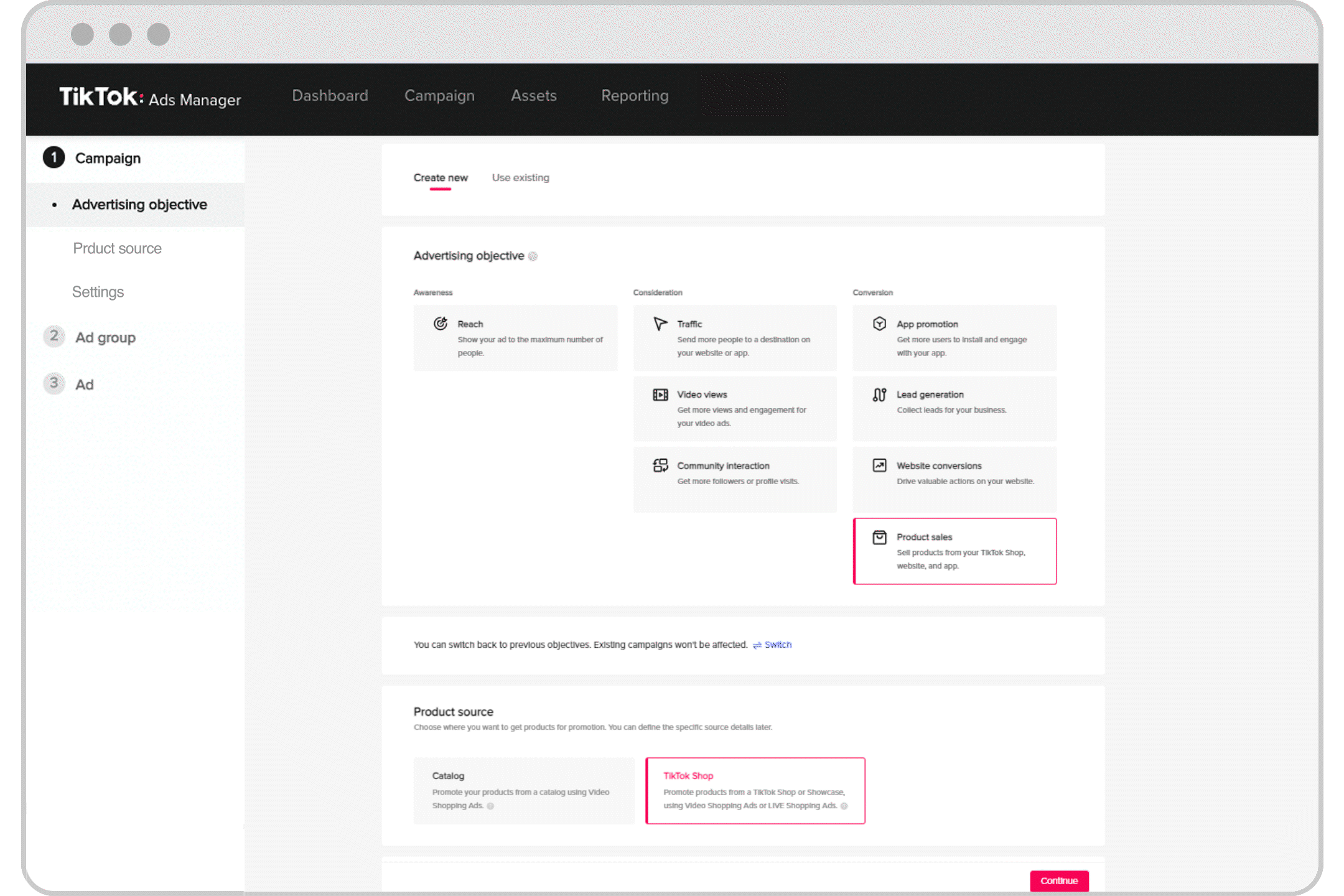 Creating TikTok campaign | TikTok
In the Shop Settings section, select the shop that you want to promote and choose Video Shopping as the Promotion Type. Then, select a TikTok account to represent your ad in the Identity section.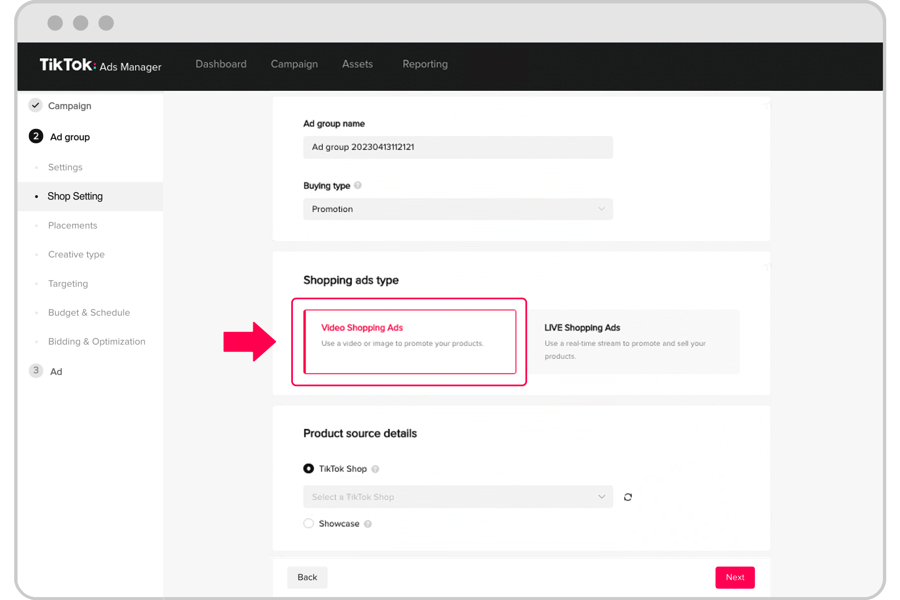 Choosing video shopping ad type | TikTok
Proceed to create your ads by selecting the specific products you wish to promote under the Products section. A preview of the ad landing page will be automatically generated. Review it to ensure everything looks good.
If you are satisfied with your ads and the preview, click on the Submit button to finalize and submit your video shopping campaign.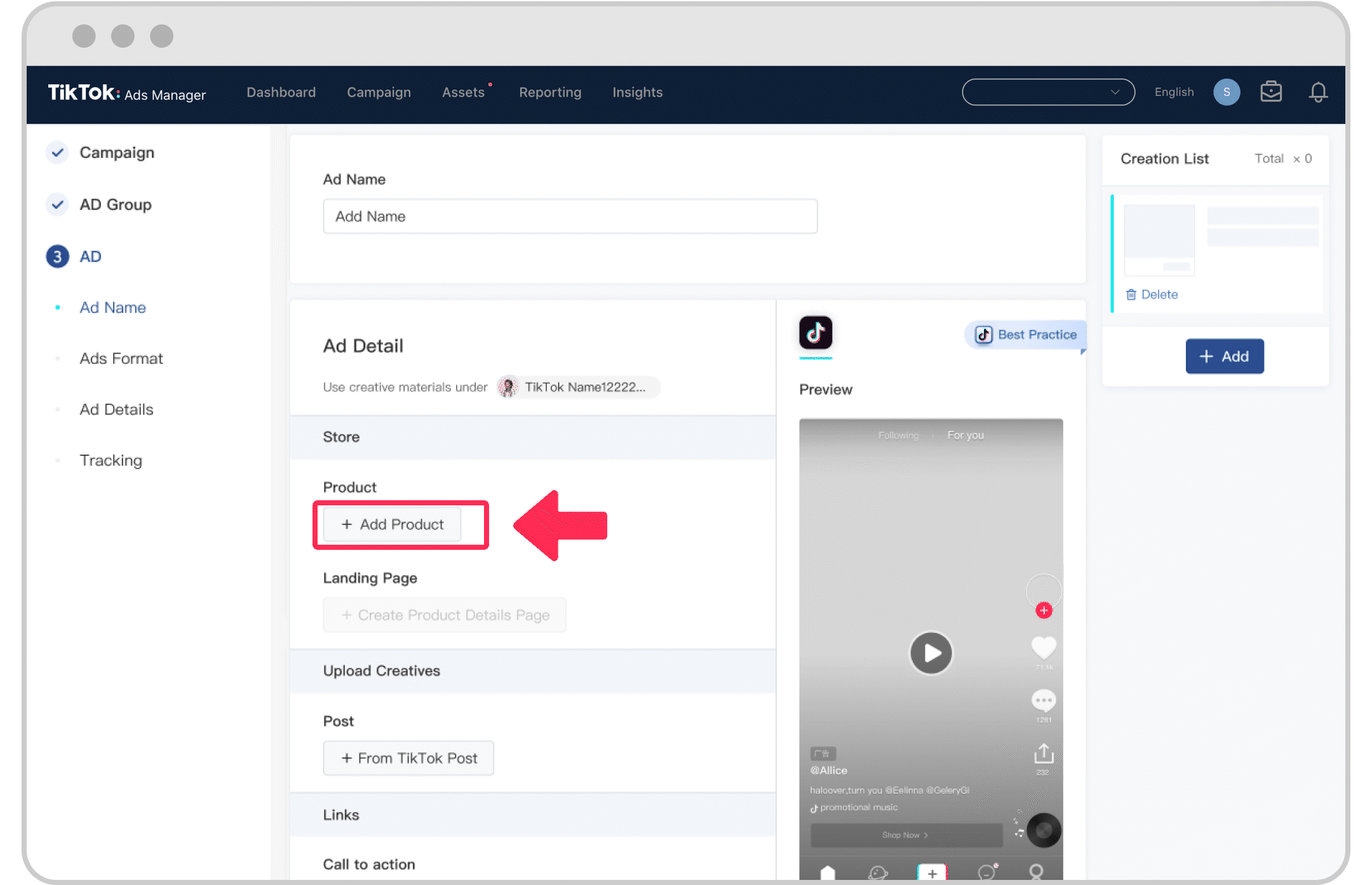 Adding products | TikTok
Back to the top or
---
Case study: How to boost your Shopify sales with TikTok
Jamal Hejazi, the founder of Candy Funhouse, wanted to create the ultimate candy experience and decided to increase online sales by using TikTok to reach a global customer base.
Their first viral video, which showed the packing process of a customer's order, helped them gain an impressive 30,000 followers! It was a pleasant surprise for them when they saw an increase in website visitors.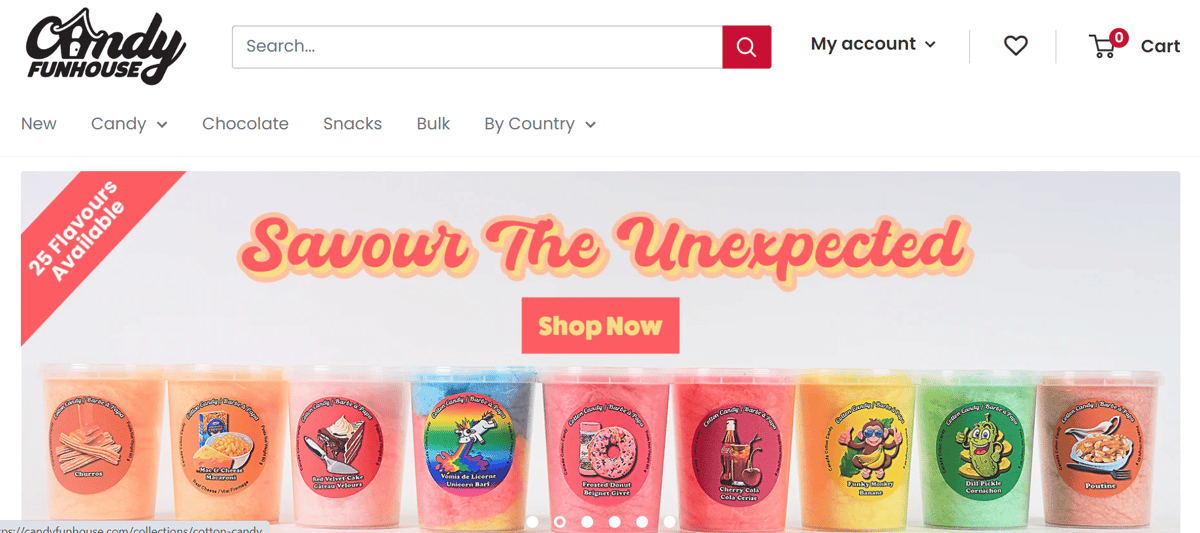 What they did: Although TikTok has a worldwide reach, individual accounts can still foster a sense of community. Candy Funhouse has cleverly themed their candy around local baseball teams and pop culture phenomena. Listening to their audience has been key to Candy Funhouse's growth on social media. They actively engage in social listening and create content that they, as candy lovers, would enjoy themselves.
Interestingly, their most popular candies are often the ones that go viral on TikTok. Candy Funhouse's team has positioned them as the go-to source for all things candy on social media.
What they achieved: Thanks to TikTok, their traffic, sales and brand awareness have received a significant boost. Their TikTok account now proudly boasts an impressive 2.7 million followers.
To realize TikTok's potential as a business, you need to create an environment that focuses on content and experience, rather than just product promotion. Candy Funhouse has successfully captured the spirit of TikTok (not focusing on traditional forms of advertising anymore). They have leveraged the platform to build their brand and establish themselves as a leader in the candy industry.
Back to the top or
---
5 tips to advertise your Shopify store on TikTok
To advertise your Shopify store on TikTok effectively, it's important to engage with users in the right ways. TikTok is primarily known for funny and entertaining content, so shopping is an added bonus and not the primary focus.
However, almost 50% of TikTok users have made purchases after seeing ads, promotions, or reviews on the platform. This highlights the immense potential of turning TikTok into a digital point of purchase, as it removes barriers to access for customers.
Here are some strategies and opportunities that Shopify merchants can use to increase brand awareness and reach a larger audience on TikTok:
Create engaging in-feed ads
TikTok users prefer content that feels authentic and blends in with their feed. To capture their attention, focus on creating ads that don't feel like traditional advertisements. Make them entertaining, creative, and in line with the TikTok environment.
Optimize content for TikTok's audience
TikTok has 1.1 billion active monthly users, with the majority being Gen Z - the young generation that has the highest expectations from online shopping. To effectively market on TikTok, it's crucial to understand Gen Z's preferences and behaviors.
Tailor your content to resonate with this audience, using trends, memes, and popular sounds to connect with them
Host live stream shopping events
TikTok hosts live shopping events, where users can watch and shop simultaneously. This format has shown significant returns on investment and provides an opportunity for brands to engage users who like feeling involved in the brands they support. By hosting live streams featuring influencers, your brand can expand its TikTok fan base and drive sales.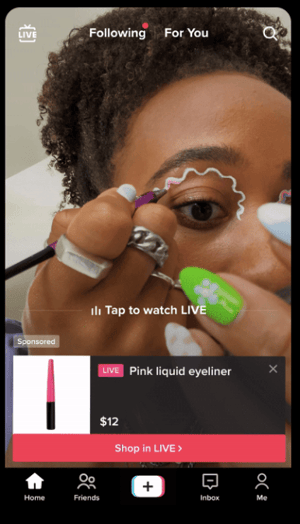 TikTok shopping | SearchEngineLand
Use product tags
One of the exciting features resulting from the Shopify integration is the ability to add product tags to your TikTok videos. These tags allow you to directly link to featured products, making it easier for users to explore and purchase from your Shopify store.
By incorporating product tags into your creative content, you can transform all videos into potential ads. This softer approach resonates better with Gen Z, who typically distrust traditional ads.
Utilize TikTok's advertising features
TikTok offers various advertising features and formats, such as brand takeovers, in-feed ads, and branded effects. Explore these options to find the most effective way to showcase your Shopify store to the TikTok community.
Back to the top or
---
Summary
In conclusion, TikTok presents a huge opportunity for Shopify merchants to reach a bigger audience and drive sales. With over a billion active monthly users and many useful features that help you make your TikTok ads engaging, the potential for driving sales and establishing brand loyalty is enormous.
We hope this ultimate guide has provided you with insights and useful tips on how to sell Shopify products on TikTok. If you have any questions, comments or thoughts, we encourage you to share them with us. By sharing your insights, we can all learn from each other and continue to grow as successful Shopify merchants on TikTok.
Back to the top or
---
FAQ
How do I start selling on TikTok with my Shopify store?
Start by creating a TikTok Business Account, setting up your Shopify store, installing the TikTok Pixel, creating engaging TikTok content, running ads, using influencers, and monitoring and optimizing your campaigns.
Can I track TikTok campaign performance for Shopify products?
Absolutely! Use TikTok Ads Manager to track impressions, engagements, clicks, and conversions. Gain valuable insights into your campaign's success and make data-driven optimizations.
---