What are negative keywords?
Unwanted views and clicks are almost every online advertiser's concern. They significantly increase ad costs and therefore reduce your ROAS. They are often a cause of total campaign failure.
And why do advertisers let irrelevant clicks ruin their efforts? They're so busy targeting the right audience that they don't realize how many unwanted buyers their ads are attracting. This has been a problem for all Google campaign types, and it's no different for the new campaign type - Performance Max (also called PMax).
A target keyword helps your ads appear on search engines in front of the right audience, and a negative keyword, also known as a negative match, does the exact opposite. It allows you to exclude certain search phrases from your campaigns. This way our ads aren't displayed to anyone who is pasting that phrase in the search engine.
Back to Top or
---
Benefits of using negative keywords for your Performance Max campaign
In this section, we will explore the various benefits of using negative keywords in your Performance Max Campaigns. The use of negative keywords can significantly improve the performance of your campaigns and help you to achieve your marketing goals and here are a few reasons why.
Engaging the right audience
The ultimate measure of success for a PMax campaign is its conversion rate. Even if you get lots of clicks or views, they will all be useless if they don't convert. And they only convert if they are triggered by interested buyers.
Adding some negative keywords to your campaign helps you attract a more targeted audience. Although the number of clicks will decrease, the clicks you receive will be more valuable as they will come from a more relevant and interested audience who are more likely to convert.

Source: Google
Reducing the cost-per-click (CPC)
PPC stands for Pay-Per-Click, which means that an advertiser pays each time their ad is clicked. If you get clicks from unwanted buyers with no chance of conversion, you still gotta pay for them. So this budget is just wasted.
By identifying and adding some negative keywords, you will increase the percentage of clicks from interested buyers with a high conversion potential.
In the end, it will allow you to save some ad budget that you can spend on other marketing activities. A few negative keywords are a small thing to set up and can make a huge difference when it comes to optimizing your budget.
Reducing conversion costs
Reduced cost per click achieved by adding negative keywords to the PMax campaign also affects the amount you pay for each conversion.
By adding negative keywords, you limit the random recipients of your ads and get more high-quality leads. You target more buyers who are actively searching for the products you sell. Ideally, they will be the only users who see your ads.
Ultimately, you'll spend less money to make an online sale.
Better conversion rate
Negative keywords play an important role in Pmax advertising by allowing you to exclude certain words or phrases from triggering your ads. This ensures that your ads only appear to users who search for terms relevant to your company's products. By using negative keywords, you can prevent your ads from appearing for irrelevant keywords, which can help improve your ad performance and achieve conversion goals.
Back to Top or
---
How to add negative keywords to your Google Performance Max campaign?
As we have already explained in the previous sections, adding negative keywords can have a very positive impact on your ad campaigns and significantly reduce your costs. This has been tested over the years in keyword-based Search campaigns and standard Shopping campaigns.
Already since Smart Shopping campaigns, advertisers running automated campaigns have not had control over the keywords used in the campaign. It was always Google's AI and its machine learning that identified the relevant search queries for which specific ads should appear. The system found the right keywords based on the information included in the product feed (e.g. titles, descriptions, etc.). All this was and still is about automation.
So... the ultimate question is: Is it possible to add negative keywords to a Performance Max campaign?
YES, but...
As of today, it is not possible to add negative keywords to your Performance Max campaign at campaign level. However, you can contact a Google representative to have them added for you so that they apply to your Pmax campaign (though still not at campaign management level).

In addition, Google has recently made it possible to manually add negative keywords at account level. This functionality allows all advertisers to exclude certain keywords from their Performance Max campaigns.
Adding negative keywords to PMax - Option 1
You can add negative keywords to your Performance Max campaign by contacting Google.
What you need to do is get in touch with a Google rep and ask them to add some negative keywords to your PMax campaign.
1. Contact Google Support
The easiest way to do it is to sign into your Google Ads account and click the "?" in the circle at the top navigation. Then select "Contact us".
2. Fill in the field that appears
You will see the field "Tell us what you need help with". It will be at the top of the message displayed in the sidebar. Fill it in with what your request is, e.g. "I want to include negative keywords to my Performance Max campaign".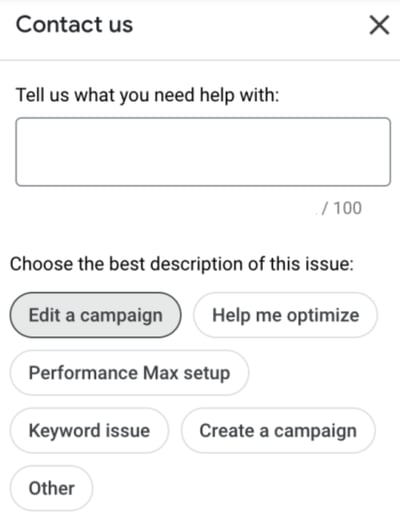 Contacting Google support | Google Ads
3. Choose the option "Other"
In the next step, Google gives you some options for topics that could potentially match your query. If none of them are correct, select "Other".
4. Choose your Google Ads account
After clicking "next step", you will be directed to a selector where you should pick the Google Ads account you are referring to in your request. Then you will see your contact options.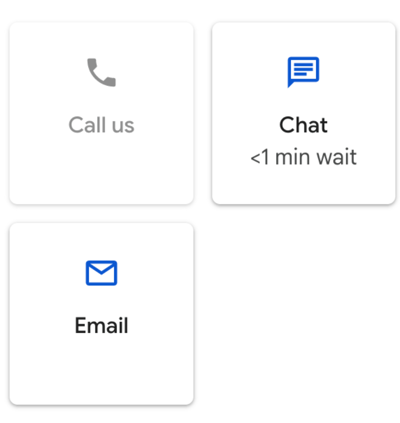 Google support options | Google Ads
5. Explain to a Google rep what you need
Tell a Google representative that you want to include either one/two negative keywords or a negative keyword list (that you've previously created) on your Performance Max campaign.
They will send you an email asking for your written consent to make this change in your Google account. After you send them the approval, they will add the negative keywords you asked for to your Pmax campaign.
6. See if it worked
Now you can check your negative keywords section in Google Ads and you should see that the requested changes were applied to your Performance Max campaign.
Adding negative keywords to PMax - Option 2
You cannot add negative keywords to your PMax campaign at the campaign level, but you can add negative keywords at the account level in this way:
1. Go to Account settings
Sign in to your Google Ads account and navigate to Account Settings. Then click "Negative Keyword".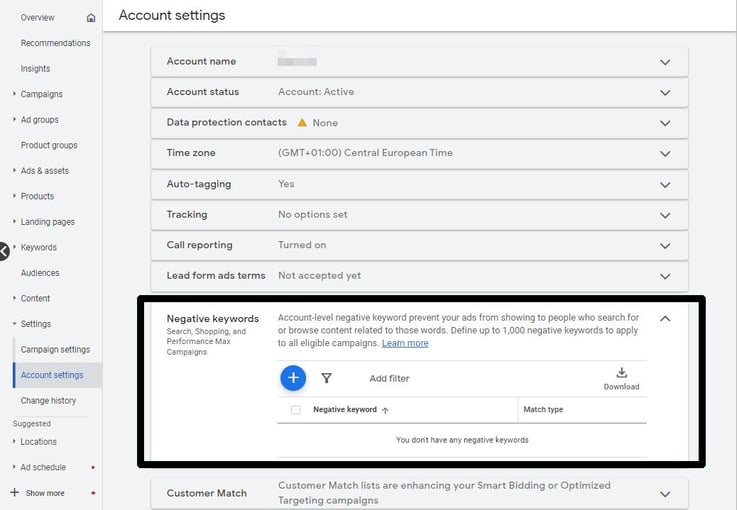 Creating negative keywords lists | Google Ads
2. Add negative keywords manually
Click the "+" button to open a Negative Keywords box and add negative keywords. You can create lists out of them.

Adding negative keywords | Google Ads
3. Type in the negative terms you wish, then click "Save".
That's it!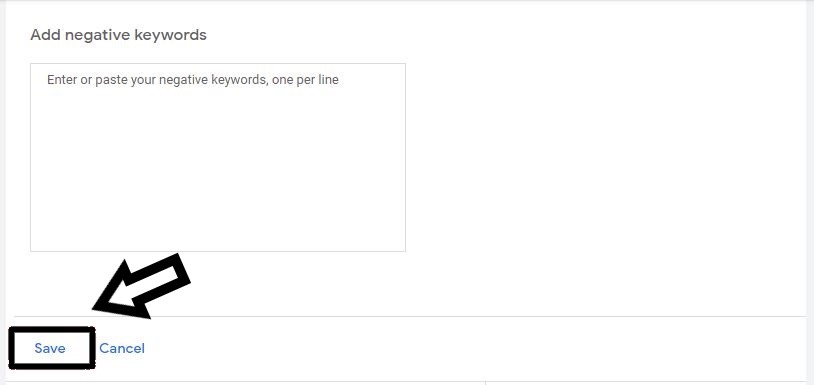 Saving new negative keywords | Google Ads
Back to Top or
---
Best practices when using negative keywords
Negative keywords can improve the results of your Performance Max campaign but only when used correctly. In this paragraph, we will discuss some best practices for using negative keywords in your Performance Max campaigns.
Create a Performance Max negative keywords list
To achieve optimal results, it is important to invest time and effort in creating a comprehensive list of negative keywords. This may not seem important now, but it can have a huge impact on the long-term success of your Pmax campaign.
To make sure you're not spending money on irrelevant clicks, you should add keywords or phrases to your negative keyword list as soon as you discover them. This way you can avoid showing up for terms that don't align with your business and you'll improve your conversion rate.
A real-life example:
If you run a Performance Max campaign only for gaming desks and you don't want your ads to show to users searching for other types of desks, it might be a good time to add some negative keywords, for example, "desks for school".
Keep refreshing your negative keyword list
Make sure you regularly review and update your negative keyword lists. From time to time, investigate what people are searching for by looking at the search terms report. You may come up with some new keywords that are worth adding to your campaign's negative keywords list.
Use broad match as negative keywords when possible
When including negative keywords in your list, you have the option to use different types of matches such as broad, phrase, or exact. The best choice is to use a broad match type because it provides more flexibility in determining whether or not a keyword is suitable for your campaign.
With this type, your ad will not be displayed if a search query includes all of the negative keywords you've specified, even if they are in a different order. However, your ad may still appear if the search only includes some of your negative keywords.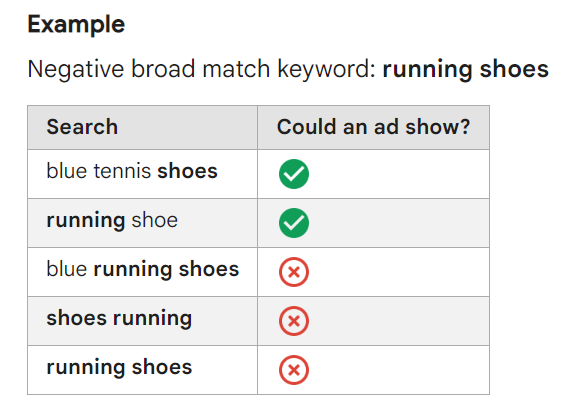 Source: Google
Read also how to deal with branded searches in Performance Max.
Back to Top or
---
Summary
Adding negative keywords to your Performance Max campaign is an important step to ensure the success of your advertising efforts.
In this post, we've explained what negative keywords are, why you should use them, and how to add them to your Performance Max campaign. We've also presented a few best practices.
Following our guidelines can help you optimize your Performance Max campaigns and achieve better results.
Back to Top or
---