Using Custom Labels to Improve Facebook Dynamic Ads
---
Facebook Dynamic Ads
Facebook Dynamic Ads campaigns allow e-commerce businesses to re-target people who have browsed or bought items on their website. The system automatically shows the right products to the right audience based on its previous behaviour.
The products shown are picked from a product catalog which needs to be uploaded onto Facebook Business Manager.
Marketers can then set a target audience and filter the most relevant products. Re-targeting cart abandoners showing them the products left in the basket or cross-selling new products to people who viewed similar items, are just among many strategies advertisers can pursue through Dynamic Ads on Facebook
In order to achieve the goals above, Facebook allows marketers to organize their product catalogs in Product Sets and set a target for each of them.
Back to top or Download the Increase your Facebook Product Ads ROI.
---
Product Sets on Facebook
Product Sets let you organize your products in different groups or segments.
Facebook currently allows to group products filtering by:
Category (Related: Google_product_category on Facebook)
Product Type
Brand
Price
Current Price
Product
Retailer Product Groups Id
Gender
Condition
Size
Age Group
Color
Material
Pattern
Availability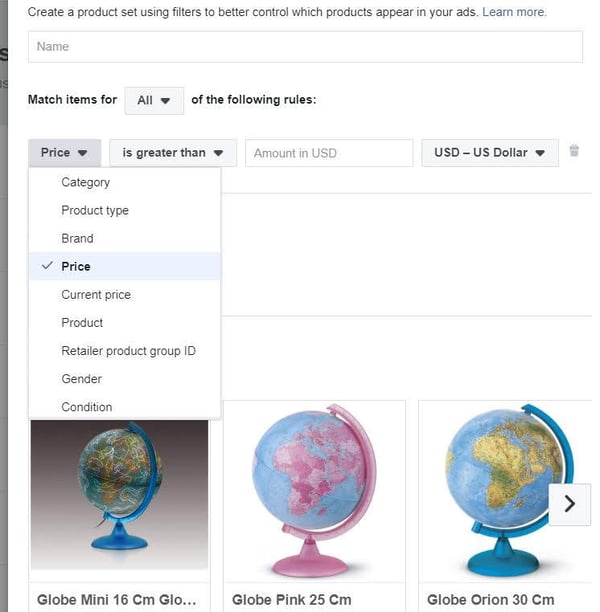 If the above options wouldn't be enough and you need a custom solution, Facebook allows for an additional filtering option: Custom Labels.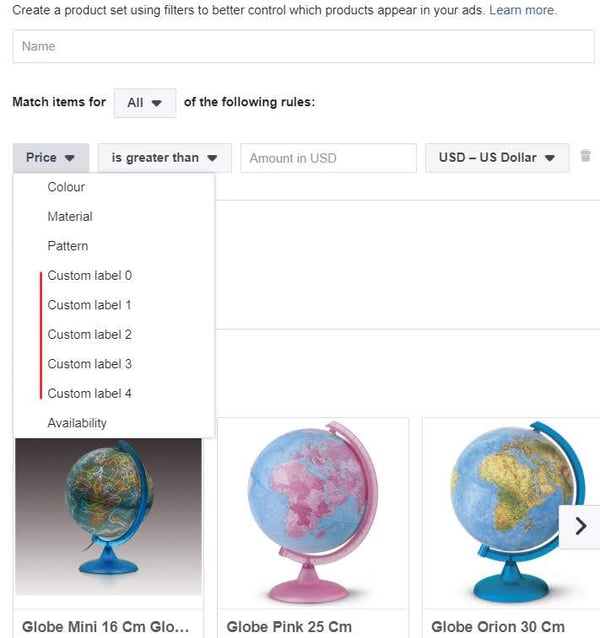 Back to top or Download the Increase your Facebook Product Ads ROI.
---
Custom Labels on Facebook Dynamic Ads
Custom labels are 5 optional, additional columns that can be added to a product feed.
Their value can be anything from a number to an ID or text. Marketers use custom labels when they need to add some product information which couldn't fall under any other product feed field. e.g name of the promotion a product belongs to, internal categorization, book's author, records' music genre, etc..
Custom Labels are added straight in the product feed.
Alternatively, they can also be added through Data Feed Rules in the Product Catalog Settings in Facebook Business Manager. However, Facebook Data Feed Rules are mainly intended to "fix small issues during your data feed uploads", rather than allow for major feed changes.

This means that, in order to populate custom labels with your custom values, you would need to rely on a feed optimization tool.
The good news is that through the DataFeedWatch, custom labels can be easily added even to Facebook catalogs without turning to your company's developers.
Back to top or Download the Increase your Facebook Product Ads ROI.
---
5 Ways Custom Labels Can Help You Manage Your Dynamic Ads Campaigns and Improve Performance
Say you work for an online book retailer. Books' product attributes might include Title, Description/Synopsis and Author.
While Title and Description can be added to their respective fields in the Facebook Product Catalog, the Author field is not available.
The only way for you to enter this information in the feed and use it for segmentation purposes is by adding a custom label column.
Having this additional information in the product catalog can be extremely useful for the following purposes:
---
1. Up-Sell & Cross-Sell
Facebook allows you to show a specific product set only to users who previously engaged with another set.
What you could do is showing books by Author X to people who previously bought books by Author Y, who is similar in style. This way you can cross-sell to a relevant engaged audience.
The same strategy can be applied to Genres/Collections. You might want to show Harry Potter collectables and sell to people who previously bought or viewed Harry Potter books.
Or maybe you want to show other furniture pieces from the same collection or DVDs from the same genre as the one just viewed or bought by your target audience.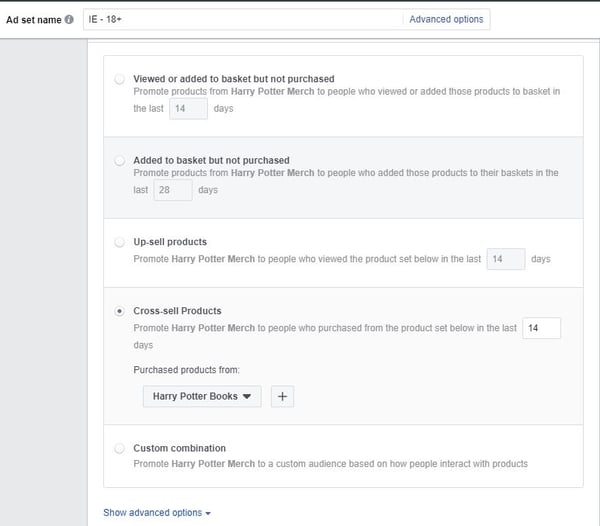 Selecting 'Custom Combination' from the menu above will unlock even more targeting options.
Back to top or Download the Increase your Facebook Product Ads ROI.
---
2. Get The Most Out Of Ad Overlays with Custom Labels
Dynamic Ads Overlays are one of my favourite Facebook Ads features. They enrich dynamic ads with additional content picked from the feed, such as free shipping, price percentage off and strikethrough price.
While the 'shipping' field is available in the product catalog, it doesn't appear to be one of the filtering options at product set level.
Therefore, you might want to add a custom label which shows whether a product is eligible for free shipping or not. This way you can create a product set containing only products which qualify for free shipping and add the relevant overlay only to those ads.
You might also want to add a fixed card at the beginning of the ad showing how amazing your free shipping offer is.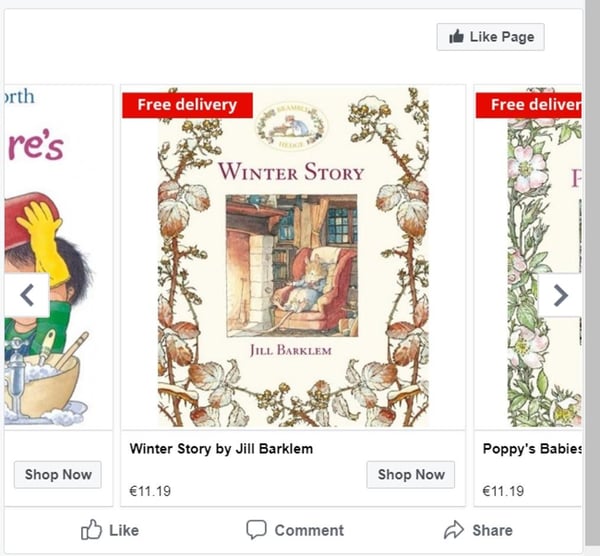 The same strategy can be applied to promotions. Say you have multiple promos running at the same time. You can add a custom label containing the name of the promo and create product sets based on that.
Every product set might target a different audience and show different overlays. You might reckon that for a specific promo the price percentage off is stronger than the strikethrough price or vice versa.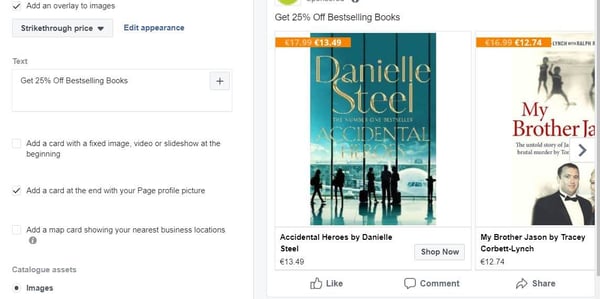 You can add an offer card at the beginning of an ad, showing that specific promotion which the products in the set belong to. In the example below, I have created a Harry Potter books promotion product set.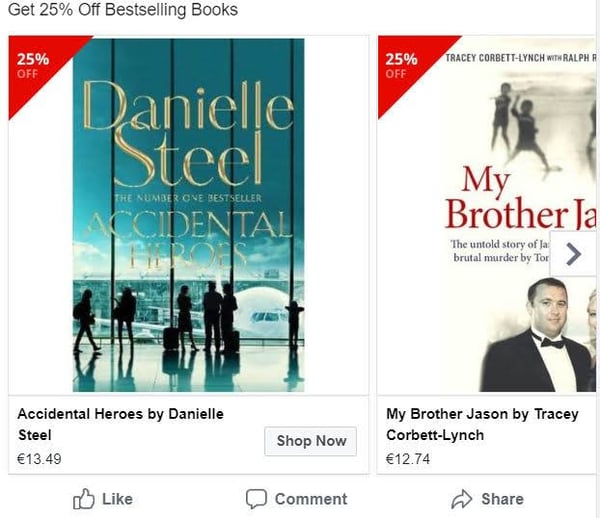 The ads will only show books in this promotion and the offer card is placed as a fixed card at the beginning of the ad carousel.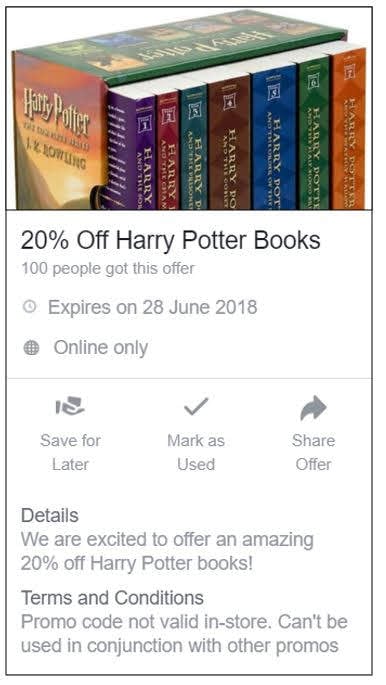 Back to top or Download the Increase your Facebook Product Ads ROI.
---
3. Customize Your Ad Copy With Custom Labels
Custom Labels can also be used to customize ads' headlines and descriptions. In the following example, I have set my headline to show the 'by' and the description to read "Now only ".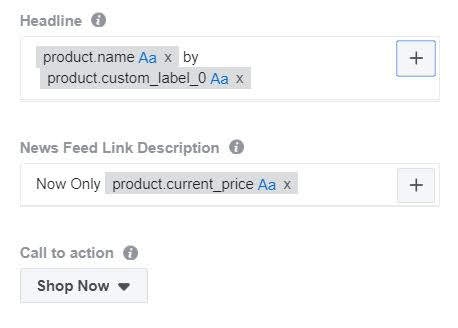 The Author attribute has been added through the custom_label_0 field.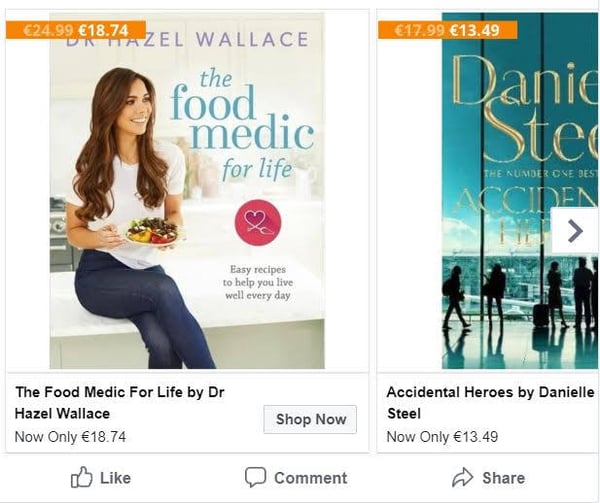 Back to topor Download the Increase your Facebook Product Ads ROI.
---
4. Get Detailed Reports
The same principle can be applied to deep links.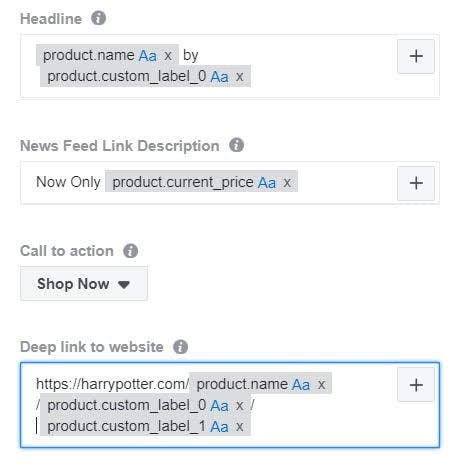 Deep Links help you track every single click on each product in the ad carousel.
Custom Labels and other catalog fields can be added at the end of your website's URL in order to get easy-to-read and granular reports on third-party Facebook analytics tools.
URL custom parameters can also be added on top of deep links for bullet-proof tracking. Catalog segmentation through product sets and custom labels is also essential to get granular reports within the Facebook Ads Manager platform.
Given every product set is assigned to one ad set, you can then see their performances from the ad sets view in your ads manager account.
Back to top or Download the Increase your Facebook Product Ads ROI.
---
5. Set The Right Bids and Budget With The Help Of Custom Labels
Last but not least, through custom labels and product sets you can set different bids and allocate different budgets to different product sets. You might want to push more products in the Promo-1 ad set than Promo-2.
Maybe you want to spend more on Crime books, than Geography books. Or maybe, you want to bid more aggressively on books by Author X than Author Y, as the former is getting more publicity. And so on and so forth. Possibilities are really endless.
Back to top or Download the Increase your Facebook Product Ads ROI.
---
Conclusion
Custom Labels on Facebook, as well as on Google Shopping, are an extremely powerful tool in the hands of marketers for optimizing advertising budgets and return on ad spend. The above scenarios are just a few examples of how they can be used, but you have to be creative in finding other ways they can help achieve your specific business goals.
Discover more Facebook-related content you may find useful: