How to Sell Furniture Online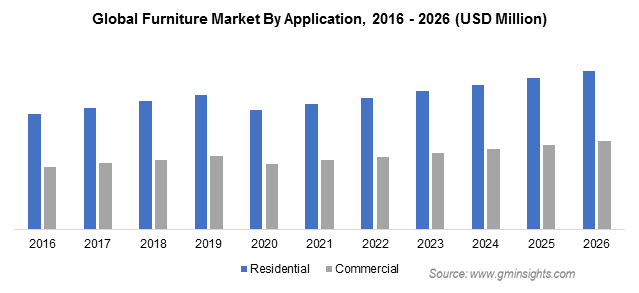 The continual growth in the furniture and home decor sector is being fuelled by a growth in e-commerce. Statista.com predicts the sector will see average yearly growth in online sales of 10% worldwide!
Whether you're a small business selling your artisan work or a large retailer, an online presence will be essential for ongoing business growth.
There are currently six main trends influencing the growth of the online furniture market:
Millennial Buyers now make up a large percentage of the market. Being more tech-savvy, they rely heavily on online retailers rather than physical stores.
Office furniture and luxury furnishings are two areas that have seen an increase in sales.
Ready to Assemble furniture or 'flat pack' is making it easier and cheaper to sell directly to customers.
Ergonomic design and eco-friendly materials, this growing sector is appealing to more than just the dedicated environmentalists, with customers doing more research and being more conscious of the material used.
Mobile-friendly e-commerce experience, cell phones are a go-to when considering any new purchase. Improvements to the online customer shopping experience have helped to fuel sales.
B2B e-commerce for commercial and wholesale buyers, it's not just B2C business increasing online, B2B e-commerce is also growing.
If you are looking to get started selling furniture online, this article will guide you through the steps needed to take and explain how to get started.
Back to The Top or
---
1 . Choose a Selling Platform
The question of how to sell furniture online is largely based on which platform you choose.
There are two selling platforms to choose from.
An Online Marketplace
- an e-commerce site where the products are sold or provided by multiple third parties, such as eBay, Etsy,
Amazon
,
Bonanza
, Wayfair.
An E-commerce website
- a platform that allows you to sell your products directly to customers, such as:
To help you make yourself at home in the e-Commerce market, we'll look at the benefits and disadvantages of both selling platforms below, to aid in the decision-making process.
Pros and Cons of Online Marketplace
Online Marketplace Pros
Online Marketplace Cons

Large Audience:

By selling through an established market place then there will already be a customer base. Wayfair alone has over 20 million active customers. Etsy is among the top ten most popular retail websites in the United States.




Easy Setup: Whichever platform you choose, the website is already set up and ready to go. Designed to be easy to use and can be set up by business owners with little technical experience. Therefore, removing lengthy build times and additional costs.

Lots of Competition: A buyer may arrive looking to purchase your furniture item but be tempted away by one of the thousands of other sellers on the platform. It's hard to differentiate your brand from others in these business marketplaces.




No creative control: These platforms are what they are. There is no real scope for personalization.
Pros and Cons of Online eCommerce websites
E-Commerce Website Pros
E-Commerce Website Cons

Easier to Stand Out: Rather than being just one of many furniture retailers on a platform, you can use your e-commerce site to tell customers more about your business and highlight your USPs (Unique Selling Points).




More Creative Control: You can design and create your website to reflect your business. By choosing the color scheme, layout, and images that work for you. E-commerce websites use simple user interfaces that make this easy to do with limited technical knowledge.




Lower Fees: Online marketplaces, such as Amazon, make a profit from charging sellers a fee for each item sold. E-commerce sites, such as Shopify, can be created for a little as $29 per month. Most offer a free trial.

Requires Self Promotion: Unlike an online marketplace, your new furniture site will only be visited by potential customers if you promote it and drive customers to it.




Longer Set-up Time: E-commerce sites are designed to be easy to use, but your new site will take more time to build than an online listing.
Let's take each in turn and look at them in more detail.
How to Sell Furniture through an Online Marketplace
Online Marketplaces are established platforms that allow anyone to sell items online. They make it simple to create an account, list an item, and get started.
They work well for small businesses as they can be set up quickly and can be used to sell a small number of pieces at a low cost. Larger retailers can benefit from the volume of traffic on the sites and the ability to reach a large market quickly.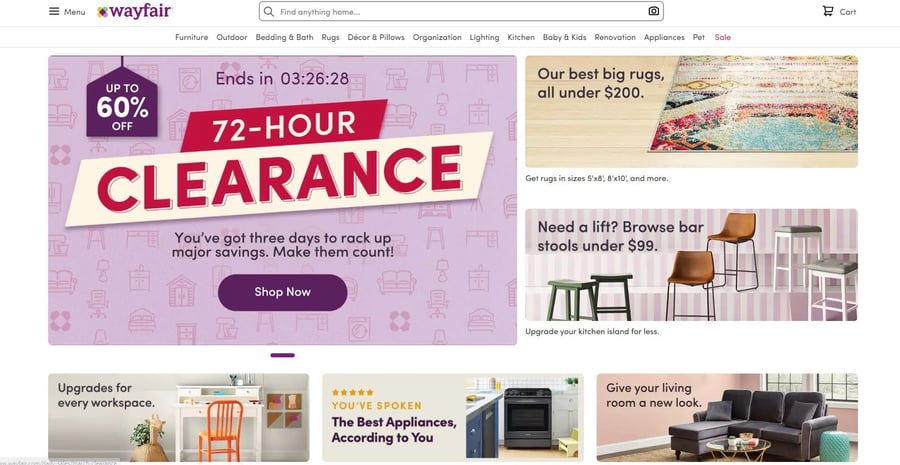 Most online marketplaces require the seller to list their items. They make a profit by charging a variety of fees through the process from listing to payment. The main fees, for the most popular platforms, are listed in the table, additional fees on each platform may apply.
The online retailer Wayfair is ranked second for furniture and appliance e-commerce sales in the US, with only Amazon selling more. Wayfair works differently from other platforms.
They work in a partnership with retailers;
They pay their partners the wholesale price for the products then set the retail price;
They use a dropship model, sending the customer order to partners warehouses where they are packed and shipped directly to the customer, the shipping costs are paid for by Wayfair.
Fees
Etsy
Amazon
eBay
Listing Fee
$0.20 USD on each sale
$0.99 on each item sold or $39.99 per month on the Professional no matter how many units you sell.
200 free per month the fee in most categories thereafter is $0.35
Transaction Fee
5 %

15% up to $200

10% for any portion of the total sales price greater than $200

10% or lower
Payment Handling Fee

3% + $0.25 USD but vary according to the location

2.9% ($0.29) + $0.30 USD but vary according to the location and buyers location
2.7% (1.5% for sellers with an eBay Store)
How to Sell Furniture through an e-commerce Website Builder
E-commerce website builders are user-friendly, drag and drop style website builders designed specifically for sales and including all the tools you need to display your furniture, sell to customers directly, and track orders and stock.
All e-commerce website builders offer 100s of templates for you to select. These templates are the basic structure for page layouts with example images and text. Shopify even has 15 themes specifically for furniture retailers.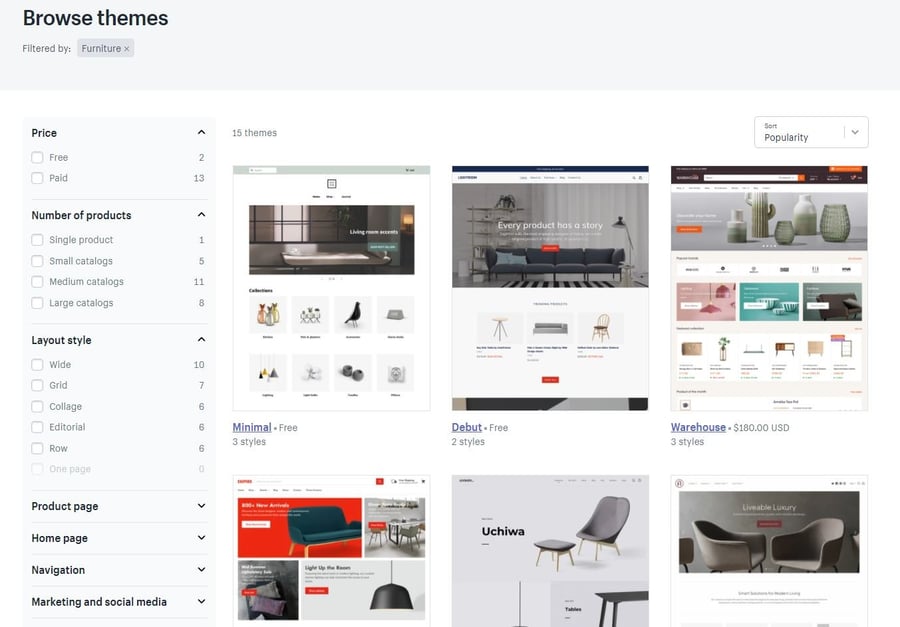 Themes are highly customizable and allow you to show off not only your products but also your brand. You can get creative by uniquely designing your customer's experience, how they view your brand and your products and how they flow through the sales process.
Your website will help you sell your furniture business online and create a home where customers can return to view and purchase more of your products.
Monthly Fees
The three biggest players in the e-commerce builder market include Wix, Square Online, and Shopify. They all charge monthly fees.
Wix eCommerce - a basic business package starts at $23 with no transaction fee and can be upgraded depending on the tools and storage required.
Square Online - you can use the online store builder to create, design, and launch your site—all for free. A transaction fee of 2.9% + £0.20 USD is added per sale. The downside is that your site will include Square Online branding and ads. To remove the branding and ads, the plan can be upgraded for $12 USD per month + a transaction fee of 2.9% + $0.20 USD.

Shopify - probably the best-known of shopping cart platforms. They offer a basic plan from $29 USD per month + a transaction fee of 2.2% + $0.20 USD for online card sales.
Reccomended Next Read: WooCommerce vs. Shopify: Complete Comparison
---
2 . Setting Up Your Online Store
There are a number of steps you need to follow to get your new online furniture store up and running.
Secure your domain name and decide on your branding. You can buy your domain name through a domain registrar, such as GoDaddy or 123-Reg. You may not be able to go with your business name if you can not secure the domain. If you can not purchase the

.com version

, consider

.shop or .store domain

extensions.
When you have secured your domain,

ensure all branding,

such as the logo, is reflective of the business and domain name.
Choose the right hosting. All websites have to be stored somewhere. How and where they are stored, or hosted, can affect the reliability and the speed of the site. Website hosting may have been included as part of your domain purchase, however, it may need to be upgraded. Hosting providers to consider include Rackspace and GoDaddy.
Decide which e-commerce platform is best for you. Do your research. Take into consideration how much technical experience needed, the fees charged, what features you most need etc.
Choose a payment service provider. E-commerce website builders such as Shopify come with inbuilt payment solutions. However, if the online store is built on a more customizable platform, such a Magento, a payment solution, such as Paypal or SagePay will be necessary. An Internet Merchant Bank account may also be required. These can be acquired through most high street banks.
Terms and Conditions and GDPR policy. Before launching an e-commerce store, the site must contain the following documentation.

- Privacy policy
- Cookies policy
- Terms and conditions
- Acceptable use policy
- Accessibility

Consultation with a law firm with expertise in data protection and compliance law is advised.
How to Optimize Your Product Presentation
It's essential to maintain the same level of customer experience online as you would in-store. A customer will put a lot of thought and research into a furniture purchase, they will compare styles and brands, and the decision may involve multiple parties. There are some tricks you can utilize to ensure your digital offering matches your physical store experience.
Product Presentation
Ensure your images are crystal clear, high quality, and show off the product from many different angles. Where possible, integrate video content to show the item in detail. If you want to go the extra mile, why not try a 3D furniture catalog using 3D visualizations of products. Or even include an AR shopping experience allowing shoppers to layer items over their interiors while in the space.

Product Description
A great product description can help to make a customer decision. Customers are often knowledgeable about the materials they are looking for. A description of the size and dimensions of the piece is essential when selling online.

Pricing & Payments
It's essential to know your market and consider all the costs involved, fees, marketing budget, and shipping costs. Research other similar online furniture stores to get a benchmark. Both online marketplaces and e-commerce websites have multiple payment methods. You will need to select what works for you and ensure these are set-up correctly.
Tip: If you'd like to know how competitive your prices are against those of your competition, you can utilize a price monitoring software. Based on your price rank you may decide to scale your prices or, on the contrary, lower them to get ahead of the curb.
Shipping
The advantage of selling online is that you can reach further afield than with a brick-and-mortar shop. But bear in mind that the pieces you sell may be large and more expensive to ship. There are three main shipping options you can choose from:
Flat Rate Shipping: A set rate applied to any order, for example, $10 USD.
Free Shipping: Customers like to see this, and it can be a good selling point.
Exact Shipping Cost: Shipping costs are calculated for each item.
Legal Considerations
In addition to the Terms and Conditions and GDPR policy mentioned above, there are additional legal considerations.
Taxes - Each state and country has its own tax laws and expectations, if you are starting to sell outside your local area, consult a tax expert for advice. A professional will give advice on specific laws and regulations as well as advice such as whether your target market will expect to see the price inclusive or not inclusive of tax.
Trademarks, patents, and copyrights - Check if you want to apply for any of these and/or if any of your products infringe any of these.
Business Insurance - Ensure your business insurance covers your new online store and trade.



---

3 . Start Selling Furniture Online
If you choose to go with an online Marketplace, you will already have access to an interested audience. But if you have invested time and money in creating your site, you can't sit back on your comfortable sofa and wait for sales.

It's time to focus on promoting your new online furniture store and drive customer acquisition. There numerous strategies you can use to increase your store traffic, SEO, Social Media Marketing, Email Marketing, and a Blog are crucial for the stores' success.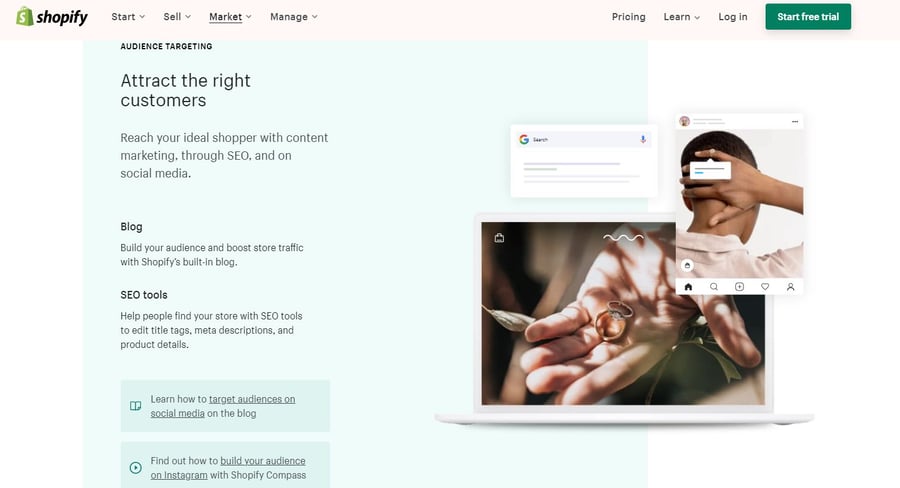 SEO
Search Engine Optimisations or SEO is a term that you have probably heard, but are unsure how to go about it. Essentially, SEO makes your site or listing more likely to be listed high on search engine results pages, therefore, more visible to potential customers. Both online marketplaces and e-commerce builders help people find your store with SEO tools to edit headers, meta descriptions, and product details.
Social Media Marketing
In addition to SEO tools, e-commerce builders also include tools to create an advertising campaign directly on social media platforms, such as Facebook and Instagram, from your website. These tools even go as far as to automatically determine the best audience for your furniture products, create A/B tests and remarket to people who have visited your site but have not completed a purchase.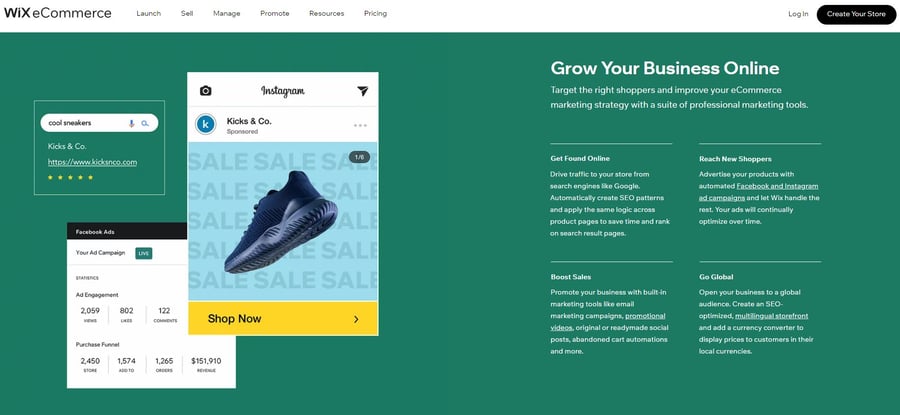 Email Marketing
Utilizing your current email marketing list to promote your new online furniture store can be a great way to let your customers know about your new venture. Email marketing campaigns can also be used to let your customers know about new products or upcoming events or sales.

There are tools on most platforms to handle this as well, for example, Wix ShoutOut.
Write a Blog
People search for interior design ideas and tips. An engaging blog can bring people into your store. A blog article should not be just an informative piece but also an opportunity to increase your search engine ranking and promote your items.
Pay Per Click (PPC)
Google Ads, is the most common PPC advertising platform. As a new e-commerce business you want to ensure you are getting the best ROI (return on investment) from your marketing budget.
Google Ads is a great choice to promote your business to people who are looking to purchase furniture and are ready to buy. PPC ads are not only displayed on Google search results, but also YouTube and partner sites. Google shopping ads are one of the best sources of traffic for e-commerce businesses.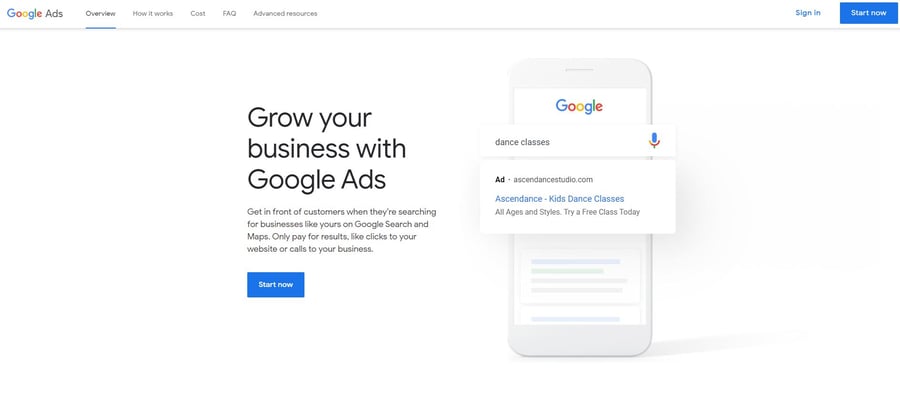 Optimizing your product feed for furniture
Most e-commerce platforms have inbuilt marketing tools to help you to sell your furniture online. They are often simple and do not fully optimize your campaigns to achieve optimum results and return on investment. A third-party tools, such as Multi-channel listing software by DataFeedWatch integrates with your shop and optimizes and distributes your listings across marketplaces, comparison shopping channels and social selling channels.
Additional tools such as Price-Watch allow you to run price checks on competitors and see how you measure up. It's the key to ensuring the success of your new online furniture store.
You are now ready to launch your online furniture store and watch your business grow!
Back to The Top or
---
Wrapping Up
Decide on the best platform for your business. Do you want to have creative control over your website or use an online marketing tool?


Set up and optimize your chosen platform. Ensure each piece of furniture is presented clearly with an accurate and attractive description. Research and prices piece of furniture competitively and remember to take into consideration shipping costs and additional fees.


Promote your online furniture business. Optimize your site to rank high on search results. Use social media platforms to promote your business. Consider third-party tools, such as DataFeedWatch's Data Feed Optimization to get the most out of your site.